Every time someone asks me which pepper to grow, I recommend shishito peppers. And when they ask how to enjoy them, I tell them to make blistered shishito peppers! These are one of my favourite garden-grown snacks as they hold so much flavour and only take a few minutes to make.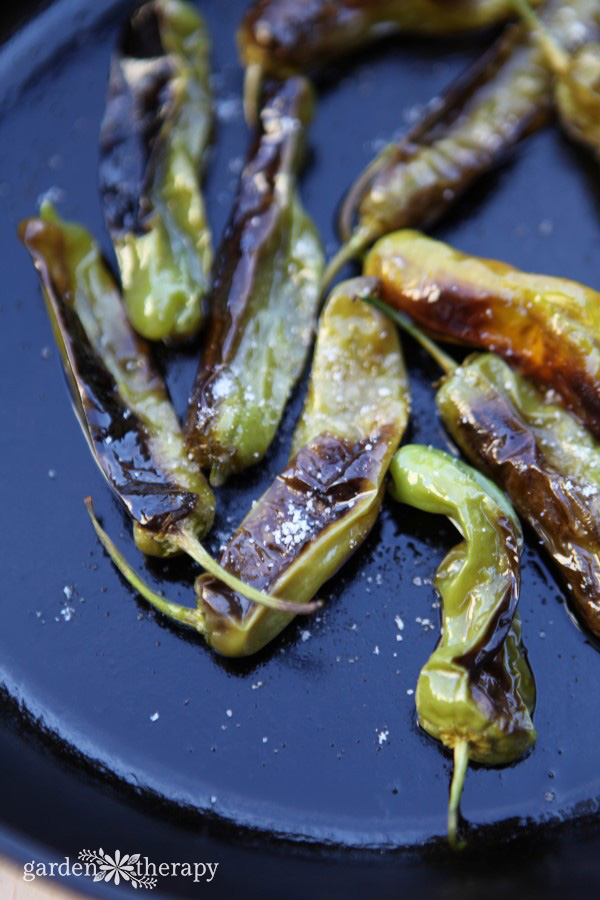 It was love at first bite for me when I first grew my own shishito peppers. These peppers quickly rose in my not-so-official pepper rankings thanks to their mild spice and delicious taste.
These little wrinkly peppers are the best to grill as they have a thin skin and smoky flavour. You can pick them from the vine and have them blistered in a pan all within 15 minutes. And because they grow so quickly, the next batch will be ready for picking within a week!
Check out my tips for making blistered shishito peppers down below!
Jump ahead to…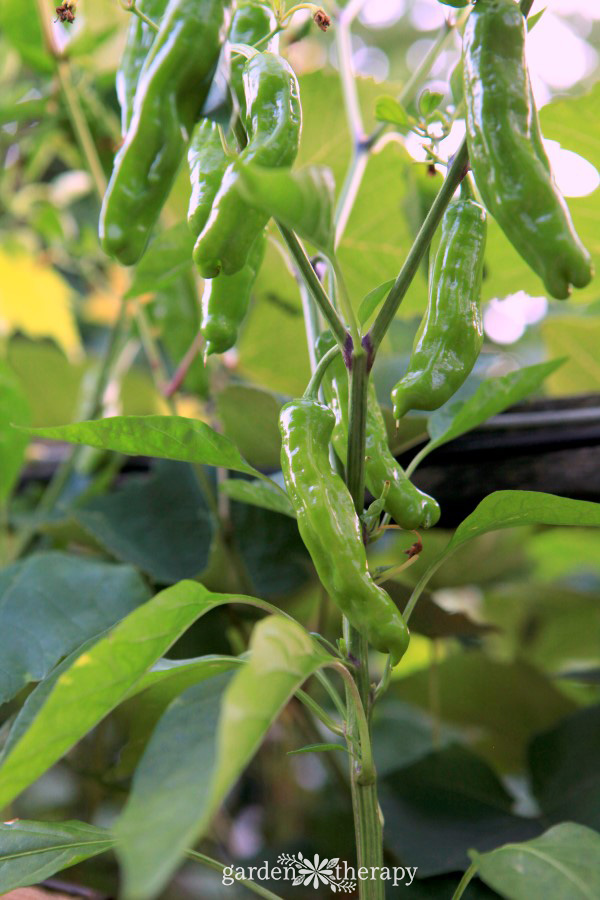 What Is So Special About Shishito Peppers?
Shishito peppers really are a magical plant to grow. They're one of the first peppers I recommend starting with as they're so easy to grow and have a compact and sturdy shape.
You harvest the peppers while unripe, in a bright green shade. This allows for an extremely high yield and efficient plant. You'll truly have endless amounts of peppers if you choose to grow them yourself.
For the most part, shishito peppers aren't too spicy. About 1 in 10 peppers will have a kick to it. Many types of chili peppers have a large range of heat due to the amount of capsaicin each pepper produces. This fluctuates due to the growing conditions and stresses a plant faces.
Shishito peppers also have a small size and thin skin which makes them great for cooking…and even better for devouring!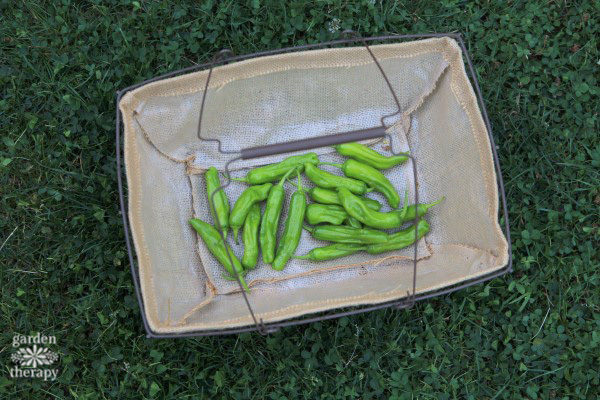 How to Cook Shishito Peppers
Shishito peppers are simple to cook as you don't need any prep work. Leave the seeds and stem and cook them whole. Thanks to their thin skin and small size, they soften easily and don't take long to blister, bake, or grill. When you cook them, a tiny amount of heat and smokiness comes out.
Shishito peppers also taste good raw plucked straight from the vine. They have a natural crisp and fruity pepper flavouring. I like to cut them up and put them in a garden-inspired poke bowl.
Shishito peppers also taste exceptional when pickled. This gives them a slightly acidic and vinegary taste. I use pickled shishito peppers in a bloody Mary!
But of course, the best way to enjoy shishito peppers is to blister them over the stovetop. Below you'll find my go-to recipe for the perfect blistered shishito peppers!
Blistered Shishito Peppers with Yogurt Cilantro Dip
These blistered shishito peppers are a wonderful appetizer or snack when you have guests over. Or be like me and eat all of them in one sitting!
Ingredients
See the recipe card for exact measurements.
Jump to Recipe
Full-fat Greek yogurt
Lime juice and zest
Garlic
Fresh cilantro
Make It!
Heat oil in a cast-iron pan and add whole peppers over medium heat. Turn peppers after they blacken and blister on the bottom side. Once they are charred all around, remove them from the pan and sprinkle them with fine gray sea salt.
To make the dip, combine the last four ingredients and add a pinch of sea salt to taste.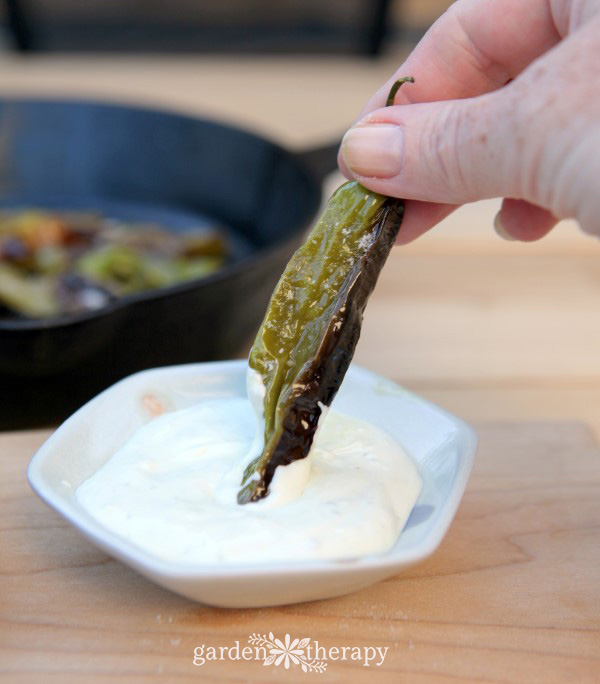 Frequently Asked Questions About Blistered Shishito Peppers
Are blistered shishito peppers healthy?
Absolutely! Shishito peppers are packed full of vitamin C and A, antioxidants, potassium, fibre, and folic acid. This makes them a highly nutritious vegetable to grow and eat. To top it off, they're fairly low-calorie so you eat as many as you like, guilt-free!
Why do shishito peppers pop?
These popping sounds mean you're doing something right! As you begin to cook and blister your shishito peppers, they will release juices and make a popping noise.
Can you eat the stems of shishito peppers?
The whole shishito pepper is edible, including the stems and seeds. However, when eating you may not want to eat the stems as they're not as tasty. But if you don't mind the taste, then go ahead and pop the peppers in your mouth whole!
Blistered shishito peppers truly are a healthy treat. If you give them a try, let me know in the comments down below!
More About Shishito Peppers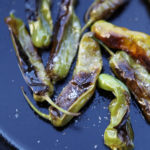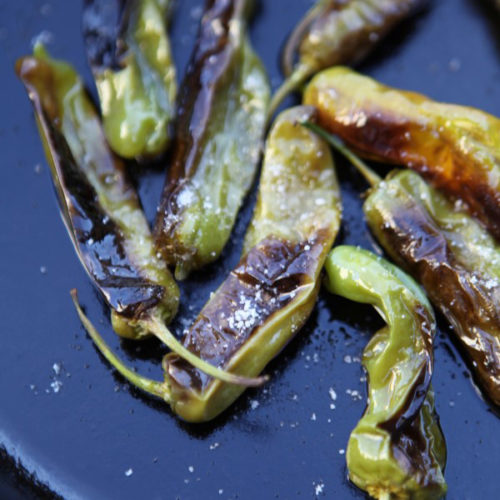 Print Recipe
Blistered Shishito Peppers with Yogurt Cilantro Dip
Makes 1 pound of shishito peppers and 1/2 cup of dip.
Ingredients
2

tbsp

olive oil

1

lb

freshly harvested shishito peppers

Pinch of gray sea salt to taste

½

cup

full-fat Greek yogurt

Juice and zest from 1/2 of a lime

1

garlic clove, grated

1

tbsp

finely chopped fresh cilantro
Instructions
In a cast-iron pan, heat oil over medium heat. Add in the whole peppers.

After they blacken, turn the peppers and blister the other side.

Once charred all around, remove from heat and sprinkle with sea salt.

Make your dip by combining the last 4 ingredients. Add a pinch of sea salt to taste.
Nutrition
Serving:
0.25
of the recipe
|
Calories:
124.75
kcal