Dealing with damping off or any other fungal infections can certainly be frustrating for any gardener. Here's how you can make a simple fungicide for plants using chamomile, plus all the ways you'll want to use it! 
I'm continually amazed by how different components of a garden can work together to heal itself. Today's DIY is a testament to the balance and harmony that mother nature provides!
I'm going to show you all how to make a simple fungicide spray that you can use both in your garden and in your home. The star of the spray is one of my favorite flowering herbs…chamomile!
Great Read + a GIVEAWAY: Garden Alchemy
If you're interested in learning more about how to create natural recipes and concoctions to help your garden thrive, you'll love my latest book, Garden Alchemy. This book was truly a labor of love and one of my favorite projects I've ever finished!
In fact, this natural fungicide recipe is one from Garden Alchemy, and it's been instrumental in treating damping off in my own garden.
To celebrate National Gardening Day on April 14th, 2020, I will be giving away a copy of Garden Alchemy to one lucky reader!  See how to enter at the end of this post.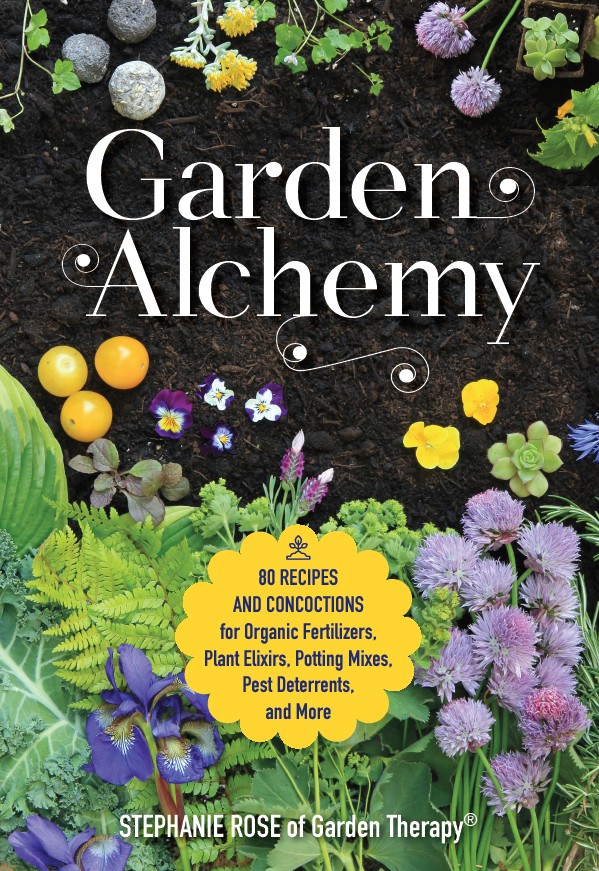 What is Damping Off?
If you haven't had the "pleasure" of experiencing damping off, consider yourself lucky! This horticulture disease thrives in cold, wet soil and is caused by mold or a fungus.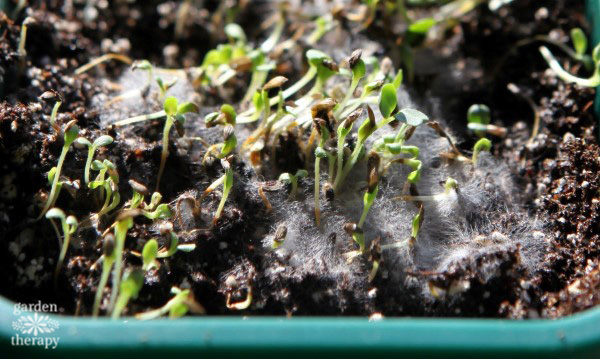 It appears as a fuzzy, moldlike growth on plant stems, seeds, and even soil. Damping off occurs most commonly in seedlings, particularly those that are grown indoors or in a greenhouse with high humidity. Sadly, most seedlings that get it struggle to survive, and typically don't. This can be a real tragedy when you have lovingly grown your seedlings and have been looking forward to planting them!
Thankfully, there is a simple, inexpensive way to prevent damping off that costs just pennies (or even free!)…chamomile!
How to Grow Chamomile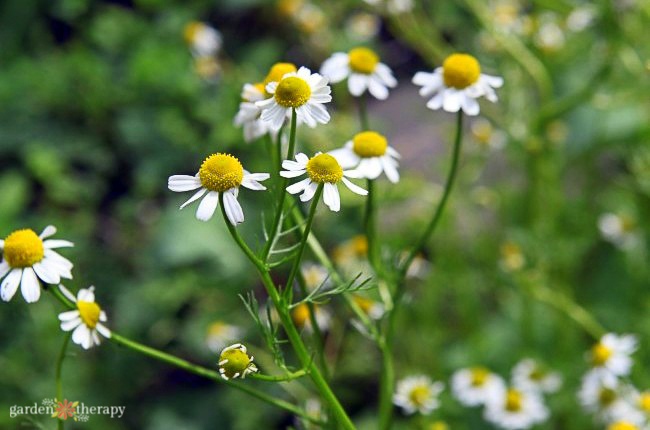 Chamomile is a cheerful, dainty herb that flowers into a pretty white flower with a yellow stigma. Their beautiful appearance coupled with the host of medical benefits (see more below) makes them a prime candidate for adding to your herbal garden.
The best way to grow these tiny daisy-like flowers is to start with seeds in the early spring before the heat of summer hits. It's best if chamomile grows in its own bed–you are likely to get a better harvest that way.
When to Harvest Chamomile
Wait until the flowers are fully opened before harvesting them. This takes about two months from the time you first planted them, so late spring or early summer is when you can expect your first crop.
Chamomile flowers are, of course, edible. The blooms can be infused in oils, sprinkled on top of baked goods, and added to salads. You can even infuse chamomile flowers in liquor to create cordials!
Plus, you can use and harvest chamomile leaves as well. Add them chopped to your salad or steep them to make tea. Be forewarned that the leaves can be slightly bitter.
Both the leaves and the flowers can be enjoyed dried or fresh.
Benefits of Chamomile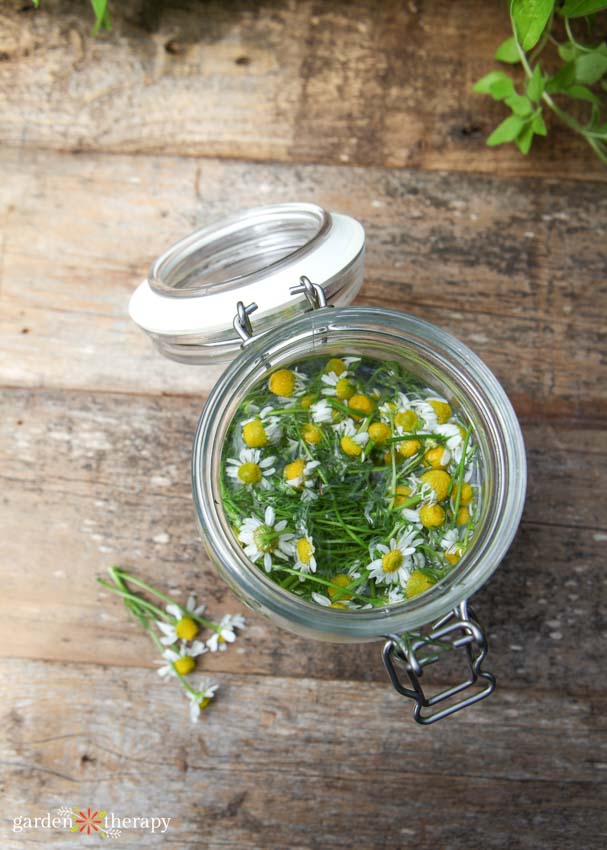 Chamomile is a flowering herb that has long been used for a variety of ailments. Many people are familiar with chamomile tea, and choose to drink it to help with sleep and relaxation. In fact, chamomile has been approved by the official medical authorities of over two dozen countries to treat conditions such as indigestion and even colic in young babies!
Using the medicinal properties of chamomile is nothing new to our world though. It's been used for thousands of years by the ancient Egyptians, Greeks, and Romans
This powerful flowering herb is gentle and smells incredible. Plus, the little white and yellow flowers always bring a smile to my face.
However, chamomile offers a host of other benefits which include:
Lowering blood pressure
Reducing swelling and inflammation
Help boost immunity
Reduces discomfort from hernias
Assists with relieving menstrual pain and stomach upset
Chamomile as a Fungicide for Plants
Even more interesting, chamomile is antifungal. This means you can harness the powers of a plant from your garden to treat a whole new crop of plants growing in your garden.
How to Make Fungicide Spray with Chamomile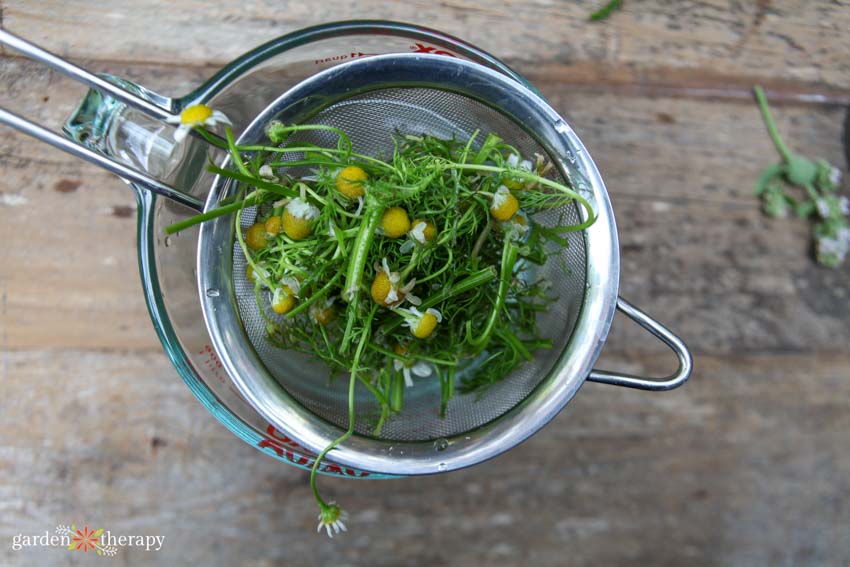 Making this fungicide for plants is both simple and effective! With a few minutes of hands-on time, you'll be able to create a powerful tool to protect your seedlings.
Materials
1 part fresh chamomile OR 1/4 part dried chamomile
3 parts rainwater or dechlorinated water**
**Dechlorinating water is simple! Tap water that comes from municipal sources is often treated with chlorine. We want to remove that so we can encourage the growth of beneficial organisms and help the plant to thrive. If you don't have rainwater available, just put tap water into a bucket and allow it to sit for 24 hours. By then, the chlorine will have evaporated off. Alternatively, you can boil water which works perfectly if you are making tea.
Make It
There are two ways to make this fungicide spray—you can choose between using the fresh herb or using the dried version. You can use both the flowers and the leaves of the chamomile plant.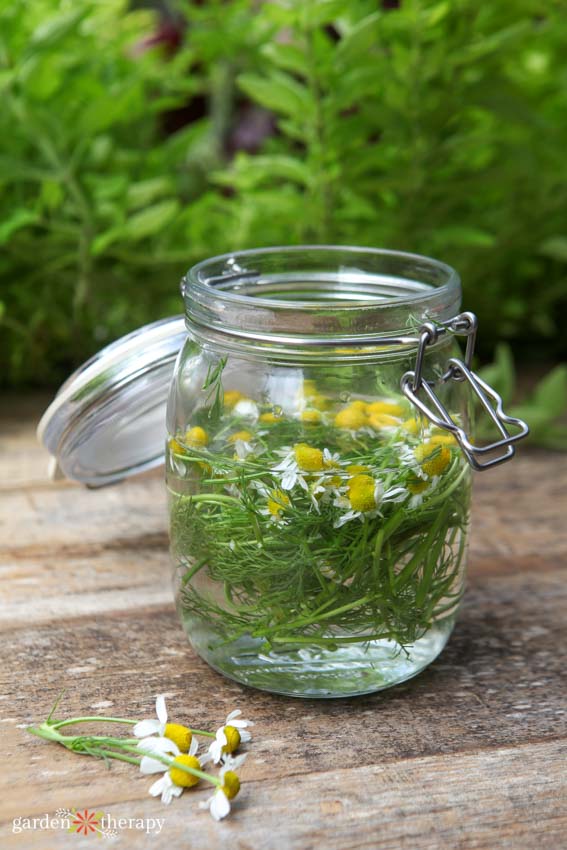 With Fresh Chamomile
Harvest fresh chamomile flowers, leaves, and stems, in the early morning when flowers are at their peak of perfection. Make sun tea by letting your flowers and leaves infuse in a mason jar of dechlorinated water in your garden or on a sunny windowsill. Let it infuse for a day.
With Dried Chamomile
When you are using dried chamomile instead of fresh, the process differs slightly. Here you'll still want to brew a tea, but I recommend you do so by pouring boiled water over the dried buds and letting it steep for 24 hours.
How to Make the Damping Off Spray
Brew your tea (see above).
Strain the tea, cool, and use.
That's it! Simple, right?
How to Use the Chamomile Fungicide for Plants
You can use this spray in one of two ways. First of all, you can use the mixture to water seedlings. Alternatively, you can pour the mix into a spray bottle and use it to mist plants and soil daily.
If you have established plants, you can also use this chamomile damping off spray as a foliar spray to prevent disease.
If you found this recipe helpful and simple, I highly encourage you to check out the rest of the recipes and ideas in Garden Alchemy.
More Posts to Help Your Plants Thrive:
DIY Fungicide for Plants (with Chamomile)
This simple fungicide spray will help rid your garden of damping off issues once and for all! Keep your seedlings and established plants healthy and strong with this simple DIY.
Supplies
1

part

fresh chamomile

or one-fourth part dried chamomile

3

parts

rainwater or dechlorinated water**
Instructions
Combine chamomile and water. For fresh chamomile, let your flowers and leaves infuse in a mason jar of water in your garden or on a sunny windowsill for 24 hours. With dried chamomile, pour hot water over the dried flowers and let it steep for a day.

Strain your tea, and make sure it is cool before using.
Notes
To use the mixture, you can simply use to water seedlings or add to a spray bottle and mist your plants and soil daily. Use this fungicide spray for plants that are already established in your garden as a foliar spray to prevent disease.

Giveaway Time!
This contest is now closed. The winner of my new book Garden Alchemy is CSJ! Congratulations.