Get rid of that stinky dog smell with this homemade dog deodorant that smells like refreshing lavender. I certainly don't have a lot of dog, but despite his small size he can get pretty smelly at times. Wet fur from the rain or a swim in the ocean is par for the course when you have a pooch. I love getting outside with him no matter what the weather, but that means that I have a whole lot of extra washing to do to keep his clothes, toys, and bed from smelling like wet dog.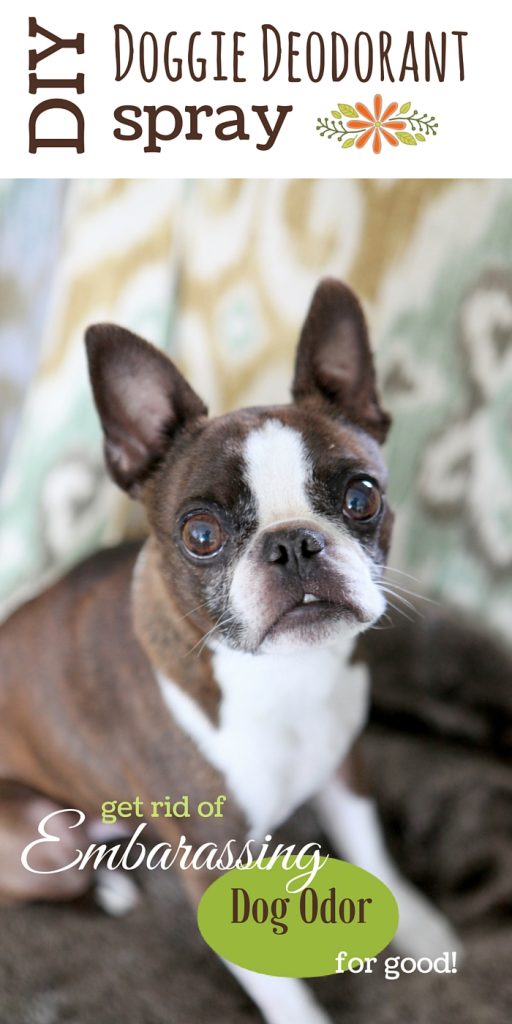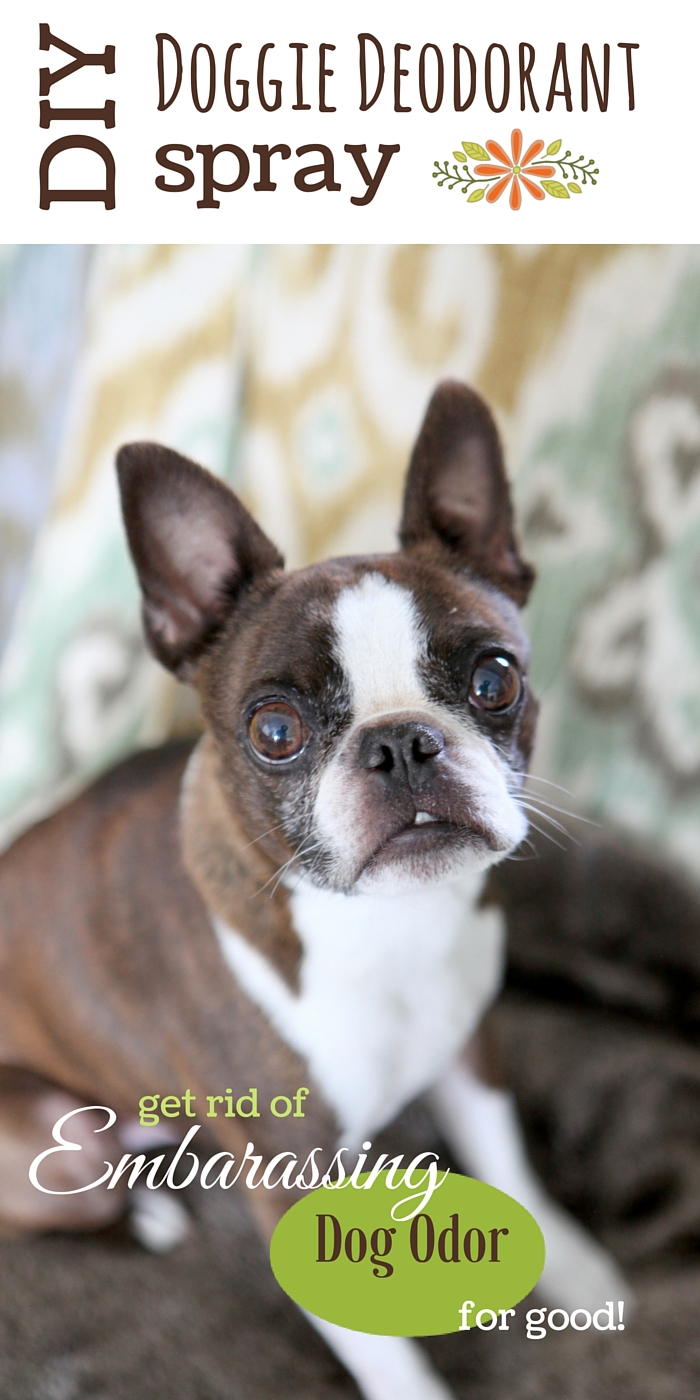 Meatball gets regular baths, of course, but he does have sensitive skin and bathing too often can cause irritation, so this spray-on dog deodorant is just the thing to keep him smelling fresh between baths no matter how much dirty, stinky fun he's been having outside.
A Note on Essential Oils and Pets
All pets are different and may have different reactions to essential oils. I often get questions about using essential oils on cats and I choose not to use oils on cats at all. I do use oils in my dog recipes though, and they have worked really well, for my dogs. I make sure that they are very diluted and test a small patch on my pup to be sure that there isn't a reaction. I think that when heavily diluted, essential oils be less unpleasant for the pooch than the synthetic fragrances in many common pet products. But keep in mind that with all home recipes, they have not been put through independent testing and so it's best to approach with caution (ie: don't make a huge batch and douse your dog without testing first).
For more information, Lea Jacobson has an EO profiles book that lists what is safe or not safe for all ages, pregnancy, breastfeeding, dogs, and cats and Nourishing Joy has a set of printable Essential Oil Safety Cards that list what is safe for Adults, Kids, Dogs, and Cats (spoiler alert – there are few that are safe for dogs and none that are safe for cats.).
Ingredients/Materials
Make it!
Fill your spray bottle with ¼ witch hazel and ¾ water. Add about 5 drops of lavender essential oil to the mixture. You can add a bit more essential oil if you wish, but don't make the scent too strong as your dog probably won't like it. After all, dogs enjoy their natural scent (even when we humans find it a little unpleasant, to say the least).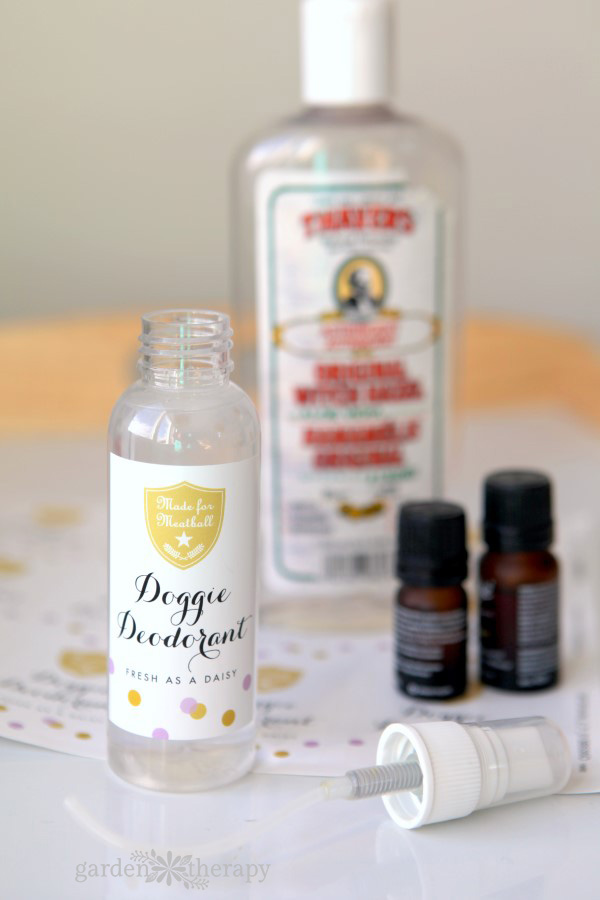 Lavender is my preferred scent combination for deodorizing our pooch because it is gentle and helps to neutralize odor. I have also used rosemary and peppermint for this dog spray (and other things around the house that need refreshing), which work great as well.
That's it, you're done! Spritz this dog deodorizer on Fido's fur, bed, toys, clothes, and anywhere else that gets that wet dog smell.
Be sure to test a small amount on your dog's skin before spraying them all over with it. Different dogs have different sensitivities, and although this deodorant is all-natural and very gentle, you never know what could cause your pup to have a bad reaction and it's better to test first. Spritz a little bit onto a small patch of your furry friend's coat and wait at least 24 hours to make sure she or he is unaffected by it before using more.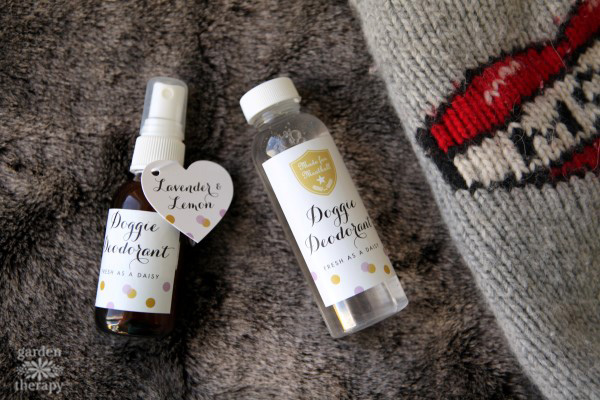 I also like to pamper Meatball with the occasional home-baked treat! Well, not that occasional. These squirrel cookies were a big hit. Actually, it surprised me to no end how nutso he went for these cookies, given the very basic ingredients. I thought that store-bought cookies would certainly trump the homemade, with all the delicious duck scent and all. But nope, my pooch loves his homemade squirrel cookies and you can get the recipe here.