This moisturizing calendula healing salve helps soothe and heal cuts and bruises. It's also very safe to use on adults, children, and pets. This salve is very gentle, even on sensitive skin, and it speeds up the healing process for all kinds of minor cuts, scrapes, and bruises. Best of all, it's completely natural, so you can feel good about knowing exactly what you are putting onto your skin.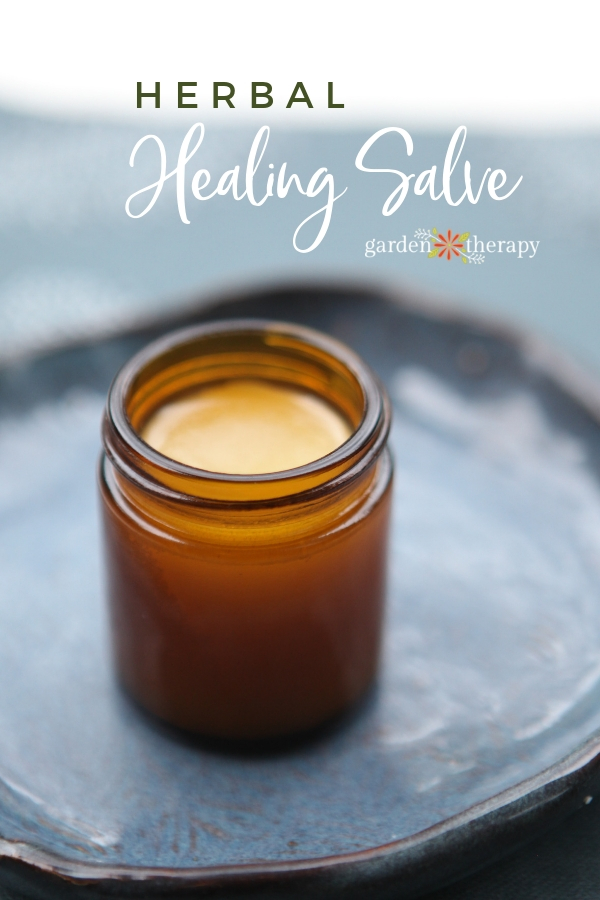 If there is one thing you should keep in your herbal medicine cabinet, it's this healing salve. It can be used for so many things. Before I share the recipe with you, I want to explain why it's so good for our bodies.
Please remember – I am not a doctor. This article isn't meant to diagnose any conditions or treat them. Everyone is different so I always urge you to ask your doctor or health care professional before trying any home remedies. That being said, this herbal salve is intended for cuts and bruises, very minor and common skin conditions. This salve has been a staple in my home medicine cabinet for many years now and I find it so helpful for many small irritations on an almost daily basis.
This post was updated to include more information and tips for how to make your own healing salve.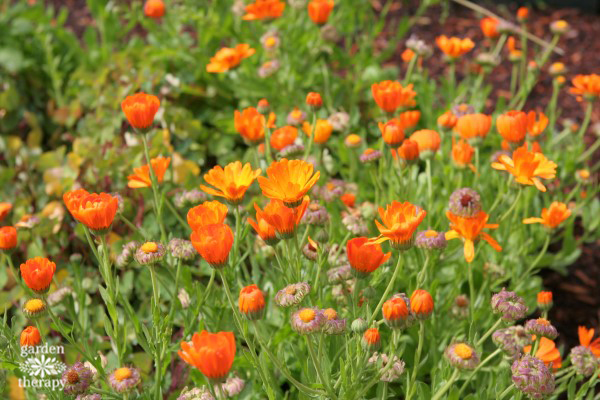 Healing Properties of Calendula
Calendula is one of those herbs that is really good for your skin. That's why I used calendula-infused oil. Just check out all of these amazing things it does for you!
In fact, I highly recommend you grow some calendula in your garden. Here's everything you need to know about how to grow, harvest, and use calendula!
SPF Properties
While I don't recommend using it alone as a sunscreen, there is a study that suggests it can help. You can certainly wear this along with your sunscreen routine.
Healing Wounds
This is my favorite thing about calendula! A study in 2013 found that using calendula ointment along with regular treatment can speed up episiotomy wound healing.
There are scores of other stories from people who have story after story of how calendula salves help their scrapes heal faster. I challenge you to find a herbalist without it in their first aid kit!
Acne
Another skin benefit of calendula is the ability to help reduce the signs of acne. You can try to use this salve on specific problem areas and see how it helps you.
Skin Hydration
One of the things that holds our skin back from rebounding after a wound is the itchiness and dryness. We end up scratching it and causing more problems.
Thankfully, calendula is an excellent moisturizer!

Healing Properties of Lavender Essential Oil
This healing salve also has lavender essential oil in it. I mentioned in the recipe that this is optional – and it is. Calendula is powerful enough on its own. However, I do recommend if you have it, use the essential oil.
Here's why!
Antifungal
Studies show lavender has antifungal properties. That means that if you have a wound or scrape, the lavender will help prevent further infections. It's lethal to a variety of strains of fungi that cause skin infections.
Wound Healing
This is a powerful oil that really does help wounds heal faster. It helps the wounds actually close up quicker than if they were left alone. One study on rats showed wounds closed faster when given lavender essential oils.
It also has calming aromatherapy properties that will help you relax your mind, which helps your body bounce back from trauma.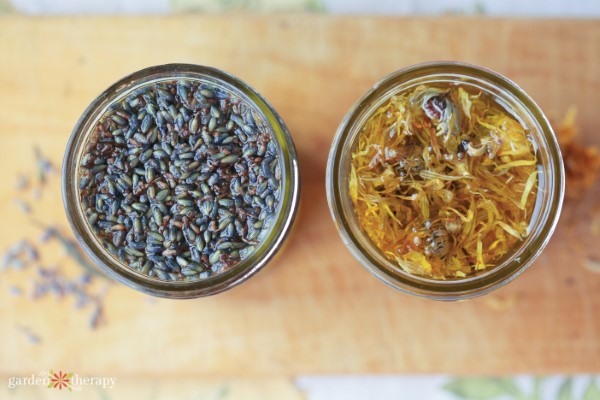 How To Make a Healing Salve At Home
Are you ready to make your own healing salve? Here's my favorite recipe!
While you are at it, make an extra batch and give them away as gifts. Keep this in your herbal medicine cabinet- there are so many ways to use it.
Ingredients
Make it!
Here are the directions. It really is as easy as melting and mixing everything together.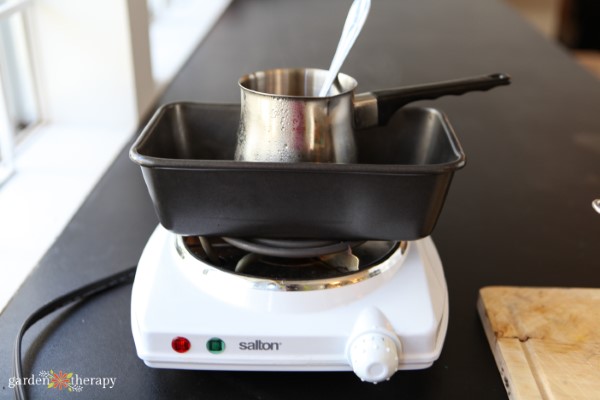 In a double boiler, slowly heat up the olive oil, butter, and beeswax until just melted. Next, remove from the stove and add essential oil if you wish to use any. You may need to let the mixture cool slightly before adding your essential oil to ensure the oil's properties stay intact.
Lastly, pour the mixture into a glass jar or tin and let it cool before using it.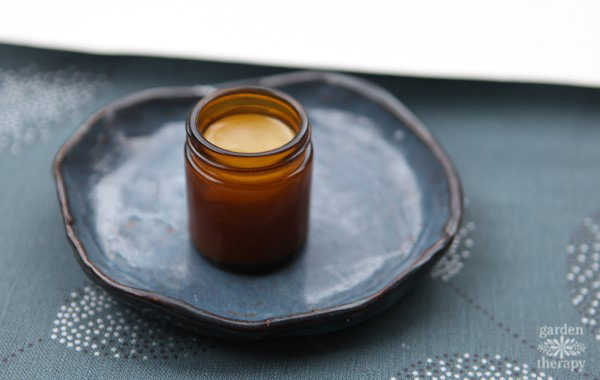 How To Use the Healing Salve
There are so many ways you can use this healing salve. I recommend you make a large batch and keep it in your medicine cabinet. Just look at all the different ways you'll be able to utilize this multi-purpose balm!
Speed Up Healing On Scrapes
Apply the salve to scrapes or cuts to speed up healing. To do this, apply a small amount directly to the cut or minor wound. Use it just like you would an over the counter antibiotic ointment.
Lip Balm
This can also be used as a lip balm on chapped lips. Apply it directly to your lips when they are cracked and dry.
Apply To Cuticles
You can also use it as a cuticle balm on dry, damaged cuticles. Rub a very small amount into your cuticles a few times a day. This will help you avoid those dreaded hangnails.
Itchy Dry Skin
This healing salve is excellent for dry or itchy skin, too. It will protect your skin from infections that are caused by scratching too much. Use it as often as you need to when your skin itches.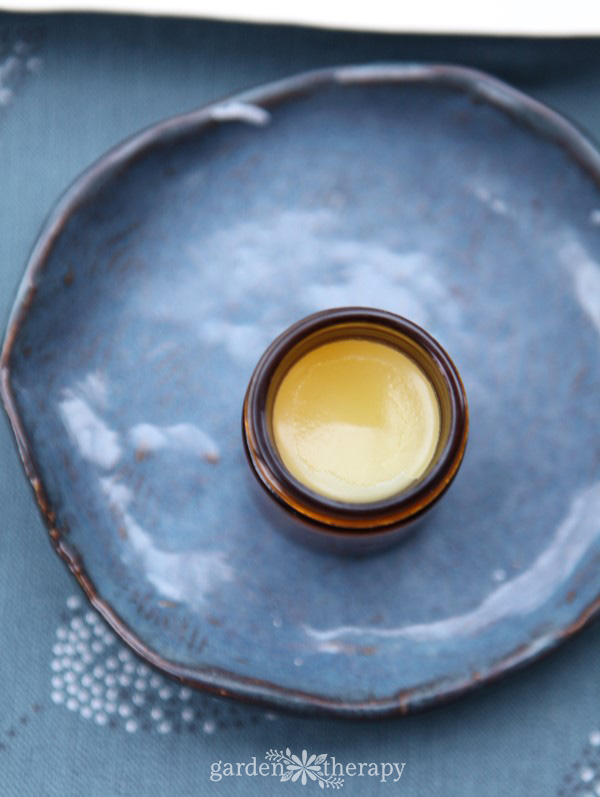 Healing Herbs and Plant-Basked Skincare
Here are some more of my favorite guides to healing herbs and how to use them on your skin. People have used herbs for their medicinal qualities for ages. Now you can learn how to use them too.
Three Ways to Make Herbal Oils For Natural Beauty Recipes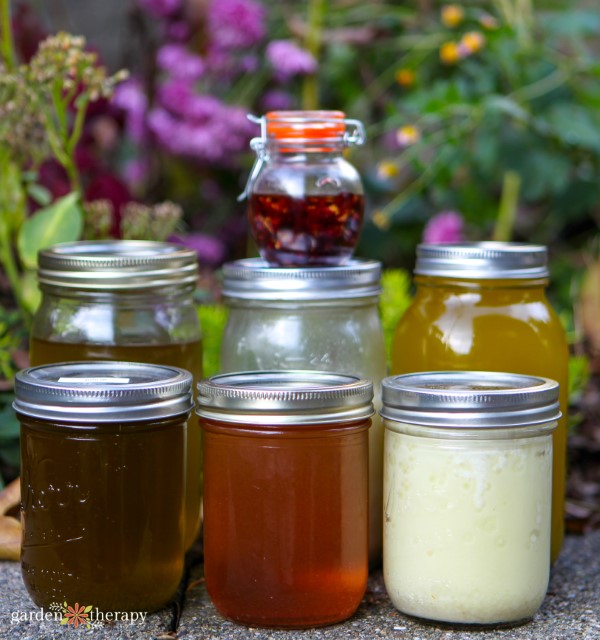 Discover the difference between stovetop infusion, slow cooker infusing, and sun-infusing herbal oil blends. I also share the difference between herbal oils and essential oils. Read more on this natural beauty recipes post.
How To Dry, Use, and Grow Calendula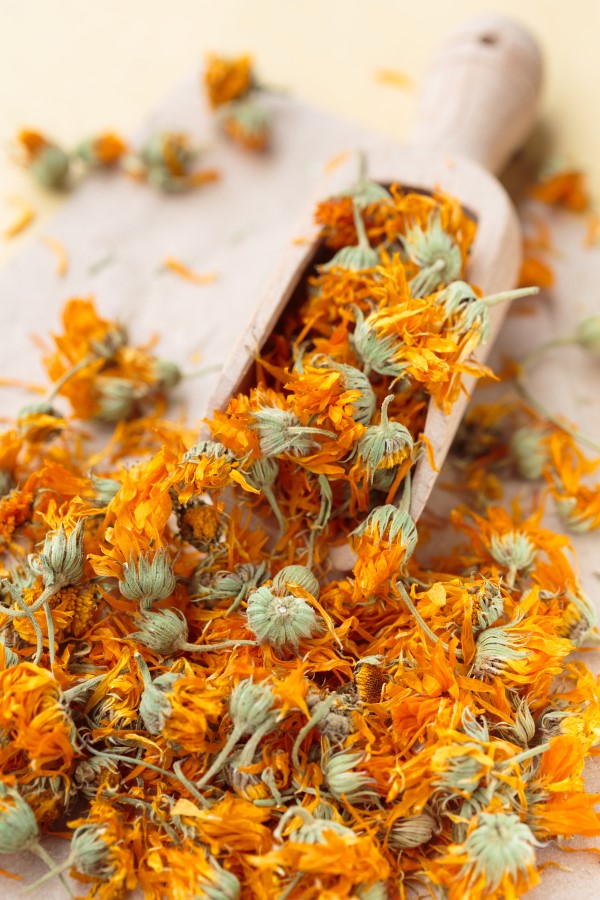 Calendula is an amazing plant! It attracts the good insects and deters the pests. Plus, it's really good for us as well, with all its soothing, healing properties.
Learn more about calendula in this complete guide!
Infuse Your Salve with Dandelion Oil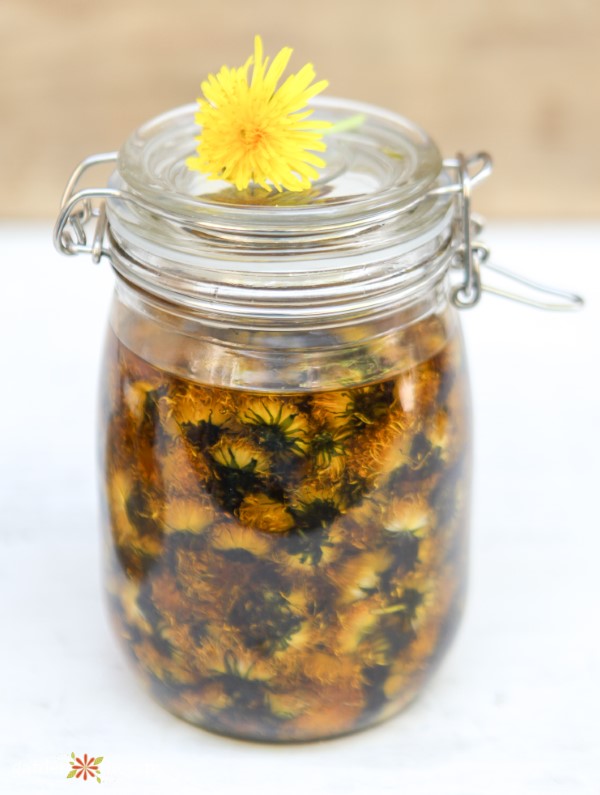 Dandelion oil is a magical thing! In fact, I wrote an entire post about why I highly recommend infusing your own dandelion oil – it's simple and effective. The cold oil infusion is perfect for pain relief salves, balms, lotions, and lip scrubs.
Homemade After-Sun Salve Recipe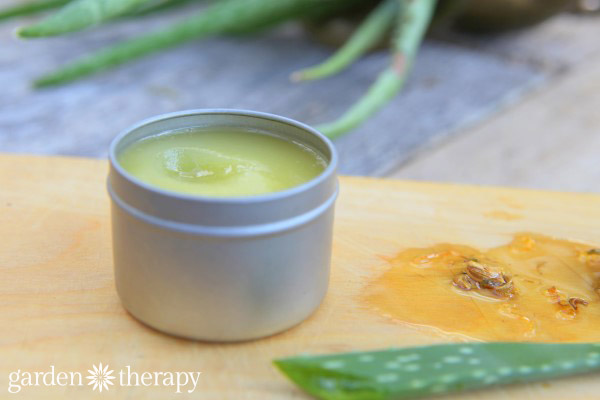 When your skin dries out from being in the sun all day or if you happen to get an accidental sunburn, you need this salve. It's made with aloe vera, calendula, shea butter, and other natural ingredients.
Here's how to make your own after-sun salve.
Essential Guide to Rosemary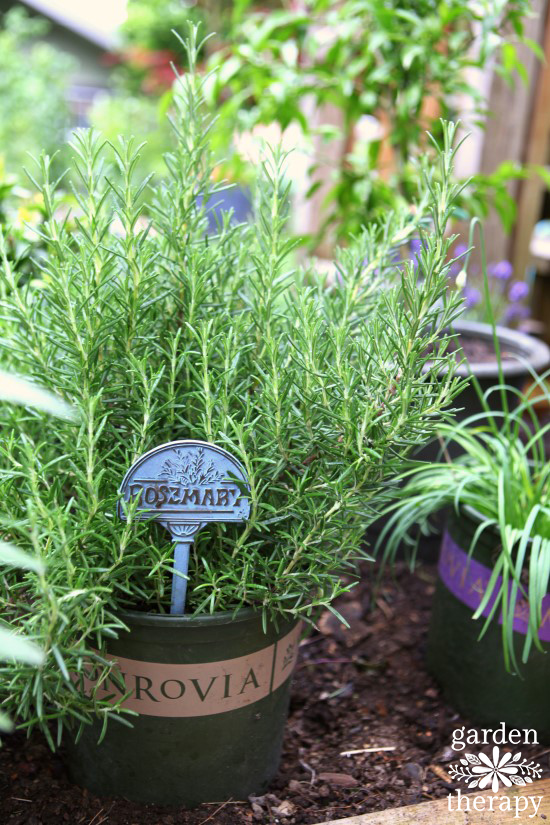 Rosemary is a powerful multi-purpose herb. Read this complete guide to the care, use and healing benefits of rosemary. Learn how to use it for your family.
Activated Charcoal Drawing Salve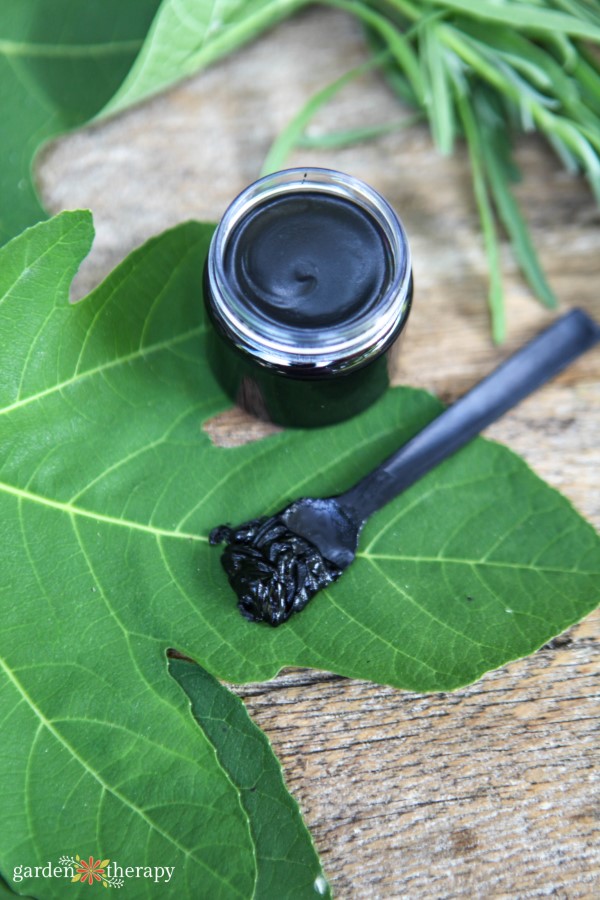 This drawing salve is a mixture of oils and herbal ingredients such as activated charcoal to draw toxins from your skin. It can be used on mosquito bites, wasp or bee stings, blisters, boils, slivers, and minor infections. This is a must-have if you are sensitive to mosquito bites like I am.
Healing Himalayan Pink Salt Scrub
Salt scrubs are luxurious. They remove dead skin and allow your body to heal itself. My healing Himilayan pink salt scrub is even more amazing.  It heals, soothes, and revitalizes your skin too.
All-Purpose Healing Salve
This calendula healing salve can help soothe itchy skin, prevent and treat sunburns, and even help your body heal wounds faster! Plus, it's incredibly simpel to make!
Instructions
Heat olive oil, butter, and beeswax until melted. In a double boiler, slowly heat up the olive oil, butter, and beeswax until just melted.

Add essential oil. Remove from the stove and add essential oil if you wish to use any.

Store in a glass jar or tin. Pour into a glass jar or tin and let cool before using.