When you garden as much as I do or spend plenty of time outdoors, someone around you always scrapes themselves or gets into something they shouldn't. While you could reach for a petroleum-based antiseptic, making your own salve is simple and only takes minutes. The next time someone cuts themselves, have this all-natural calendula salve at the ready.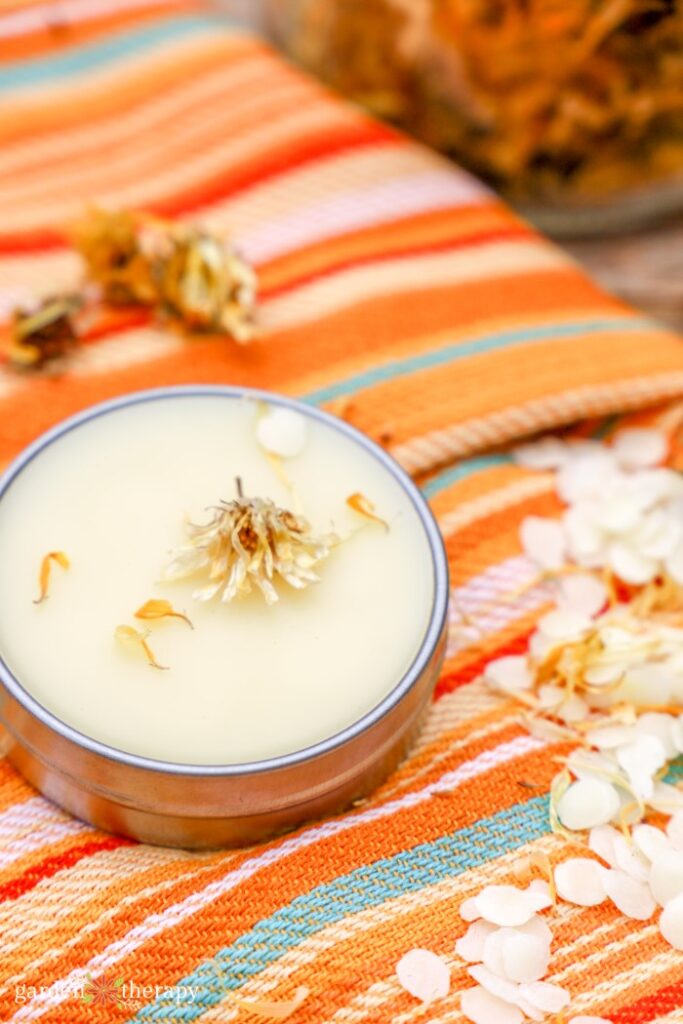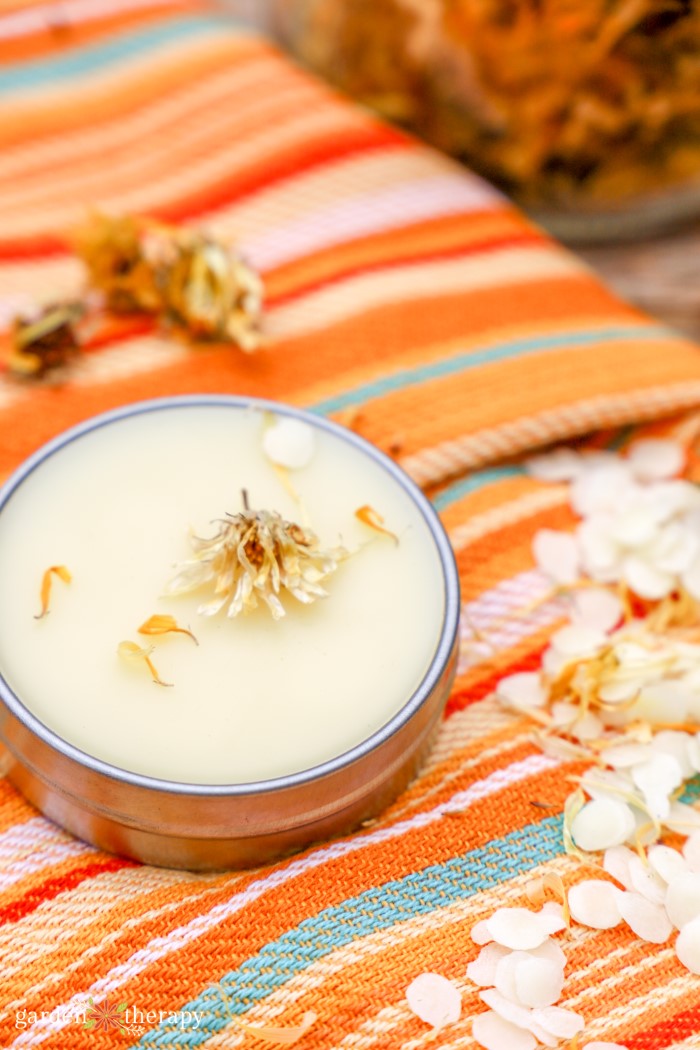 You'll find PLENTY of this sunny orange and yellow flower in my garden. Calendula is one of those plants that truly do it all. It grows easily and beautifully, the bees love it, and it's one of the best medicinal herbs on the market.
Calendula officinalis is a flower that can be used fresh or dried to make plenty of skin-friendly products, including this calendula salve recipe. If there's one natural salve to have on hand, let it be this one. It's so powerful in healing external injuries while being extremely gentle on the skin.
Careful! Calendula is also known as marigold as it was once dedicated to the Virgin Mary in the Middle Ages. However, it's different than the marigold flower we know today that you'll find in the garden centers (Tagetes spp.). Make sure you're working with the real calendula for this recipe!
This post will cover…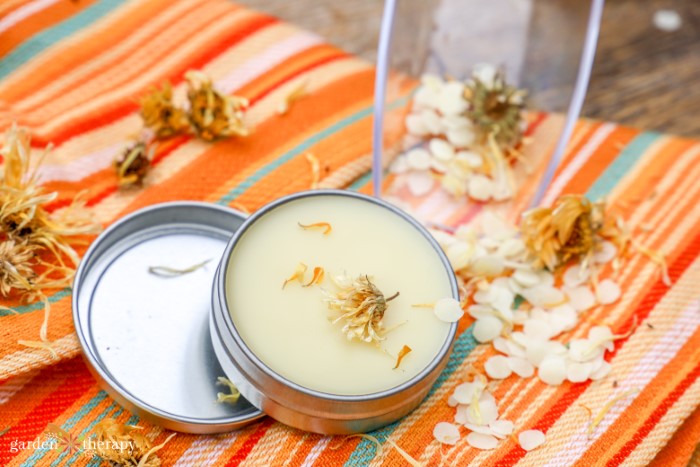 Calendula Salve Benefits
When it comes to skincare herbs, it's tough to find a better plant suited for the skin than calendula. Calendula is well known for its ability to help heal wounds and tissues, internally and externally.
Calendula has antibiotic, anti-inflammatory, tissue healing, and hemostatic properties. Because of this, you can use calendula to help heal cuts, burns, bruises, sprains, rashes, abrasions, and sunburns. In addition, it has salicylic acid which acts as an analgesic to relieve the pain that comes with these injuries.
Want more benefits? You can also use calendula to relieve itching such as from bug bites, stinging nettle, and even diaper rash. It can help with pretty much any skin toxicity issue.
Finally, the herb also acts as an antifungal to help with skin infections and yeast overgrowth.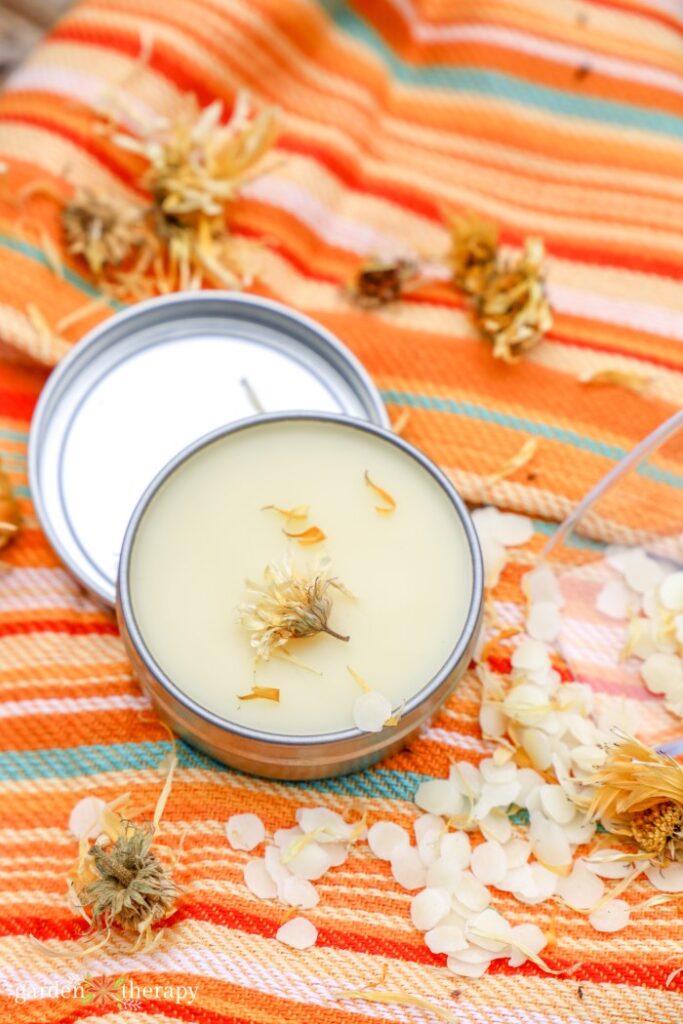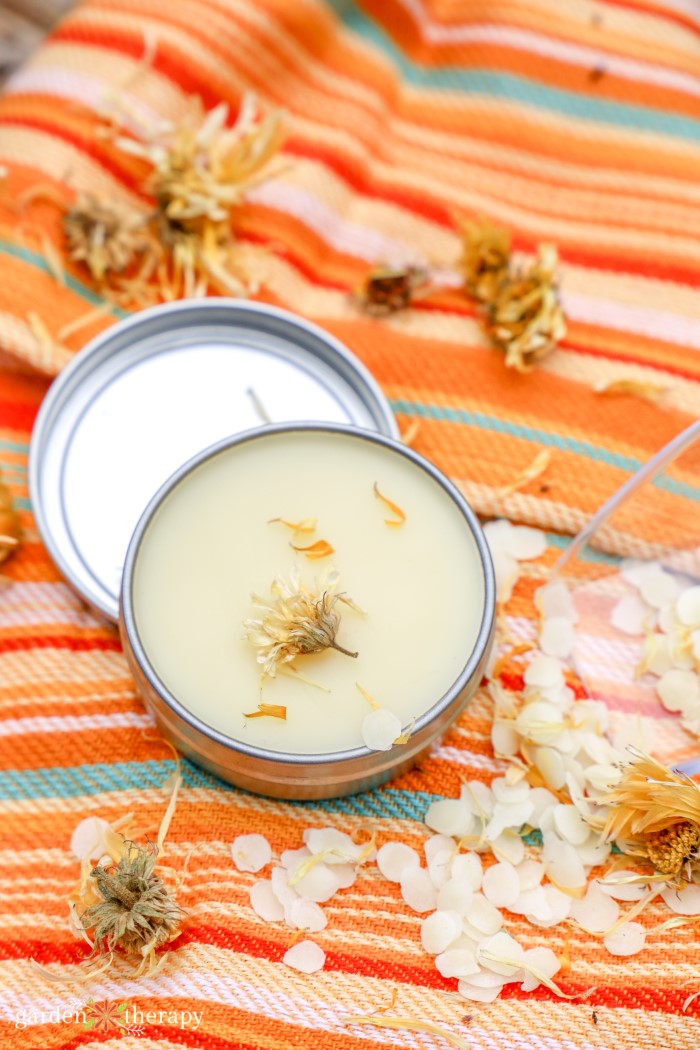 What is Calendula Salve Good For?
There are so many benefits for the skin when you use this calendula salve. You can use the salve as a general all-purpose healing salve for external injuries to your body. After applying, it should help to heal tissue and speed up the overall healing process. I use it most on cuts, bruises, scrapes, and splinters.
Besides calendula itself, this recipe has some more powerful ingredients. Citrus oil, in particular lemon essential oil, is an antibacterial and antiviral, which can help keep infections from setting in. The beeswax and oils make the salve the right consistency to smear onto the skin and also ensure that the skin stays moist and supple while it heals.
You can truly use this calendula salve on any part of the body. 100% natural, it's perfectly safe to use on people, pets, and other animals.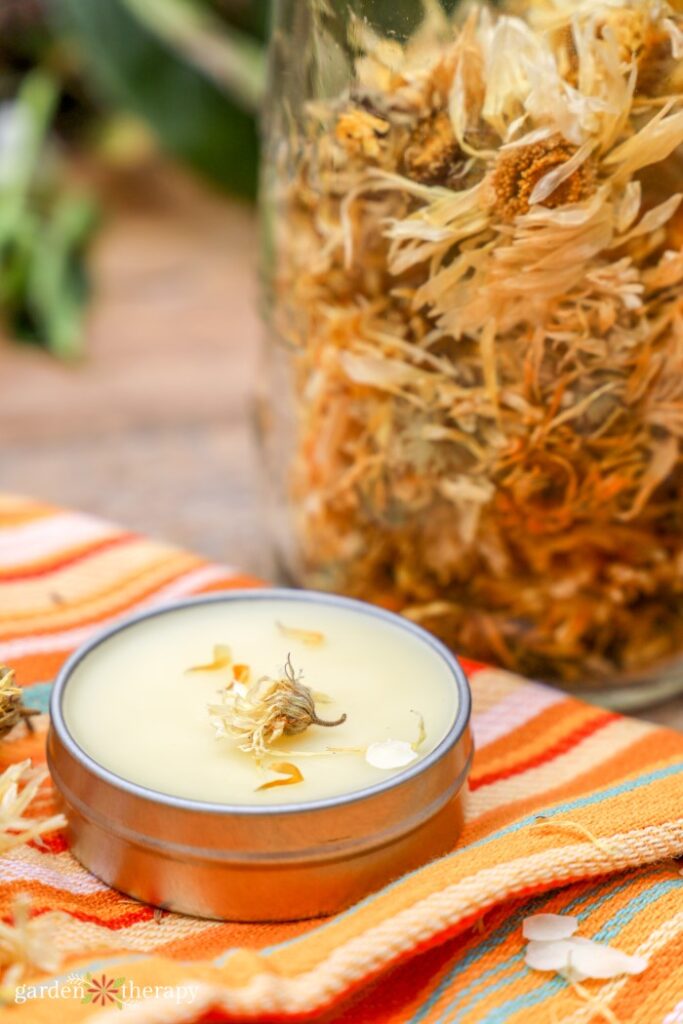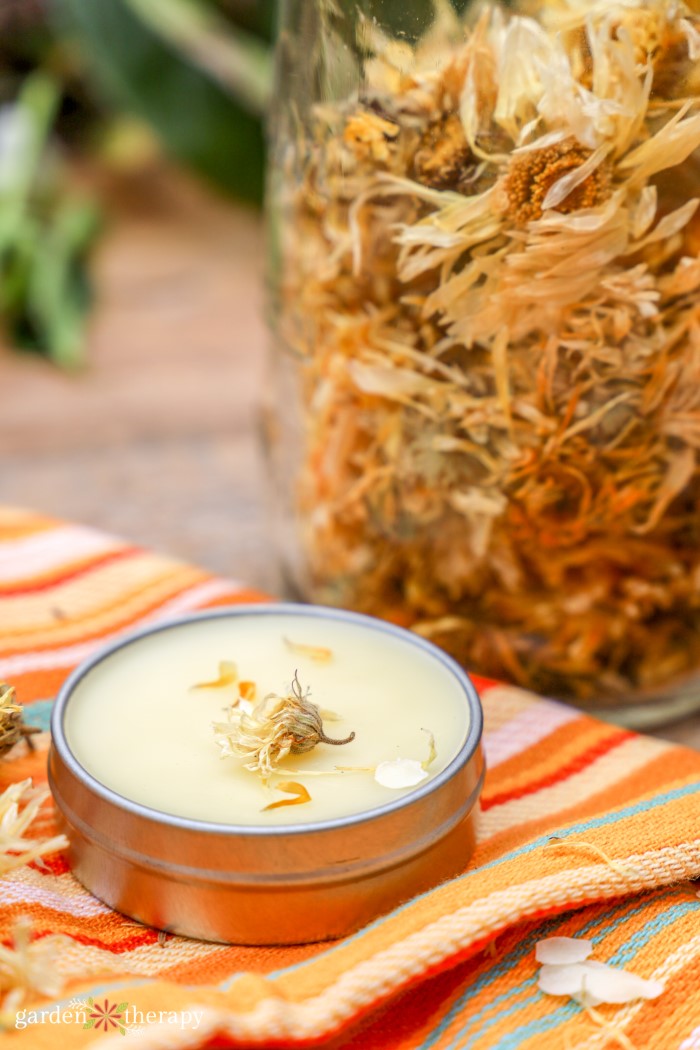 How to Make Calendula Salve
With just five ingredients, this all-natural calendula salve recipe is very simple to make but really goes a long way. Each ingredient plays a part in the healing process and works to treat cuts and bruises naturally.
Ingredients
Makes 135g. See card for exact measurements
Jump to Recipe
Infuse The Oil
Before you get started with your recipe, you'll need to infuse your sunflower and grapeseed oil with calendula. To do so, fill a Mason jar with dried calendula flowers and completely submerge it in the oil. Make sure all the flowers are covered.
Let the jar sit on a sunny windowsill for 2-3 weeks to infuse the oil with the calendula. Every few days, give the jar a shake. When it's done, filter out the calendula from the oil.
Alternatively, you can try heat infusion. Find out how to do that here!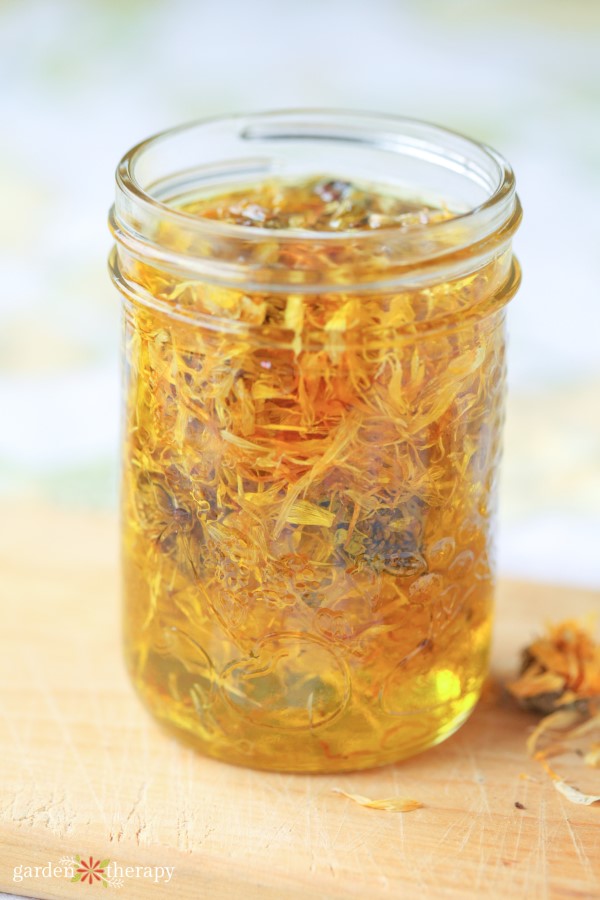 Make Your Salve
If your beeswax is solid, grate your beeswax before getting started. Measure out your ingredients using a kitchen scale and then add your beeswax, oils, and butter to a double boiler. Stir over low heat until the beeswax is fully melted.
Let it cool down slightly (but don't let it solidify) before adding in your lemon essential oil. Stir well and then pour into a sterilized, small-covered metal or glass container and let cool. Leave the containers undisturbed until set. Take a clean cloth and wipe the rim and caps.
Store your salve in a cool, dark place and apply liberally on cuts and scrapes as needed, as you would a commercial antiseptic ointment or salve. Use within three months.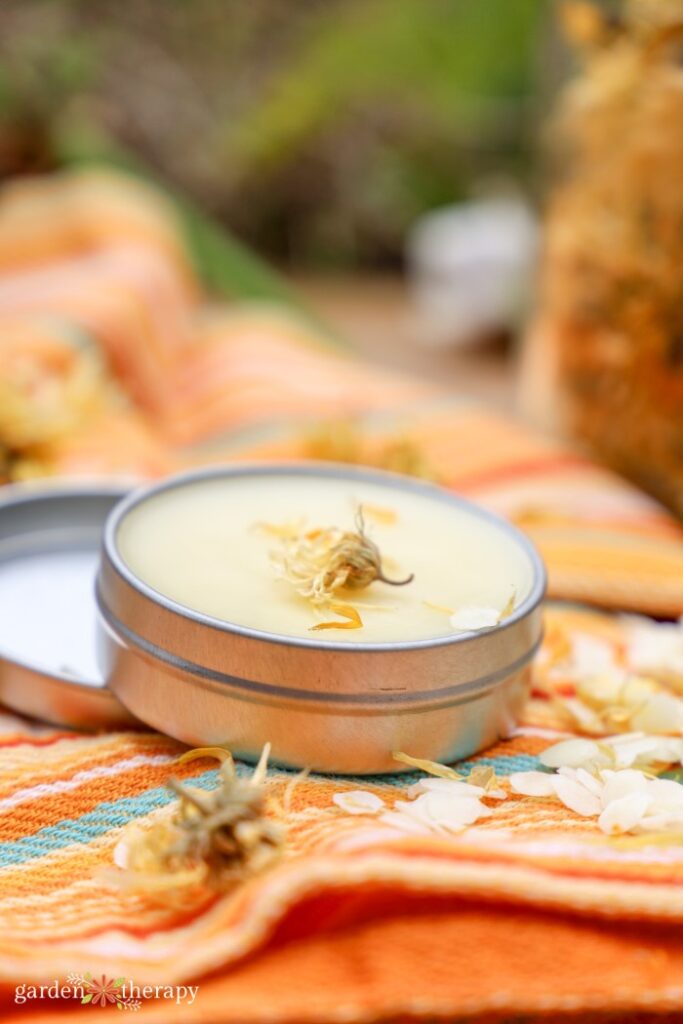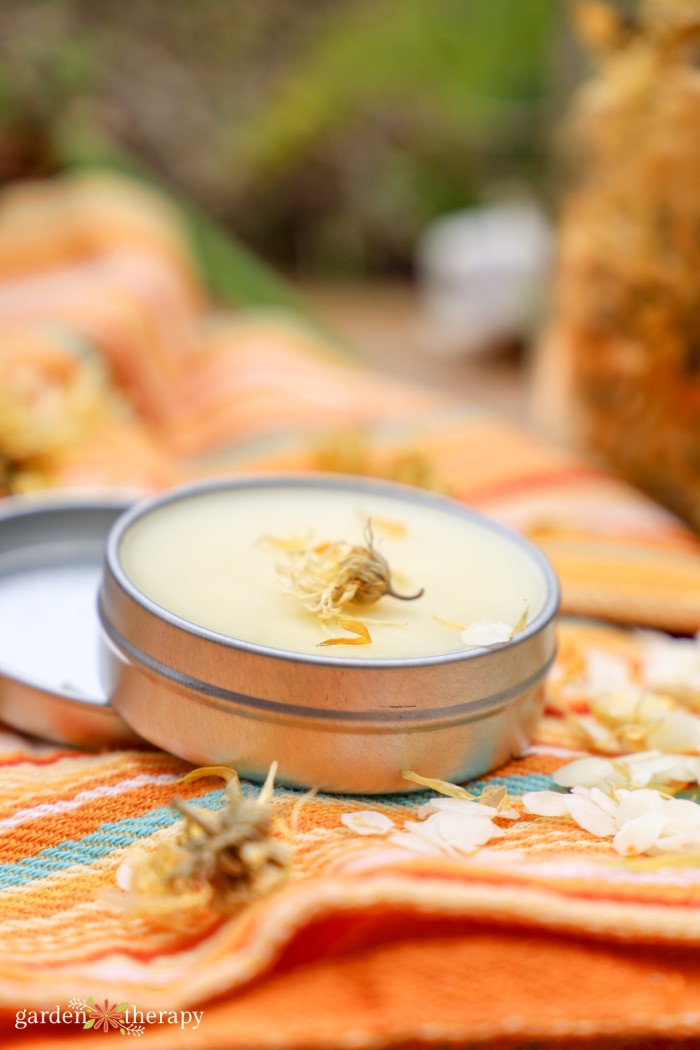 Frequently Asked Question About Calendula Salve
What are the benefits of calendula on skin?
Where to even begin!? Calendula salve works as a natural wound and tissue healer thanks to its anti-inflammatory, antifungal, and antibiotic properties. You can apply the salve externally to help speed up the healing and alleviate the pain from bruises, scrapes, scratches, bug bites, rashes, skin fungal infections, and sunburns.
Can I use calendula salve on lips?
Yes! This salve is perfectly safe for use on the skin, including lips. It's also safe for use on pets and small children. However, you can also make this specially formulated calendula lip balm for even more lip nourishment.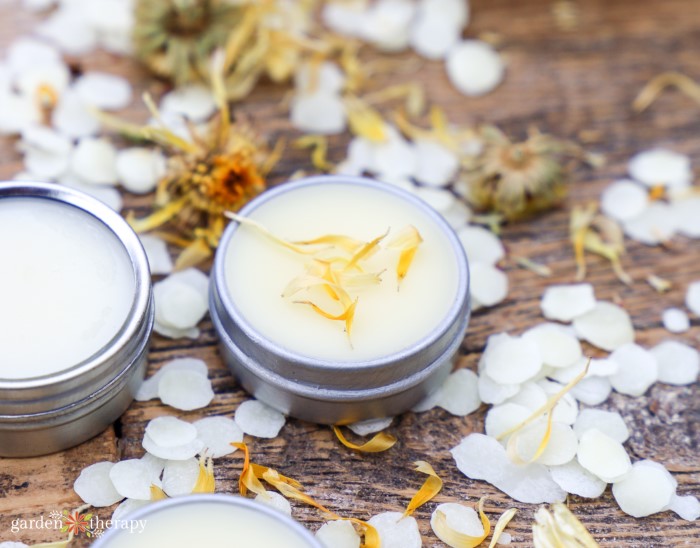 That's it! Making your own natural and effective healing products really is that easy. Let me know how your salve turns out in the comments down below!
More About Calendula
Homemade Calendula Salve
Naturally treat cuts and scrapes with this all-natural calendula salve. Makes 135g.
Supplies
Instructions
Infuse your grapeseed oil and sunflower oil with dried calendula petals using the cold infusion method.

Measure your ingredients using a kitchen scale then combine oils, butter, and beeswax into a double boiler. Stir over low heat.

Once the beeswax is combined, remove it from heat and allow it to slightly cool. Don't let it solidify.

Add in the essential oils and stir well.

Pour into clean, sterilized containers and allow them to set undisturbed.

Store in a cool, dark place. Use within three months.