Today, anyone can get their hands on hardy mums and they seem to be for sale everywhere this time of year, from nurseries to grocery stores to big box department stores. That doesn't mean that they are all the same, though. New varieties are constantly being bred for performance and color. Crayon-box bright colors are no longer the only options. Deeper hues of bronze, copper, rust, peach, wine, and chocolate are a modern color pallet that can update your front porch. The newest varieties of modern mums not only look beautiful, but they are easy to care for in the garden.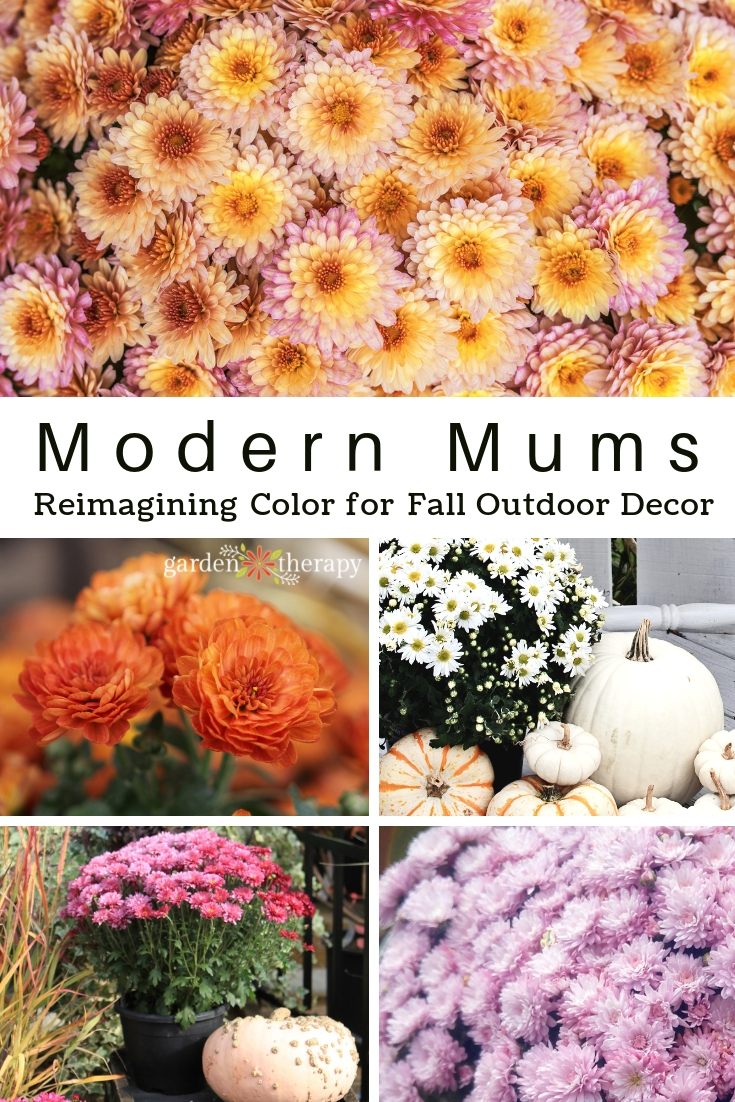 The History of Chrysanthemums
Mums have a long tradition of being well loved. In the eighth century in Japan, the emperor made the chrysanthemum the symbol on his royal crest (they still appear on some Japanese coins) and in fifteenth-century China, mums were regarded as such a special plant that only members of the royal family were permitted to grow them.
Chrysanthemums were brought to Europe in the seventeenth century and about a hundred years later reached North America, where they came to symbolize honesty and long life. In the Victorian era when the symbolic meaning or "language" of flowers became a very popular form of expression, red mums were a favorite token used to represent romantic love. You can read more about the language of flowers here.
Today, chrysanthemums are still beloved. They have come to represent fall and the change of seasons and are one of the most popular flowers for home gardens.
The New Color Pallet of Mums
Decorating with hardy mums is all about adding a pop of color to your garden. Mums are often paired with pumpkins and gourds in bright oranges and yellows. This year, why not ditch the candy-corn color pallet for something more subdued?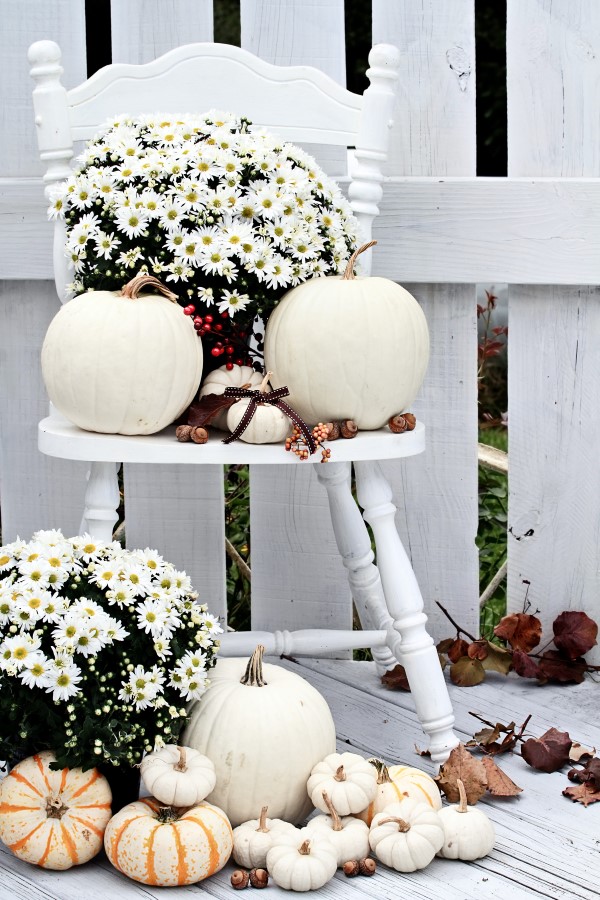 White
White is both classic and modern. Monochrome displays are stunning in any hue, but white makes for something that is both dramatic and simple all at once. Pair white mums with white pumpkins and some fallen leaves for a timeless fall vignette.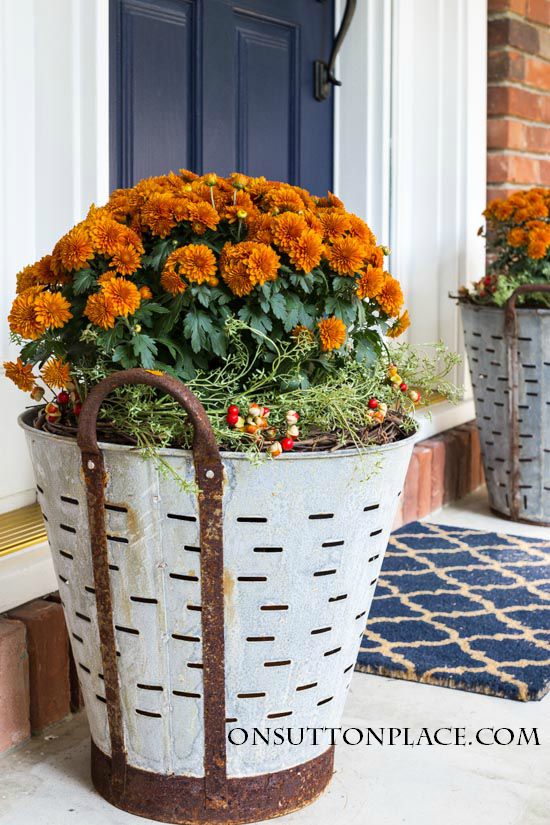 Rusty Orange
For a display that celebrates traditional fall orange with a modern twist, say "see ya" to pumpkin orange and look for the more muted tones of rust, copper, and peach. Rusty orange pairs well with neutral colors, deep greens, and bright reds. Ann Drake from On Sutton Place styled these rusty olive containers with grapevine wreaths, greenery, and of course, some deep orange mums. I love how the vintage pots, rust, and colors work together to create something much more modern. Be sure to check out Ann's fall porch as well!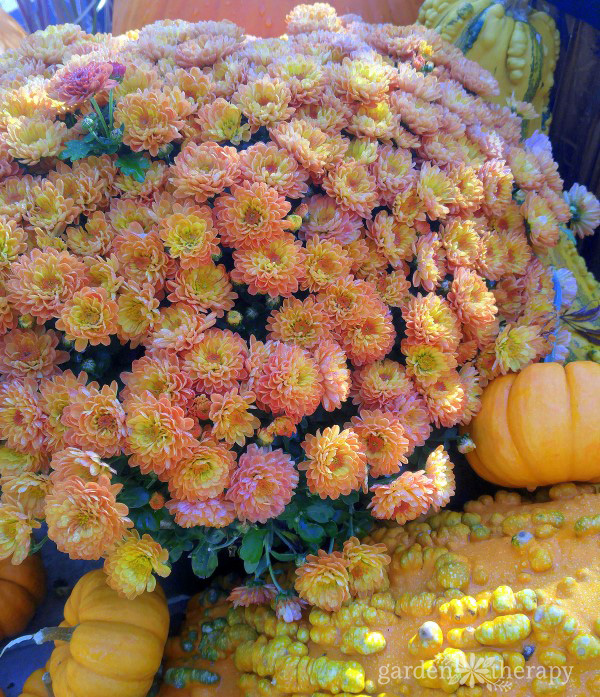 Peach/Lavender
Lavender on the outside and peach on the inside, what's not to love? The colors have a very soft, pretty look but are unique enough that they feel new and interesting. A modern mum like this one needs no accompaniments, as it's striking enough to stand on its own. Plant this mum in a white pumpkin or a single container. It's a one-pot wonder that looks best when flying solo. If you must pair this mum, then something with texture like a warty pumpkin is a great choice.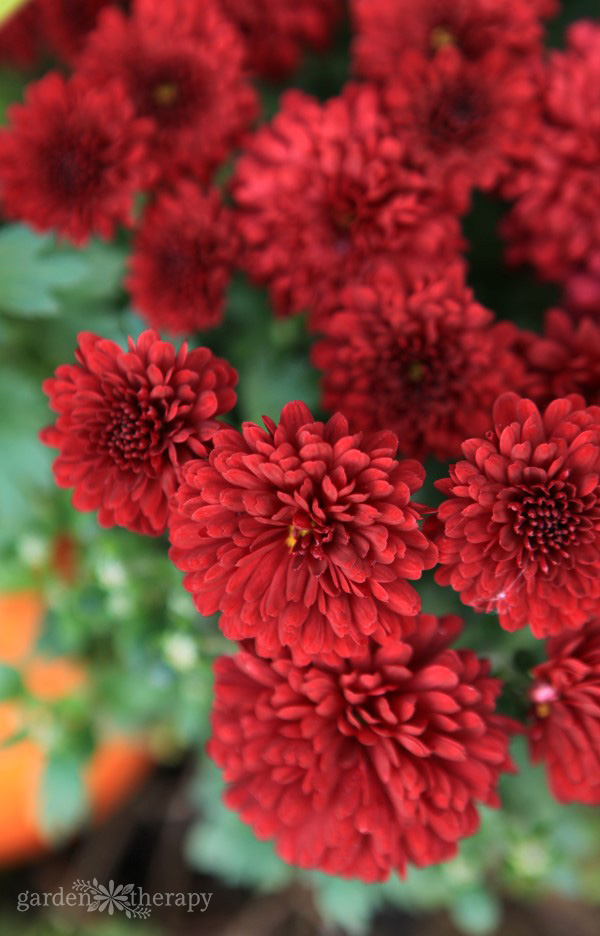 Rich Red
If you like to have a traditional color for your fall outdoor decor, then this rich red would be a great update from the poppy-red mums you usually see. These deep red pompons take on rich purple and black hues, depending on the light that they are in. They look great with bright colors like lime green and contrasting black, so look for partner plants with attractive foliage. And skip the pumpkins for something much more refined—these rich reds are most at home in a display that exudes elegance.
Lavender
When these pale lavender mums burst into bloom, they almost glow. Lavender certainly isn't a new hue, but how you pair it could be. Imagine a lavender mum paired with other cool-toned plants like beautyberry branches and blue pumpkins. Now that's a stunning color pallet you don't expect in fall!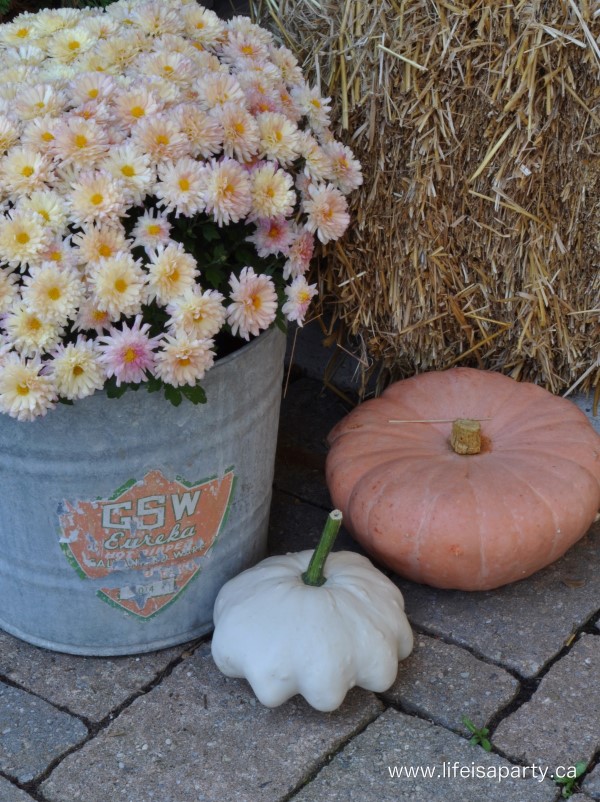 Pink
Pink pumpkins are the star of this year, so pair them up with some pink mums. I love this display by Danyelle at Life is a Party. The fluffy, light pink mums pair perfectly with pink and white pumpkins, creating a display that feels neutral in a fresh, new way. The prettiness of the pink mums is balanced by the rustic texture of the straw, bringing the whole look together perfectly.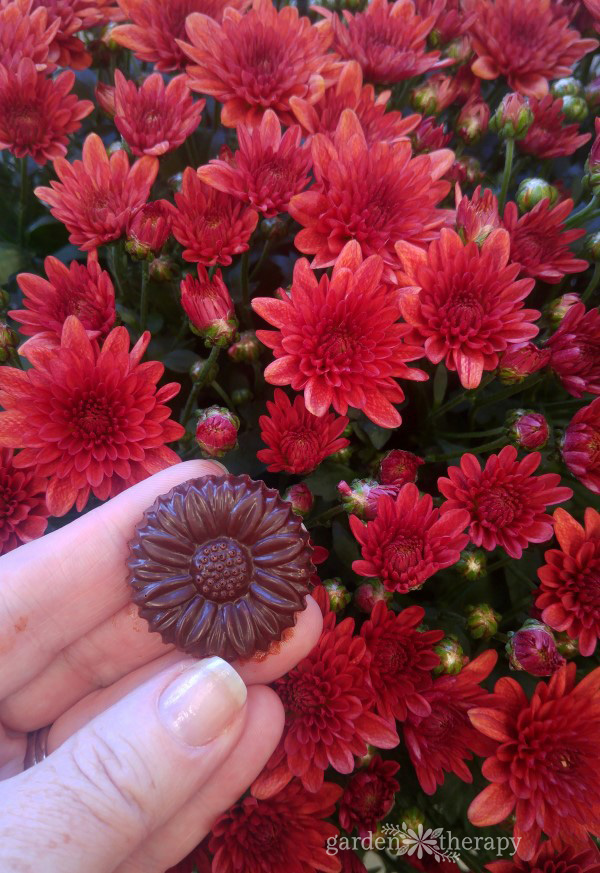 Chocolate
Did you know that chrysanthemum petals are edible? They range greatly in flavor and have been reported to taste tangy, bitter, or peppery depending on the variety. Only the petals are edible; pluck them off the bitter flower heart and compost the leaves. Oh, and be sure to only eat flowers that are organically grown. Commercially grown flowers can be loaded with pesticides, growth inhibitors, and other chemicals you do not want to eat. You can read more about how to plant and grow hardy mums in your garden in the Essential Guide to Caring for Hardy Mums.
At the California Spring Trials this year, I tried some handcrafted mum chocolates while learning about the Belgian mum breeder Gediflora. They had some really beautiful chocolate-toned mums, which makes perfect sense since Belgium is known for its chocolatiers.
More Posts You Might Like: