If you have ever been intrigued by the idea of growing mushrooms in your garden, this list of the best mushrooms to grow at home will get you started. Even if you are a beginner mushroom gardener, there are a few delicious culinary mushrooms that you can get started with. You don't even really need a lot of space, because they can be grown indoors and in jars as well as out in the garden.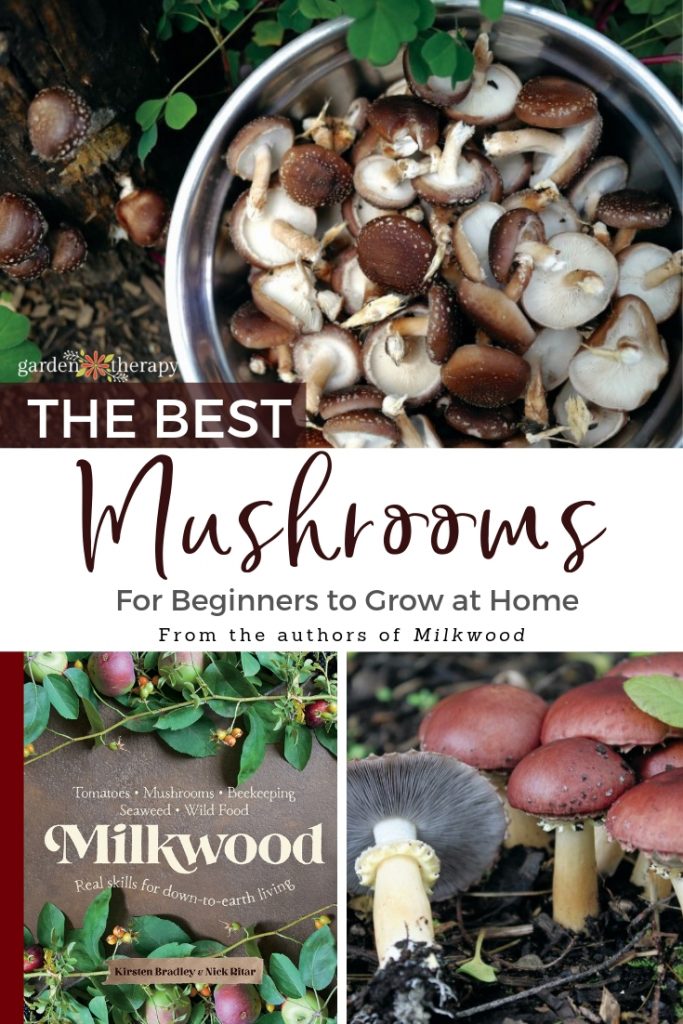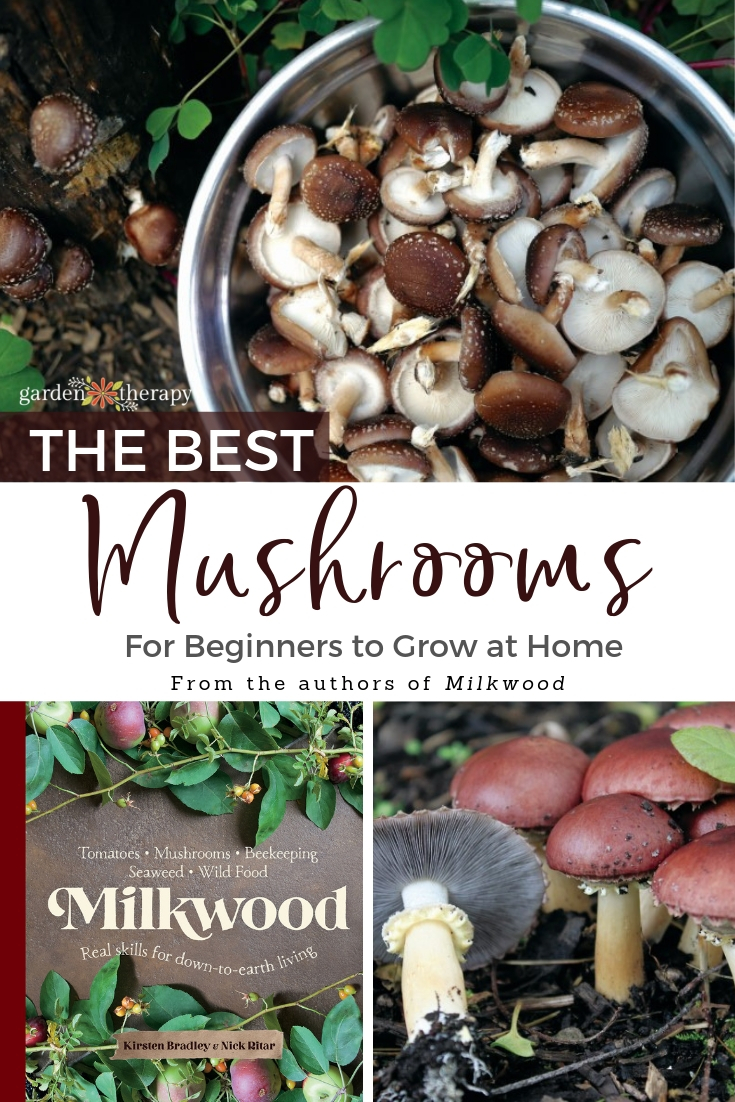 Permaculture farmers Kristen Bradley and Nick Ritar have a whole chapter of their book, Milkwood: Real skills for down-to-earth living (Murdoch Books, 2019) on growing mushrooms. The book arrived not long after I completed my first Permaculture Design Certificate so I sat down and consumed the whole book in an afternoon. Then, I spent some time over on the Milkwood website reading up more about this duo and their farm near Daylesford, Australia. If you are lucky enough to live nearby, perhaps you can travel to visit the farm and take courses in person. For the rest of us, the Milkwood book chapers are broken into five mini courses: Tomatoes, Beekeeping, Seaweed, Wild Food, and Mushrooms.
The mushroom chapter is filled with the biology and history of mushrooms and projects to cultivate mushrooms at home like mushroom bags, jars, and holey buckets along with outdoor cultivation like how to make a mushroom garden.
I've been interested in growing mushrooms at home for many years, and have grown them successfully outdoors in both bags and on logs. I've tried shiitake and oyster mushrooms and after reading about the other easy-to-grow types of mushrooms, I want to grow them all!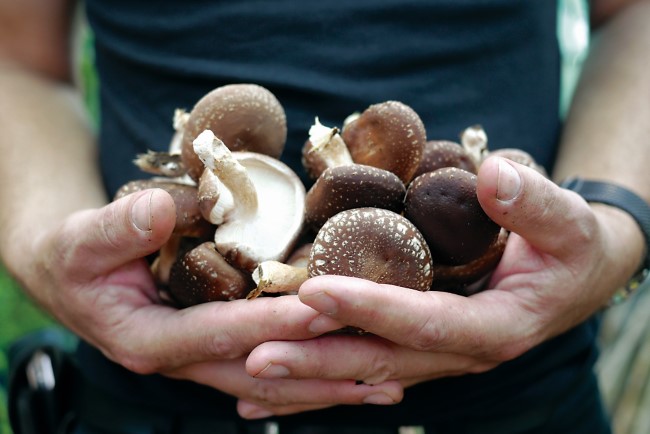 Here is a little sample of the book, excerpted with permission from Murdoch Books Australia and Quarto Homes; photographs courtesy of Kristen Bradley, Kate Berry, and Ann F Berger (CC). 
The Best Types of Mushrooms to Grow at Home
by Kristen Bradley & Nick Ritar
Mushroom cultivation is quite different from going for a walk in a pine forest at the right time of year to gather a basket of wild mushrooms. Although, if you set up your mushroom gardens well, it can feel a lot like that experience. Starting off with a species that will grow no matter what is a good idea.There's nothing like a feast of successfully home-grown mushrooms to spur you on to further cultivation. Of course, once you've mastered the process,you can branch out (like a mycelium!) to other mushrooms that have more specific needs. Here are the mushrooms we recommend when you're starting out on your mushroom cultivating journey.
Pleurotus ostreatus (Pearl Oyster)
The species we recommend starting with for bucket or jar cultivation is the pearl oyster. There are lots of Pleurotus (oyster) species, including Pleurotus djamor (pink oyster), Pleurotus eryngii (king oyster) and Pleurotus citrinopileatus (golden oyster). However, some of these other varieties are slightly more fiddly than Pleurotus ostreatus, so pearl oyster is a good starting point.
Preferred fruiting substrates: Oyster mushrooms prefer pasteurised straw or sawdust, but will fruit well on most farm waste products containing cellulose and lignin. They also like hardwood logs or stumps for outdoor cultivation.Waste coffee grounds are becoming popular among urban growers of oyster mushrooms, but note that they must be used while very fresh as they have a relatively high nutrient content and can be prone to contamination.
Climate: Pleurotus ostreatus are awesomely adaptable and will tolerate a range of growing conditions. They should fruit anywhere from 7–25°C (45–77°F).
Time from inoculation to fruiting: Quick. From 2 to 3 weeks for indoor cultivation, depending on ambient temperature and the inoculation rates of substrate.
Pleurotus rryingii (King Oyster)
Considered by many to be the best tasting oyster mushroom, king oysters are a meaty, full feast that can be sliced and barbecued. They crisp up when stir-fried, yet stay wonderfully chewy and nutty. They can be grown in a similar way to pearl oysters, but their superior flavour makes them worth mentioning. Once you've mastered pearl oysters, give them a go.
Lentinula edodes (Shiitake)
Shiitake are a great species to use when you are starting outdoor cultivation.They will grow on logs in your garden. Although they're a lot slower to fruit than oyster mushrooms, if you inoculate a batch of logs every year (or even better, every season), you can soon have a regular supply of shiitakes.
Preferred fruiting substrates: Hardwood logs of almost every type, though yields will vary according to the log species. Eucalypts work well if you can't find oak, beech or alder. They can also be grown on sawdust.
Climate: There are different strains of shiitake, but the main strain that we use fruits between 14 and 20°C (57 and 68°F), which is a wide enough bracket for most temperate climates. There are both colder and warmer strains that fruit below, and above, that temperature envelope.
Time from inoculation to fruiting: Long. On logs: from 6 to 12 months (or longer), depending on climate and inoculation rates of the log. On sawdust blocks: 7 to 10 weeks. Worth the wait!
Agrocybe aegerita (Velvet Pioppini)
Native to poplar wood, this is a delicious mushroom with a nutty bite.It's great for stir-fries and other cooking methods.
Preferred fruiting substrates: Hardwood sawdust is best. This one is great for jar cultivation. It also does well on logs and stumps.
Climate: Keep it cool –pioppinos like to stay around 13–18°C (55–64°F),and tend to fruit in the spring, after the colder months.
Time from inoculation to fruiting: Long – 8 to 12 months for outdoor log cultivation or about 6 weeks for indoor cultivation.
Stropharia rugosoannulata (King Stropharia or Garden Giant)
This is our favourite mushroom to grow in wood chip gardens. It's easy to grow and delicious to eat.
Preferred fruiting substrates: Hardwood wood chips are preferred, but,like oyster mushrooms, king stropharia will grow in straw and many other farm waste products.
Climate: King stropharia grow in a very broad range of temperatures,from about 5–35°C (41–95°F), so they're great for both temperate and subtropical climates. They do need good moisture,
however, so make sure this is supplied consistently.
Time from inoculation to fruiting: Long.About 4 to 6 months, depending on inoculation rates and which substrate you use.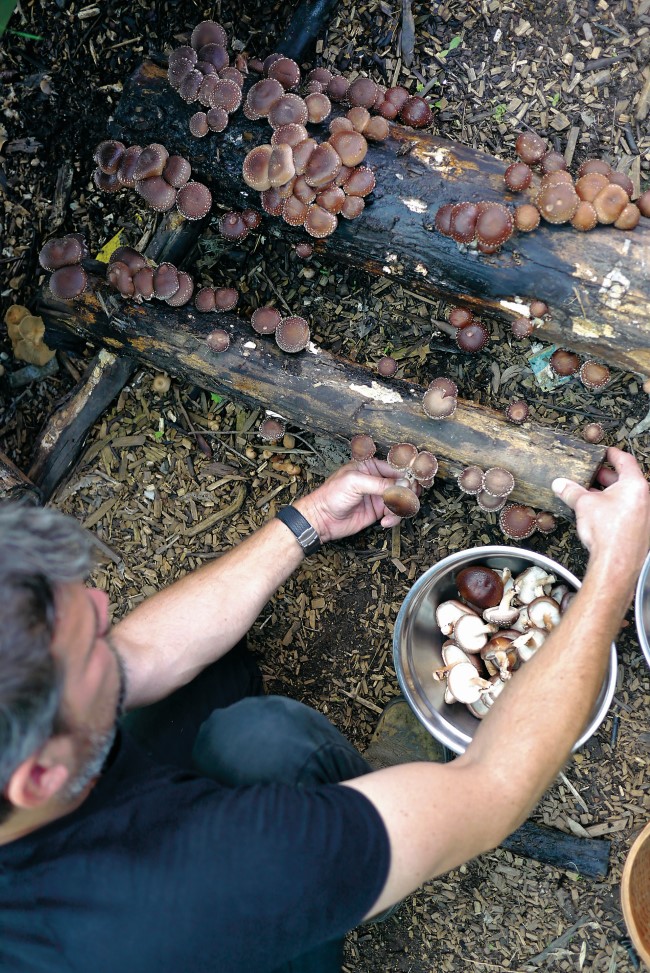 About the Authors
Milkwood is the name of Kirsten Bradley and Nick Ritar's first farm as well as their school where anyone can learn skills for down-to-earth living. Kirsten, Nick and a team of educators offer courses on topics contained in their book as well as permaculture design, natural building and much more. Kirsten and Nick live on a small regenerative farm in Australia, where many things from the sprouted grain they feed their chickens to ingredients that make up dinner is homegrown.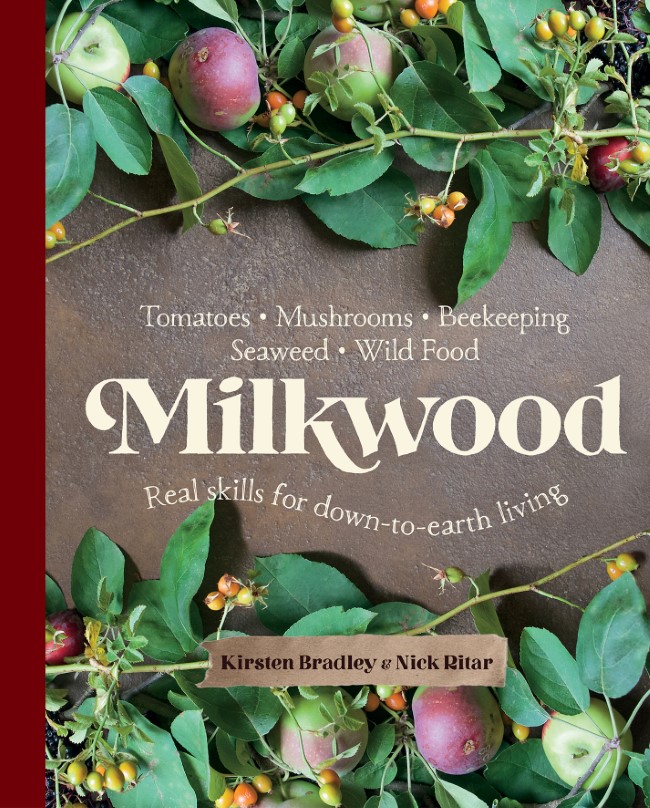 More Mushrooming Fun