Looking for a fun way to share the festivity of fall with your favourite furry friend? Look no further than this 3-ingredient pumpkin dog treats recipe This healthy snack will not only provide your pup with protein and fiber, but it helps with digestion issues too.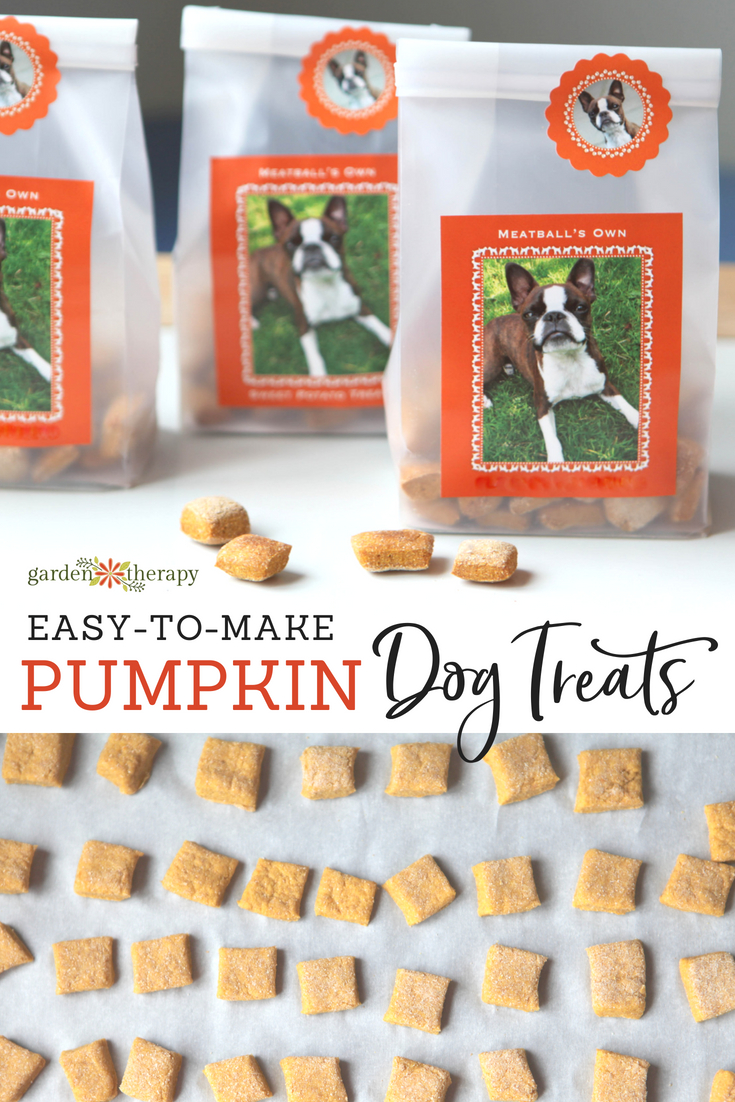 Pumpkin is a healthy source of fiber and nutrients for dogs. It helps them digest meat and bones, especially when they are on a raw food diet.
Moreover, pumpkin is also a natural remedy for, well, flatulence in dogs. It's not a pretty subject to read about, but it's even less pleasant to experience in person.
So if you have a Windy Mindy who loves to cuddle with you on the couch, then perhaps these 3 ingredient dog treats will make TV time more tolerable (and her tummy will feel better, too).
Benefits of Homemade Pumpkin Dog Treats
I feed my dog a raw food diet, which consists mostly of ground-up raw meat, bones, and offal. It's full of nutrients and very close to the diet of wolves.
My pampered pooch isn't much of a hunter and, as such, he needs a bit of roughage added to his diet. That's how this simple pumpkin dog treats recipe was born.
Not only are they easy to make, but they are great for your pup too! Pumpkin is so good for your dog. Here are just a few of the benefits pumpkin provides for dogs.
Adds Fiber
The reason I made these treats in the first place was to infuse my pup with a healthy dose of fiber. Canned pumpkin is an easy, economic way to help ease upset stomach and constipation.
While digesting, the fermentation process of the fiber creates fatty acids that help to lower the acidity in your dog's large intestines. Pumpkin also contains prebiotics to help keep the important bacteria in the digestive tract.
Helps with Runny Stools
For stomach troubles on the opposite end of the spectrum, pumpkin is still an invaluable tool for your dog. In fact, many people recommend adding a bit of canned pumpkin to your dog's food if they have diarrhea.
It has the added bonus of adding hydration back into their diet too, which can be essential during bouts of upset stomach.
Reduces Flatulence
Here's the other reason I wanted to make these pumpkin dog treats. My little buddy was rather gassy from the raw food diet he got, and these treats helped our cuddling sessions to be much more pleasant.
Helps Promote a Shiny Coat
If your dog's fur is looking a bit dull, I highly encourage you to whip up a batch of these 3 ingredient dog treats! The high water content within pumpkin as well as the vitamins within it will make your pup's coat gleam and shine.
Just like kale or blueberries are a superfood for humans, pumpkin for dogs is their version of a powerful snack. By eating pumpkin, dogs will get plenty of micronutrients and fiber. It contains Vitamins A, C, E as well as potassium and iron.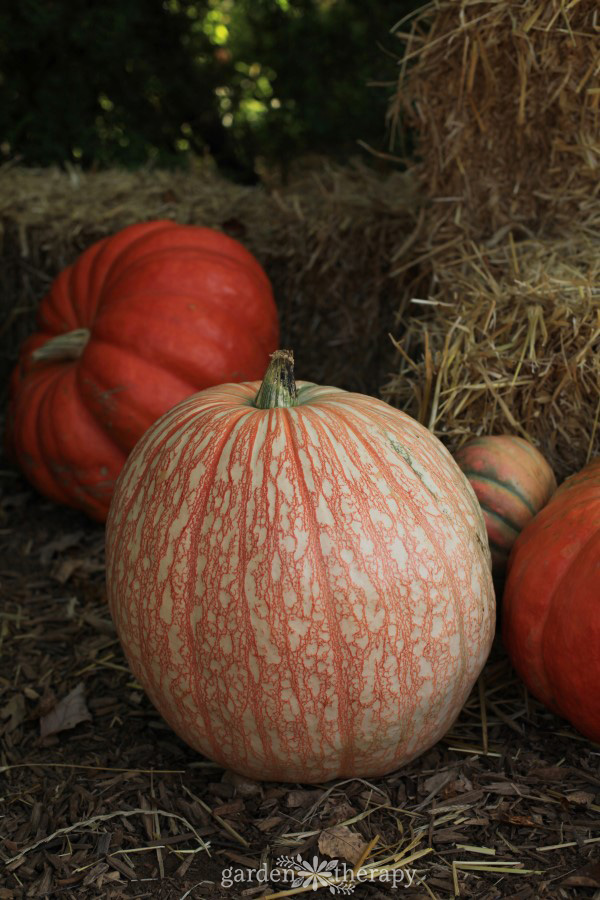 How Much Pumpkin Should I Give My Dogs?
Like any food, you want to use pumpkin for dogs in moderation. Too much fiber can be a bad thing after all!  It's recommended that dogs have anywhere between 1-4 tbsp of pumpkin a day. Dogs should start off small while they get used to the pumpkin. 1 tbsp for a large dog and 1-2 tsp for a small to medium dog is best.
These 3 ingredient dog treats contain a total of 1 cup of pumpkin. There are 16 tablespoons in 1 cup. Depending on how big your treats are, they will contain different amounts of pumpkin. Either way, a few of these treats a day should be no problem.
Pumpkin Dog Treats Recipe
I originally developed these to add a little healthy fiber into my dog's diet. And I was completely surprised at the response! At first, I thought my pup would just sort of tolerate them enough to eat them and get some much-needed fiber. I didn't expect him to love them!
I didn't add any flavouring or strong-smelling ingredients like peanut butter or bacon, and yet he went absolutely crazy for these cookies! It's a treat just being given a biscuit that is made with simple, real ingredients.
Here is how to make them for your favourite four-legged friend.
Ingredients
There are just three simple ingredients needed for this dog treat. You probably even have most of these at home already!
Make it!
First, preheat the oven to 350 degrees F, and get your ingredients ready.
This pumpkin dog treats recipe uses 1 cup of cooked and pureed pumpkin. If you choose to use canned pumpkin, be sure to get an unsweetened pure pumpkin, not pumpkin pie mix that has added sugar and spices. Measure out the pumpkin and add it to a mixing bowl.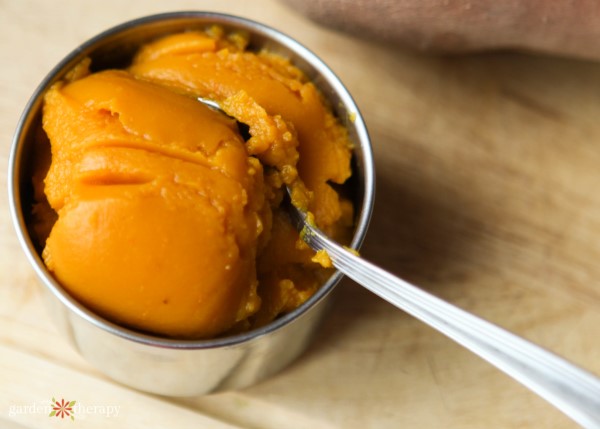 Next, beat the egg and add it to the pumpkin. Mix together well. Add in the flour, stir, and then transfer the mixture onto a non-stick surface.
Then, use your (clean) hands to kneed the pumpkin dog treat mixture until just mixed. Use a rolling pin to make it ½" thick.
Tip: use a little extra flour on the non-stick surface and the rolling pin to prevent sticking. This will make rolling out the dough so much easier!
Transfer the dough onto a cutting board and cut it into a grid of biscuits that are approximately ¾" square for a small dog or 1" square for medium and large dogs. I found it easiest to cut with a pizza cutter, but a knife works fine a well.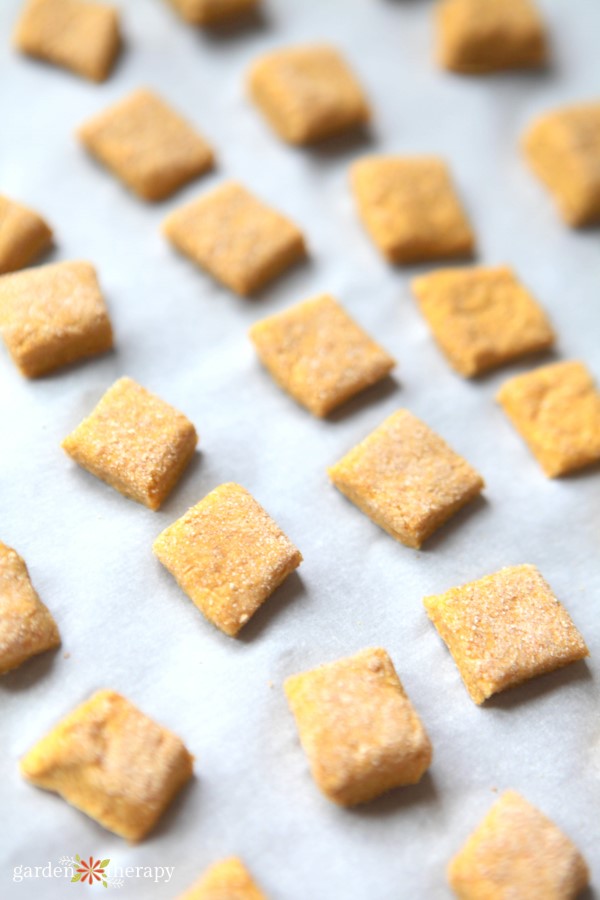 Bake for approximately 30 minutes, or until golden brown. These biscuits will be a bit hard for your human teeth, but pooch will love the crunch!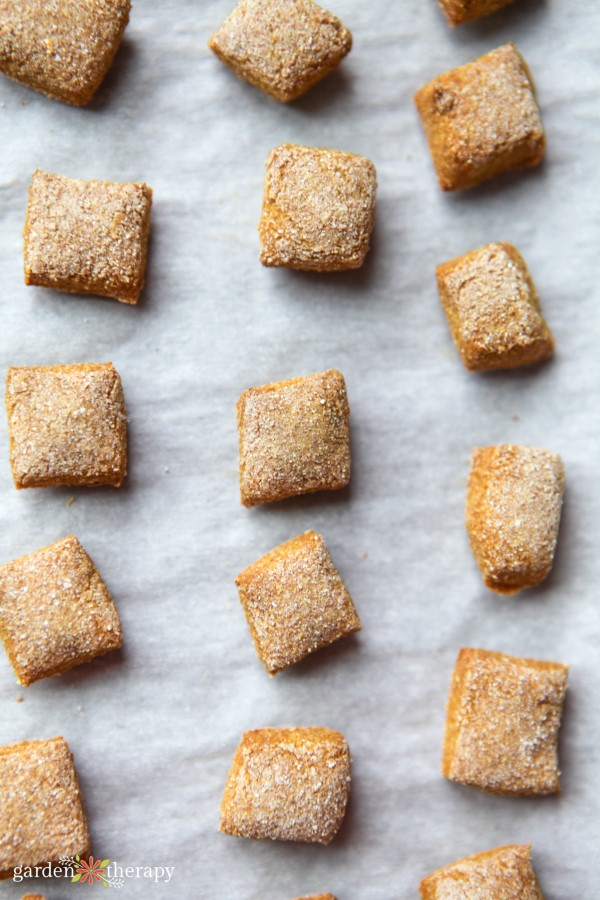 How to Store These Pumpkin Dog Treats
Store these dog treats in an airproof container, and they will last for about a week on your countertops.
If you want to make a double batch or need these to last longer, store the airtight container filled with the pumpkin dog treats in your freezer, where they will keep for six months. Just make sure to let them thaw before giving them to your pup!
Gift these Treats
Another fun thing to do with these dog treats is to gift them to fellow puppy parents. I added a few scoops into a kraft food bag. You can even make a personalized label as I did in the first image above!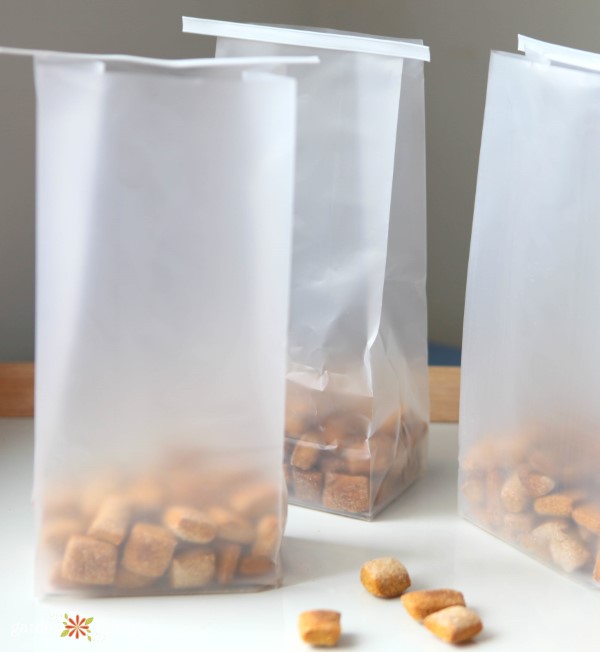 More Dog-Friendly Posts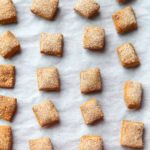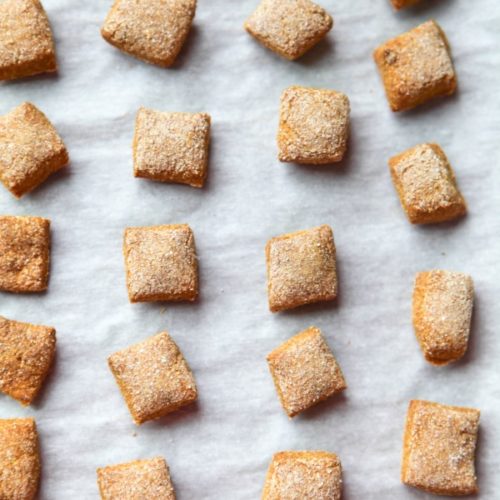 Print Recipe
Simple 3-Ingredient Pumpkin Dog Treats
Pumpkin provides so many benefits for your pup including digestive health, a shiny coat, and an infusion of vital minerals and vitamins. This simple recipe has just three ingredients. Your dog will thank you!
Instructions
Preheat the oven to 350 degrees.

Put 1 cup of pumpkin in a large mixing bowl.

In a separate bowl, whip the egg. Then, add it to the pumpkin, and mix well.

Add in the flour, stir, and then transfer to a non-stick surface.

Knead the dough with your hands until well mixed. Then, roll it out on a floured surface until it is 1/2" thick.

Cut the dough into squares using a pizza cutter or knife. I recommend a 3/4" square for small dogs, and a 1" square for medium to large dogs.

Bake for 30 minutes or until golden brown.

Let cool before allowing your dog to enjoy a few treats!
Nutrition
Serving:
1
treat
|
Calories:
33
kcal