Love succulent wreaths? Me too! They can be made with a variety of plants in different colors and shapes, using either a grapevine or wire wreath form. These beauties are full of life—and growth, and sometimes death. Losing a few plants doesn't mean the end of the whole wreath, though! Whether you live in a cold climate where the plants need to be stored for the winter, or in a warm climate where they thrive and grow year-round, there will come a time that you will need to refresh your succulent wreath.
This project will show you how to update and refresh a succulent wreath for the next growing year.
Materials
Sempervivums (Hen and Chicks) – small plants
Chopstick or wooden skewer
Scissors
Moss – enough to cover any holes
Florist wire – optional to rewrap moss onto the wreath
Re-make it!
As you can see, it is time to trim back some of the succulents and divide the sempervivums in this overwintered succulent grapevine wreath.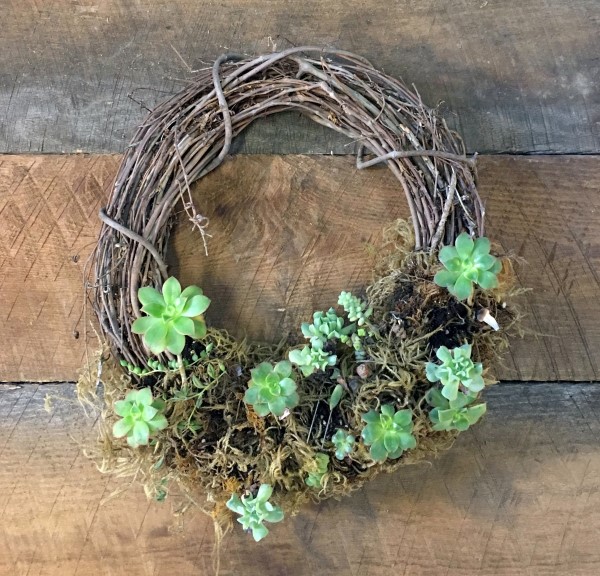 The wreath looked beautiful and lush when I made it with moss and succulent cuttings last year. I made this wreath by wrapping sheet moss around a section of a grapevine wreath and filling it with damp soil. I wrapped the moss around the wreath and soil, securing that with florist wire. I then made holes in the front of the moss for the succulents and filled in the spaces with small potted Sempervivums and succulent cuttings. Here is a photo of the process with a heart-shaped wreath: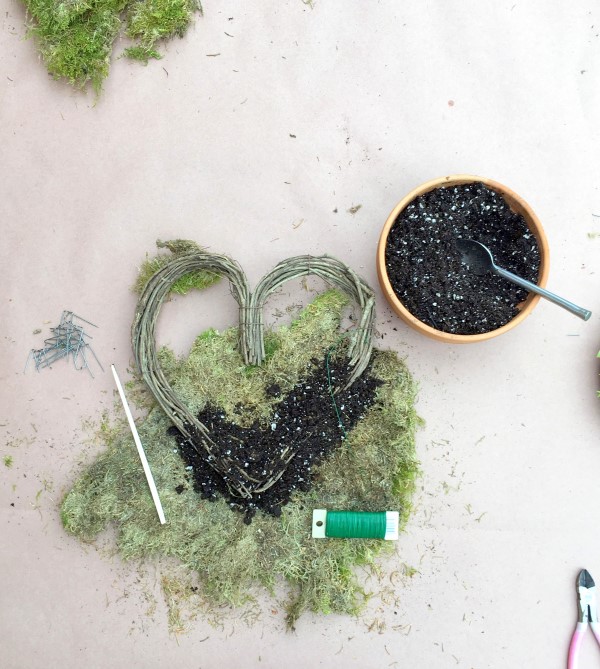 See How to Make a Succulent Wreath here.
It was easy to care for during the summer as it grew and filled in. In the fall—when the temperatures started to drop—I brought the wreath back into the greenhouse.
Now, it is time for a refresh!
If your overwintered wreath has a few plants that still look healthy, you can use those as the base and just replace the ones that look ratty. This is a great project to do in early spring so that when the weather turns warm the wreath is ready to be hung outside. Here is how I gave my wreath a "re-do."
Related: Overwinter Succulents to Keep Them Beautiful All Year Long
Related: Thrifty Gardening: How to Divide Succulents
First look through your inventory of succulents and sempervivums for plants that can be divided or are big enough to take cuttings. Note that the cuttings need a few days for the stem ends to "callus over" before they can be planted into the wreath. These succulent cuttings sat in a shady dry place for about 4 days. If you skip this step, the cuttings may rot when planted.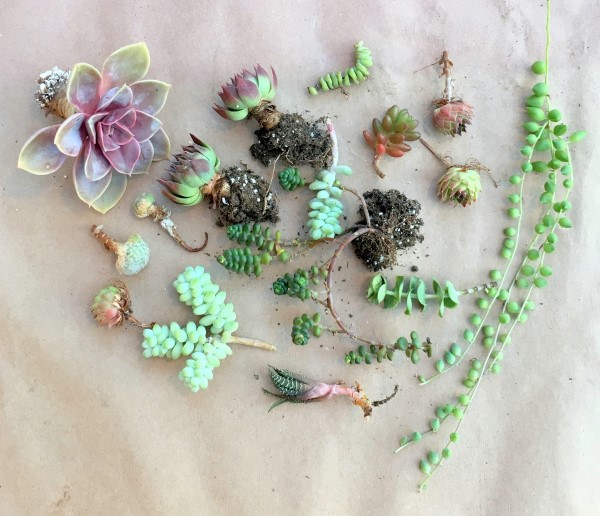 Next, give the wreath a good watering before planting. This is easily done by filling a large tray or trash can lid with approximately one inch of water. Lay the wreath into the tray until it has soaked up enough water and feels heavy, about 15 minutes. Remove the wreath and let the excess water drain from the wreath. This is also how I water the succulent wreath during the summer.
Hold off planting for a day or two to make sure the soil and moss are not too wet.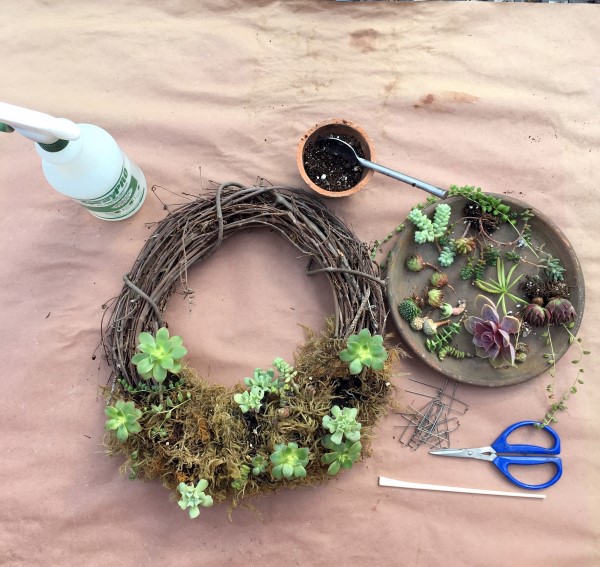 Refresh a Succulent Wreath
Remove any plants that don't look good or show signs of disease or pests.
Add some fresh cactus and succulent soil to each hole before planting a new succulent in that hole.
Make additional holes with chopsticks or wooden skewers. If the new hole can fit additional soil, add some. Then plant succulents and sempervivums in an arrangement that varies by color and texture. Chopsticks are helpful to tuck any roots down into the wreath.
If the hole is too large after planting, us a florist pin and moss to cover the hole. Florist pins are also helpful to hold the succulents in place.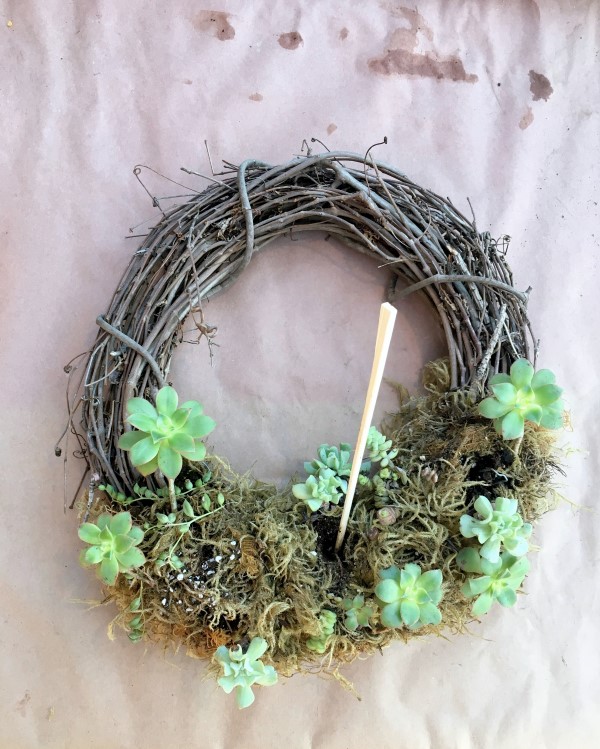 When the wreath is complete, lay it flat in a shady spot until all the succulents have rooted into the wreath. This will take 4-6 weeks, so be patient! Water the wreath just enough to keep the soil slightly moist, but never soggy. Test if the wreath is ready to be hung by gently tugging on one of the plants. If it holds in place, you can hang up the wreath.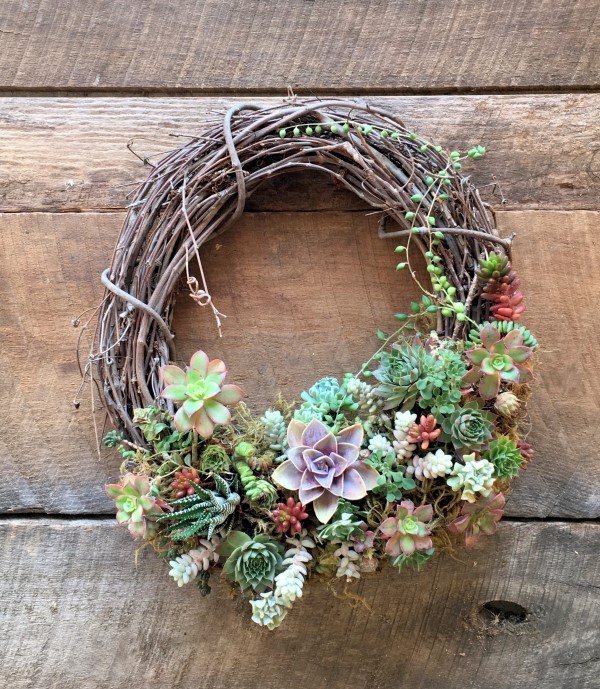 Once the wreath gets displayed for the summer season, occasional watering will be needed depending on how much rain it receives. When you are watering, it is also a good time to take a close-up look at the wreath to see how the plants are growing and inspect for pests. You can always make small adjustments to the plants throughout the growing season to be sure that it looks its best.
Related: The Essential Guide to Growing Happy + Healthy Succulents
There are so many different ways to make a wreath that is uniquely yours. Experiment with different shaped wreaths, make a living wreath out of houseplants, cover the entire wreath with moss or maybe use the same color plants for a monochromatic look.
Pin it!