Have you ever come home from a holiday to find that your plants are suffering from extreme thirst? Or even worse, have you come home to find the plants dead? It's not always easy to get a plant sitter and it's also not reasonable to stay home all the time. Heck, we all need to get away for the weekend and enjoy a little downtime. Your plants, however, keep on growing tirelessly even when you want to take a break.
Summer is the perfect time for weekend getaways like camping, cottaging, and boating. It's also the time that the garden works the hardest. Summer heat and sun can be brutal on plants, with new plants, containers, annuals, and vegetables needing daily watering. Just one three-day long weekend can mean the end of these plants as they dry up and scorch in the hot sun.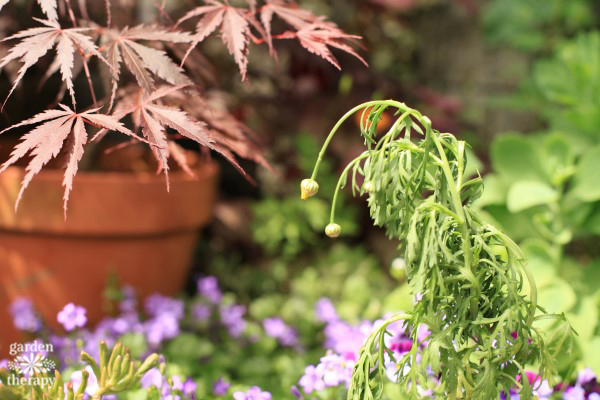 After all of that hard work spring planting, you definitely don't want that to happen!
If you can, work out a buddy system with some neighbors and water each others' plants. But, with so many people planning to skip town in the summer, you may not be able to find a garden helper when you need it most.
I've had this happen to me often enough that I have put in some research and tried out some cool high-tech and low-tech products that can help to save the day (and your plants!).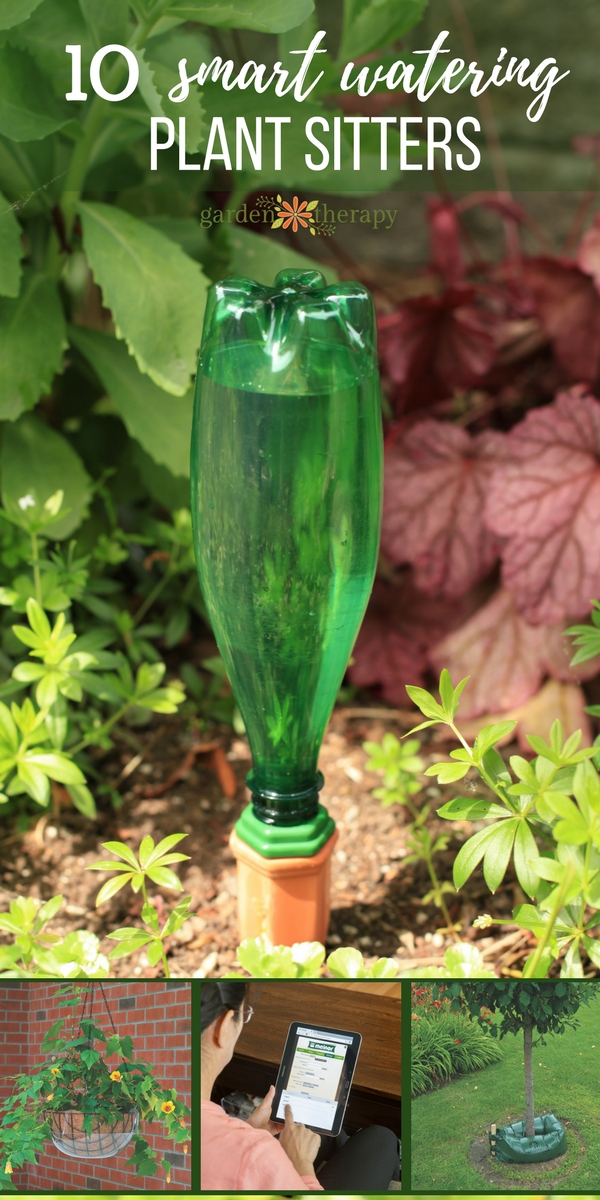 Disclosure: This post has been sponsored by Lee Valley Tools, who also provided me with the products to try. All opinions shared here are based on my own experiences. Lee Valley Tools is giving away one of these smart watering plant sitters to one of our readers, so be sure to check out the giveaway at the end of the post!
Smart Watering Plant Sitters for Your Garden
Solar Drip Watering Kit
When it's sunny out you need to water the most.That's why this solar-powered automatic watering system is so brilliant! The Solar Drip Watering Kit is powered by the sun to water up to twelve 20-litre (5.2 gallon) pots or a 39′ vegetable row. The pump unit irrigates at 3-hour intervals and has a five-setting dial to let you adjust how much water is released. Hook this baby up to a rain barrel and your garden watering is completely hands-free.
Wi-Fi Water Timer
This Wi-Fi Water Timer allows you to attach up to four hoses, each with a different schedule. You can set up the timer on the webpage that goes with the product, then access it from anywhere that has the internet (which is everywhere). You can change the settings manually based on the weather forecast, which is conveniently located right on the webpage.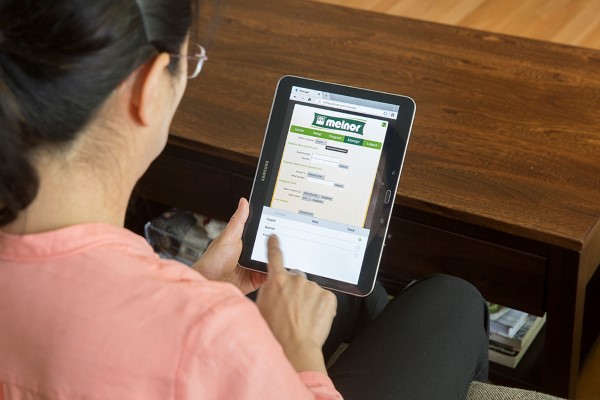 Set this timer up with a bunch of sprinklers, soaker hoses, or spot soakers, depending on what sort of watering program you garden needs. This handy system is something you will use for the whole season, not just vacationing. It's also ideal for watering at non-peak times and when watering restrictions are in place.
Vegepod® Container Garden
If you want a whole vegetable garden that self-waters, you will love the Vegepod® Container Garden. This 10 square foot garden has a self-watering reservoir that holds 32L (8.5 gallons) of water. It also comes with a mesh tent that keeps flying insects off your veggies (see ya, carrot rust fly!) as well as a cool misting system.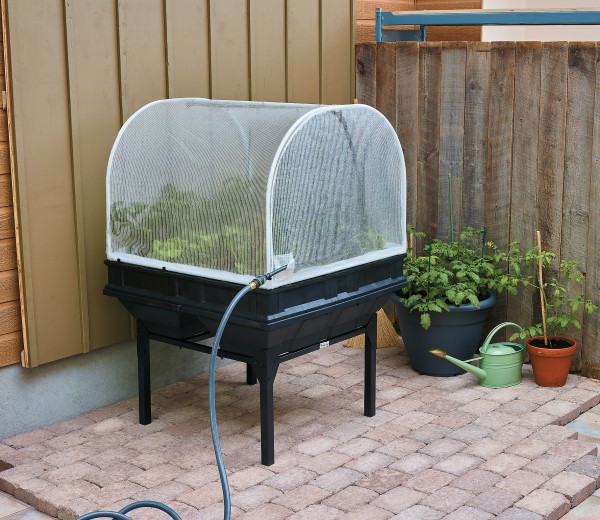 Just add your hose to an opening in the mesh, and it lets off a fine mist to keep seedlings damp. Set up the hose with the Wi-Fi timer and you are sipping cocktails on the patio while your veggie garden takes care of itself.
Multi-Adjust Sprinkler Mister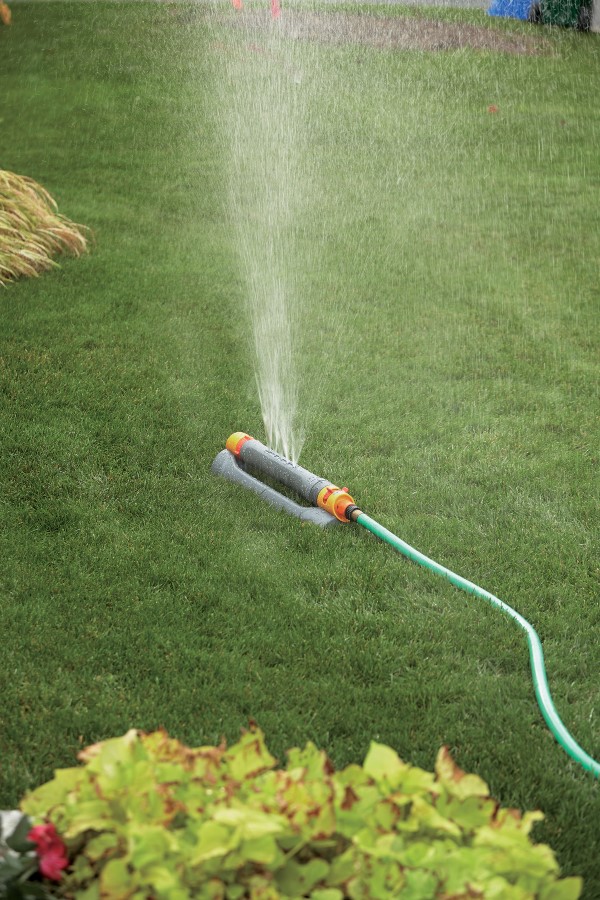 This Multi-Adjust Sprinkler Mister can be set up with the water timer to deliver a number of different watering options. In spring, the sprinkler can be set up to deliver a fine mist, which is perfect for seedlings.
Bubble Spot Soaker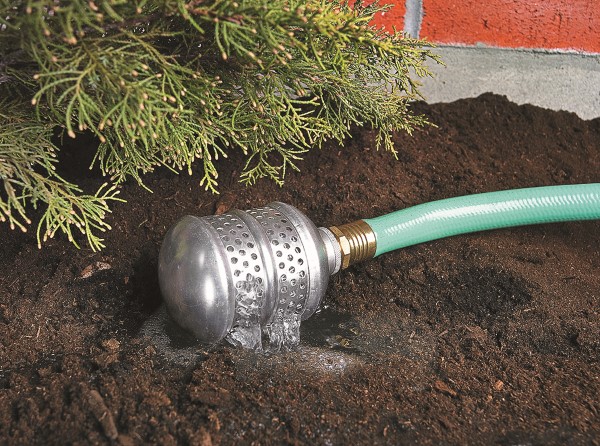 Add this Bubble Spot Soaker to the soil around tender plants or transplants to get them a gentle flow of water in spots where you may need a little extra to get the plants through the weekend.
Plant Nanny™ Watering Spikes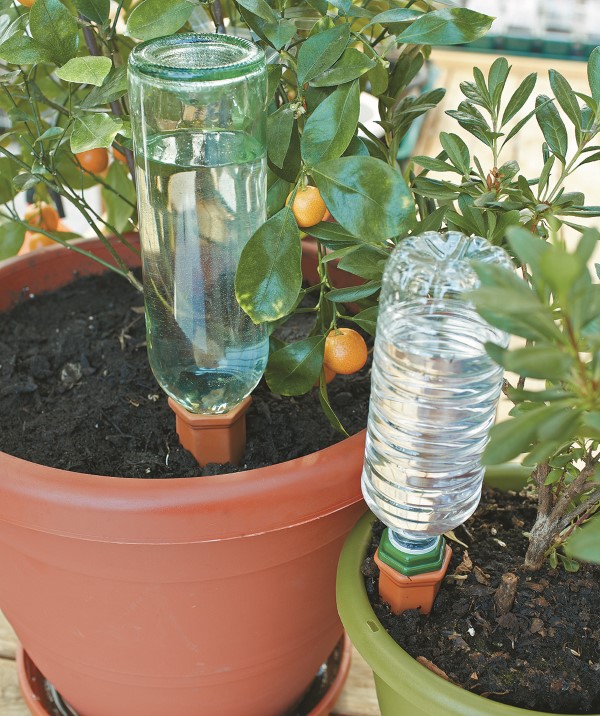 Many years ago I bought a set of plastic watering spikes from Lee Valley Tools. I have used them every year—attached to empty soda bottles—to babysit my hanging baskets and planters while on vacation. This new version is quite the upgrade! The terracotta Plant Nanny spikes eliminate the need to fill the plastic spikes with sand to slow down the water release. Plus, you attach them to a wine bottle, which I am more than happy to empty for sake of the plants.
Tree Drip Irrigation System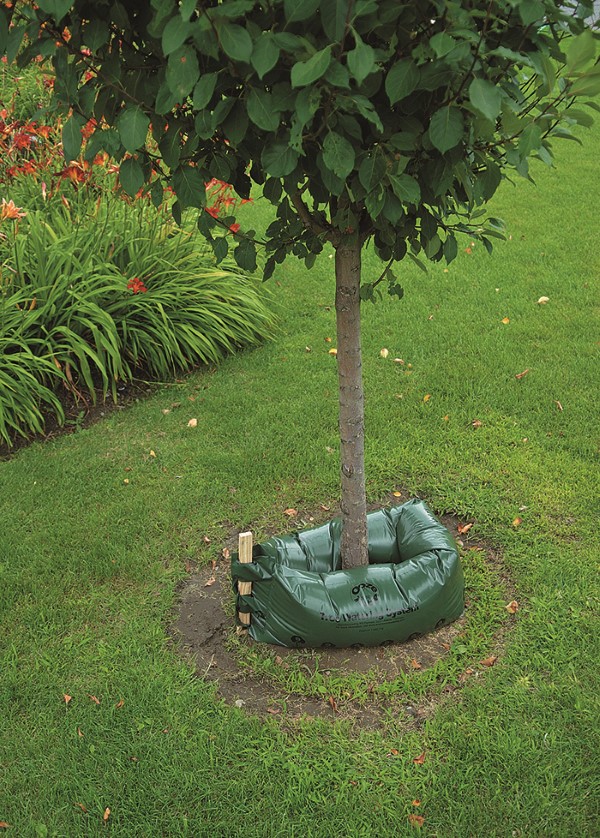 If you have a new tree, particularly a street tree, they can have a very rough start if watering is restricted. Young trees need lots of water to stay healthy and grow strong roots. This Tree Drip Irrigation System is low tech but it works so well. You simply fill the bag with water and it drips into the soil around the tree. The 15-gallon tube will sufficiently water a young tree for up to two weeks time.
Flower Well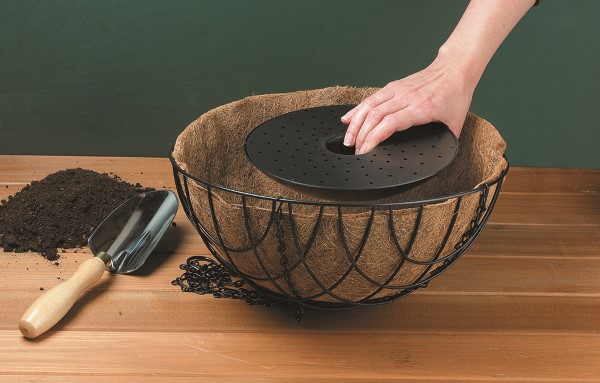 A Flower Well is an essential product for all hanging baskets, in my opinion. If you grow hanging basket arrangements, you know how quickly they dry out—going away for the weekend is sure to cause their demise. This Flower Well allows you to create a water reservoir in the basket which can extend the time between watering.
Saucer for Wire Hanging Baskets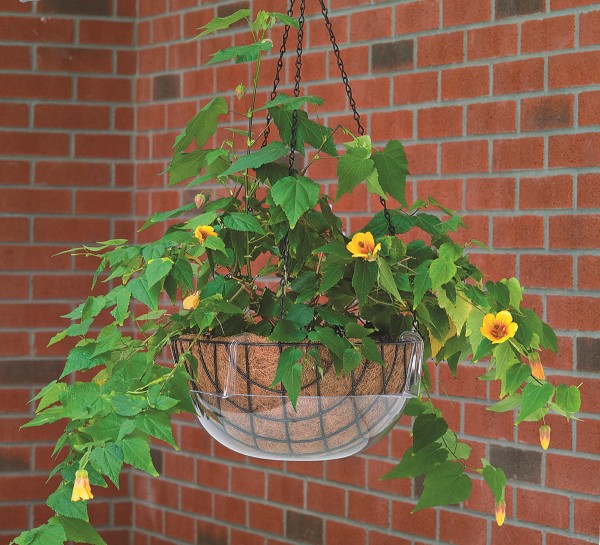 This Saucer for Wire Hanging Baskets is another way to save your hanging baskets. I generally take my baskets down and put them into a kiddie pool of water to give them a good soak, and this eliminates that altogether. You can water the flowers, catch the runoff, and allow them to soak for a bit longer. The saucer is a perfect hanging-basket babysitter for a holiday away.
Elho® Windowsill Herb Pot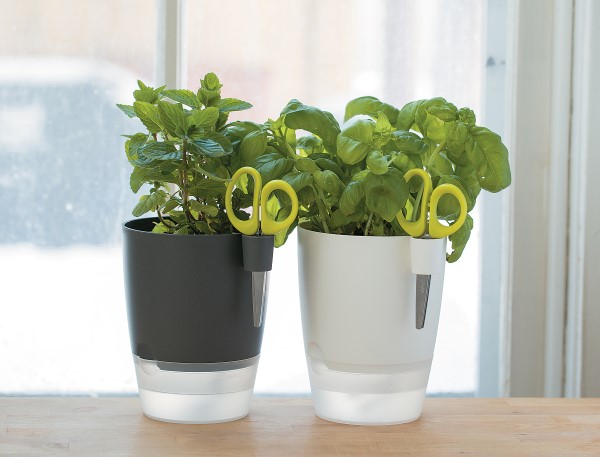 This little indoor Windowsill Herb Pot is a miniature version of a self-watering planter. A self-watering planter has a reservoir to hold an extra supply of water that can easily be wicked into the soil or roots when they dry out. Self-watering pots come in all shapes and sizes, like the Self-Watering Upside-Down Planter that I use for my upside-down tomatoes. This fun windowsill version comes complete with herb scissors!
Giveaway Time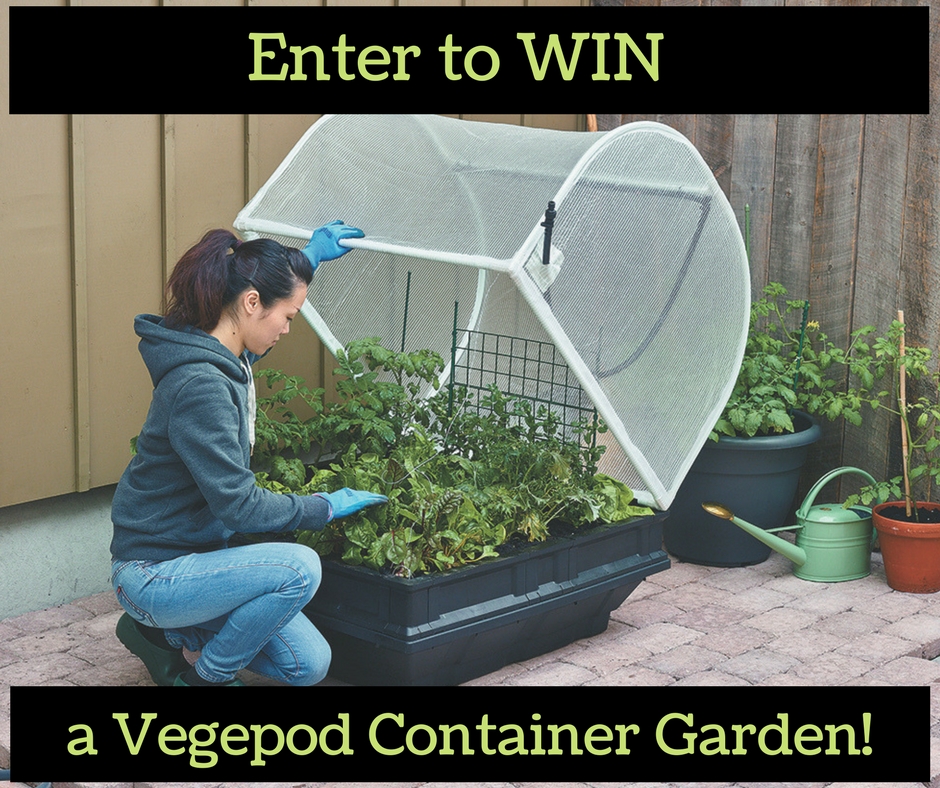 Conmgratulations to Lynn who was the lucky winner of the Lee Valley Tools Vegepod® Container Garden ($209 US Value). This contest was open to residents of Canada (excluding Quebec) and the continental United States. The winner was selected randomly from eligible entries, notified by email, and have seven days to claim their prize. Void where prohibited by law.
About Lee Valley Tools
Lee Valley Tools is a key destination for high-quality gardening products that are not easily found anywhere else. Lee Valley's nearly 40-year history is rooted in gardening and offering customers the best of the best in this category. They are always scouring the globe to uncovering the latest and greatest in gardening and solution-based products. What also separates Lee Valley is that they offer personalized, expert service. Many of the staff are serious gardeners with a passion for gardening.