Believe it or not…you can grow 3-week's worth of food in just 3-7 days! Sprouting seeds can produce a lot of food without much effort. Here is everything you need to know about growing sprouts quickly so you can grow nutritious greens on your countertop this week!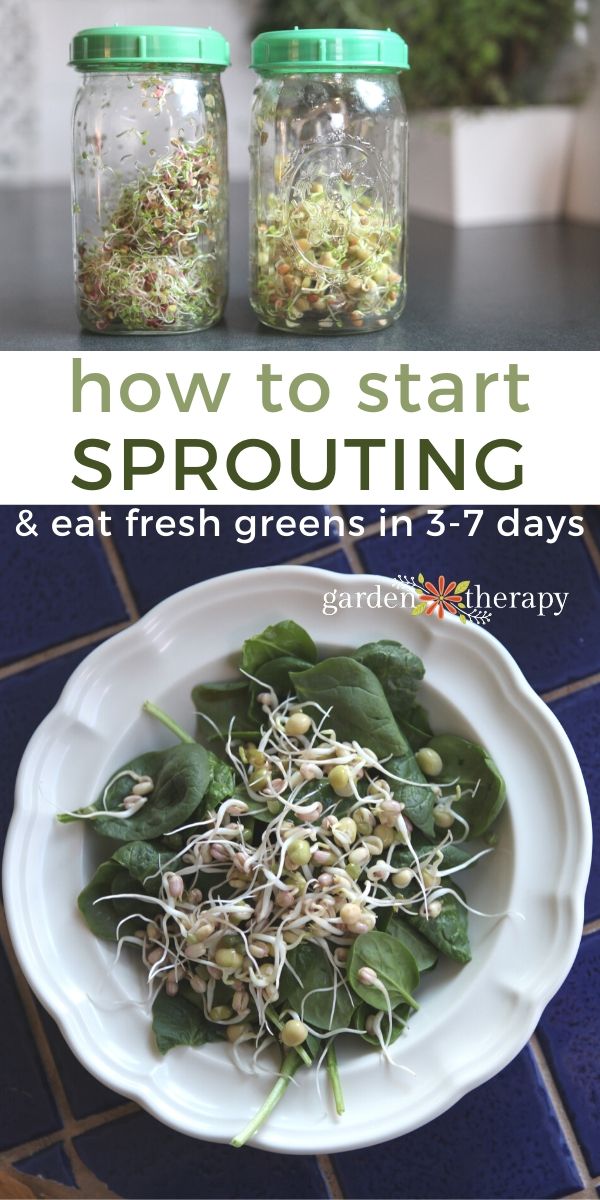 In my opinion, sprouts are severely underrated. It's hard to think of another food that packs a major nutritional punch in such a small package. Seedlings require a ton of nutrition to develop, and as you consume them, all that yummy goodness gets transferred to you!
Plus, they are downright delicious.  There is nothing I crave more than a sandwich with a thick layer of crisp, fresh sprouts in the middle.
Avocado, cream cheese, and sprouts. Yum.
Egg salad with sprouts. Delish.
And make it a BST instead of a BLT for me. It's one of my go-to meals for comfort and nutrition.
Growing sprouts lets you easily add a crunchy, rich flavour to salads, sandwiches, omelets, soups, and more.
It's easy and inexpensive to grow nutritious food all within your kitchen. That's the beauty of sprouts!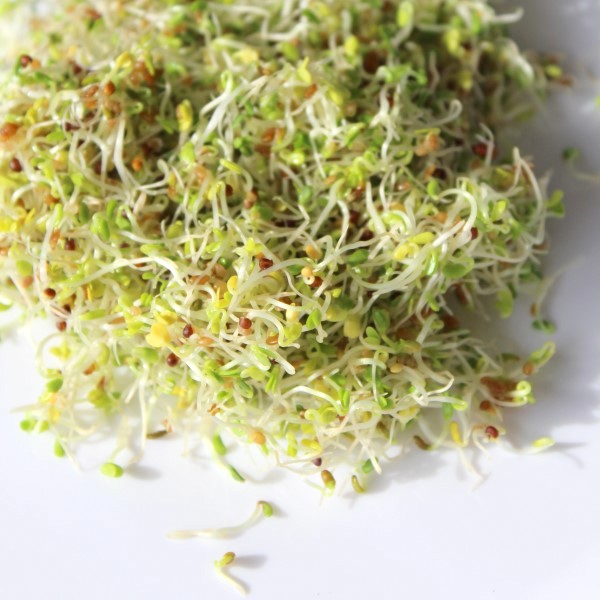 Sprouting Seeds
There are so many things I love about growing my own fresh food. The biggest thing is how easy it is for my family to eat nutritious foods when all we have to do is go out to the garden and pick them!
Needless to say, many of us in cold climates are lacking those fresh nutrients in the winter and early spring. Fresh veggies an fruit aren't abundant in our gardens. Most of what we can grow is sloooow growing in the cold and the choices are limited. The pantry and freezer are emptying of the previous year's harvest and we are resorting (ugh!) to buying food that has been shipping from far, far away in from warmer climates. That combined with the gardening itch that starts ramping up January 1st, is why I got into sprouting in the first place.
With all that is going on in the world these days, there is another great reason to start sprouting seeds. It's become much more challenging to go to the grocery store on a regular basis to get fresh food. While it's fairly easy to stock up on canned goods and pantry staples, it's quite a different story when attempting to stockpile fresh vegetables.
Because of this, I have become a bit of a sprouting evangelist! I give away packs of sprouts to friends, family, and strangers (you may be here reading this to figure out just what to do with those sprouts I gave you!). It's because eating fresh food makes me feel so good. So strong. With boosted immunity and extra energy.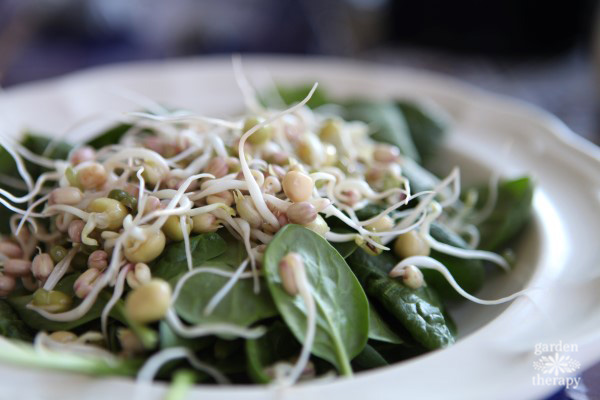 The fact that you can grow them in just a few days is still just amazing to me. And you don't need a garden. I'm here today, shouting from the rooftops from sheltering at home:
GROW SPROUTS! THEY'RE FAST, EASY, and NUTRITIOUS! 
Whew! Ok, good. I'm glad to get that out and share my enthusiasm for growing food indoors with you.
So now, you want to grow sprouts but you have a few questions, right? Don't worry, I've got you covered!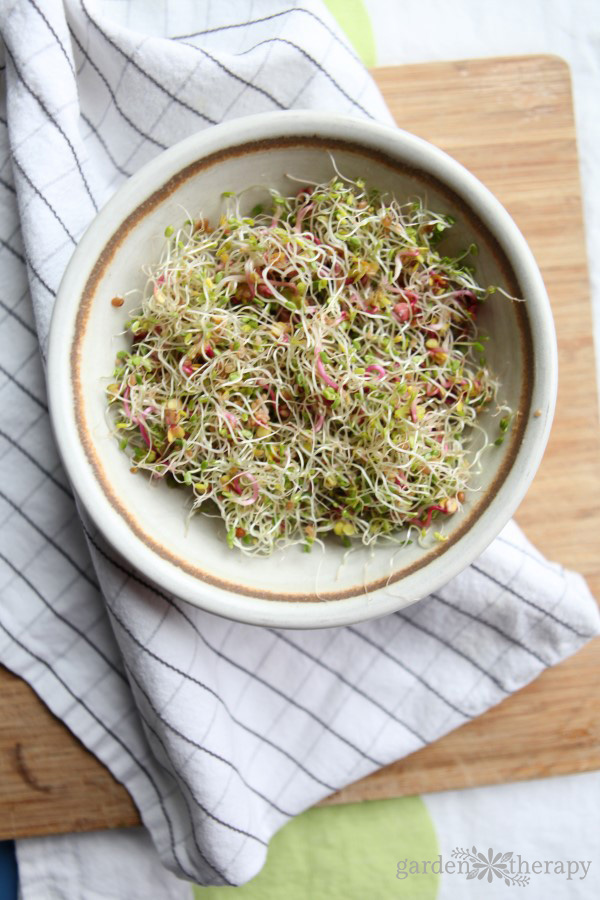 What are Sprouts?
Sprouts are basically the beginning growth of a seed. When you keep the seeds moist, they sprout and create these lovely little plants. Remember, not only are they pretty, but they are packed with nutrition too.
These tiny micro greens are not to be confused with microgreens. Microgreens are grown in soil or soilless mixture as opposed to just water. Microgreens are also grown a bit larger than sprouts and have so many of the same benefits. I will be posting a bit more on growing microgreens in a few weeks, but for now, you can see how sunflower microgreens grow in salad boxes: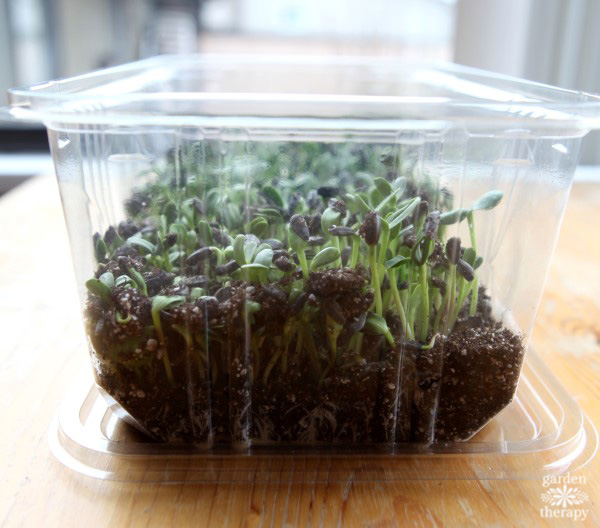 How to Grow Healthy Sunflower Microgreens in 2 Weeks
Sprouts hold a high content of living enzymes that helps you digest your food. They are heart-friendly and help reduce acidity, too. Even better? They are incredibly easy to grow!
How do I Grow Sprouts?
It's easy to sprout, you just need seeds, water, and a container. But first you need to make some choices.
Choose your method: Easy, Nutritious, and Yummy: Three Ways to Grow Sprouts
Decide which seeds to enjoy: The Best Sprouting Seeds and What They Taste Like
Choose your equipment: (read on)
What Equipment Do I Need for Sprouting?
To sprout seeds and stating growing food indoors on your countertop you can go way back-to-basics or high tech. There are many more options in between as well. Personally, I love both of these tools for sprouting for different reasons, although both make it a really easy job! Choose what will keep you motivated to keep sprouting.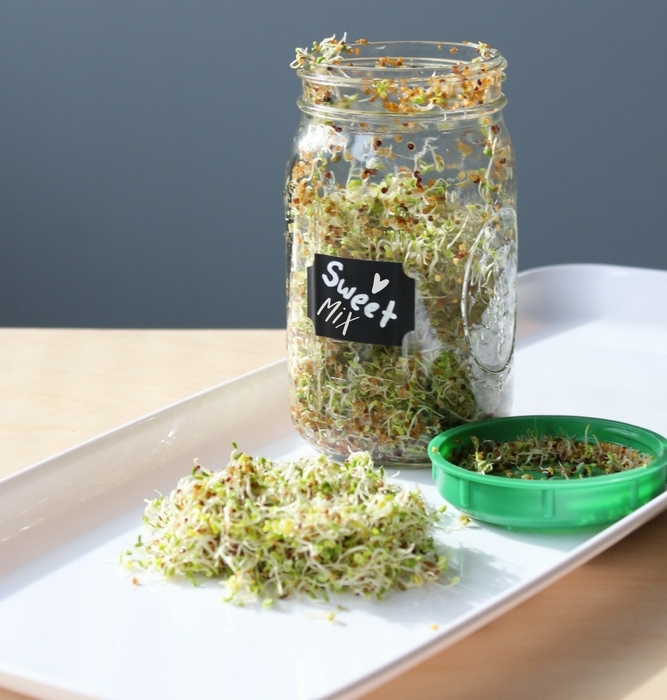 Mason Jar Sprouting Method
A mason jar +  sprouting lid is all you need for this simple method. You probably already have the jar, so all you need is a mason jar and a sprouting lid like these ones or these ones.
I like this because set up takes seconds. Add sprouts to the jar, soak overnight, strain and then rinse twice a day. When the jar is about half full, I put them in a sunny window to green up. Then when the jar is full, I rinse them in a salad spinner and store them in the fridge. This yields a lot of sprouts in just a few days and will feed you for a week or two.
If you like this method, I have a very detailed and specific post on sprouting in a mason jar that you can use to guide you.
Automatic Sprouter
An automatic sprouter is a fun kitchen appliance that essentially farms sprouts for you on your kitchen table. You set it up with water in the bottom tray and seeds in the top tray, then let the sprinkler do the work throughout the day to keep the sprouts watered.
Start with the top tray on the seeds as the water spray will displace them. Once they grow a bit and grab on to the bottom tray, remove the top tray and let the sprouts grow up! I've used the Tribest FreshLife Automatic Sprouter for over 10 years now and it's easy and fun to have in the kitchen! Also, pre-soaking seeds isn't required in the Freshlife.
I love this system because you can harvest fresh sprouts to eat and leave the rest to grow. This is an excellent investment if you want to get serious about growing food indoors! The sprouts grow well in this system for a few weeks. You clean out the water basin twice each day, but other than that, it does the work for you of rinsing sprouts. Easy peasy!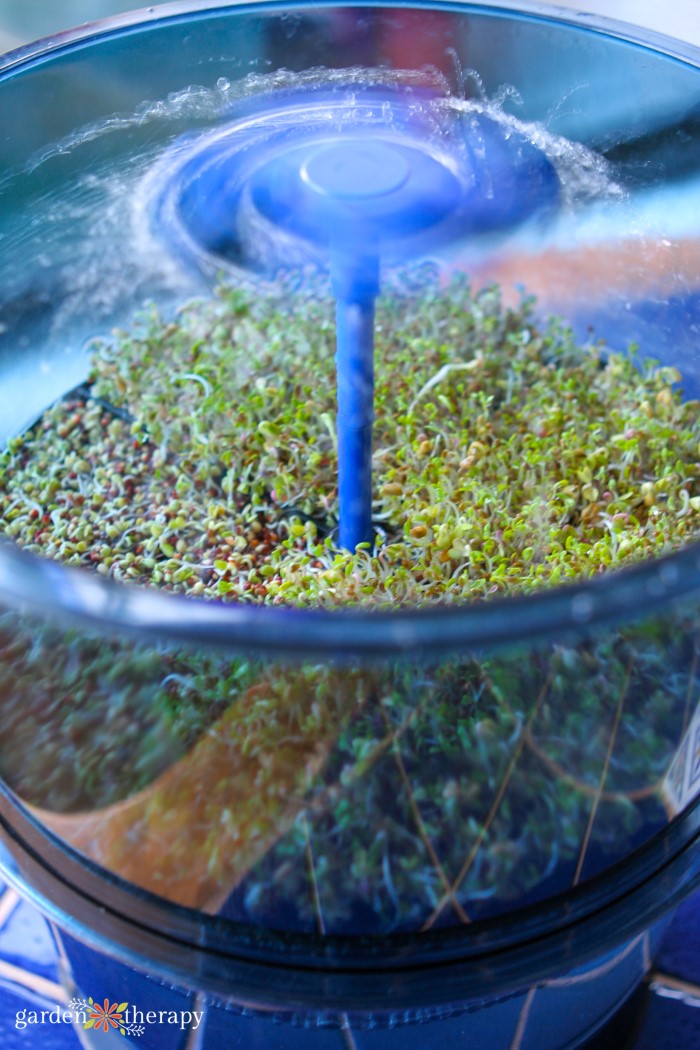 When Do I Harvest Sprouts?
This is an excellent question.
Harvest time is usually just a mere 3-6 days after you plant your seeds. It really is that quick! Look for leafy green sprouts that dropped their hulls.
They are at their peak when the leaf develops a cleft or divides in two.
After you harvest them, always rinse them off to remove any loose hulls that stubbornly stuck around. Once they are rinsed, store them in the fridge and they will last for another week or more.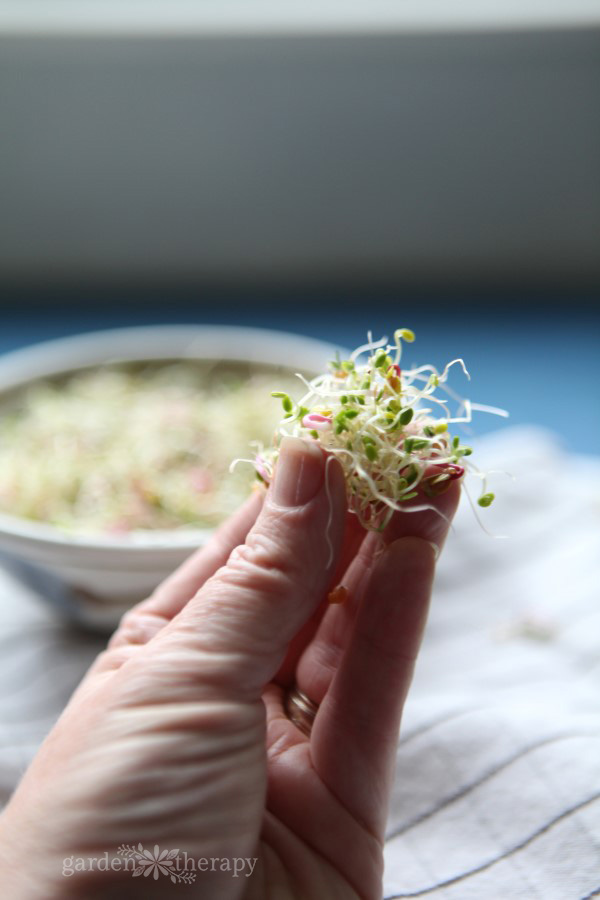 Are Sprouts Safe?
Yes! You may be concerned about salmonella or bacterial growth on sprouts but using safe handling practices for growing sprouts in your kitchen is no different than any other food. Following the specific guidelines on the sprouting package and purchasing certified organic sprouting seeds will ensure that your family enjoys the
highest quality sprouts, safely.
Also be sure to care for your sprouts with safety in mind. Sanitation is very important when sprouting seed. Clean your equipment thoroughly before starting sprouting, and follow the rinsing schedule as listed on your seeds.
Never consume spouts that look or smell "off". Is they smell bad, turn colour, or grow mold, compost them and start again. It can happen when the equipment isn't cleaned properly, the sprouts are not rinsed enough, or the sprouts are too old.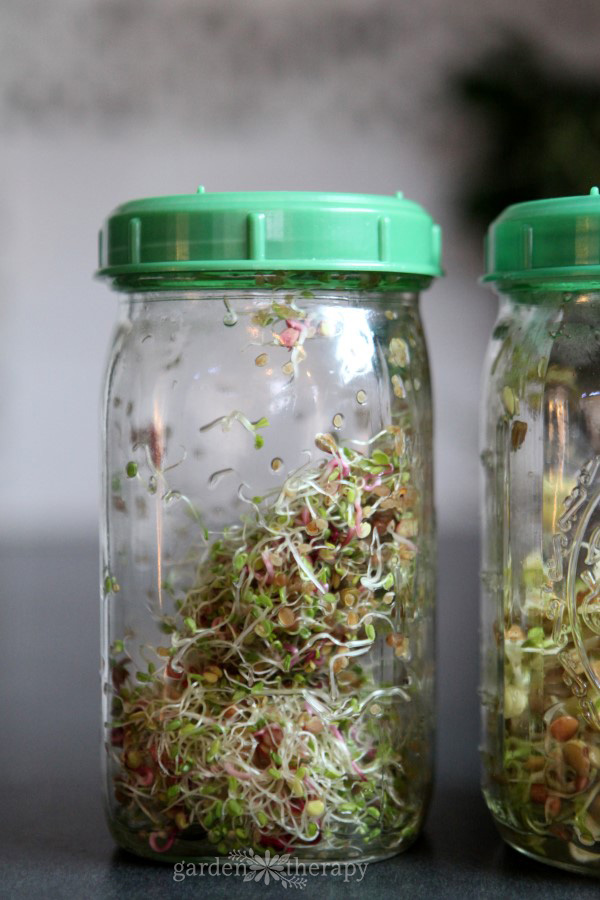 Where do I Buy Sprouting Seeds?
Make sure you buy seeds that say on the package they are "sprouting" seeds. For the past few years I had my own sprouting seed collection over at GardenTrends.com. Unfortunately my seed collection is now sold out, but I want to share some resources so you can find them elsewhere.
You can't just sprout any old seed packet for sprouting at home. Seeds packaged for garden planting and seeds packaged for sprouting have very different standards. Sprouting seeds have to be prepared in a food-grade facility that ensures no contamination comes across the seeds. As you are growing them at home in water, it's a breeding ground for pathogens that could make you sick. It's essential to only use seeds specifically packaged and sold for sprouting. I also only use organic seeds.
Now that my seeds are all sold out, I buy my seeds from West Coast Seeds and online here. You always want to buy seeds from a company you trust.
Different Types of Sprouts to Try
There are so many different types of sprouting seeds that you can grow inside your house any time of year. I happen to try a lot – these are the ones I have grown so far:
In all honesty, the results have been varied. In fact, I wrote an entire post about the best sprouting seeds and what each tasted like!
My favourite is the mix of alfalfa, fenugreek, red clover, radish. To me, this has the right mix of flavour and spice for salads and sandwiches.
The mung beans were hard to do and were an eye-opener for the unnatural conditions required to make those crunchy and sweet mung bean sprouts we get from China. You can read more about my experience with growing mung beans and pea sprouts in a mason jar here.
The lentils have a delicious nutty sweet flavour that works perfectly by adding a crunch to soups.
The sunflower seeds are best grown as microgreens (seeds jam-packed in a soil-less mixture) rather than in the sprouter. You can read all about how to grow these incredible sprouts here!
Keep in mind that as you grow sprouts, it's best to do a mixture since some of them are sweeter and some are spicier than others. If all you grow is a bitter sprout, you won't want to eat them (which defeats the purpose of growing them in the first place).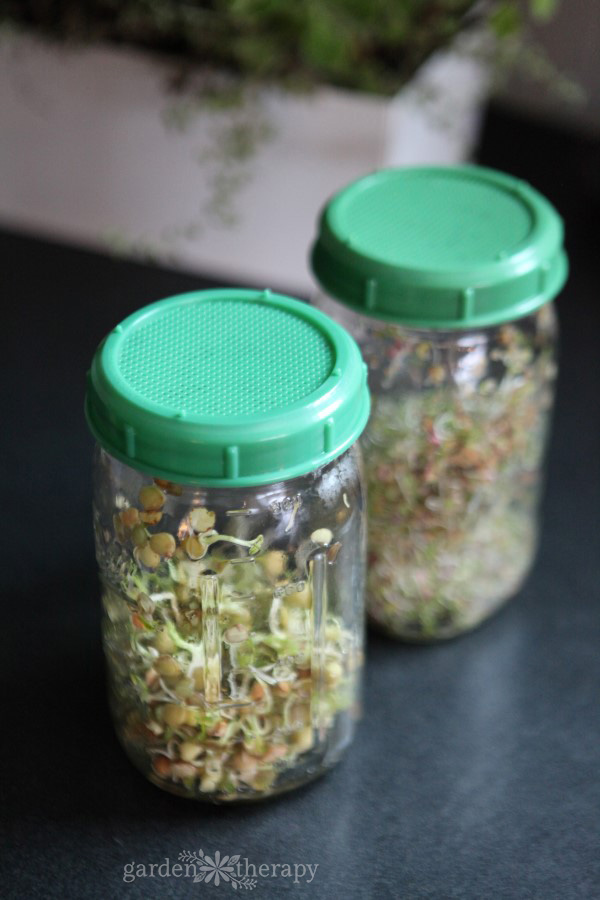 More Posts About Sprouts