Bring in the warm tones of fall with this cheery sunflower turmeric soap recipe. Made with sunflower oil for ultimate moisture and turmeric for colour, both the ingredients also contain amazing health benefits for the skin. Join me in making a soap to celebrate the season!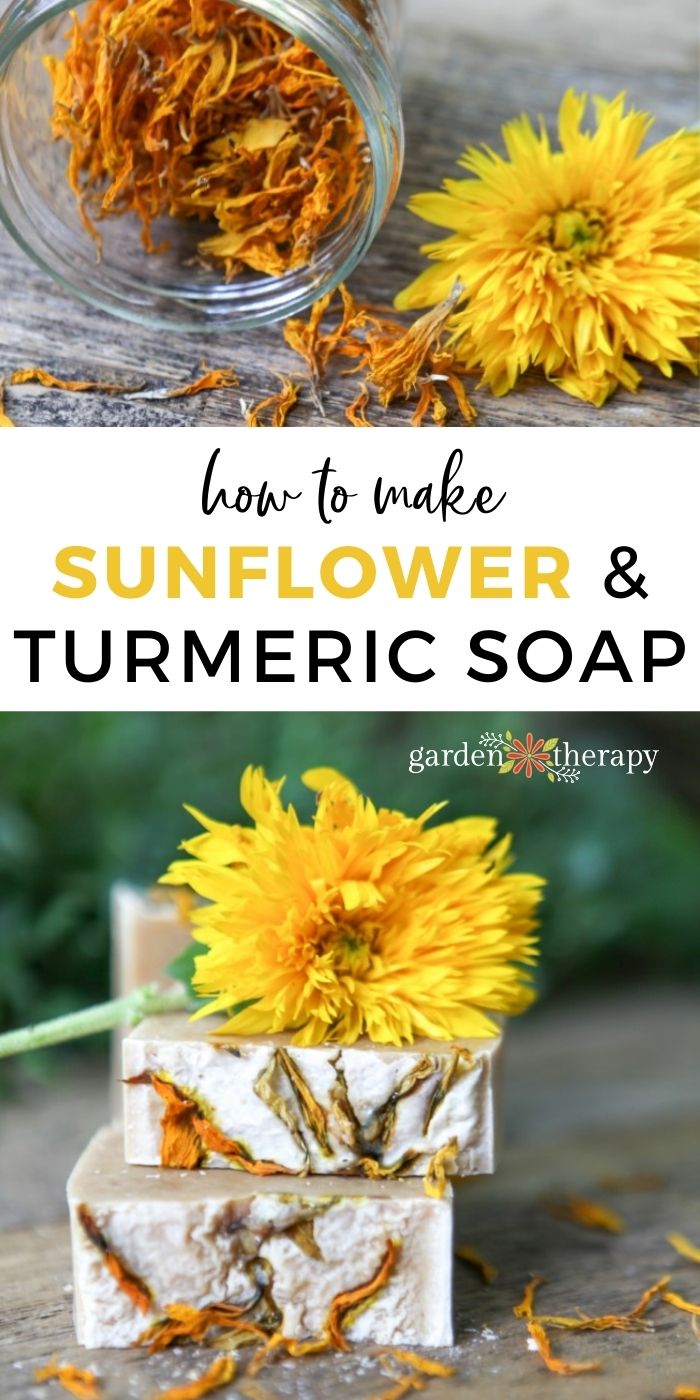 This sunflower turmeric soap just gives me all the cozy feelings. Sunflowers begin their blooming season mid-summer with the cheery stalks lasting into the beginning of fall. I always picture their heads at country fairs, with many local gardeners trying to grow the biggest sunflower out of their neighbours.
Of course, it was about time I made a soap that featured this beautiful flower. While I sometimes use sunflower oil in my other recipes, this soap lets it take center stage. It's a powerful ingredient chalked with tons of benefits for soapmaking.
To make the recipe even more moisturizing, I added in some rice bran oil and cocoa butter, along with my usual blend of oils.
And of course, to get that extra pop of cheer we associate with the sunflower, I added in some trusty turmeric for colour and litsea essential oil for fragrance.
Talk about a killer combo!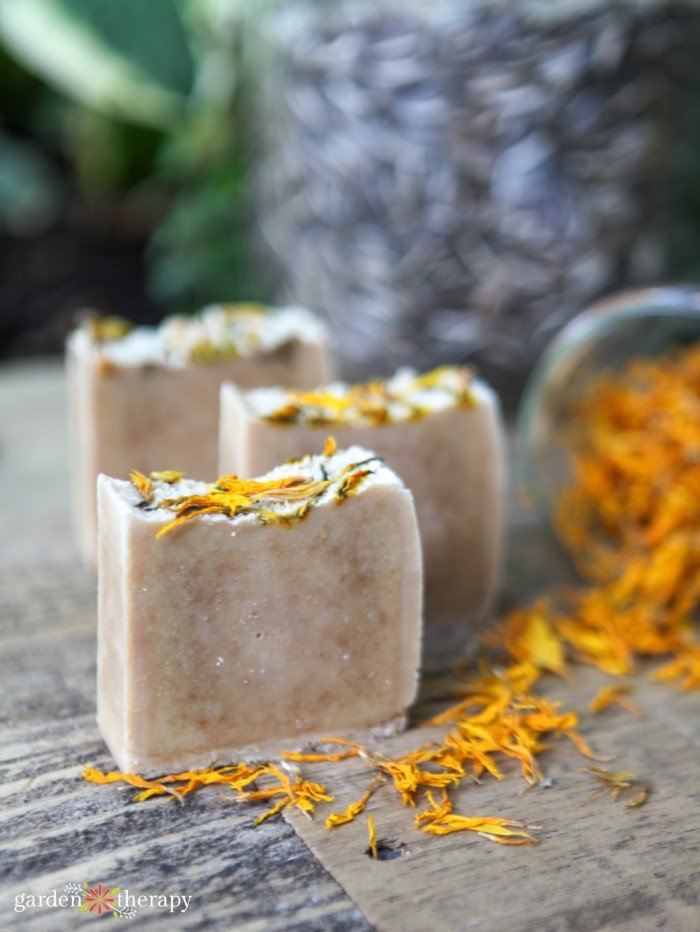 What are the Benefits of Sunflower Oil for Skin?
To make sunflower oil, producers process the seeds of the Helianthus Annuus plant. Many of us are familiar with sunflower oil in the kitchen, but it can also be a great ingredient for the skin. Considered a non-comedogenic carrier oil, it's highly absorbent and won't clog pores. Get ready to lock in a ton of moisture!
The oil also contains 4 components that we love to see in skincare.
High in vitamin E, it acts as an antioxidant for the skin.
The linoleic acid helps to protect the skin's barrier and retain moisture.
Oleic acid is beneficial for wound care.
Sesamol helps to neutralize the harmful oxidizing effects from UV rays. All in all, it's a great ingredient that is good for all skin types.
When shopping for sunflower oil to use in this sunflower soap recipe, you want something high-quality and that's safe for the skin. Opt for an organic, cold-pressed variety. You want to avoid any additives to the oil that can arise from other extraction processes.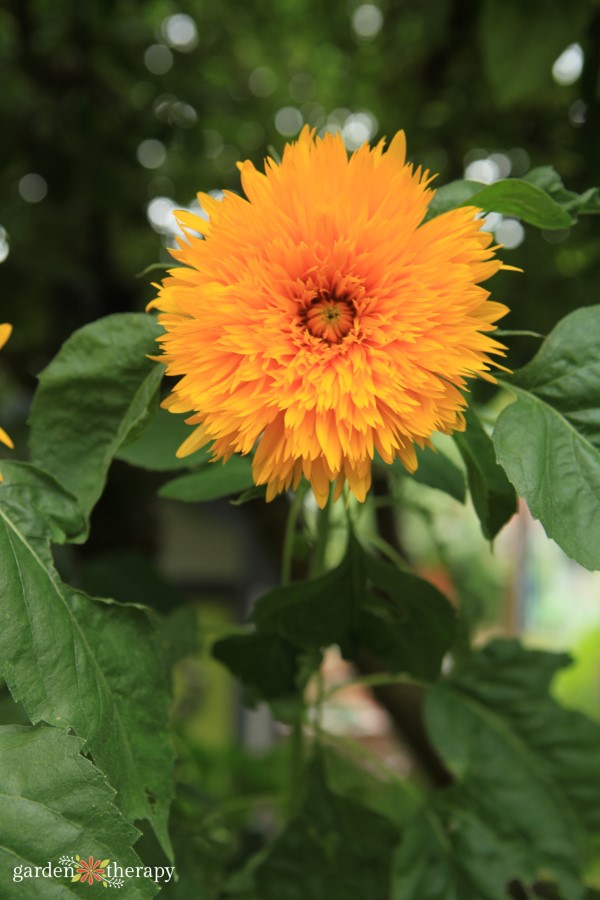 Sunflower Oil for Soap
Good for skin and good for soapmaking, sunflower oil is a match made in heaven for skincare enthusiasts. Since making a ton of soap can get pricey, I love incorporating sunflower oil into the recipe as it's an economical option. Every little bit helps when batching!
Sunflower oil is best for creating a moisturizing soap. The linoleic acid makes it great for dry skin that doesn't like anything too stripping. The soap is softer to the touch and feels amazing to rub against your skin.
Because it's so soft, you don't want to include too much sunflower oil in your recipe. Otherwise, the soap won't hold its shape or fully solidify. Too much of the ingredient means the soap will be slow to saponify, essentially the act of the oils and fats turning into soap.
Instead, use it as a supplementary oil that makes up approximately 5-15% of the recipe. In this sunflower oil soap, I use 142 grams of sunflower oil in addition to calendula-infused oil, coconut oil, cocoa butter, and rice bran oil. And to make it extra gorgeous of course, you can sprinkle some dried sunflowers on top.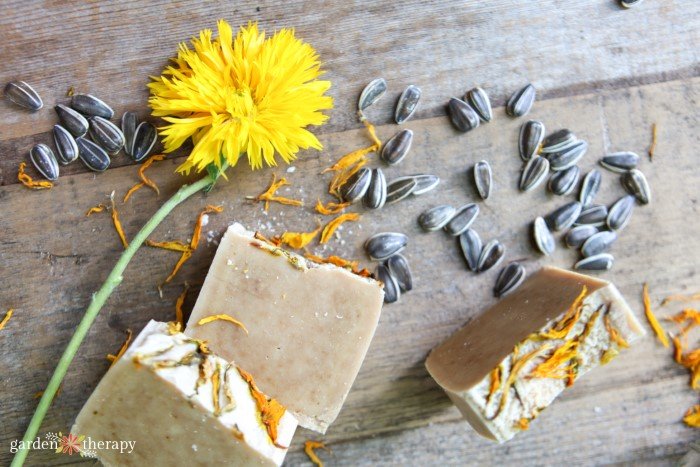 What are the Benefits of Turmeric for Skin?
The other special component to this recipe, turmeric also boasts quite a few amazing health benefits and has a long history in traditional medicine. Cultivated from the roots of the flowering plant Curcuma longa in India and Southeast Asia, it is known most for giving curry that vibrant yellow colour. I incorporated turmeric in this sunflower soap recipe for the very same reason!
Curcumin is the active component and the reason behind the colour. It's responsible for most of the health benefits of turmeric, acting as a potent anti-inflammatory and antioxidant. Ingesting turmeric is best to get these benefits, but it's also lovely to have topically on the skin.
Lots of studies show the potential possibilities of turmeric in skincare. In addition to reducing inflammation and providing antioxidants, it also has antimicrobial properties that make it well suited for treating skin conditions. Those with acne, eczema, photoaging, and psoriasis may benefit from using turmeric topically. The curcumin in turmeric is safe even at high doses.
Because of the bright colour's possibility to stain and pour solubility, you won't find it in many beauty products despite all its health benefits. However, in this soap, those two issues don't pose a problem. Instead, it adds cheer and brightens up the recipe.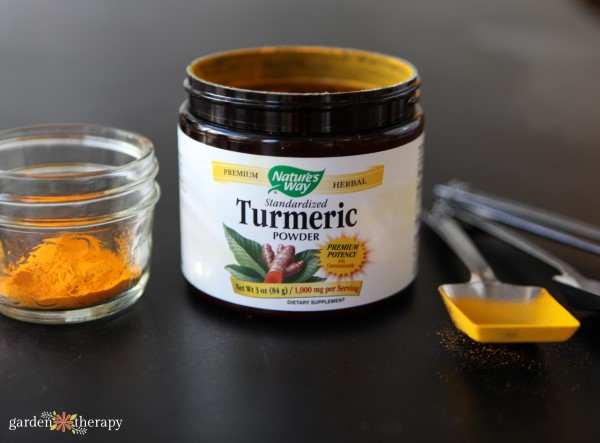 What about Litsea Essential Oil?
Another one of my secret ingredients for this sunflower turmeric soap, litsea essential oil comes from the evergreen shrub Litsea cubeba.
While the oil can be extracted from the leaf, the best quality essential oil comes from the fruit. It produces a lemony scent with light woody undertones that the indigenous people of Taiwan have traditionally been using for centuries.
Like many citrus scents, it uplifts the spirits and adds a rejuvenating quality to this soap. Because it has high levels of geranial and neral (the components of citral in citrus fruits), it has amazing cleansing power to deodorize and is often used topically.
The scent is known for lifting the spirits, adding to the cheery element of this soap. A morning shower will be enhanced just by the aromatherapy this oil provides.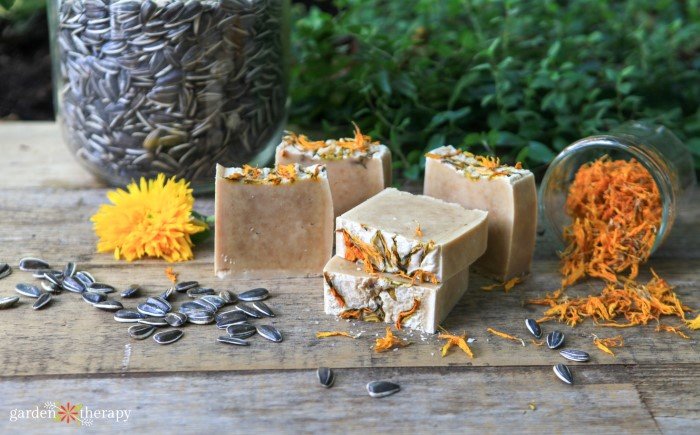 How to Make Sunflower Turmeric Soap
The sunflower oil combined with the rice bran and cocoa butter make this recipe super moisturizing, This soap is best for those who want a soap that is gentle on the skin and hydrating.
The instructions below are meant for those who have made cold process soap before. If this is your first time, check out this post for more detailed instructions to get started.
This recipe makes 3lbs or 1.4kg of soap. I often double the recipe to fill 3 2lbs molds. This recipe fills 2 x 1.5lbs molds or 1 2lb mold with a few extra bars in cupcake size molds.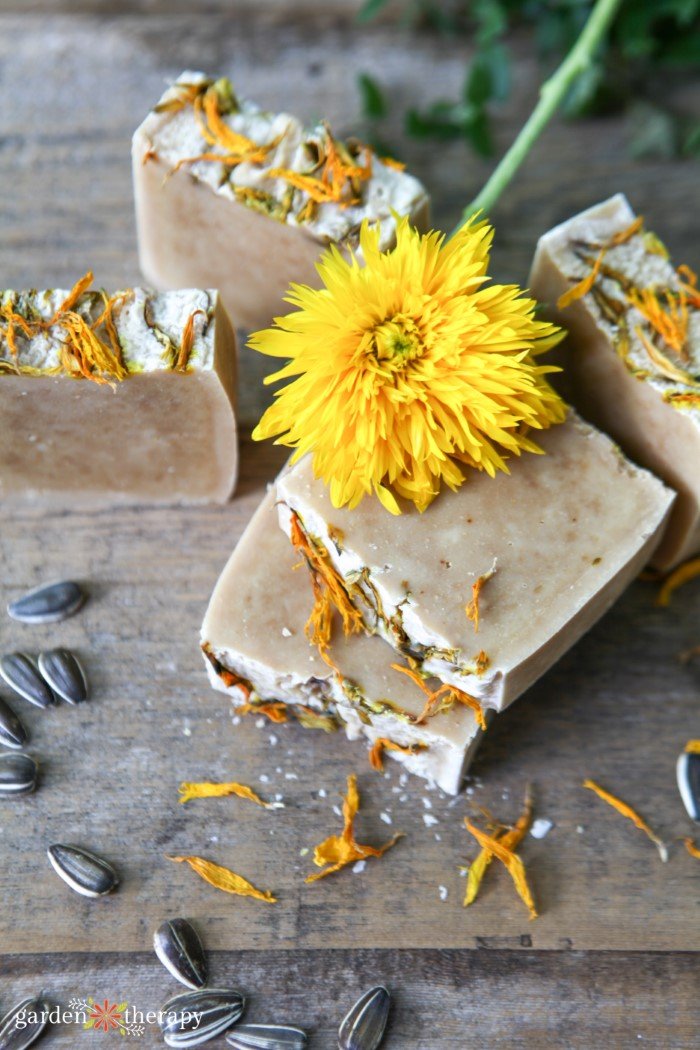 Ingredients
See the recipe card for exact measurements.
Materials
Kitchen scale
Infrared thermometer
Stainless steel double boiler, soap making pitcher, and a pot of water
Heatproof measuring cup (such as Pyrex)
Immersion blender
Safety gear including gloves, apron, eye protection, etc.
Loaf soap mold
Make It!
Using a scale, measure out all of your ingredients beforehand. Be as exact as possible in order to get the perfect soap!
Over low height, melt together your oils. Stir continuously until your oils reach a temperature of 115° F with the thermometer.
Set your oils aside and make your lye water in the heatproof cup. Be sure to mix this mixture in a well-ventilated area as the odour is strong and irritating. Once the lye is completely dissolved, let the mixture cool in an ice bath until it reaches the temperature of 115° F.
When both your oils and lye water is 115° F, slowly add the lye water to the oil mixture in a large bowl. Using the immersion blender, blend until it reaches a light trace. Add in your turmeric powder for that cheery pop of colour and blend until well mixed. Next, add in your litsea essential oil for fragrance and blend again.
Pour your mixture into your soap molds. Sprinkle dried sunflower or calendula petals on top. Let the soap sit somewhere warm for 48 hours. Afterward, unmold the soap and cut it into your soap sections. This recipe needs to cure for 6 weeks in a cool dark place. Then moisturize away!
Sunflower Turmeric Soap
Ultra moisturizing, this soap brings a pop of cheer to your morning routine. This recipe fills 2 1.5lb soap molds.
Equipment
Safety gear

gloves, apron, eyewear, etc.
Instructions
Measure out your ingredients on your scale.

Melt your oils together slowly until they reach a temperature of 115°F.

While your oils heat, combine your lye and water together in the Pyrex cup in a well-ventilated area. Once fully dissvoled, transfer the container to an ice bath to cool to 115°F.

Slowly combine your lye water and oils in a large bowl using an immersion blender.

Once it reaches trace, add in your turmeric for colour and blend until well mixed.

Add in your litsea essential oil and blend again.

Pour in your soap molds. Sprinkle sunflower petals on top for decoration. Let sit somewhere warm for 48 hours.

Cut soap into equal sections. Let sit and cure for 6 weeks in a cool, dark location.