Miniature Evergreen Wreath Ornaments + Giveaway!
With just a snippet from an outdoor evergreen you're well on your way to making these miniature wreath ornaments. You can hang them on the tree, use them to decorate the outdoors, add them to gifts, or even use them as napkin rings! No matter how you use them they are fun and simple project to bring the outdoors in. (Oh, and when you get to the end of this post you will find a bunch of holiday ideas from the magnificent makers over at bHome + a Giveaway for $150. See the details at the end of this project.)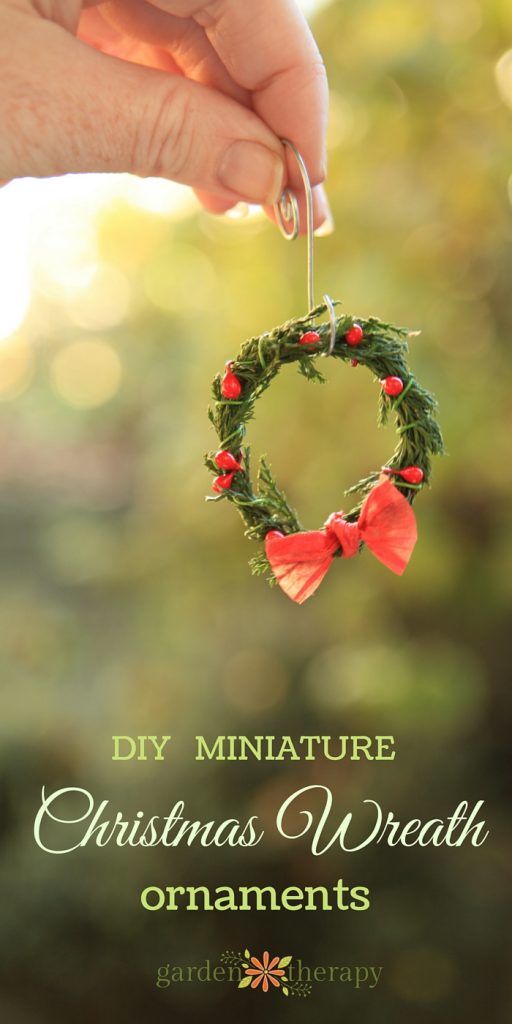 I don't really know why but this holiday season I've been making everything in miniature. It started with these tabletop Grinch trees, a smaller version of the 9-foot Grinch tree I decorated previously. Then the tree got even smaller with a teeny-tiny, mushroom-decorated, outdoor, Christmas tree for the gnomes, who I also made in miniature. And now miniature evergreen wreaths.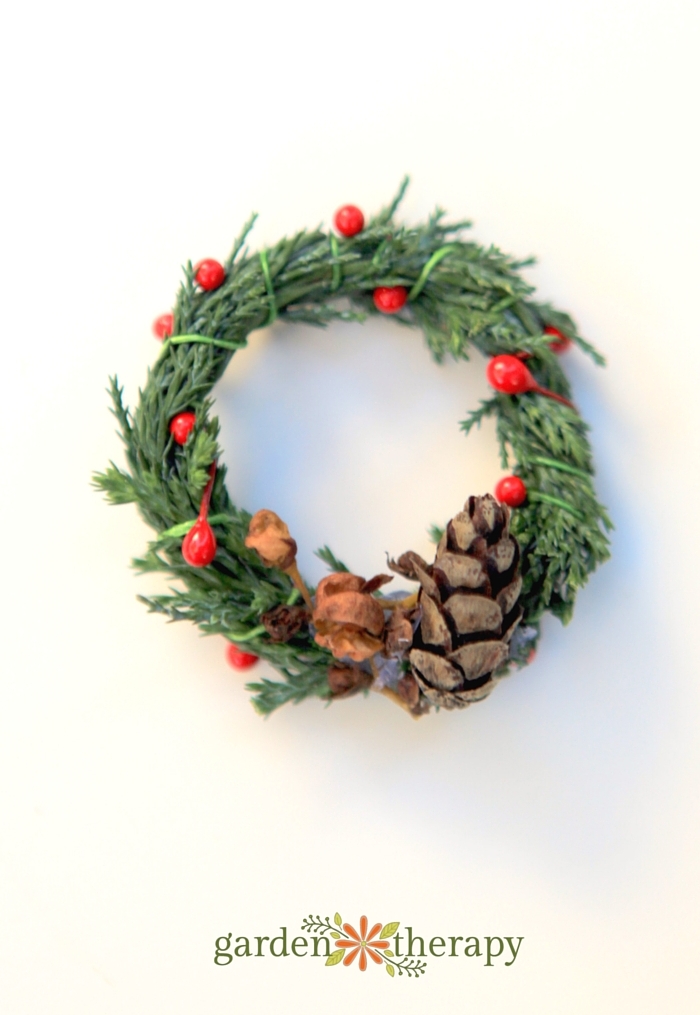 Janit Calvo, the queen of all things miniature has an in-depth tutorial for making miniature wreaths and many ways to embellish them over on her blog. Please head over there to see her many ideas.
The idea for mine came from finding this floral wire with red berries on the ends. I thought it would be a quick and easy way to make plenty of decorations from garden clippings.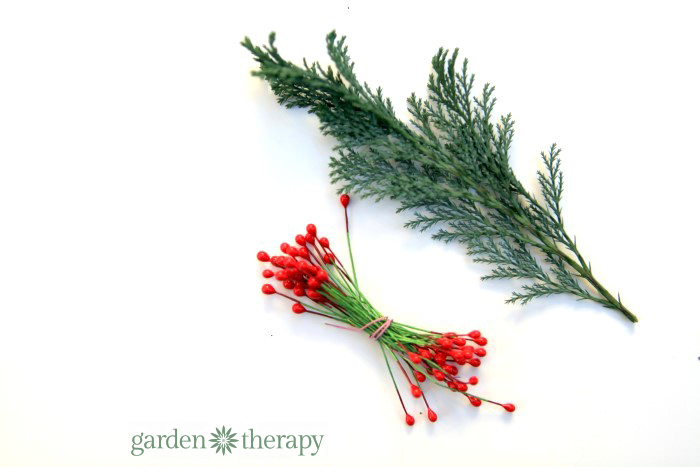 Materials
Evergreen clipping
Bypass pruners
Scissors
Miniature decorations: ribbon, pinecones, seed heads, holly.
Hot glue gun and glue sticks
Make it!
Start with a fairly for pliable clipping from an evergreen. Leaves from cedar and false cypress are soft and easy to form. Bend the clipping around so that the tip overlaps the cut end. Wind floral wire tipped with red berries around the two ends to secure it.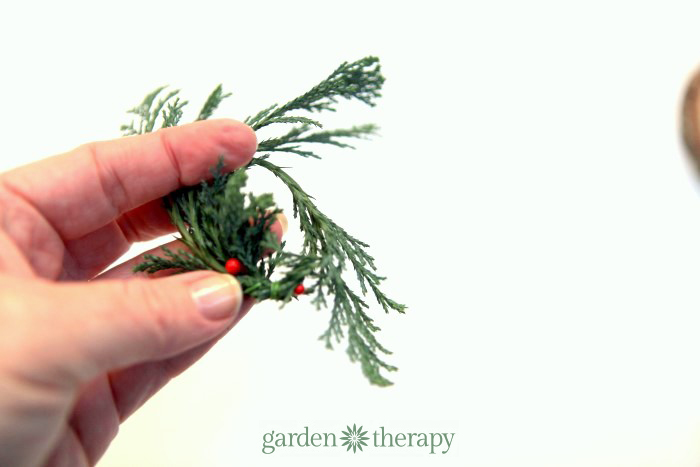 Continue wrapping wire around the wreath until you have all the little leaves tucked in.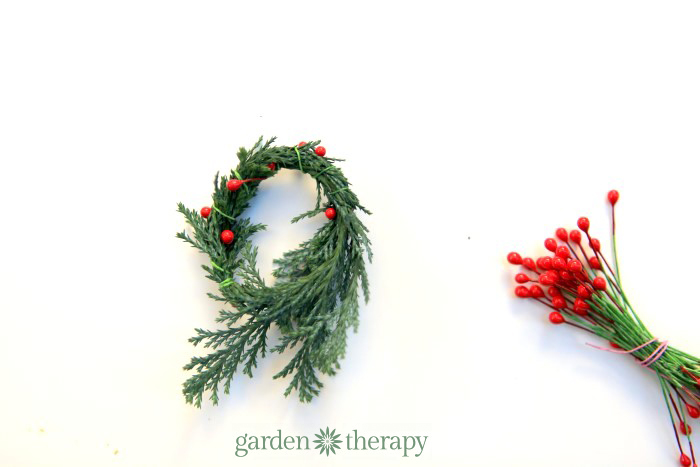 Trim the wreath with scissors to clean it up and make a nice round form.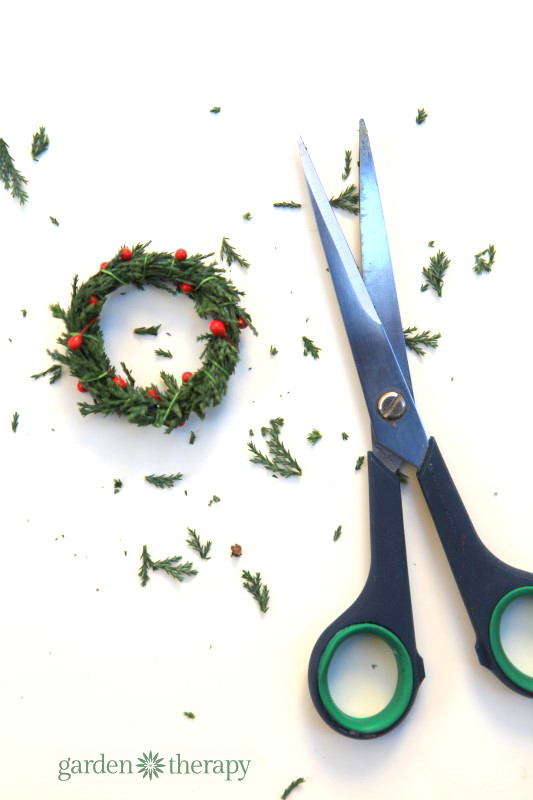 Add decorative elements like seed heads miniature pinecones and other things found around the garden with a hot glue gun.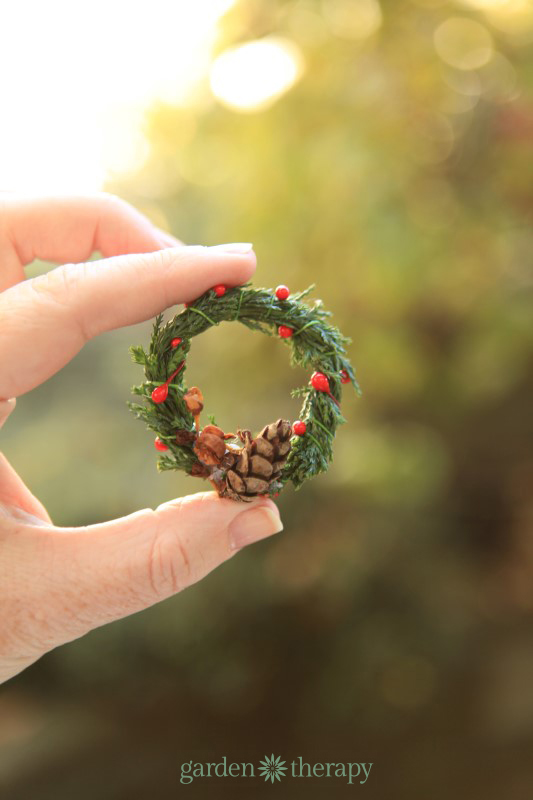 You can also use ribbon to decorate the wreath. This raffia ribbon makes an easy bow as you simply need to tie it in a not then unfold the ends of the ribbon.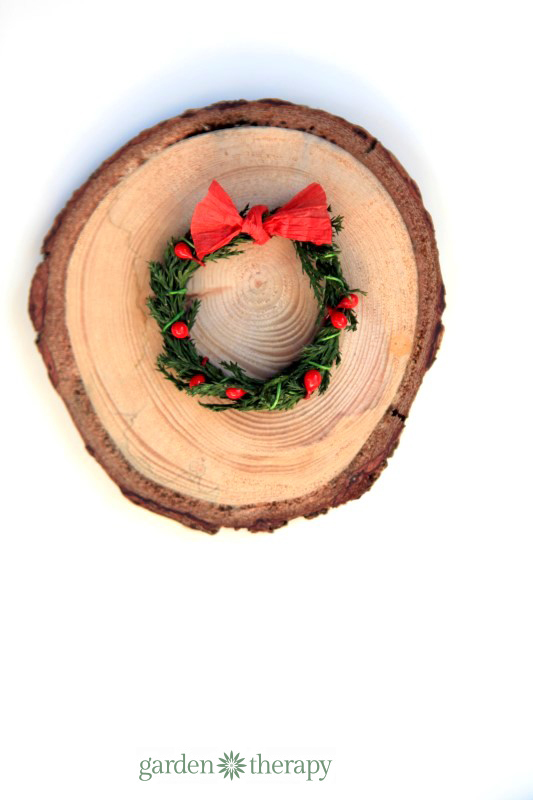 You can also find ribbon that looks like tinsel which I wound around another miniature wreath.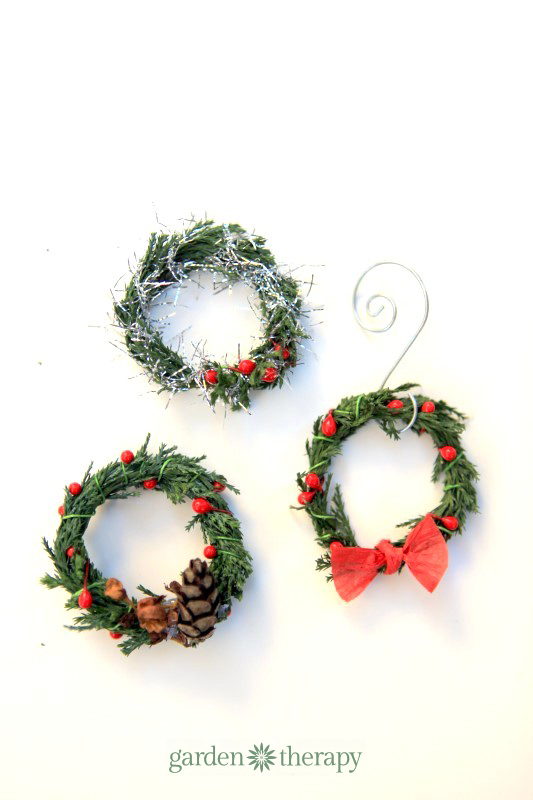 Add ornament hooks to hang them on the Christmas tree or around the garden.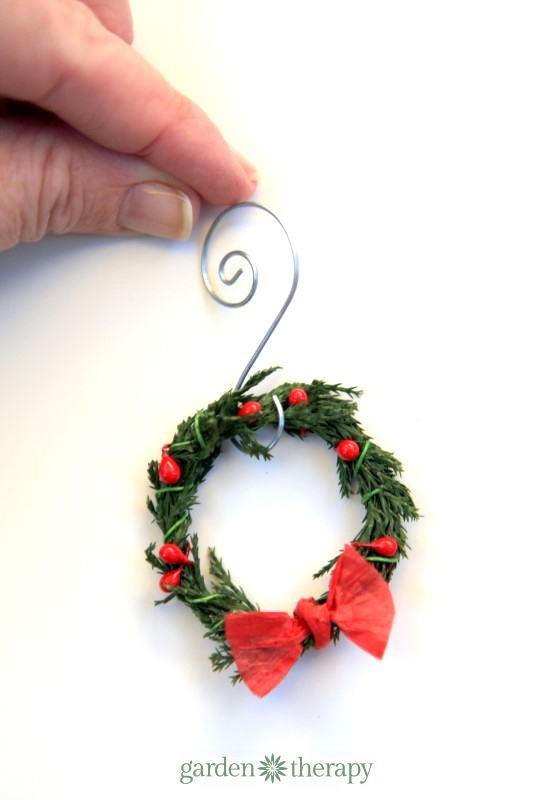 Or tie them to gift wrapping and add a little outdoors to your presents.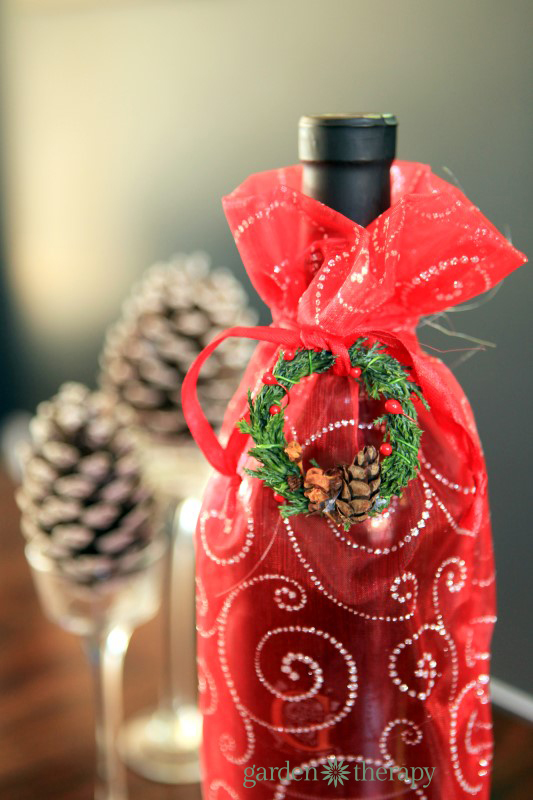 Pin it!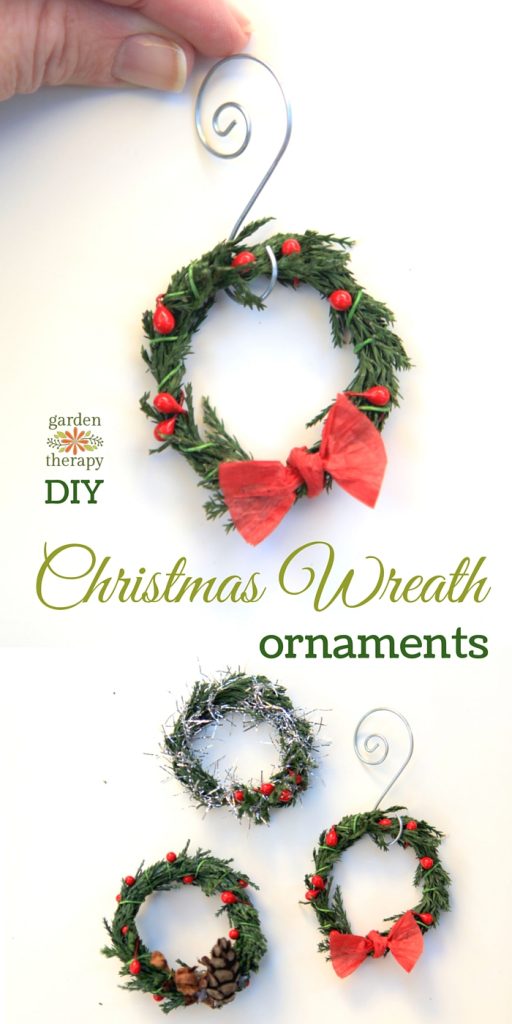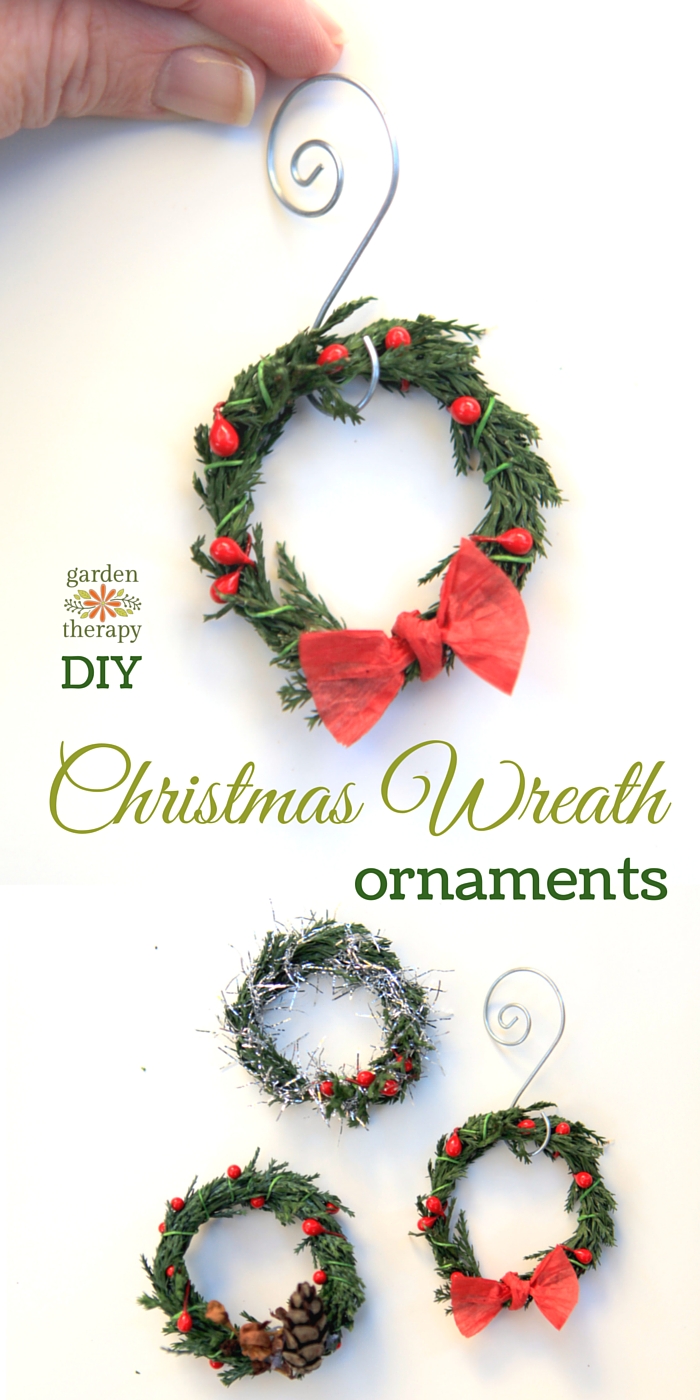 GIVEAWAY 
All the bloggers you will see on this tour are on the bHome App and we are honored to be partnering with D. Lawless Hardware to offer a $150.00 Gift Card to one lucky winner. To enter just download our bHome App by clicking HERE. Our app is available to both iPhone and Android users. If you have already downloaded bHome, you will automatically get a message to TAP to enter. D. Lawless offers international shipping so this giveaway is open to anyone. Winner will be notified on or around December 14, 2015.
DAY 1
Garden Therapy | Cedar Hill Farmhouse | Bright, Bold & Beautiful | Cupcakes and Crinoline
Southern Hospitality | Little Farmstead | Shabby Art Boutique