Moving into a new rental unit is like working with a blank canvas, only there are rules! You can't do whatever you want since the place doesn't belong to you. But still, you want to make it feel like home. Here are some apartment decor ideas that will brighten up those beige or millennial gray walls!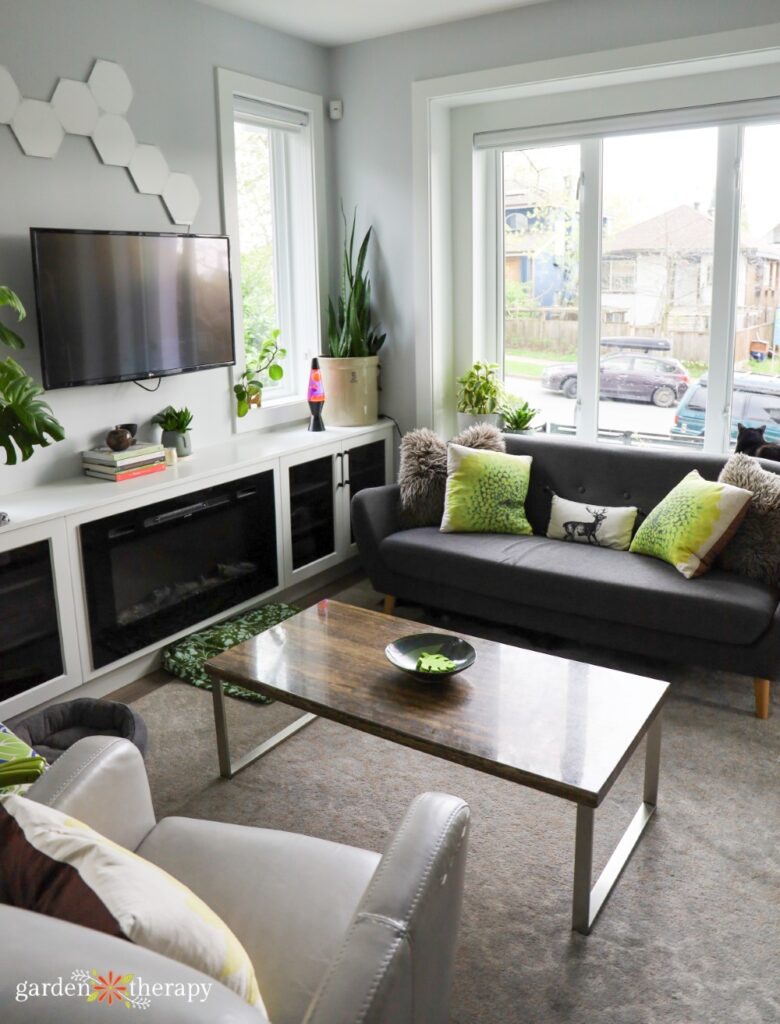 Before moving into my new house, I lived in a rental unit for just under a year. I had sold my house of over ten years, and there wasn't anything on the market yet that was the perfect match for Kiddo and me. So I ended up moving into a rental for the time being.
As a brand new build, everything was clean and modern. And to be honest, I had a hard time with it! I saw all the millennial gray walls and white everywhere, and I asked myself, how do you style a boring apartment?
I got to work adding in plenty of colour and plants, and the space turned around completely—the contrast between the stark before and the sparkling after was big. People would come in and comment about how much they loved the space.
It can be difficult to make a rental feel like home. Especially ones that follow this new trend of being all sleek and monochrome.
Now that I'm in my new house, I thought I would give you a little tour of my rental and how I made it feel more homey with these apartment decorating ideas.
This post will cover…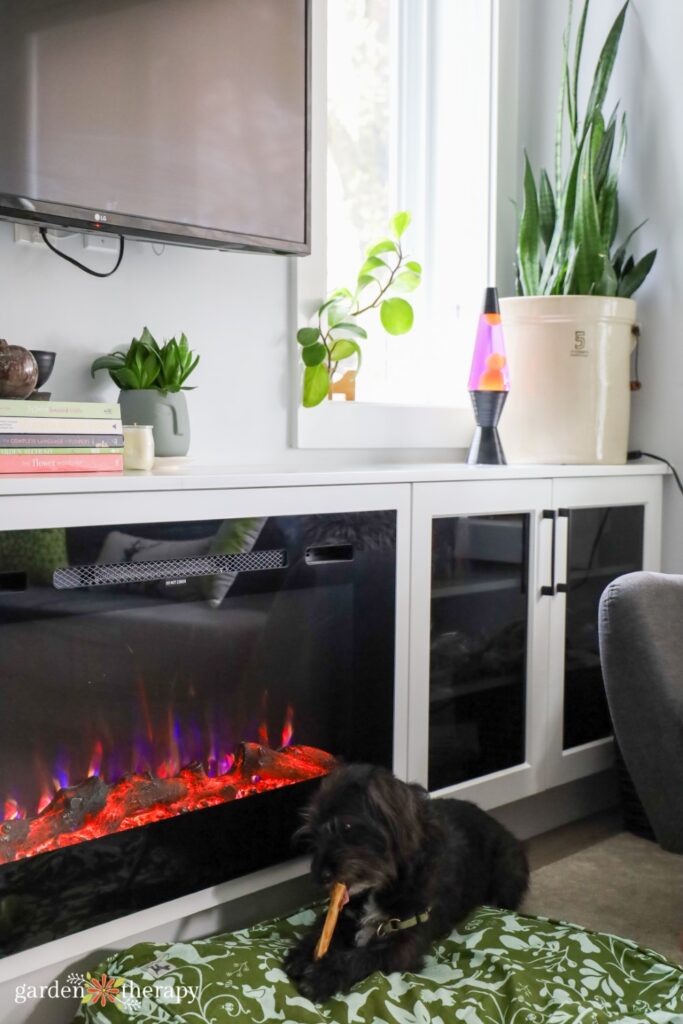 10 Apartment-Friendly Decorating Ideas
Plants
You know my first suggestion is going to be to add plenty of plants! The easiest way to breathe like into a rental apartment with millennial gray walls is to, well, add life. You can add a collection of plants in groupings, hanging plants, or large focal plants.
Check out my guide on how to arrange plants in the living room. But you can add them to any room, including the bathroom and hallways.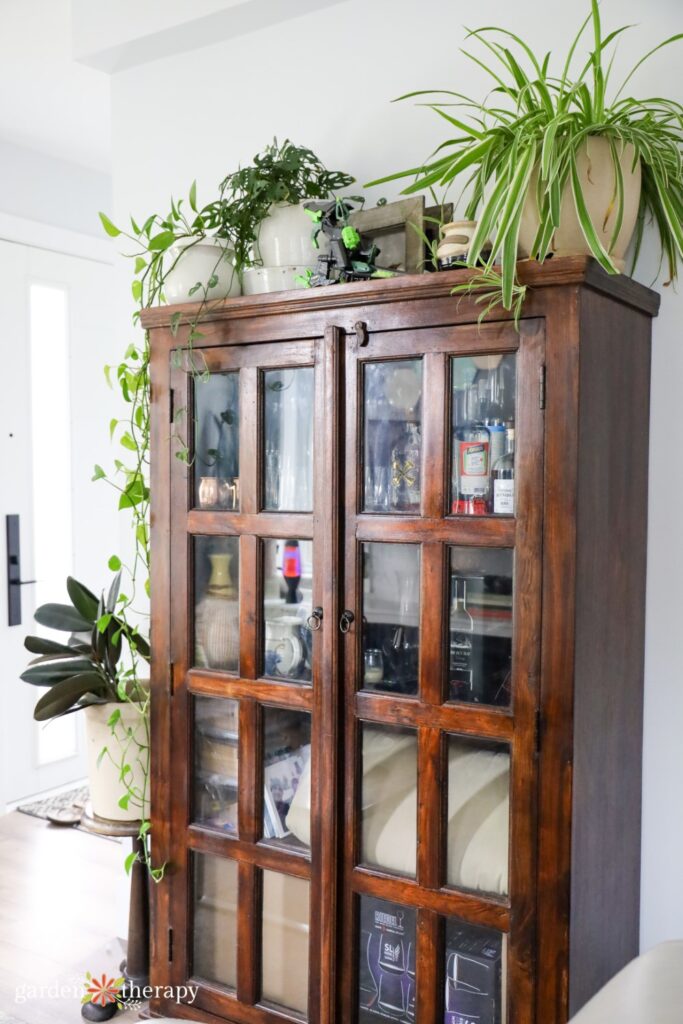 Dried Flowers
If you don't have a green thumb, I recommend adding some dried flowers for apartment decor. They're long-lasting displays of colour. They can have different feels, from rustic to chic, depending on what flowers you include.
I even use dried allium seed heads on their own. You can find such unique shapes by drying flowers and foliage from your own garden.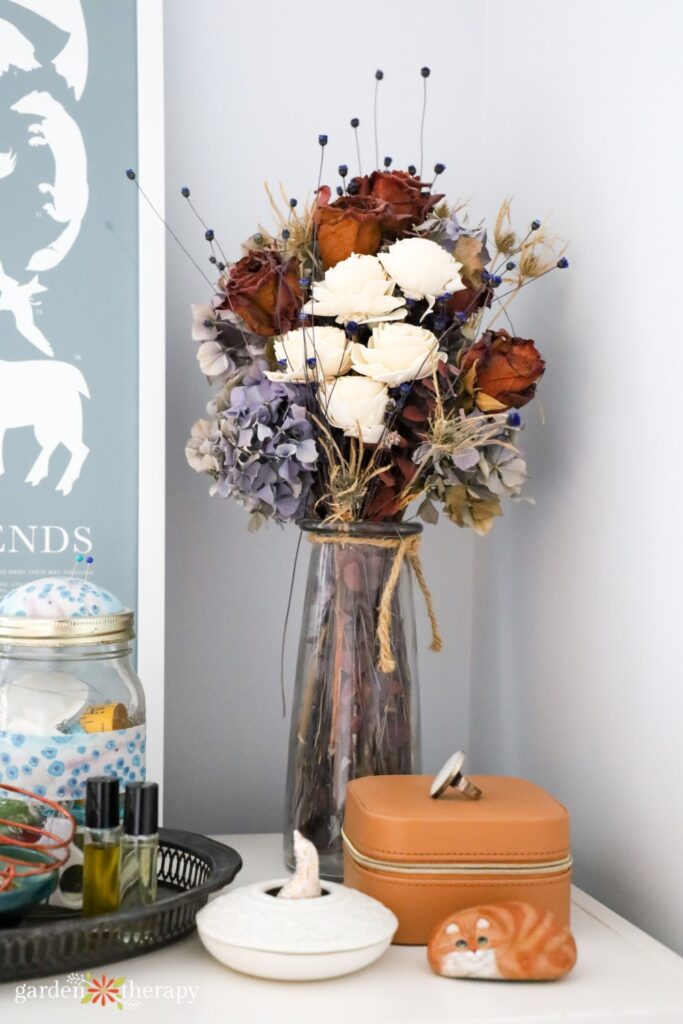 Books
Books are another great renter-friendly decor. Of course, I have many of my own books scattered throughout the place. And they're very colourful and bright!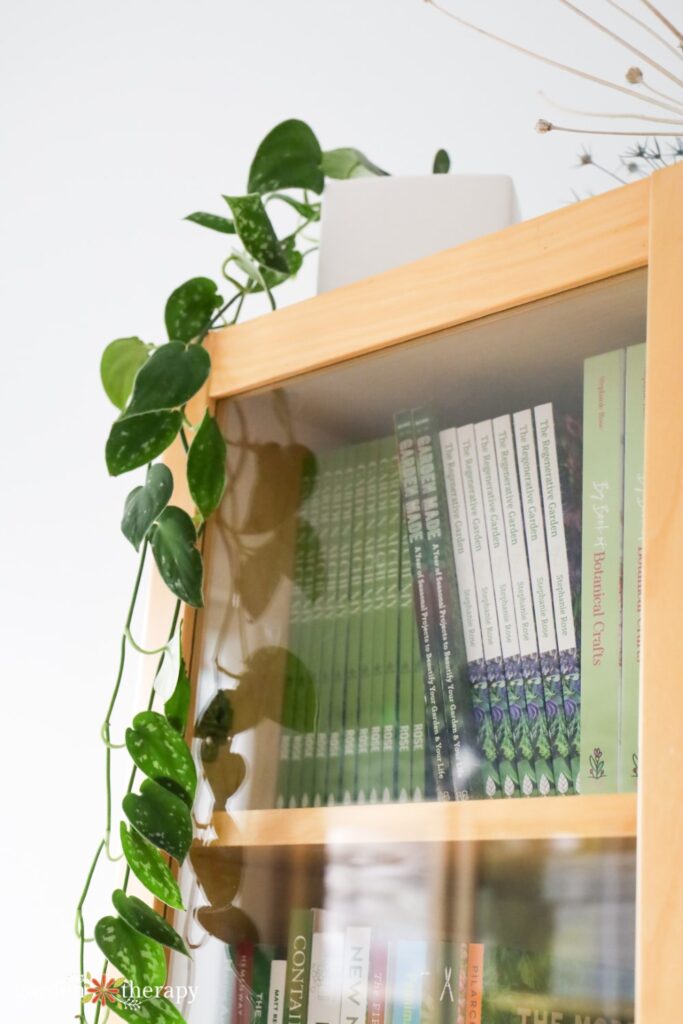 But my favourite thing to do is to stack them. From sitting on my nightstand to holding up my computer monitor, I use many books!
If you aren't a reader, you can still decorate with books. I encourage you to go to the thrift store and pick out books solely based on how colourful and pretty the covers and spines are.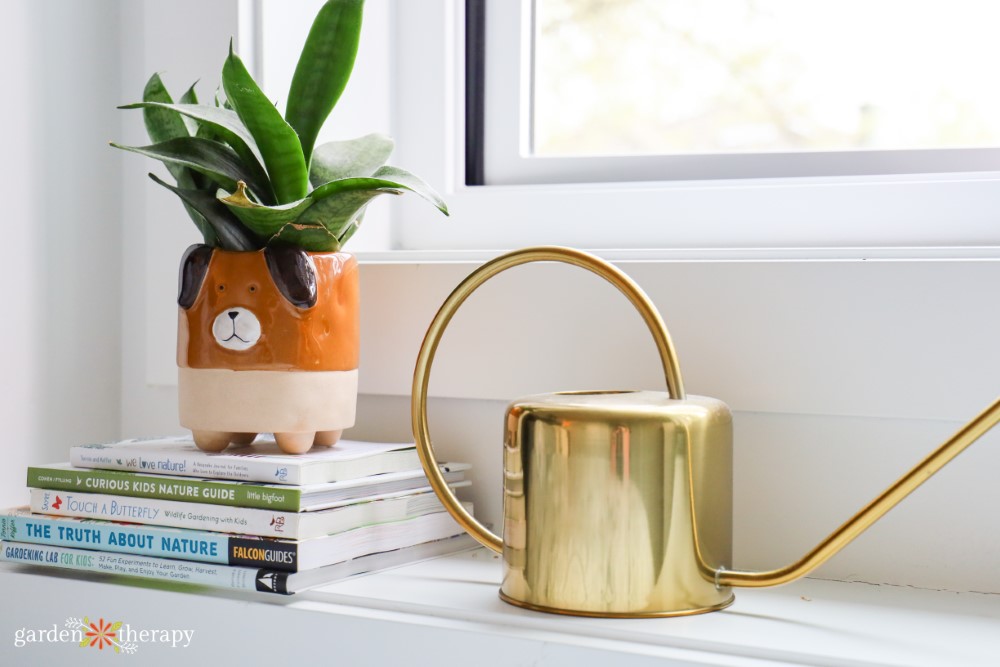 Rugs
When you have millennial gray walls and light-coloured floors, it can quickly look dull from top to bottom. Don't forget to cozy up the floor too. Placing a rug can very quickly make a room feel more homey. You can instantly add tons of colour or a pattern to liven up a space.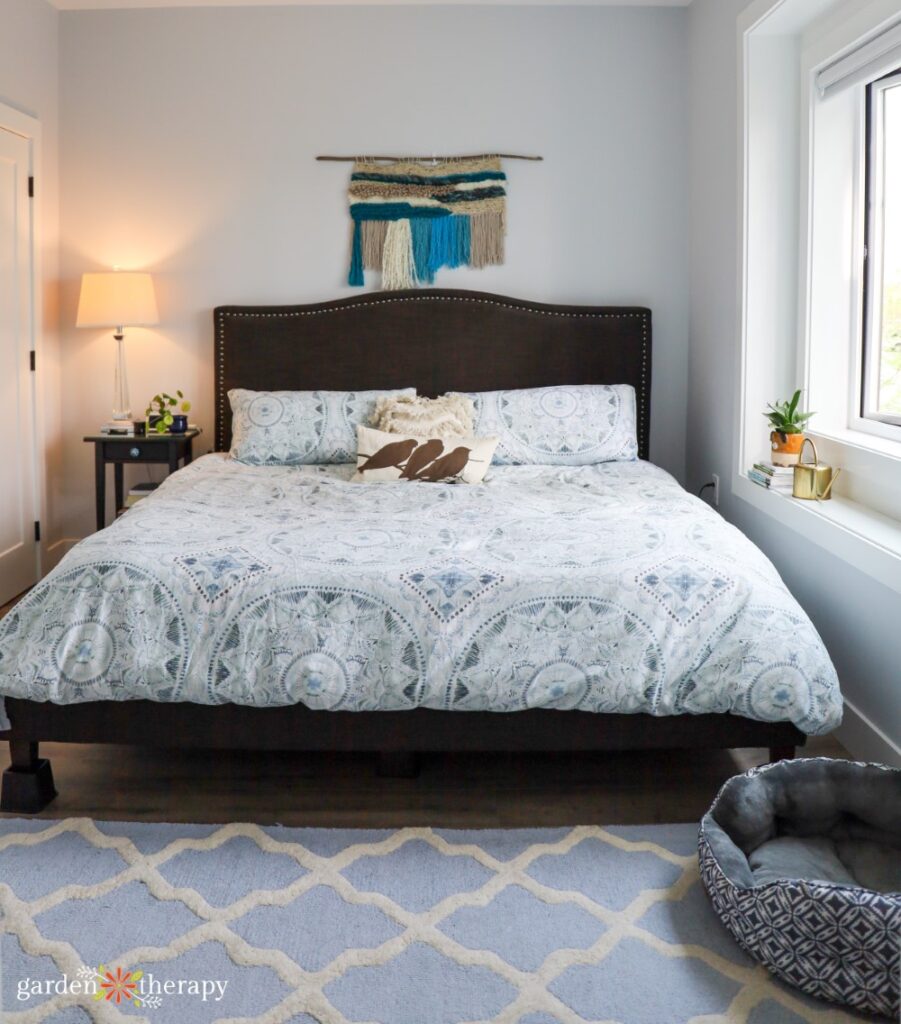 Artwork
Hang stuff on the walls. It's always one of the last things to get done when you move and can quickly get forgotten about. But it makes a world of difference!
I used command strips since they were advertised as renter-friendly. Personally, they still damaged my walls, but I know that they have worked for other people.
The other thing I did was lean artwork against the wall. This works for larger artwork, and it still creates a visual impact.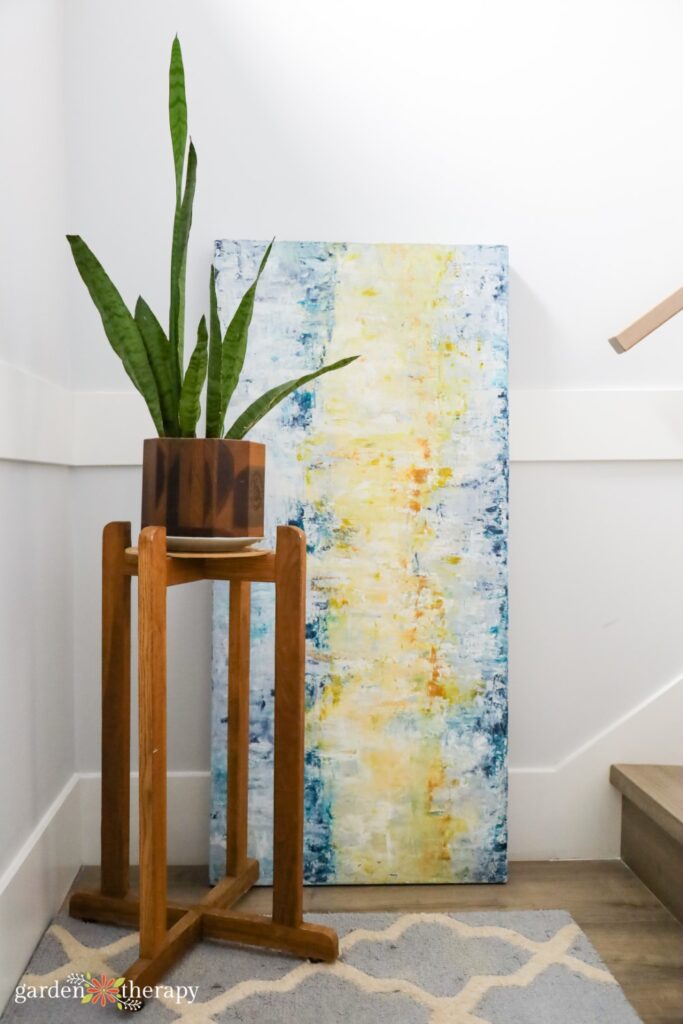 Interesting Lighting
Lighting is the perfect renter-friendly decor because it's so low commitment but really sets the mood. I encourage you to ignore those built-in pot lights and try to use lamps in the living room and bedroom. They create warmer, diffused light that feels more calming.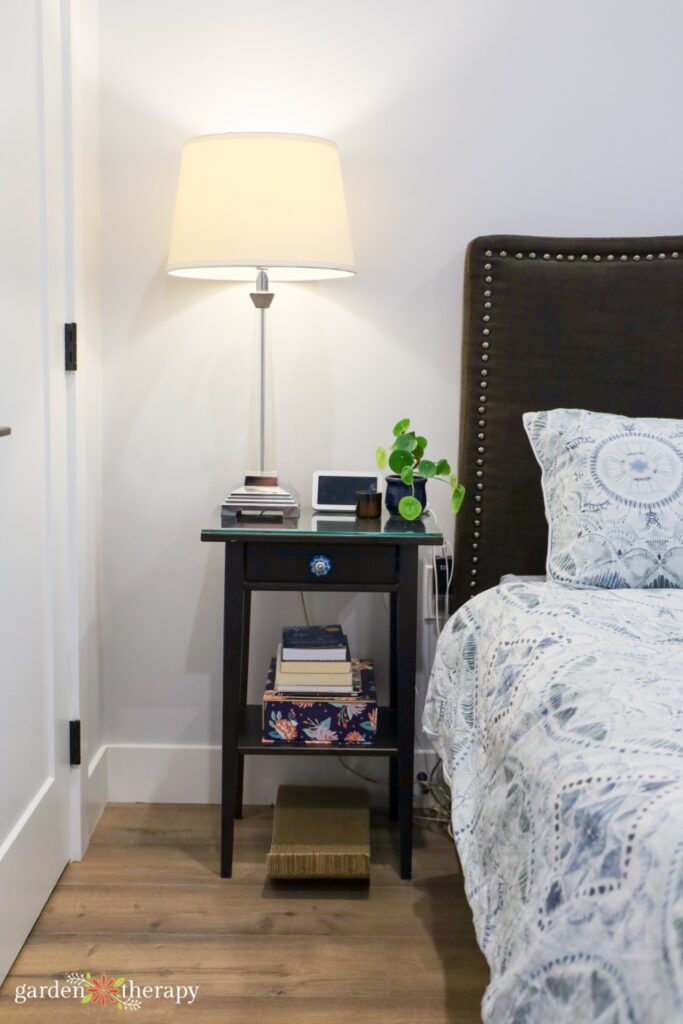 Also, add interesting lighting to spice things up. I put in a really funky lava lamp and LED strip lighting. The LED strip can be controlled with a remote and turn any colour. It's great for creating themes around the holidays.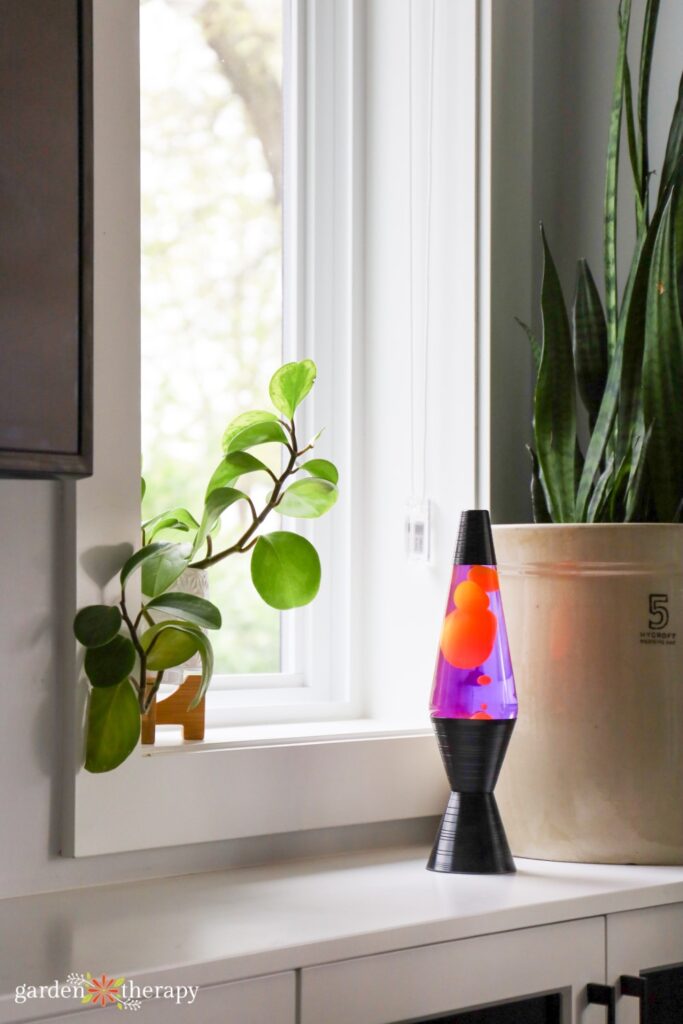 Colourful Fabrics
Fabric can be one of the best apartment decor options because it's something you'll get anyway, so you might as well be intentional with what you pick! I always choose colourful and fun throw pillows for the couch and the bed. Also, add in comfy blankets and throws that make the living room feel more welcoming.
I even will add folded up linen as a way to add texture beneath items.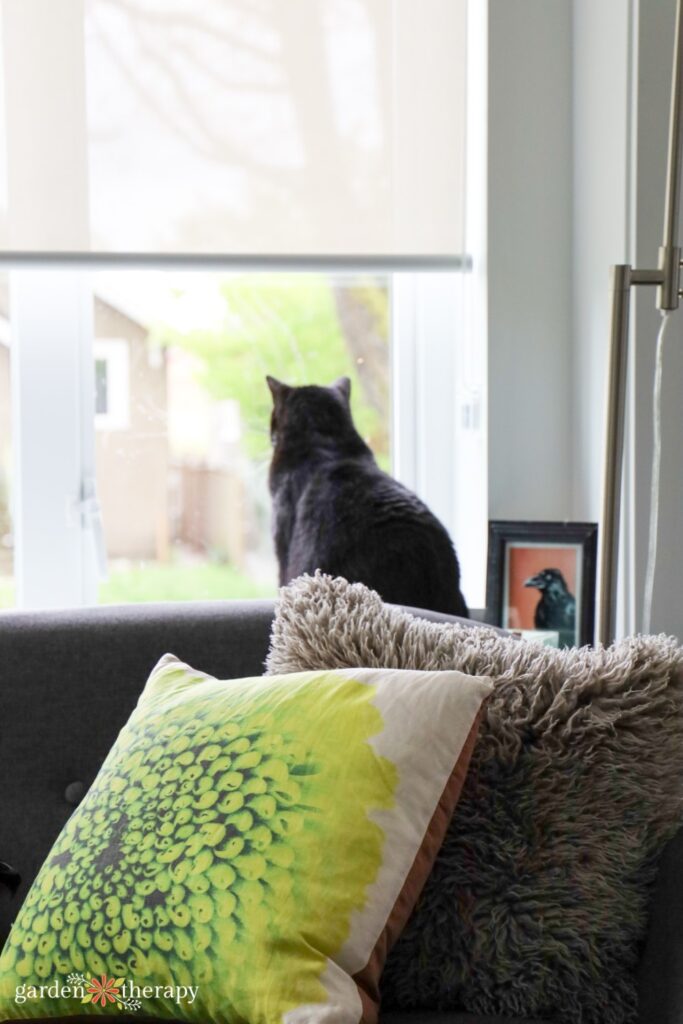 Vases
Whether you leave them empty or fill them with dried flowers, vases alone are a great apartment decor idea. Grab them in different sizes, colours, and shapes. The more variety, the better!
You can find great vases at the thrift store. That's how you collect the unique and pretty vases you can't get at the store.
I even put a vase in the bathroom! It was the perfect home for my marimo moss balls.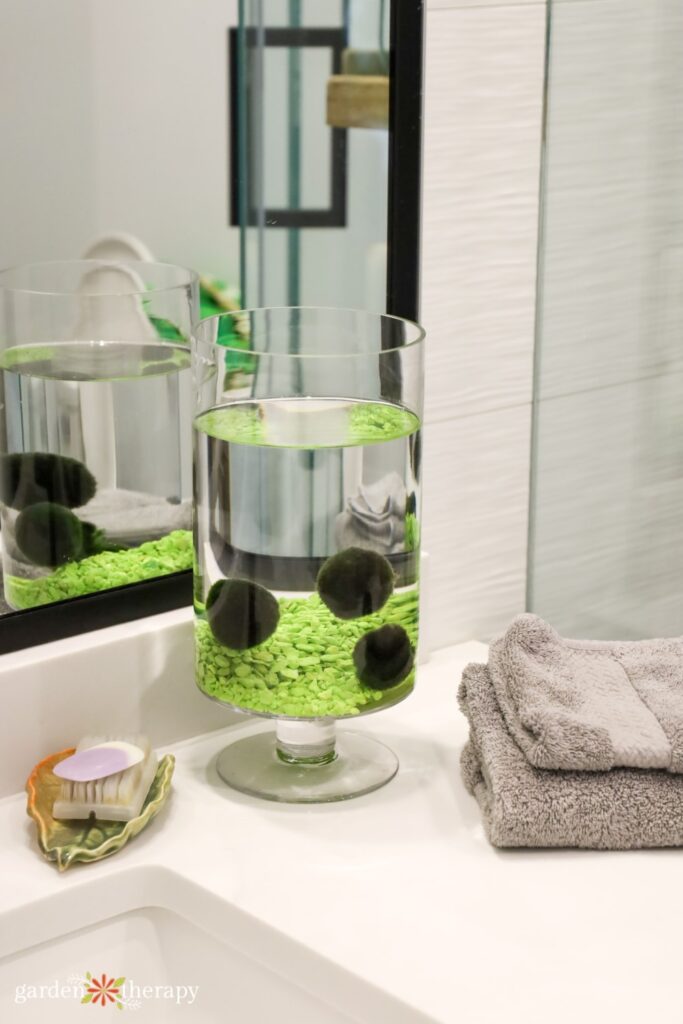 Different Textures
I always like to remind people that when decorating a space, you want to include different textures. This means you want natural elements, like plants or wood, along with smooth finishes, like glass or concrete. Add different shapes, from rounded corners to pointy ends. Each will give distinct feelings.
If you add a little bit of something from everything on this list, you'll automatically add plenty of different textures.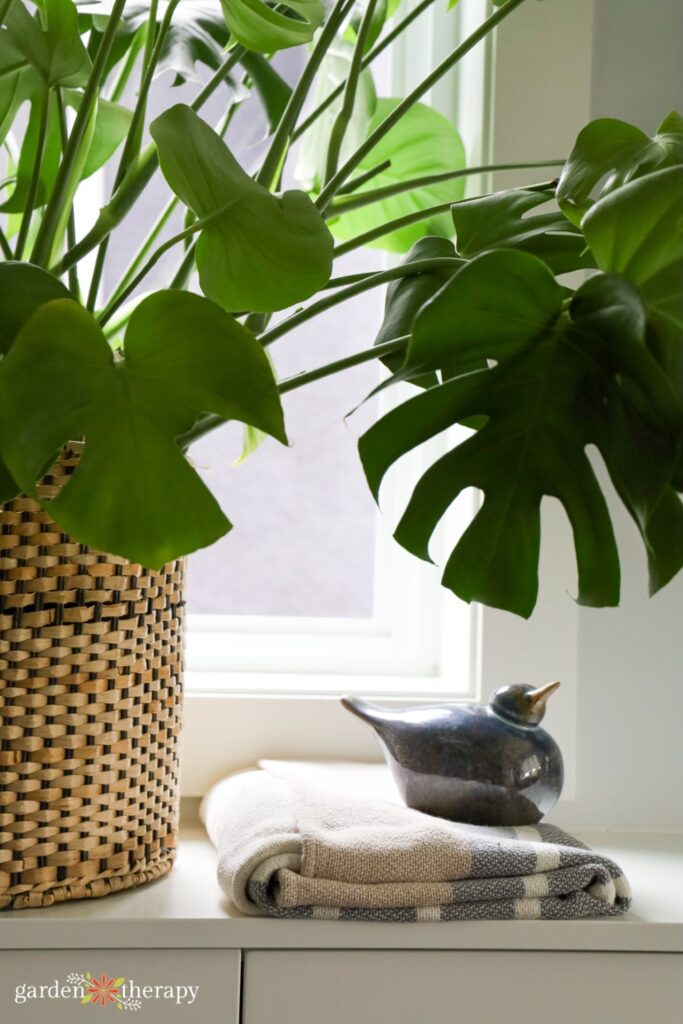 Unique Touches of You!
Don't forget to showcase your personality when looking for apartment decor. For kiddo and I, one of our standout pieces was someone we call King Froggerson. He's a painting we bought off of Facebook Marketplace. Once we saw it, we knew we instantly needed to have it. It fits the colours and the quirky home vibe.
You'll find touches of my style all throughout the home, from a brass watering can to trinkets I've collected over the years. It is what truly makes my house feel homey!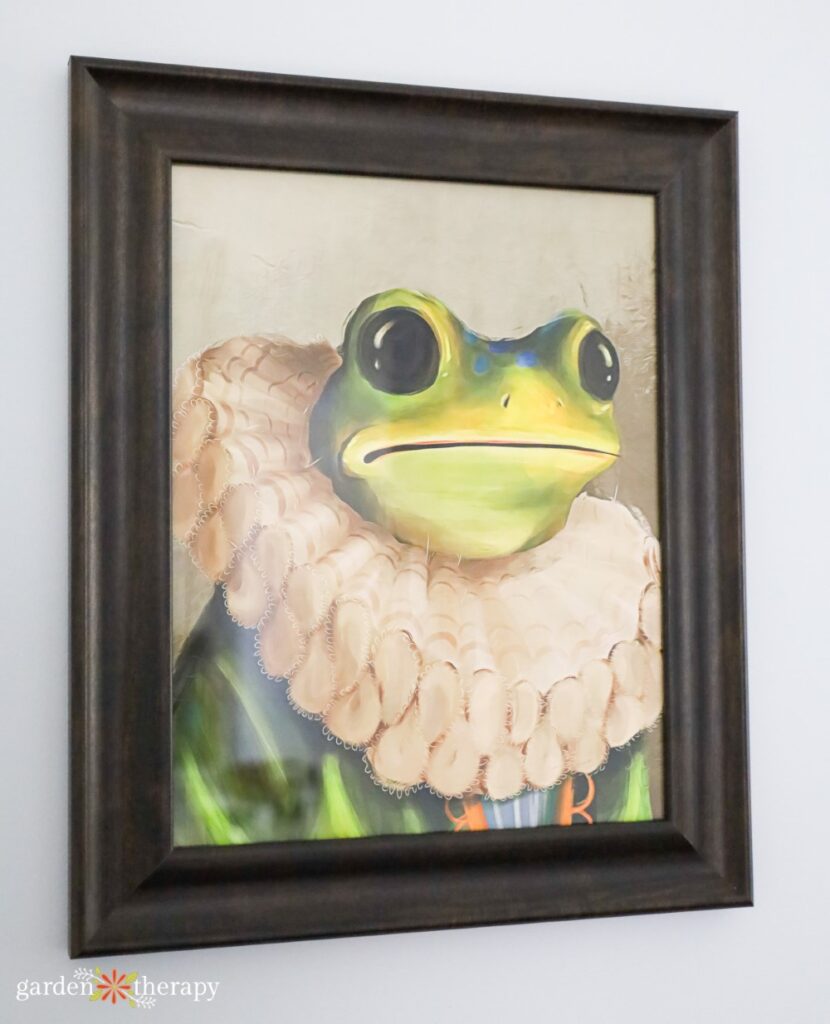 Frequently Asked Questions About Apartment Decor
How can I warm up gray walls?
Even with gray walls, you can add colour elsewhere in the room. Start from the ground with a cozy carpet, then add in some complimentary furniture. This will give you a starting point to then add artwork, plants, and other décor. Choose warm, ambient lighting for the room to make it feel cozier.
How can I decorate a wall in a rental?
Just because it's a rental doesn't mean you can't decorate the walls. Ask if you can add some nails and hooks to hang items. If not, you can always try non-invasive hanging options like command strips. I've even seen command strip shelves that you can use to add small decorations along the wall!

Try some of these gray living room ideas for your wall: macrame, tapestries, artwork, clocks, posters, photos, prints, and warm lighting.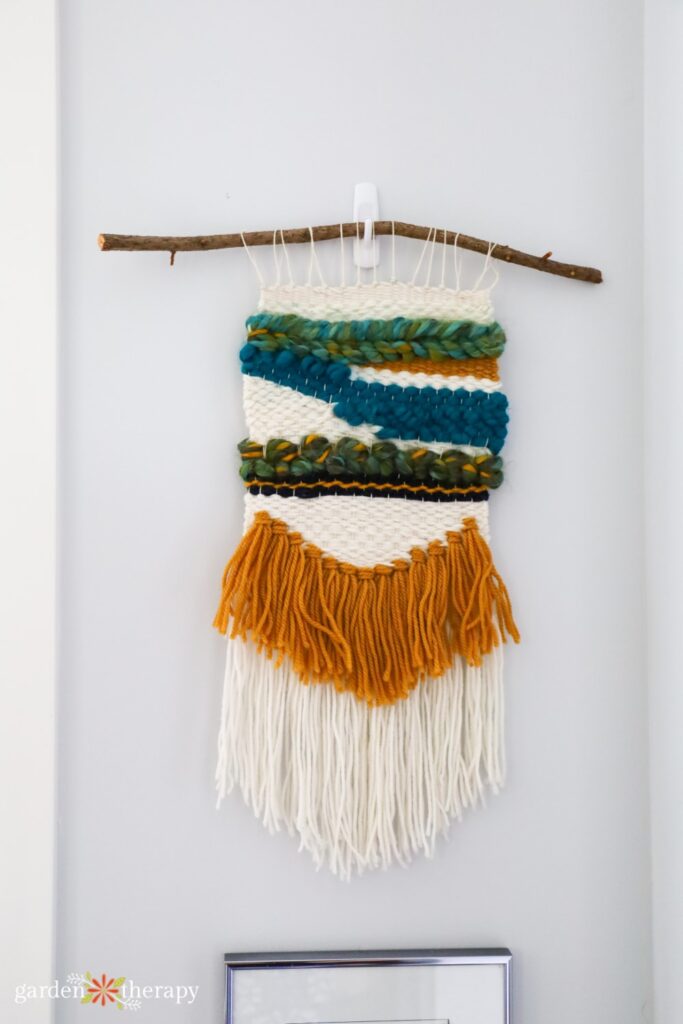 How do you bring life to a rental apartment? Let me know in the comments below.
More Tips for Decorating