Adding lighting to landscaping can showcase plants in a new way, illuminate a pathway, or just create a warm glow. Here are a few outdoor lighting ideas to use throughout the year.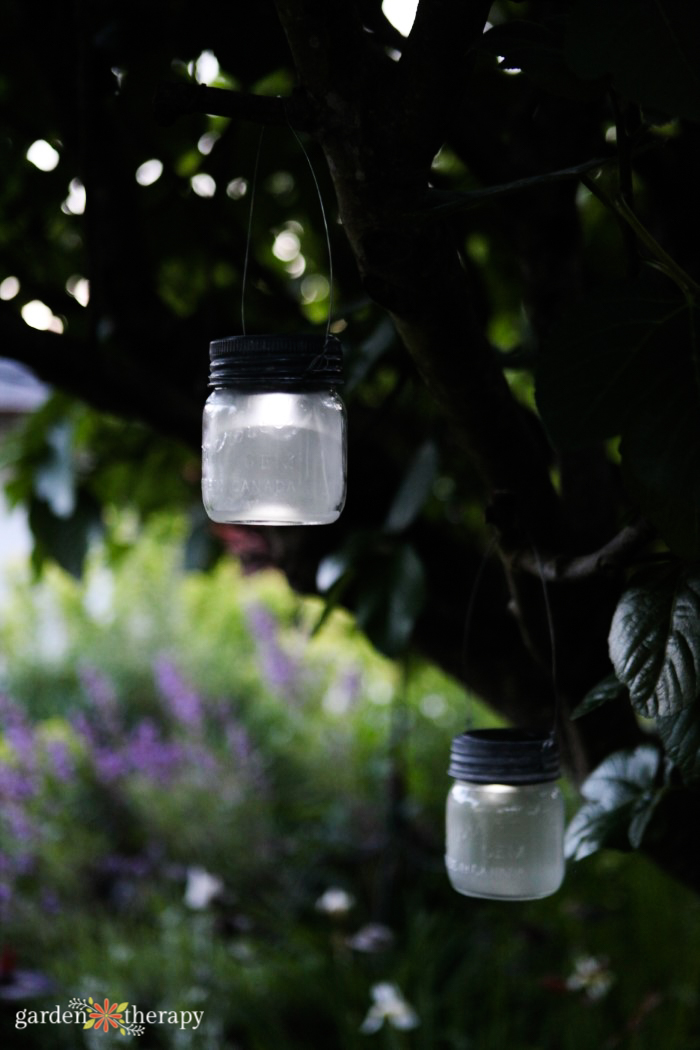 Part of the joy of gardening is creating a serene place where I can go to relax and recharge. If you believe the garden is a daytime-only spot, think again! I have spent many a relaxing evening in my garden enjoying a fresh cup of herbal tea.
Of course, ambiance is everything. With a little ingenuity and a few of the outdoor light ideas from the list below, you can create a beautiful space in any yard ready to be enjoyed around the clock.
Outdoor Solar Lights
Garden Lights
Easy to install, garden lights add a delicate ambiance to your garden at night by softly lighting pathways or highlighting areas of the garden. Simply place them in the ground and let the sun do the rest of the work!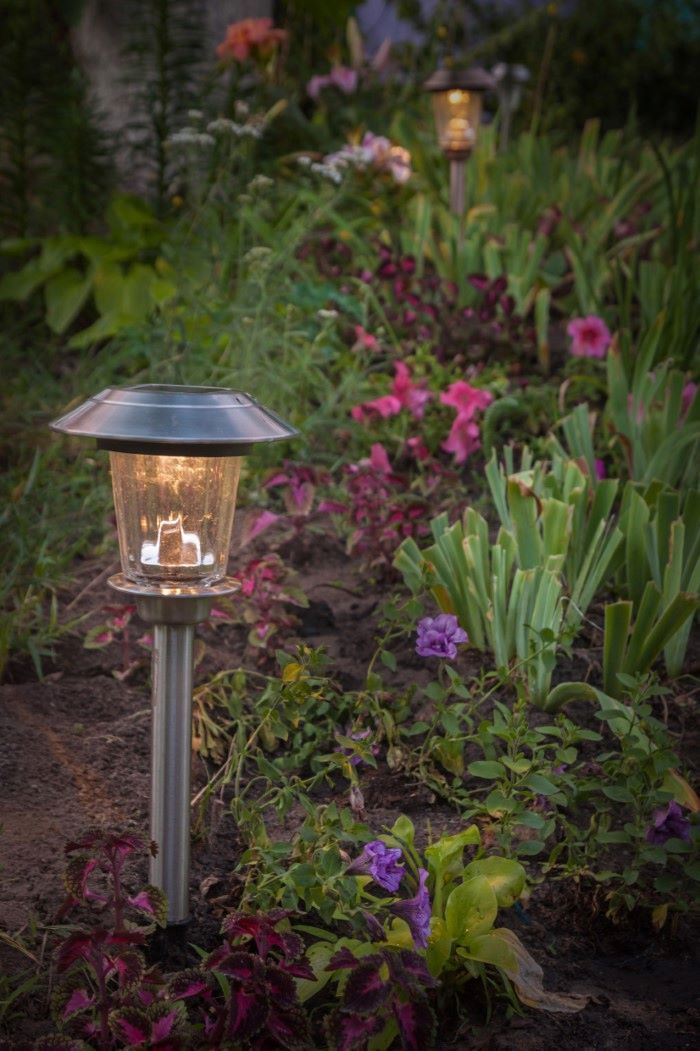 Hanging Solar Lights
Sometimes you want something a little special to stand out in the garden! Ornamental hanging solar lights look just as good during the day as they do when lit up at night. Place them throughout your garden or walkways as a simple way to dress up the area.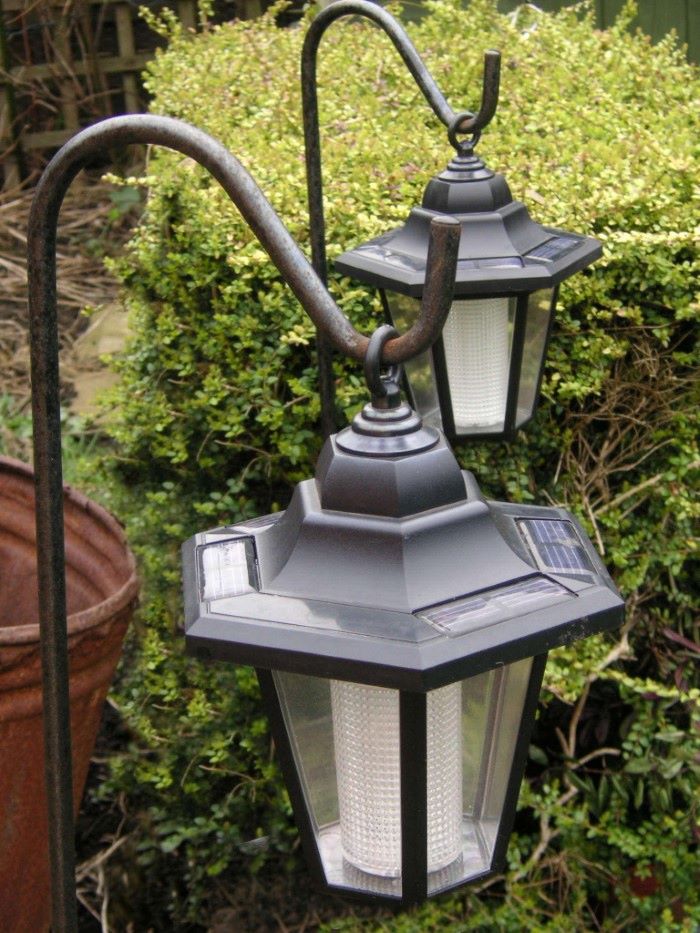 Tulip Lights
These tulip lights are a thrifty way to spice up the garden using recycled water bottles! If you're looking to decorate for a special event, this is an inexpensive and beautiful way to do so. See some inspiring photos and instructions on how to make them here.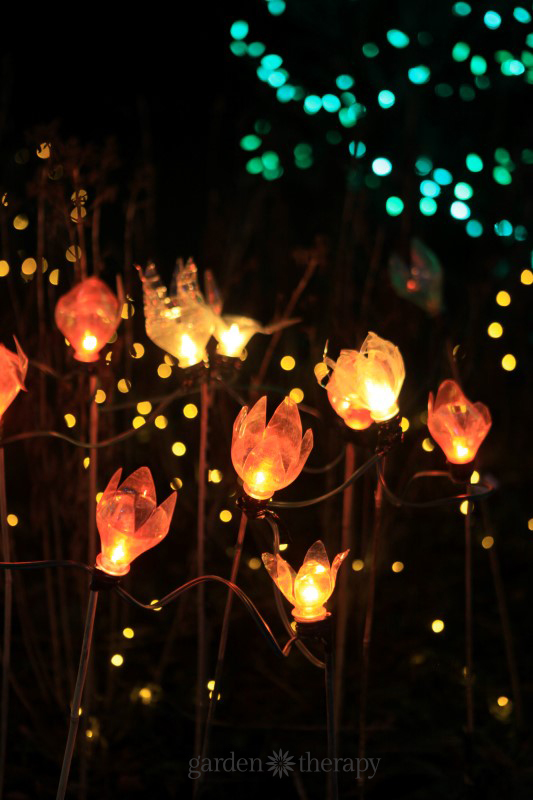 Outdoor String Lights
Overhead Patio Lights
String lights aren't just for December. Drape string lights over your patio to create a cozy and romantic setting for your outdoor eating area. You and your guests will be able to hang out comfortably all night long underneath.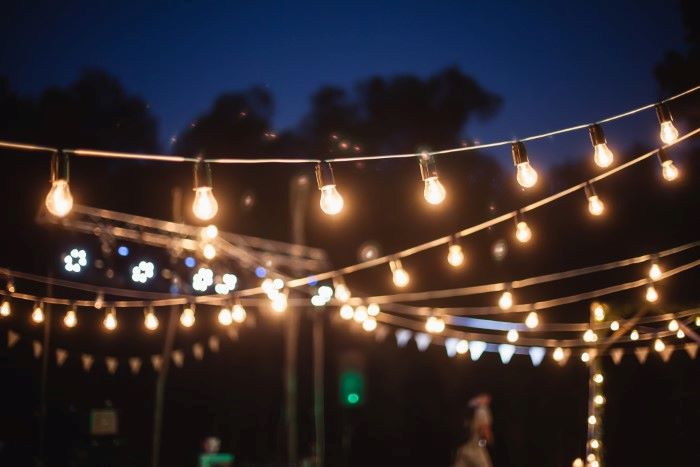 Birdcage Lantern
Let the birds fly free and fill a pretty birdcage like this with string lights. For this project I used waterproof, battery-powered LED lights. I can leave it out in the garden and not worry about the rain getting the lights wet.
A string of outdoor solar string lights would also work beautifully as long as you set the charger out in the sun during the daytime.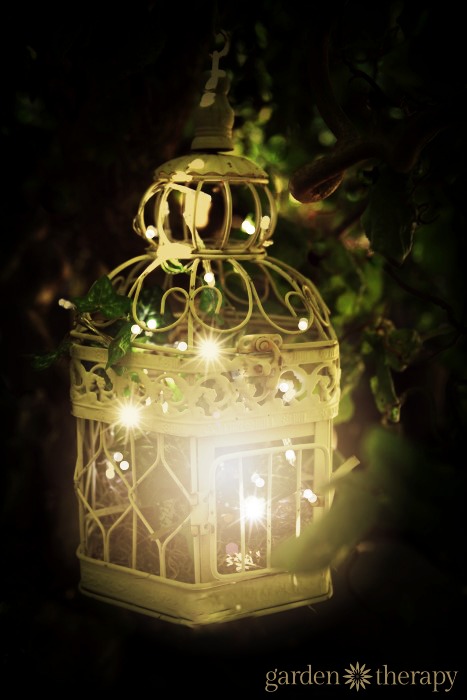 Wraparound Tree
If you have some large and old trees in your backyard, wrapping around the trunks can create a gorgeous effect. Use white lights or a warm yellow so it remains in style all year long!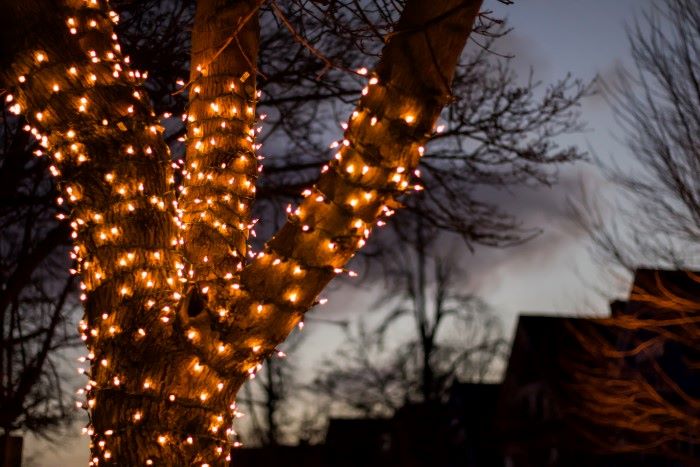 Outdoor Wall Lights
Mason Jar Lights
Mason jars can be hung from walls or a tree to create a simple, yet effective lighting setup. It emits a small light that is a perfect finishing touch for your outdoor lighting scene. Creating your own mason jar lights is easy or you can find them online for a good price.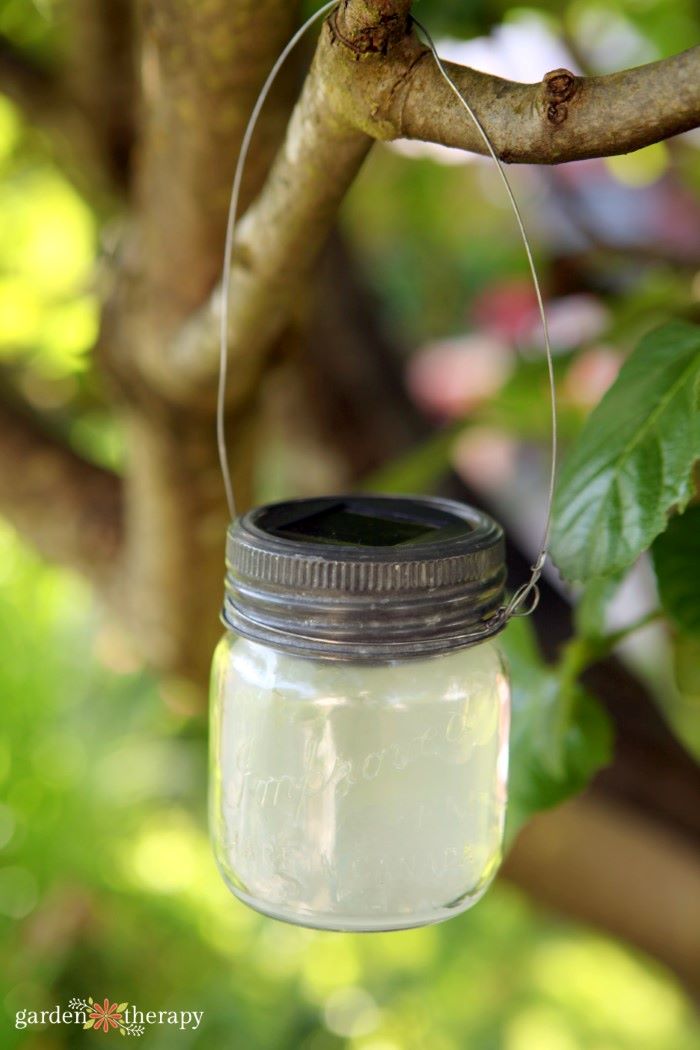 Wall String Lights
Patio lights don't have to be strung overhead. String lights can also be draped across the wall, along the fence, or between posts to create an enchanting feel of all-encompassing light.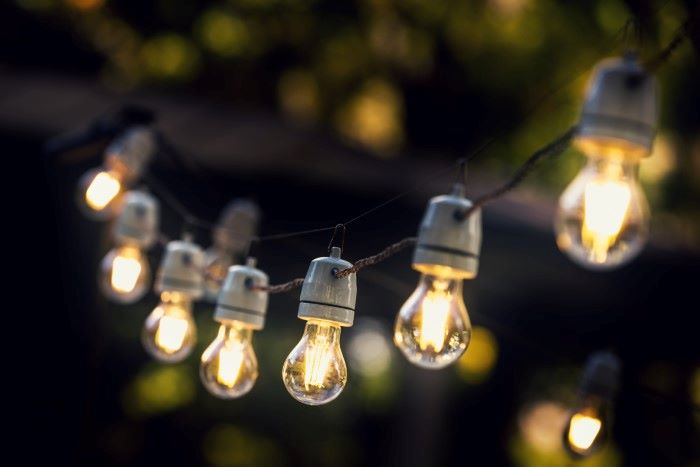 Porch Light
I love the look of a classic porch light. It is an outdoor lighting trend that will never go out of style! If you already have a porch light, new ones are easier to install and a great way to freshen up your outdoor space.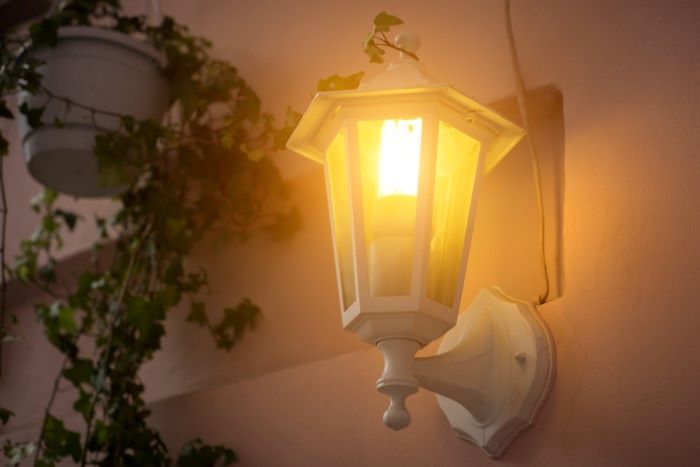 Coloured Accent Lights
One light turned in the right direction can make all the difference. If you have a large empty wall or fence, coloured accent lights can be a simple yet fun way to liven up the space.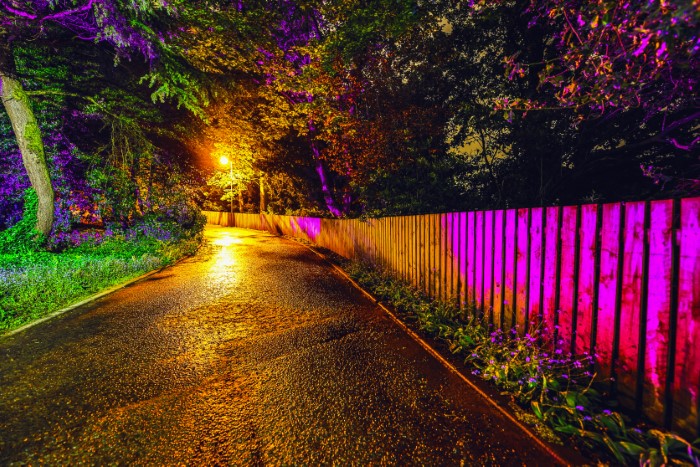 Outdoor Post Lights
Solar Chandelier
Chandeliers don't always have to hang high above in the center of a space. They also work well attached to an outdoor post or wall, jutting out to provide a guiding light or a hint of sparkle to the night. Find the full instructions on how to make your own version of this solar chandelier in my book, Garden Made.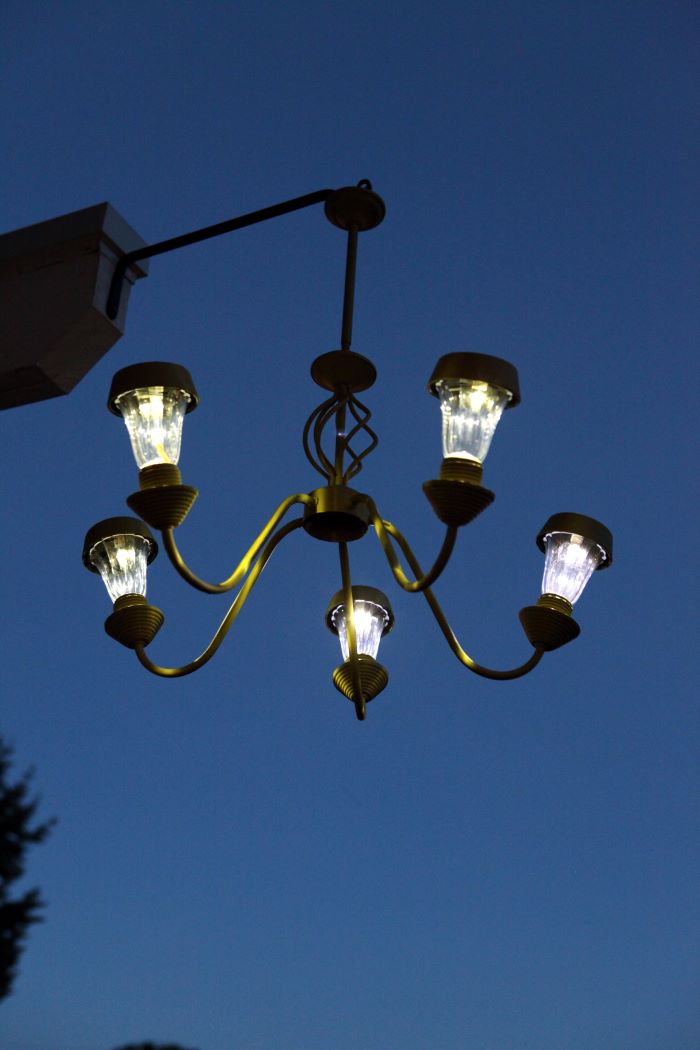 Pathway Lights
If you have a pathway leading up to the house or a garden walkway, why not illuminate the way with pathway lights? Not only will guests be able to move around easily, but you can also highlight stunning garden beds or hardscaping along the way. Buy shorter outdoor post lights so the focus is closer to the ground.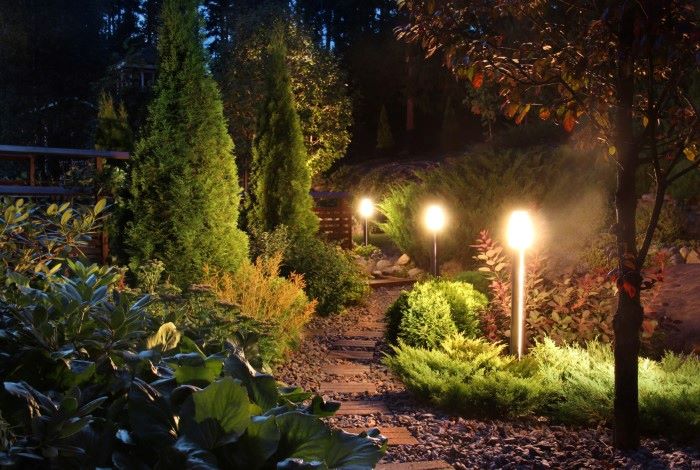 Outdoor Smart Lights
Automatic Accent Lights
I added lights to my water feature and I love how it continues to show off the cascading water even when it's dark. Highlight features of the garden or create a canopy of light above with accent lights. It's a welcome treat to come home to late at night!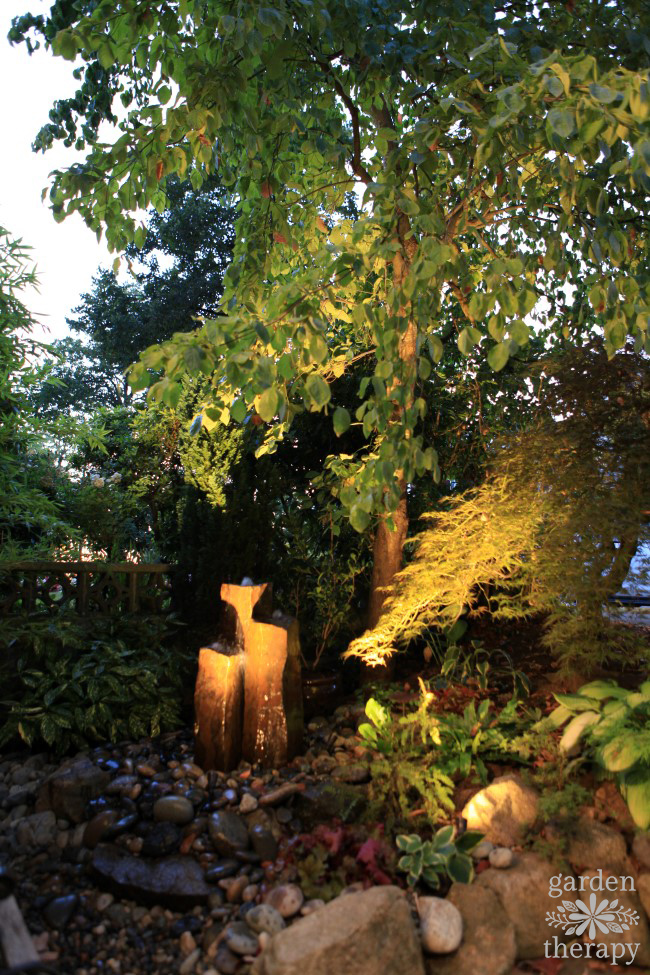 Orb Lights
These may be the most fun outdoor lighting product you can buy. Depending on what you're looking for, you can find orb lights that are solar-powered or powered by smart lights. You can also find those that are waterproof to light up pools at night.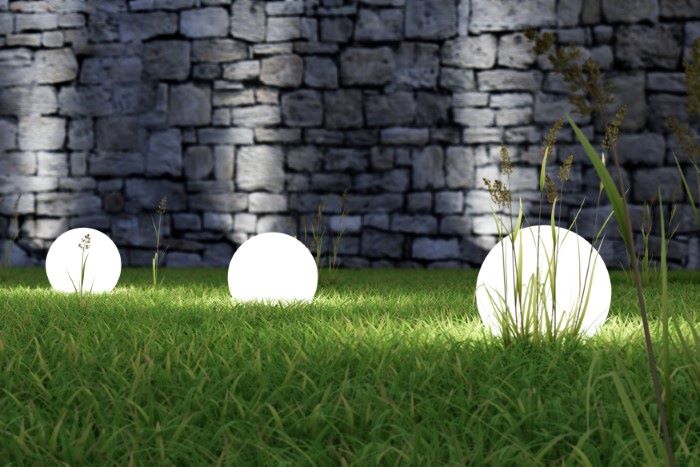 Overhead Patio Chandelier
Using a smart light in a chandelier will allow you to adjust the intensity and overall glow of the light. After all, just the right lighting can create the perfect mood for the night! Simply adjust the lighting right from your phone or smart speaker.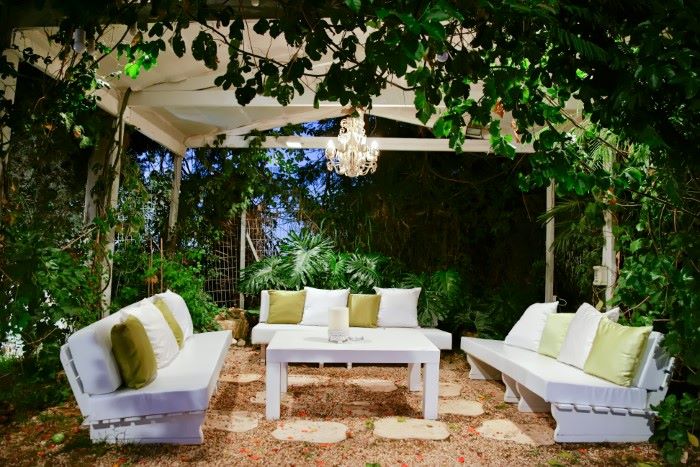 DIY Outdoor Lighting Ideas
Simple Solar Chandelier
This DIY solar chandelier was made from just three materials, which you very well may already have! Using solar lights is always a bonus because I don't have to worry about turning them off and on, any running cords, or higher electrical bills. Plus, it keeps my garden eco-friendly.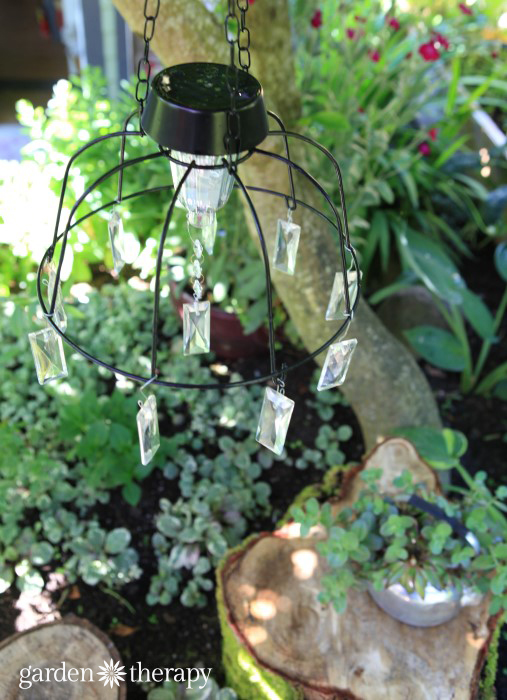 Citronella Candles
Citronella candles pull double duty by creating an ambiance for guests while warding off pests. Set cans around the perimeter of the entertaining area and enjoy a mosquito-free evening. They are easy to make, whether that's with tin cans or terracotta pots.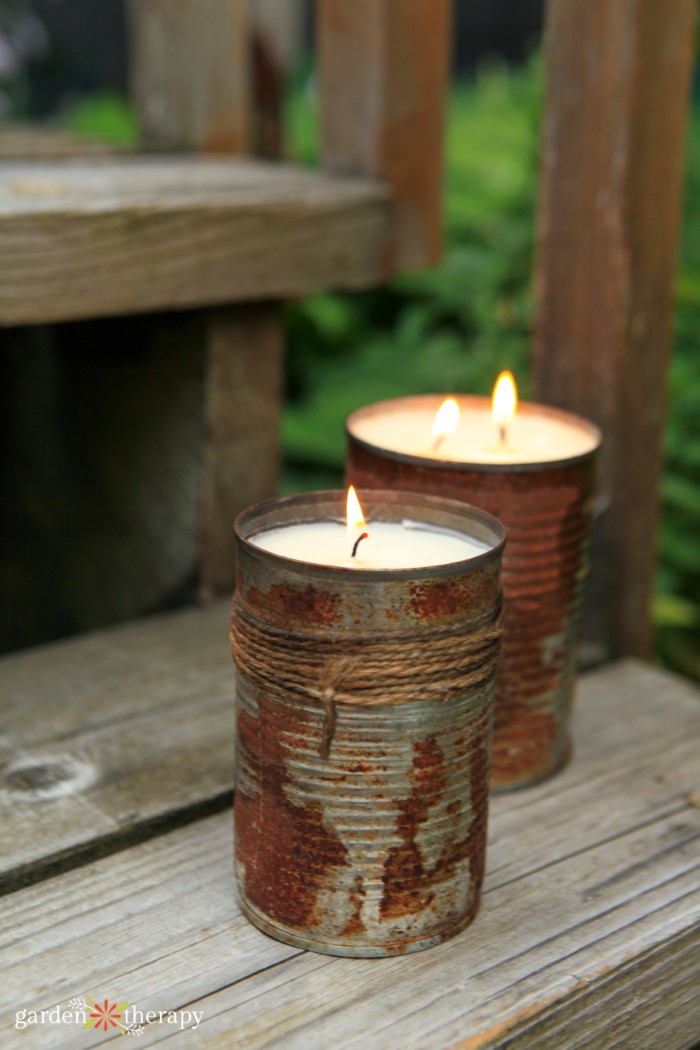 Candle Planter
This simple but stunning candle planter takes a few minutes to make and feels right at home during the summertime. Use it as a centerpiece or nestle it right in the garden – it will emit a beautiful summer glow. Plus, it's easy to put together.
Terracotta Pot Succulent Centerpiece
You can make this stunning succulent centerpiece with only a few easy-to-source materials. If you have an outdoor seating or dining area in someplace hot, most container flowers won't be able to handle the heat. Succulents, however, will thrive as a centerpiece!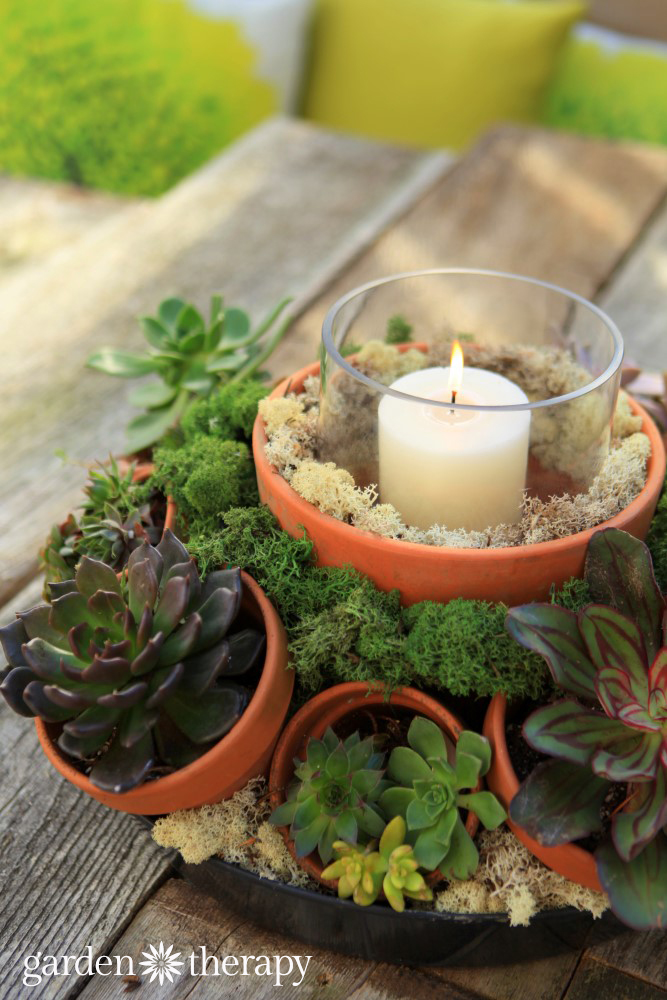 Mason Jar Solar Lights
The simple pairing of a Mason jar with fairy lights is an easy way to add some whimsy and vintage flair to the backyard. Or, create your own set of solar Mason jar lights.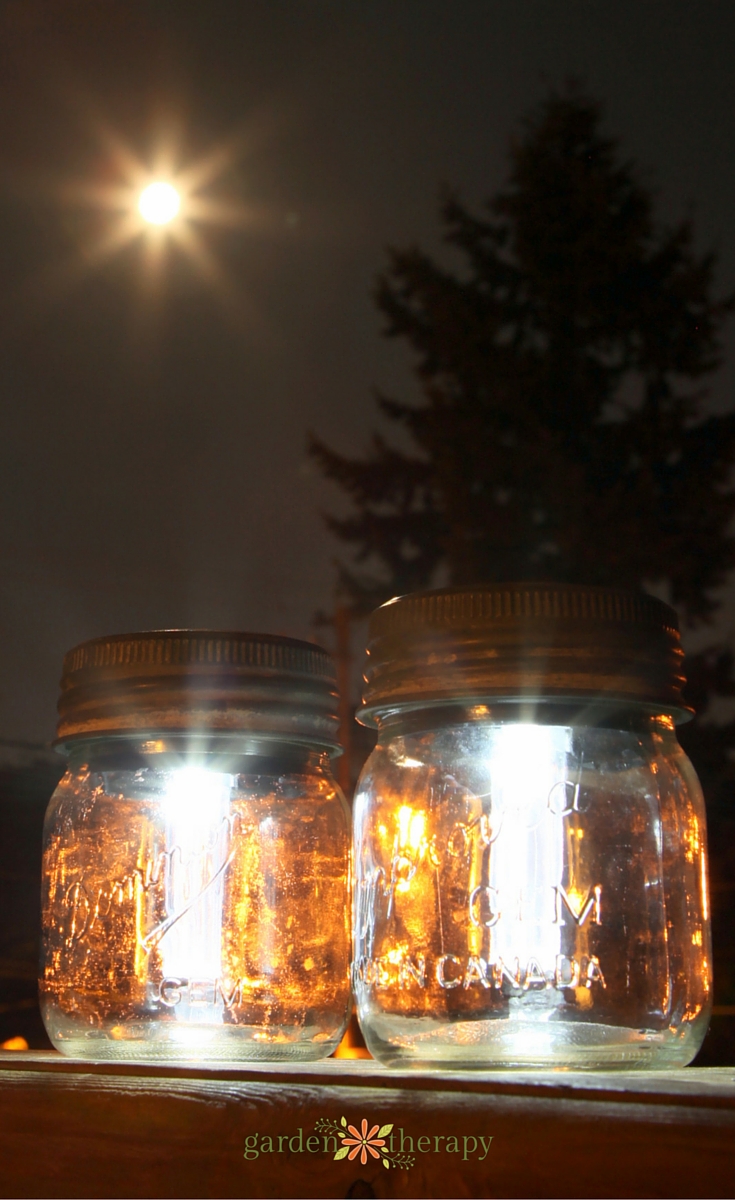 Once you make Mason jar lights, you can dress them up! These seaside solar lights are full of beach glass and shells that reflect light, making them bright and beachy!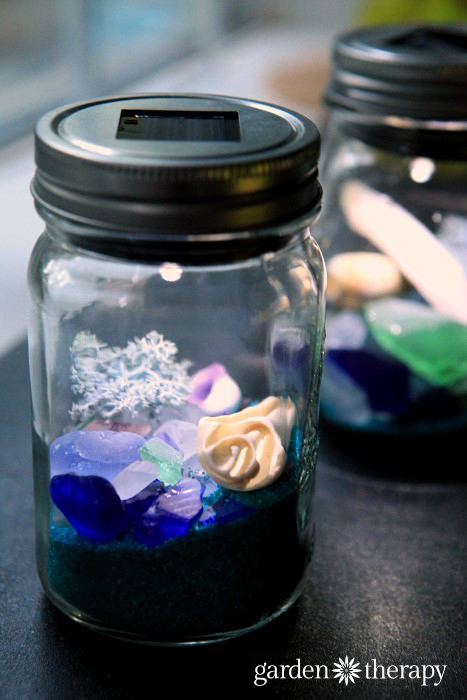 Hanging Candle Planter
I made a gorgeous festive display using leftover greens and a clear glass vase as my centerpiece. Of course, this can be done any time of year using whatever flowers and hanging baskets are in season. For more detailed instructions on this project, check out my book Garden Made.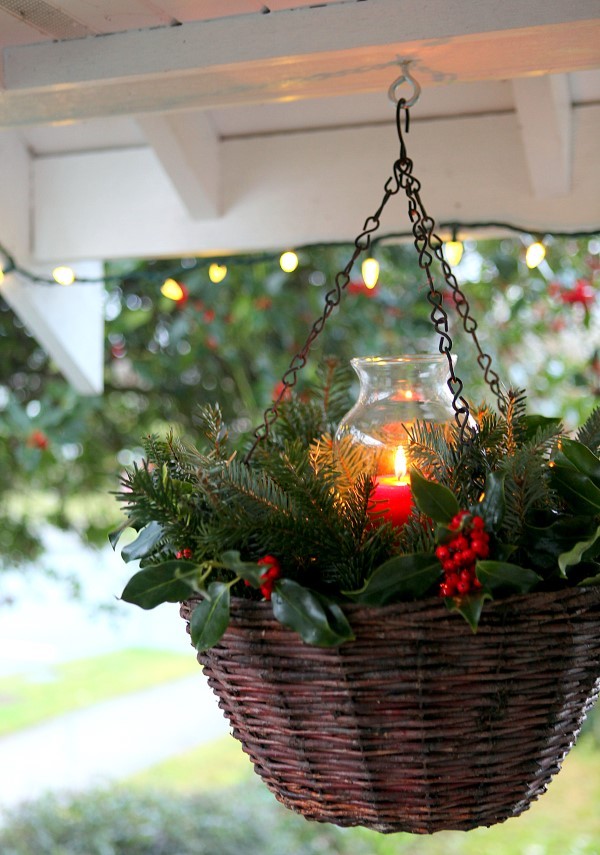 Indoor Lighting Outdoors
Who says floor lamps have to stay inside? This project uses a hanging pendant and a tree branch to create a gorgeous lamp you could very well find inside. Check out how I crafted my own outdoor lamp and how you can make one yourself.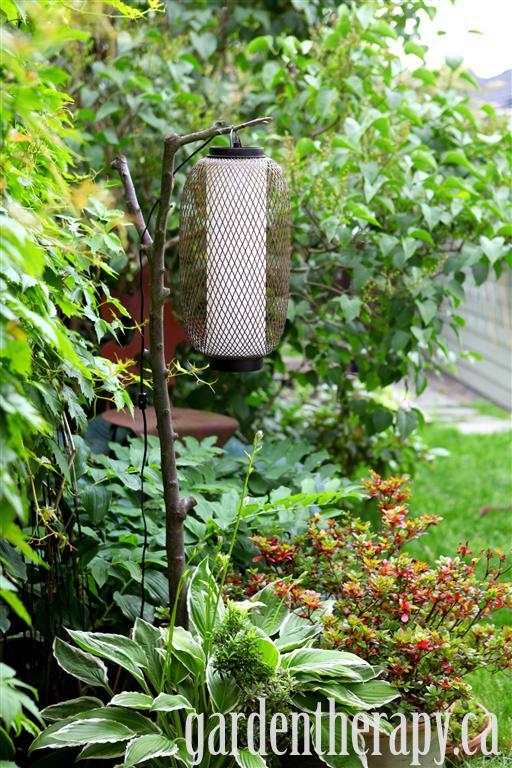 Looking for more great outdoor lighting ideas? Check out my Outdoor Lighting Pinterest Board full of DIY ideas. Be sure to give it a follow to keep up to date with the latest trends and ideas.
For More Outdoor Decor Inspiration: