A bouquet of flowers doesn't have to last you only a week. Dried flowers have once again taken the flower world by storm and they're more beautiful than ever. Surprisingly versatile, You can make everything from bold and modern designs to whimsical and romantic bouquets. Make your own dried flower arrangements with these design tips.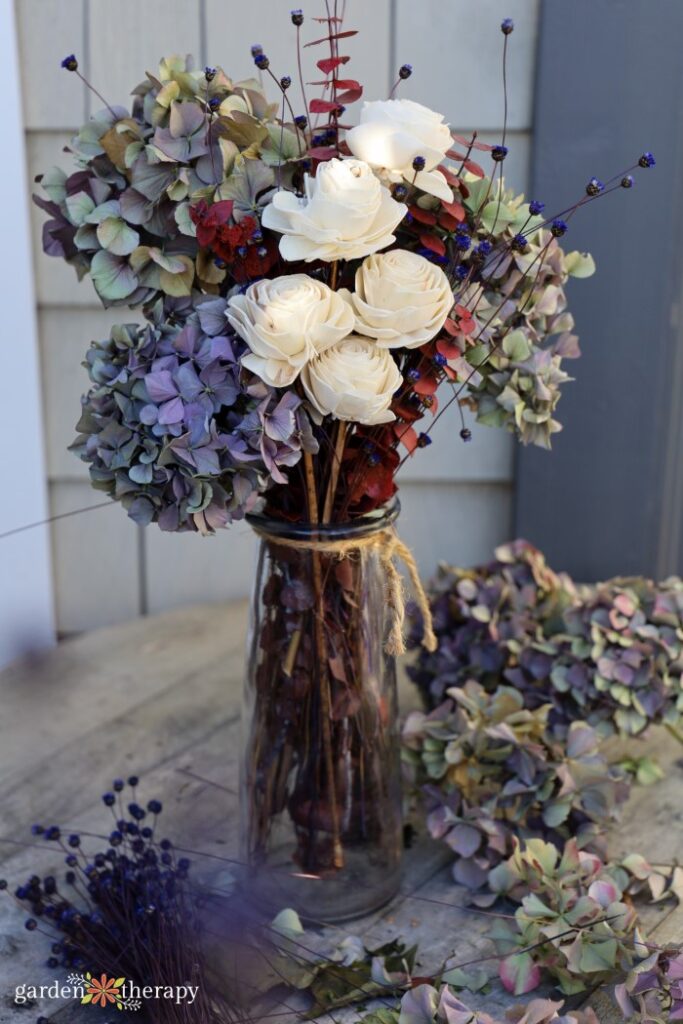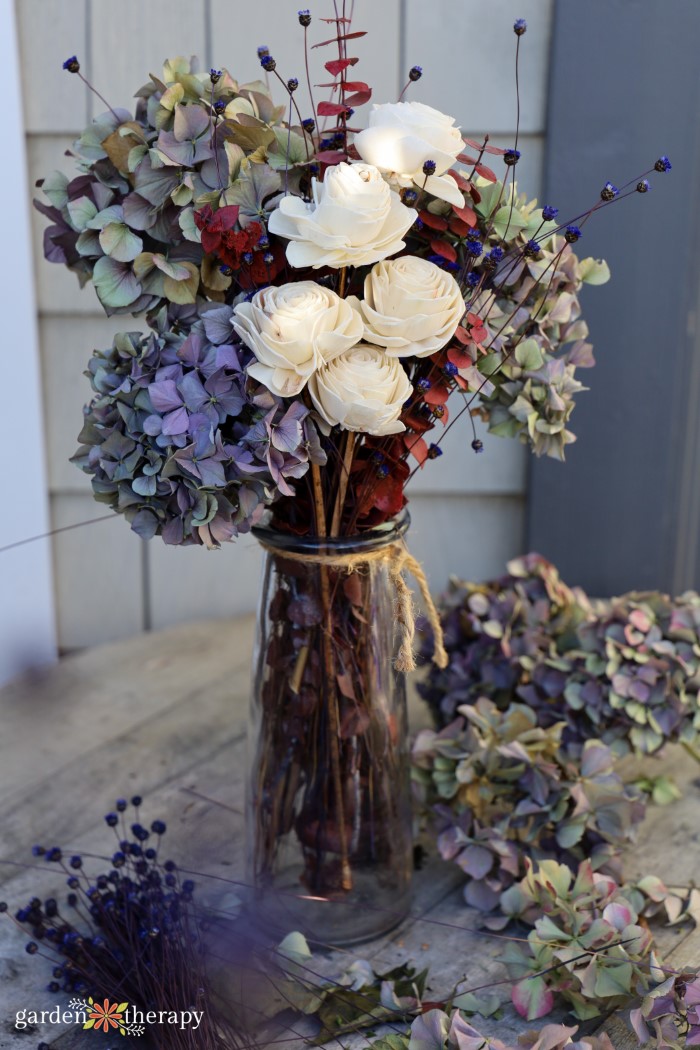 Holly here from the Garden Therapy team! Stephanie asked me to stop by and talk about one of my most recent obsessions. While I love a fresh arrangement of flowers from the garden or picked up from the local florist, there's something unique about making your own dried flower arrangement.
Last summer, my cousin got married. While I love seeing what kind of dress the bride wears, I would be lying if I said I wasn't more interested in the bouquets. And low and behold, the bridesmaids, the bride herself, and all the table arrangements featured dried flowers.
A few months later, I made a beautiful wreath all from dried flowers in my arranging class. Suddenly, dried flowers were on my radar and then I started seeing them everywhere. Dried flowers are making a huge comeback!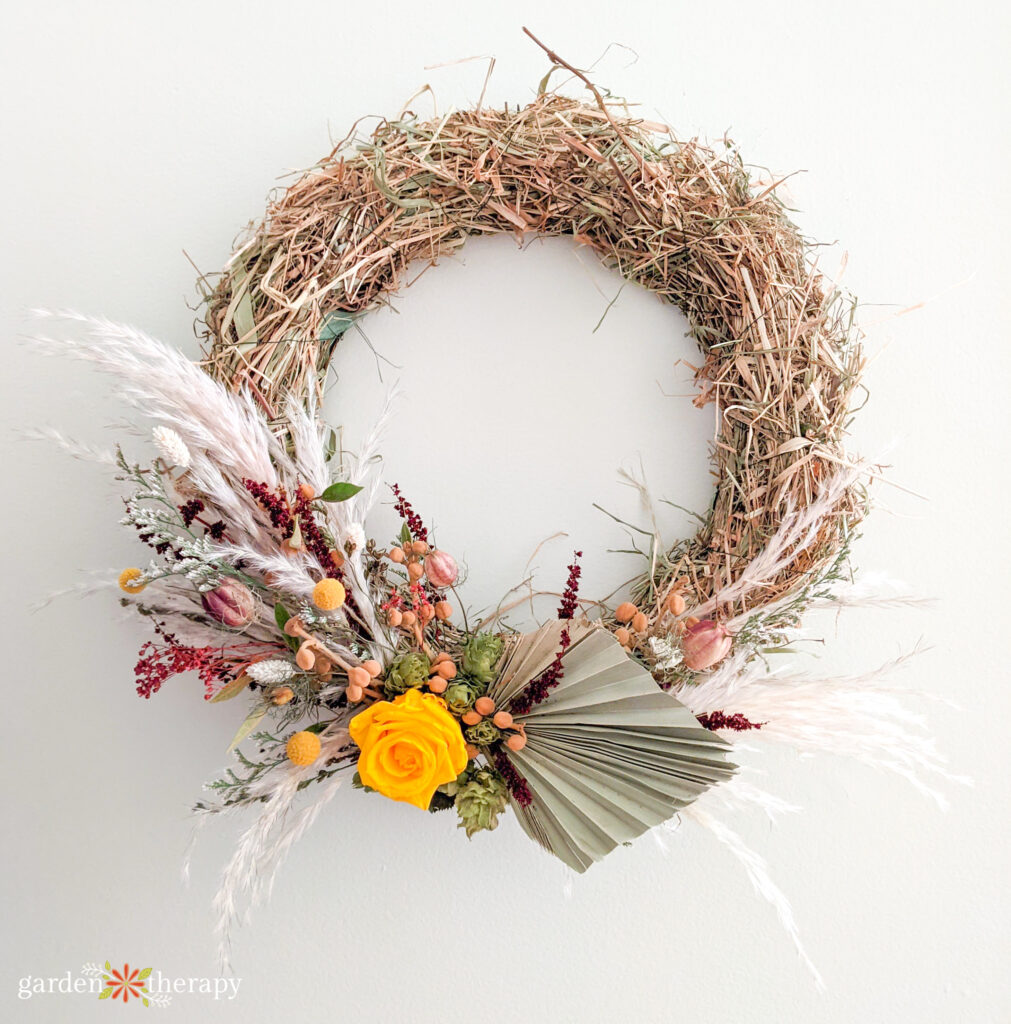 Compared to fresh flowers, dried flowers are much more affordable and they will last you much longer. At the very least, you'll have your arrangement for a year.
You can use these tips for making dried floral arrangements in a vase at home, for special occasions, or even as a hand-tied bouquet for weddings.
This post will cover…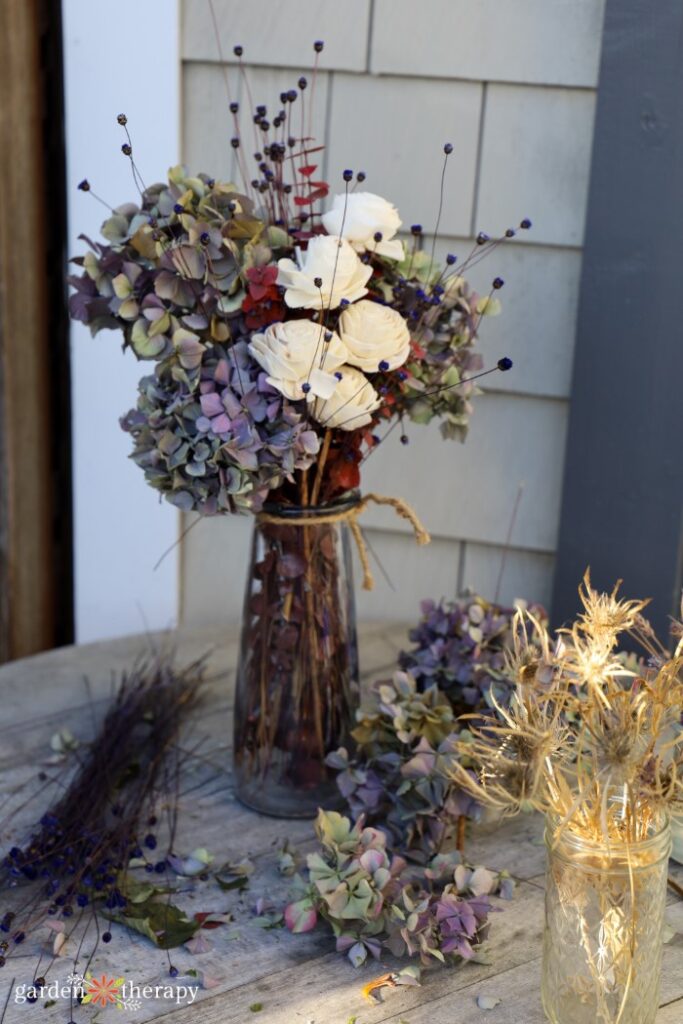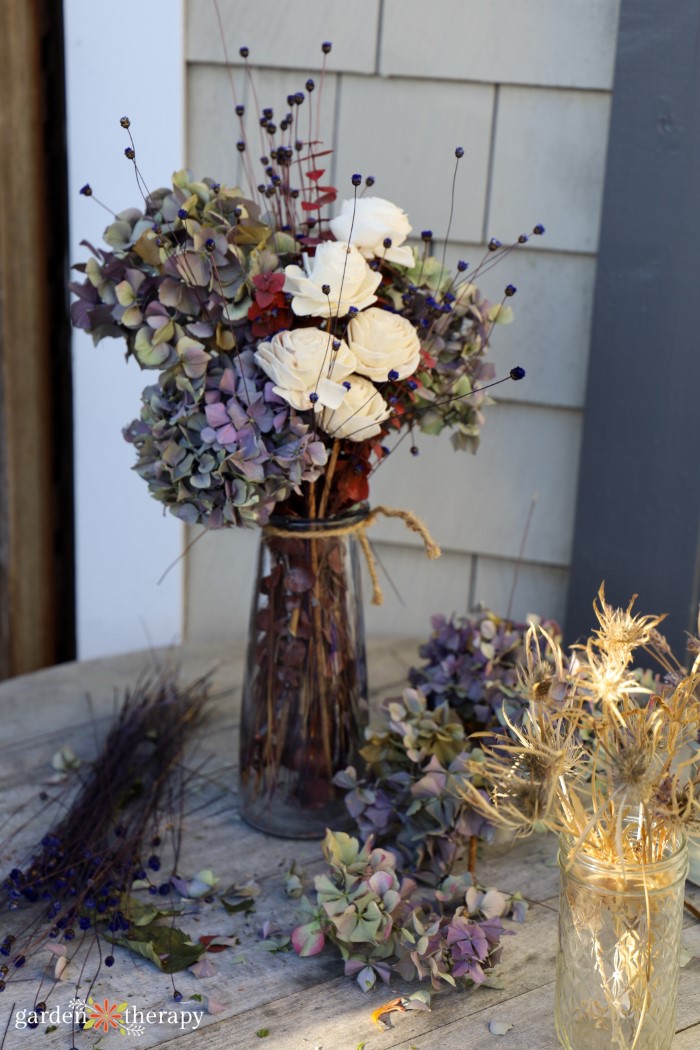 Types of Dried Flowers
There's a lot that goes into picking out flowers for dried flower arrangements. The most traditional are naturally dried flowers which can be dried from hanging. You can source them from your own garden or find them from local sellers.
Many dried flowers also come painted or bleached. Any time you see something incredibly white or vibrant, it doesn't naturally dry that way. Etsy and local florists often have the best selection of these dried flowers. If you want to experiment with changing the colour of dried flowers at home, you can use spray paint.
Preserved flowers are still 100% real flowers but have undergone a preservation method in order to look fresh without needing water or sun. The yellow rose in my wreath is preserved, looking almost entirely like a fresh bloom. However, it feels slightly tacky and unlike a natural petal.
You can also include craft flowers that aren't actually made of real flowers at all. For instance, these are paper roses in this arrangement below!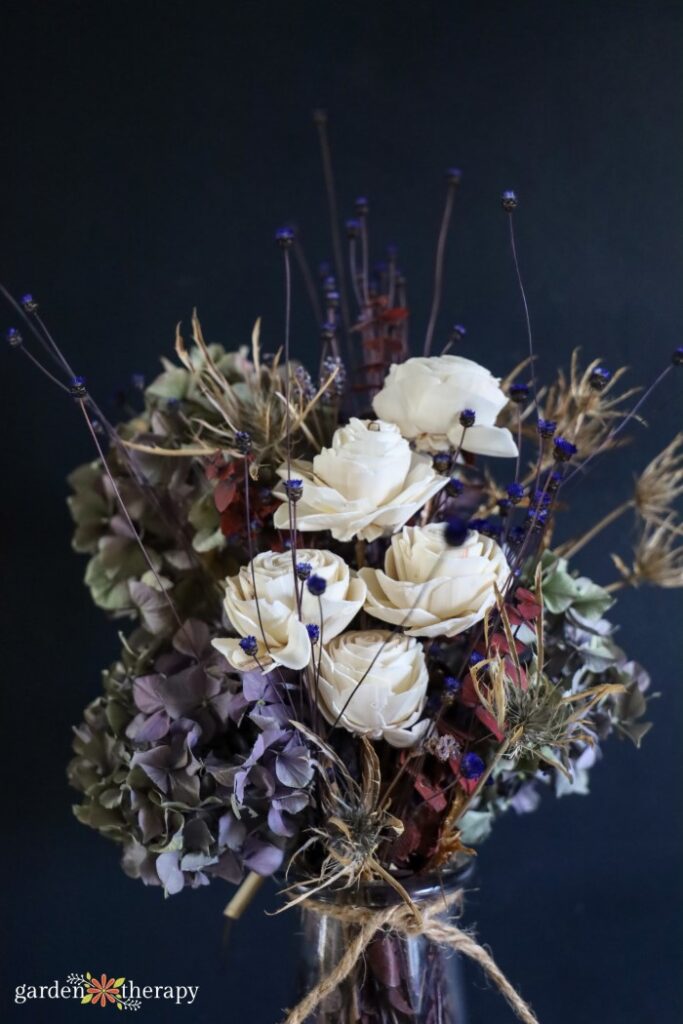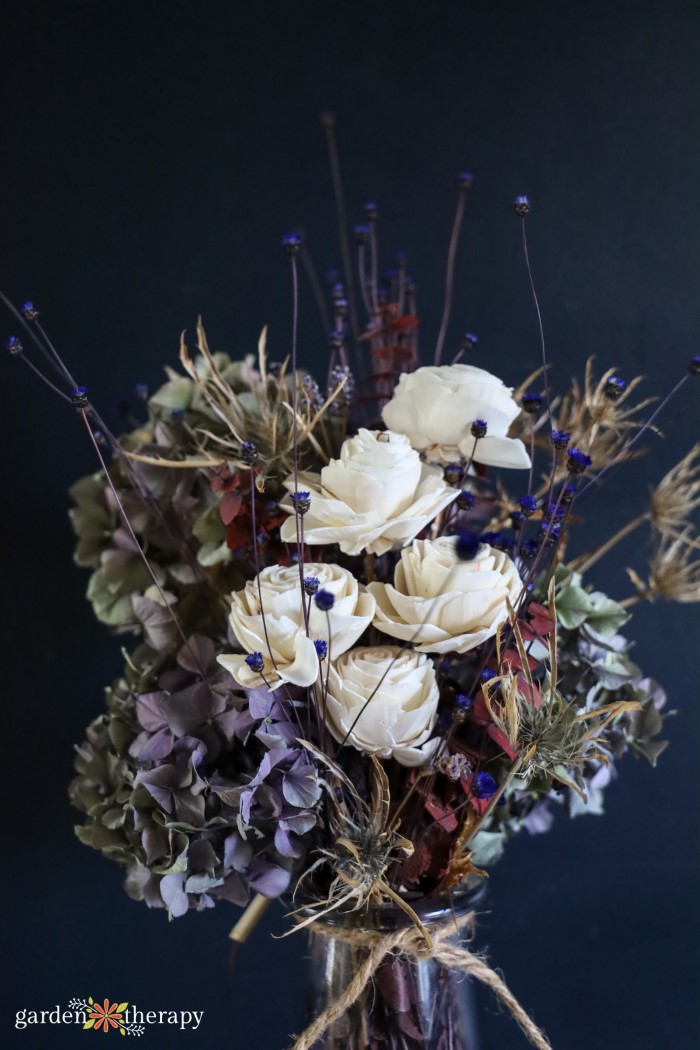 How to Make Dried Flower Arrangements
Once you've got all your dried flowers, it's time to start arranging. Remember that everything below is a loose recommendation. Have fun with your arrangement and don't be scared to step outside the box with it.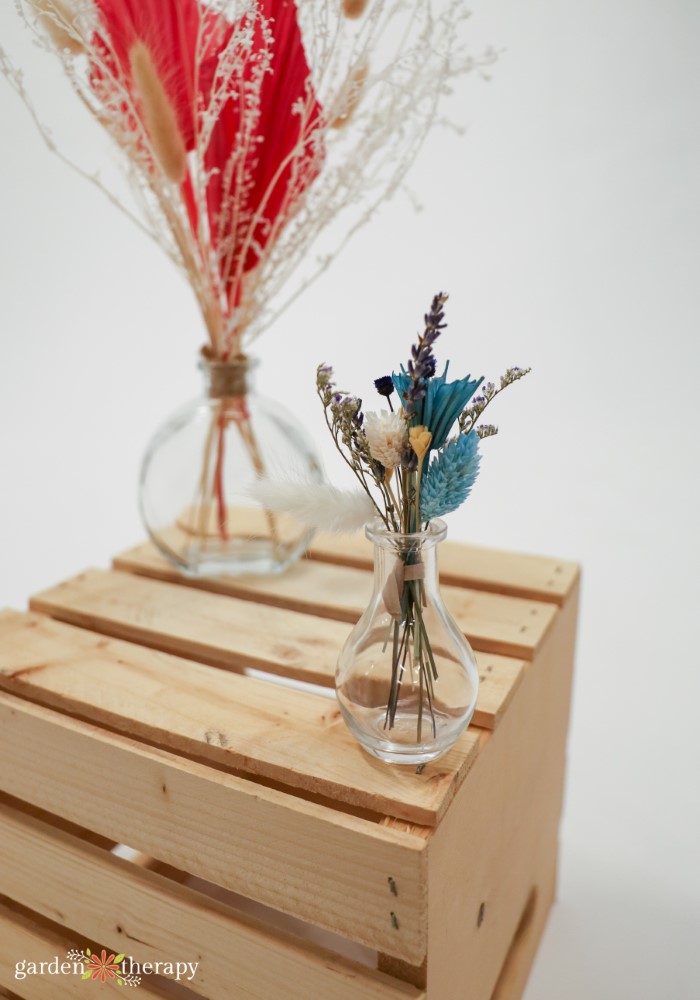 Plan Your Arrangement
You can make all kinds of dried flower arrangements. Small and compact to tall and airy, to a single dried flower in a vase, all count as arrangements. This will help you determine how many flowers you need and the size they need to be, such as the need for longer stems.
Try to also consider your colour palette. You may want bright and bold flowers that contrast with one another, pretty pastels, or a monochromatic set.
Finally, determine the right size of container for your arrangement. In general, your bouquet should be up to one and a half times taller than the container. So depending on the size of arrangement you want, find a corresponding container.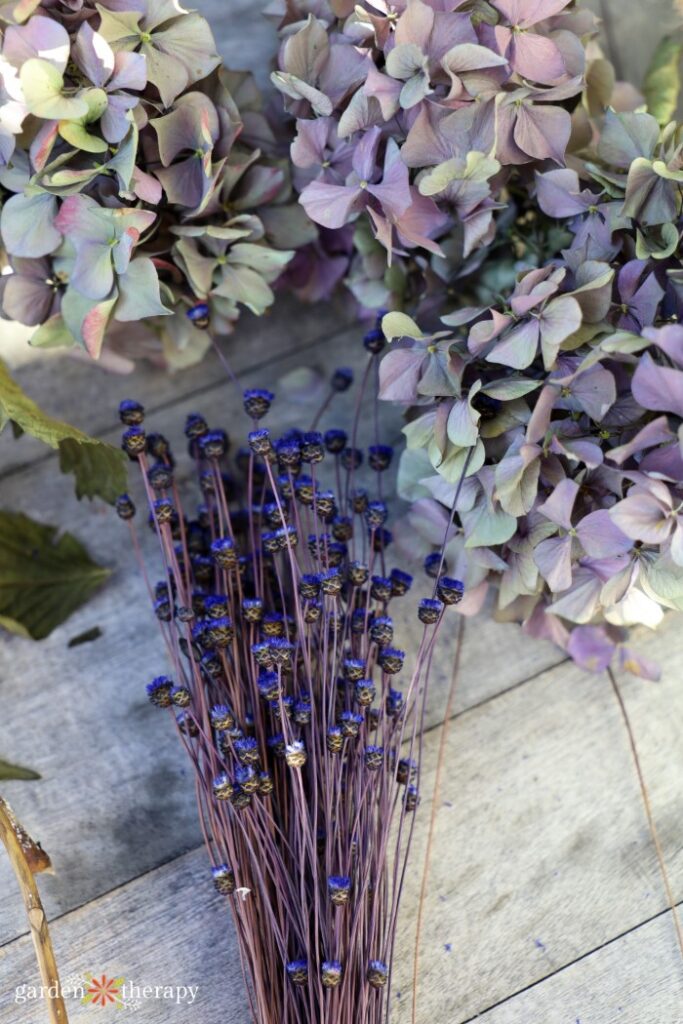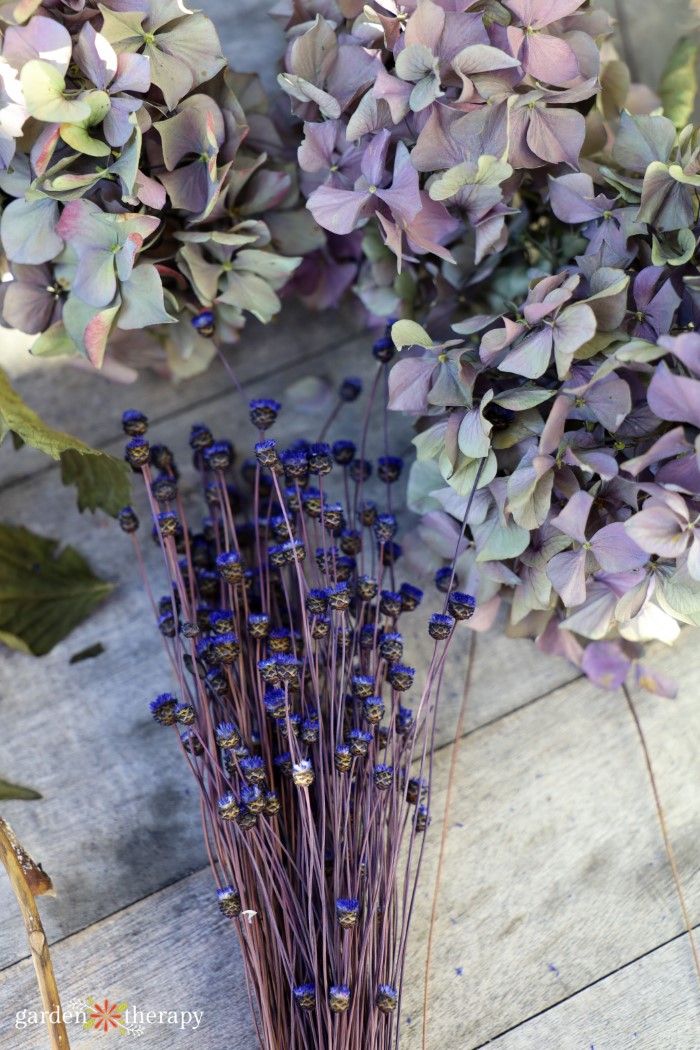 Prep Your Flowers
Layout all your flowers and separate them. This way you can assess how much of each flower you have and easily access what you need while arranging.
For each flower, clean them up by getting rid of any broken or gross pieces. Fluff any of them that may need it, especially if it's been packaged.
If you need help keeping your flowers in place in the vase, you can create a grid by using tape. This helps create a neat structure and adds support. Make the grid as small or big as you want.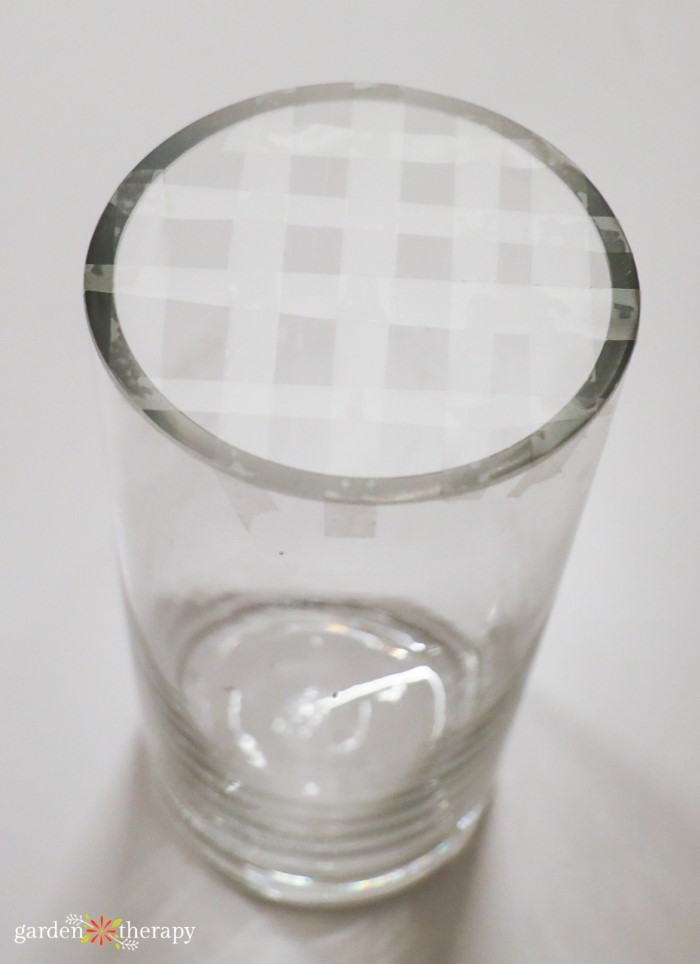 Arranging Dried Flowers
Now for the real fun part! Always begin your arrangement starting off with your greens. In the case of dried flowers, your greens likely won't be greens but varying shades of dried foliage. The foliage will help to figure out the rough shape of the design.
Next, add your focal flowers. Always use an odd number of focal flowers. When arranging, zig-zag your placement of the flowers, varying the heights as you go. Leave the heavier-looking focal flowers for the bottom and the smaller ones on top.
When you have your focal flowers in place, add in some filler flowers to fluff up the arrangement and ensure there are no gaps. Usually, these are smaller flowers that offer a complimentary colour to your focal flowers.
While arranging, look at your design from all angles as you go. You may notice a gap you missed! Try to enter flowers diagonally if the vase allows it rather than straight down.
Remember, your arrangement doesn't need to be symmetrical. Floral arranging is an art form and every design turns out unique!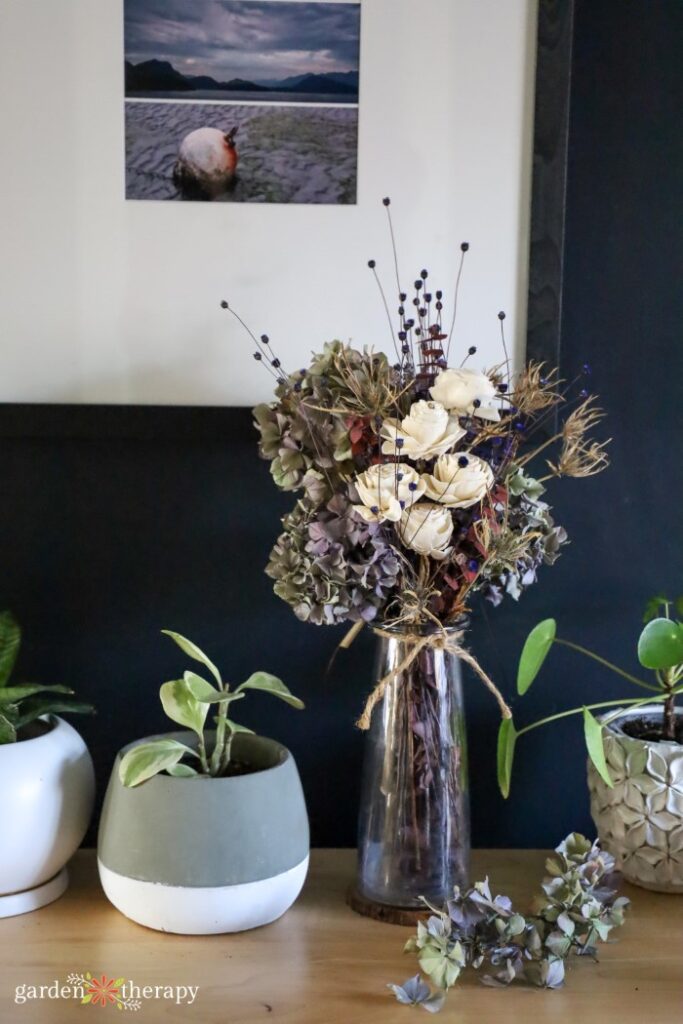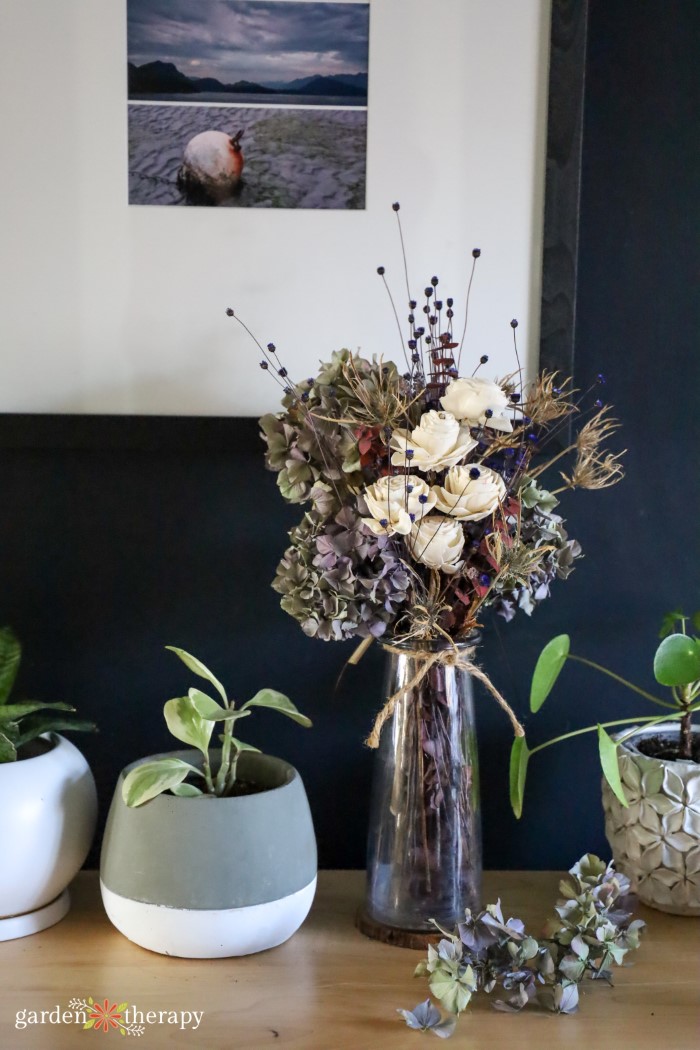 Which Are the Best Flowers To Dry?
When it comes to dried flowers, here are some of the most common flowers you'll find in arrangements.
Roses. It's easy to dry roses at home by hanging them upside down. This gives the classic dried look. You can also purchase preserved rose heads which look like a fresh rose that lasts indefinitely.
Lavender. Lavender maintains its colour exceptionally well. And it's one of the only dried flowers that holds its scent. Here's how to dry lavender if you are lucky enough to have it in your garden.
Hydrangea. Dried hydrangea gives off romantic, vintage hues. Use it as a focal flower, dried right from your garden.
Baby's breath. A filler flower, baby's breath dries extremely well and looks almost identical to the fresh flower.
Hanging amaranthus. If you're looking for drama, add this beauty. Highly romantic, it's good for wreaths and arrangements you want to spill over.
Billy buttons. These are fun, round pops of yellow. I can't tell whether these flowers look like constellations or something from Dr. Seuss.
Yarrow and tansy. These flowers offer bright golden hues and long stems for great height.
Button flower. These small blooms are great clusters for filling arrangements. Often dyed fun colours, they also have longer stems to work with.
King protea. Antique and regal looking, add some spiky texture by using this as a focal flower.  
Sea holly. I've been seeing sea holly everywhere in dried and fresh arrangements. Unique, it's made of blue spikes and adds different texture to an arrangement.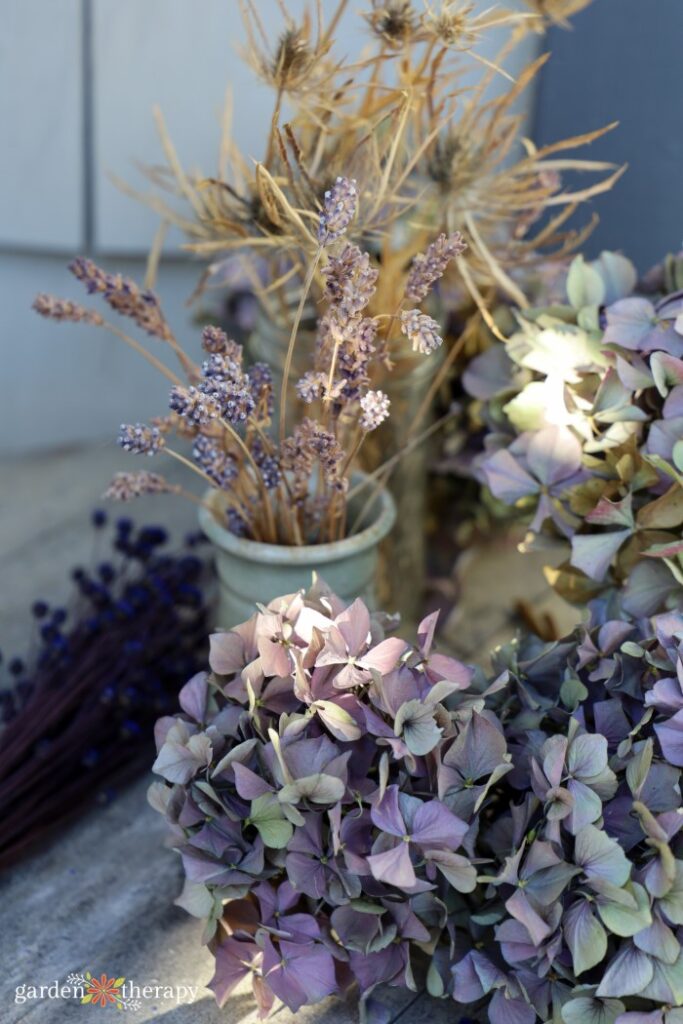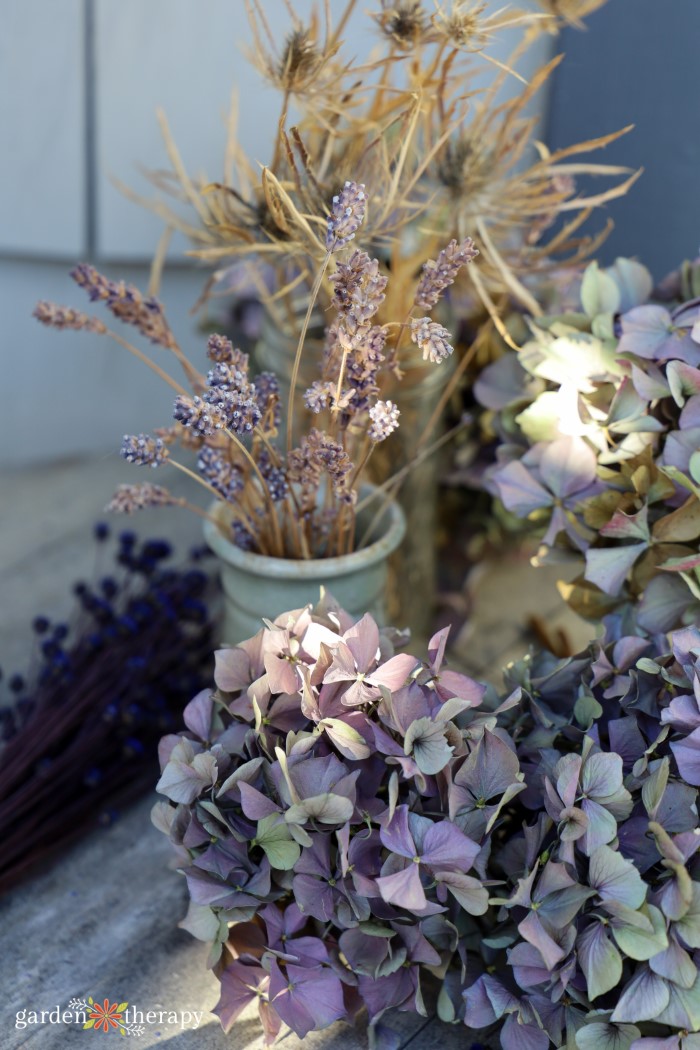 Foliage for Dried Flower Arrangements
Likewise, these are some of the "greens" you might use to pair your flowers with and fill arrangements.
Pampas grass. Everyone uses pampas grass these days. You can find it in all kinds of flowers. It works great for huge arrangements or on a wreath.
Teasel. Add some structure and sturdiness to your arrangement with teasel's strong woody stems. Comes in natural colours.
Poppy seed heads. I know this is one of Stephanie's favourites! Let the poppies in your garden go to seed and collect the interesting dried heads.
Palms. Looking for some tropical flair? Palm spears are cut palm leaves most often painted vibrant colours.
Bunny tails. I can't get enough of these fluffy plants! They add softness and femininity to an arrangement.
Fern. Instead of lush greens found in rainforests, these are a dyed and preserved version.
Eucalyptus. Many dried arrangements feature eucalyptus as a green. Usually, it comes in its originally colour but it also come in darker dyed hues.
Cotton. Find cotton as white stalks or with the puffs dyed. I could see them used as a focal flower or filler.
Broom corn. Full of natural and warm colour, these look good for autumnal seasonal bouquets.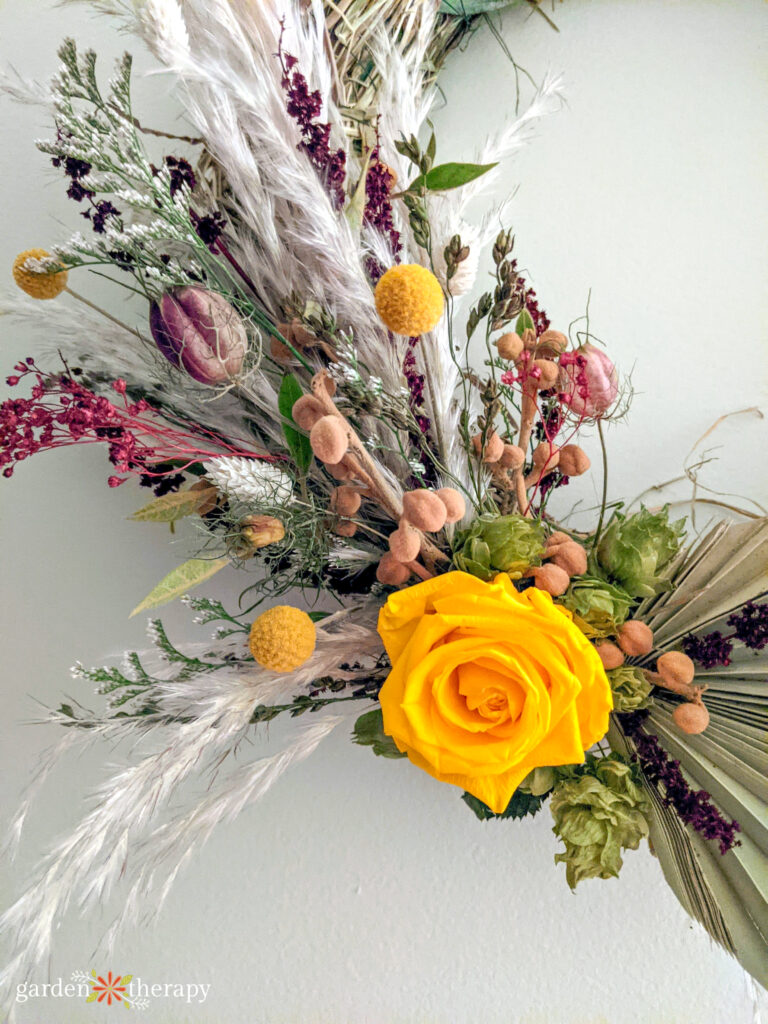 Frequently Asked Questions About Dried Flower Arrangements
How Long Do Dried Flower Arrangements Last?
At the very least, your dried flowers should last a year. However, they can last much longer with proper care. Make sure to keep them out of the sun and away from heating vents as it can cause the colours to fade.

Dust them often (gently) to keep them from looking old. Preserved flowers often have glycerin in them and shouldn't get wet or too humid as it can make the dye drip out. Lastly, always leave your dried flowers inside.
Are Dried Flower Arrangements in Style?
Dried flowers are no longer something reserved for collecting dust in the corner of your grandma's living room. Since 2020, dried flower sales have spiked as they return to popular favour. People are choosing romantic and beautiful designs to decorate their home and even to walk down the wedding aisle with.
Do Dried Flowers Smell Good?
Dried and preserved flowers will not have a smell. You may get the odd exception, such as lavender, but they won't have a floral scent. Flowers not properly dried may even get a slight mildewy odour as they still contain moisture.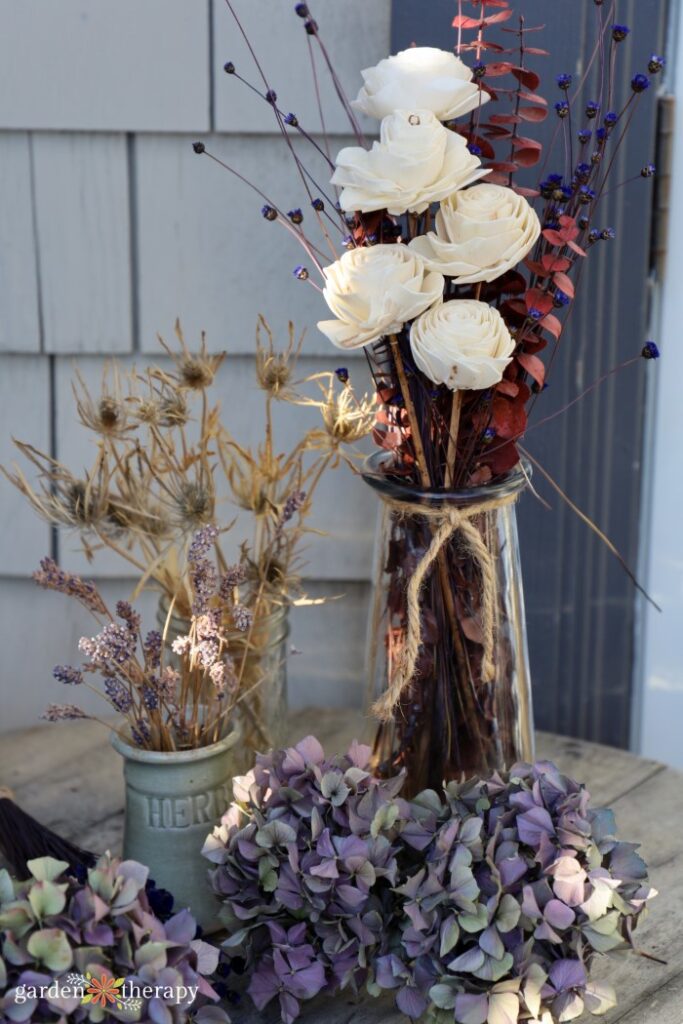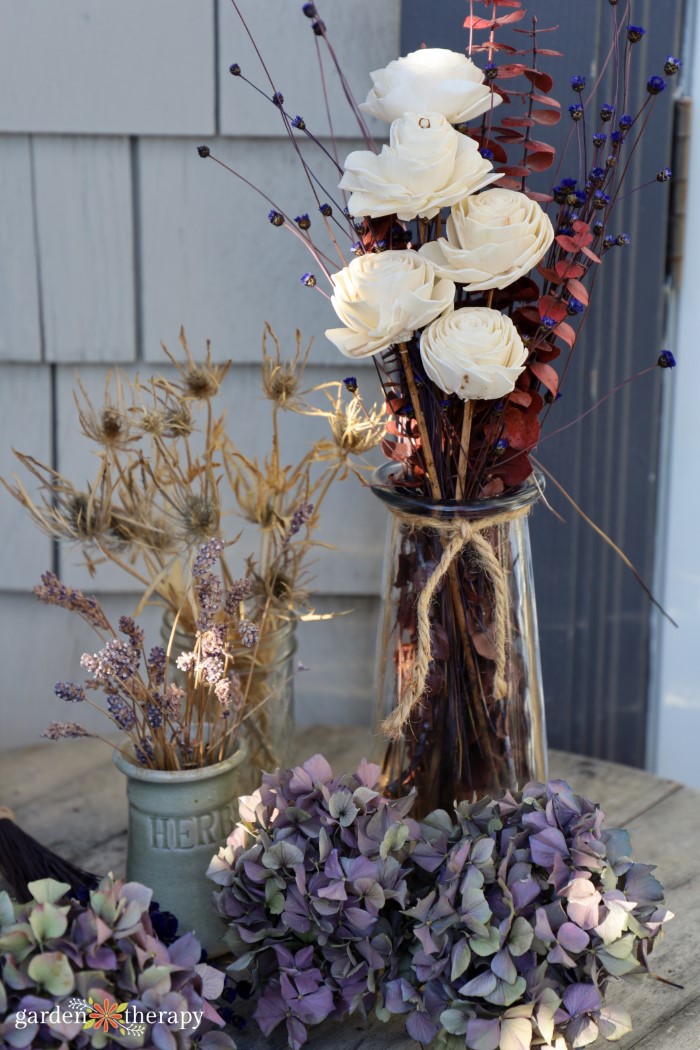 Which dried flowers do you like to feature in your arrangements? Let me know in the comments down below.
More Ways to Use Flowers