Enjoy this step-by-step tutorial on how to make aromatherapy shower steamers in three delightful scents: Eucalyptus Mint (to breathe easier during cold and flu season), Citrus Pine (to wake up happy), and Lavender Bergamot (for stress relief). These DIY shower steamers are easy to make and really work!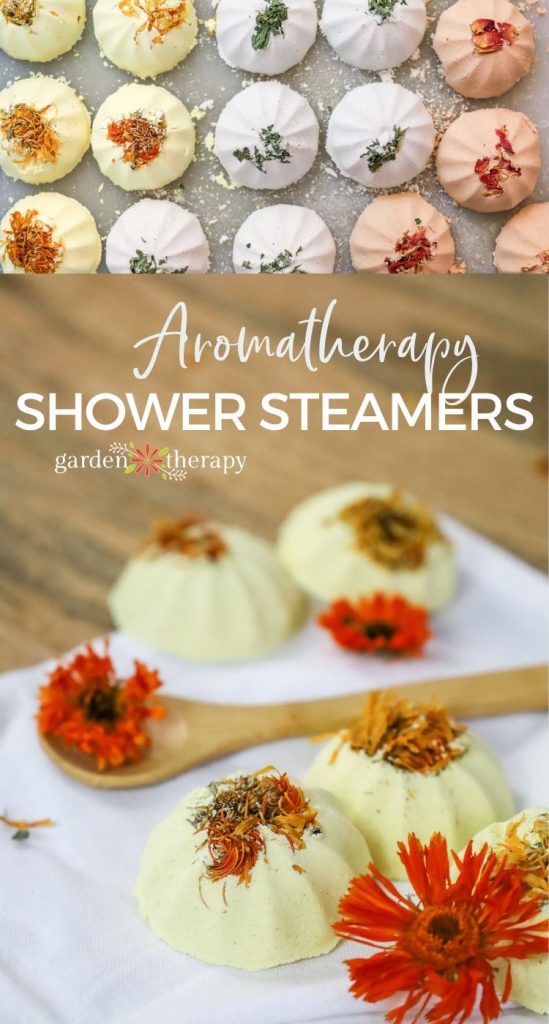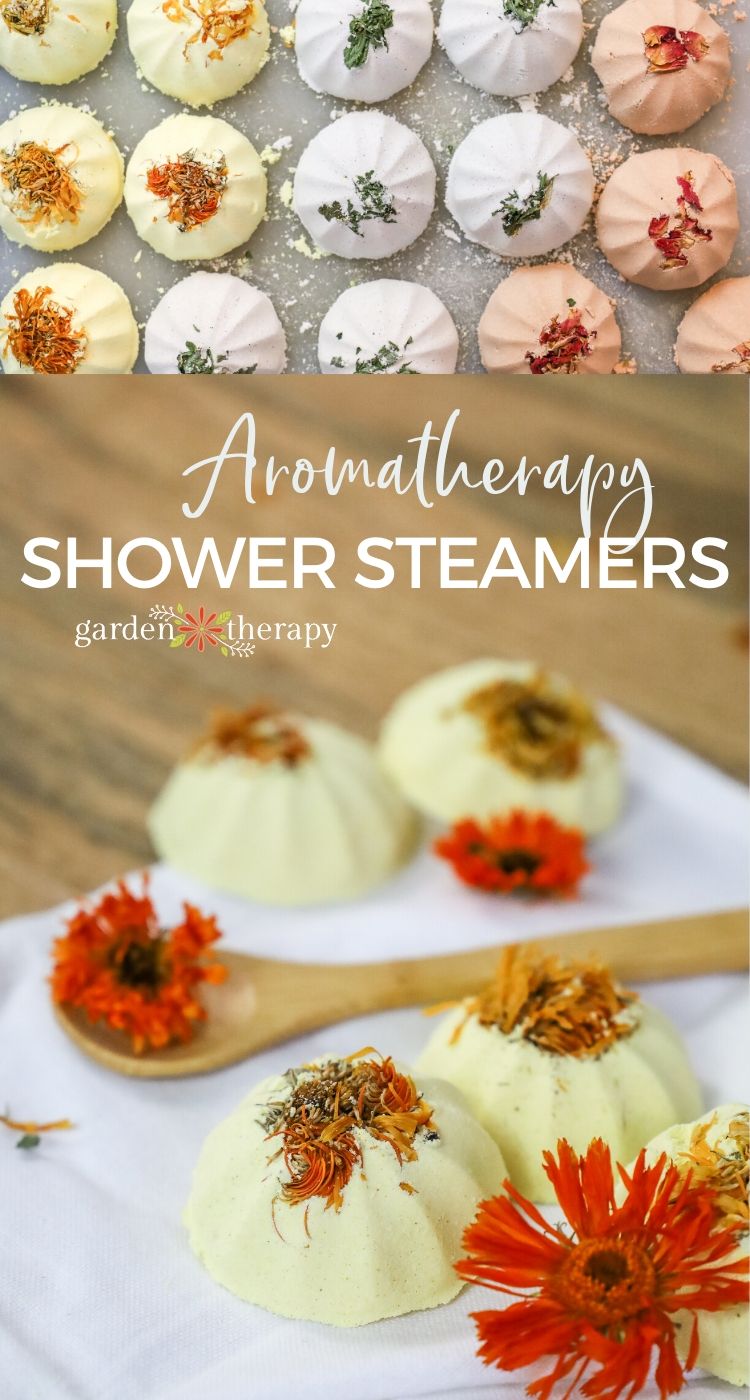 Heads up! This post is sponsored by iHerb and they have a special offer for Garden Therapy readers at the end.
These DIY shower streamers are a staple in my self-care toolkit. Not only are they very easy to make, but they are effective too!
In this post, we will cover:
Aromatherapy + Your Body
Can we talk for a minute about aromatherapy? A few years ago I made eucalyptus shower steamers. I still make these pretty regularly, although I have been changing up the scent more recently. The scent of eucalyptus these days isn't fitting with me as much as it did back then.
What do I mean about the scent fitting with me?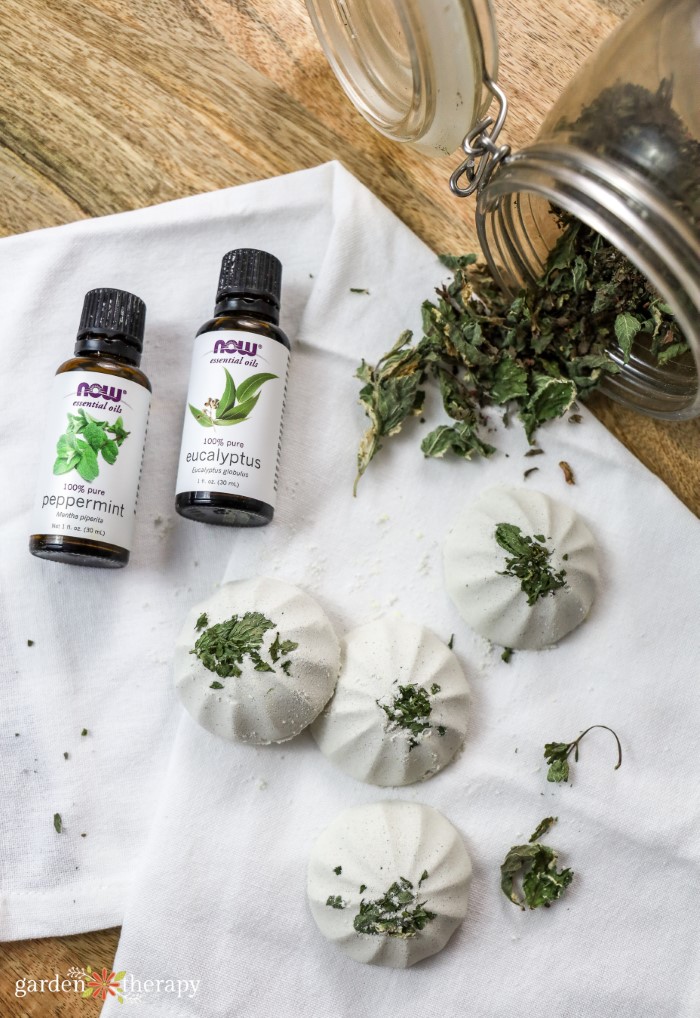 Back then, when I had a cold or congestion, it would feel natural and pleasant to smell eucalyptus. In other words, my body was responding positively to that aroma, and so it was a good indication that it was just what I needed at that time. During pregnancy and I could not stand the scent of eucalyptus. Again, my body was letting me know what didn't feel right.
When it comes to essential oils and aromatherapy I make sure I do my research, I don't use oils in excess of recommended dilutions for diffusing, and I always, always listen to my nose. If I'm drawn to a scent, that often means there is something about it that I could use.
For example, I often hear people say the scent of lavender is one they either love or hate. I can't help to think that those people who love it could use a little bit of the calming relaxation it provides and perhaps those who can't stand the smell are pretty chill already and don't need it.
While I definitely think it's crucial to read labels, follow instructions, and ensure that you are using essential oils both responsibly and knowledgeably, our bodies haven't read the research and may reject a scent that is "supposed" to be good.
Just pay attention and see what scent jives with you. For example, a recipe may call for grapefruit but perhaps your body prefers lemon, lime, or orange. There's no harm in swapping out scents, and I encourage you to do so in this (and other) recipes! You'll still get all the aromatherapy benefits without forcing yourself to smell something unpleasant to you.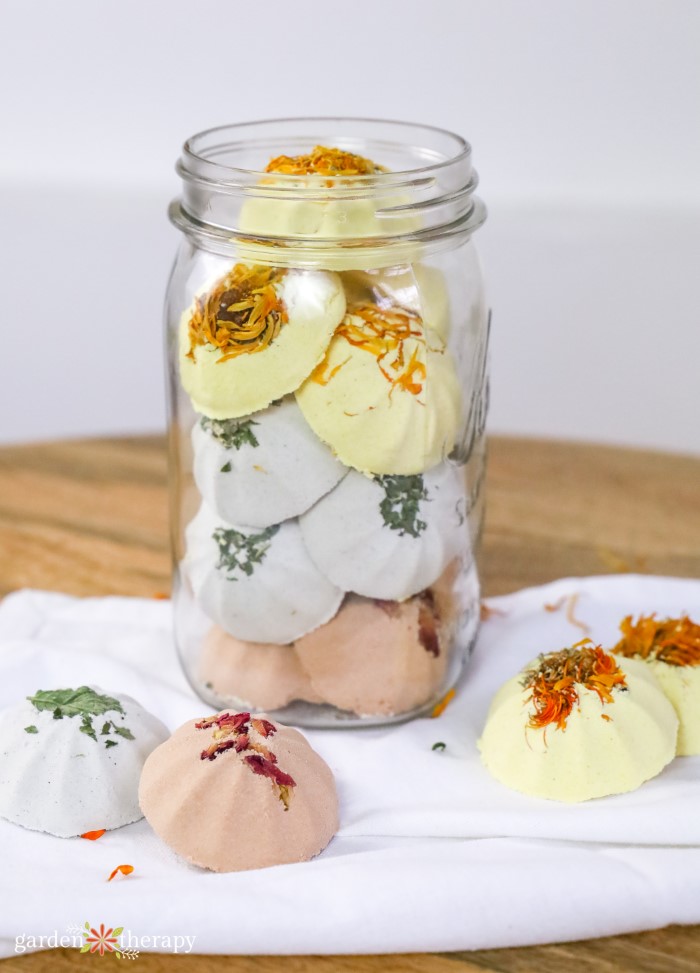 Diffusing Essential Oils in the Shower
Diffusing essential oils is one of the quickest way to get the volatile plant compounds into your body. Yes, by simply smelling the scents, the oils are being absorbed into your bloodstream.
Essential oils are incredibly concentrated plant oils, commonly made from hundreds to thousands of plants per ounce. This is important to keep in mind while diffusing, as a little goes a long way.
In this day in age of heavily scented candles, perfumes, fragrances, deodorants, and detergents, we are accustomed to strong smells, often artificial, and sometimes pleasant (and sometimes not).
I do take great pleasure out of using essential oils to scent things like candles, bath products, lotions, and soap. The scents are enjoyable and I don't strictly use them as therapeutic tools. Sometimes I just like the smell. At the same time, it's important to realize that they do have therapeutic properties and should be used with caution.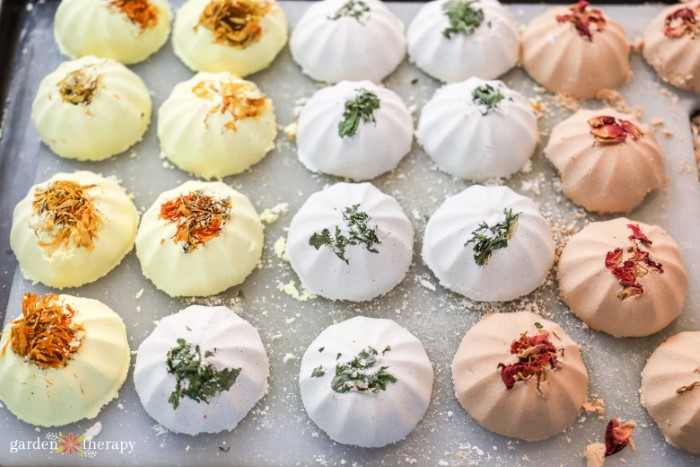 Aromatherapy Shower Steamers
For this project, I've created three shower bombs to use as aromatherapy shower steamers. Perhaps one of these three recipes appeals to you and is what you might need to add a little ambiance to the shower.
DISCLOSURE: this post has been sponsored by iHerb, who also provided me with all of the ingredients to make these shower steamers. All of the opinions and recipes are my own. I am also participating in the iHerb affiliate program designed to provide a means for me to earn a small commission on sales. But they also have something just for you! New customers can get a discount off their iHerb order by clicking here.
The question I get asked the most about making these types of recipes, is where to buy the ingredients. Because iHerb carries over 30,000 natural products and ships to over 150 countries, it's the store I recommend you can easily start with. All of the ingredients including the citric acid, pure witch hazel, essential oils, natural colours, and even the dried herbs for decorating them are available in one place. iHerb orders are shipped from climate-controlled distribution centers to ensure the quality of their products. And if you run into any issues, iHerb offers customer service 24 hours a day / 7 days a week in 10 different languages.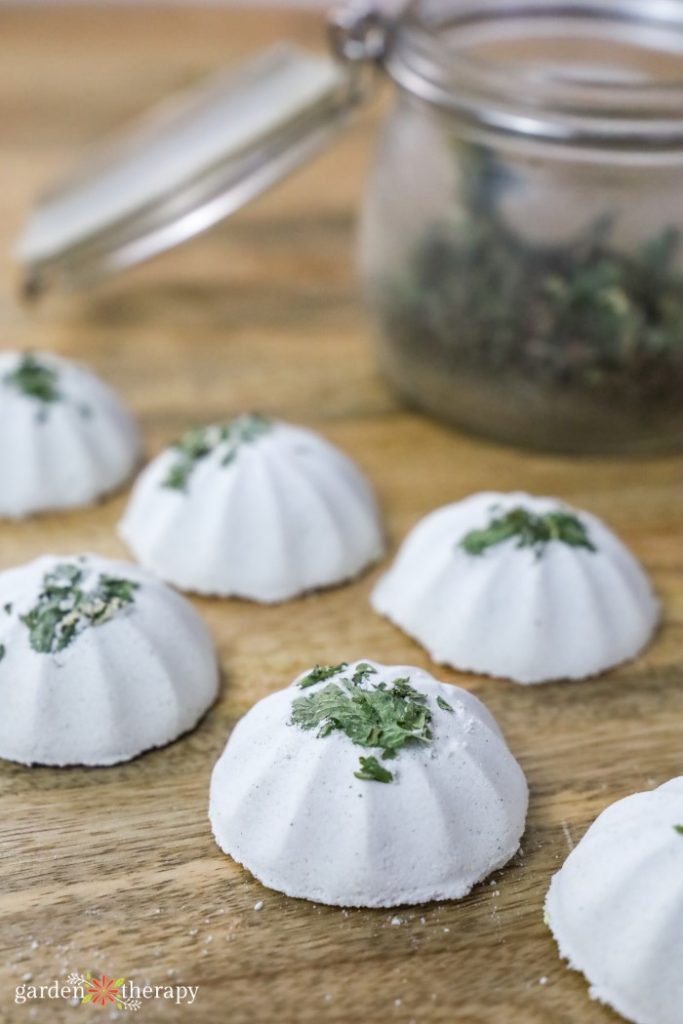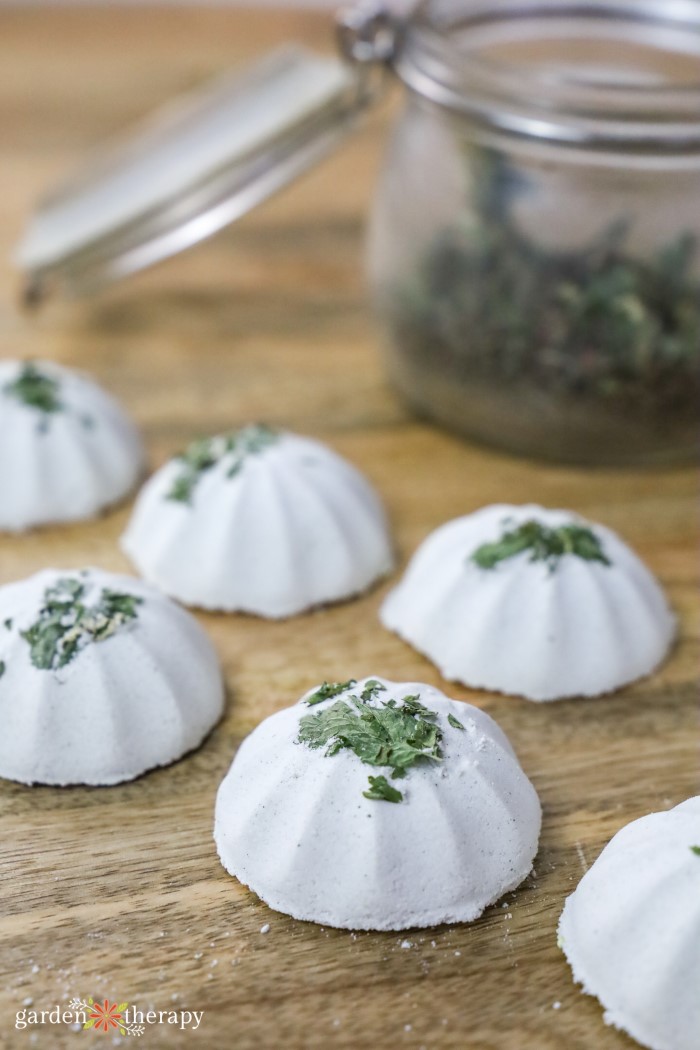 Eucalyptus and Mint Shower Steamers Recipe
These eucalyptus and mint shower steamers are fresh, clean, and cooling. Naturally coloured with European green clay and topped with dried mint leaves.
Makes seven to eight 2.5″ diameter shower steamers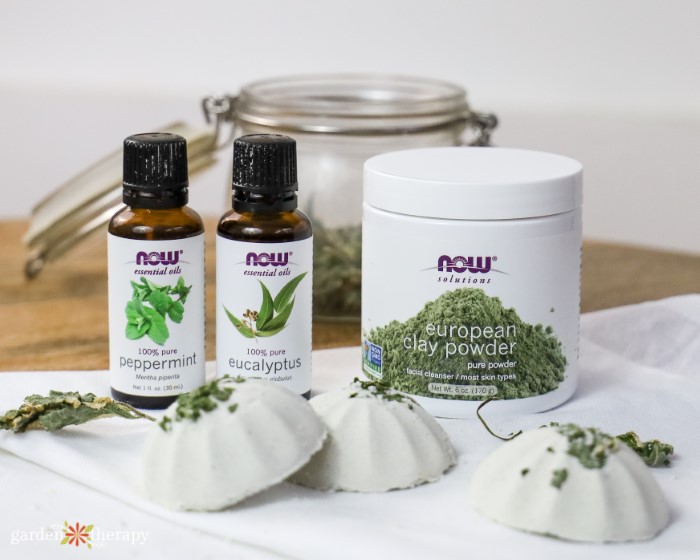 Ingredients
Citrus Pine Boost DIY Shower Steamers Recipe
Wake up happy with this sunshine blend of citrus and pine that will have you singing in the shower! Naturally coloured with turmeric and topped with cheery calendula flowers.
Makes seven to eight 2.5″ diameter shower steamers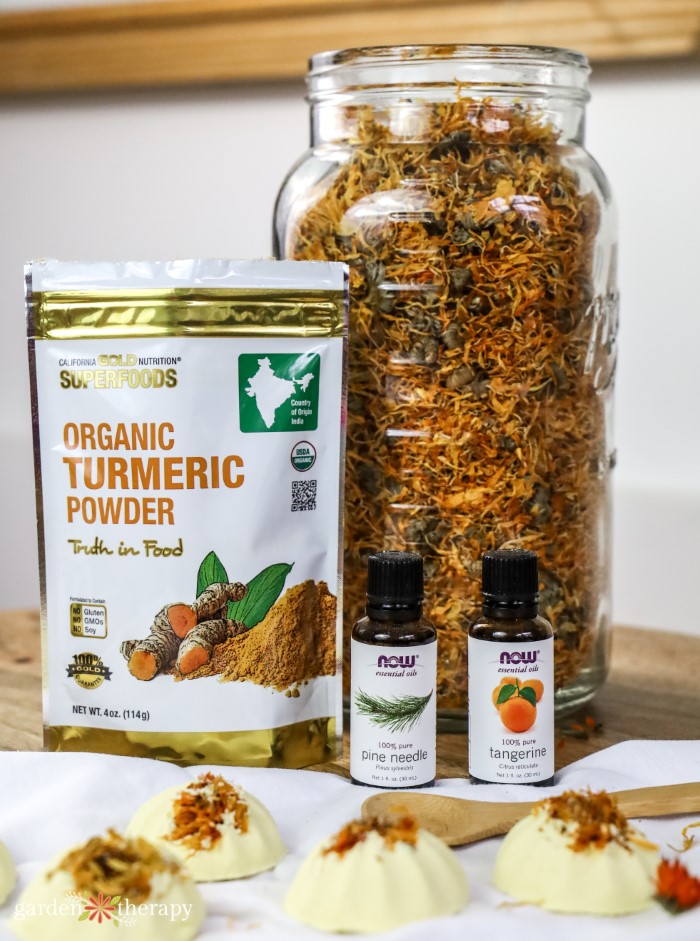 Ingredients
De-Stress DIY Shower Steamers Recipe
Take a deep breath of this calming blend of lavender and bergamot decorated Moroccan red clay, and rose petals.
Makes seven to eight 2.5″ diameter shower steamers
Ingredients
How to Make Shower Steamers
Materials
Mixing bowl
Sieve or flour sifter
Hard plastic or metal bath bomb molds
Spray bottle (atomizer)
gloves
Make it!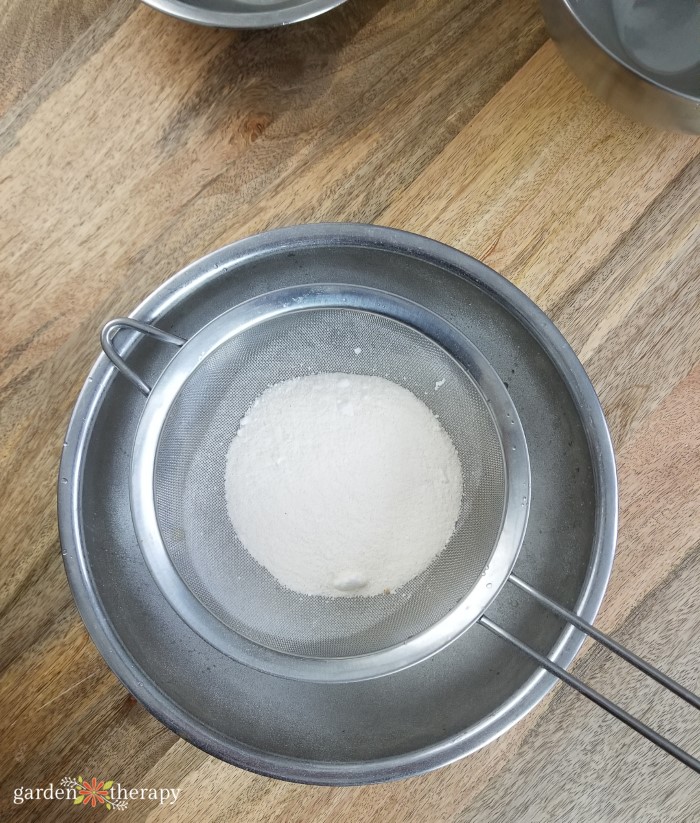 In a bowl, mix the citric acid, baking soda, cornstarch and clay or turmeric for colour. Sift the ingredients together through a fine mesh sieve or flour sifter.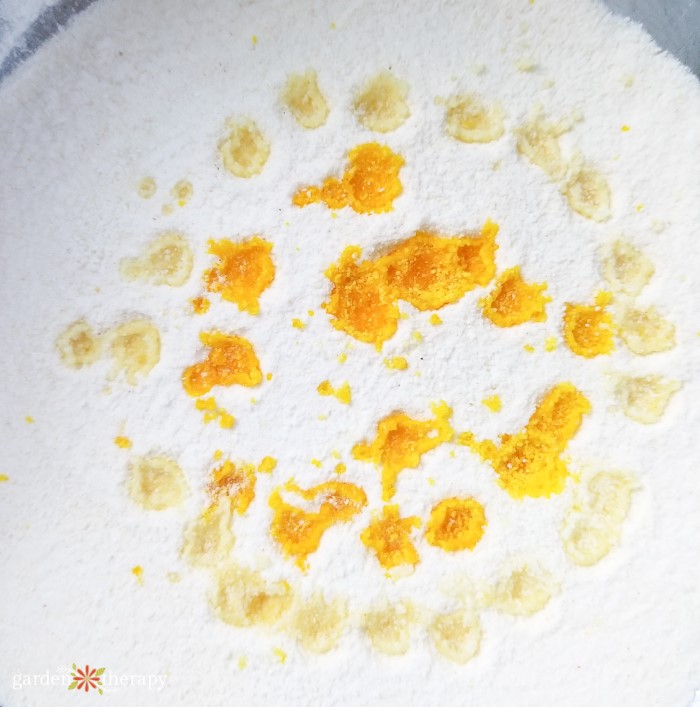 Add the drops of essential oils and mix that in well using your hands. Wear protective gloves to protect hands from the full strength essential oils.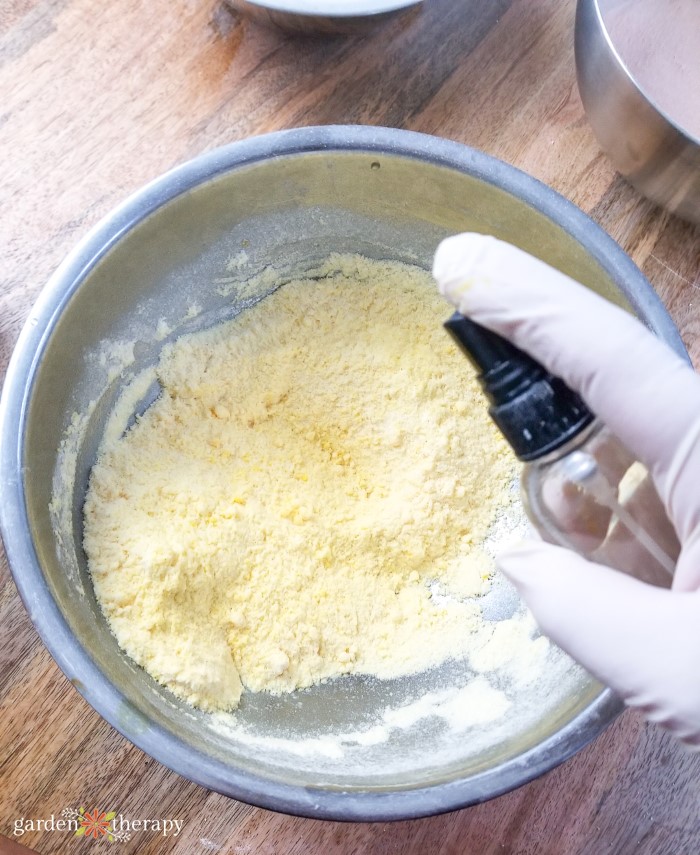 Pour the witch hazel into the spray bottle and spritz some onto the top of the powder mixture. Mix the witch hazel in quickly with your hands, spritz some more on top, mix again, and repeat until the mixture packs together easily. Make sure you don't get it too moist or the mixture will begin to fizz.
When the mixture holds together when you squeeze it, it's ready to pack into the molds. It should be the consistency of snow that holds together for making snowballs. If you don't know that benchmark like we do here in Canada, think of the consistency of wet sand perfect for making sandcastles.
Place some dried herbs or flowers in the mold if you choose. This is certainly an optional step. It makes the shower steamers look pretty, but it does mean that these herbs need to be cleaned up at the end of your shower.
The same thing goes for colour. Omit the colour if you have white tiles on your shower floor and don't want to clean it the natural dye afterwards.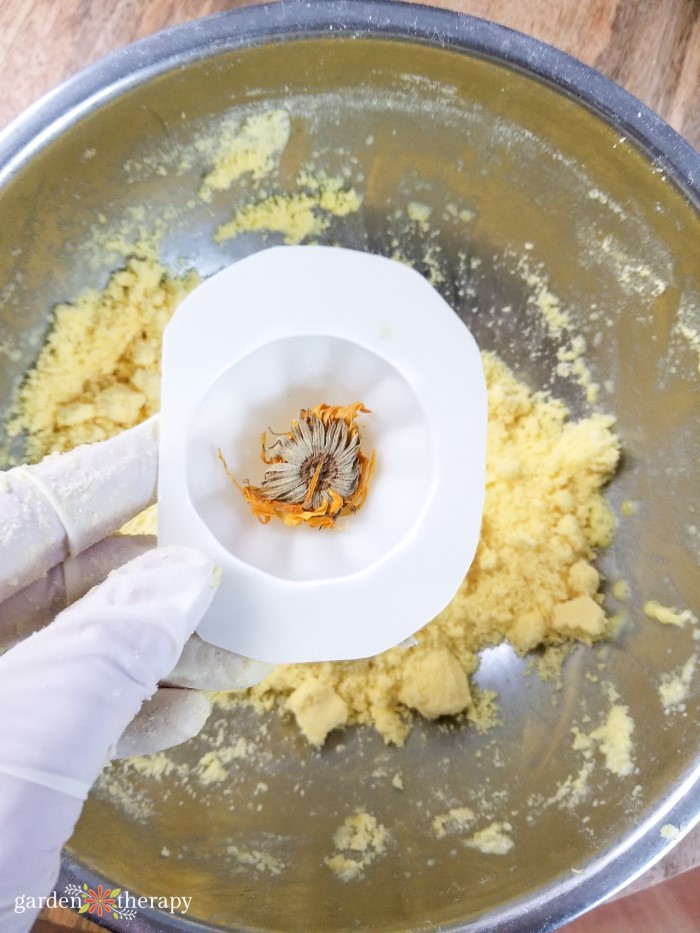 Some people use silicone molds for this, but I like the hard metal or plastic molds to ensure that the ingredients can really be packed together firmly.
For me, the silicone molds have mixed results with DIY shower steamers, but the hard molds always turn out wonderfully. I often cut them out of the tray so that I can handle them more easily.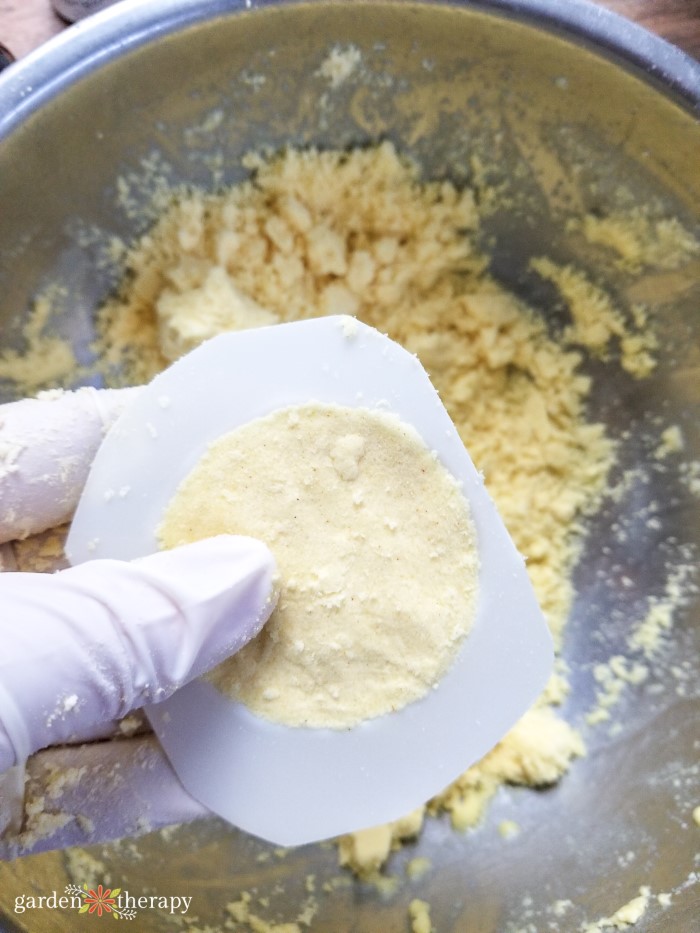 Scoop the mixture into the molds one at a time and use your thumbs to really pack it down firmly so that it holds together.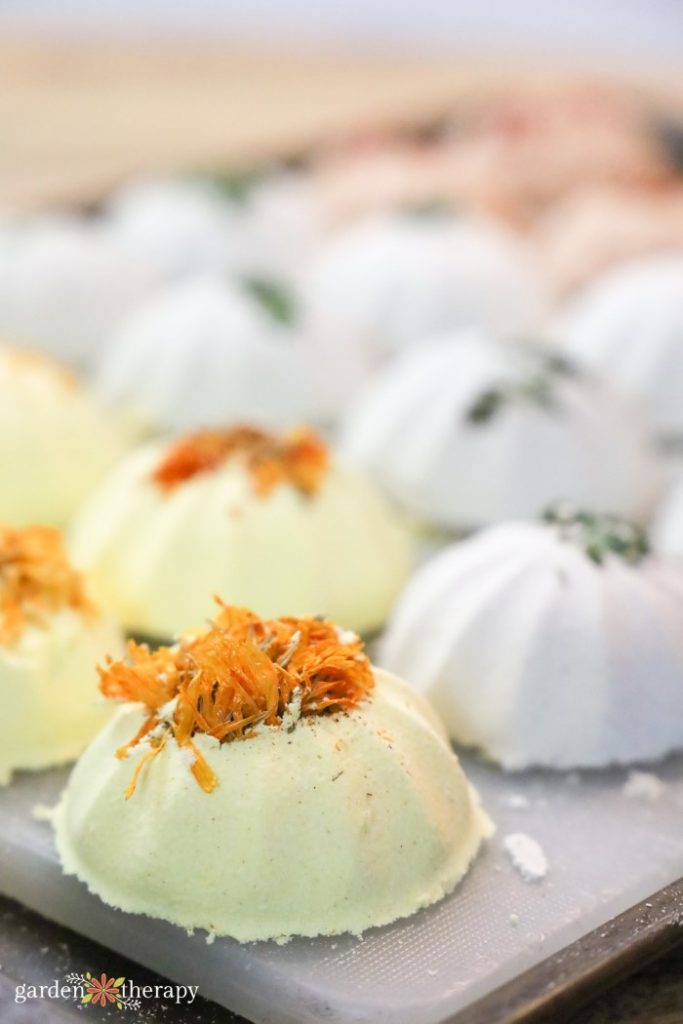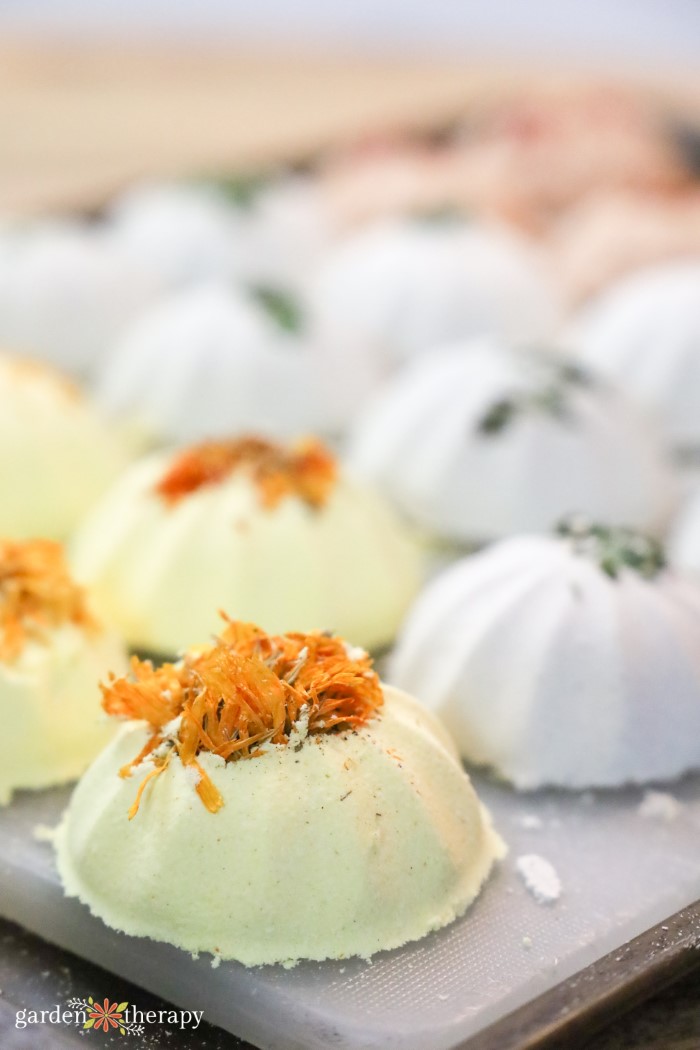 Once the molds are all filled, flip them over onto a clean, hard surface and tap the bottom to release the steamers. Allow them to dry for at least 24 hours before use.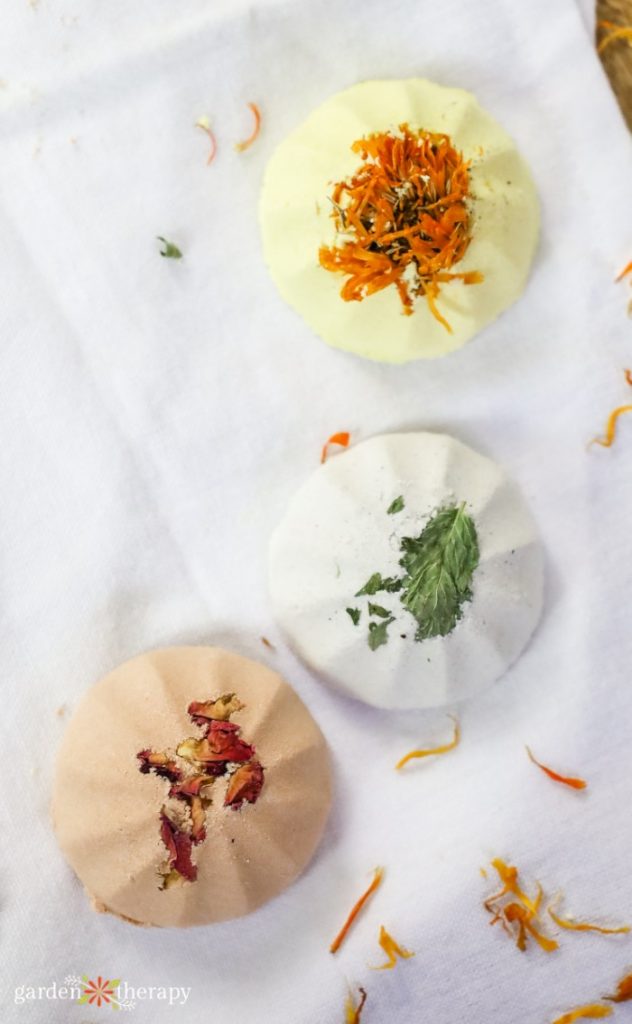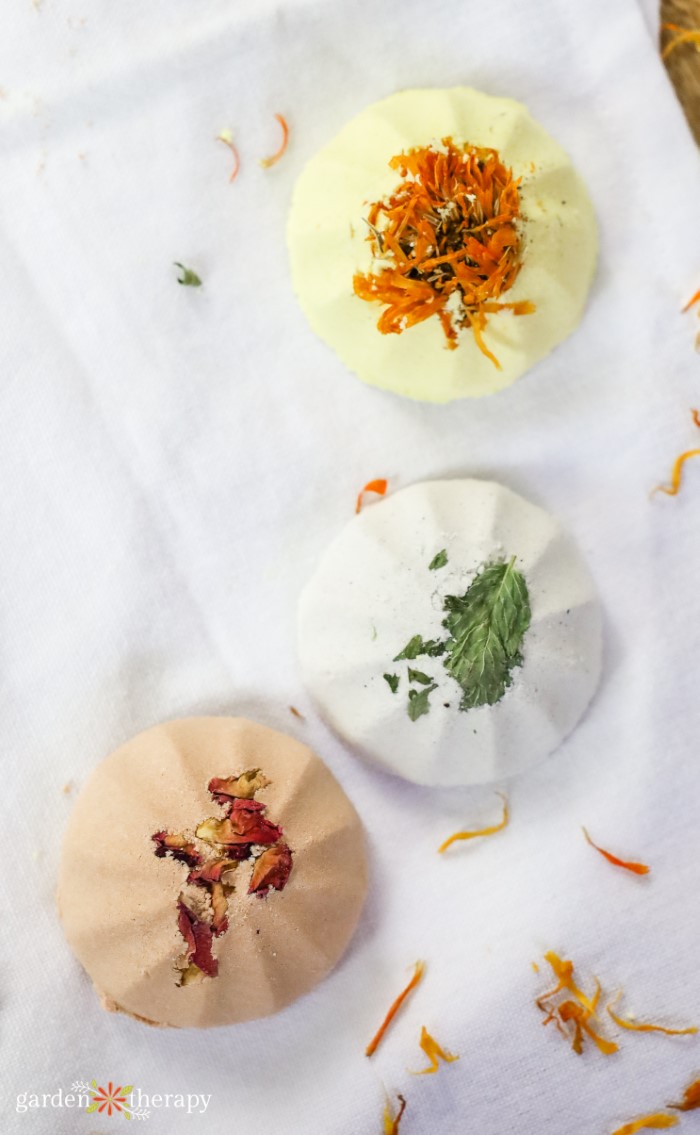 How to Use DIY Shower Steamers
Add one shower steamer to the floor of your shower and shower as you normally would, enjoying the aroma as the water helps to dissolve the shower steamer and release the scent. When your shower is complete, remove any dried plant material and compost it.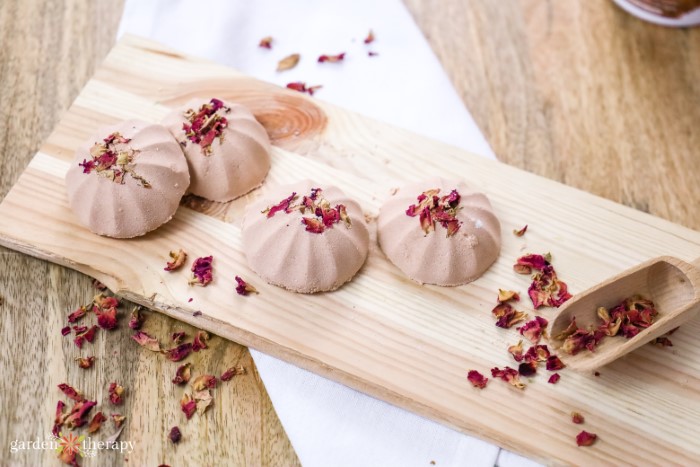 About iHerb
iHerb is a global leader in bringing the best overall value in natural products to our customers all over the world. I have ordered from iHerb many times now for delivery to Canada and it is always fast, inexpensive, and easy.
If you would like to give iHerb a try, new customers can get a discount off their iHerb order with no minimum purchase by clicking here.
More Recipes
Each of these recipes has been made in partnership with iHerb.