This recipe has been sponsored by iHerb and Nature's Way who also provided me with the ingredients to make this warming turmeric and cayenne pain-relief balm for sore muscles. They have a special offer for Garden Therapy readers at the end of this post too!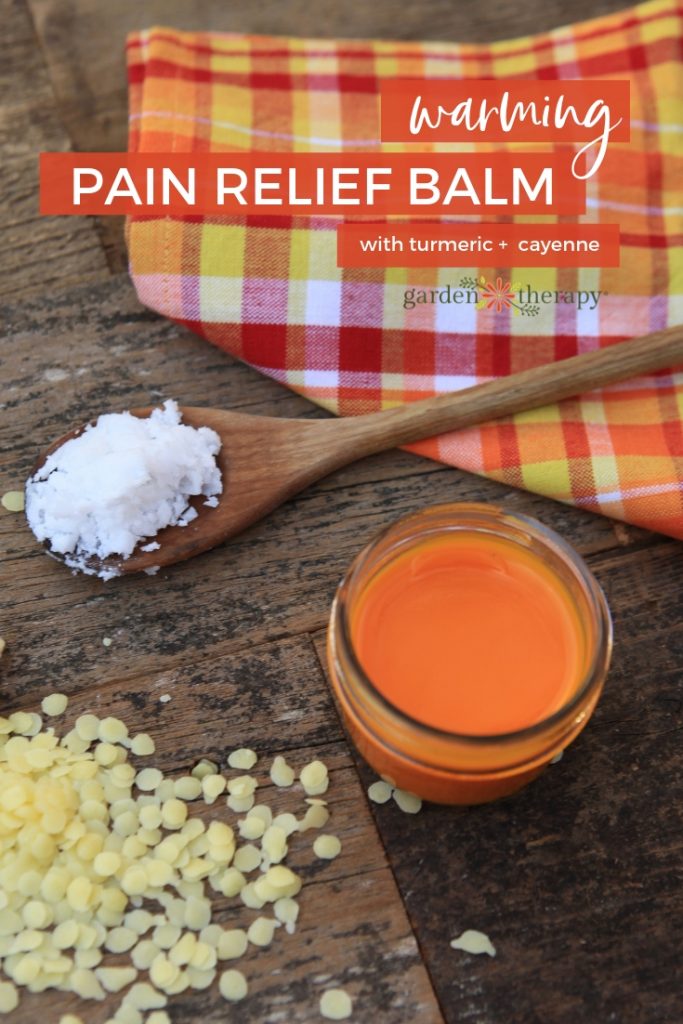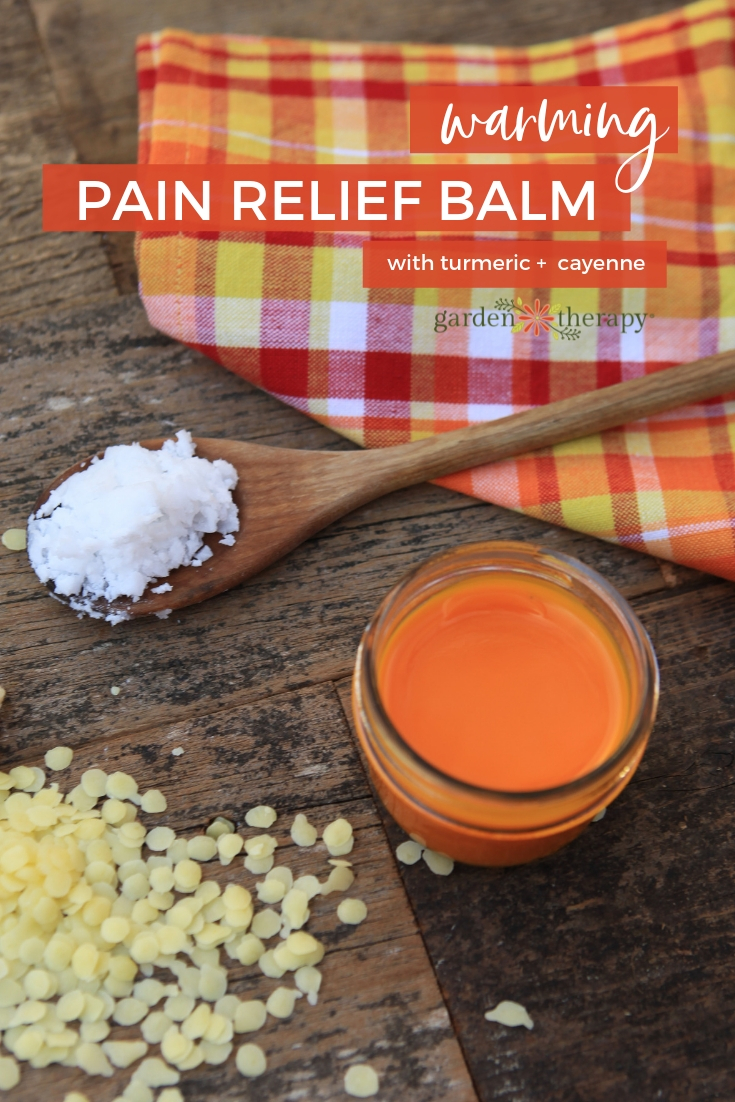 Yay, it's spring, the time of year that we've all been waiting for! The snow is thawing, the bulbs are starting to poke out of the ground, there's new growth everywhere, and gardeners are eager and excited to get out there and start getting ready for the next gardening year.
My chiropractor always says that this is his favorite time of the year. Not because he enjoys the warmer weather but because he gets to see all of his gardening clients! Yes I'm one of them, one of those gardeners we gets so excited about spring that I do way too much an end up feeling pretty darn sore and achy at the end of the day. To be totally honest, today is one of those days. My back is aching my wrists are sore even the bottom of my feet hurt. Despite proper stretching, this happens to me pretty regularly throughout gardening season which is part for the course when you have fibromyalgia.
At the end of the day, I will often have a soak in warm water and bath salts to help with the aches. But mid-day I just don't have the time, so I like to use a topical warming balm for sore muscles.
Topical Pain Relief Using Herbs
Many years ago I picked up a warming balm at a farmers' market while on vacation. That balm worked like a dream to ease muscle pain and aches. So after I scooped out every last little bit, I headed out to my studio to formulate something that would work as well.
I've tried a number of different recipes that contain arnica, ginger, St John's wort, and peppermint for pain but I have found the most relief for sore muscles in the combination of turmeric and cayenne pepper. The turmeric works to help ease inflammation while the cayenne pepper warms the tissue and combats pain. A winning combination!
Sponsored Content: When I can, I buy my ingredients from local farmers or grow them myself. For the rest, I know I can find trusted brands like Nature's Way at iHerb.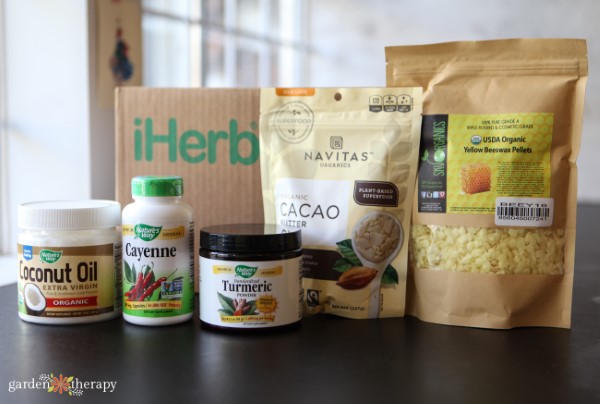 I was able to order all of the ingredients for this recipe from iHerb and they were delivered to me in Canada and just a few days after ordering. My shipping costs for the order, including customs or brokerage, came to $6.84. That, plus I got super high quality organic, raw, ingredients at lower prices than I can get elsewhere. 
For this project I used Nature's Way organic extra virgin coconut oil as the base, and infused it with dietary supplements rather than spices. The turmeric is premium potency with 95% curcuminods and the cayenne has a consistent potency of 40,000 Scoville heat units.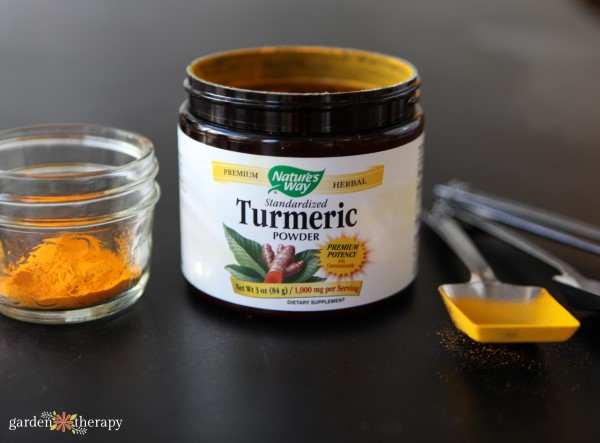 Turmeric Applied Topically
Turmeric is quite on-trend right now and so you may be aware of its popular anti-inflammatory properties when taken internally. As it is metabolized quickly, it's recommended that black pepper and fat be added to your body use the constituents. Internally, this would take the form of a yummy Golden Milk Chai. Topically, adding a pinch of black pepper and infusing turmeric and pepper in oil over heat helps to make the most effective balm.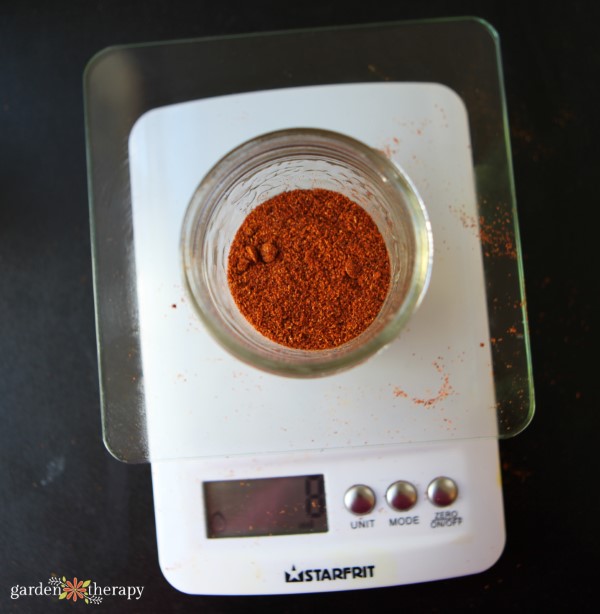 Cayenne Applied Topically
Cayenne may be too spicy for your palette, but it's famed for its topical pain-relieving powers. Capsaicin is the active ingredient that, when applied to the skin, helps to block the neurotransmitters that are signaling pain. This has shown to be very helpful with osteoarthritis and rheumatoid arthritis pain, herpes zoster, shingles, and back pain.
Warming Turmeric and Cayenne Pain-Relief Balm Recipe
In this recipe I've combined anti-inflammatory turmeric with pain-relieving cayenne in coconut oil with a pinch of black pepper. Beeswax helps to firm up the balm, and organic cacao butter gives it a nice slip on the skin and leaves the skin moisturized.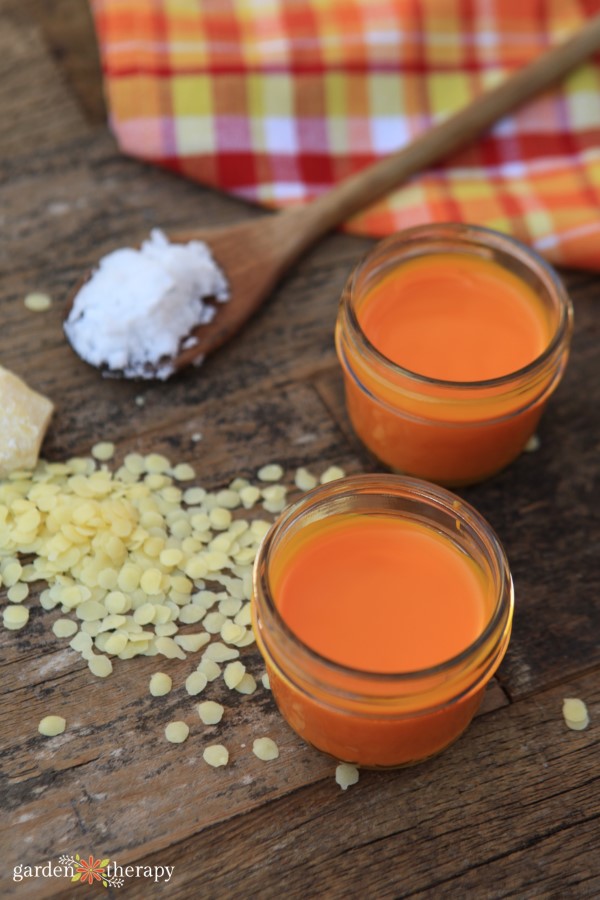 Ingredients
Makes 2 x 80g jars of balm
Materials
Double boiler
Kitchen scale
Pyrex glass measuring cup
Mesh strainer
Cheesecloth
2 small glass jelly jars with lids
Spatula
Rubber gloves
Make it!
First, go get some gloves. Most of my recipes are for home use so I usually feel confident handling the ingredients with well-washed hands. In this case, the turmeric stains skin and the cayenne can warm it up too much. (I use gloves when making this balm but not when I apply the balm to my skin.)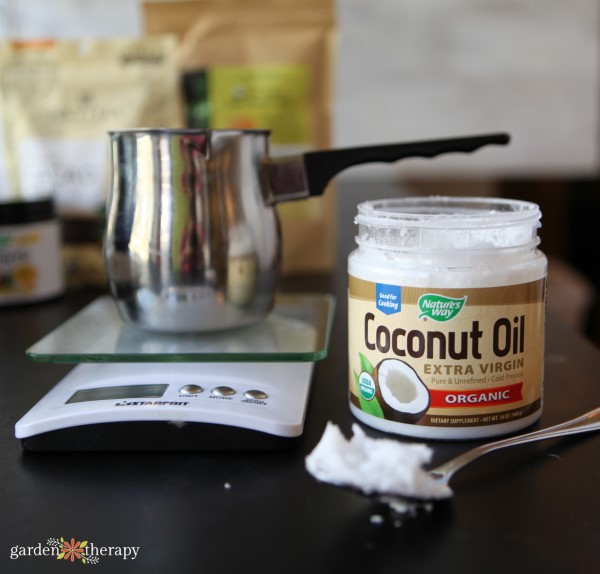 Weigh all of the ingredients on a kitchen scale.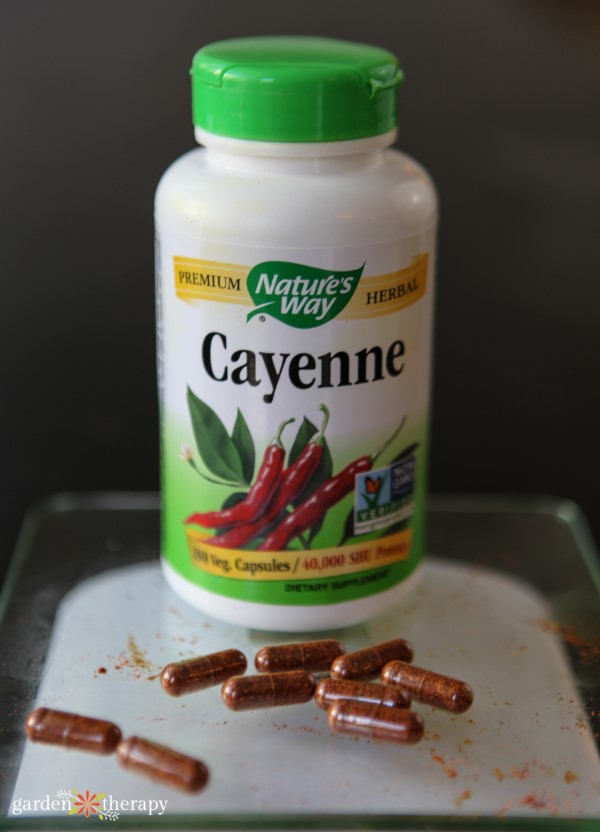 If you are using the Nature's Way Cayenne capsules that I linked to in the ingredients, then you can empty 15 capsules for the 8 g.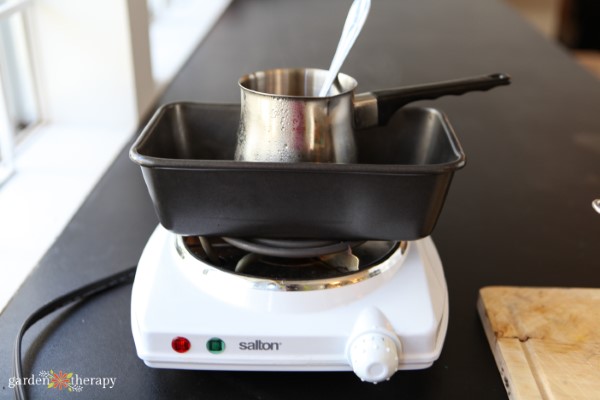 Infuse the turmeric, cayenne, and black pepper and coconut oil in the top of the double boiler over the lowest heat setting for 1 hour.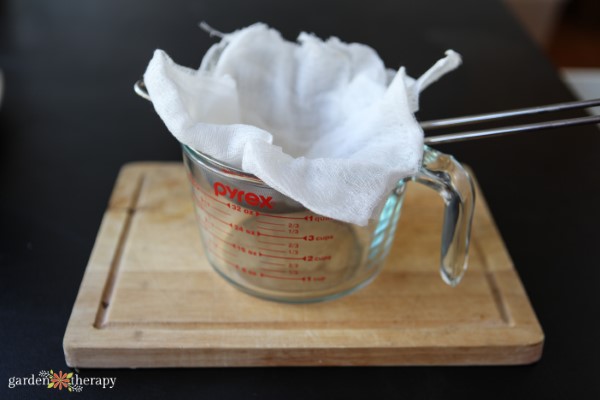 Set up a Pyrex glass measuring cup with a mesh strainer and cheesecloth set inside to filter the oil.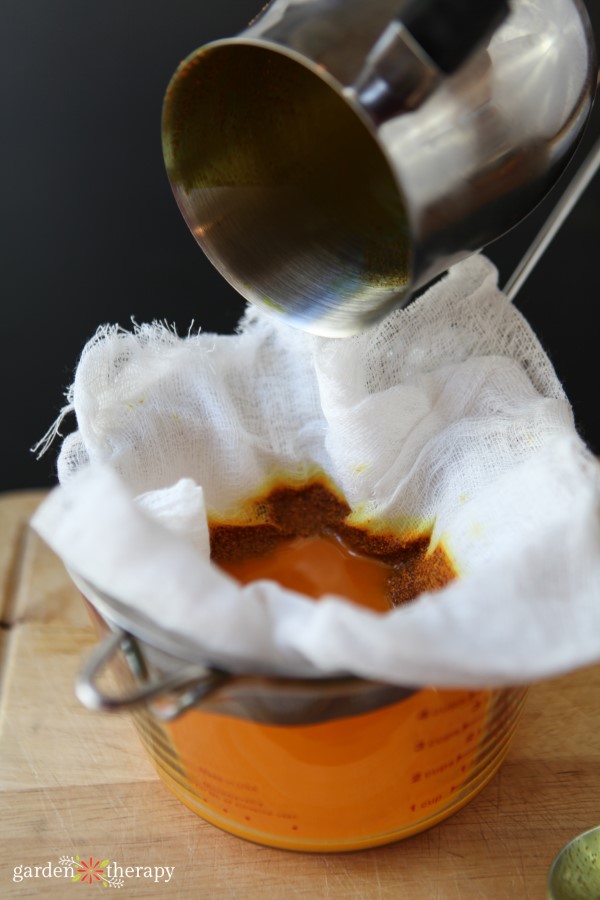 Strain the oil through cheesecloth.
Squeeze the cheesecloth to extract all of the goodness.
Now, add the beeswax and cocoa butter to the double boiler and pour in the infused oil. Stir constantly and keep a watchful eye on the oils. You want them to just reach the melting point and not overheat.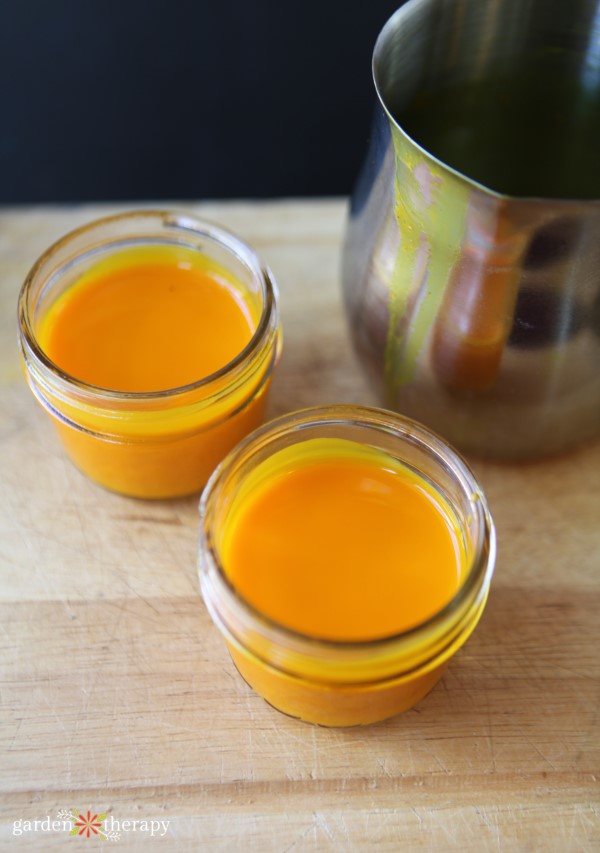 When melted, immediately pour the balm into glass jam jars and allow to set untouched for 3-4 hours.
Use it!
Always spot test home recipes before diving in a covering your whole body with any salve or balm! To spot test, apply a little of this balm to the inside of your arm and wait 24 hours for a reaction.
To use this balm to help with sore muscles, rub a little on the affected areas and massage it in well. Apply as needed up to 4 times each day. Do not apply to open wounds, burned skin, or rashes.
The turmeric will stain your skin, but if you rub it in well, it will just look like a golden glow (as opposed to a spray tan gone wrong!). It does wash off your hands easily with some soap and gentle nail brush, but it will also fade from skin naturally within a few hours.
Turmeric can stain clothing so wear like-coloured clothes when you are using this balm.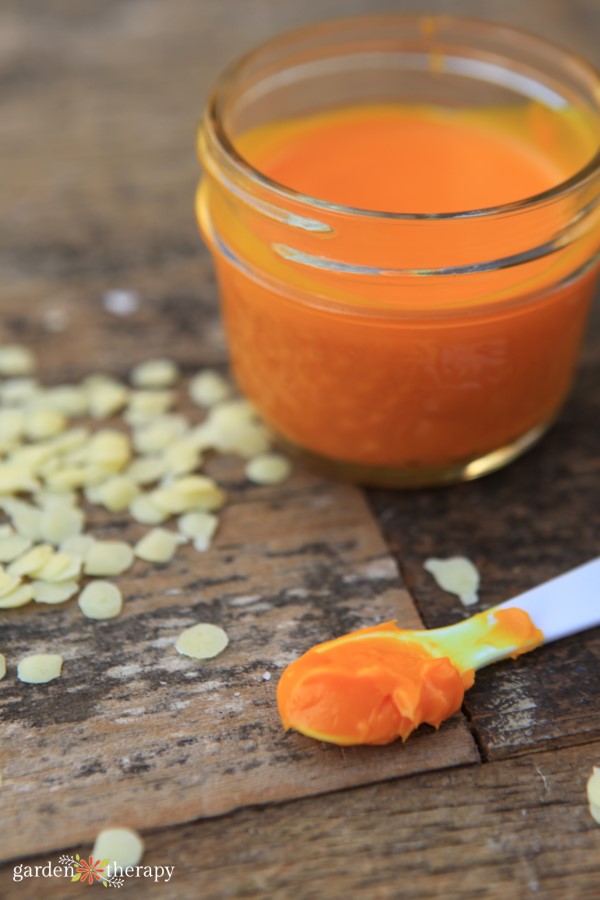 About iHerb
 iHerb is a global leader in bringing the best overall value in natural products to our customers all over the world and they have a triple guarantee of their products: value (iHerb guarantees that you will receive the best overall value in the world for over 30,000 brand name natural products), quality (iHerb guarantees that all products are authentic brands sold in the U.S. market, provide quality assurance for our products, and ship directly from climate controlled warehouses), and delivery (guaranteed free or discounted shipping to over 150 countries around the world). I have ordered from iHerb many times now for delivery to Canada and it is always fast, inexpensive, and easy.
If you would like to give iHerb a try, new and existing Customers can get a discount off their iHerb order with no minimum purchase by clicking here.
More Healing Recipes Made From Plants