In my urban garden, I had rats, flies, and wasps feasting like crazy from my open compost bin, which made them permanent residents in the garden too. As you can imagine, these were not the guests I wanted to share my space with! Wait until you see this compost bin makeover, a transformation that took just an hour but upgraded the space from junky to fabulous and immediately took care of the pest problem.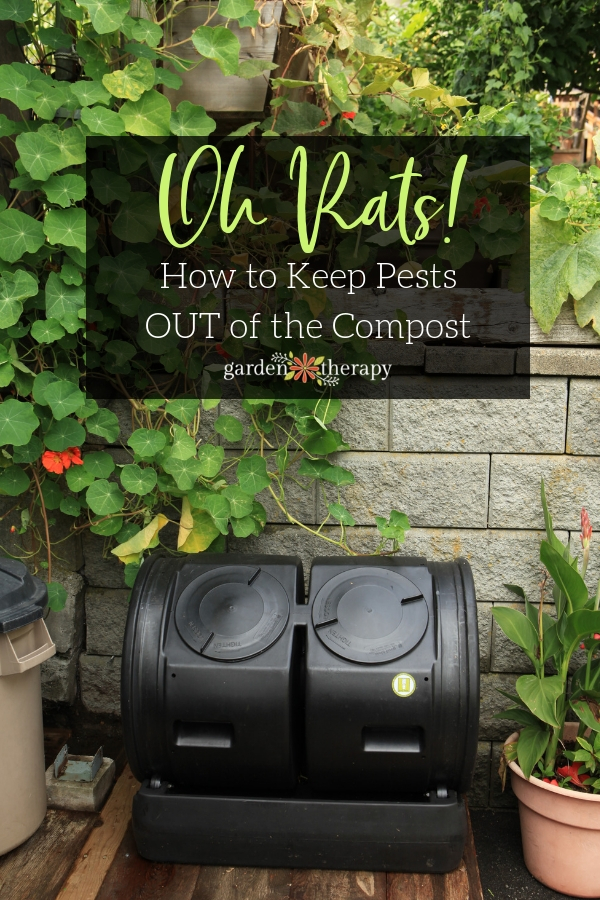 One thing about gardening in a small space is that you tend to pack every nook and cranny with garden. That makes the practical necessities hard to find a place for where they won't become an eyesore. The compost area in my garden consisted of a broken down city-provided compost bin that was held together with sunshine yellow duct tape and not much else. The holes were created by unwelcome neighbors with beady eyes and long tails. You guessed it: rats! Our compost bin had clearly been the 5-star bed and breakfast to rats long before we moved in. As much as we tried to keep them out, they were determined to come back.
A compost tumbler not only made this urban composting space look a whole lot better, but it also sped up the composting process dramatically. A closed system like this keeps the compost contained, and it has no space for pests to get in. Rats, mice and other rodents love to dine and nest in the warmth of a home compost bin. Cats, dogs, foxes, raccoons, coyotes, badgers, and even snakes may also be attracted. And let's not forget about bugs. While it's very useful to have worms and microorganisms munching away at the materials to break them down, it can be quite unpleasant when wasps and flies move in.
SPONSORED CONTENT: This post was sponsored by A.M. Leonard's Gardener's Edge, who also provided me with the Compost Wizard Dueling Tumbler, Jobe's Organics Compost Starter, and an Odor-Free Compost Keeper. All of the opinions that are shared in this post are my own. A.M. Leonard's Gardener's Edge has also generously provided a giveaway for one of our lucky readers! See how to enter at the end of the post.

Goodbye Old Bin. It's Time for a Makeover!

The compost space is located at the back entrance to the garden, which is a convenient location for using it, but what an eyesore! Here is what it looked like before.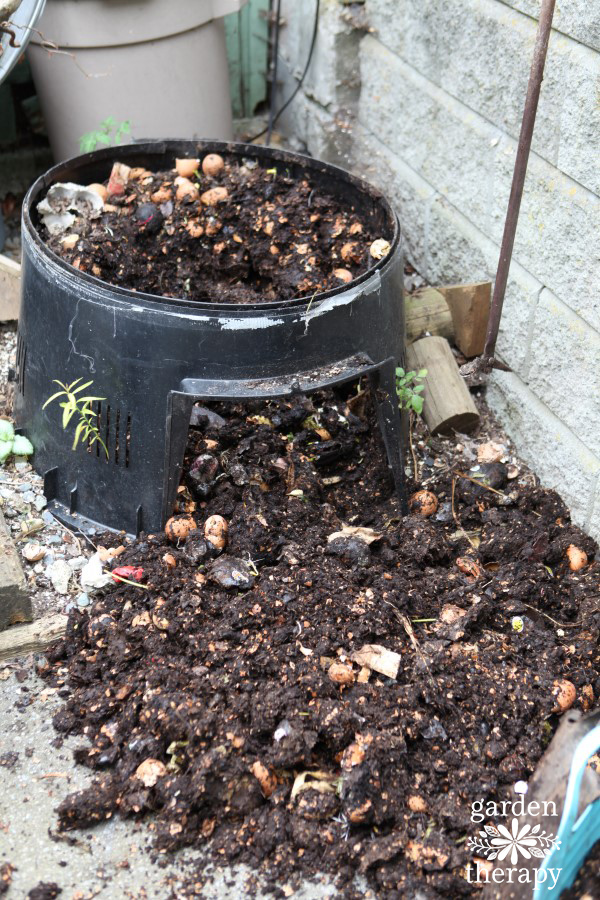 Despite regular aeration and the proper composting recipe, when you have only one compost bin, you can't add new materials until the current materials are finished composting. And it takes a long time to fill up the bin in the first place. With this style of composter, we were continually adding material and digging partially finished compost into the garden.
While an open-bottom compost bin is best on soil so that there is an entry point for insects and worms, a compost tumbler, like the Compost Wizard, is best on a raised platform because it is neater, easier to roll, and allows access to the compost tea spout at the bottom. Play the video for an idea of how it works.
5 Reasons You Should Use a Compost Tumbler
A compost tumbler is a closed system that keeps out rats and other pests.
A compost tumbler is neater as the compost is contained completely inside the chambers of the bin.
A compost tumbler speeds up the completion time for finished compost. The Compost Wizard has two 25-gallon chambers so you can be making compost in one side while adding compostable materials to the other.
A compost tumbler is easier to mix (by spinning it) than a traditional compost bin (using an aeration tool) or pile (fork turning the compost). It's a whole lot of fun to spin it, too!
A compost tumbler like the Compost Wizard collects the excess moisture from the compost and collect the leachate in  base of the bin. This can be added the garden when watering.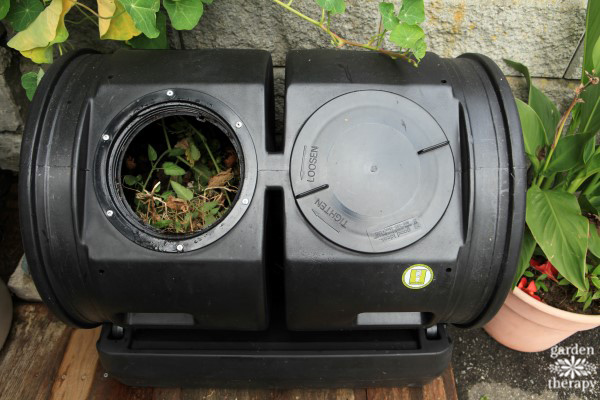 Composting Recipe for Compost Tumblers
I've previously written about how important it is to follow a compost recipe to be sure that your greens, browns, balanced materials, air, and water are added in the right amounts for effective composting. This recipe holds true for a compost tumbler with one exception, the process will be stimulated by heat and aeration, which will promote microorganisms to break down the material.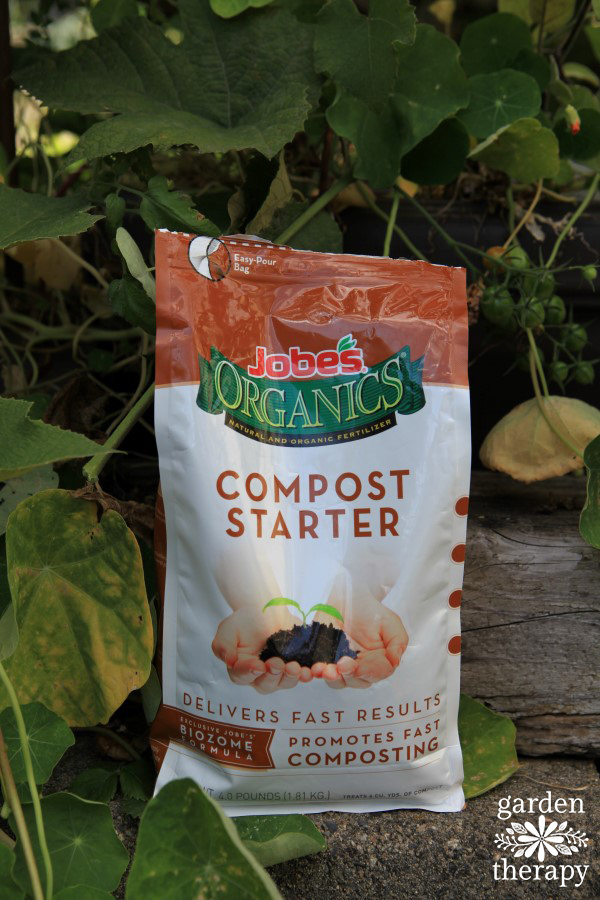 In a compost pile, soil insects and worms are introduced to also help break down the material, but the heat and movement of a tumbler do not provide a great environment for those creatures. Adding some compost starter to the materials will help to get the process off on the right foot.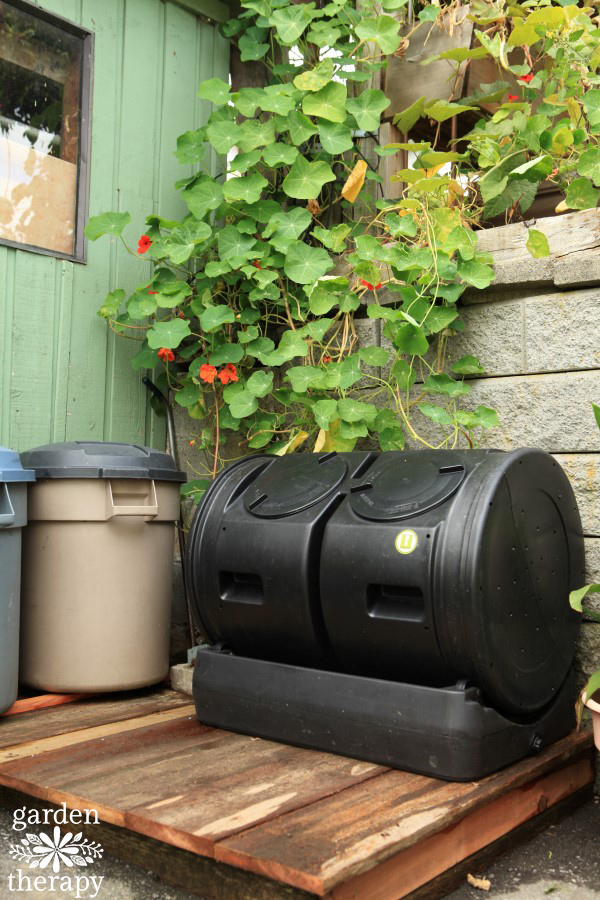 Make Composting Pretty with a Composting Platform
My composting area is now a feature rather than an eyesore with this good-looking barn wood platform built by Mr. Garden Therapy. He finished the job while I was out for a walk so it won't take you too long. Here are the instructions:
Level the foundation so that the planks lay flat and won't be at risk of warping, bending, or breaking. Use a level both side-to-side and back-to-front to ensure your foundation is level.
Support under the planks to ensure they can easily support the weight of a fully loaded compost bin and a person working at the bin. Lay down joists that run perpendicular to your planks every 12″ for proper support.
Raise the surface of the platform to prevent rot. Using gravel to fill in around your foundation and joists (not soil) will increase the longevity of the platform. Ensure the top of your joists protrude above grade so that your planks are not resting directly on top of the soil.
He did take some photos of the process which I have put together in a little slideshow.
Doesn't the composting area look much better now?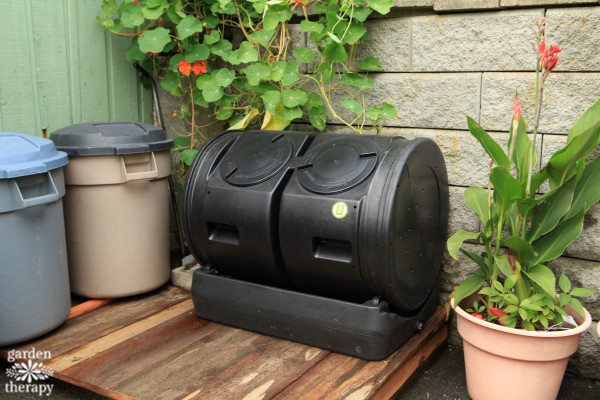 A.M. Leonard's Gardener's Edge has plenty of smart tools like this for gardeners! If you need a compost bin makeover, an essential tool, or a smart solution to a gardening problem you have been facing, have a look through their catalog. One lucky garden therapy reader will win a $50 gift certificate to spend online! Simply leave a comment on this post telling us where you garden and what you would buy with the gift card. This contest has closed. The winner is Pat Cassity! Congratulations, Pat!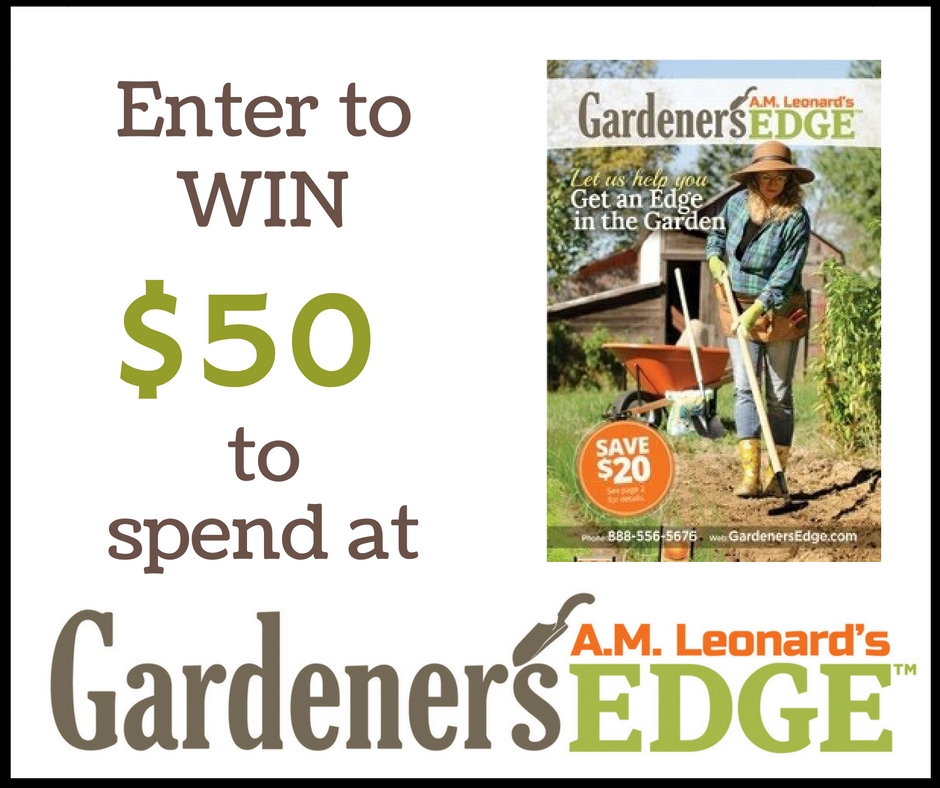 Read more on composting: