Cats aren't always purrfect. They love to dig, scratch fence posts, and may even go to the bathroom in your precious flowerbeds. If you have a not so fabulous feline friend visiting your garden, here are a few ideas on how to keep cats out of your yard.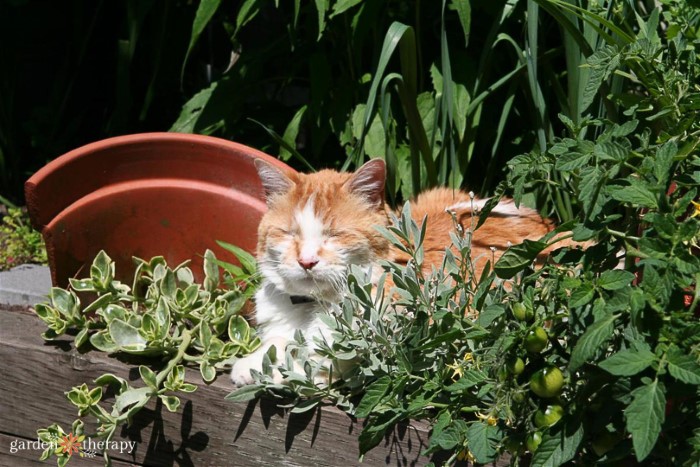 My Cat Magic
I want to start this article off by saying I do have a cat. Originally a stray, Magic is a mischievous and handsome little fellow. Every time he hears me talking, he wants attention. He loves heights, jumping places he shouldn't be and he knows how to have a good time.
While I love the guy, I will say that he does affect my garden. He likes to dig in my herb garden to sleep, and he's the reason I rehomed all my lilies. Just a hint of the pollen could be bad for the little guy.
However, he does so much good for me in the garden. Not only is he the world's best rat killer, but he also patrols the property and helps to deter other cats. And most importantly, I love his company while I'm puttering away in the garden. His presence alone does wonders for my mental health, inside or outside!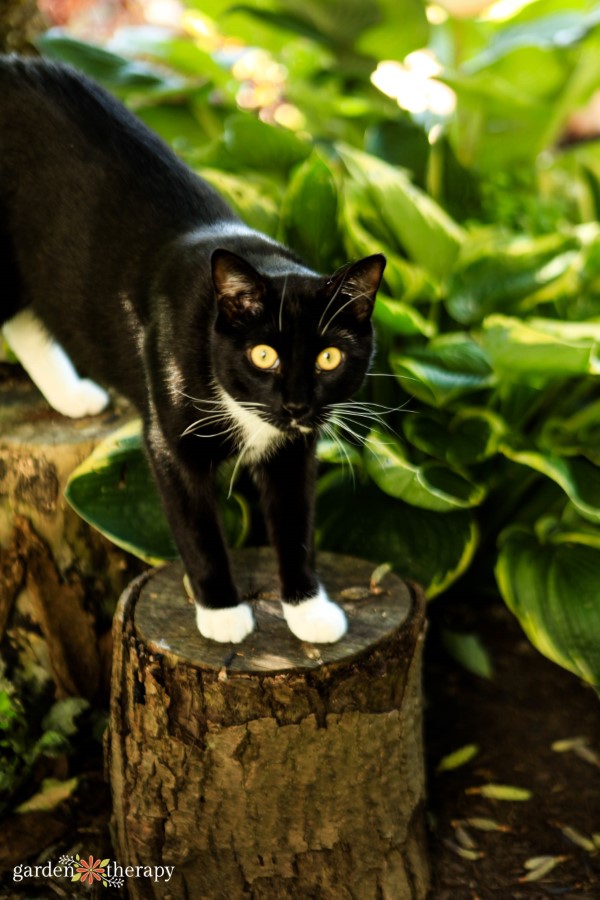 Why Cats Can Be a Nuisance
That all being said, I can certainly understand why you would want to know how to keep cats out of your yard. After all, it's not all sun lounging and rat hunting.
Cats tend to dig in garden beds. They don't know the difference between a vegetable bed and an outdoor litter box.
Male cats also like to mark their territory. It can be annoying to have a neighbour's cat or stray periodically come in and spray your favourite plants. Stinky!
Additionally, cats are natural hunters. They could even try to catch beautiful songbirds in the garden. They may even be a terror to chickens if you have some.
Cats are good climbers and jumpers, so it can be difficult to keep them out when they're not wanted. Luckily, there are a few harmless and natural ways to keep stray cats out of your yard.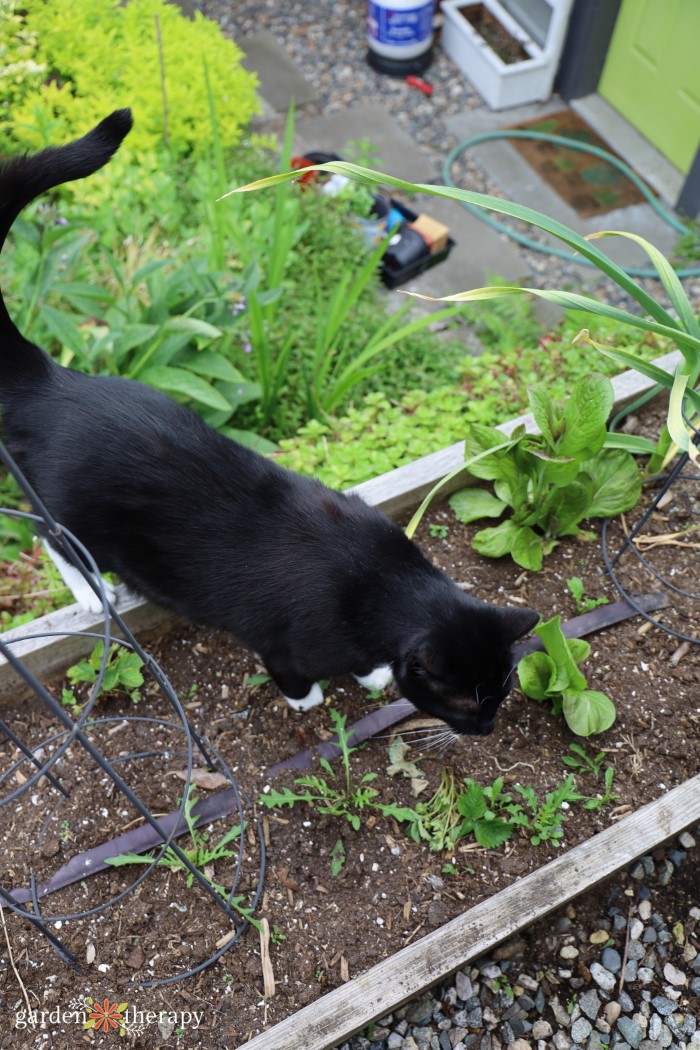 How to Keep Cats Out of Your Yard
Cover Soil
First and foremost, cats love squishy and soft soil. Whether they're trying to lounge or go to the bathroom, the goal is to make your garden beds someplace they wouldn't want to hang out.
Since cats don't like any pokey surfaces, cover the soil with things to make it less appealing. The goal is to make it look like the opposite of a litterbox. Here are some ideas:
Chicken wire: use metal or plastic chicken wire to cover your beds. Most plants can still grow through, but it stops the cats from digging.
River rocks: larger rocks, uneven rocks are better, but pebbles should also help.
Eggs shells: every time you crack an egg, sprinkle the eggs shells in your garden beds.
Sharp twigs: take cuttings from holly leaves, rose bushes, blackberries, barberry bushes, and more pokey plants and spread them across your garden.
Thick mulch: a thick and pokey mulch also does the trick. Pinecones also work!
Short twigs: you can also collect a bunch of smaller size twigs while pruning and lay them in bunches in your garden. The bees may enjoy them too!
Bamboo skewers: stick bamboo skewers with the pointy side up throughout the garden. Space them close enough that it makes it difficult for a cat to lay down.
Water
Unlike most dogs, most cats don't like getting wet. Use water to your advantage! Cats hate having wet paws, so if a certain cat likes to patrol your yard at a specific time of day, try watering the lawn and garden during then.
You can also spray down any areas they like to mark. Oftentimes, cats will mark the same spots so you can wash their scent away to keep them from returning.
If a cat is in the yard and you catch them red-handed, you can grab a super soaker and spray next to the cat. It should scare them off completely.
Another alternative if you're not at home or in the garden 24/7 like me, is to use motion-activated sprinklers. They will go off at the hint of movement and scare away the feline. Just be sure to pay attention to how often they go off and obey water shortages.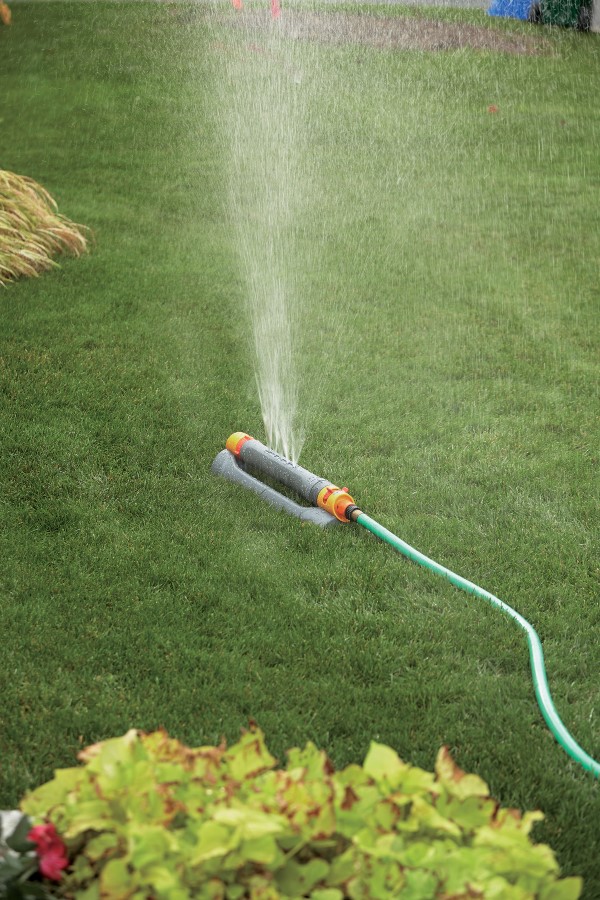 Fencing
While cats have a thing for climbing things, you can make your fence less accessible to cats. For fences with fence posts, you can tie an additional wire or string across the top. Cats will hesitate to jump up and climb over it.
You can also get spikey plastic fence caps. These prevent cats from walking across fences. They are uncomfortable for the cat but not harmful.
Finally, grab a tub of Vaseline and spread it across the top of the fence. Cats won't like the feeling of it under their paws and will hesitate to jump up again.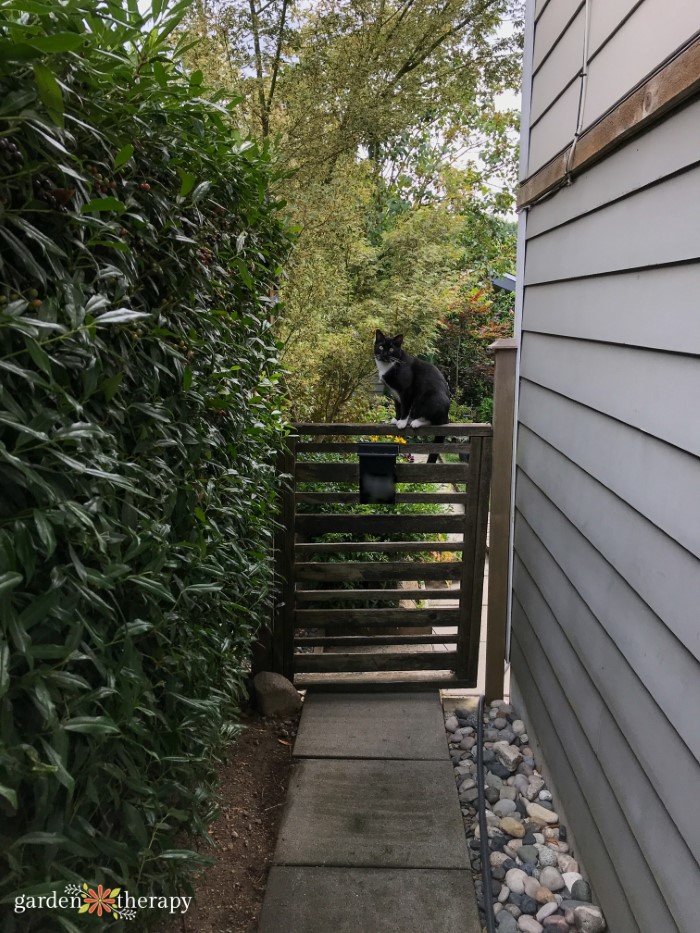 Cat Repellent Plants
Just like other harmful pests, you can actually grow certain plants to keep cats out of your yard. Cats have powerful noses and don't like the smell of some plants. Try planting these:
Peppermint
Garlic
Marigold
Geranium
Other scents that cats don't enjoy include bone meal fertilizer, citrus, coffee grounds, and red wine vinegar. Try spreading your morning coffee grounds and citrus peels in the garden and see if it helps keep the cats at bay.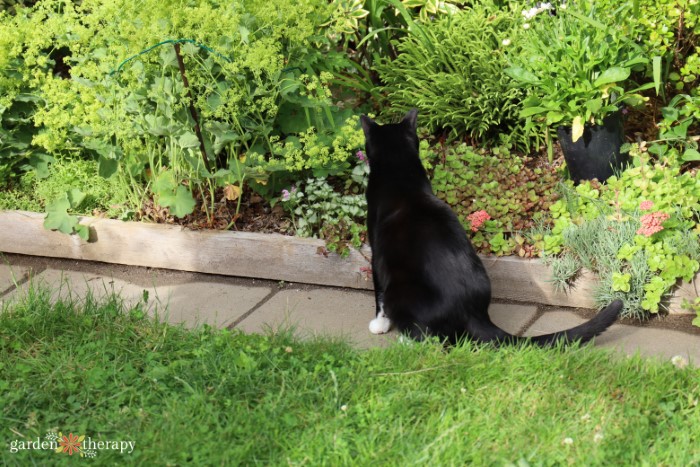 Cat Repellent Spray
Commercial cat repellent for yards tries to mimic the spray of predator urine. That certainly doesn't sound appealing to me and I'm never quite sure what ingredients are inside of these sprays. I always opt to make something myself whenever I can. Natural cat repellent spray can work just as well!
To make your own, mix together the following ingredients in a spray bottle:
Whole cloves, crushed
Garlic cloves, peeled and crushed
Chilies, the small and hot ones, finely chopped
For full measurements, see the recipe card at the end of the post.
Let the mixture steep overnight. Spray the mixture wherever you want to keep cats away from. You won't need a ton! Respray once a week until the cats get the hint and don't come back.
Note, vinegar can be harmful for plants and can even be a weed killer. Be careful where you spray it.
This spray is fairly stinky so only spray outside the house and avoid spraying by open windows.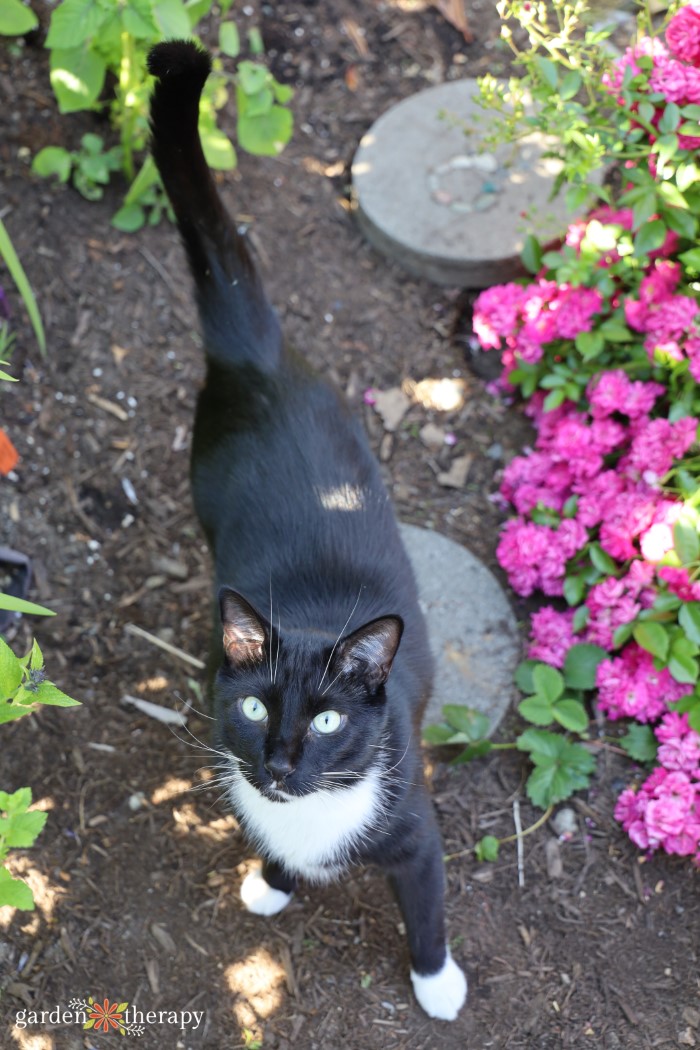 Make Peace
If all else fails, maybe it's time to make peace with your new feline friend. Try chatting with your neighbour about their cat and see if they can help to keep their cat out of your yard. If they have a tendency to bug birds in the garden, ask if they can wear a bell around their neck.
You can also try to create a place in the garden just for the cat. This will attract them to the right spot in the garden and deter them from your precious vegetable and flower gardens.
Plant catnip for the cat. You can also create a little sandbox for them next to the catnip to give them a place to hang out and go to the bathroom. With this method, you will likely have to clean up every once in a while.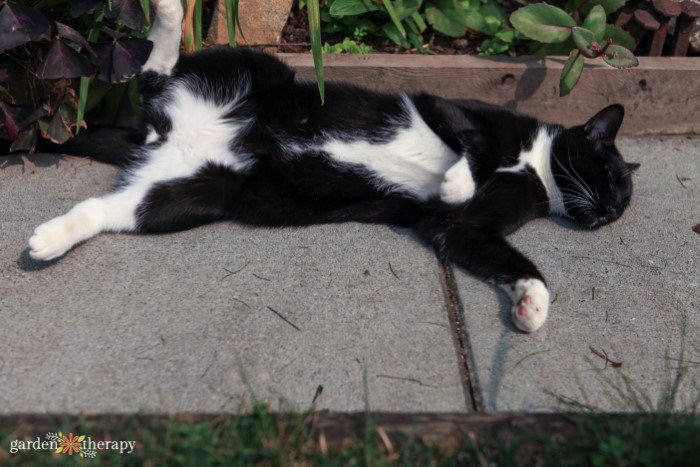 More Posts About Gardening with Pets
Natural Cat Repellent Spray
Spray this mixture throughout your garden and backyard to deter stray cats from hanging around.
Instructions
Mix together all ingredients and place in a spray bottle.

Let the mixture sit overnight.

Spray wherever stray cats visit your yard.

Reapply once a week until the cats no longer return.