Foodscaping is a wonderful way of incorporating more edibles into landscape design in order to benefit both humans and the environment. The concept of edible garden design is becoming especially popular in community gardens and other shared garden spaces, but it can also be a powerful tool in the home garden as you can see in this post on edible edges.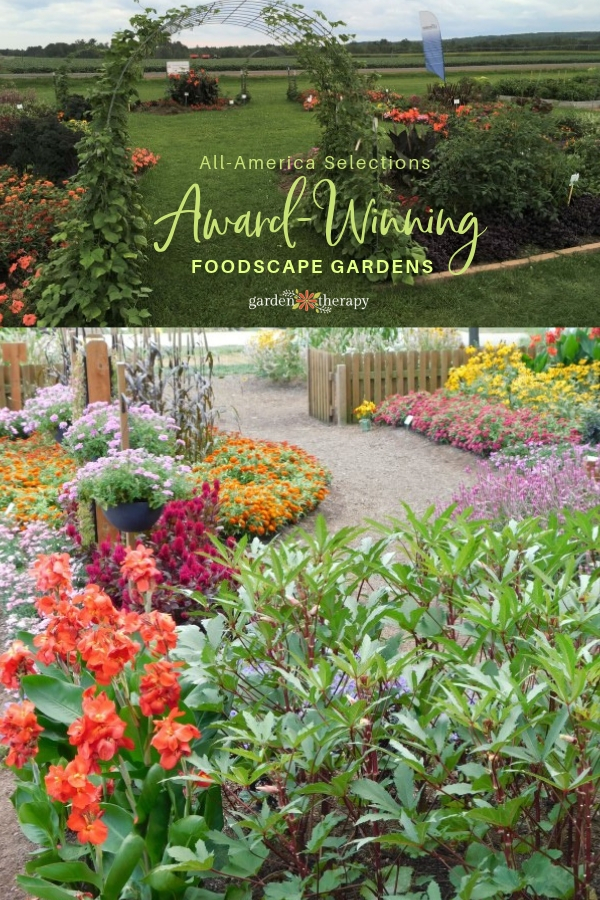 Last year, All America Selections set a challenge for gardeners: to create a beautiful and functional garden based on the theme of "foodscaping," or landscaping with edible plants. AAS provided the participating gardeners with seeds and it was up to the individual garden teams to come up with, plant, and care for a design that incorporated ornamentals and edibles into one cohesive, beautiful garden design.
The AAS Foodscaping Design Challenge participants are all large, public gardens, but their beautiful and practical edible design ideas can serve as inspiration for small-scale home garden foodscaping as well.
Here is a peek at the first-place winners of each category. The categories are determined by how many visitors a garden has per year, so these three gardens give a good range of how foodscaping can be done effectively at different scales.
Category 3: Over 100,000 visitors per year
Winner: Dow Gardens, Midland, Michigan
Dow Gardens Children's Garden is a vegetable and flower display garden allowing guests to see and interact with the edible and flowering plants (yes, it is okay to pick and eat!). This year, the garden had 30 varieties of AAS award-winning plants grown to create its dynamic, colorful, and eye-catching display.
Here, you can see a bird's eye view of the garden when it was first planted. Even at this point it looked quite lovely, with colorful umbrellas placed around the seating space and baby green plants creating artful shapes in the circular beds.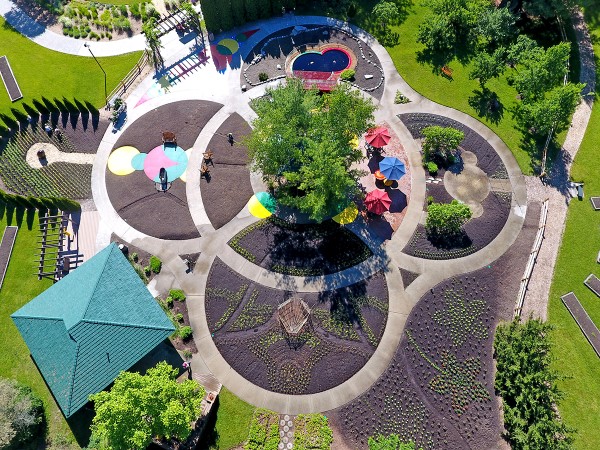 And here it is once everything had filled in: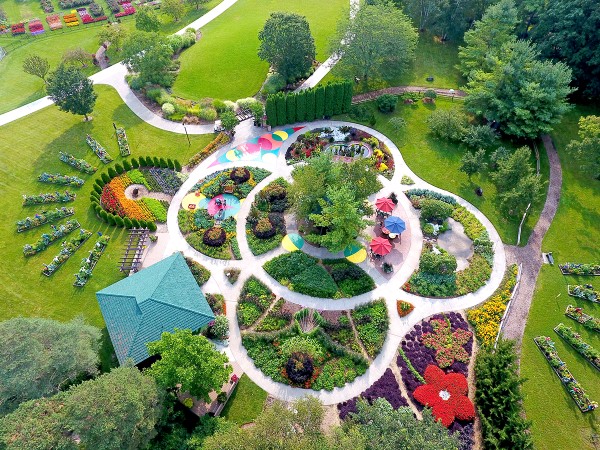 Gorgeous, right?!
The meticulously planned and tended rainbow bed was planted around the famous Sir-Ham-A-Lot the Pig. Many AAS plants (South Pacific Scarlet canna, Fresh Look Yellow celosia and Jam 'N Jellies Blackberry vinca) were used and included Dolce Fresca basil for the green strip of the rainbow.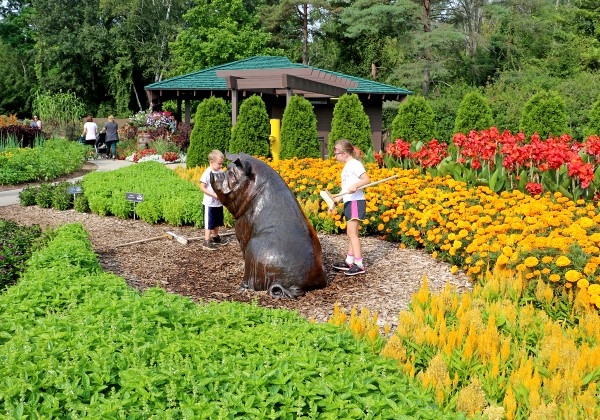 Another combination of Gretel eggplant and Prizm kale bordered the bed with pops of Warrior bunching onion to create a vertical flare.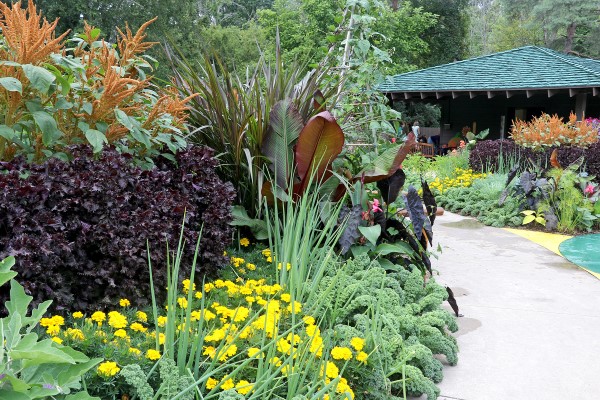 The Garden hosts numerous programs throughout the summer including a Growin' Gardener Program in which 84 families enroll to get hands-on experience growing vegetables and annual flowers.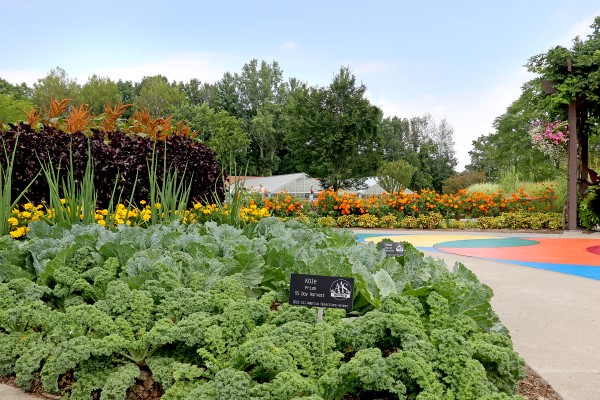 Category 2: 10,001 – 100,000 visitors per year
Winner: Purdue Extension Marion County Demonstration Garden, Indianapolis, Indiana
This garden is located on the Indiana state fairgrounds where Master Gardener volunteers interact with 13,000 visitors during the 17-day fair. The circular garden design featured Candle Fire okra, Aji Rico, and Hot Sunset peppers (to name a few) in the main ornamental garden.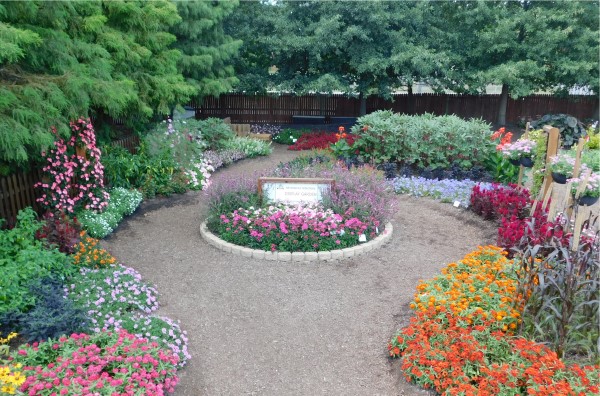 The peppers dot the garden with gorgeous, glossy color, adding a decorative flare that compliments the fiery colors of the flowers blooming throughout the garden.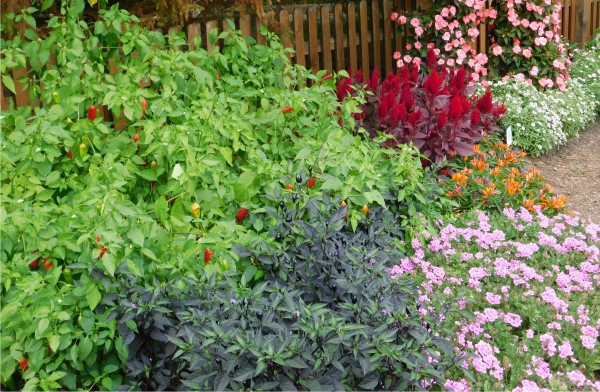 Different foliage colors and textures are used to create interesting contrast within the beds, and the tall pepper plants are deliberately located behind shorter flowering plants, so that the peppers dangle above them attractively.
They also used three different varieties of pumpkin (Pepitas, Super Moon and Cinderella's Carriage) as ground cover around a newly planted ornamental tree to create an attractive visual affect that yields a lot of produce. Small planted baskets overflowing with flowers hang in the garden to add even more decorative appeal.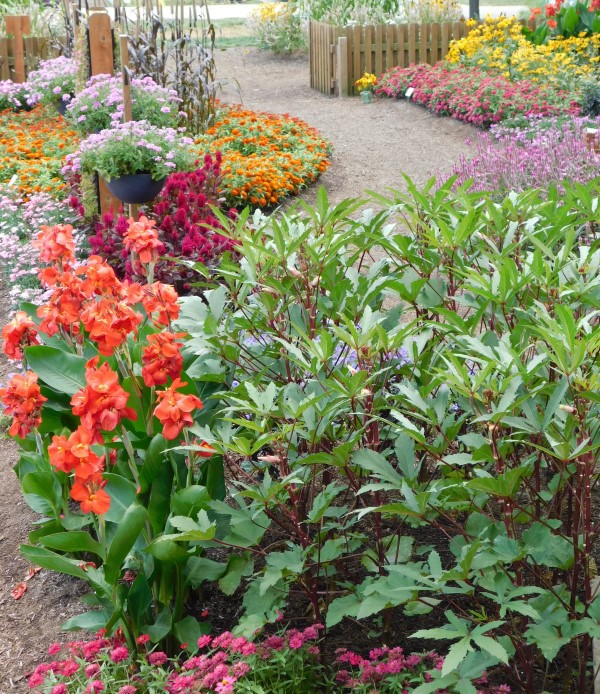 Category 1: fewer than 10,000 visitors per year
Winner: University of Wisconsin Spooner Agriculture Research Station, Spooner, Wisconsin
The culmination of a multi-year landscape design project resulted in this beautifully designed new series of gardens highlighting both old and new AAS Winners plants at the UW Agriculture Research Station. A central pinwheel garden overflowing with bright flowers intermixed with leafy greens and other edibles and nearby vertical and container gardens show visitors how they could mix edibles and ornamentals in their own home gardens.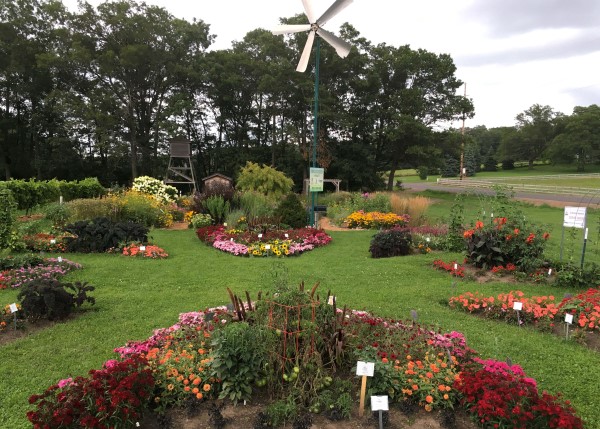 The beauty of yellow squash is brought out by cheerful yellow sunflowers nearby, showing a perfect example of how edible gardening can be both practical and visually stunning.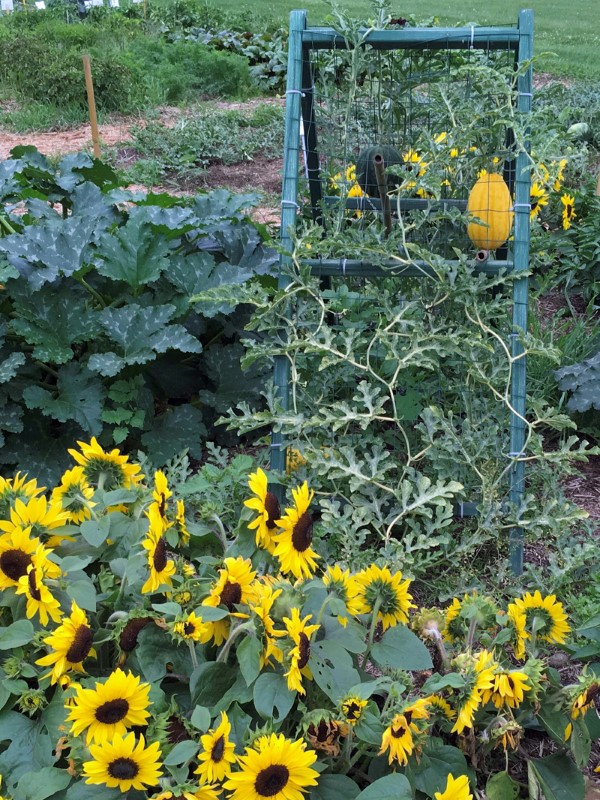 Spooner went one step further in their Monarch and Pollinator Sanctuary Garden and included native versions of many AAS plants in order to provide a food source for beneficial insects native to the area.
Which of these foodscaping ideas would you like to incorporate into your home garden? Let us know in the comments!
Take another virtual garden tour: