The most fascinating garden ideas come from touring unique gardens, and there is none more unique than the Seattle garden of best-selling author and Miniature Garden Guru, Janit Calvo. Janit lives in a full-size house surrounded by whimsical miniature gardens both in-ground and in pots. I was fortunate to be invited on a personal tour of Janit's gardens, studio, and the Two Green Thumbs Miniature Garden Center.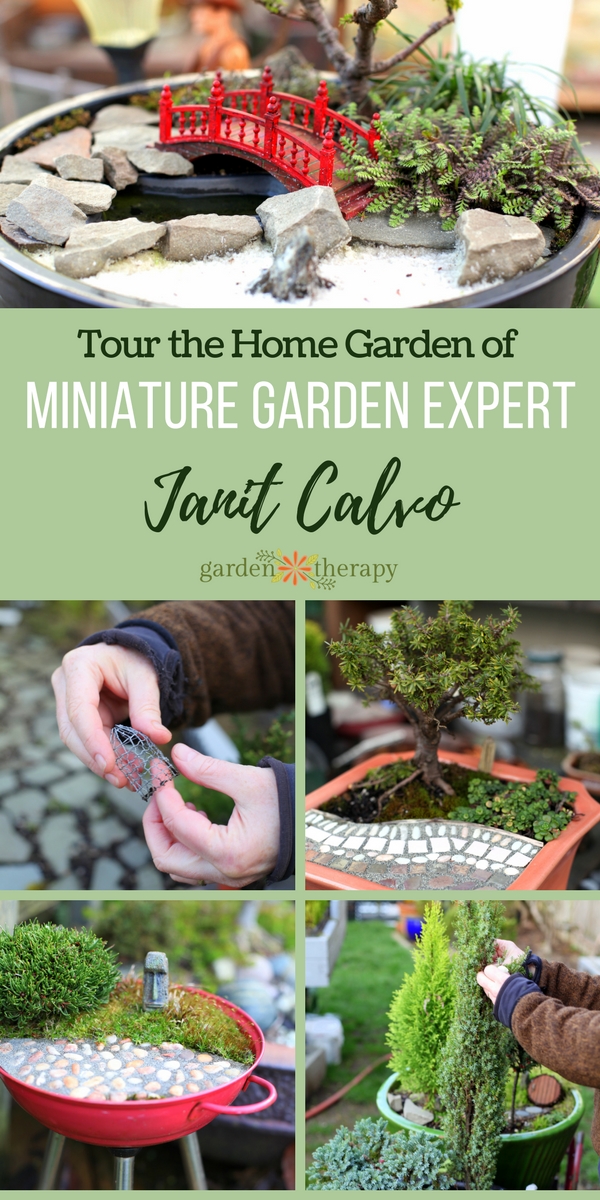 Janit Calvo is the world's foremost expert in miniature gardening. You know all those fairy gardens you see now on Pinterest, garden centers, and even big box stores? None of that was around before Janit started the one and only Two Green Thumbs Miniature Garden Center.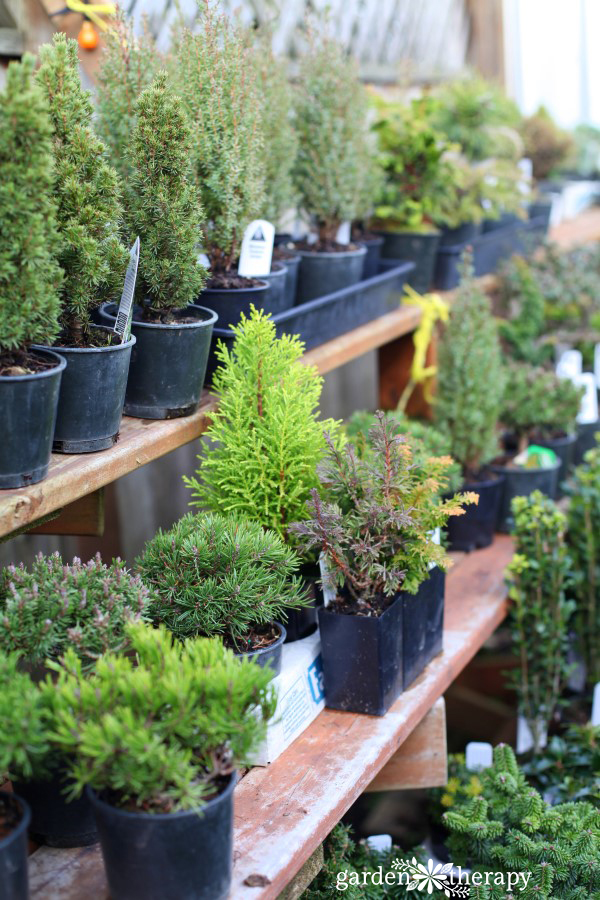 Even though the fairy gardening craze is everywhere now, it was Janit who wrote the book on it, literally, with her best-selling Gardening in Miniature which has been reprinted many times, even in Korean and German. She has just released her second book. The Gardening in Miniature Prop Shop, which has 37 step-by-step projects for DIY-ing your miniature garden. I had to keep my photos of Janit's garden to myself until the new book was released, and thankfully that day is here!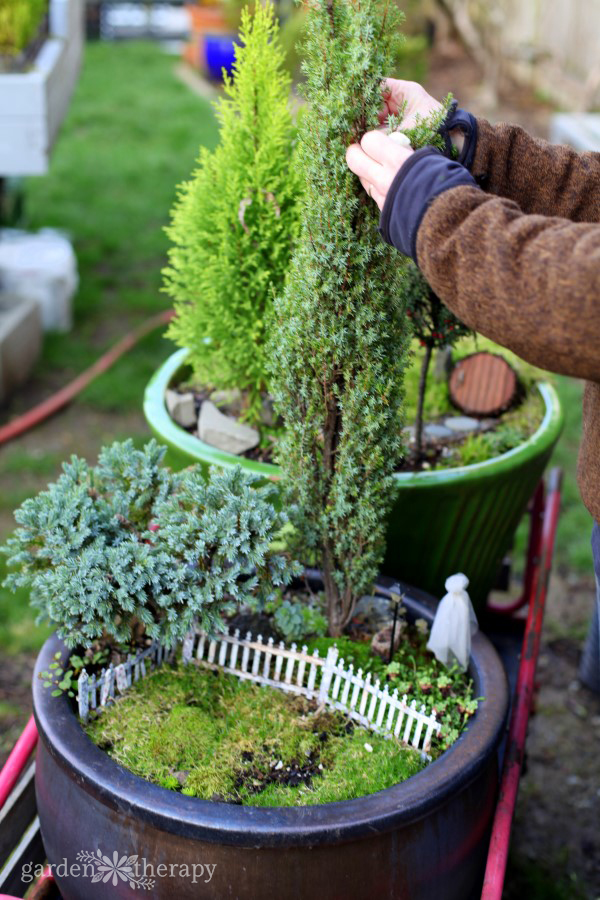 Two Green Thumbs Miniature Garden Center & Studio Tour
Janit lives on a beautiful property in Seattle suburbia that has plenty of light and some delightful residents, Kitty the dog and Puppy the cat.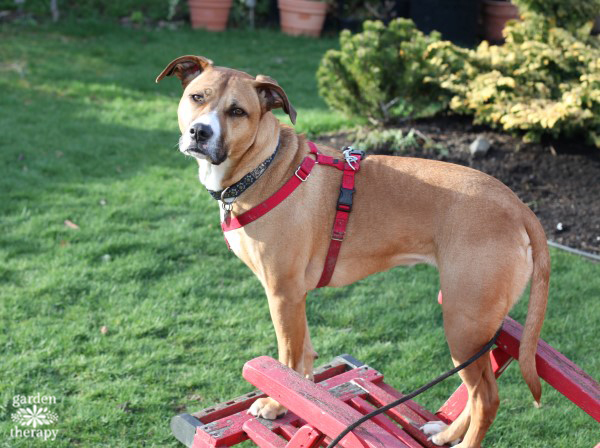 In the front garden, the landscape has been transformed into an expanse of miniature gardens complete with touches that show off Janit's artistic personality like the tire swing bird feeder.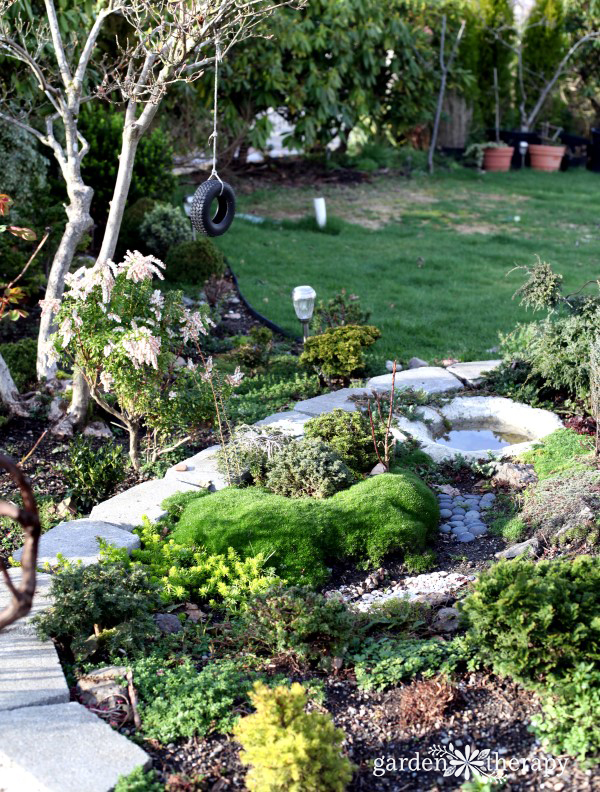 She has decorated her front yard landscape with fairy houses, miniature patios, and tiny plants that hold their own in the large space.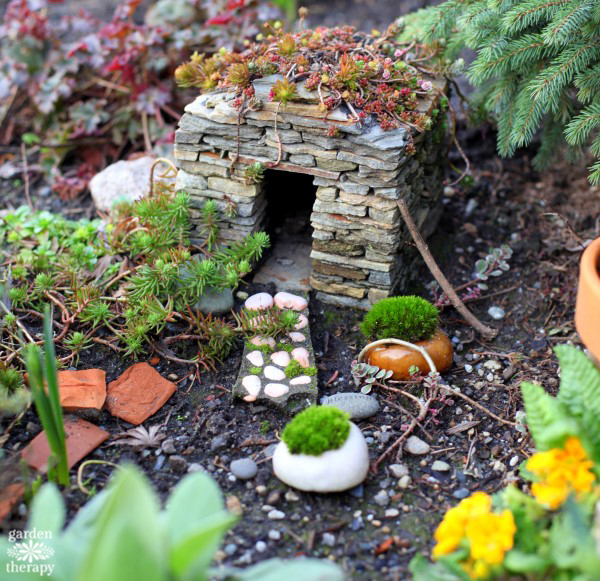 There are moss rocks tucked among the plants, 
and a hand of Buddha birdbath.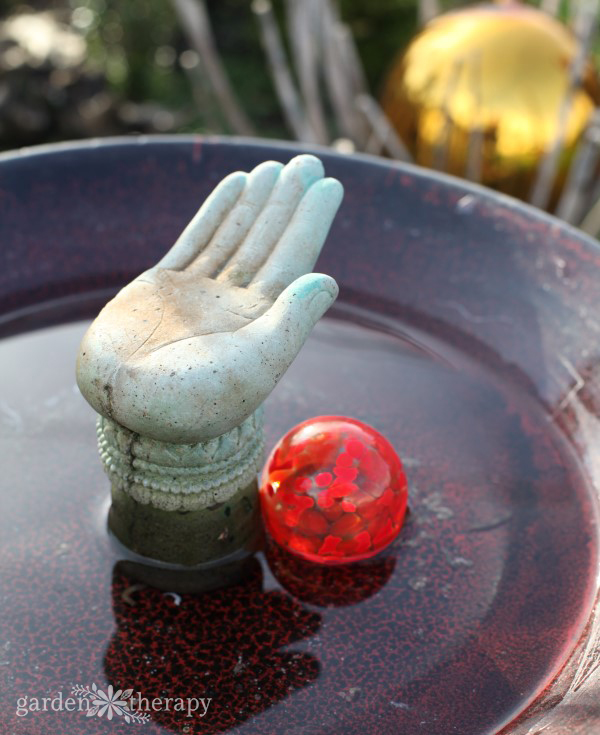 Once you arrive in the backyard, you can see that this is truly an artist's workspace.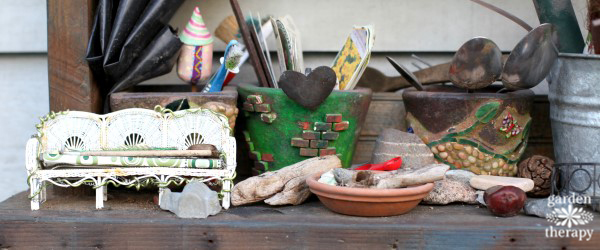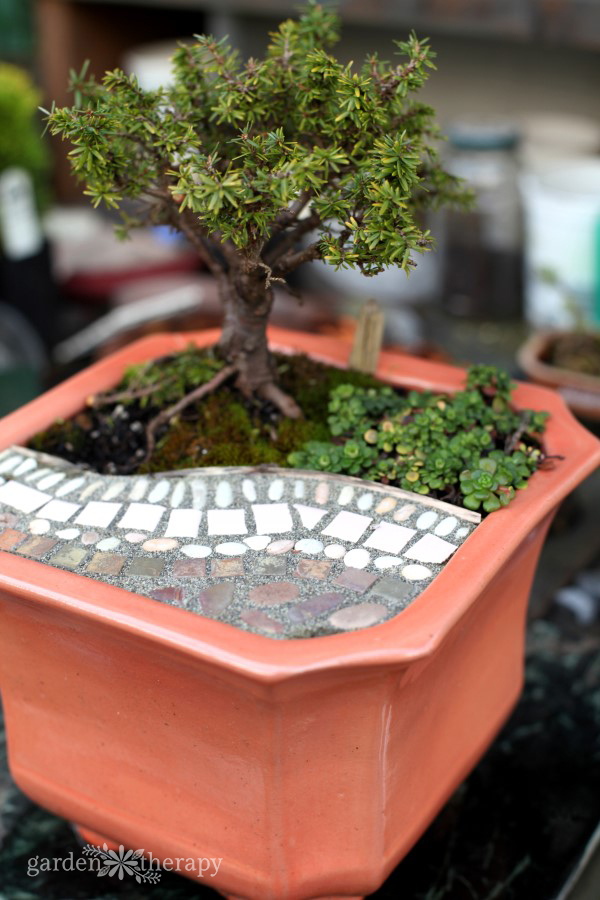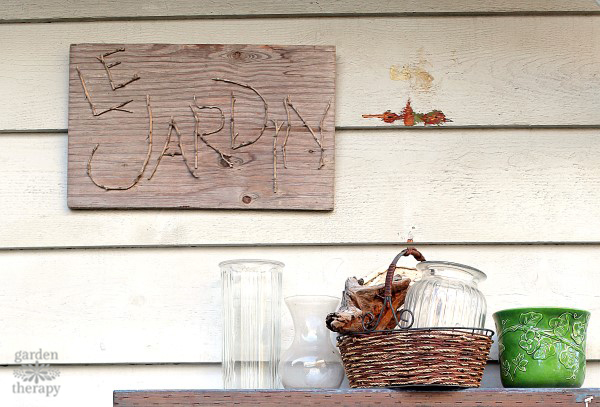 As well as a miniature garden center.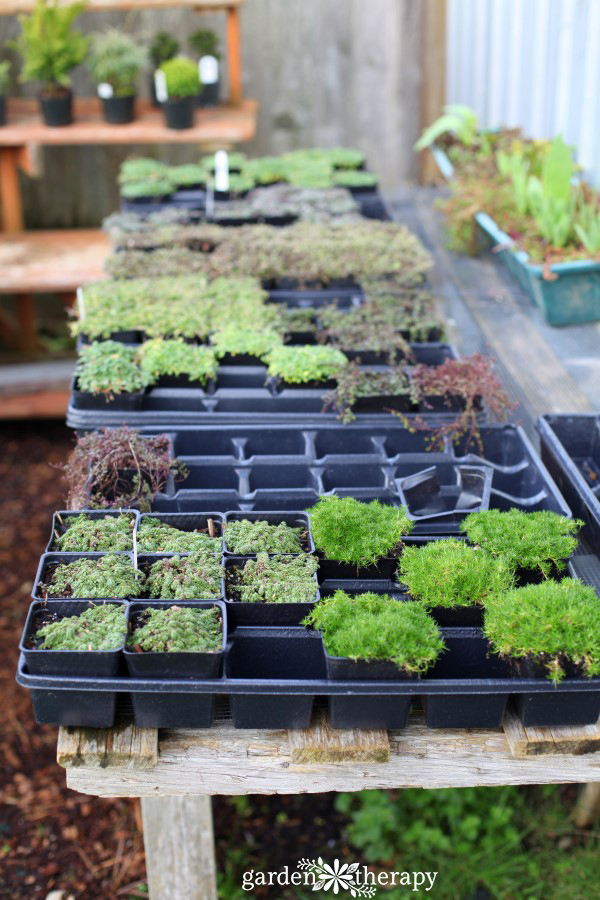 She has a studio space that is filled with inspiration,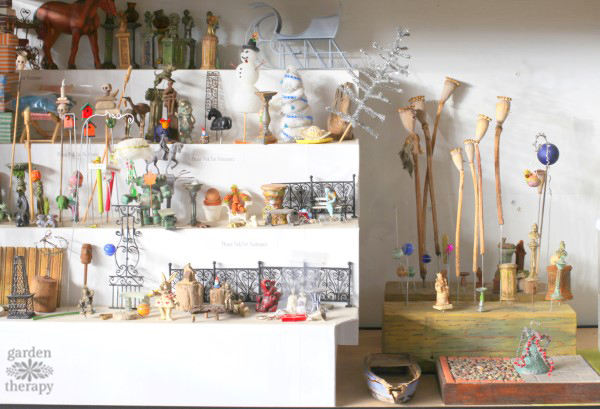 and many projects on the go.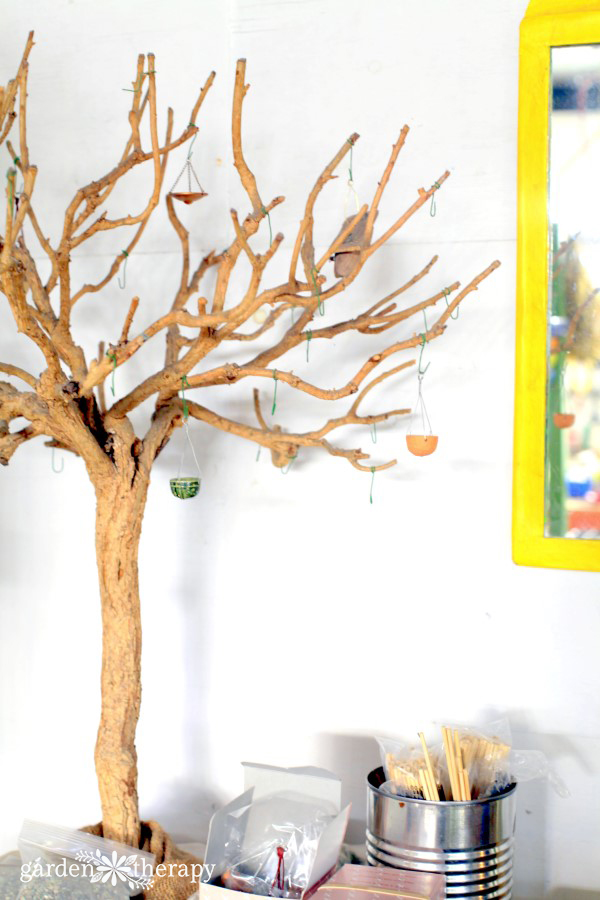 As you walk around the garden, there are tiny hidden gardens and adorable figures that shouldn't go together but somehow just do. I fell in love with a BBQ planted with a tiny Moai statue.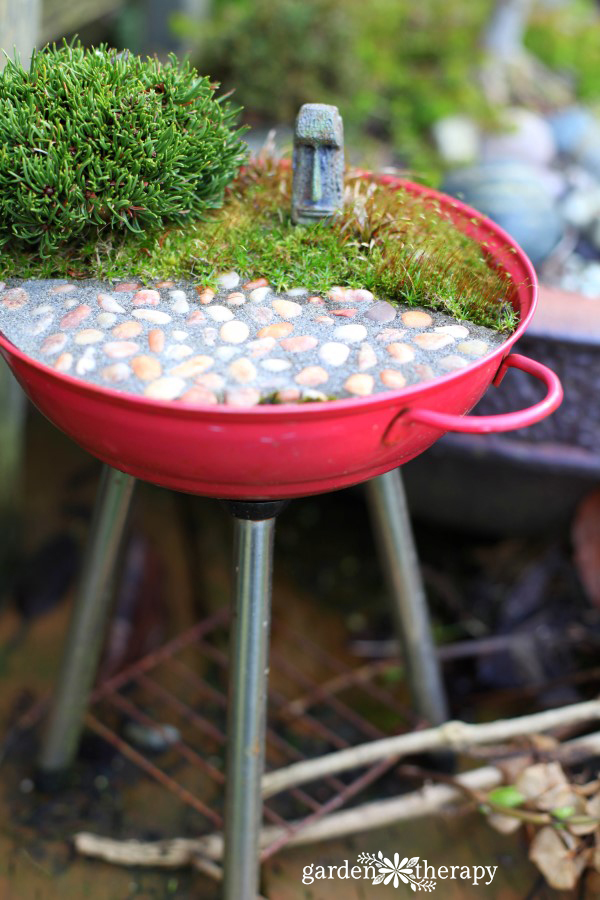 There was also a hidden mermaid,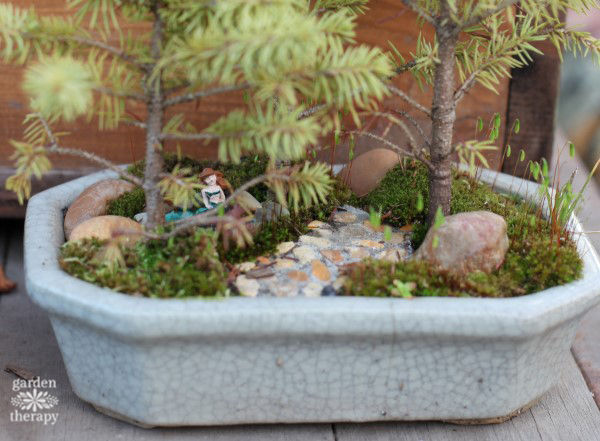 and other figures ruling their miniature domains.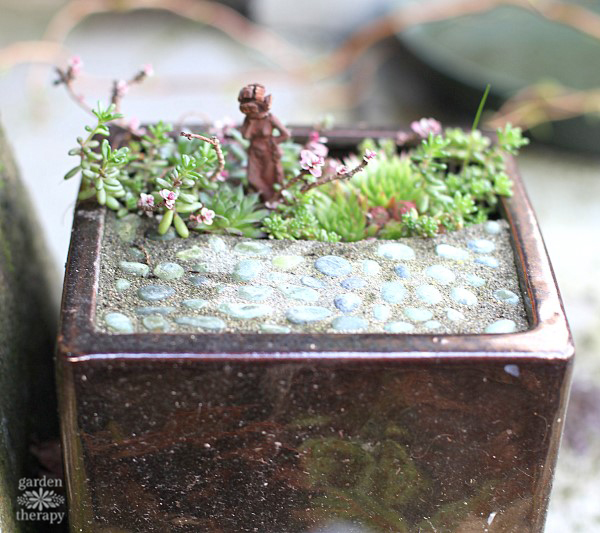 I visited Janit's garden in February. In the Pacific Northwest, late winter is when the plants are just starting to perk up. These containers are various projects that are taking a winter's rest. In just a few months, they were accessorized and set in their spaces for another year of delighting all that get the pleasure of visiting.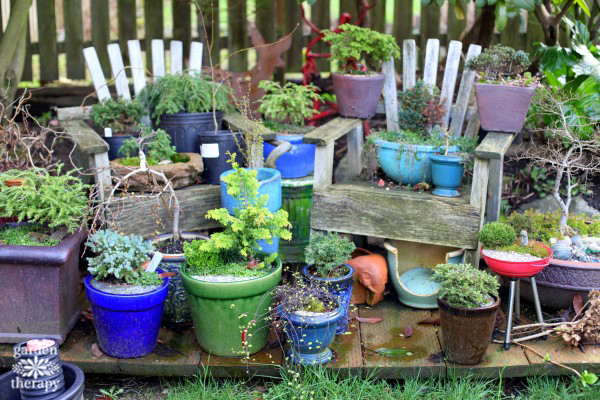 Winter is not the ideal time for a garden tour, and yet there were so many lovely things to see in Janit's garden. It's also a solid testament to her experience with building miniature gardens for every season, which thrive year after year. All of her garden accessories are made to last throughout the seasons, but she stores these without them to keep Kitty from snacking on them!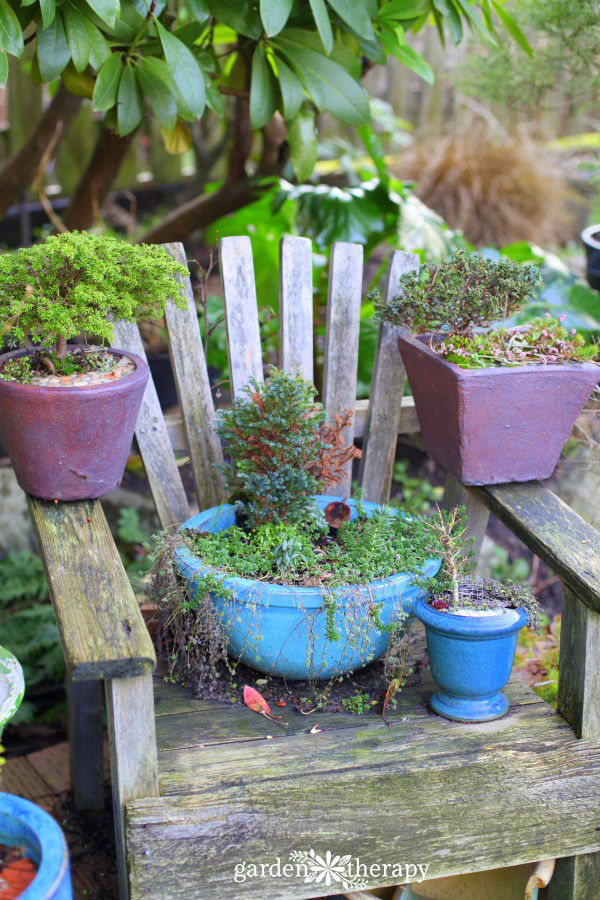 If you are familiar with her first book, you may recognize this garden from the cover.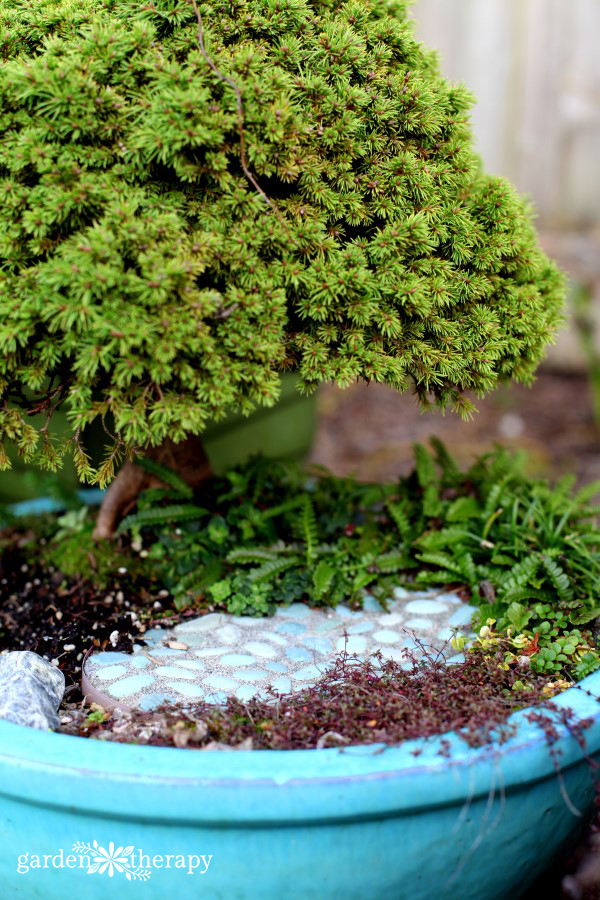 The garden looks just as good as it did many years ago for its cover shoot!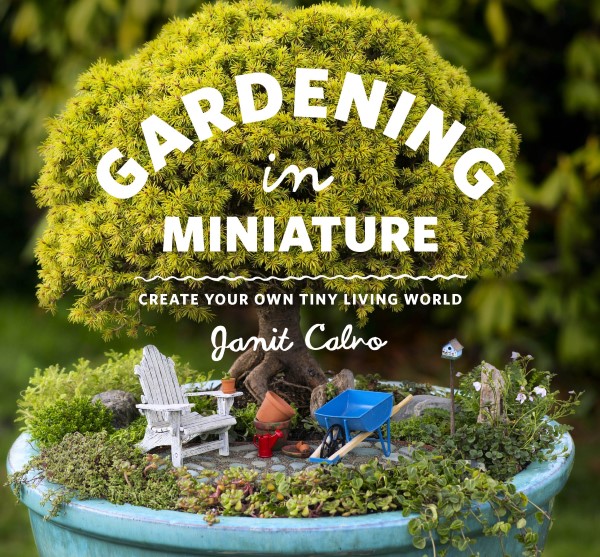 Be sure to come back next week to see the big reveal of the projects I photographed from Janit's new book, the Gardening in Miniature Prop Shop. I hate to make you wait another few days, but at least it wasn't the year and a half I had to wait to release the photos!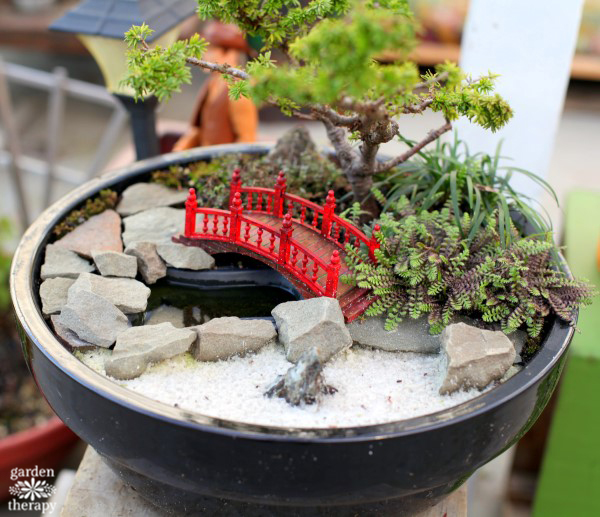 Janit is our resident Miniature Gardening Expert here at Garden Therapy and also the president of the Miniature Garden Society, a fun and creative group that I would highly recommend if you are interested in miniature gardening (I'm a proud member too!). See all of Janit's posts here.