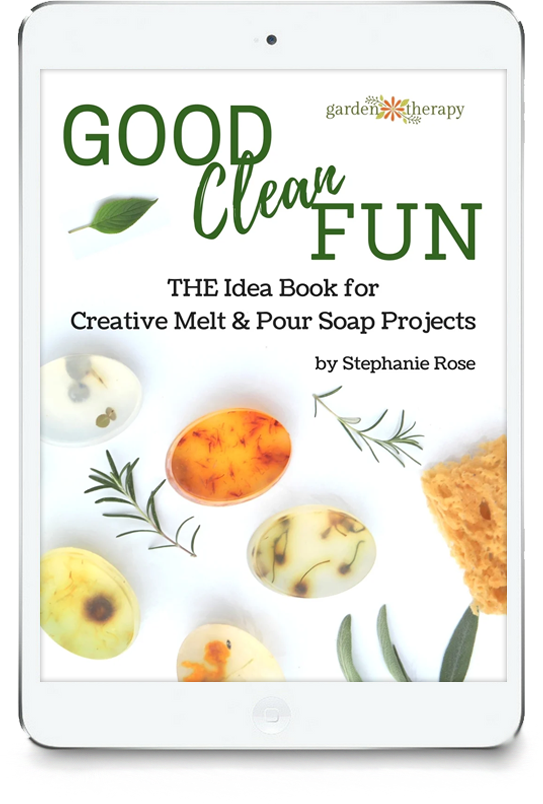 Good Clean Fun
THE Idea Book for Creative Melt and Pour Soap Projects
Good Clean Fun is filled with super simple techniques for crafting artisan soaps at home. You'll learn how to use botanicals, essential oils, and even wild animals to spice up your soap, giving you finished projects that don't look nearly as easy to make as they are.
Good Clean Fun teaches you the basics of making melt and pour soap, then shows a variety of techniques in the project chapters. Follow the recipes to get gorgeous-looking soap with ease. Or use techniques like submersion, stamping, and swirls to customize your own unique soap projects. DIY instructions for making a soap-cutting box are also included.
$12.99
What's Included
Projects:
Lavender Oatmeal Soap Cupcakes
Seashell Guest Soaps
Garden Flowers Soap
Rose Petal Soap
Winter Forest Swirl Soap
Triple Layer Soap
Ombre Soap
Sea Sponge Soap
Rosemary Lemon Stars and Bars (Soap-on-a Rope)
Honeycomb Soap
Botanical Soap
Wildly Fun Animal Soaps
Rub-a-Dub Duckie Soap
Decorative Stamped Soap
DIY Soap Cutting Box
This eBook is delivered as a digital download PDF that you can read on a computer, mobile, or tablet. You can even print it if you wish to have a hard copy.
It's the feeling of giddiness you get when you are doing something you love; the smile you can't keep off your face. You might even sing or hum from bliss. That is how I feel when making soap. It's good clean fun.
I have been making all of my own cold-process soap and natural beauty products for many years now. I love coming up with new scent and color ideas for the various projects. Playing with recipes is as much the experience for me as using or giving away the end product. In fact, it's more of why I want to make soap. And that is why melt and pour soap projects are so appealing, and why I put together Good Clean Fun: THE Idea Book for Creative Melt and Pour Soap Projects.
It's the enjoyment of the craft that gets me giddy, not the end product. And, while it is lovely to have a stash of handmade gifts on hand, making soap gives me so much more than just a check-mark on my gift list.
Melt and pour soap takes away the complicated steps from making soap at home with fat and lye, and allows you to craft up a range of creative soap projects with great ease. It's as easy as melting premade soap base and pouring it into molds. If you can use a knife, spoon, and microwave, you can make gorgeous soap at home!
Don't believe me? Then check out this video and see how incredibly easy it is to make beautiful soap.
Join one of my Free email courses!
Natural skincare
made easy!
This FREE 5-day mini course will teach you the small changes you can make to your skincare practices that will make a HUGE difference in how you feel.
I want the free course!
Kickstart
your garden!
This FREE 5-day mini course will help you set up a thriving garden for wellness and joy, quickly and easily.
I want the free course!