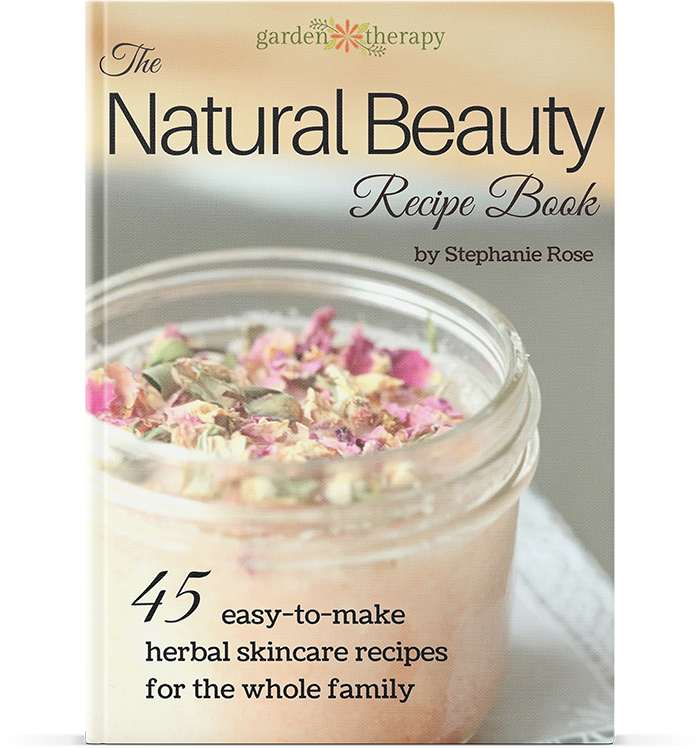 The Natural Beauty Recipe Book (eBook)
45 easy-to-make herbal skincare recipes for the whole family
The Natural Beauty Recipe Book includes 45 easy-to-make, homemade herbal recipes for the whole family. If you suffer from dry or oily skin, eczema, blemishes, or other common skin issues, trying out the natural recipes in this book may make a world of difference for you. Plus, replacing synthetic products with natural ones is better for your health, the environment, and even your wallet!
$12.99
This book begins with a chapter outlining the different ingredients that you'll need in your home supply: oils, butters, waxes, essential oils, botanicals, and more. The rest of the book is broken into five chapters of simple beginner recipes for natural beauty.
Scrubs, Lotions, & Potions covers exfoliating sugar and salt scrubs for your whole body, as well as homemade lotion, toner, face masks, and even a portable hand sanitizer.
Balms and Butters covers the basics of making balms like lip balm, cuticle repair balm, solid perfume, as well as body butter and even an all-natural vapor rub recipe for cold-and-flu season.
Tub Time! takes us to the bath with herbal salts, bath bombs, tub teas, melts, and soaks to soothe and repair tired bodies and minds. Many of these also make fantastic homemade gifts.
Summer skin needs a little bit of extra love and you'll find it in the chapter on Summer Skin Care. From sunscreen lip balm and sunburn lotion to bug sprays and insect bite relief, this chapter pampers your skin in every way under the sun.
The littlest humans have the most sensitive skin so I've dedicated a chapter to the special needs of babies: Just for Baby. In this chapter you will find an all-natural wipe solution plus a balm for baby and a butter for mama.
Let's not forget about our fur babies! For those of you with a natural lifestyle and a Pampered Pooch these recipes are barking good. A gentle shampoo that help deter fleas, a stinky dog cologne, and remedies for Fido's common ailments can all be found in this chapter.
The Natural Beauty Recipe Book is an eBook that is delivered in PDF format. You will get an email with a link to download your book and you can then instantly read it on your computer, smartphone, or tablet. You will need Adobe Reader to view it on your computer, which you can download for free here if you don't have it yet. If you choose to, you can also print the book and keep it as a hard copy, although the links in the book can only be accessed through the digital copy (so hang onto that!).
Join one of my Free email courses!
Natural skincare
made easy!
This FREE 5-day mini course will teach you the small changes you can make to your skincare practices that will make a HUGE difference in how you feel.
I want the free course!
Kickstart
your garden!
This FREE 5-day mini course will help you set up a thriving garden for wellness and joy, quickly and easily.
I want the free course!