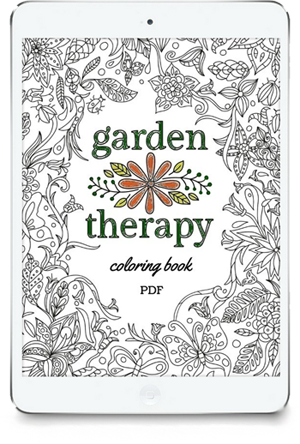 The Garden Therapy Coloring Book
Just like gardening, coloring is a creative activity that exercises your mind and relaxes your spirit. The Garden Therapy Coloring Book was created for all of the garden lovers out there who want to enjoy creating a beautiful garden when the sun has set or the snow has fallen. You can even sit and color in the garden, using the blooms, sounds, and fragrances to inspire how you interpret each page.
$4.99
What's Included
I worked with a variety of different artists to commission the drawings for this book. After searching for different styles and perspectives, I outlined some of the ideas I had for scenes that would appeal to gardeners and worked with the artists to bring them forth in their own style. The images are all original artwork created with gardeners in mind.
There are 14 coloring pages (including the front cover) that take you through a garden coloring journey. Beautiful flowers and foliage are joined by common critters like bees, beetles, butterflies, and even a squirrel. You will color a garden gate and add your own message to the sign, decorate fall leaves or turn them spring green, and create the garden of your dreams along the way.
How to Download the Garden Therapy Coloring Book
When you have Adobe Reader installed, open the digital download link on a computer that is attached to a printer. You have a total of 3 download attempts before the link expires.
When you download the book, take note of where it is saved on your computer so that you can access it again.
How to Print the Garden Therapy Coloring Book
Open The Garden Therapy Coloring Book on a computer connected to a printer. You can customize the printing to your needs, but I recommend that you print this book one-sided so that you have separate coloring pages to work with.
Choose File > Print.
Select a Printer and number of Copies to print. (To print one copy of all pages, type "1")
Click Properties to open the Printer Properties and select paper type. Most standard paper will be the default setting, but if you have chosen a thick-weight artist-quality paper, you will want to select the setting that best matches that (ie: Premium).
Under Pages to Print, select an option:

All – prints all pages in this book.
Current page – prints the current page in the PDF book
Pages – specifies a subset of pages to print. You can enter individual page numbers, a range, or a combination. For example: 1, 6-12, 15 (To print all coloring pages but not the cover or instructions, type "5-17").

Click Print.
Coloring Resources
Want some tips on coloring, picking a color palette, or even some crafty ideas of what you can make with your coloring pages when you have finished them? Great! We've got plenty of resources and articles for you here:
Join one of my Free email courses!
Natural skincare
made easy!
This FREE 5-day mini course will teach you the small changes you can make to your skincare practices that will make a HUGE difference in how you feel.
I want the free course!
Kickstart
your garden!
This FREE 5-day mini course will help you set up a thriving garden for wellness and joy, quickly and easily.
I want the free course!