Printing cards using garden leaves and flowers is a simple and personal way to send a sentiment to someone special. Make hammered flowers within minutes, creating beautiful prints straight from your garden for the people in your life you want to give some flowerful cheer!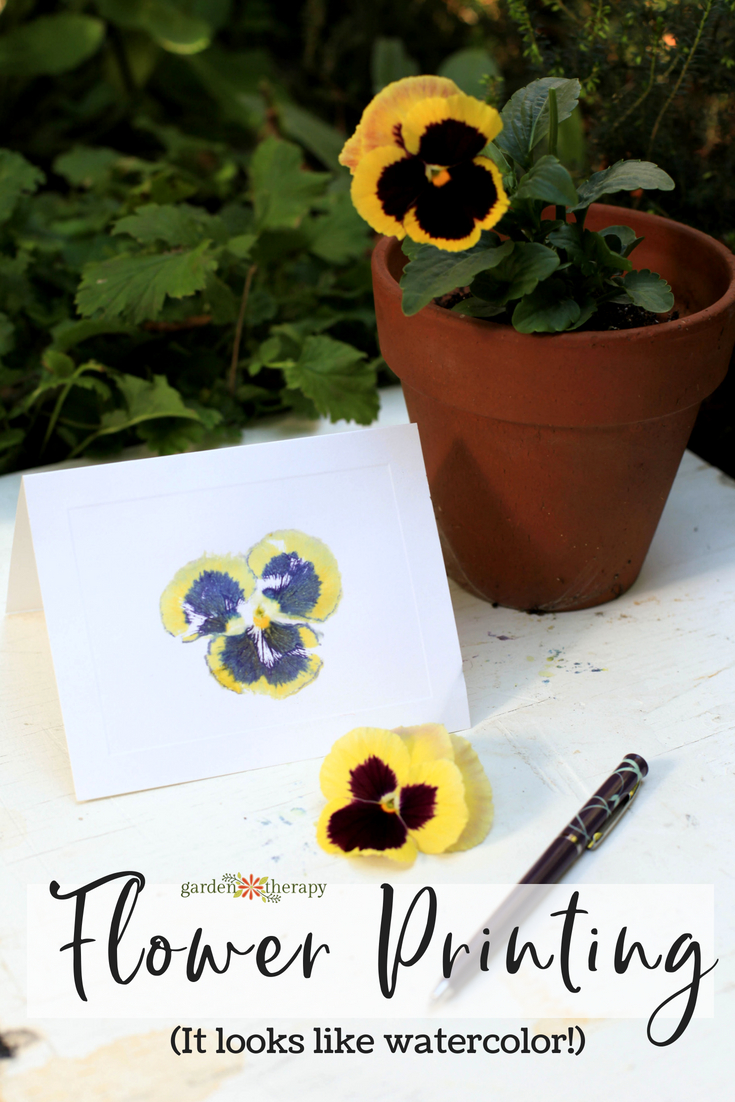 I love to send a little bit of my garden when sending a thank-you note. It's not always practical for flowers or preserves to be sent across the country or even to a different country, but a flower print will do!
Flowers are arguably the most beautiful, natural thing to ever exist It's easy to replicate the flowers from your garden by gently making hammered flowers on cardstock.
Within just a few minutes, you can have a print that looks like watercolour—only it uses natural dyes from the flowers! This is a simple flower craft that anyone can do at home that will look artisan made.
This post will cover…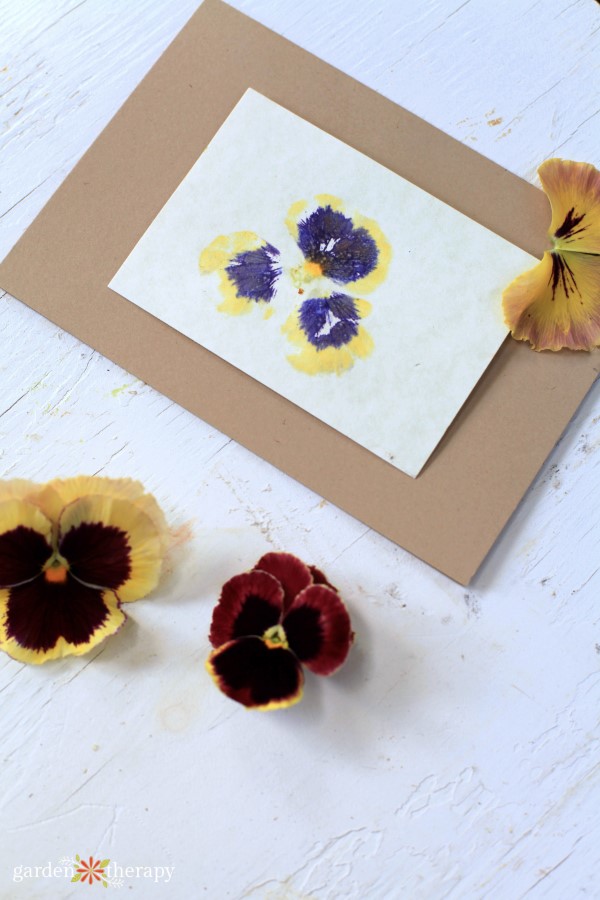 How to Make Hammered Flower Cards
What I love most about this project is just how different each print can look based on what you grow, what's in season, and which flowers you feel like picking!
Materials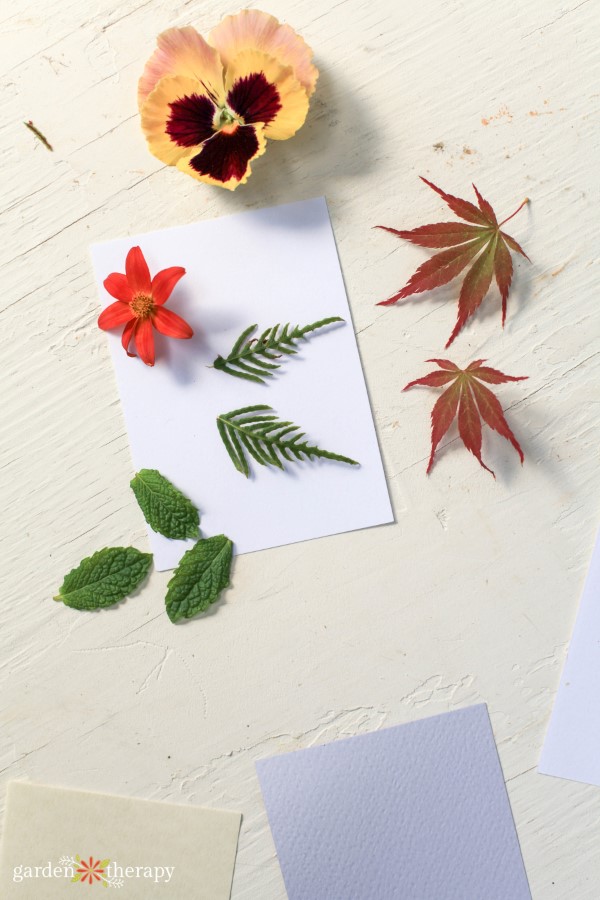 Make It!
Start with some plain card stock. I like to use plain white to see all of the colour detail in the flower print, but you can experiment with different colours as backgrounds for the print.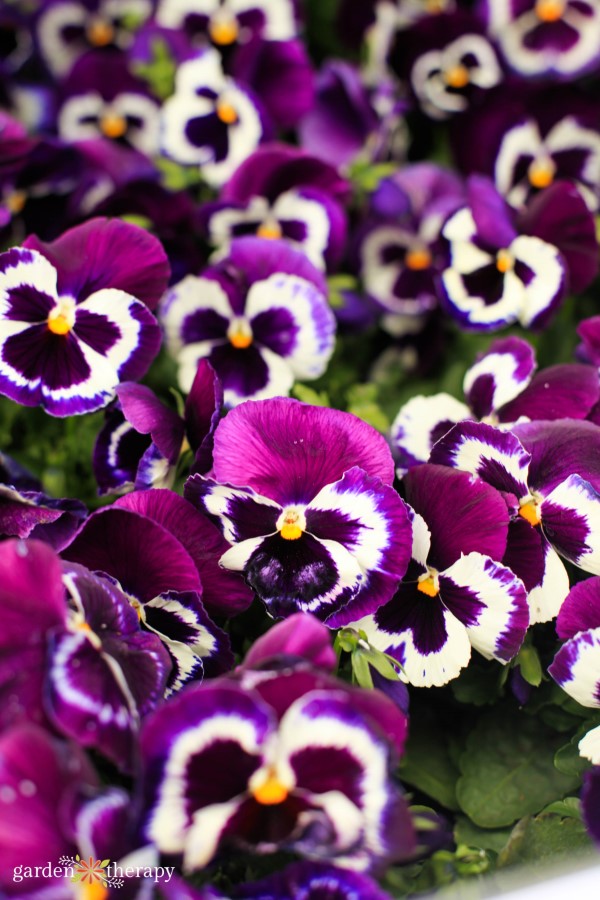 Pick a flower from the garden. I like pansies or violas to make a flower print because the size works well for cards, and the colours transfer really nicely.
You can certainly play with the various shapes, sizes, and colours of your garden flowers, keeping in mind that larger petals, such as those from roses or poppies, will need a lot of even hammering to transfer the whole petal.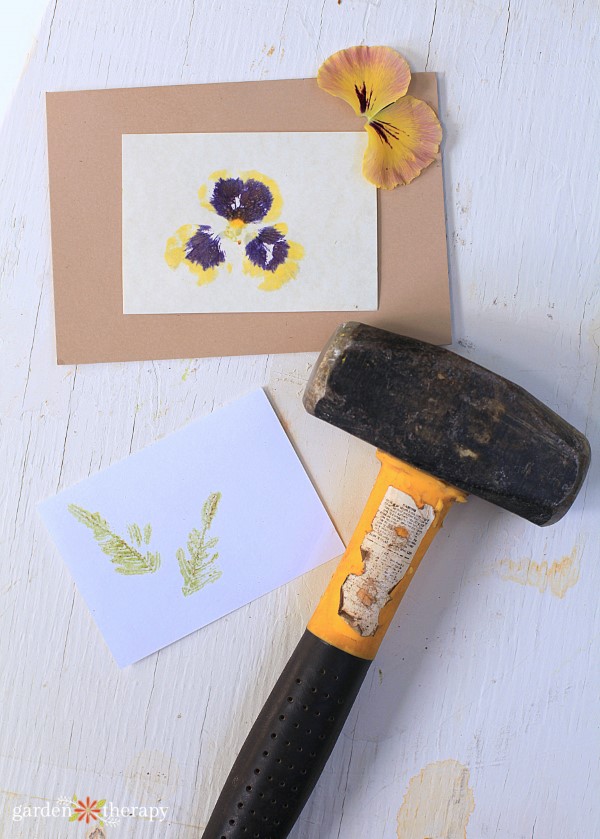 Leaves will work as well. Red maple leaves and fern leaves are very easy to print and transfer the pigment well and hold their shape. Test a few different leaves from your garden and see what you like best.
Use a hard surface like a piece of plywood as your work table. You don't want to dent up a counter or nice table with this project, so choose a surface on which you won't mind a few hammer marks.
Position the flower on the card where you want the print, with the top facing down. Each pansy has five petals. I separate them and place three on the card. The leftover petals can be printed on a separate card or added to this design. I like the look of just three petals for a large pansy, though.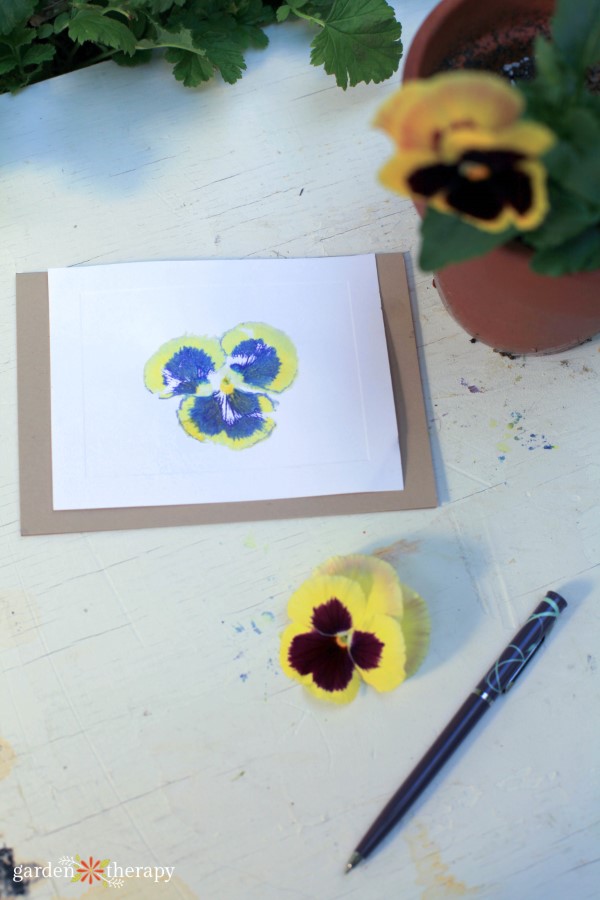 Place the parchment or craft paper over the petals and hold them in place under the paper.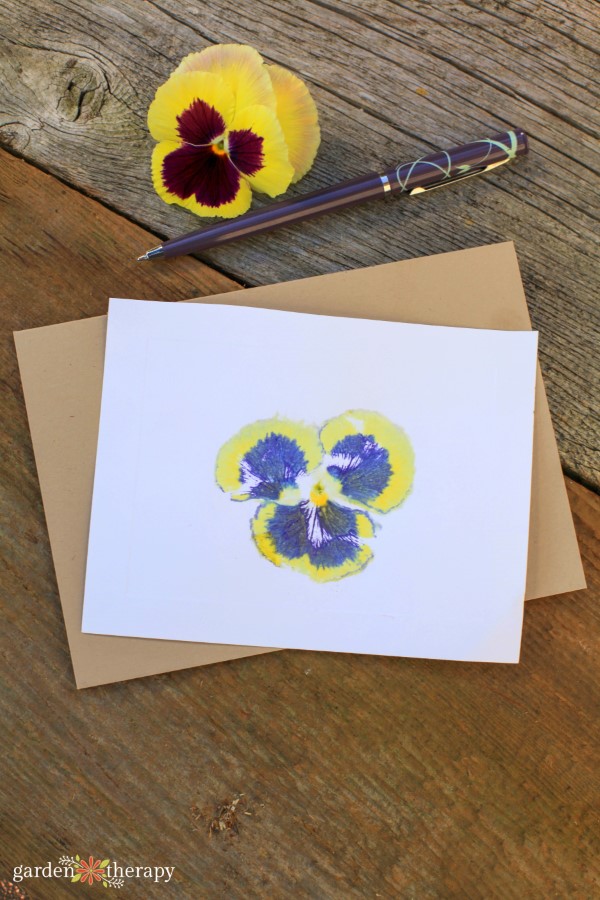 Hammer the flower, covering the entire surface area. Be careful not to slide the petals around, but also be mindful of your fingers!
I used a mallet for this project because it is heavy and has a smooth head to print the flower evenly. I didn't use my hammer because it has a stippled head, but you can see the effect that gives here.
Carefully remove the paper and peel off the petals. Brush away any leftover plant materials. Cut the card stock to size and attach it to a blank card.
These would make fitting cards for your home stash or thank-you cards for weddings and showers. A set of these flower print cards (six maybe?) would also make a great gift.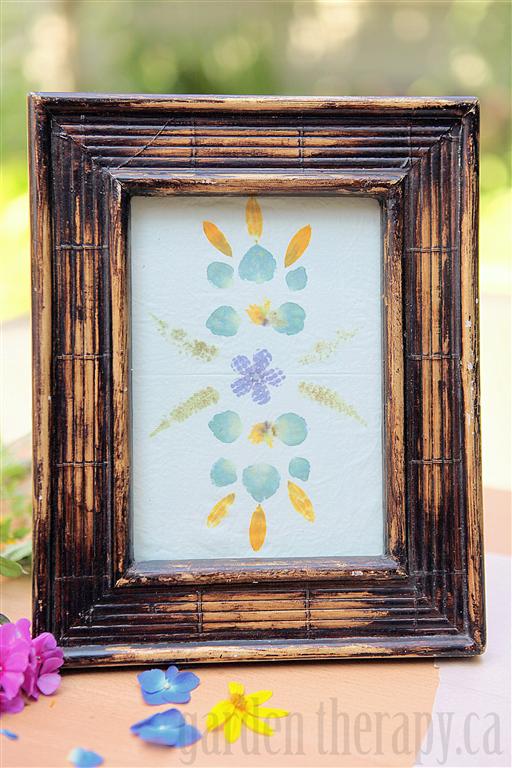 Read more on flower pounding and see how to make a flower print on fabric here.
Frequently Asked Questions About Hammered Flowers
Can you hammer flowers on fabric?
You can! Since flowers are a natural dye, hammering flowers works best on natural fabrics. You also need to pretreat the fabric and set the dye with heat afterward. But you can create beautiful prints to display or wear using fabric.

I have a whole tutorial on hammering flowers on fabric that you can check out here.
What is flower hammering vs flower pounding?
These are the same thing. They both refer to the practice of using a hammer or mallet to imprint a flower onto paper or fabric,
Which flowers are best for hammering?
You want flat and bright flowers. I find that deep purple, bright blue, golden yellow, crimson, and bright orange flowers all transfer well.

Flat flowers work best for transferring the flower shape. For instance, a pansy will be easy to transfer the shape. Meanwhile, a dandelion may give you bold colour but more of an abstract shape.

Also, the larger the flower petal, the more hammering you need to do. Plus, you need to make sure that you hold the whole flower steady until you're done hammering.
Can you hammer leaves?
You can! I like red maple leaves and fern leaves best, but others also work. Sometimes, greenery can result in more of a brown smudge, so you'll have to test first to see which leaves work best.

When it comes to the leaves and flowers you print, I recommend playing around and trying them out. Try it on plain paper first to see if you like how it transfers before making hammered flowers on the nicer cardstock.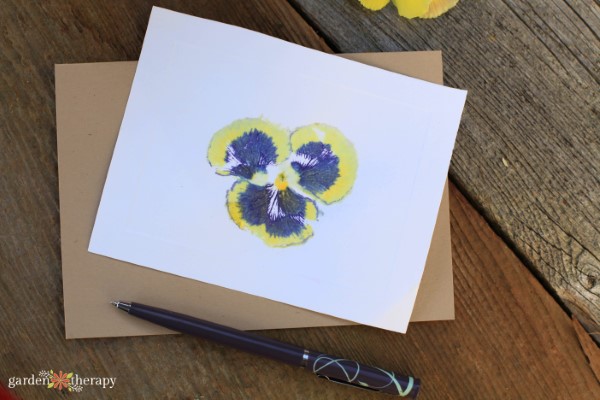 More Garden-Inspired Crafts