It's no longer possible to deny that seasons are changing so perhaps it's best to start winding down along with the temperatures and light.  Hanging a dried lavender wreath around the garden could be just the aromatherapy needed to help decompress after a long day, or perhaps it will just make you smile. Regardless, this lavender wreath is a quick weekend project that will leave you calm enough for an afternoon read or a good night's sleep.
Also, see this post for more information on Harvesting English Lavender & How To Use It.
Materials:
wire coat hanger
scissors
twine or wire (in a color that matches your flowers*)
dried lavender
Instructions:
The best part about this project is that you don't need any special materials beyond what you can likely find around the house.  Start by bending a wire coat hanger into a circular form.  The hook of the hanger will be hidden when the wreath is complete, and it makes it easy to hang the wreath when finished.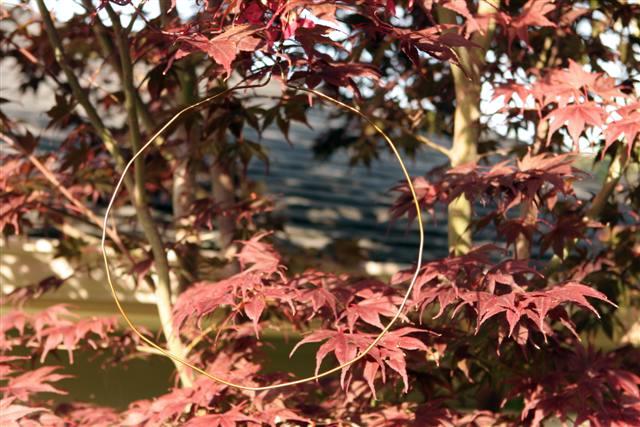 Gather a bunch of dried lavender and snip the ends with the scissors to get a nice neat edge.  Secure the bunch to the form by winding the twine around it a few times and tying a knot.  (*We've used green gardening wire for demonstration purposes, but a twine or wire colour that matches your dried flowers will have a much cleaner look in the end.)
Leaving the twine on the roll, wind each new bunch to the form as they are added.  Continue adding bunches until you complete the circle.  Tuck a final bunch under the first bunch, and secure with twine and tie off.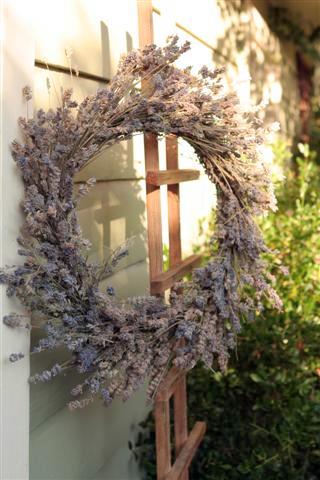 Be sure to work on a table or tarp where you can collect the dried flowers that fall off in the wreath-making process.  Those wonderfully scented blooms are great for
lavender sachets
, cooking, or soap-making.  We keep a big jar in the house over winter for a 
variety of uses
.