Window cleaner doesn't need to be blue and it certainly doesn't need to be filled with unnecessary chemicals. With a hint of vinegar and alcohol, you can easily make your own homemade glass cleaner to replace those commercial cleaners. This rosemary and lemon-scented cleaner designed just for glass takes seconds to make and leaves your windows, glass, and mirrors crystal clean and streak free.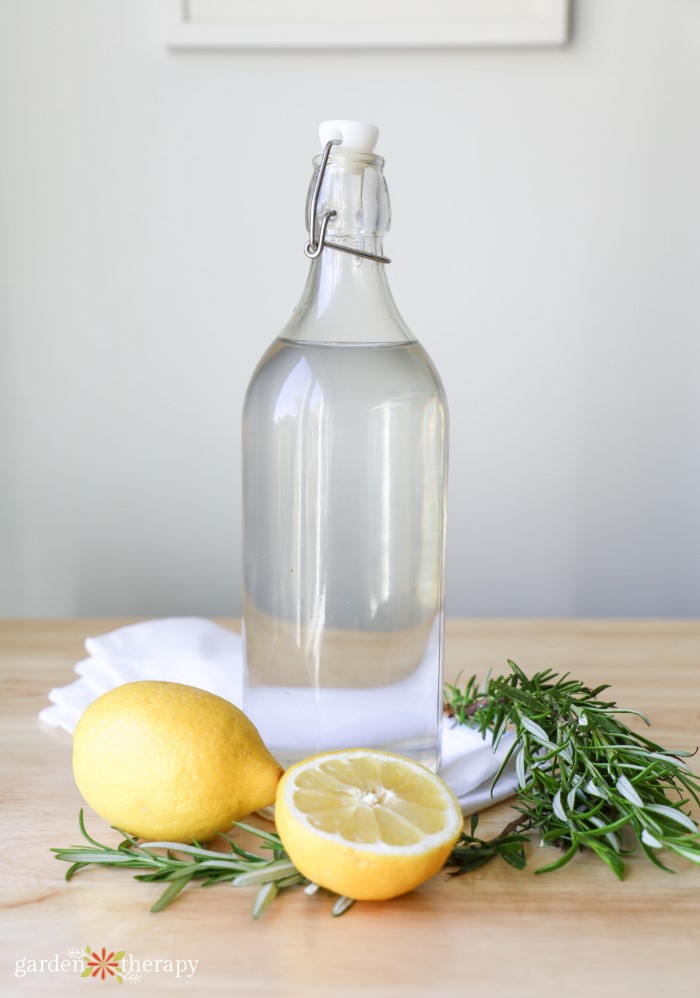 Do you have a dedicated glass cleaner in your house? I make all kinds of all-purpose cleaners but I always make sure to dedicate one just for cleaning glass.
Now I know you might groan at the idea of having yet another dedicated cleaner to fill your cleaning cabinet. But hear me out! This recipe won't leave streaks behind on your glass or mirrors. I hate it when I've put so much effort into cleaning only to have the streaks mess up my picture-perfect clean.
I promise, all the ingredients are super easy to source and you may have some (if not all) of them already. So, let's get cleaning! Here is how to make your own vinegar glass cleaner.
This post will cover…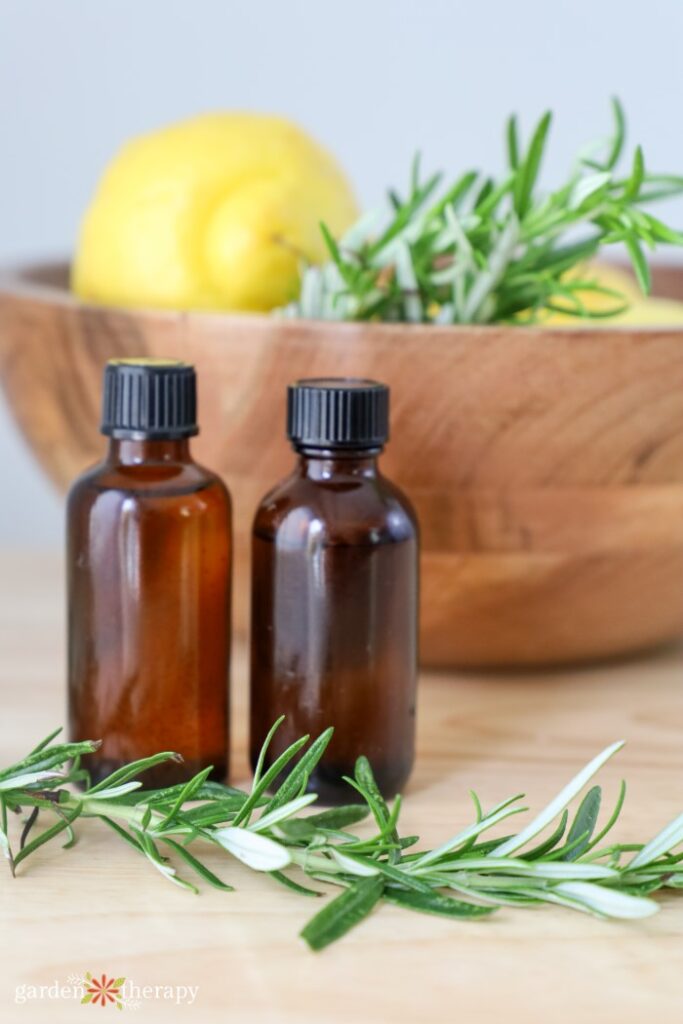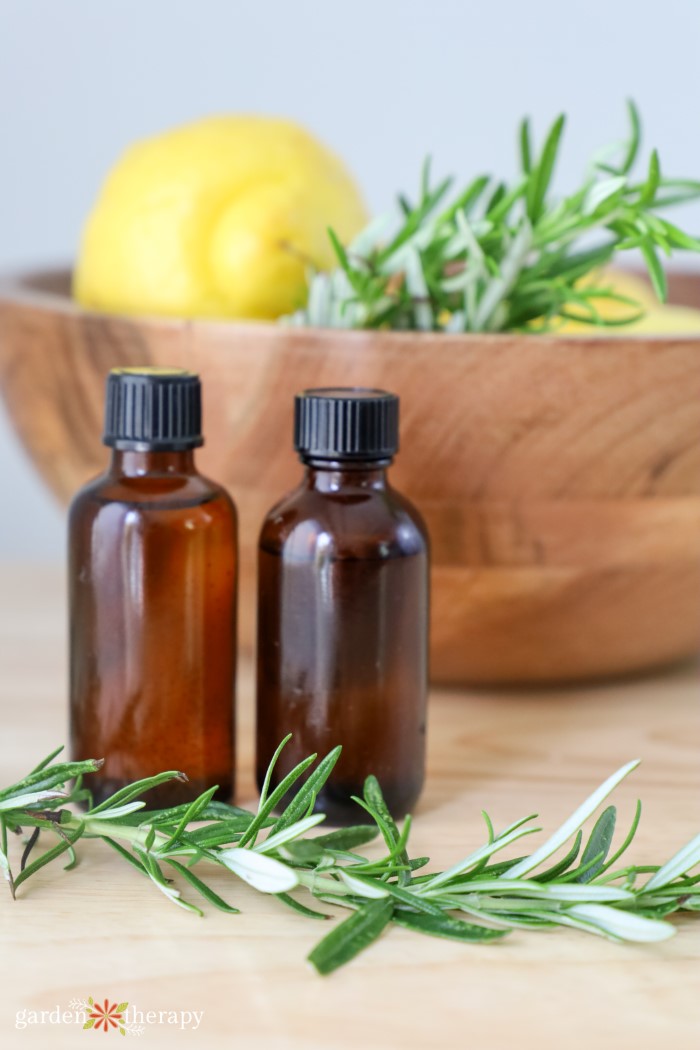 Ingredients Needed for Homemade Glass Cleaner
In the spirit of natural cleaners, all the ingredients can be found either easily at your grocery store or already in your pantry or bathroom cabinet! Here's what you'll need for this DIY glass cleaner.
Vinegar
Since bleach is highly toxic as an irritant to both the lungs and skin, cleaning with it becomes a hazard. Vinegar is the go-to natural bleach alternative. Vinegar is acetic acid, which is effective at cleaning soap scum, grime, and stains.
As long as it is diluted, vinegar can be used on multiple surfaces to disinfect and clean them safely. That being said, the same action that removes dirt and stains can dull the finish of shine of porous materials like granite, tiles, and hardwood.
However, vinegar cleaner is a good option for tubs, toilets kitchen appliances, and glass. There are many types of vinegar available in the grocery store from balsamic vinegar to apple cider vinegar. For this vinegar glass cleaner, use the inexpensive white vinegar and save the other ones for your salad.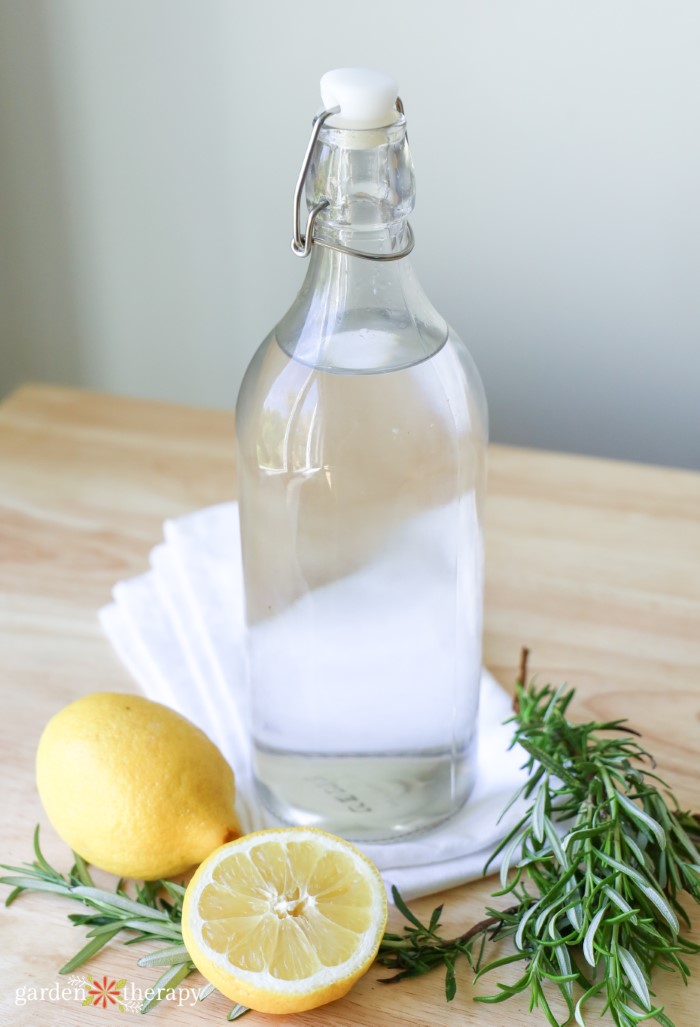 Isopropyl Alcohol
Another popular bleach alternative, isopropyl alcohol is sold as a mixture of isopropanol and water. Depending on the label, you can determine how much alcohol it contains as a percentage.
Rubbing alcohol is when the levels are between 68% to 72%. At this point, it is used as a medical antiseptic and industrial disinfectant and is safe for use in the home with small amounts. For this DIY glass cleaner, I use 70%.
Essential Oils
Essential oils are the concentrated oils from a variety of plants. Think of them as a fine liqueur—just a few drops can add fragrance and herbal properties to home cleaning products. In this DIY glass cleaner recipe, I add rosemary and lemon essential oil.
Lemons, other citrus fruits, and citric acid act the same as vinegar. It is a mild antiseptic and antibacterial and also removes stains. Like vinegar, it can be tough on porous surfaces and finishes so it is not recommended for hardwood, granite, or natural stone.
Rosemary is a wonderful culinary herb that also has many health benefits. For this recipe, I include it just for its refreshing scent and lovely pairing with lemon!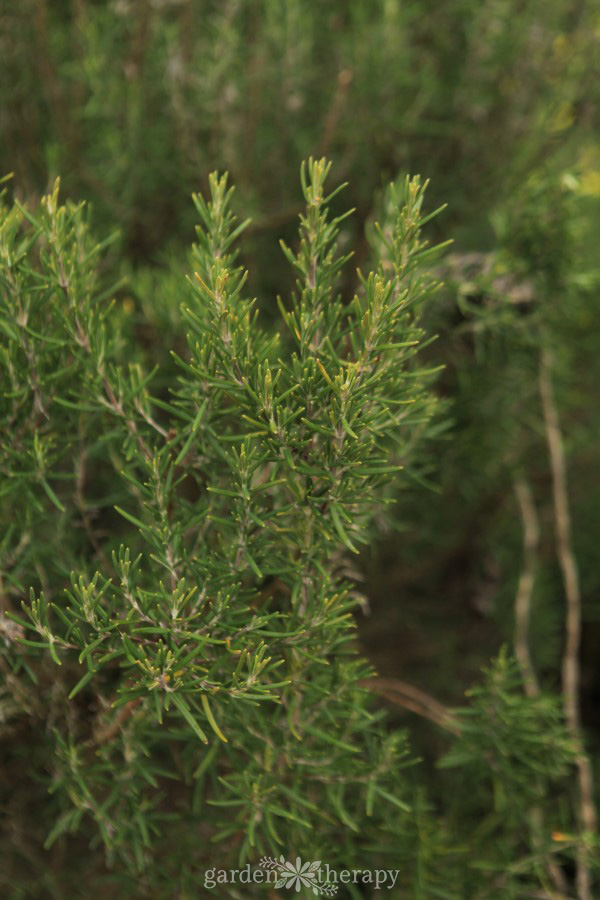 Homemade Glass Cleaner With Rosemary and Lemon
Ditch the toxic bleach smells and keep your glass clean and streak-free with this natural cleaner. You'll love the smell of rosemary and lemon as you swipe your glass squeaky clean.
Materials
See the recipe card for exact measurements.
Jump to Recipe
Make It!
For this recipe, I don't infuse the lemon and rosemary herbs into the vinegar like I might other cleaners. This would create streaks on the glass. Instead, I use essential oils to give the cleaner scent and herbal properties. A wee bit of essential oil does wonders.
Mix all your ingredients together in a glass spray bottle with the help of a funnel. Shake a little before each use to make sure ingredients are fully combined.
Spray product directly onto a lint-free cloth such as cotton or microfiber and wipe your windows down for a streak-free clean!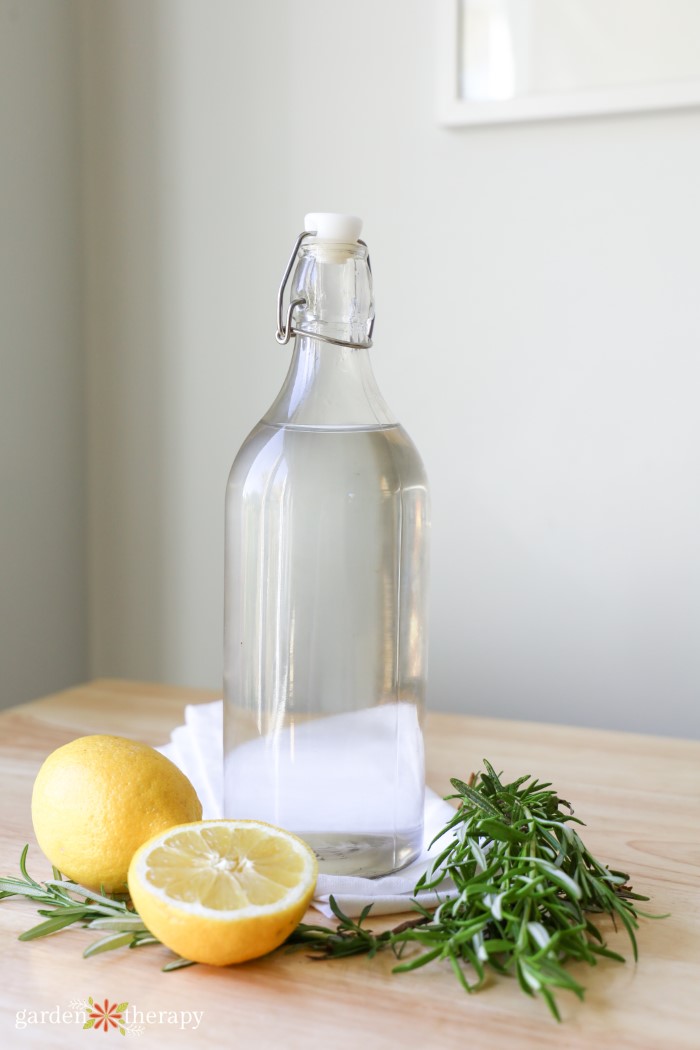 Frequently Asked Questions About Using Homemade Glass Cleaner
How Do You Clean Glass Without Streaks?
For this recipe, I chose essential oils rather than infusing the herbs themselves in the cleaner. This can cause streaks. To further avoid streaks, spray the cleaner directly on the cloth rather than the mirror to prevent drips. Use a lint-free cotton cloth or microfiber and never a paper towel.

If you notice streaks are a problem, use distilled water as some tap water can have too many dissolved minerals that cause streaks. You can also buff out any streaks with a clean and dry cloth once you're done cleaning the glass.
Are Paper Towels Good for Cleaning Glass?
Do not use paper towels on glass and windows. They're designed for absorbing liquids and will quickly soak up any cleaner. The tiny paper fibres that make up the paper towel also leave residue and streaks on the glass. Plus, it's always best to use a reusable option whenever you can. Instead, use a microfiber or cotton cloth or anything lint-free.
Can You Clean Windows Without Removing the Screen?
Removing the screens will always give you a better clean. However, you can still try to clean up the windows as best as you can with them still on. Inside, you can vacuum the screens and the bottom to get as much dust out as possible. Clean the screens with warm, soap water.

Outside, you can use a spray bottle to saturate the window with your homemade window cleaner through the screen. Let it sit for ten minutes before using a hose to rinse it. Make sure the window is locked. Once done, open the window from the inside to dry off the windowsills and excess waters.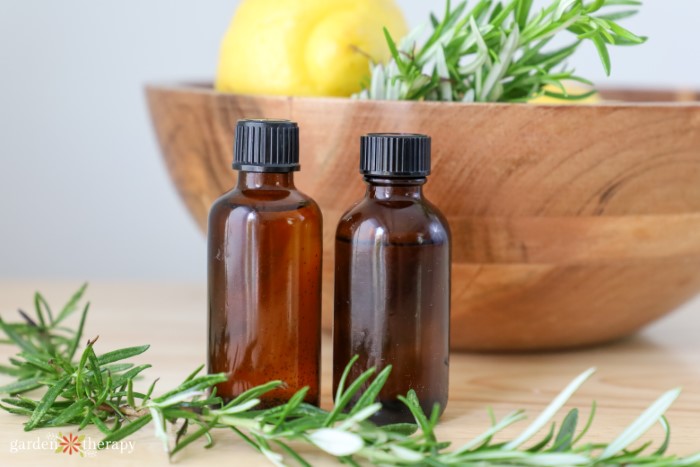 Let me know how this recipe works out for you. Happy streak-free cleaning!
More Natural Cleaning DIYs
Streak-Free Homemade Glass Cleaner
Infused with lemon and rosemary essential oils, ditch the commercial cleaners with this easy DIY glass cleaner.
Supplies
Instructions
Combine your ingredients in a spray bottle with the help of a funnel.

Spray cleaner directly on a lint-free cloth such as cotton or microfiber for a streak-free clean.