Learn all about how to care for your granite and the earth at the same time by making your own DIY granite cleaner out of rubbing alcohol, castile soap, and a couple of essential oils. Using this alcohol-based cleaner will disinfect your countertops and leave them extra shiny!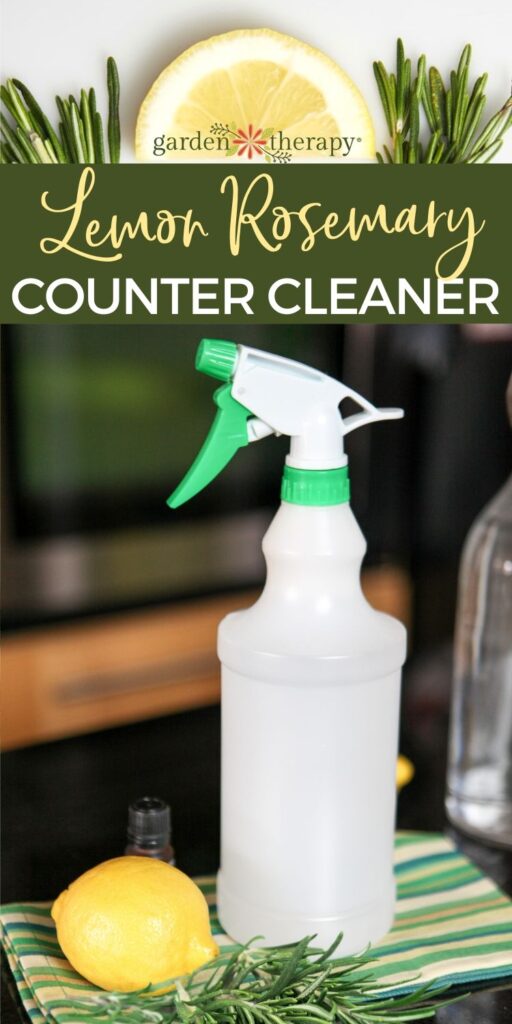 Clean Your Countertops With An All-Natural DIY Granite Cleaner
When I moved into my new house, I was so happy to finally have granite countertops! The gorgeous rock-turned-showpiece counters made cleaning up the kitchen a bit more pleasant.
I also love how low-maintenance it is and that I can place a hot pan directly on the counter without destroying it. Now I can say first-hand that granite lives up to its reputation as the perfect counter material for a busy kitchen.
How To Really Clean Granite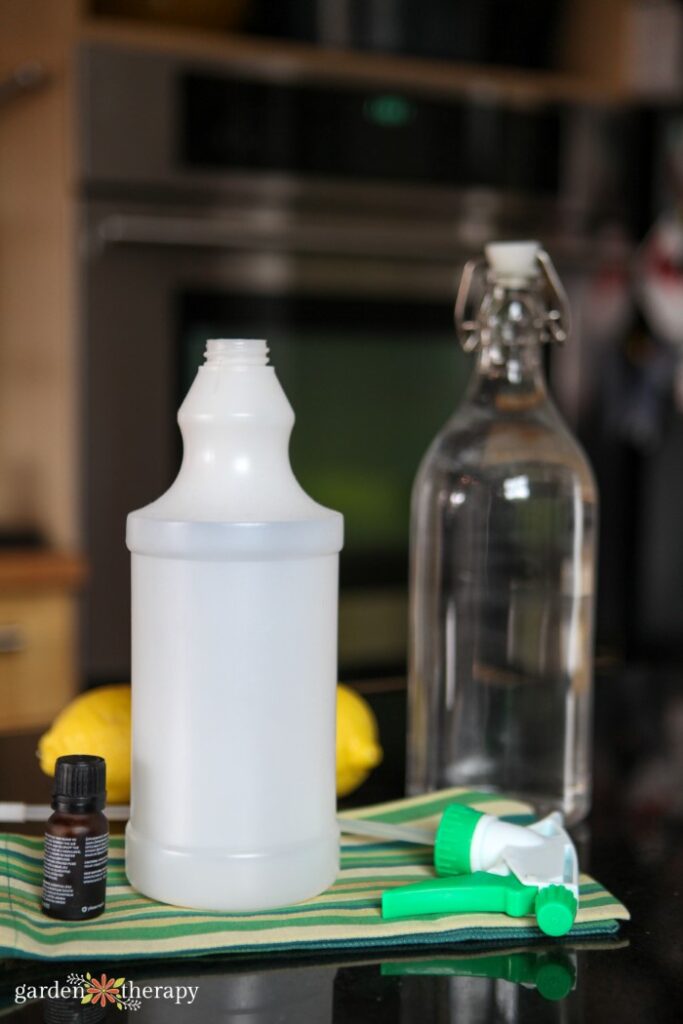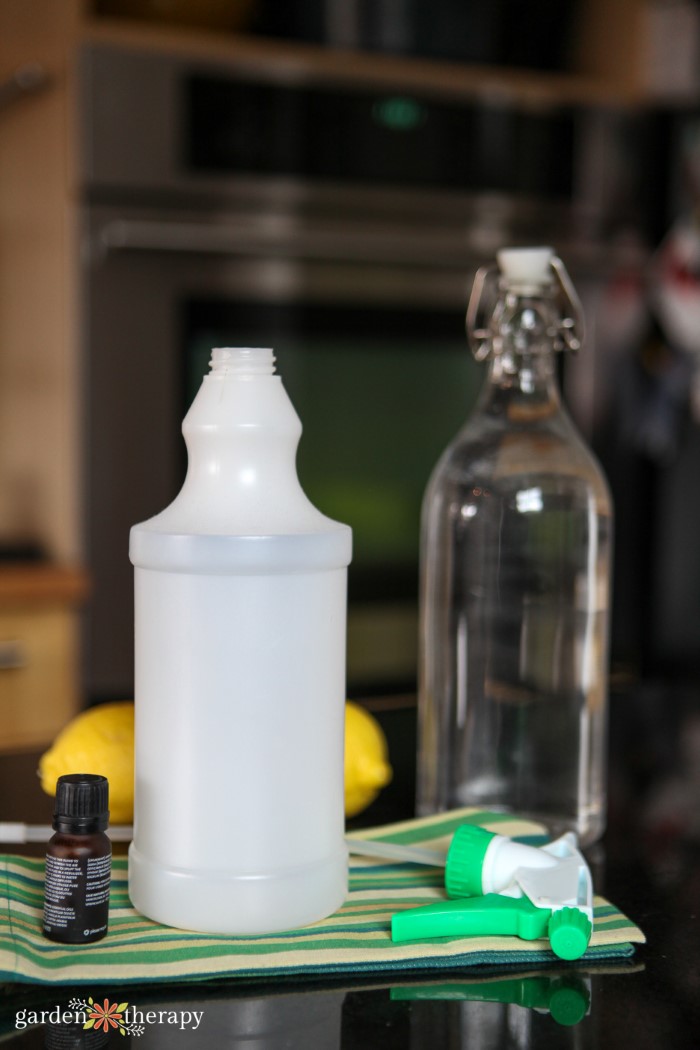 Did you know there is a specific way to clean granite that is different from other types of countertops? I didn't until I owned granite!
The one thing I didn't expect was that I would have to buy a different type of cleaner for it. I use this Orange Cinnamon All-Purpose Cleaner everywhere else in my house, except my granite counters. Both the vinegar and the citrus are considered acidic and will wear away at the granite's finish.
Instead, I used pure soap and water, which I know is safe for granite. However, over time, I've noticed my counters were becoming dull. It seemed that a soap residue had been collecting on the surface of my once beautiful counters.
I tried a few recipes for granite cleaners with different varying strengths and scents and have found one that combines my love of citrus-scented cleaners with my love for shiny granite.
This homemade DIY granite cleaner is made from all-natural ingredients and lasts a really long time. It only takes a few moments to mix it together too!
Follow these steps to make your granite countertops shine.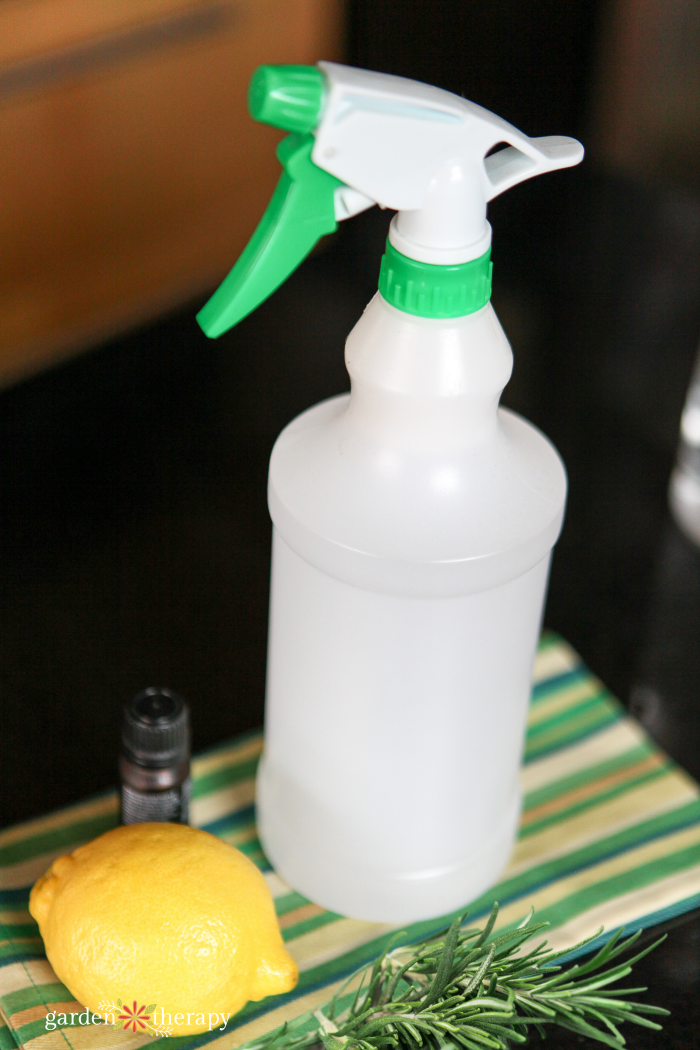 1. Clean Off The Counters
The first step in cleaning your granite counters is to wash them with soap.
When I made my DIY granite cleaner, I added Castile soap for this reason. Castile soap is a biodegradable and non-toxic soap made from olive oil.
It works by helping break up food and other things that are stuck on your counters so you can wipe them away easily.
2. Disinfect The Granite
I recommend vodka as your best choice for an all-natural disinfectant. Vodka is only around 40% alcohol, so it isn't sufficient to kill viruses. But it is a strong enough cleaner for me to use in my home and counters on a daily basis, I don't have exposure to high risk locations so it is completely suitable for my family.
If you are interested in learning more about making a higher alcohol percentage formulation, read my post on alcohol hand sanitizer. If killing viruses is important to you, then the formulation for your cleaner will need to be 60% alcohol. You can do this by using 120 proof alcohol or 99% Isopropyl alcohol.
In this cleaner recipe, I added a few drops of lemon and rosemary essential oils. Both of them are known for being naturally antiseptic.
3. Make Your Granite Counters Shine
My homemade cleaner recipe with castile soap can help leave granite nice and shiny. After your counter is completely clean, spray a tiny bit on the counters and then buff it in with a soft cloth. You can add a little bit more of your favorite all-natural oils on top for even more shine.
Frequently Asked Questions About Cleaning Granite
Still have a couple of questions? That's okay! Here are a couple of questions other readers have asked about cleaning granite countertops…
How Do I Remove Stains?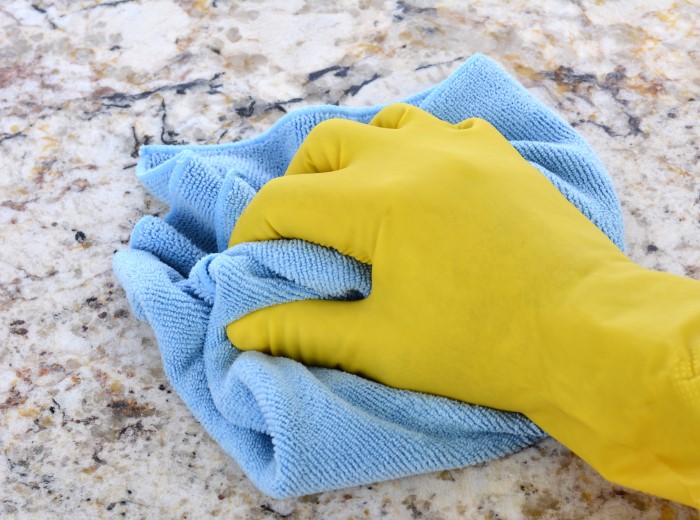 If you do happen to get a stain on your granite, don't panic. Here's how to remove it naturally.
Mix just enough water in some baking soda to make a thick paste.
Then, gently begin scrubbing the post with the paste and a soft cloth.
You don't want to scratch the granite, so don't use anything harsher than the baking soda paste and a soft cloth. It might take a few tries of this method to completely remove tough stains.
If the stain is particularly tough, apply the paste to it and then cover it with plastic cling wrap. Tape the plastic wrap to the countertop and let it dry.
Fair warning- This could take a few days! After it is dry, use a soft cloth to wipe away the paste and scrub it clean.
If that stain is from a permanent marker (all my parent friends out there know and fear the wrath of a Sharpie), a cool trick I learned is to colour over the sharpie with a dry erase marker and the wipe clean. This trick has removed permanent marker from so many surfaces in my home!
Can You Use Lemon On Granite?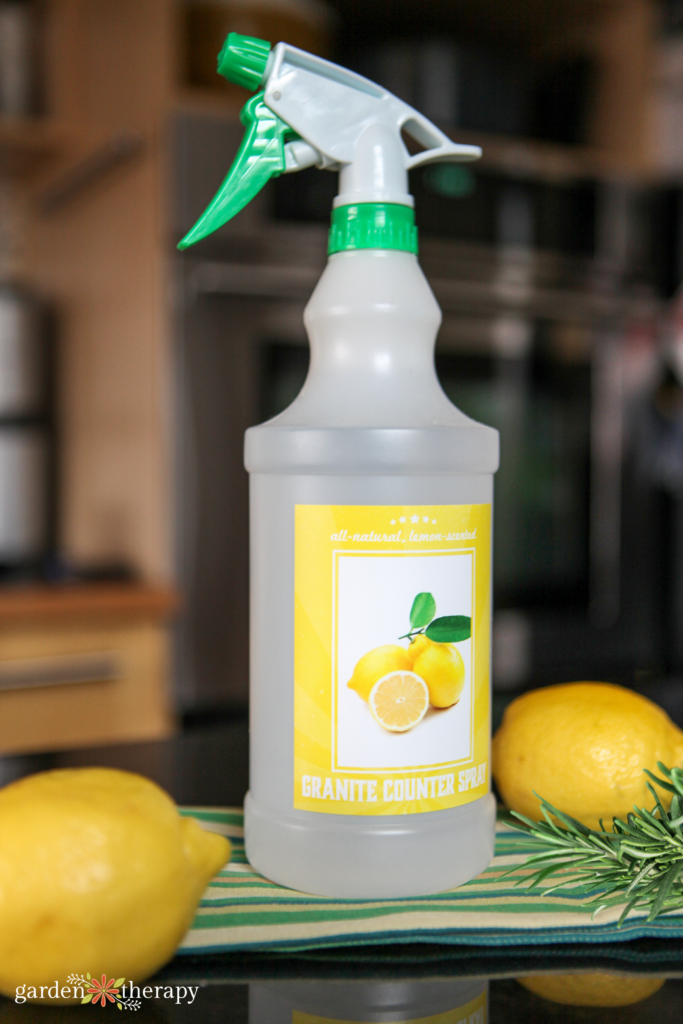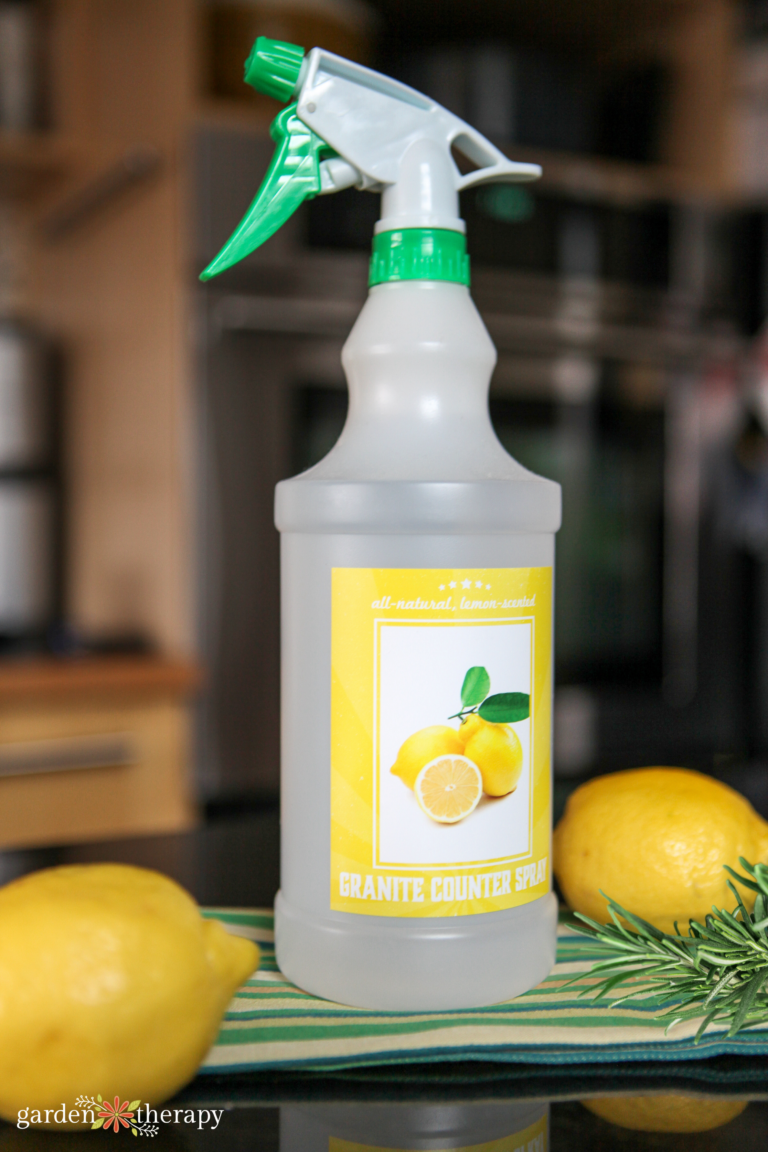 As I mentioned, this DIY cleaner uses lemon essential oil.
And as I also mentioned lemon or other citrus ingredients should not be used on granite because the acid in the lemon will wear out the granite.
Am I contradicting myself?
Nope!
Thankfully, lemon essential oil doesn't contain citric acid like in fresh lemon and other fruits. It's completely safe to use a lemon essential oil on your granite but I would still recommend trying this cleaner out in a small section for a few days before applying it to all of your counters.
What Not To Use on Granite Countertops
Everything in my DIY granite cleaner is safe for your countertops. So if you are going to try and make your own, you should definitely try out this recipe.
At the same time, I wanted to pass along some of the things you should never use on your granite.
I would recommend trying to avoid:
All three of these are really acidic. They will dull the granite over time and could even weaken the sealant too! So, I wouldn't use this homemade vinegar cleaner recipe because it's too acidic. You can still make it but use it on other surfaces in your home.
You should also avoid using abrasive cleaning pads like steel wool as well. Granite can actually be scratched, so only use soft cloths when you are cleaning even stubborn stains!
Prevention is Key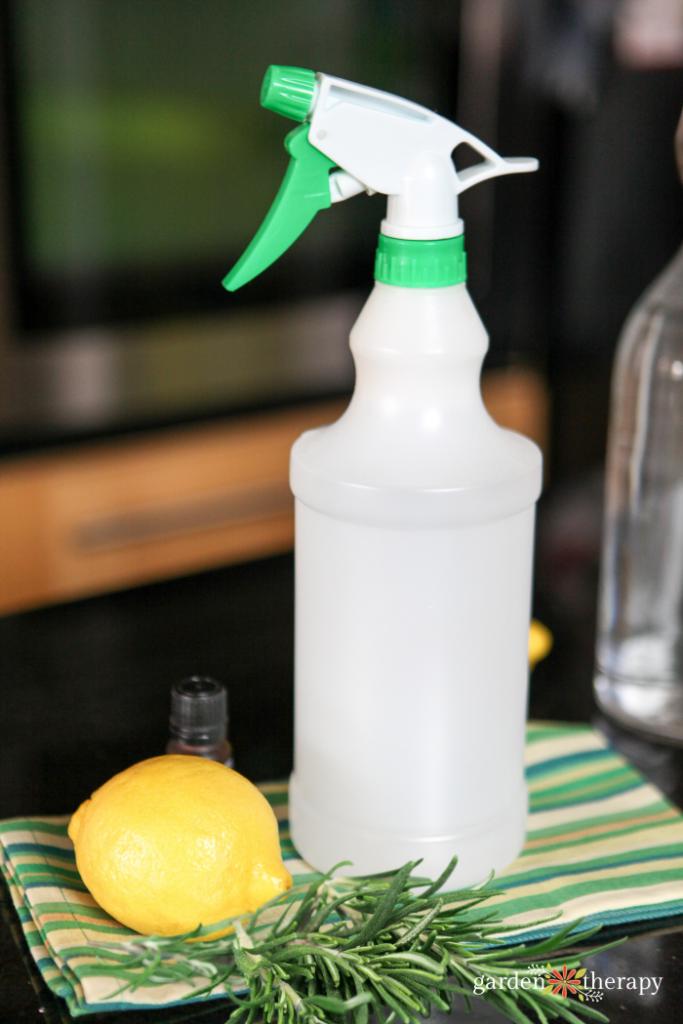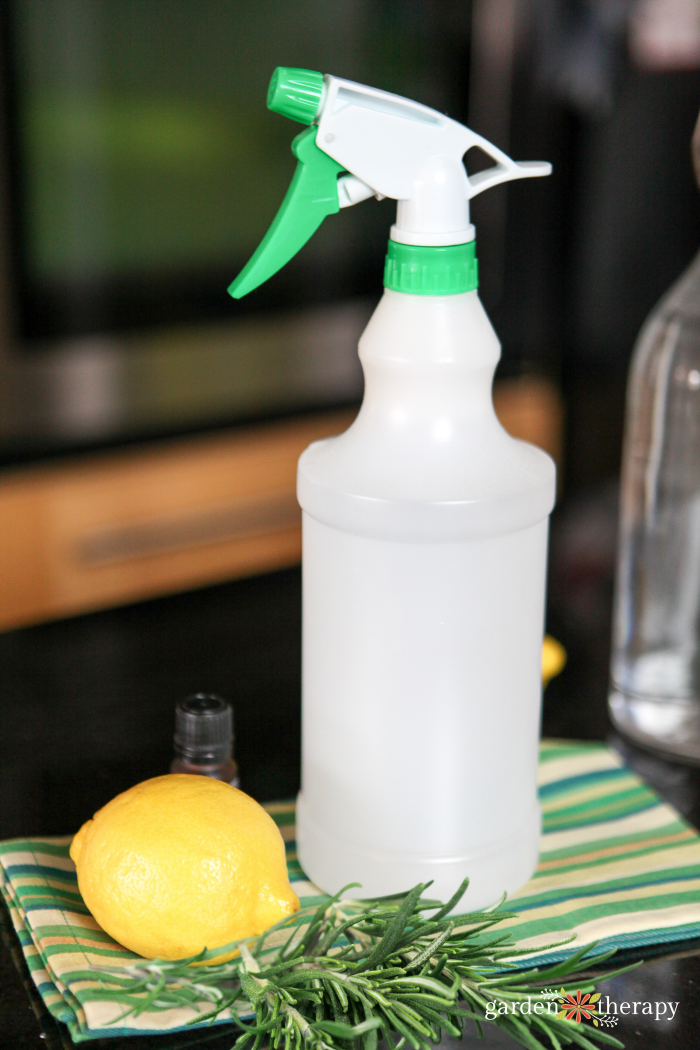 Granite might not be as porous as marble, but it can still soak up stains which can be really difficult to get out. Mop up spills as soon as they happen before they penetrate the surface. You can also seal your granite and keep maintaining this seal which should make it resist stains even better!
DIY Granite Cleaner Recipe
Ready to make this fantastic granite cleaner? It's simple! Check the recipe card below for the ingredients and materials you will need to make this homemade granite cleaner.
DIY Granite Cleaner
Learn how to make your own antibacterial DIY granite cleaner. This will leave your counters clean and shiny.
Instructions
Add all of the ingredients to a spray bottle.
More Natural Cleaning Recipes
Here are some more ways to use all-natural ingredients around your home.