Have you ever wished that you could step into the luxurious private gardens of some of the world's most impressive estates? Do you ever imagine whether or not your favorite celebrities garden, and what sort of things they grow? Victoria Summerley's new book The Secret Gardeners gives access to twenty-five breathtaking gardens owned by celebrities in the UK. Hugo Rittson-Thomas' gorgeous photos make you feel as if you are really there, touring these incredible estates.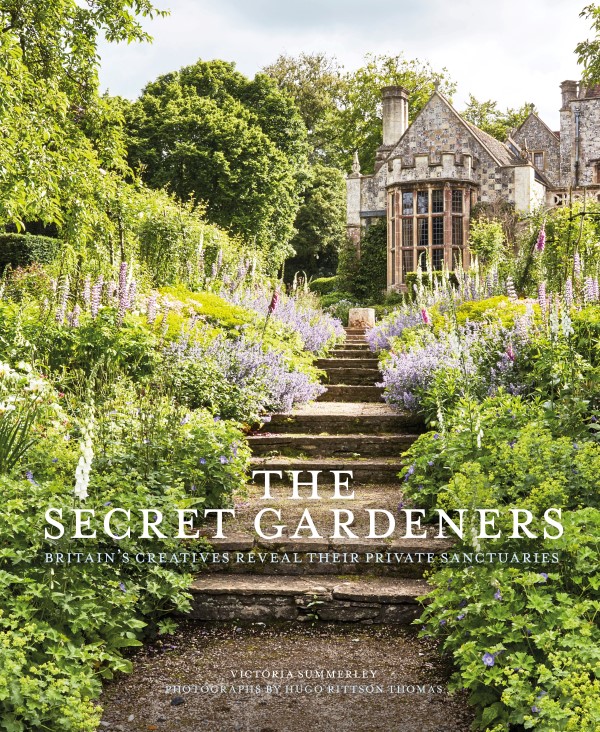 Today we are sharing a peek into five of the gardens, and if you want to see more, there are plenty more stunning photos from these and the other twenty celebrity gardens featured.
Sting
When rock star Sting is not touring the globe, he is busy growing his own food and tending to his flower beds. He owns a large, beautiful garden in Wiltshire with his wife Trudie Styler.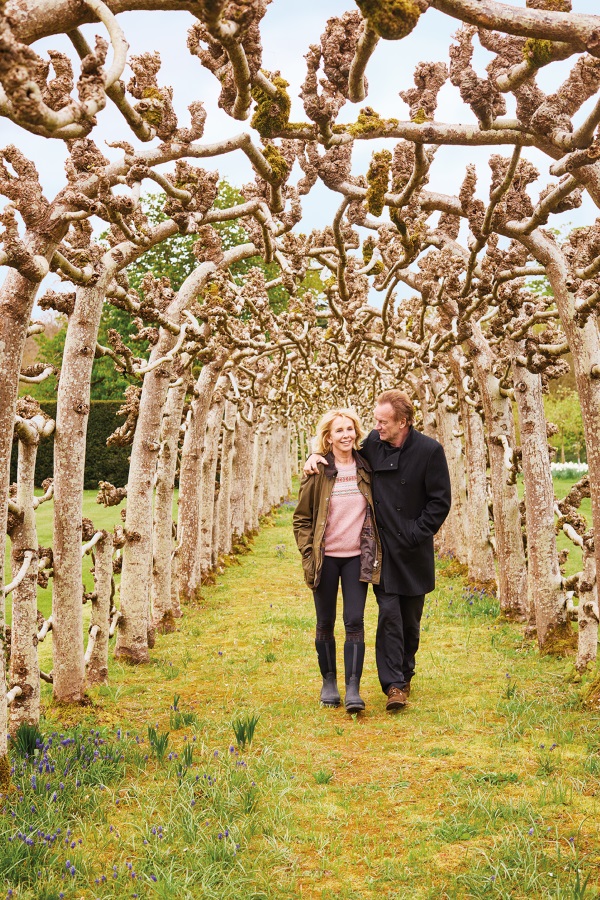 The grounds include a kitchen garden, a 300 year old copper beech tree, a grass labyrinth, a rose garden, a lime tree walkway (above), and a water garden with a stream that flows from the estate directly into the Avon river. The garden beds closest to the house are formally planted and manicured, as exemplified by one bed that has Trudie's and Sting's initials intertwining decoratively in the center of it.
As you move further from the house, the garden becomes less formal and wilder, with masses of hellebores, foxgloves, and geraniums growing freely and a water garden that feels lush and natural.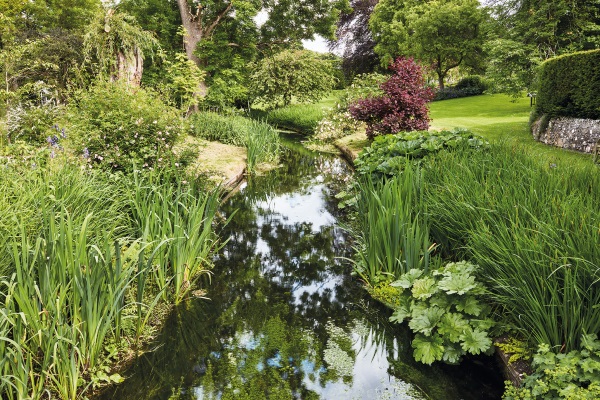 The property even has a man-made lake which Trudie designed. The lake is planted with reeds specifically intended to benefit wildlife that make their habitat there.
Branson Family
Sir Richard Branson is most well known for being a talented investor and businessman, his philanthropic work, and for founding the Virgin Group, a large multinational corporation. However, gardening has always been a large part of Branson's life and continues to play a major role in the lives of his children and grandchildren.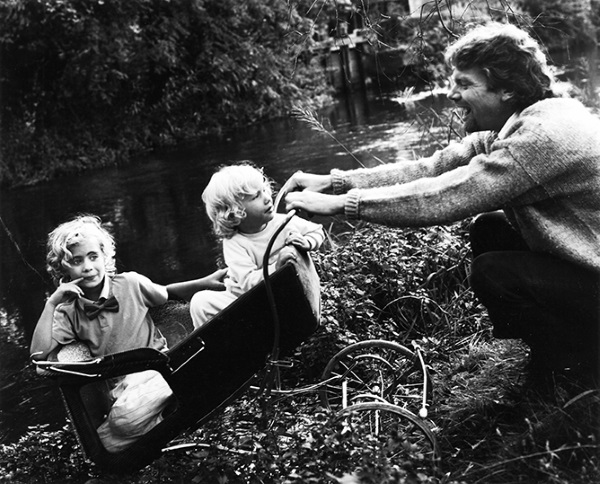 The Branson family estate, located in Oxfordshire, includes beautiful gardens, wildlife habitats, and play areas for children. Originally intentioned by Sir Richard as a haven for his two kids, Holly and Sam, the garden has grown over time and so have the Branson children, who are now adults with young children of their own and have bought the property where they grew up. The estate has been divided up into two properties with some shared areas (including a converted barn that the family uses for parties and events) where Sam and Holly each live with their families as close neighbors.
The estate contains a man-made lake, which was one of the first things Richard Branson had put in when he and his wife moved there with their young family so many years ago. The lake was built with wildlife in mind and to this day acts as a habitat for a large flock of wild geese and other waterfowl throughout the year.
The Branson family's garden is the epitome of a play garden. The estate is full of trees to climb and it features a cricket pitch, a wildflower area, a tricked-out tree house, and loads of wilderness that is just asking to be explored by little adventurers.
Prue Leith
Food writer, novelist, and renowned chef Prue Leith originally moved to Oxfordshire to set up a duck farm, but when that turned out to be impractical for her restaurant, she stayed at her new rural estate and grew a garden that looks equally fit for a distinguished chef or a master ornamental gardener.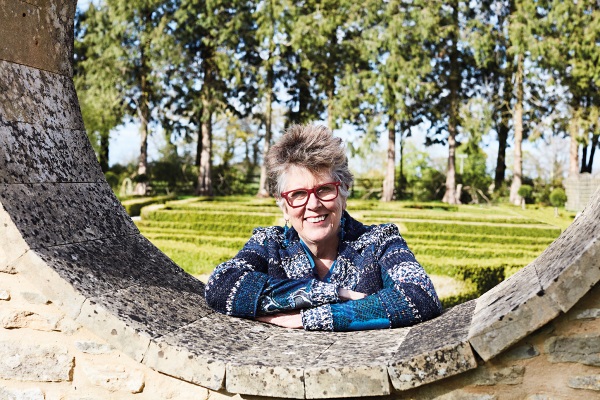 Large pots overflowing with herbs stand outside next to the back door so that Prue has easy access to fresh herbs when she is whipping up something magical in the kitchen. Herbs aren't the only thing that Prue grows to cook with. The grounds contain a large ornamental kitchen garden with topiaries and formally planted beds, where vegetables grow under cold frames and beneath cages to protect them from the local birds.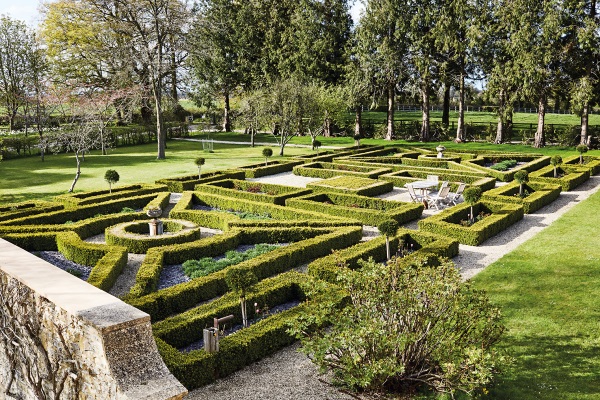 Separated by a decorative wall lies what Prue calls the Red Garden. The Red Garden pops with red flowers and foliage and large decorative elements—a bridge, a pagoda, hanging lanterns—in bright red, which look stunning against the lush green of the garden.
Jeremy Irons
When academy-award-winning actor Jeremy Irons first started acting as a young man, he worked part-time as a gardener in order to supplement his income, and gardening has remained a part of his life.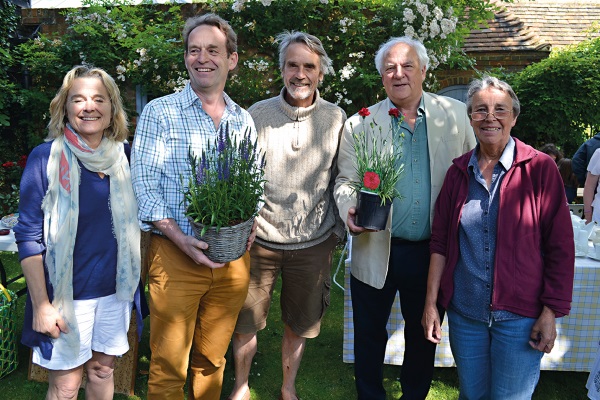 Located in Oxfordshire, Irons' grounds are resplendent with classical fountains, rock walls obscured by crowds of climbing roses, and neatly planted flowering borders. The entire estate, with its eighteenth-century house and manicured hedges, exudes traditional English garden elegance, but has no trace of pretension. The design is sophisticated and refined, but welcoming and casual all at once—Irons and his wife, Sinéad Cusack, even host the local community flower show from their barn!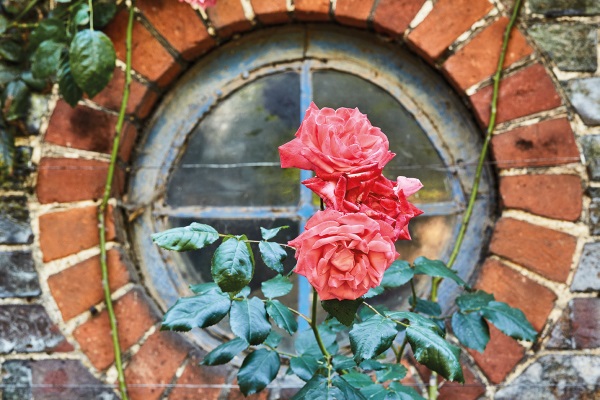 The property also features a gorgeous pond bursting with waterlilies. The arching bridge above the water garden brings to mind Monet's famous lily pond and feels like the perfect place to find a sense of calm amidst the stress of daily life, which is exactly what Irons aims for in the garden. Irons says that he enjoys visiting gardens because "not only do you see inside other peoples' souls, but you find your own…it's very peaceful and very calming in this bustling world that we live in."
Rupert Everett
Rupert Everett is an actor known for his roles in The Importance of Being Earnest, My Best Friend's Wedding, and is the star of the upcoming Oscar Wilde biopic The Happy Prince. When he's not writing, directing, or acting in films, Everett gardens with his mum.
The Everett's have owned their Wiltshire property for 40 years, and Rupert is slowly taking over the gardening duties from his mother, Sara, who lives with him on the estate. The garden borders the river and contains a man-made stream that flows into a large water garden lush with lilies.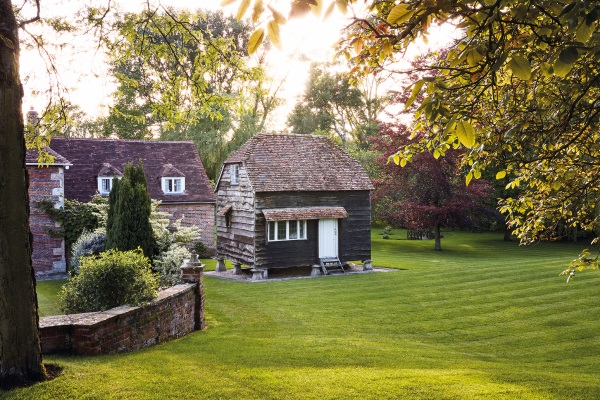 The Everett's garden is most stunning in the summer, when the house is covered with climbing roses and trailing wisteria, and terracotta pots overflowing with bright pink annuals flank the water features. Dahlias, peonies, and David Austin roses also make up a large portion of the Everett's ample flower beds.
A squat old granary building sits slightly elevated on studdle stones, which work to keep the floor dry and the pests out. The entire place has a real English country garden feel, with a little dose of excess that makes it irresistible.
Printed with permission from The Secret Gardeners: Britain's Creatives Reveal their Private Sanctuaries by Victoria Summerley, © 2017. Published by Frances Lincoln Press. Photography © by Hugo Rittson-Thomas except where otherwise stated.
About the Author
Victoria Summerley is an award-winning garden journalist and ex-editor of the Independent newspaper in the UK. She lives in Bibury, Gloucestershire, the village once described by William Morris as "the most beautiful village in the Cotswolds."
About the Photographer
Hugo Rittson-Thomas is one of the UK's leading portrait photographers. He started his career in the art world, studying at Central St.Martin's and Goldsmiths University of London, and took part in the landmark exhibition Temple of Diana alongside Tracey Emin at The Blue Gallery in 1999. In 2012 he was privately commissioned to photograph the Cotswolds gardens of Eyford House, Corwill Manor and Asthall Manor and has worked alongside acclaimed garden photographer Andrew Lawson.
Tour some more gardens!