Spring gardens are synonymous with tulips, daffodils, crocuses and other spring-blooming bulbs. These cheery blooms are the first sign of the changing of seasons and you would be hard-pressed to find anyone who doesn't delight in them. Those welcome flowers of spring mean it is also the time to start thinking about planting summer flowering bulbs.

Summer flowering bulbs offer colour to a time of year where the perennials, trees, and shrubs are just starting to wake up in the garden and there are plenty of reminders to gardeners to get these on your fall gardening list.
These bulbs don't have the same PR campaign, but I think they should! Summer blooming bulbs offer extraordinarily beautiful flowers that really stand out in the garden. They rise above the other flowers like works of art, showing some of the most decorative features that nature has to offer. Often, gardeners will purchase them as blooming plants at the garden center or as cut flowers from the farmer's market in the summer.
Today, I'm offering you a little nudge to order some from summer flowering bulbs, save some cash, and grow a large stash of these showstopping flowers!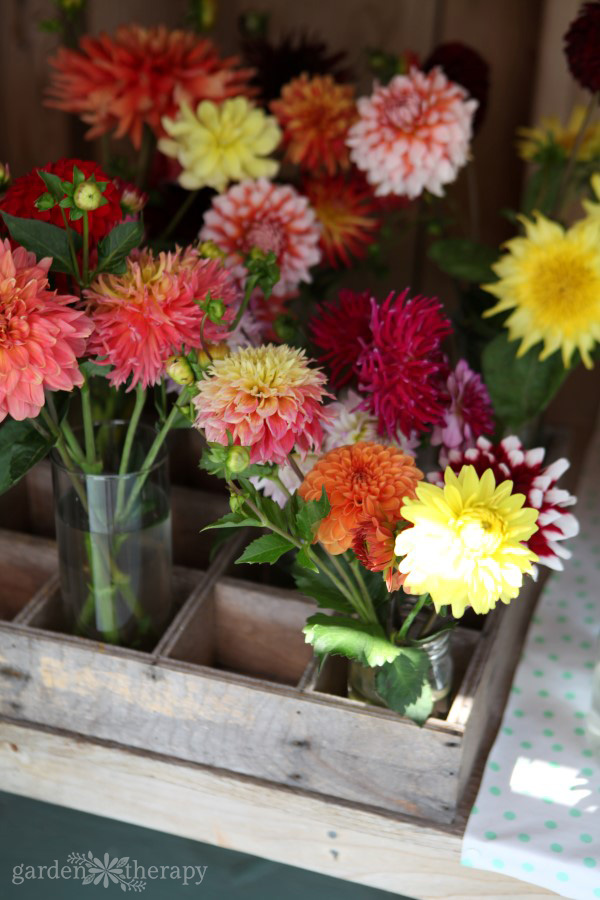 Summer flowering bulbs have similar planting instructions as spring blooming bulbs, although they are planted in the spring, not the fall. Some of the most resplendent flowers and leaves are grown from bulbs, tubers, corms, and rhizomes. Buy them now from catalogs and plant them early to save big bucks this year on showstopping plants.
Planting Summer Flowering Bulbs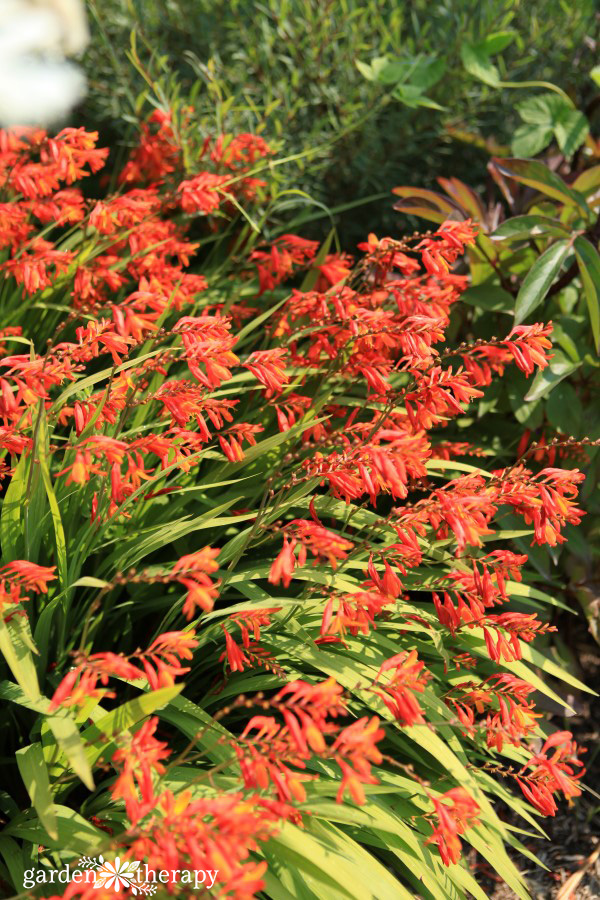 Summer flowering bulbs have some of the most decorative blooms and leaves available for your garden, but many are too tender to survive a cold winter, which is why you can't plant them in the fall the way you can many other bulbs. The planting instructions will vary a bit for each flower, so do follow the instructions provided with the bulbs.
If you want to make mass bulb planting really quick and easy, consider getting yourself a bulb planter tool like this Bulb Bopper, which made it onto this list from last year of my 10 favorite garden tools.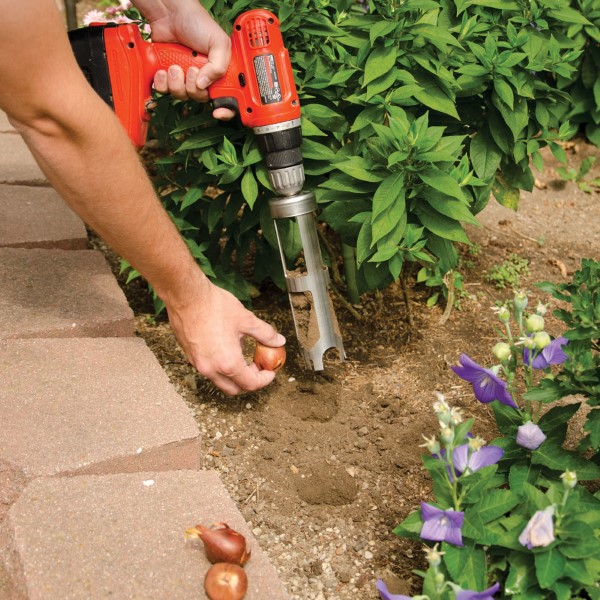 Summer Flowering Bulbs to Plant for Showstopping Blooms
Here is a list of my absolute favorite bulbs to plant in the spring. It's worth investing in some of these bulbs from catalogs in the spring because buying them in pots in the summer can be very expensive. With a little know-how in the spring, you can enjoy a gorgeous flower garden bursting with blooms this summer without breaking the bank.
Asiatic & Oriental Lilies
Both of these lilies are beautiful, hardy, and super easy to grow. They come in a wide variety of colors, so you can find one to suit any design style. Asiatic lilies come in more different colors than Oriental lilies, but have no fragrance. They bloom earlier in the season, so if you want a pop of color that shows its face a bit quicker, Asiatic lilies are for you.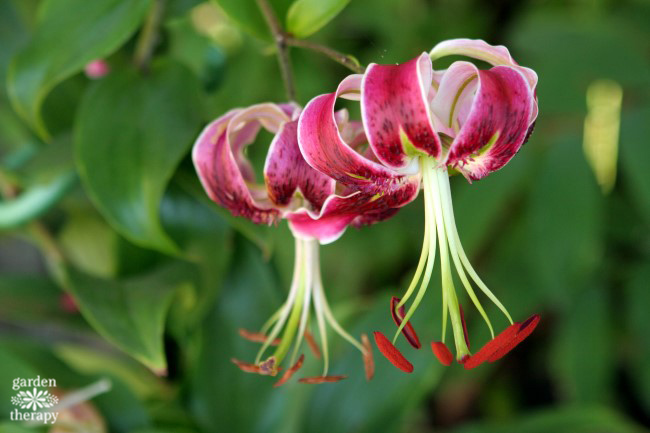 Oriental lilies look similar to Asiatic lilies but don't come in as wide a variety of colors. They have an absolutely gorgeous scent. Plant them near a garden bench or patio space so you can enjoy their fragrance.
Plant lilies in well-draining soil in a sunny location. Dead head the flowers as they fade to encourage even more blooming. Most lilies produce a ton of flowers that can be enjoyed in the garden or cut for bouquets. The plants are tall and take up very little garden soil space which can be wonderful but that can present some design challenges.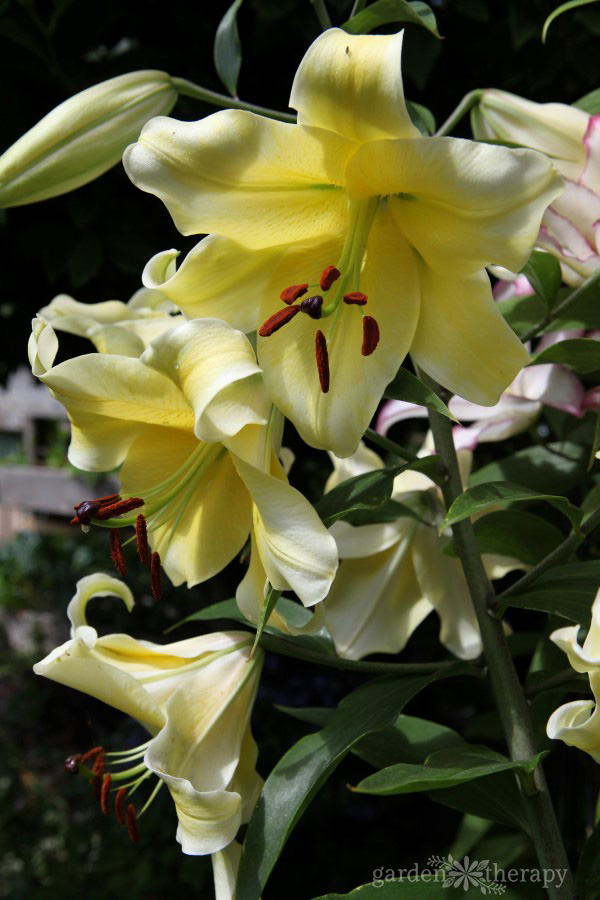 Plant lilies where they can reach above more dense, decorative foliage plants so that they create a burst of firework blooms above the garden. Also, note that lily pollen is very toxic to cats. Just a bit of pollen on a cat's fur can be ingested as they groom themselves, and this can cause a serious adverse reaction. Please consider planting an alternative if you garden with a feline friend.
Crocosmia
Crocosmia looks elegant and exotic with their delicate flower chains in shades of orange, red, and yellow. These pretty plants are easy to divide, so you can spread their beauty all over your garden! The Crocosmia 'Lucifer' shown in this photo can get a bad rep, because it spreads like crazy in some gardens.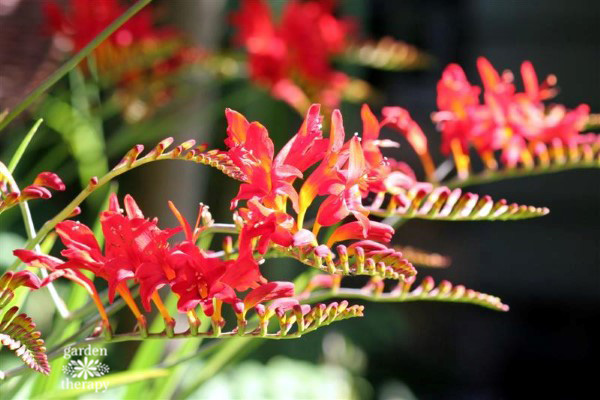 My first clump came from my mother's garden, and I would simply divide it when it got too large. Throughout the summer and fall, it grew stunning flowers that were covered in pollinators and hummingbirds, and the seed heads made for stunning dried flower arrangements. When I moved into my new garden, it was pretty much overrun with Crocosmia. So over the years, I just pulled out the rogue corms and have tamed it into some manageable and attractive clumps.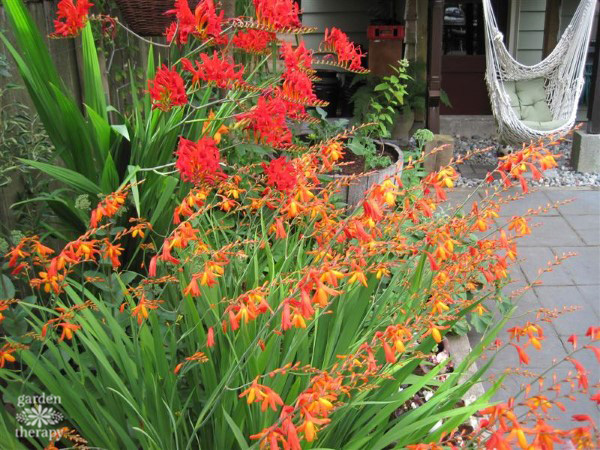 Crocosmia looks best at the back of the border, rising above the decorative foliage. It also does best in full sun, as shaded locations cause the stalks to flop over.
Dahlia
Dahlias are not only showy and make great cut flower arrangements, but they are also some of the longest bloomers in the garden. They will start blooming in the summer months and, as you cut the flowers off, they will send up more brooms until frost finally takes the plant to the ground. In my area, this can be late November! Dahlias are wonderful for their impressive variety. They come in every color of the rainbow as well as sizes ranging from small, two-inch flowers to blooms the size of a dinner plate! If you ever have the chance, go get a bunch of cut flowers from a local flower farm. It's a wonderful way to spend the day (surrounded by flowers in awe of the variety) but you can also put in a tuber order with the farmer and get a nice selection for your home garden too.
If you live in a colder zone, dahlia tubers need to be lifted from the soil in the fall and stored over winter. To get a head start in the spring, plant tubers in pots 4 to 6 weeks before the last frost date in your area. Cover the tubers with soilless potting mix and place in a sunny window. Water sparingly until you see the plant growing. Move them out to the garden as soon as you've safely passed the frost date.
Gladiolus
These tall, trumpet-shaped flowers are especially impressive growing behind other blooming plants as their height and large flowers won't be outshone by shorter plants growing in front and the various sizes will add interest. Like dahlias, gladiolus also need to be dug up in the fall. Unlike dahlias, they grow from corms as opposed to tubers. Plant gladiolus corms in a sunny location in well-draining soil. Plant corms every few weeks to extend the flower blooms in the garden. Start planting the first corms in spring, 2 weeks before the last frost date and keep planting every 2 weeks until the second week of summer.
Even More Bulbs!