With a little planning in the fall, you can have a gorgeous spring display to effortlessly and economically enjoy next spring. Tulips and other bulbs may be the last thing on your mind at this time of year, but if you take a little time now to plant a variety of spring flowering bulbs in pots and planters, I bet you will be pleased as punch that you did when you get to enjoy containers filled with cheery tulips, irises, crocuses, muscari, and more. Read on for how to plant and overwinter spring flowering bulbs in pots this fall.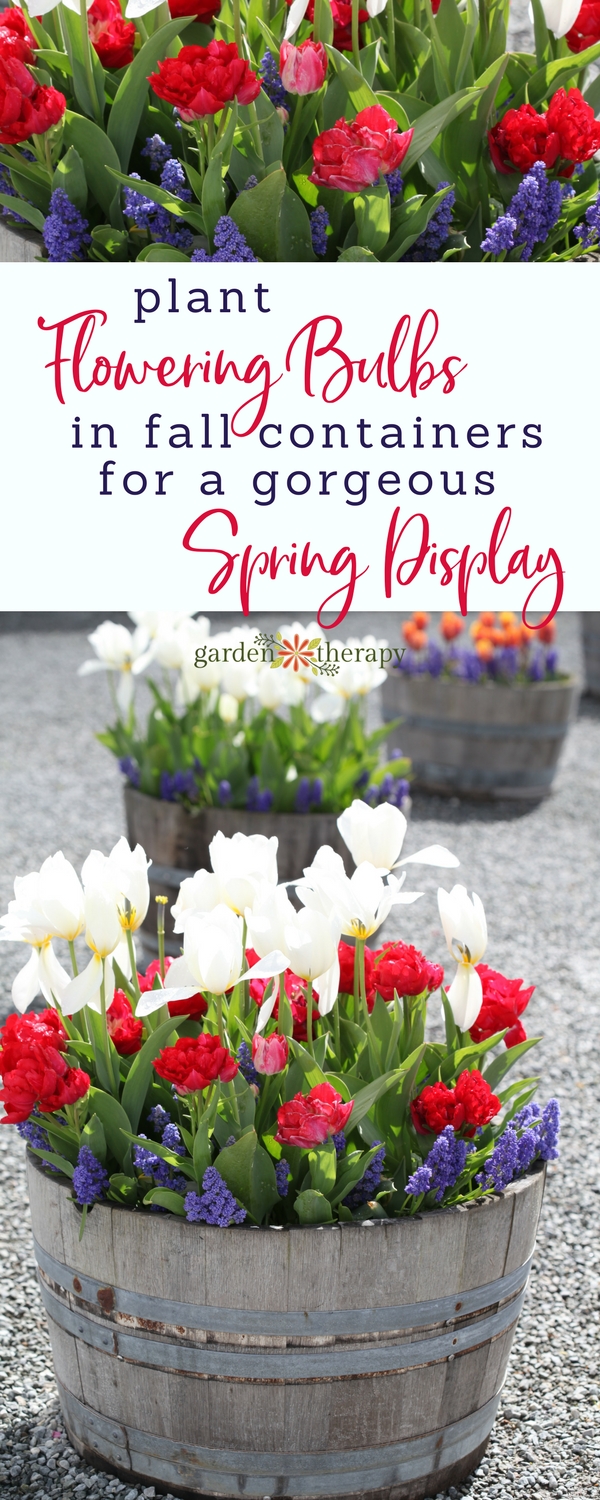 Spring. It's the absolute last thing on my mind when I'm enjoying my pumpkin spice latte and harvesting rose hips. But I have to say those years were I forget or forgo bulbs in the fall, I sure do regret it in the spring. For those of us who live in climates where we have four distinct seasons, and one of them is cold and possibly snowy, spring means more than days getting longer and trees budding out. It's a celebration and rebirth after a period of rest. And what better way to celebrate then with the vibrant colours of tulips, daffodils, Dutch irises, crocuses, and many more cheery flowers? Even better, you don't need a huge garden to enjoy them, because bulbs are perfect for growing in pots.
Planting fall bulbs in containers is no different from planting them in the ground, other than that you can really pack in a bunch for a colorful display that can be moved around the garden next spring to fill in bloom voids. You still need proper drainage and depth to ensure they will bloom the next year.
How to Plant Bulbs in Pots
Start with clean, dry pots, and add in fresh container mix soil. You can purchase a soil mix formulated with the appropriate water holding, drainage, and air space in from a garden center, or make your own.
Container Potting Soil Mix Recipe (Peat-Free)
2 parts screened compost
2 parts coconut coir
1 part perlite
1 cup per gallon worm castings
1 tablespoon per gallon greensand
1 tablespoon per gallon mineralized rock dust
1 tablespoon per gallon kelp meal
Mix all the ingredients in a wheelbarrow or bucket and transfer to the pot. As is the case with all dry potting soil products and mixing ingredients, wet the materials slightly to reduce dust and avoid inhalation of dry particles. 
Layering Spring-Flowering Bulbs in Pots
When planting bulbs, you can get quite creative in planning how they will bloom throughout the spring. Think about incorporating colour patterns with two or three complimentary hues. Or staggering flowering times with early, mid, and late season bloomers. Playing with different heights by to add more interest. Here is how to layer bulbs in your container garden. Thank you to flowerbulbs.com for sharing these images with me!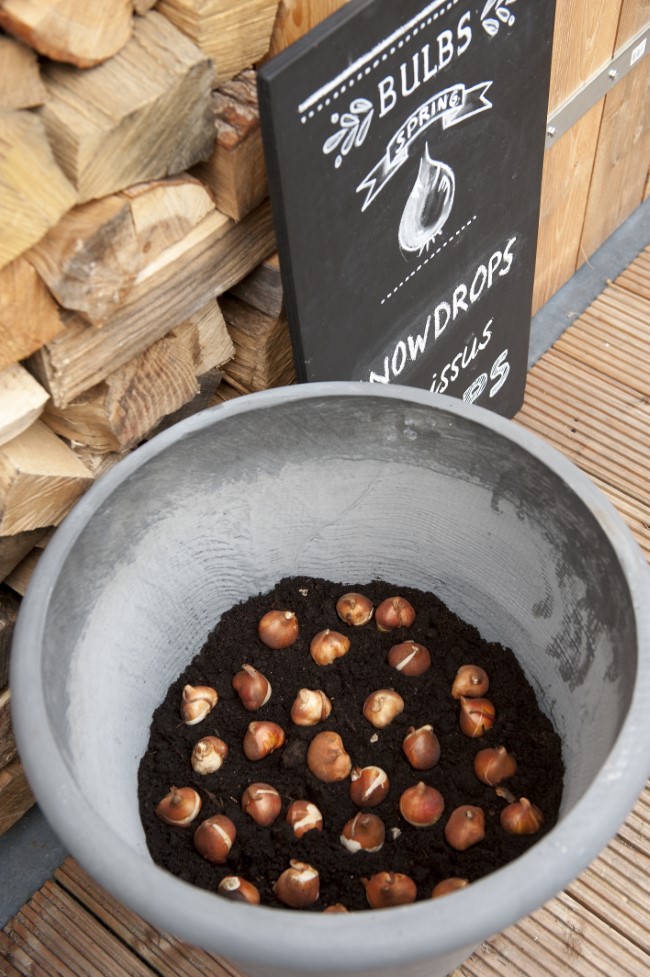 Plant the bulbs that require the greatest depth first, and evenly space them, root side down, into a layer of soil like the tulips shown.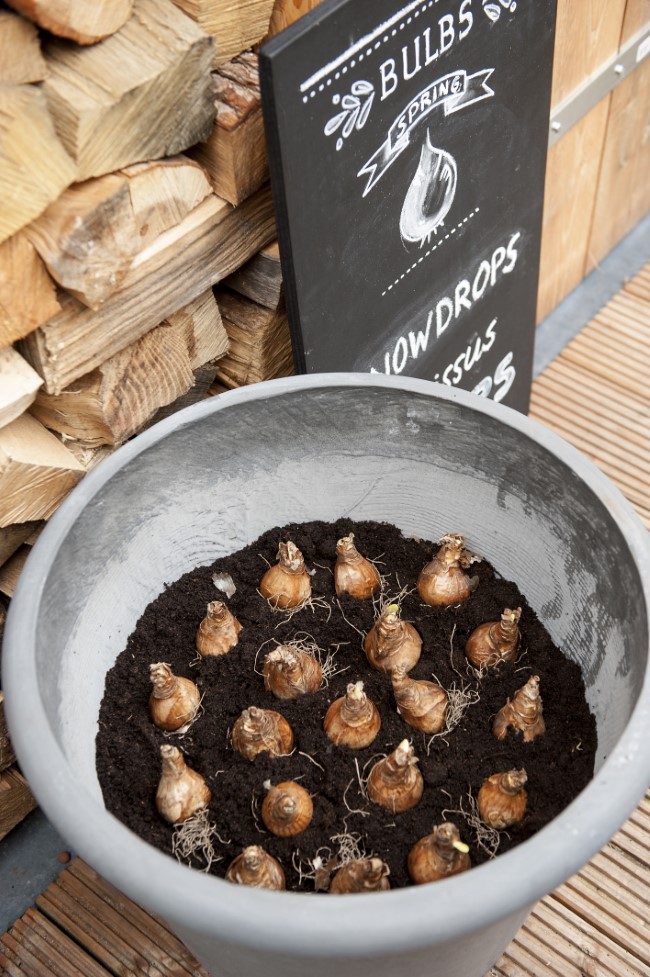 Cover the bulbs with soil and add another layer of bulbs planted root side down like these daffodils.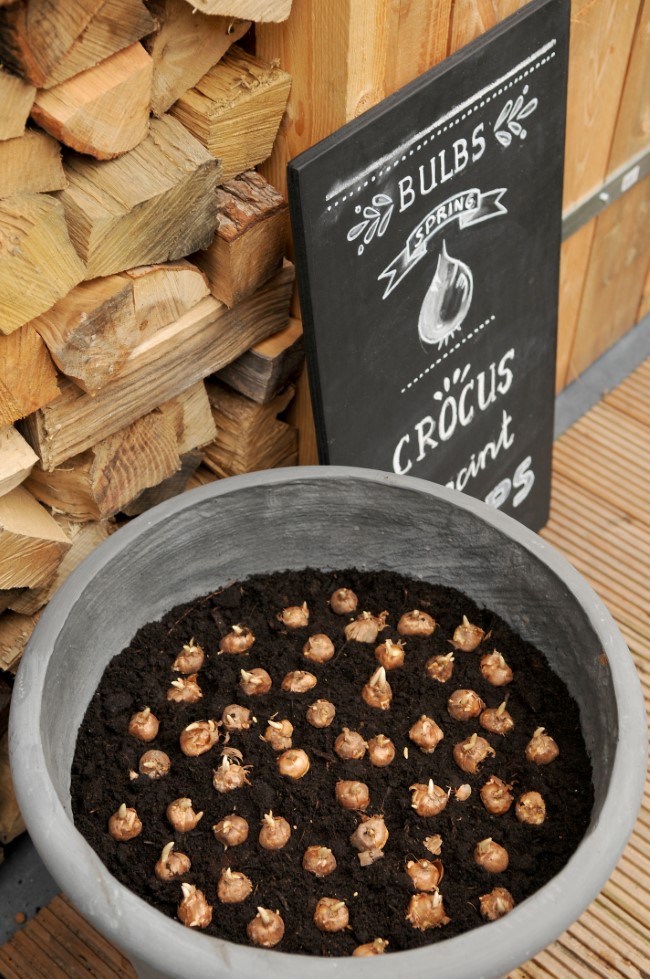 Plant another layer as the first two with soil in between like these crocuses.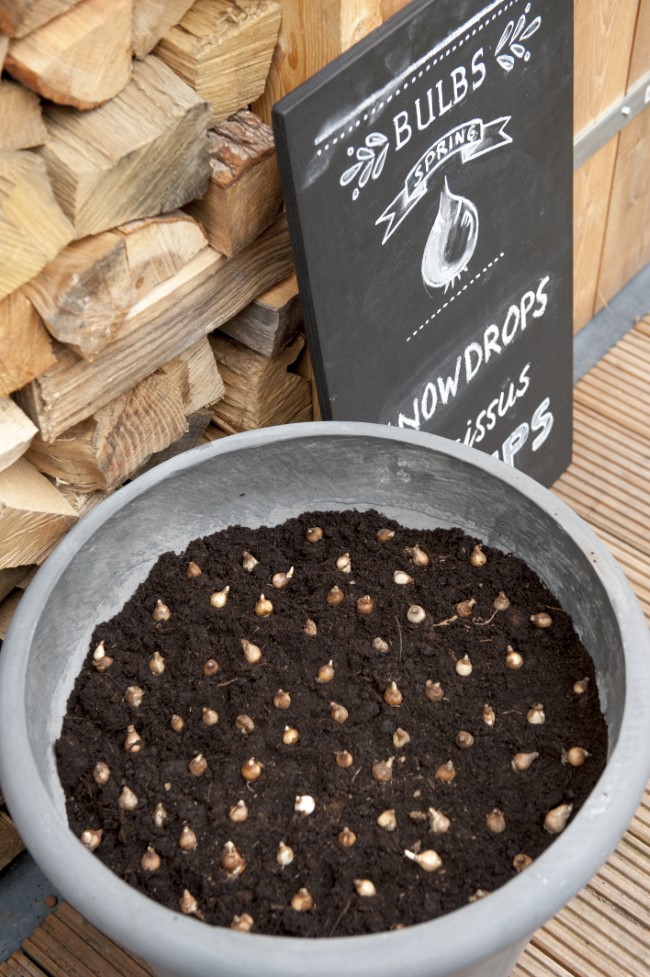 Keep planting bulbs until the smallest, shallowest depth bulbs are planted.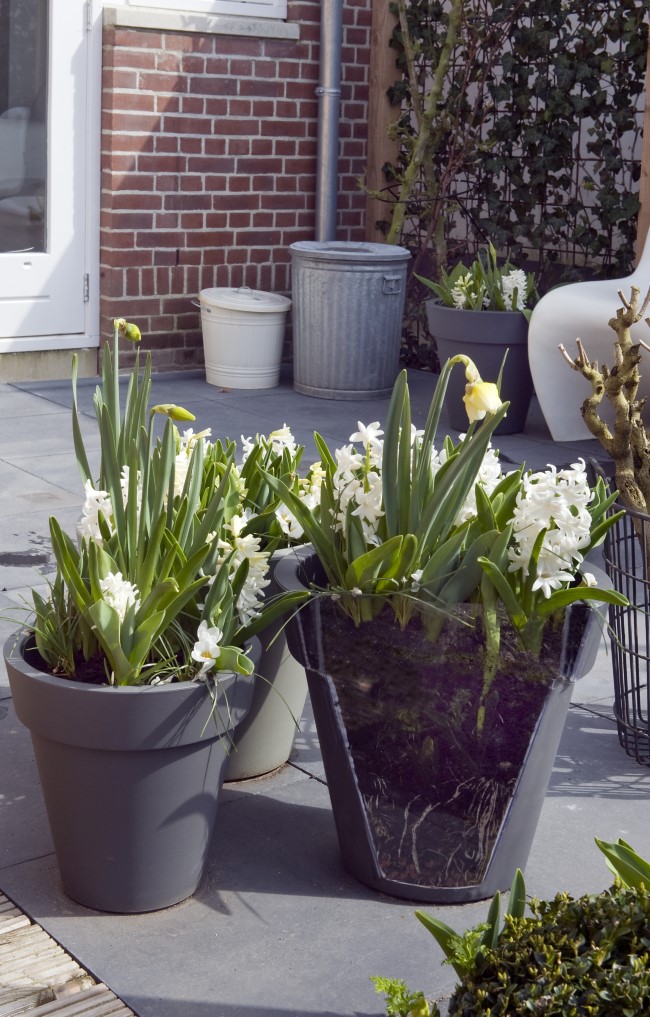 In the spring, the bulbs will grow from the top layers first, while the ones below make their way up through the soil.
Container Choices for Growing Bulbs in Pots
For practicality, choose containers that will overwinter in your area. Glazed ceramic, resin, or plastic pots have good longevity and protect plants in the winter. Unglazed terracotta will absorb moisture, freeze, and crack, so it is best to store those for mild weather use only. There are also great all-weather containers like these with double-walled construction that insulates the soil and comes with a 10-year warranty. These are certain to make it through many winters.
Choose pots that are large enough to hold the soil needed to chill the bulbs without damaging them. The larger the pot also means you can add a lot more bulbs which will give an impressive spring display. Half wine or whiskey barrels make wonderful bulb planters.
Be sure the container has good drainage. Self-watering containers are not a good choice for overwintering in rainy or cold areas where water collected in the storage container can freeze and damage the pot or the bulbs.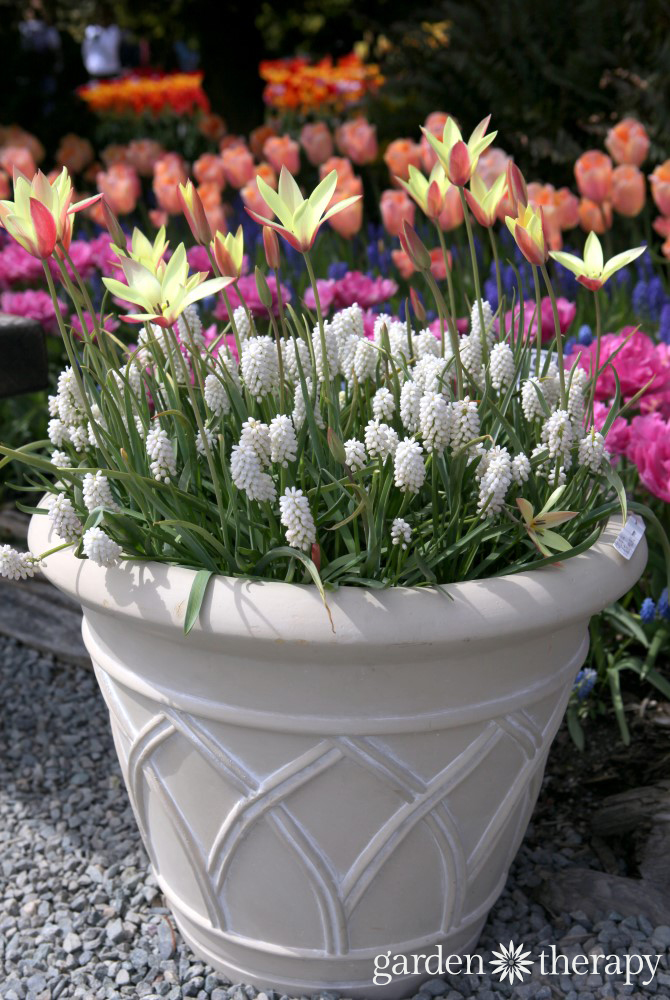 Designing the Container for Fall and Winter Dormancy
After the bulbs are planted, the container will look pretty boring with just bare soil up above! Never fear, this is the perfect place for cool season annuals like pansies, ornamental kale, and sedum.
Or you can skip the live plants all together and use the planter as the base for a gorgeous fresh evergreen display that will take you through the holidays and into the new year. Designing winter and holiday planters is less gardening and more floral design, as instead of planting roots, you will arrange cut branches from plants into the soil for a winter arrangement. The bulbs will stay tucked in the soil while you enjoy the decorations all winter. When spring arrives, simply remove and compost the branches before the bulbs emerge.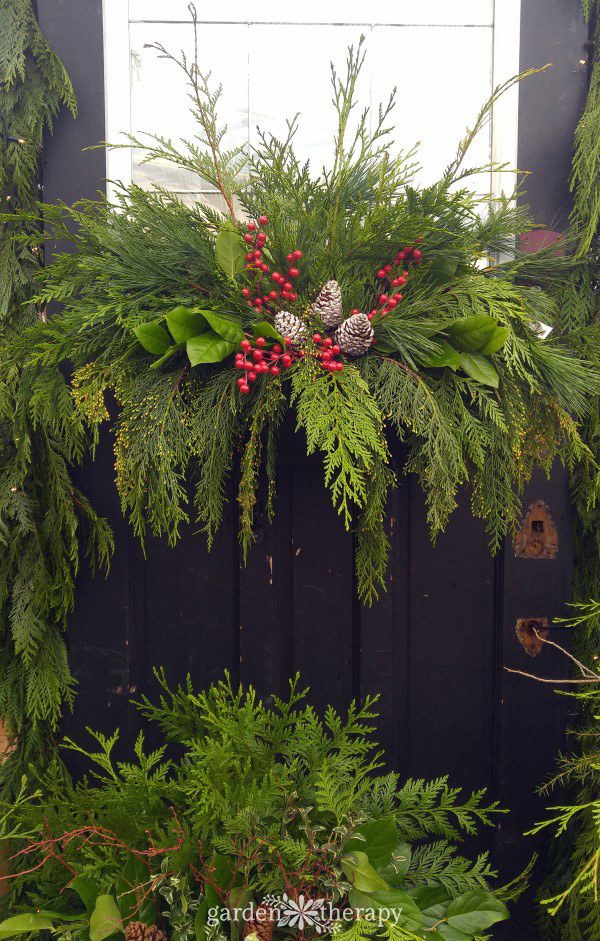 Ideas for Holiday Planters
More Bulbs for Your Garden