This winter forest soap recipe smells like a walk through the forest in the brisk winter air. This soap is made with two colors of soap swirled together like cool winds in evergreen trees. It's scented with essential oils from forest trees making it both fresh and woodsy. As a bonus, the combination of essential oils will perk you up and help with the dreariness that comes with the long winter nights and short days.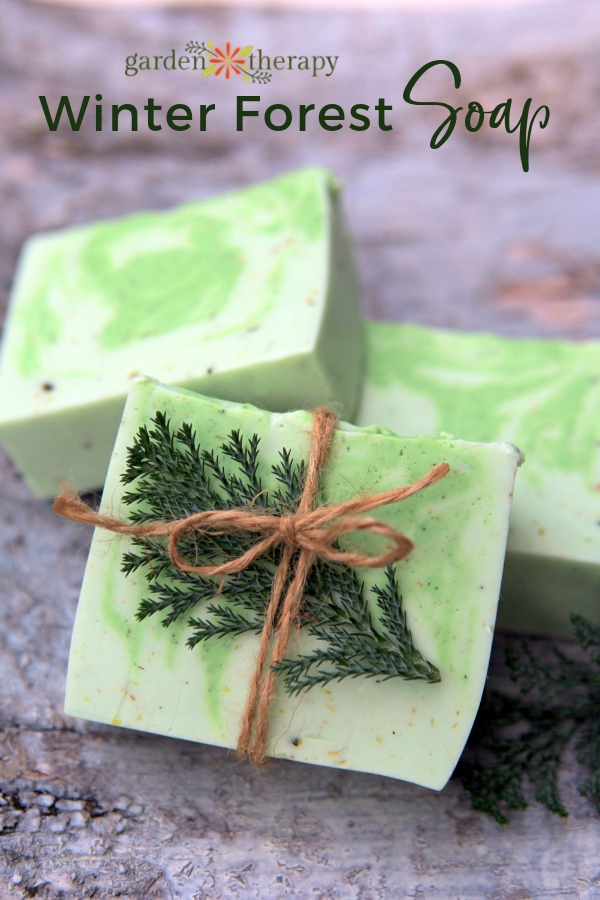 This soap is made from melt and pour soap base but the essential oil and color combinations can also be used with cold-process soap. See how to make cold-process soap here.
Winter Forest Soap Recipe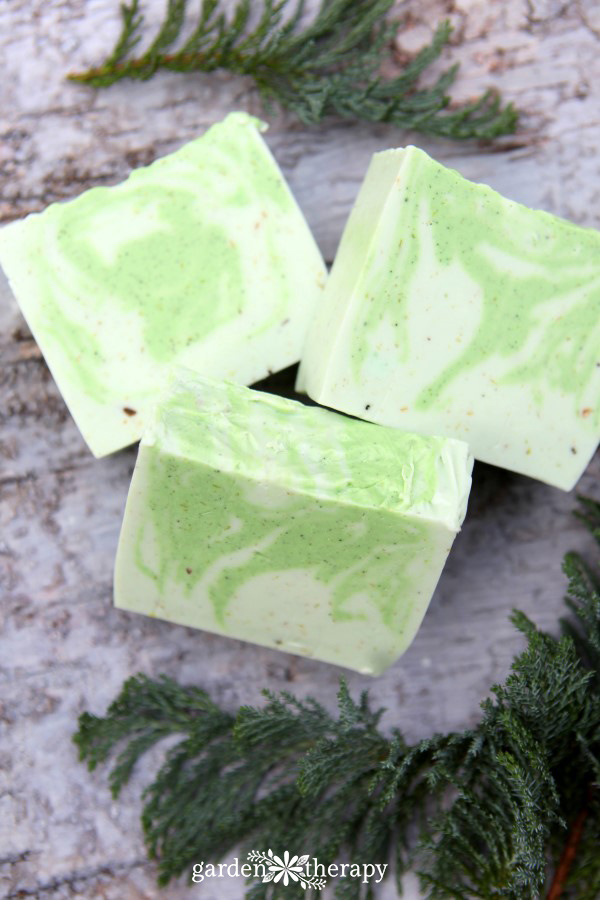 Materials
Make it!
For this recipe I used 3 lbs of oatmeal melt and pour soap base. It comes in a 2 lb box but I find that that doesn't fill up the silicone loaf mold enough. I wanted larger, almost square bars for this project so I used one and a half boxes of soap base. Cut one 2 lb box of soap base into one-inch cubes and add it to a large heatproof bowl or Pyrex measuring cup. Cut the other 1 lb of soap base into cubes and add it to a second large bowl or Pyrex measuring cup.
The key to getting a swirl with melt and pour soap is all in the timing. The soap base in both colors needs to be melted together and poured into the mold together quickly. To do this, use a microwave to alternate melting the soap base for each or use two double boilers and melt them simultaneously. To melt them in the microwave, start with the 2 lbs of soap and get the scents and colors ready for when it comes out. When the soap is almost melted but has a few lumps, put the other 1 lb of soap base in the microwave to melt while you stir and add scent and colors to the first batch. When the second is somewhat melted and lumpy, take it out of the microwave and stir in the colors and scents, while adding the first batch back into the microwave for 20 seconds or so. Keep switching them in and out of the microwave as you stir and melt the base in both.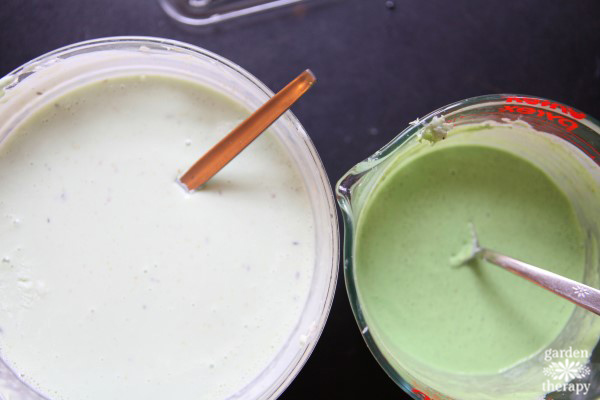 I colored the 2 lb soap base with spirulina, a natural green powder that I usually use in cold-process soap. I like that it gives a pale green, speckled look. I then used green soap dye for the 1 lb soap base to get a stronger color. You could certainly use soap dyes or natural colorants for both. I just chose these to get the color combination that fits the scent.
Divide the essential oils into thirds and add 2/3 to the 2 lb batch and 1/3 to the 1 lbs batch. It doesn't really matter if you get it divided perfectly, the soap will all be mixed together in the end so it will be fine if you only scent the larger batch. Usually you will add 1 teaspoon of essential oil per pound of soap, but I found these scents to be very powerful and so I used much less. You are welcome to add more essential oils if you like a stronger smelling soap.
The essential oil combination was created to be both calming and refreshing. It's perfect for the morning shower as sweet birch is said to help you overcome feelings of sadness and inertia that can be prevalent with reduced winter light. Both cypress and cedarwood are stimulating to the body while calming to the mind, making them ideal to help start your day off right.
Once you have your two colors of soap base melted and scented, then you can swirl! Pour the 2 lb soap base into a silicone loaf mold and then immediately pour the melted 1 lb of soap base in as well. Add the second color by pouring it along the length of the mould and side to side. Use a chopstick to quickly make a few zig zags in the soap and then let it be. It can be tempting to over fuss with the soap, but this will muddle the colors too much.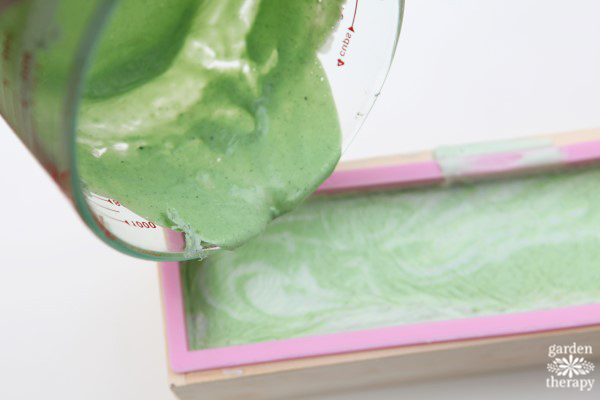 When the soap has set, remove it from the mold and use a soap planer box to cut even sections, or wing it and cut them by eye.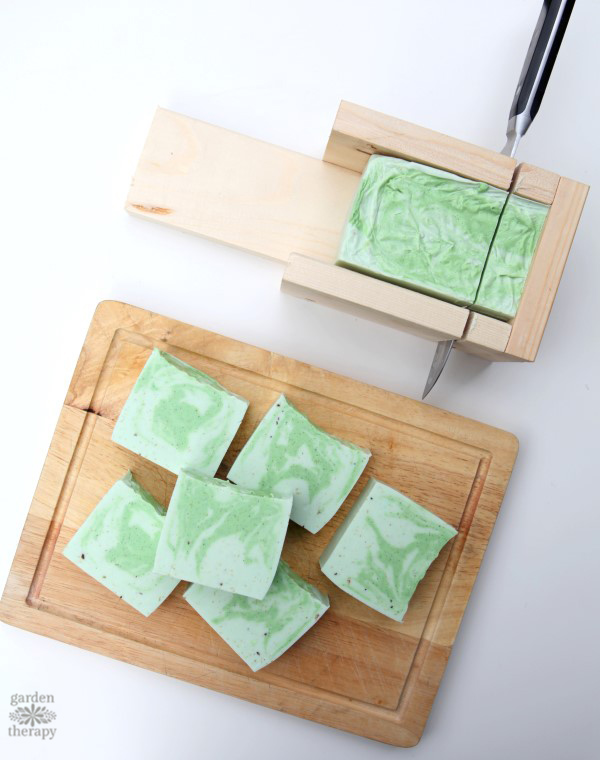 Wrap the soap in garden twine and a fresh cut evergreen branch if you plan to give them as gifts.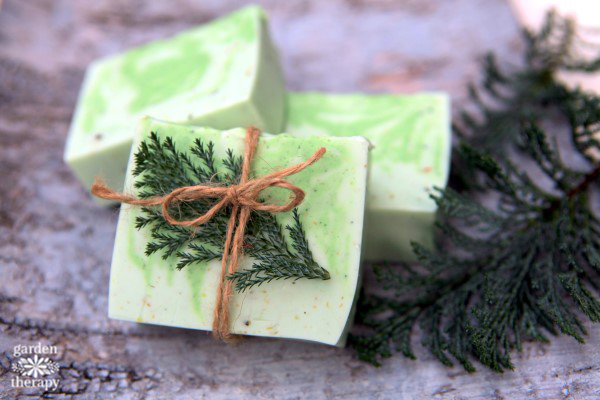 More Fabulous Soap!
Here are some more recipes for making soap at home. I love to make soap and I'm sure you will find a recipe or two that suits you here: