Making your own all-natural foaming hand soap costs a fraction of store-bought options, takes mere seconds to make, is healthy for your skin, and you can customize the scent to be whatever you choose. All that should be enough to get your excited, but making your own dispenser also reduces unnecessary waste! In this post, I'm going to show you how to make an easy foaming soap dispenser and give you my favourite recipe for a luxurious and eco-friendly foaming soap.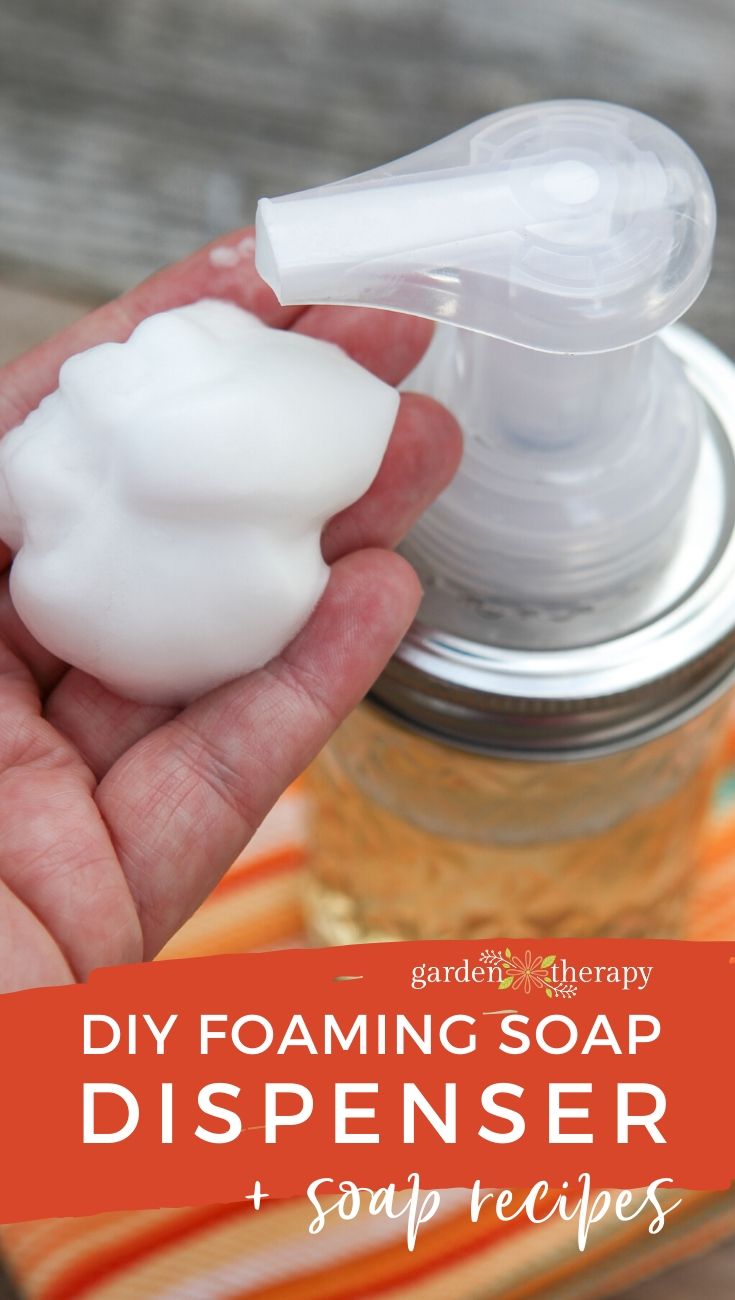 If you follow along on Garden Therapy you know that I scrapped the store-bought beauty products and make all of my own natural skincare products.
Somehow along the way, I became addicted to foaming hand soap. At first, I thought that I was cheating on my homemade soap bars. All-natural homemade soap is so much better for my skin than store-bought liquid soap. But the foam. Oh, the foam. It's so luxurious!
In this post, you will learn:
FAQs About Foaming Hand Soap
Update: this project and recipe were originally published in 2016 and since then I have received many questions on foaming hand soap. I'll answer a few of those questions here so you can get all of the information in one place!
How does the pump work?
The pump is made with two parts, one for the soap and one for air. It injects air into the soap when it goes through the pump, making it lather.
What are the benefits of foaming soap?
I wrote at the beginning that making your own foaming soap is both less expensive and less wasteful than buying pre-made foaming hand soap. It's very easy to make as you simply dilute liquid soap and water at the appropriate ratio. You can also reduce waste by refilling a container as opposed to buying a new one each time.
Finally, if you use natural Castile (olive oil) soap as the basis of the recipe, it's very gentle on skin and all natural.
Will regular soap work in the foaming dispenser?
No, regular soap is too thick for a foaming dispenser, you need to reduce the viscosity by diluting it in water.
Is foaming soap less effective than regular soap?
Yes, if not used properly. Dirt and germs are removed from skin in the process of lathering up with soap so if that lathering is already done for you, it can be less effective at cleaning to use foaming soap.
That being said, proper hand washing is the variable. If you apply any soap and lather for 20 seconds, rinse well, dry your hands, and then apply hand cream, you will have clean, soft, well cared for hands no matter which soap format you choose.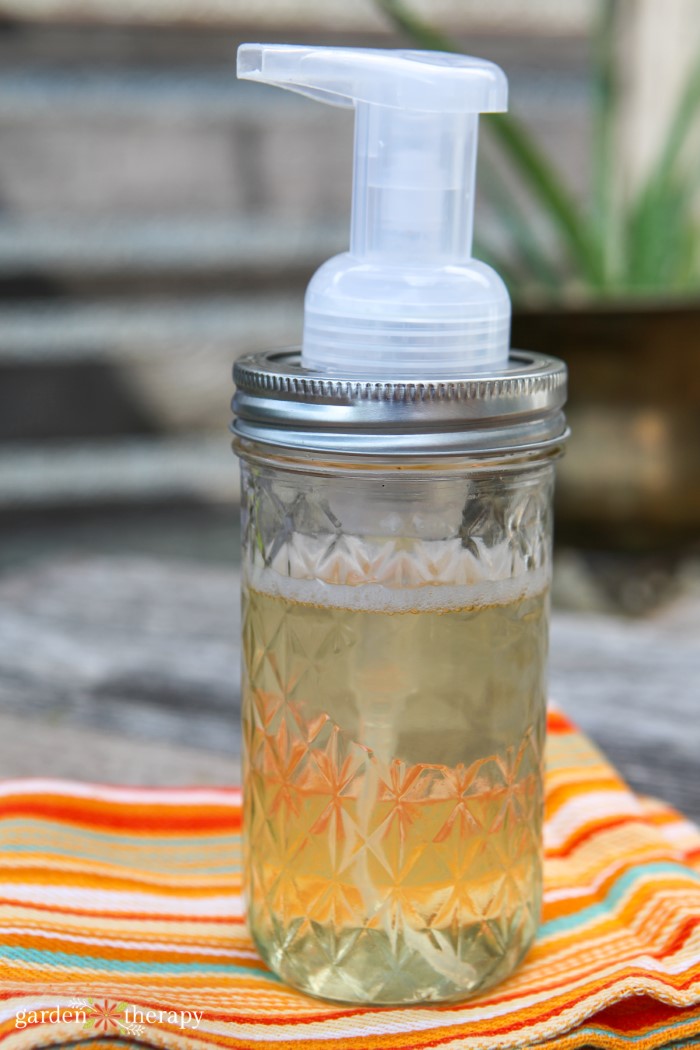 How to Make a Foaming Soap Dispenser
I set upon the task to make a homemade foaming hand soap recipe and came up with some fun and foamy soap that I'm proud to wash with.
Of course, I needed a stylish container and pump that I could refill, so I made one from a Mason jar and a foam soap pump from a disposable bottle.
I've shared how to make one today so you can reduce the waste of buying disposable foam soap dispensers by replacing them with a reusable DIY version.
First, I'll show you how to make the Mason jar foaming soap dispenser, then I'll share my basic foaming hand soap recipe.
There are a number of options for a permanent foaming soap dispenser. You could certainly just buy one as there are some pretty nice ones out there on Amazon like this one, this one, and these ones. You could also just refill the disposable foam soap bottle with my foam soap recipe below.
Or you can make one inexpensively using a attractive mason jar and the pump from the disposable ones.
That's what I did. Here's how you can too.
Materials
Tall, quilted, Mason jar
Snap lid and ring
Hammer and nail
Make it!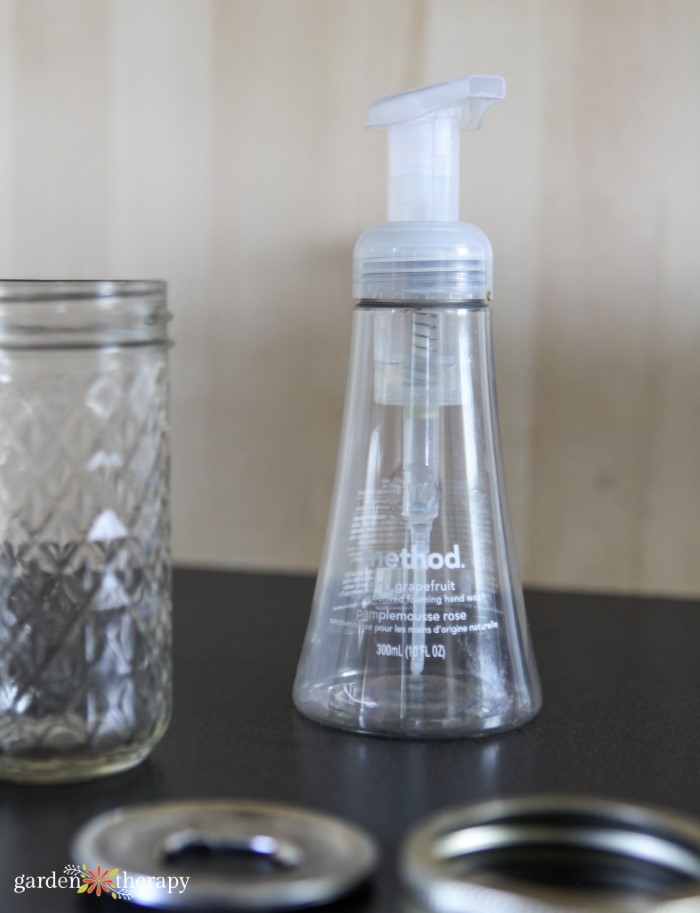 First, look for a disposable foaming hand soap bottle. I chose a Method one because I liked the look of it. You only need the nozzle and foaming mechanism, so remove that from the bottle.
Next, cut a hole in the middle of the snap lid to fit the soap pump into. The easiest way to do this is to use a hammer and nail to pierce a few holes in the center of the snap lid. Then, squeeze the metal snips in to cut out a hole.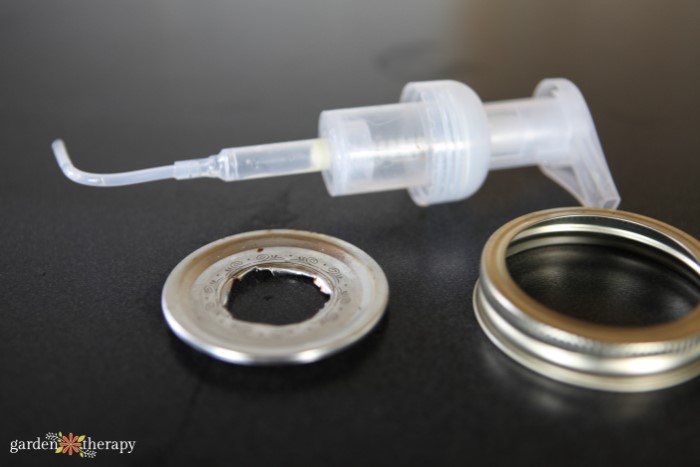 Cut the hole large enough that the thinner bottom part of the pump fits into the hole, but small enough that the top of the pump sits above it.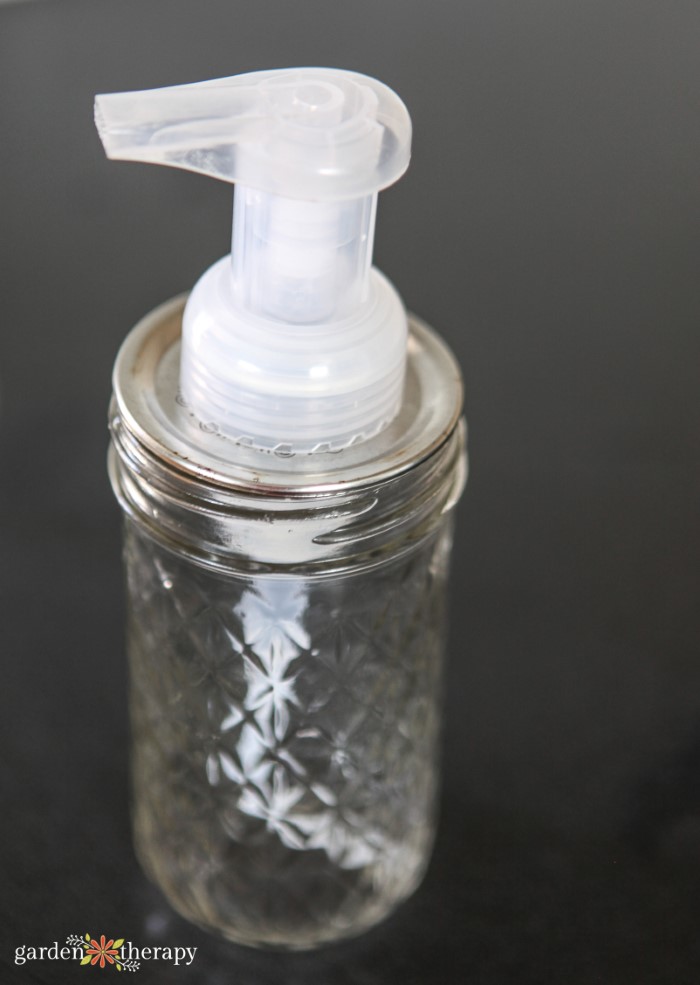 Insert the pump into the snap lid, top the Mason jar, and twist on the ring to see how it fits. Trim the length of the straw to fit if necessary.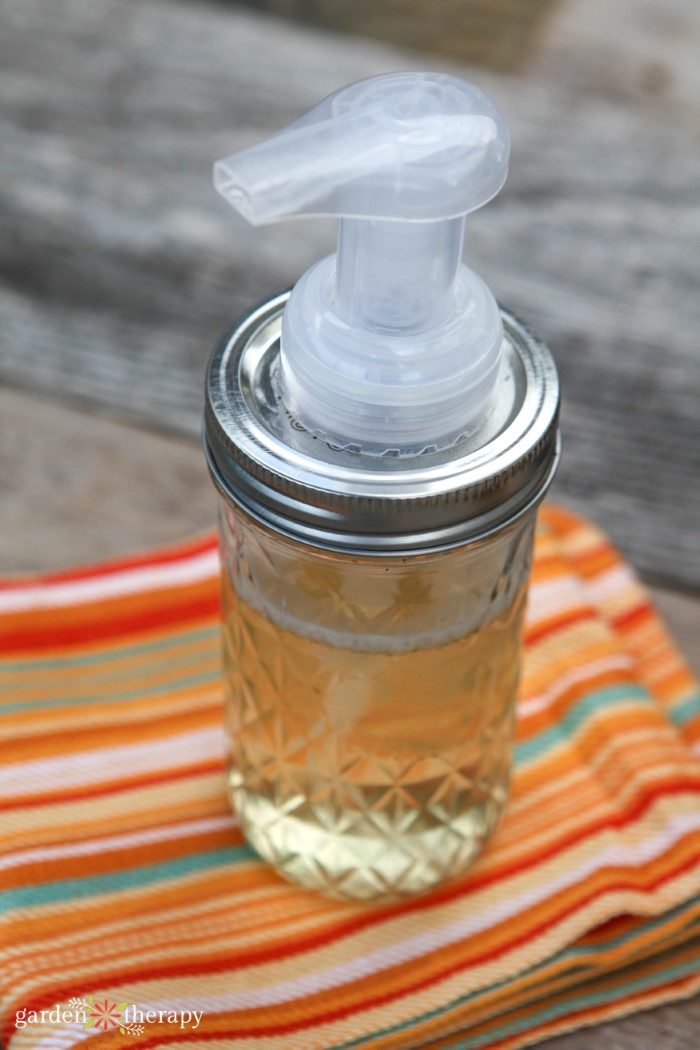 How to Make Foam Soap
Make your own foaming hand soap by using this recipe:
60% water
20% prepared liquid soap*
20% air
*I use this liquid castile soap, which comes concentrated and needs to be diluted. I prepare the castile soap according to the instructions on the package and use that for my 20%. If you like it a bit more creamy, use a bit less water. You can replace 5% of the water with more soap.
If you are using unscented castile soap, add 5-6 drops of essential oils to the recipe for a personalized scent. I like these scents in my DIY foaming hand soap:
I have also made this recipe with herbal tea. As it has botanical elements, it doesn't last as long. Make it in small batches and it's a wonderful way to change up and infuse your foam soap.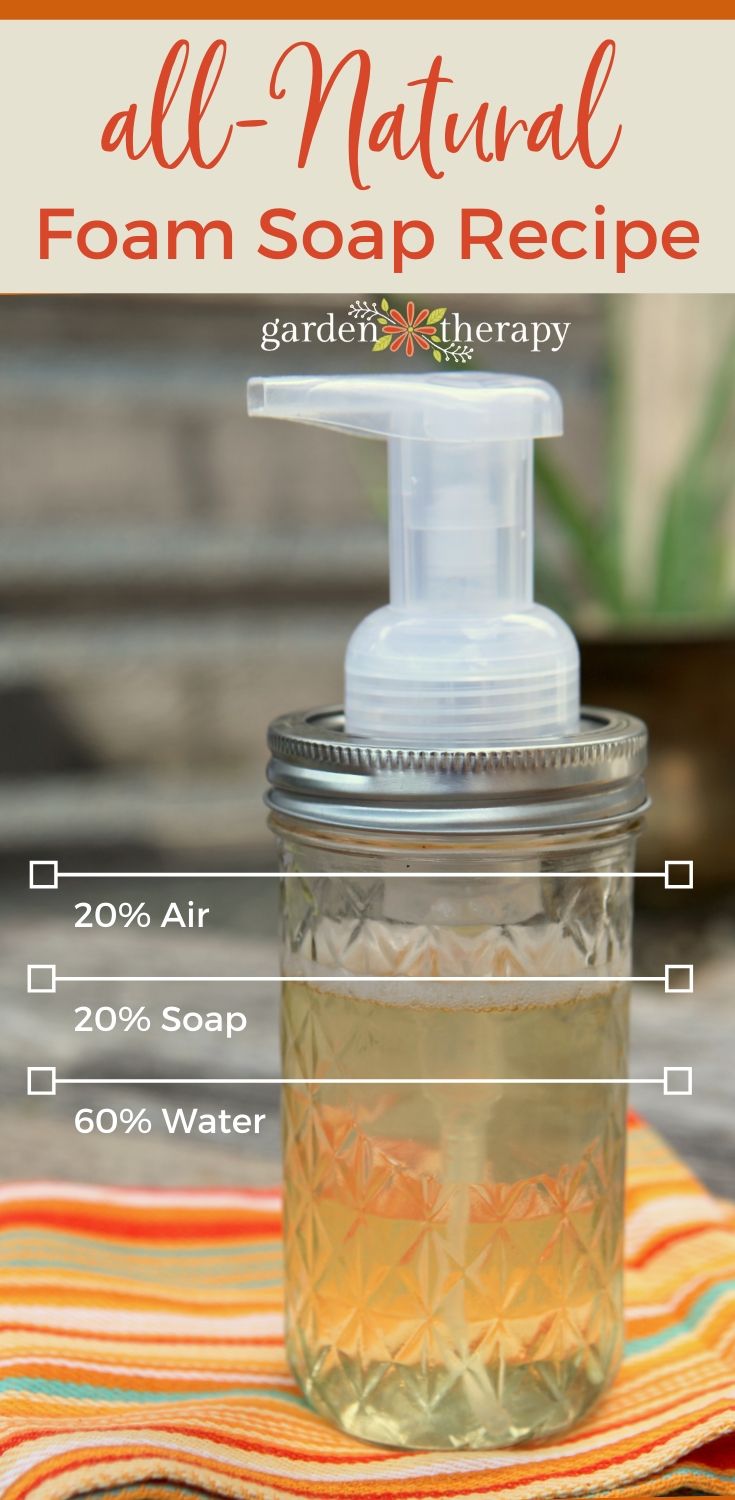 More Soap Recipes to Try
If you are also interested in bar soap, check out these recipes:
Foaming Hand Soap
How to make all-natural foaming hand soap with Castile (olive oil) soap
Equipment
1 Jar with foam soap pump
Supplies
60

%

water

20

%

prepared Castile soap

20

%

air

5-6

drops

essential oil
Instructions
Prepare a clean jar with a foam soap pump. Measure out the percentages of the space inside the jar to determine amounts.

Fill the jar 60% of the way with water.

Prepare Castile soap according to the instructions on the package – it comes undiluted so this prepared soap mixture is what you use to fill up 20% of the jar. If you like it a bit more creamy, replace 5% of the water with more soap.

Leave the top 20% for air.

Add essential oils of your choice.

Add the soap pump and shake to combine.

Shake regularly to ensure the essential oils are dispersed before using.