Need a natural way to relax and unwind? This foot soak is the answer! Make this DIY foot soak using a combination of herbs from your garden, Epsom salt, and essential oils—your feet will thank you for it!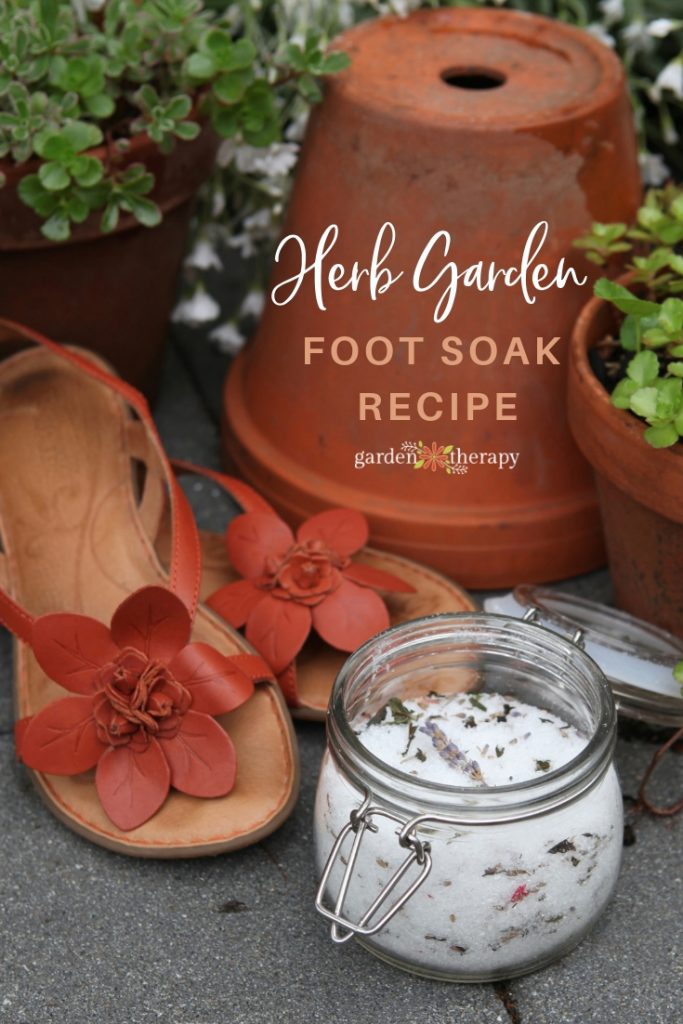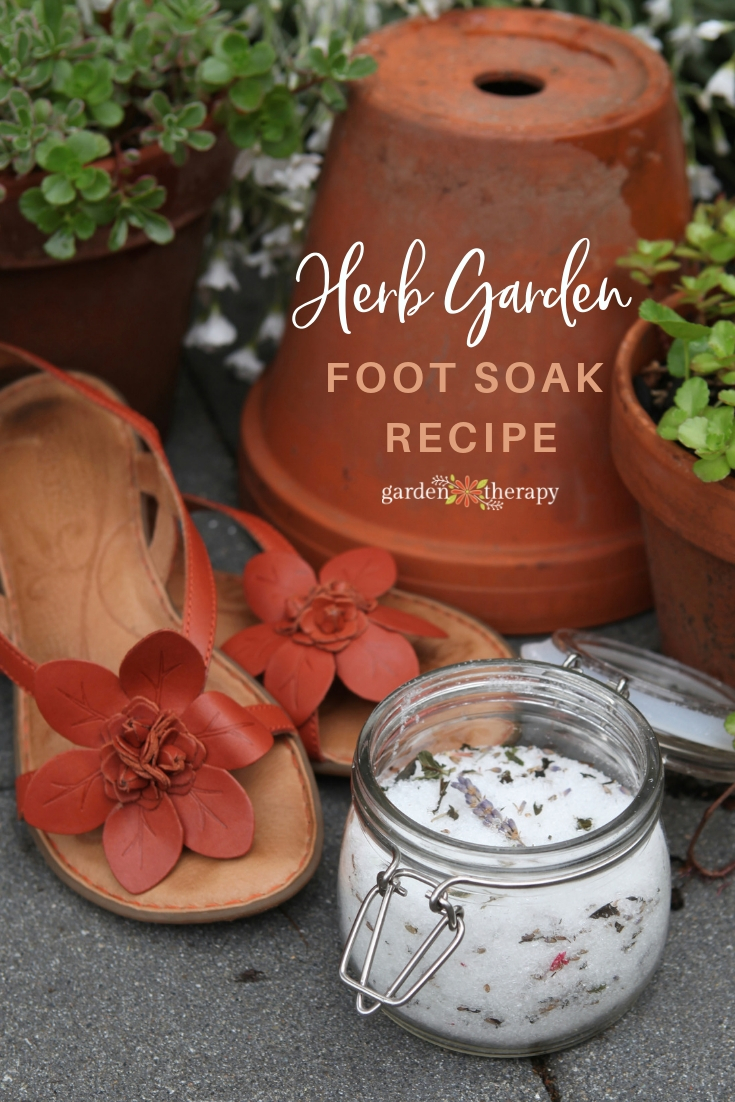 As gardeners, our feet take quite a beating. We are constantly flitting between our plants, often in less-than-desirable shoes (or barefoot if you are like me!).
Our feet are the base of our entire body…the foundation, if you will. As such, we need to take extra good care of them. If our foundation is off, we won't be able to function properly. It's like a bookshelf that has one leg longer than the other—it just doesn't work.
This foot soak is one of my favorite ways to relax and unwind after a long day. Not only will this easy DIY provide aromatherapy benefits, but it can actually help heal your body as well.
Foot Soak as Self Care
I make this foot soak often throughout the year, as the ritual and benefits are an important part of my self-care routine.
In gardening season, I use this soak to clean up my dirty, achy feet, especially those summer days when I end up gardening barefoot or in flip flops for three hours when I just went out to harvest some mint (I know you have been there too!).
In the winter, my feet get chilly and the skin gets dry, so I use this foot soak as part of a three-step routine to pamper my feet. Three EASY steps, I might add…here's what I do:
Soak using the recipe below
Use a foot scrub to remove the rough skin
Moisturize with foot balm
Benefits of Using a Foot Soak
Let me back up a minute and tell you why I use this foot soak year-round. There are so many reasons why herbal foot soak is good for you, it's surprising that it isn't a more common everyday practice!
Relieve Muscle Aches
As you may be able to imagine, soaking your feet in warm water with salts and botanicals is a quick and easy way to relieve muscle aches and stiffness.
If you are frequently on your feet and are experiencing foot pain, this is a simple, lux way to help heal them.
Draw Out Toxins
You might also be surprised to know that taking advantage of an herbal foot soak can actually reduce inflammation and improve circulation.
The base of this recipe is Epsom salt, which is the common name for magnesium sulfate. Epsom salt is an amazing ingredient that  is often used in a bath or a foot soak to ease pain, soften skin, improve immunity, and draw out toxicity.
Soften Dry Feet
If you have hard, dry skin on your feet, this is the best way I've found to soften them! If your feet really need some extra moisturizing, follow the 3-step winter foot care routine I shared above.
Provides Aromatherapy Benefits
Yes, you'll absolutely get to enjoy the benefits of aromatherapy simply by inhaling the scent. Additionally, this soak will help deodorize overworked feet…win-win!
Equally as important than anything else on this list, this DIY foot soak feels so darn fantastic. You'll see what I mean when you give it a try!
Video: How to Make an Aromatherapy Foot Soak
Here is a little video showing just how easy it is to make this soothing foot soak. For detailed instructions, scroll down.
How to Make a DIY Foot Soak
As you'll soon see, making your own foot soak is super simple. To make the soak even more plesant and effective, I add herbs and botanicals as well as essential oils. I like to pick herbs from my garden then let them dry for recipes like this, but if you want to purchase dried herbs, that works as well.
Herbs have longstanding reputations for their healing properties, some of which are noted below. The resulting blend smells amazingly good, works like nothing else I've tried for soothing my feet, and looks pretty enough to give as a gift!
Herbal Foot Soak Ingredients
The Healing Benefits of Herbs
Lavender – soothes nerves
Mint – cooling and refreshing
Eucalyptus – antibacterial and antifungal
Rosemary – deodorizing
Comfrey – pain relieving
Monarda and Centaurea petals – add color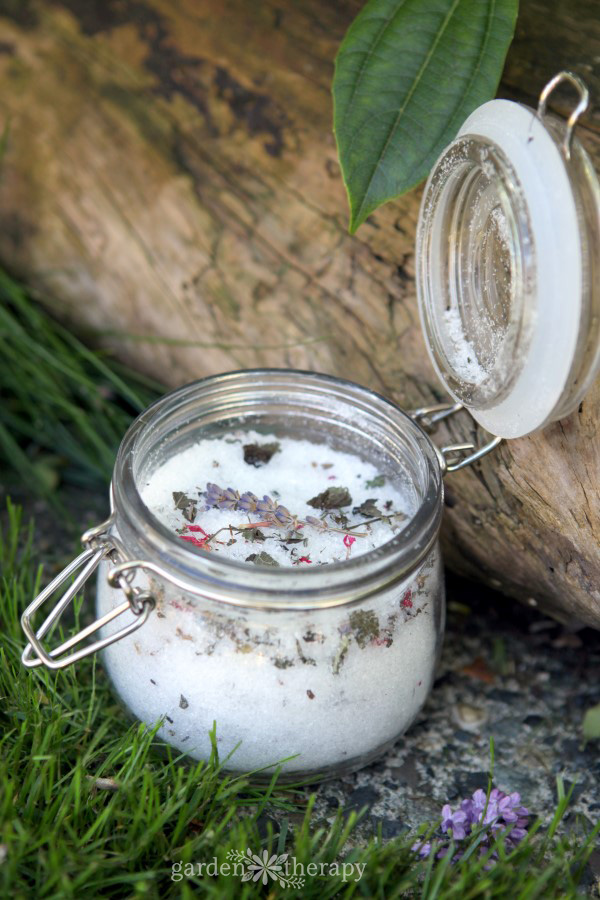 Make it!
1. Fill a pretty jar about halfway full of the Epsom salt.
2. Add essential oils, replace the lid, and shake.
3. Remove the lid again, add comfrey and dried herbs, replace lid and shake (again)
4. Add more Epsom salts to fill the jar, replace the lid and shake again.
How to Use an Herbal Foot Soak
Add 1/4 cup of this mix to an electric footbath or a flat-bottomed bowl of warm water. Soak feet for 10-15 minutes, then pat dry and discard the water. For extra foot-pampering use a homemade foot scrub and a healing foot balm after the soak:
You can also use this recipe in the bathtub! Use 1 cup for a small bath and 2 cups for a larger tub. At the end of the bath, use a drain strainer to collect the herbs and toss them in the compost as opposed to sending them down the drain.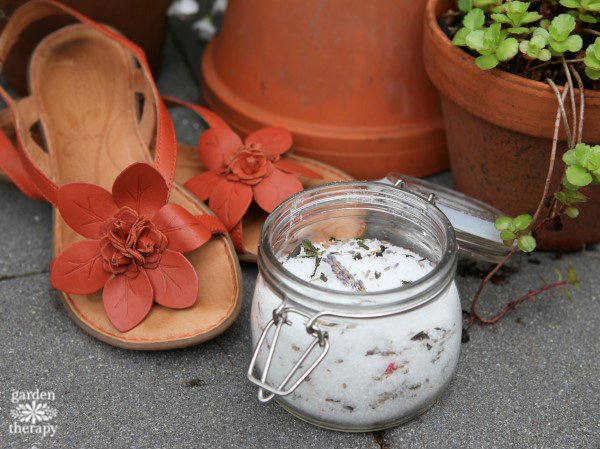 More Plant-Based Beauty Recipes:
DIY Herbal Foot Soak
This simple foot soak is easy to put together and will bring dozens of benefits right to your feet such as reduced inflammation and improved circulation.
Supplies
Instructions
Fill your jar halfway with Epsom salt

Add the essential oils, then place the lid back on and shake well.

Open the jar and add in the dried herbs, then shake again.

Fill the rest of the jar with the remaining Epsom salts, shake one last time.
Video
Notes
To use this foot soak, add 1/4 cup of this mix to an electric footbath, shallowly filled bathtub or a flat-bottomed bowl of warm water. Soak feet for 10-15 minutes, then pat dry and discard the water.