What do achy, dry, rough feet need? A little pampering straight from the garden! That's right, even your feet benefit from a little garden therapy. This peppermint foot scrub is made specifically for feet. Exfoliating sugar and dried herbs will scrub away rough skin, coconut oil will soften cracks, and soothing peppermint essential oil has a cooling effect. Update: follow this foot scrub with this all-natural healing foot balm recipe!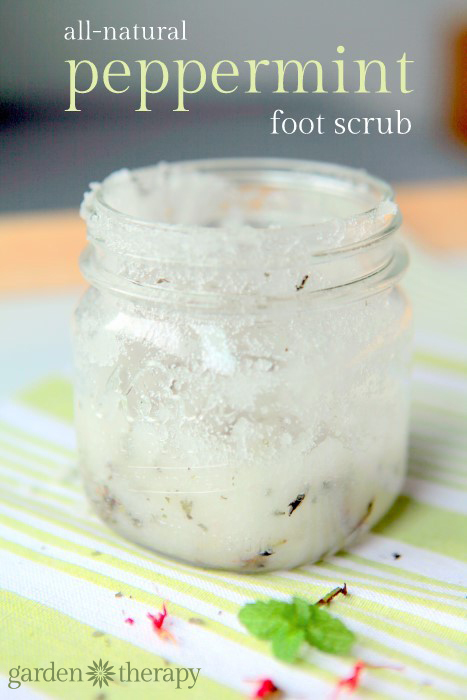 Sugar scrubs are all the rage. You will find endless recipes for them just by scrolling pages of social media. What's the appeal, you ask? First, they are simple to make, and you can usually find the ingredients you need around the house. This makes them a fabulous way to get started if you want to learn how to make your own all-natural skincare products.
You can see all of the products I use in the Natural Skincare Series here. Before you ask, no, I don't sell any of them. I make them for myself, friends, and family, and post the recipes for everyone else! 
Second, you can be very creative with ingredients. Generally you start with sugar and oil, then it's up to you what to add for scent, medicinal properties, and skin healing.
Third, they make your skin feel fantastic! I won't go too far into the adjectives here because I can't do justice to the smooth, soft, baby skin that you have hidden just beneath that outer layer. Just try it and you will see.
This recipe is perfect for feet. You can certainly use it all over your body, and I have, but I love this for cooling and soothing feet. The secret is in the peppermint essential oil. It has a stimulating and cooling effect on the skin, that can really perk up tired feet. If you are prone to foot or leg cramps, a massage with this oil will feel terrific. 

Ingredients:
Makes 1 cup
Make it!
Coconut oil is a solid at room temperature so it will require melting beforehand. Measure sugar into a mason jar, then pour melted coconut oil in.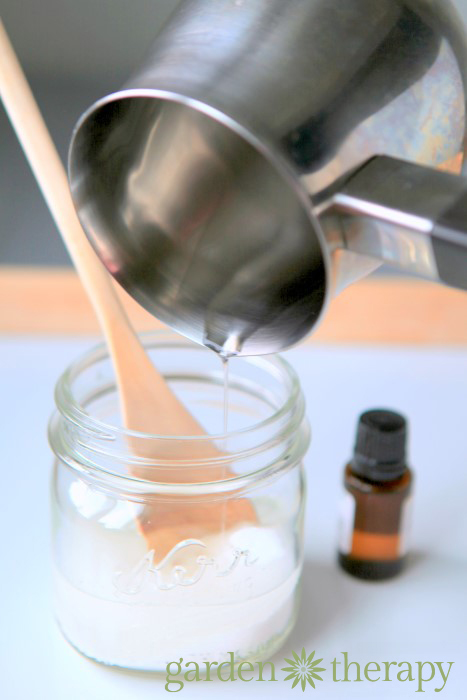 Add essential oil drops and stir well.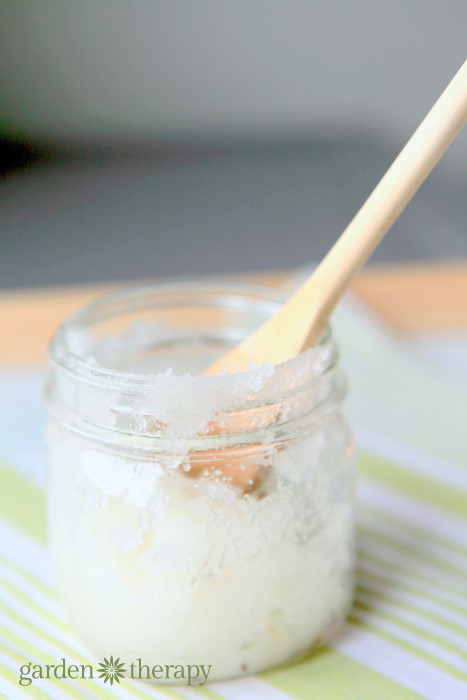 Add in dried herbs for additional texture and for visual appeal. I like to use dried mint, lavender, and chamomile from my herb garden.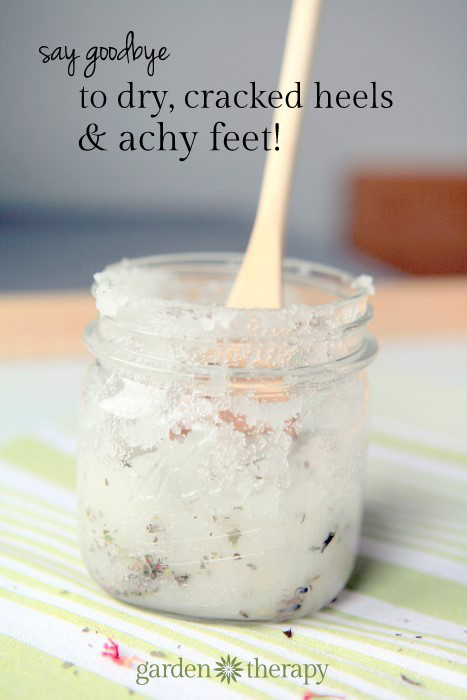 Tip: If you don't have dried herbs handy you can use the contents of a mint tea bag.
To Use: First soak feet to soften skin. You can use warm water and this Gardener's Herbal Foot Soak Recipe. Apply scrub to heels and massage well to loosen dry, rough skin. Rinse well and apply Ultra Healing Foot Balm. Your feet will feel like new!