Here is a really quick way to get a lot of lettuce in a short period of time while protecting it from those pesky slugs and snails! Growing lettuce in a wine barrel keeps it elevated so that pests can't reach it, plus its shallow root system means it thrives in a container environment, so you will have a huge harvest of lettuce without needing a lot of space.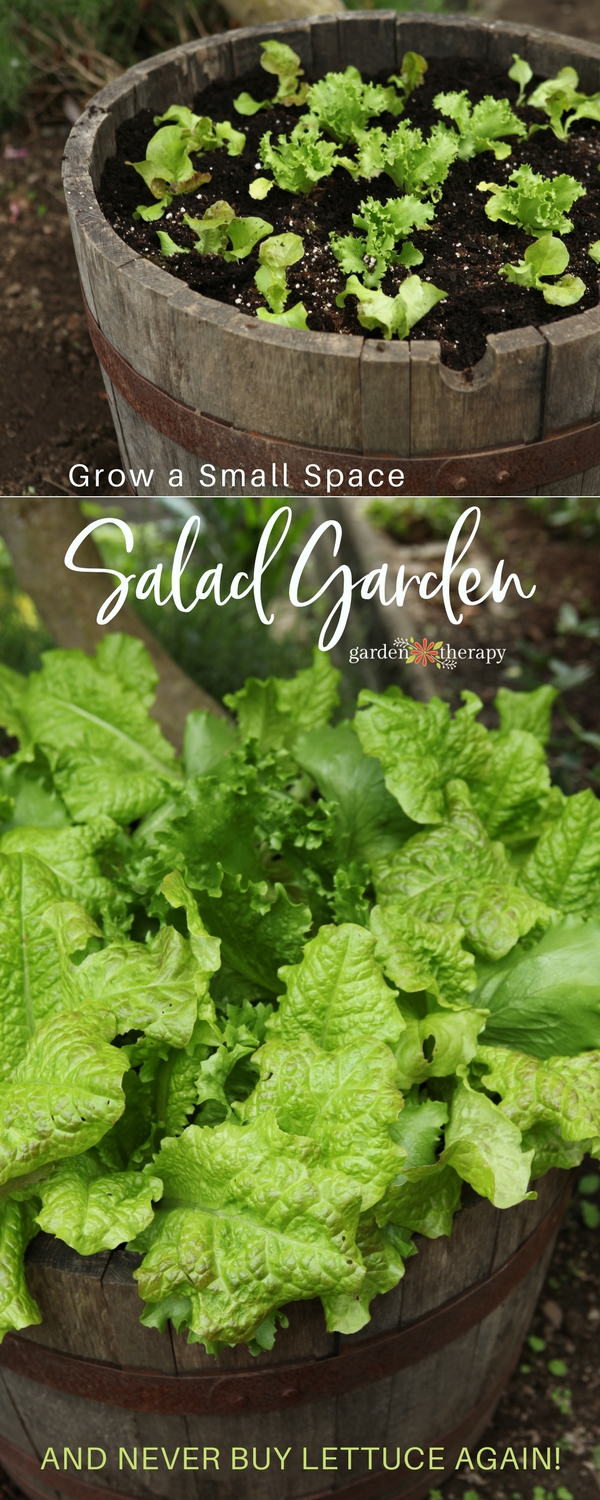 Of course, you can grow your lettuce in a garden bed or in any container you like, but I plant my lettuce in a wine barrel planter for a number of reasons. It looks decorative in the garden. It grows very quickly. It is easy to harvest the lettuce at a raised height. It greatly reduces the number of slugs and snails that devour the tender seedlings and then the leafy greens. And you can place it in a partially shady location like under a tree that will prevent the lettuce from overheating and bolting.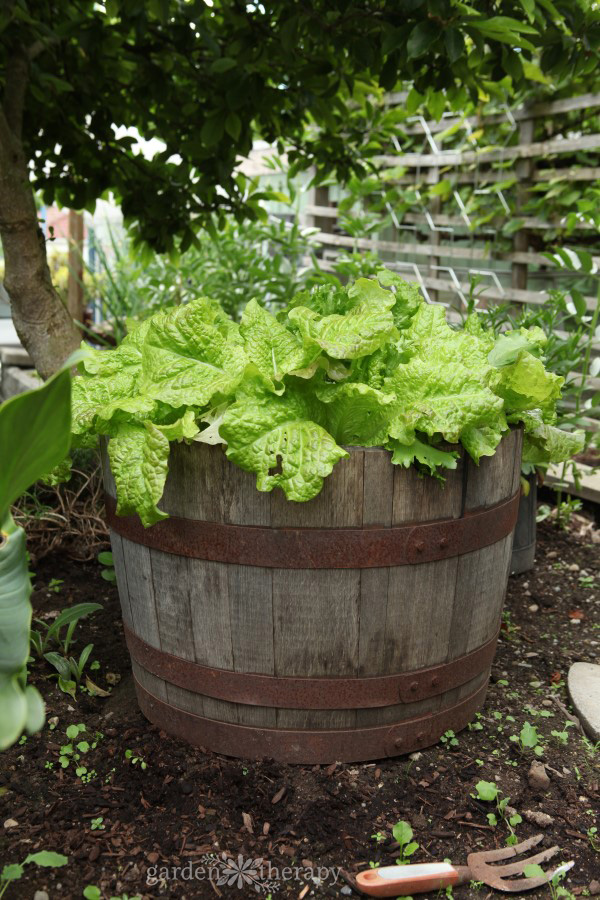 You don't actually need such a deep planter since lettuce has fairly shallow roots. I like the look of the wine barrel and I like having the lettuce elevated this high for easier harvesting. You can save soil costs by filling the bottom of the barrel with a large upside down plastic pot, then top the rest of the planter with a good quality soil mix for containers.
I love me some Sea Soil as has been mentioned many times. This nutritious soil is made of composted waste from the forestry and fishing industries. No matter what I grow in Sea Soil, it seems to grow three times better than in my regular garden soil.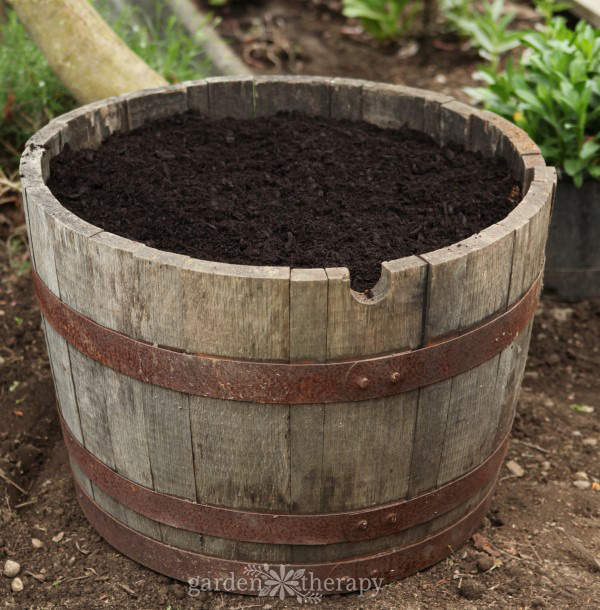 You can buy a container gardening soil mix of your preference or make your own by adding 2 parts peat moss and 1 part pearlite to 4 parts well composed soil. Mix thoroughly in a wheelbarrow, then fill up the planter.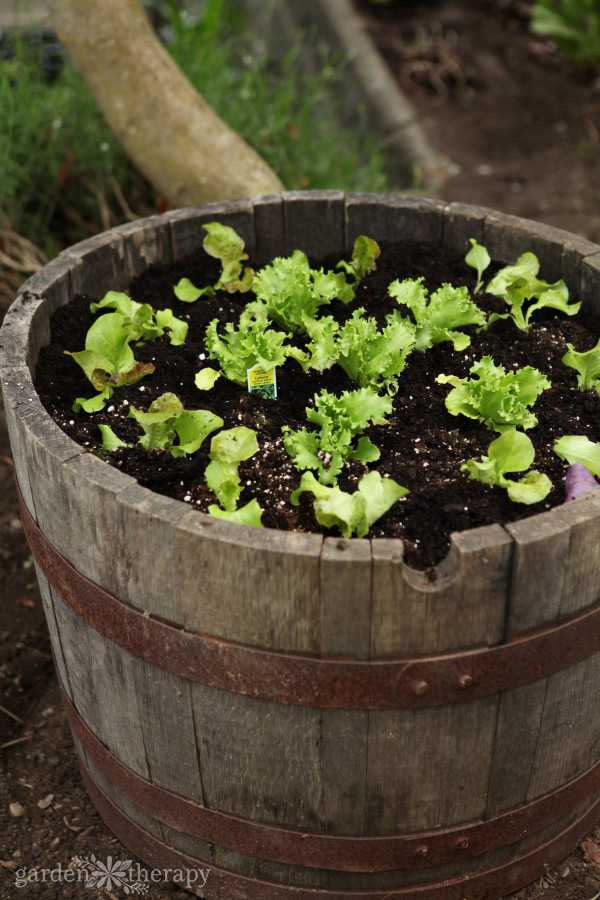 Lettuce seeds are really easy to sow either directly or by starting them indoors first. Learn all about seed starting here and for more detailed instructions plus lots of DIYs and tips, see my book on seed starting here. Nursery lettuce plants are also an option, and are really inexpensive. You can often get six more for just a few dollars. I think I spent $5 on a mix of seedlings that I planted in this barrel.
After just three weeks, this is what the lettuce barrel looks like. Now we are harvesting lettuce every day for our salads, sandwiches, and snacks.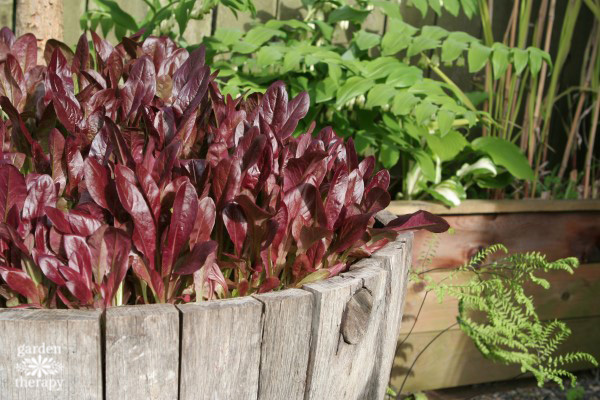 To harvest, you can either cut the outer leaves of the plants or harvest a whole head. If you cut the leaves, the rosette in the center will keep growing, but make sure you harvest it all before it starts to flower (this is called "bolting") or the leaves will become bitter.
If you harvest a whole head, then buy a few more seedlings and replace them as you cut. This way you will have a constant supply of lettuce throughout the season!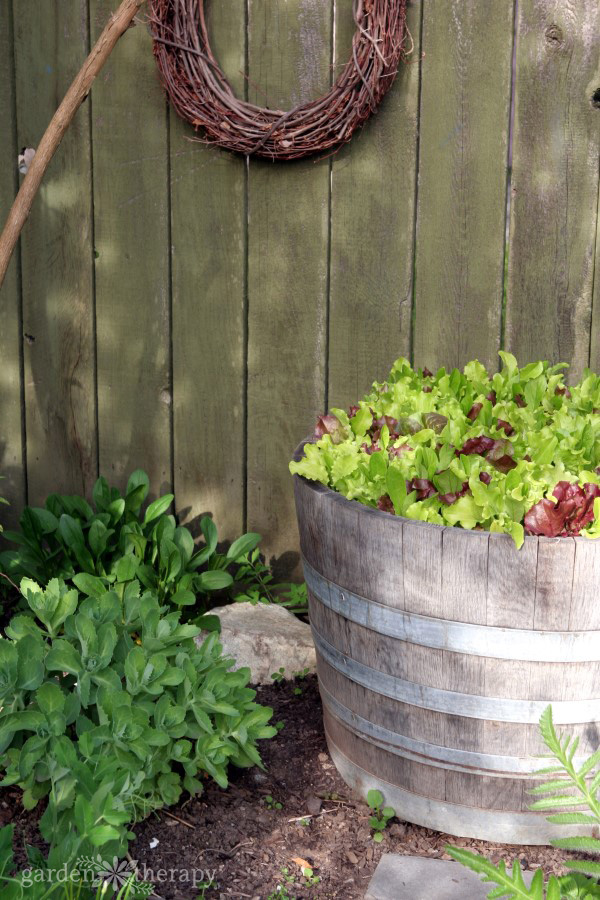 Please note that the opinions expressed are my own. I have had a love affair with Sea Soil for many years and was delighted when they agreed to sponsor Garden Therapy. If you have tried it in your own garden, you know.