Swiss chard is a popular vegetable to grow because you can enjoy both the leaves and the stems while also adding a splash of fun colour to your veggie garden. It's at home in both containers and garden beds (even ornamental borders!) and is a great long-season crop in cool climates. If you can grow chard, you absolutely should! Here's everything you need to know about growing a Swiss chard plant.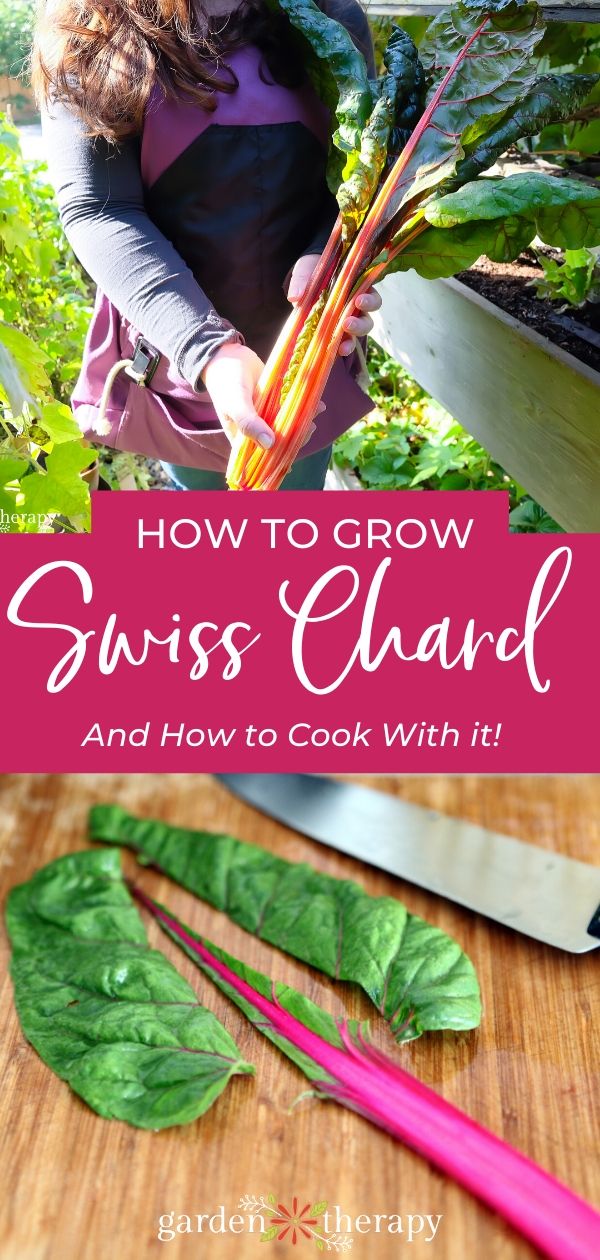 Swiss Chard is the colourful star of this installment of the Grow it! Eat it! series, where we will talk about growing, harvesting, cooking, and eating these extremely ornamental greens.
Without a doubt, you'll find me growing Swiss chard every year in my garden. It's forever and always one of my favourite vegetables. It grows SO well in cold climates that nearly everyone can enjoy this delicious vegetable.
And when I say delicious, I mean it. If you're looking for a versatile green, Swiss chard can be enjoyed early on as a baby green all the way until it's a big leafy vegetable that you sauté away in your pasta dishes.
As if it couldn't get any better, it also looks amazing in ornamental containers and beds. Add this vegetable amongst your annuals for a pop of green and to enjoy the colourful stems all on their own.
This post will cover…
What Is Swiss Chard?
Let's start off by talking about what Swiss chard actually is.
The Swiss chard plant is a leafy green vegetable that is closely related to beets and spinach. Like beets and spinach, the leaves are edible, taste great raw as baby greens, and grow up to be a hearty green that can be sauteed into a tasty side dish.
Of course, its most noticeable feature is its colourful stems! You will typically find them in bright pink, yellow, orange, red, pink or white colours – I just love them!
To distinguish the different types of chard, let's take a closer look at the colours of their stalks.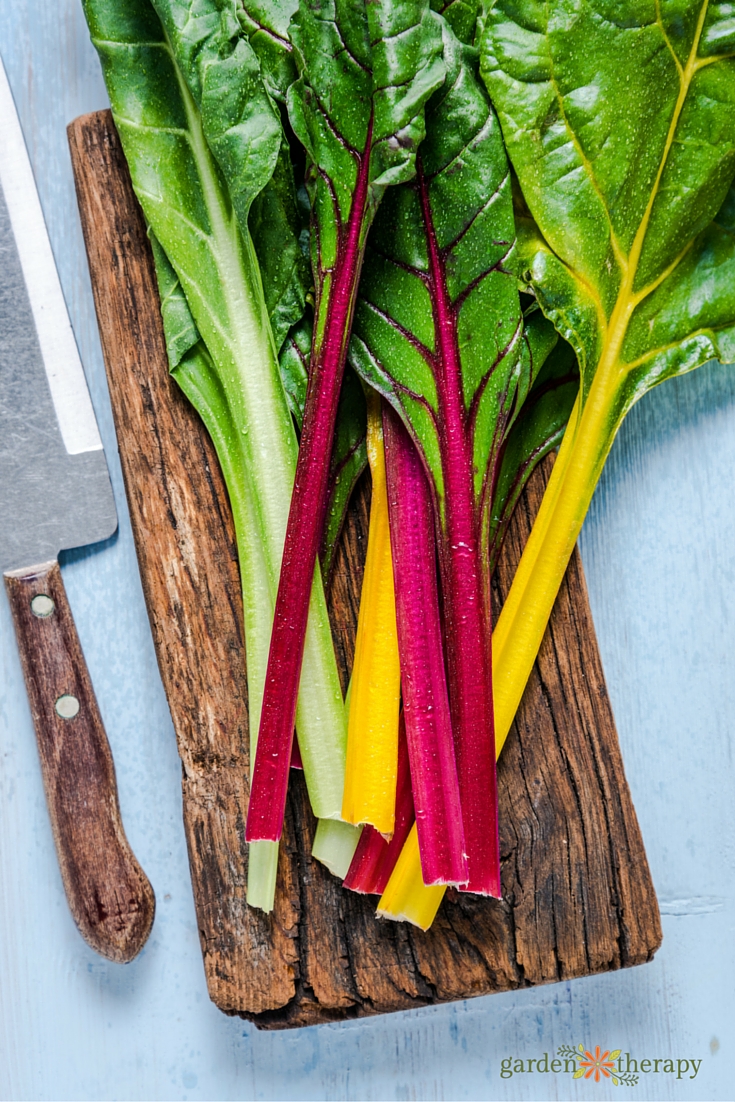 Different Types of Chard
There are many different kinds of Swiss chard plants you can grow in your garden. It just depends on what you are looking for flavour-wise.
Either way, all of them will add colour and beauty to your garden!
Here are a few of the different kinds of chard you can grow:
Rhubarb Chard looks like rhubarb with deep red stems and dark green leaves.
Rainbow Chard has bright, almost neon, multicoloured stems and green leaves.
Peppermint Candy Chard is a fun variety with pink and white stripes on the stems and green leaves.
How To Plant Swiss Chard
Swiss chard is a very popular plant to grow in Zones 2-10 because it grows so quickly and it's so breathtakingly beautiful too. It lasts for a really long time so you can grow it over many months and then harvest it over and over again during that time.
Just like with lettuce plants, you can harvest just the leaves and let the rest of the plant grow or you can harvest the whole head and leave space for the other plants around it to grow larger.
Like beets, each chard seed is actually a little bundle of seeds that will grow more than one plant. So no matter how diligent you are about spacing, you will have to thin them out to give the stems enough room to get big.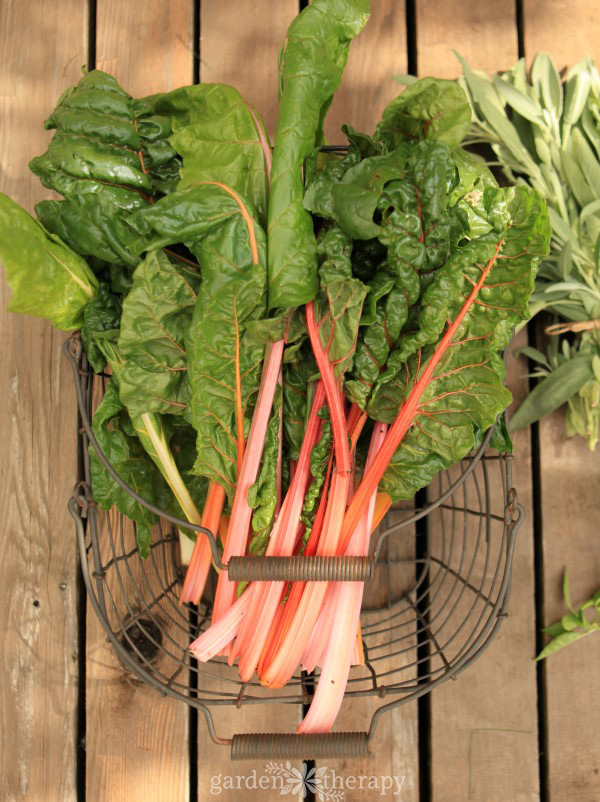 Thinning is the best part as it helps to really extend the number of months you can eat these beauties. Chard naturally grows a few plants together so it is ok with close quarters. They have pretty small roots compared to what grows above ground, so they can share space easily.
I go out to the garden to harvest chard regularly, removing small plants to give room for others to grow larger, or removing the largest ones to give room for the others to get big. I choose which to do based on how much chard I want to eat! It's that simple.
Steps to Growing Swiss Chard
Chard comes in many different colours as I mentioned above and is highly decorative in the garden. This cool-season lover is right at home in the flower garden, but it makes such a delicious meal when cooked, that you will want to have lots on hand. You can really never have enough in my opinion.
Here is how you can grow your very own Swiss chard plant in your backyard!
1. Choose Your Favourite Chard Seeds
Before you even get to planting them, you want to make sure you know what you are going to grow. If you want a selection of vibrant neon stalk colours, then choose seed varieties like "Bright Lights" or "Rainbow."
In optimal conditions, about 75% of the seeds will germinate which I'm sure is why Mother Nature has them packaged in bundles! You can start the seeds indoors and transplant them to the garden when they have 3 true leaves, or just plant them directly in the garden.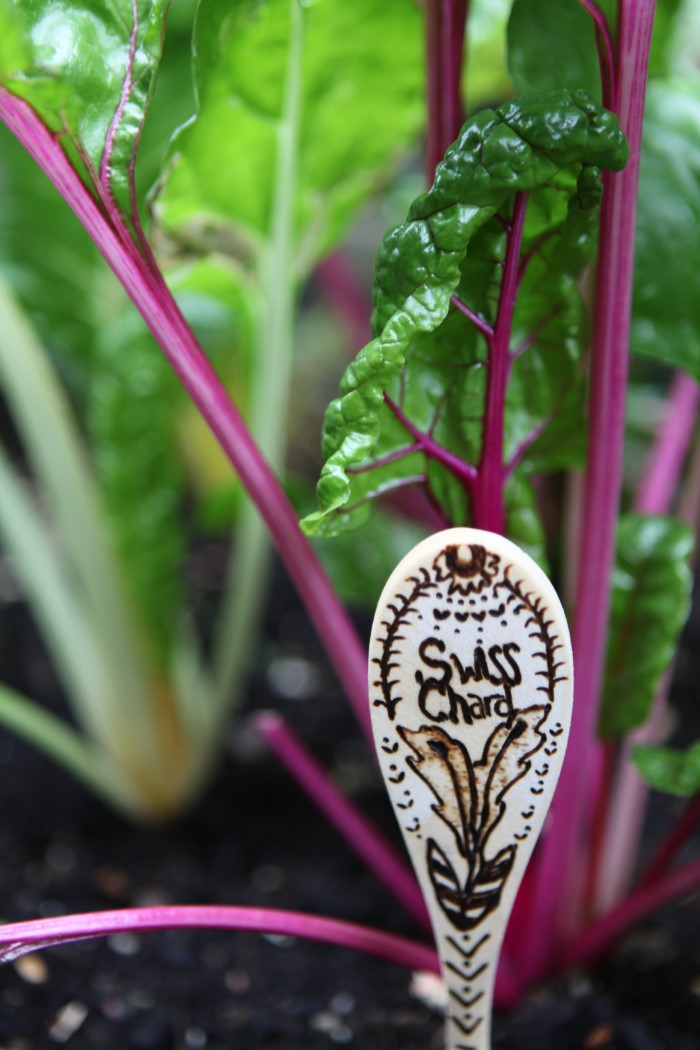 2. Plant In Full Sun
Plant the Swiss chard in full sun from mid-spring all the way through summer. The optimal soil temperature is 10-30°C (50-85°F) because this plant grows best when you plant it in the cool season. Chard is most sensitive to summer heat so plant it where it will get little shade in the hottest of the summer months.
Space the seeds 12″ apart or closer and thin the small tender plants to add to salads.
Seeds should start sprouting in 7-14 days.
3. Water And Care for the Swiss Chard
Water well through the growing season. As the plants grow larger, they will need more water. Pay close attention to the pH of the soil as the ideal pH for Swiss chard is 6.0-6.5. You can easily do a pH test for your soil right at home.
This plant prefers loose, deep, and fertile soil. So, you are going to want to fill it with lots of organic matter and add a compost tea twice during the summer.
This will help it grow big and healthy!
4. Harvest Swiss Chard
Harvest individual stalks from the outer part of the plant and allow the inner ones to grow larger. If you notice the plants are starting to grow taller, harvest the whole plant before they "bolt," or send up a flower spike.
How to Grow Swiss Chard in Containers
Swiss chard is a vegetable plant that does just perfectly in containers! If you want to learn how to grow Swiss chard in containers, refer to my complete guide to container gardening. You will learn everything you need to know, including the best types of containers to use and how to water them!
Start some from seed and then you can add a few plants to your decorative planters as well. Chard is the beauty queen of the vegetable world, and it looks wonderful alongside ornamental plants.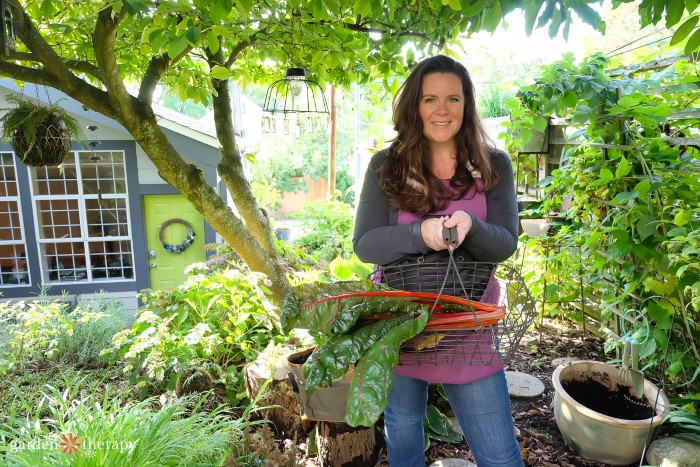 Swiss Chard Companion Plants
Thanks to their smell, plants in the allium family will help to keep away unwanted pests. Members of the cabbage family, including broccoli, radishes, and kale are also good neighbours thanks to their shallow roots. They won't compete for root space!
Other great companion plants include beet, tomatoes, bush beans, lettuce, and peas.
You can also plant chard amongst your annual flowers and other ornamentals. Due to their bright colour, they will fit right in!
And just like there are good plants for Swiss chard, there are bad ones. The growth of Swiss chard can be inhibited by field mustard, runner and pole beans, charlock, potatoes, corn, cucumbers, melons, and gourds.
You also may want to avoid planting other plants in the amaranth family such as spinach as they have similar pests and diseases. Spreading them out will slow any signs of pests down!
Overwintering Swiss Chard
Chard will do well in the winter in milder areas where winter temperatures don't go below 15 degrees F. / -9 degrees C. Healthy summer plants will slow down growth in the fall and died back over winter.
They might not look like much until the following spring when they pop back up again and the plant will quickly grow into sweet and tasty greens ready for your kitchen. See how and when to plant it here: Plant These Speedy Fall Vegetables for a Last Hurrah!.
Swiss Chard Pests & Diseases
I find that chard gets a few pests and diseases worth noting. In my garden, leaf miners are the biggest culprit, but chard can also get aphids and flea beetles.
The best advice I have for pests is to accept there will be some, and try to manage the population. Do a daily vegetable garden walk-through and remove pest-infested leaves or stems immediately. The leaves that are not affected are still tasty, so just wash them well and keep tossing the buggy ones in a bucket of water.
There are also a few fungal diseases that tend to pop up: leaf spot and downy mildew. Fungal diseases spread more easily when conditions are wet and there is a lack of spacing. Keep plants spaced properly, remove infected leaves immediately, and use this chamomile fungicide for plants to treat and prevent more fungal growth.
How To Eat Swiss Chard
Now, let's get down to brass tacks, shall we? I know you want to grow it, but is it worth the effort? I wouldn't be writing this if not! Chard is one of my favourite vegetables OF ALL TIME. Seriously.
When the leaves are small and tender they can be harvested as baby greens and are great in salads and sandwiches. But let this robust vegetable grow to maturity and each plant will give you enough food to serve a party!
It's sooo tasty when the mature leaves are cooked correctly. It's not hard to do, but you have to know WHAT to do: cook the leaves and the stalks differently!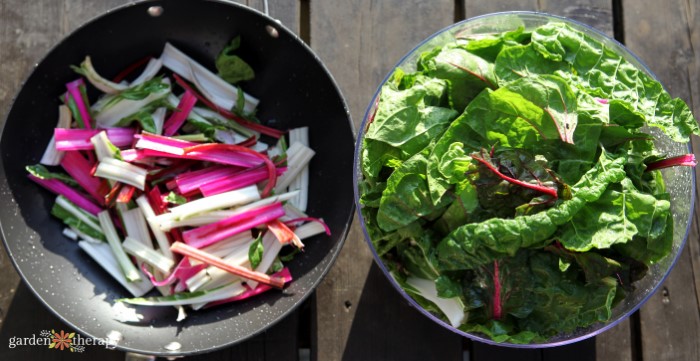 Easy Sauteed Swiss Chard with White Balsamic
The leaves of Swiss chard are a lot like spinach and the stalks you would cook are more like asparagus or green beans. My parents' neighbour once harvested a bunch and I watched her cook it, and now that is the only way I do it. You cook the whole thing together in one pan with this special chop and cook method.
Ingredients
4 cups prepared Swiss chard
2 tablespoons olive oil
1 garlic clove, minced
1-2 tablespoons white balsamic vinegar
Salt and pepper to taste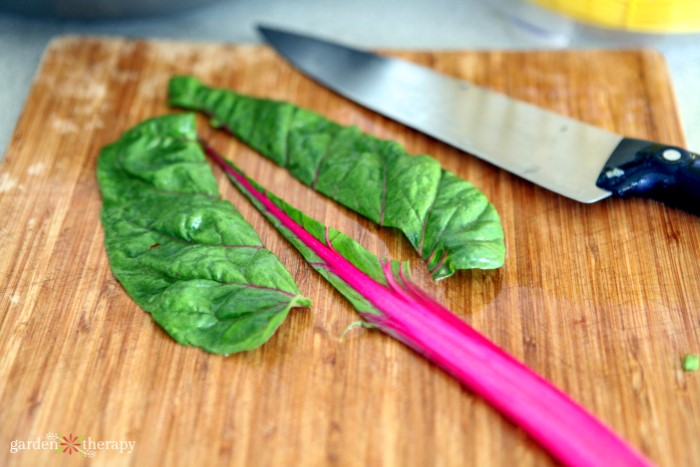 Make it!
Wash freshly harvested chard and dry in a salad spinner.
Cut the leaves away from the stalk and give them a rough chop. Set them aside.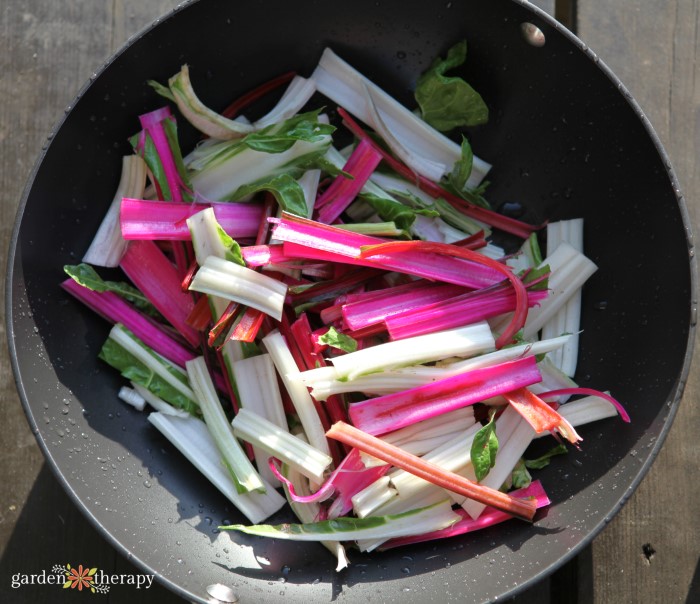 Chop the stems into 2″ long pieces and add them to a hot pan with the olive oil at the bottom.
Place the pan on the stove and cover over medium-low heat. Make sure that there is enough moisture for the chard and that the stems are steaming, not frying up. Add a bit more water if they seem dry.
After a few minutes, toss the chopped leaves on top. Grate a clove of garlic over the top. Drizzle another tablespoon of olive oil and the white balsamic vinegar over the leaves and cover again. I use less balsamic for tender chard, and a bit more to counter the bitterness of more mature chard.
Cook the chard like this until the stalks can be pierced with a fork and the leaves have wilted.
Stir and dress with salt, and pepper along with more olive oil and vinegar to taste.
Or, try it with some fennel and goat cheese in this Fennel, Chard and Goat Cheese Pie!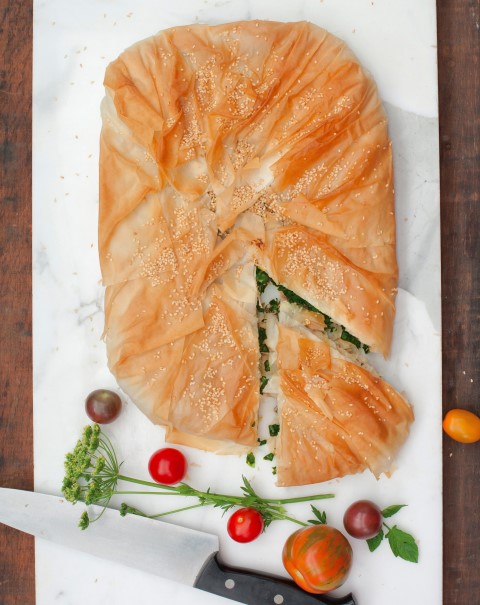 Frequently Asked Questions About Growing Swiss Chard
There's a lot to learn out there about Swiss chard. That's part of the fun and joy of gardening! Here are a couple of questions I have received about Swiss chard.
How Big Does Swiss Chard Grow?
If you water them enough, Swiss chard can grow up to be two feet tall! If you harvest them when the leaves are smaller, they will keep producing more leaves like cut-and-come-again salad greens.
Can I Grow Swiss Chard Indoors?
Yes, you can grow Swiss chard indoors! However, you need to be careful and make sure they get as much sun as possible. You can grow them as microgreens, and as a few of the seedlings get larger, transplant them to a windowsill planter and let them grow to 6-8 inches before harvesting as baby greens.

Try and set them up next to a window that receives plenty of natural sunlight at all times of the day, but keep in mind that hot, direct sunlight streaming through the glass can burn tender leaves. It's best to keep the planter just far enough away from the window that the plants get all the light but not the heat.
What Does Swiss Chard Taste Like?
I can't get enough of Swiss chard. In my opinion, it's one of the best-tasting greens out there. When eaten raw, the leaves have a slightly bitter but much milder than other greens such as kale. In a spring salad, I enjoy them as baby greens.

Once cooked, any hint of bitterness disappears and it takes on a sweeter taste similar to spinach. You must try them sauteed in a pasta!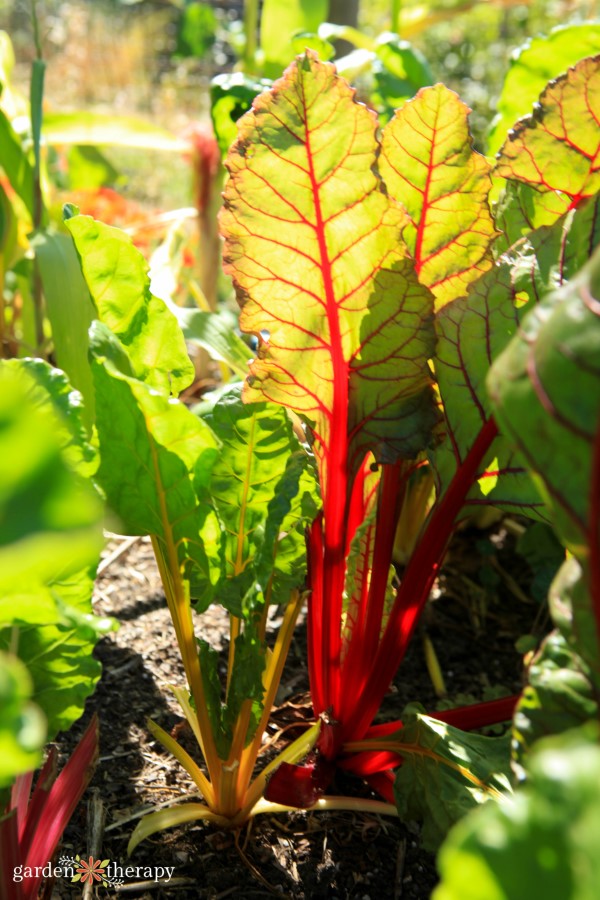 More Grow It! Eat It! Posts
There are more plants and vegetables you can pan to grow and eat, just like the Swiss Chard!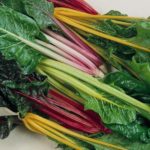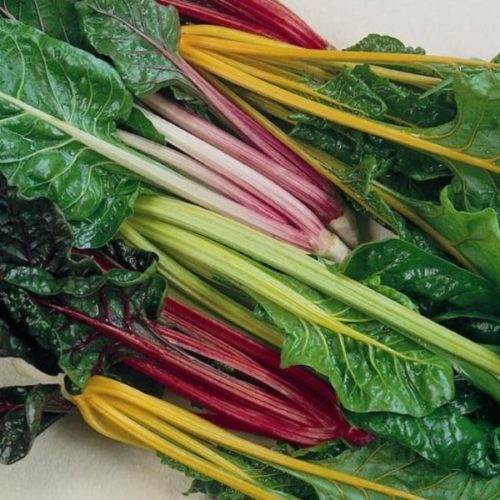 Print Recipe
Simple Swiss Chard Side
Harvest and enjoy fresh swiss chard by turning it into a tasty, simple salad! Swiss chard is wilted and then tossed with a fantastic vinegar and olive oil salad dressing. 
Instructions
Cut the off the swiss chard stalk and roughly chop them, then set aside.

Chop the swiss chard stems into 2-inch long pieces.

Drizzle a little bit of olive oil into the bottom of a wok, then add your stems.

Put your pan over medium-low heat. Check to make sure there's enough moisture in the pan – you'll want your stems to steam, not fry.

After a few minutes, add the leaves to the pan.

Grate fresh garlic over the top. Drizzle olive oil and white balsamic vinegar over the leaves and cook again until a fork can pierce the stalk. 

Remove from heat and add salt, pepper, olive oil, and white balsamic vinegar to taste. 
Nutrition
Serving:
100
g
|
Calories:
56
kcal