Pallets have been a popular material for DIY planter projects for almost ten years now, and for good reason. Upcycling wood that is slated for the landfill into a useful growing space is just one of the many benefits of this project. With just a few modifications, a pallet can be transformed into a functional, inexpensive, and decorative vertical planter. Pallet wood can be disassembled and repurposed into any shape that you can imagine, so it's easy to make a pallet planter that fits your needs. And, of course, you can paint and decorate it to suit any style.

To see a pallet planter come to life, head over to this post and you can learn the steps to making a pallet planter that's all your own.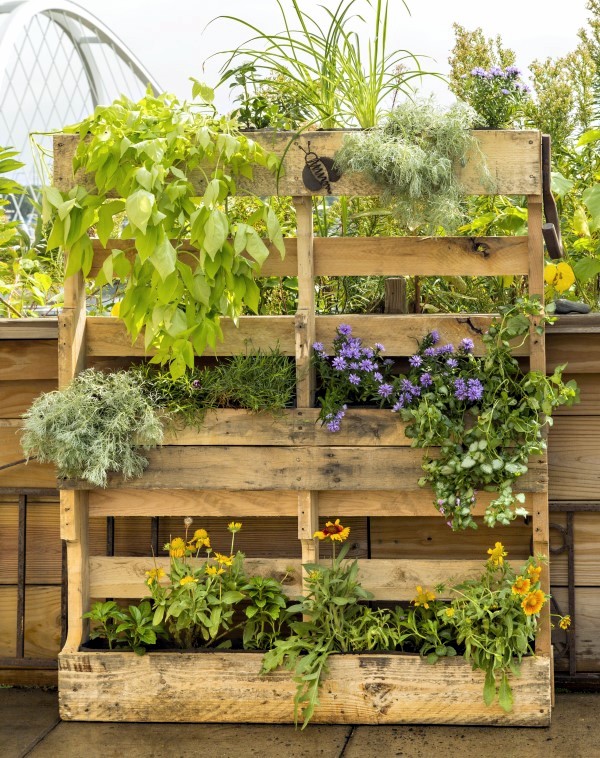 Once you have the basics of choosing safe pallet wood and assembling it into a planter, now it's time to get creative!
Here is some pallet-garden inspiration to help you imagine some of what these woody workhorses can become. There are endless ways to customize pallet planters to your own individual style and gardening needs. The following ideas will give you some direction to guide you, but in the end, the way you plant and decorate your pallet garden is completely up to you.
Fabulous Foliage
Upright Kitchen Garden
Hort Couture is also known for culinary couture and this display shows that off brilliantly. Edible Nasturtium flowers take center stage, but the other herbs don't fall into the background. As this planter grows, the mustards, parsley, sage, and basil will start to fill in the space and encourage you to harvest them for your cooking  pleasure.
Send in the Succulents
I spotted this succulent pallet planter at the Jardins de San Juan in California. The patio of the restaurant is spread throughout the most interesting water-wise garden I have seen. Stay tuned for the full tour of that garden in a few weeks. In the meantime, enjoy this image of a pallet stuffed with monsterous Echeverias, Aloes, and Aeoniums.
Vege-Table
A pallet gives the perfect amount of soil space to grow shallow-rooted plants like lettuce. A mixture of styles and colors makes this pallet planter as decorative as it is tasty. Harvest your entire salad in one convenient place, and enjoy lettuces for their ornamental quality as well. Bonus points for giving the planter a coat of stain or paint.
So Berry Strawberry
This popular planter was the creation of  soap maker, allotment gardener, YouTube star, and my friend, Tanya Anderson of the
Lovely Greens.
Tanya has built many things from pallets like her gorgeous patio table, but this strawberry planter takes the (short)cake. Its smart design allows you to plant berries in both the top and all of the sides, making it very berry productive. See how to make the pallet planter
here.
Small Space Case
I spotted a miniature version of a strawberry pallet planter at the Northwest Flower and Garden Festival. This planter is perfect for a small space like a balcony, where an in-ground garden is not an option. Plus, isn't it just adorable? I love the rustic garden tool illustrations hung from the top and bottom shelf.
Chic Backdrop
This stunning backdrop takes center stage because of the fabulous pattern and color choices. Technically, this is not a pallet planter, but instead a modular wall system with individual pocket planters that hang onto vertical hardware attaching it to a fence.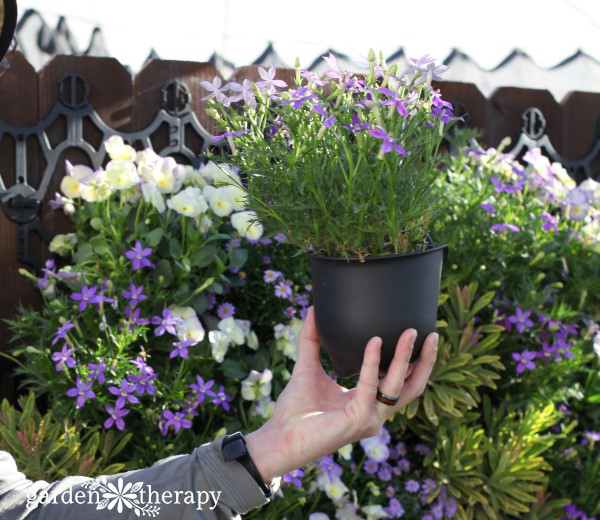 There is nothing to say that you couldn't take the same flowering annuals and mimic the result with a pallet.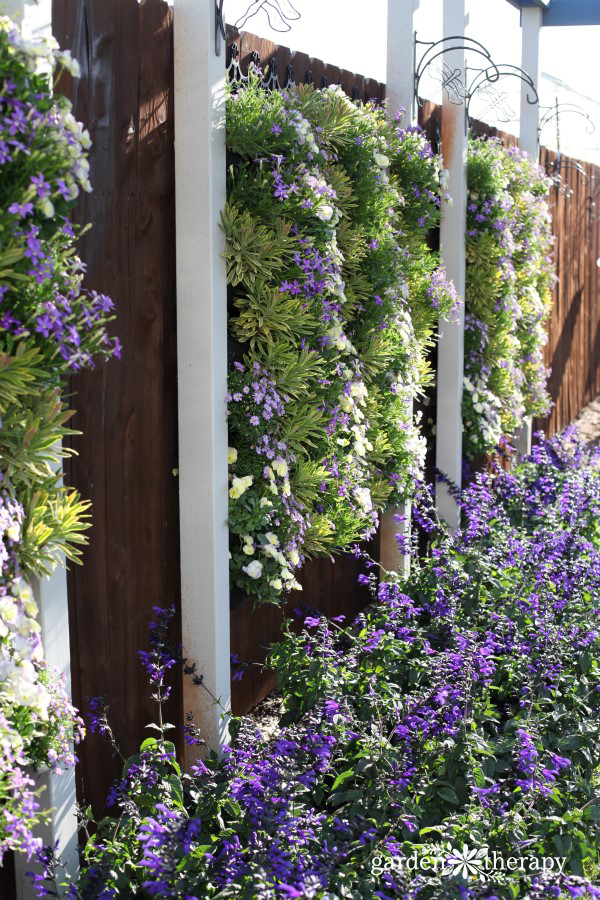 Please feel free to share photos of your finished pallet planters with me. I love to see what creative things Garden Therapy readers come up with, and I know you'll have all kinds of inspiring takes on this project.
More Upcycling Projects for the Home Garden