The true measure of a creative gardener is not how well they grow plants, but what they can turn into a planter! Birdcages make for lovely outdoor hanging baskets with decorative metal frames that lend to trailing plants bursting through the bars. Make a romantic birdcage hanging basket to display on its own or group a few together for a beautiful backdrop at a garden party or wedding. See how to turn wire birdcages, candle lanterns, or pretty much any other wire structure into a hanging basket that will grow and bloom all season long.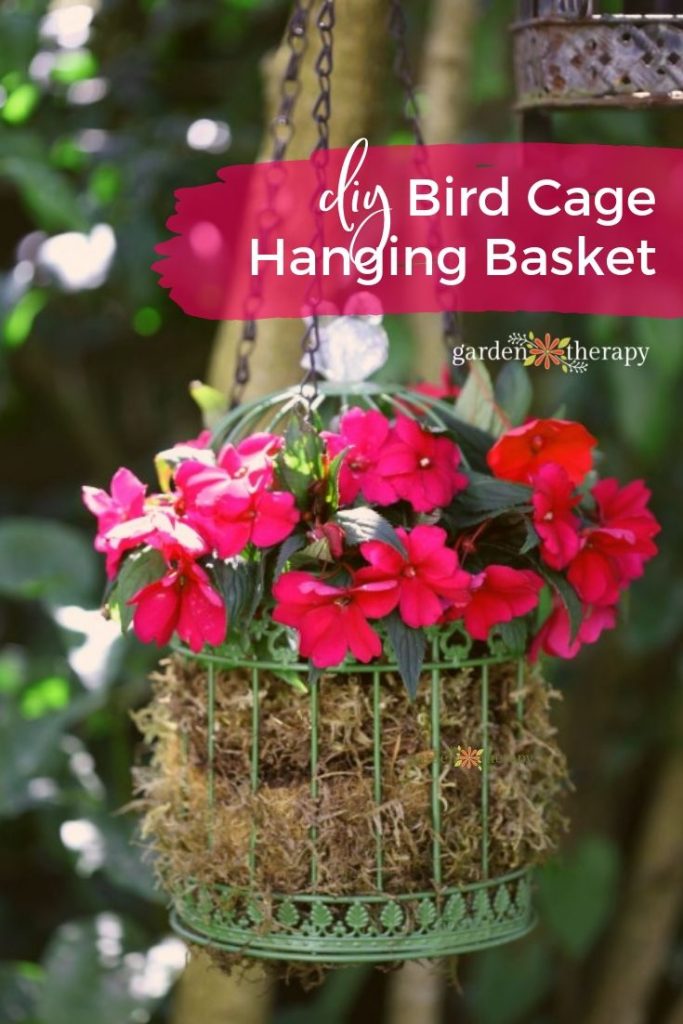 This kind of collection is perfect as a backdrop to decorate the patio but also to decorate for events. Imagine a set of these gorgeous hanging baskets hanging from the trees at a garden party or wedding where guests can go and have their photos taken. Or perhaps they're set on the table to decorate for an outdoor dinner. Either way, they add interest to any outdoor event.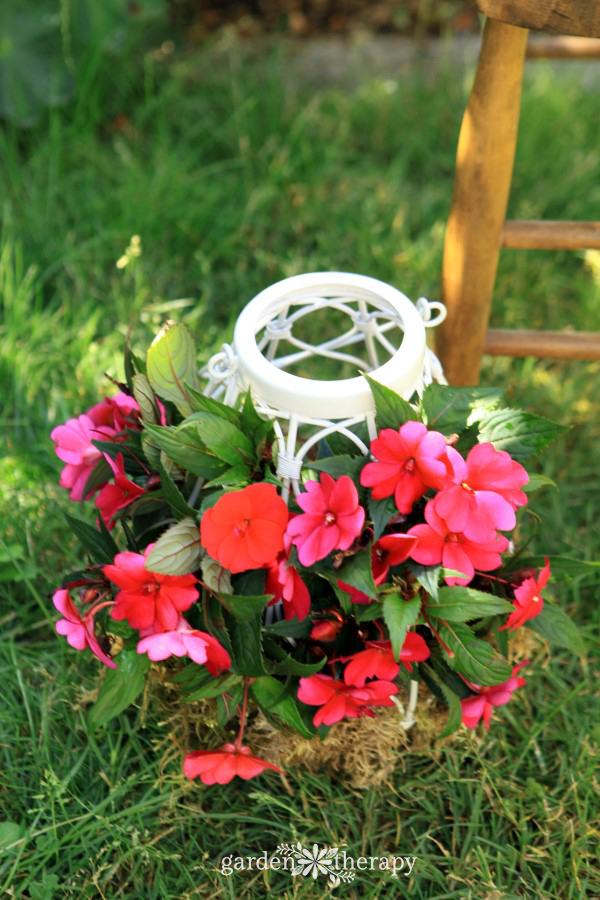 Disclosure: this project has been sponsored by Sakata, the creators of SunPatiens, who also provided me with the plants to try. I used SunPatiens® Spreading "Carmine Red" in this project, but there are many other gorgeous hues available. All opinions are my own. 
I did a previous project with SunPatiens® Compact which you can see here.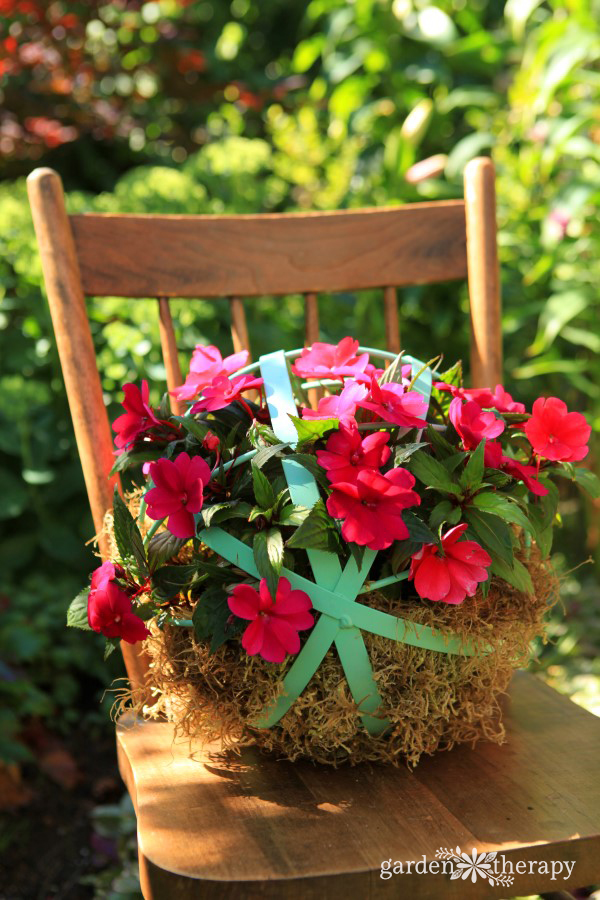 I chose to use SunPatiens® Spreading for my birdcage hanging basket because they quickly fill in the space and the flowers will pop through the bars. Over the season the SunPatiens will create a lot of flowers that bloom heavily all season.
Materials
Decorative wire-framed birdcage or candle lantern
Landscape fabric
Good quality container garden soil
SunPatiens® Spreading "Carmine Red"
Make it!
Start by hunting for just the right container to convert into a hanging basket. You can often find a variety of wire ornaments that are painted in bright and vibrant colors.
For this project, I found a dark green birdcage with a little crystal bird on top, a white candle lantern, and a mint green wire globe. They were all in different sections of the store, so my collection came together as I shopped around.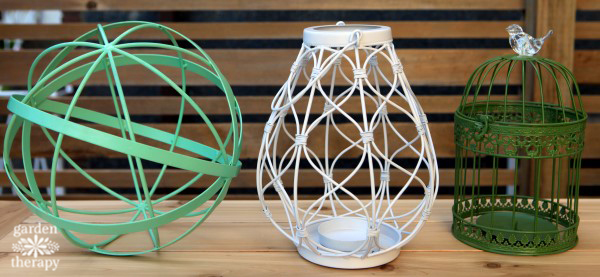 Use a hanging basket liner or a sheet of coconut coir cut to fit inside the wire frame.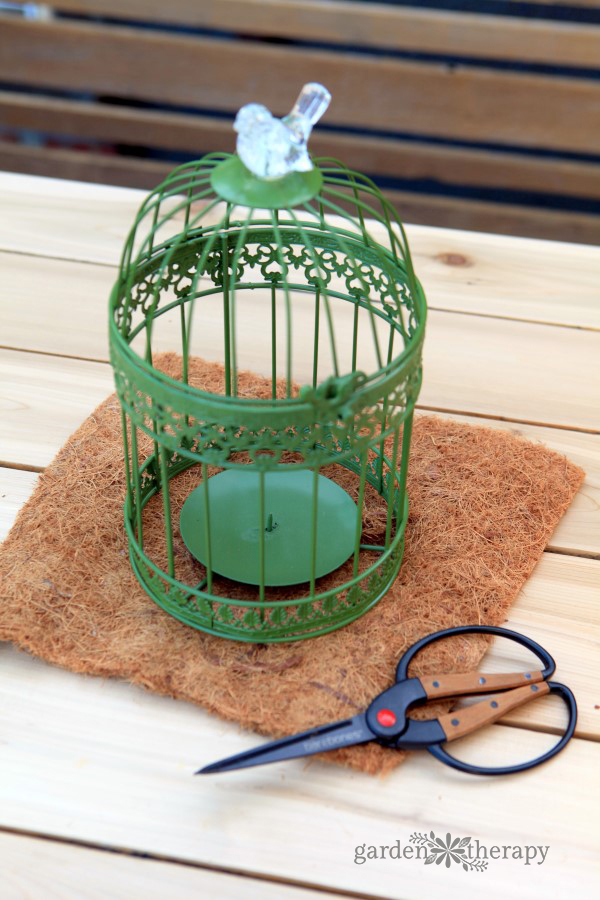 If you need to cut your own liner, cut a circle, then cut out four triangles so that it will fit into the candle holder as a basket.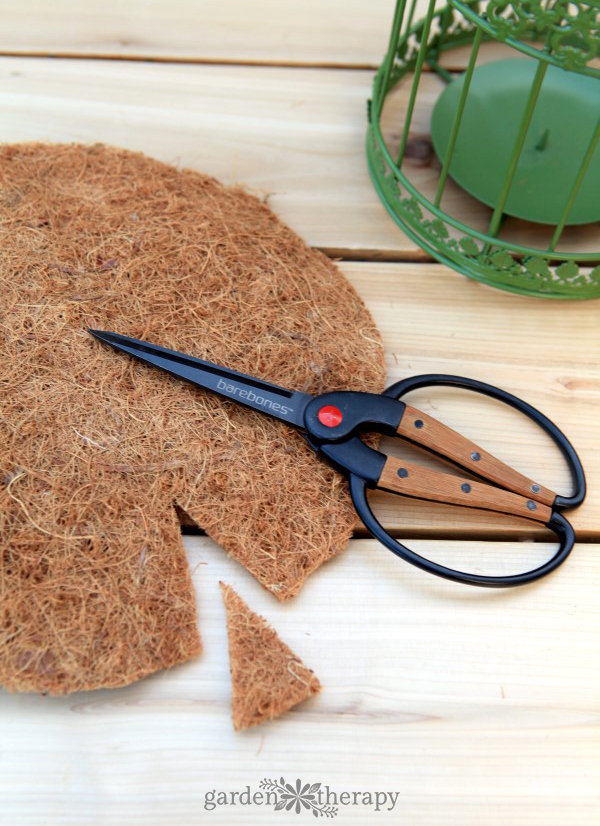 Tuck moss in around the coir basket liner to disguise it and give the basket a more natural look.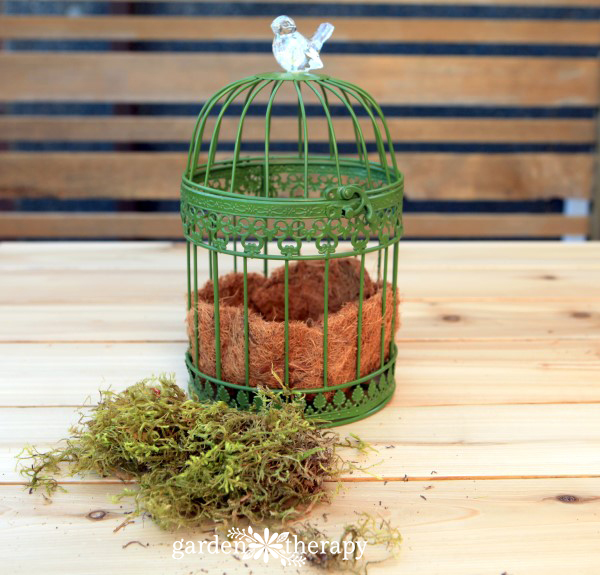 Cut a piece of landscape fabric to fit inside the coir basket. Add some good quality potting soil to the basket.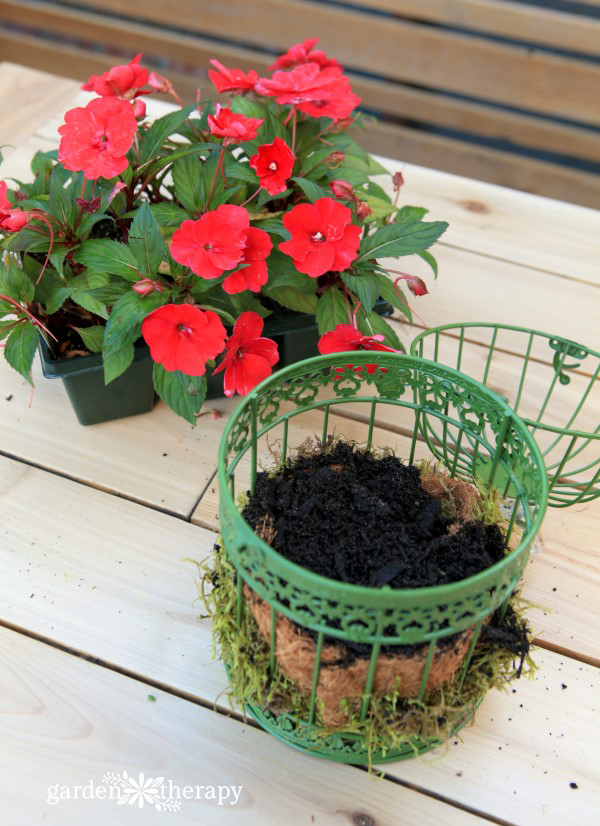 Remove the SunPatiens from the nursery pot and gently tease apart the roots with your fingertips. Dig a little hole in the soil and plant it. You only need one bedding-plant sized SunPatien to fill in the birdcage hanging basket. Any more and it will get too crowded.
Cover up the root ball with potting soil and top with some more moss.
Water the container well and set it out on display for everyone to enjoy.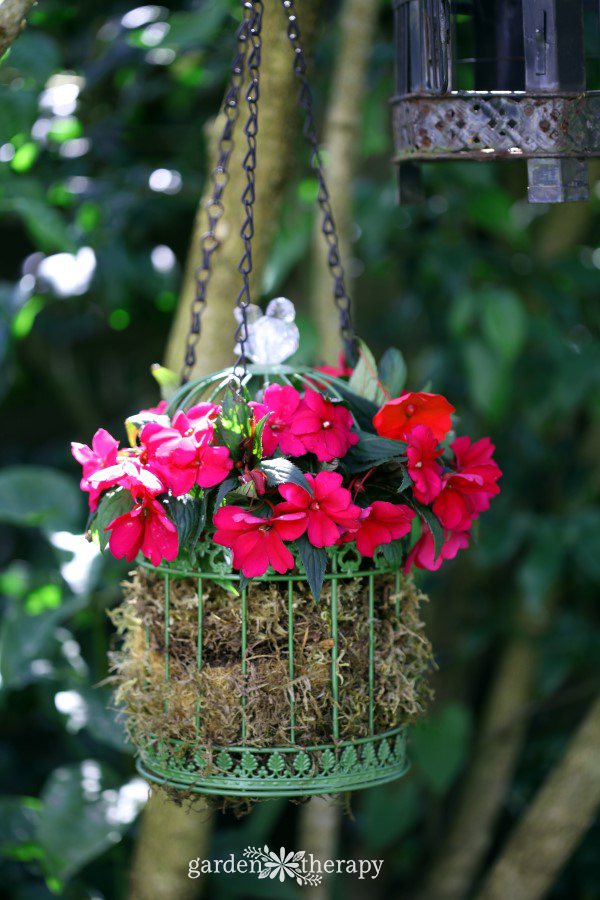 About SunPatiens
SunPatiens are a hybrid of traditional impatiens (I. walleriana) and New Guinea Impatiens (I. hawker) bred by Sakata, a Japanese seed company. The result is a variety of impatiens that thrive in full sun to partial shade, have continuous color from the spring through hard frost, can handle high heat and humid conditions, are easy to grow and low maintenance, and are unaffected by downy mildew.
SunPatiens are unique because Sakata works with the Indonesian government and Convention on Biological Diversity (CBD) to ensure conservation and benefit to their native country. As with everything, there are knock-offs out there. Always check the tag for the SunPatiens name to be sure you are getting the real thing and truly support Sakata's efforts.