Plant jewelry is my favourite accessory. There is no better way to take the natural world with you than to wear it! This list includes some of the most beautiful, garden-inspired jewelry for you to add to your collection. Browse for yourself, or as a gift for your fellow plant lovers!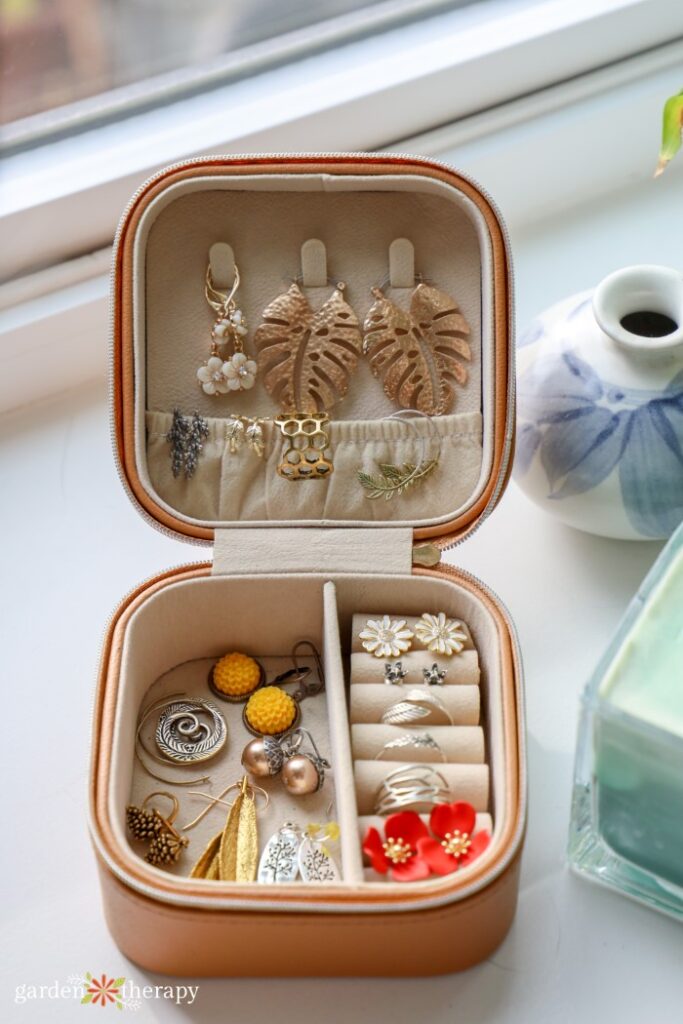 Jewelry is an incredibly personal part of your wardrobe. When you look at your jewelry collection, you'll probably see a few different categories: timeless pieces that have been passed down, gifts from loved ones, and super special buys that you just couldn't pass up!
Adding to this collection is no small feat; the pieces need to speak to you in a personal way. So for plant lovers, plant jewelry is the ultimate choice!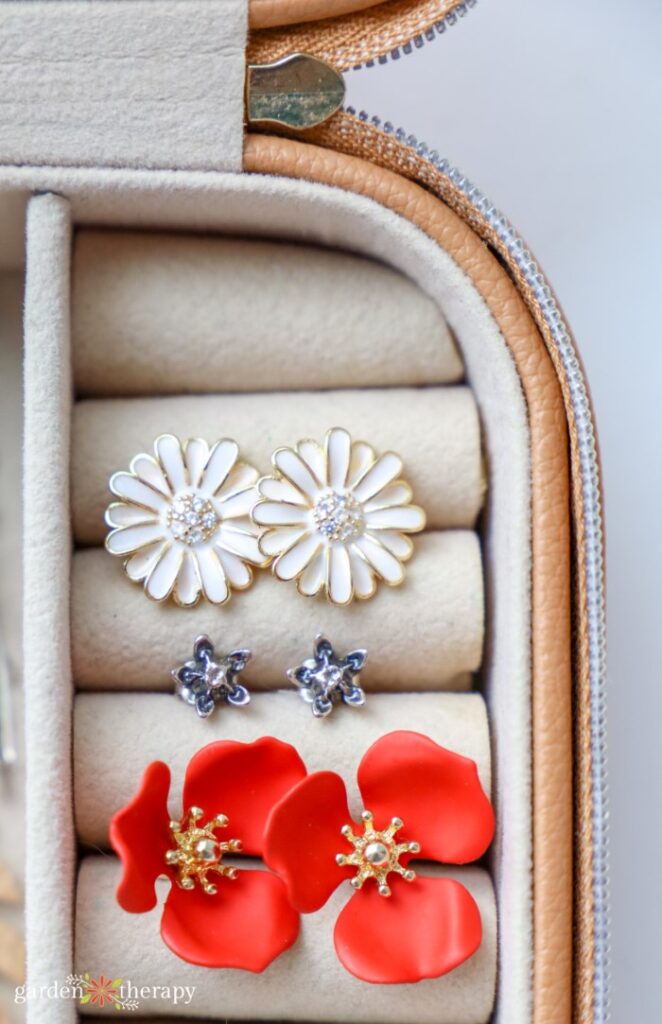 As a lover of all things botanical, I take every opportunity to add a little bit of the garden to my life. Plant jewelry is an easy way to bring the garden with you wherever you go! Looking down at a cedar ring or twiddling with an olive leaf hoop is a great reminder of your plant life passions.
I've scoured the internet for the most inspired plant jewelry pieces and have bought many so you don't have to. Use this post to find a one-of-a-kind gift for a loved one or something special for yourself. You deserve it!
Jump ahead to…
The Best Garden-Inspired Plant Jewelry Pieces
Looking to incorporate plant life into your everyday wear? Look no further than these fabulous plant jewelry pieces! I've chosen pieces that can entice anyone from the casual nature goer to the full-on plant-obsessed!
These sage leaf earrings are a class act. This piece of botanical jewelry is a stunning option for a formal event, but they're so special you'll want to wear them every day!
The earrings are 18K gold and have an antique, matte brass finish. This slightly worn look makes the earrings look more earthy than glitzy without sacrificing their charm!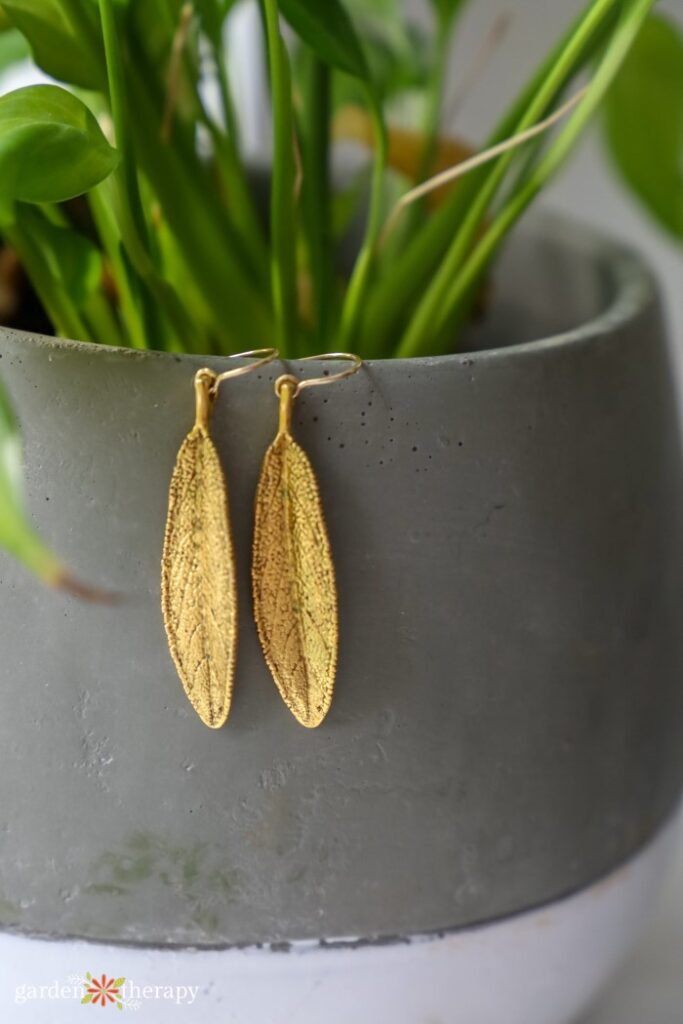 This 18K gold-plated string bean is nothing short of adorable. This plant necklace has a beautiful silhouette and a whole lot of character.
This quirky piece has all the best qualities of plant jewelry: beautiful design, high-quality materials, and a touch of whimsy!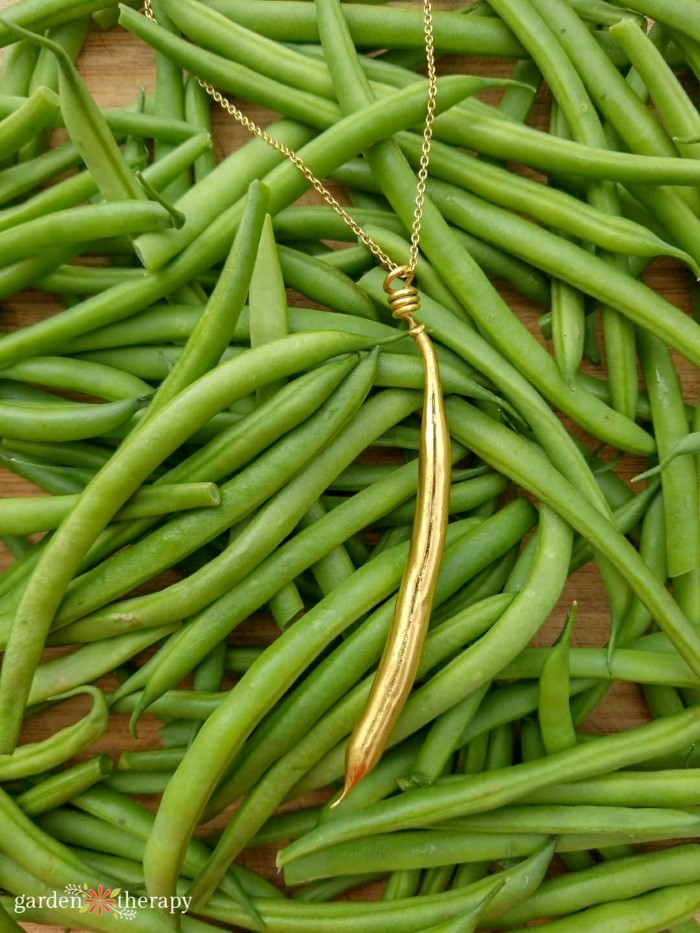 This bee eyebrow ring is my latest obsession! Face jewelry is such a unique way to express yourself. I swapped a classic bar for an adorable bee ring this past year, and I am absolutely in love! The design is super special yet subtle enough to go with everything.
This sweet bee eyebrow ring is the perfect piece to take a classic piercing and make it a statement piece. Choose between gold or silver to match your everyday jewelry.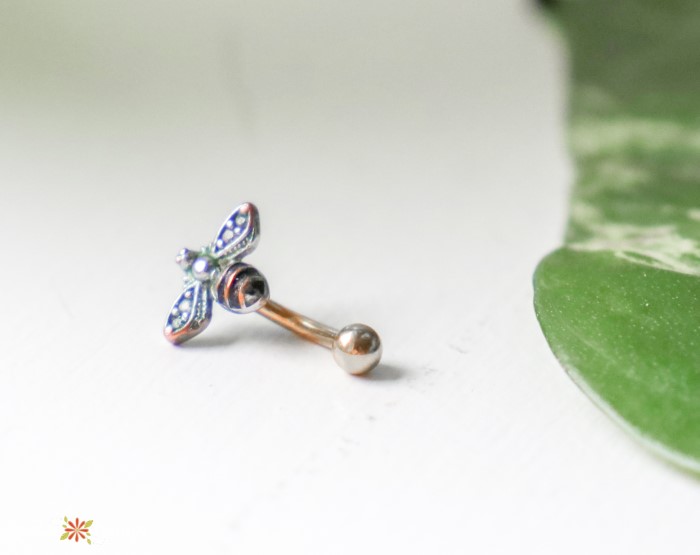 My bee eyebrow ring is one of my staples and I love how well it suits my personality. If you ever see a photo of me, you'll probably notice the little bee on my eyebrow!
I also love this mask from EntoMasks!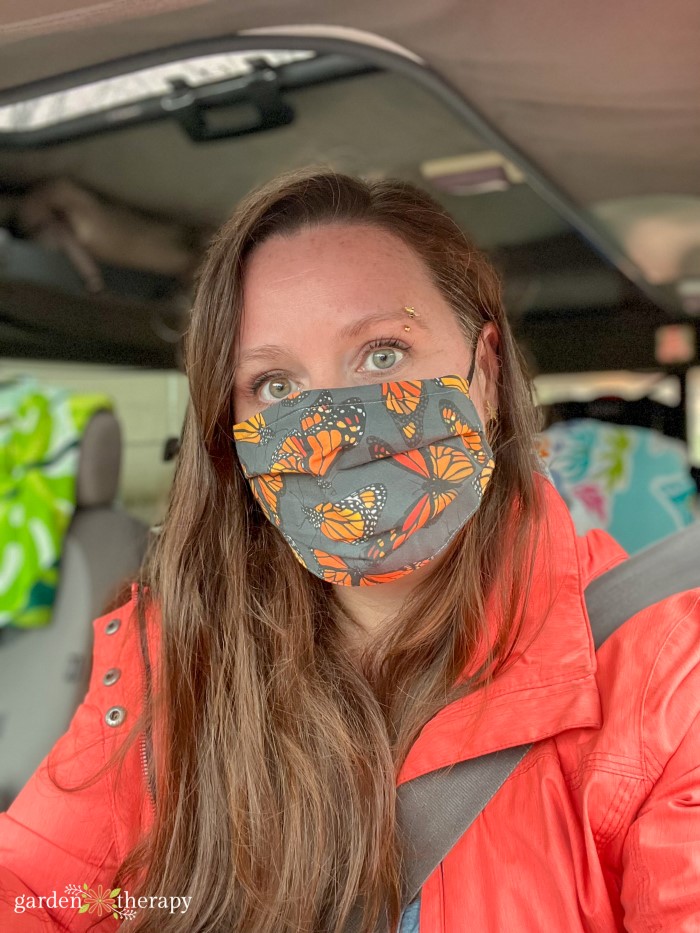 Ear cuffs are a fun and needle-free way to dress up your ears! The gold leaves have plant inspiration while also having a touch of glamour.
They are also a safe earring gift because they work for everyone, even if they don't have their ears pierced!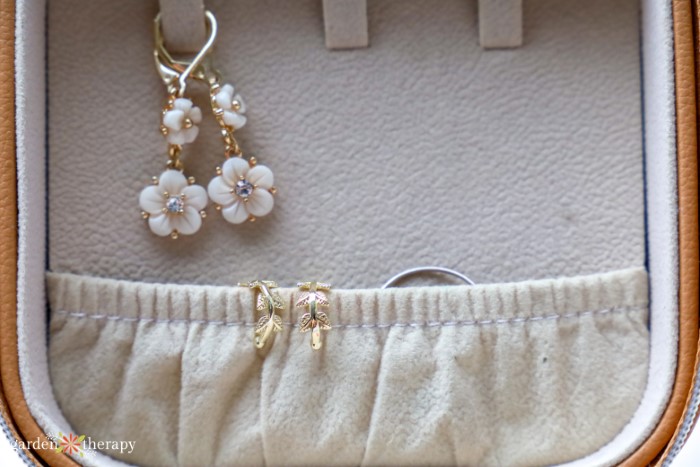 I just can't get enough of bee-inspired jewelry! This brass honeycomb ring is a more subtle choice but is still perfect for bee lovers.
I love the brass material because it can be easily mixed and matched with gold or silver jewelry.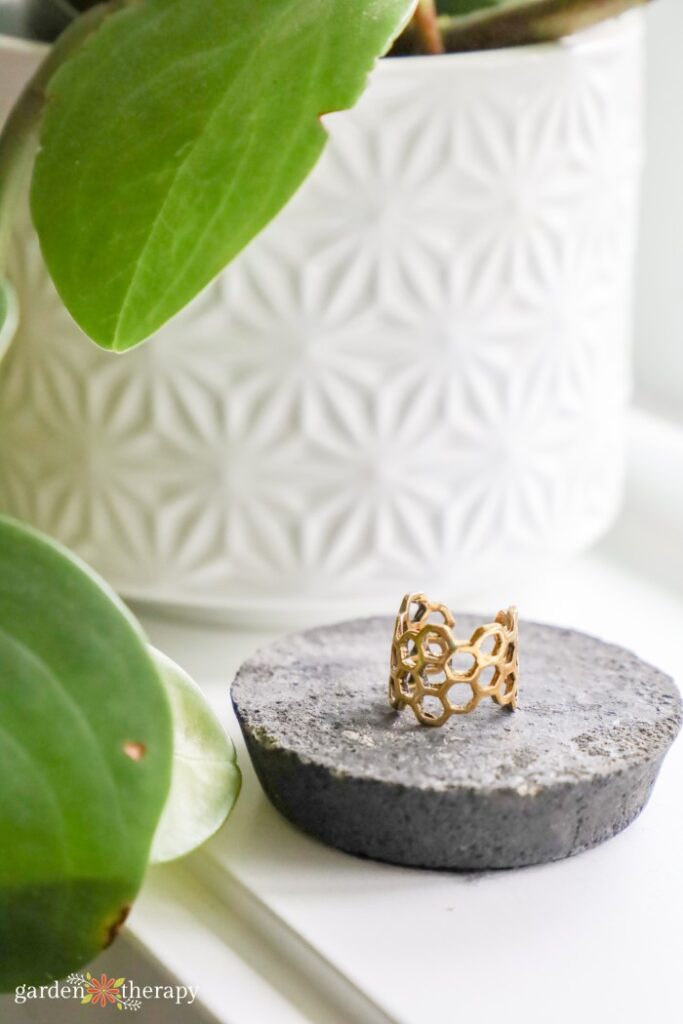 These spiral lead earrings are a total trip! Their hypnotic design has a bit more edge than your classic plant jewelry piece. The leaves, though, are still totally earthy.
I personally love the silver option, but they also come in brass gold if that is more your style.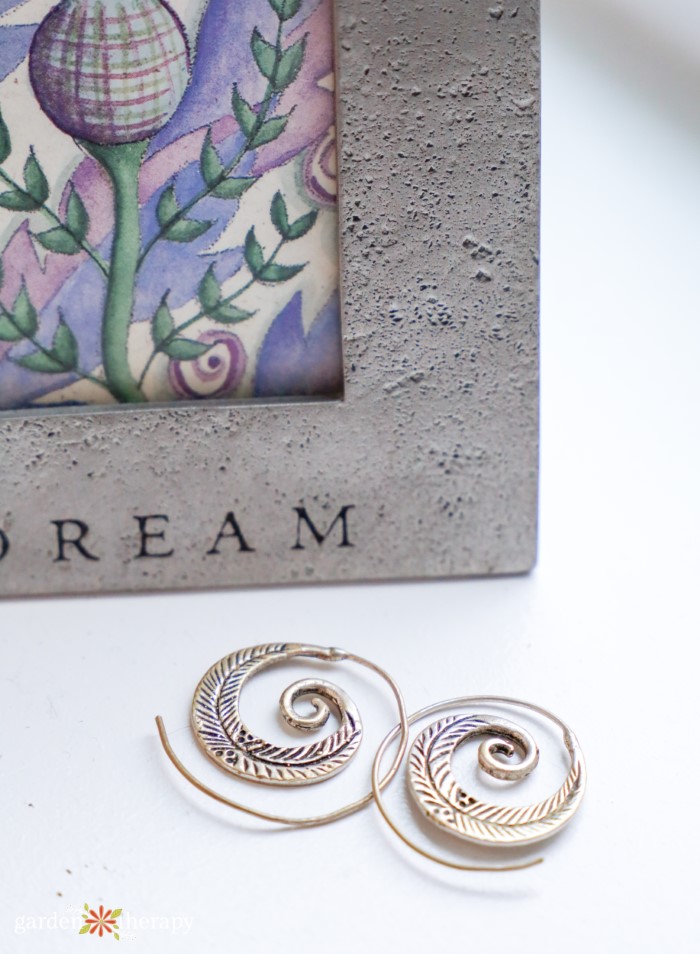 I know I shouldn't pick favourites, but these olive leaf hoops are so dreamy I might need to make an exception.
The olive leaf motif is the perfect combination of botanical and historical. The contrast between silver hoops and gold-toned leaves adds an extra bit of interest to this romantic design.
Plus, this piece makes a wonderful gift for a friend because of the symbolism behind the olive leaf. The olive leaf symbolizes peace and friendship (think extending an olive branch). This symbol dates back all the way to Ancient Greece!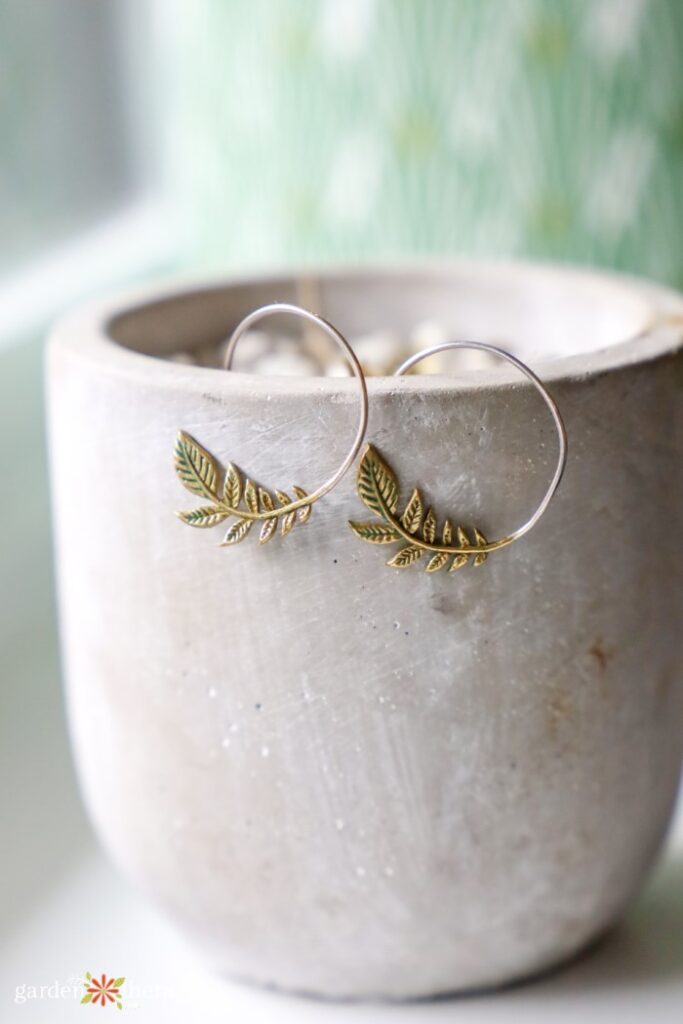 This feather ring is a timeless classic. It's slightly more sturdy than the typical piece of feather jewelry, so it really makes a strong impact.
Feathers are such a wonderful part of the natural world. This sterling ring showcases this wonder and is an excellent choice for bird lovers.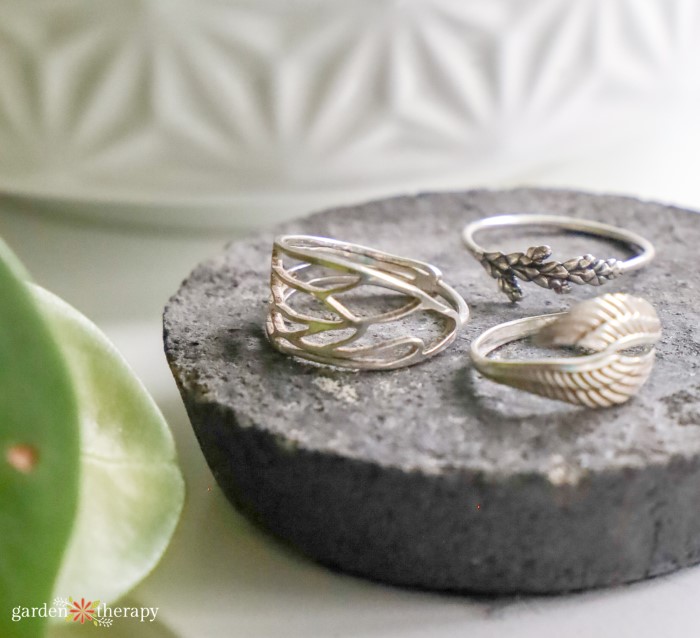 I've never seen a piece quite like this. The cedar leaves are so realistic, they look like they're the real thing dipped in silver.
I think this piece of botanical jewelry would look amazing combined with a helix piercing. Still, it's distinctive enough to stand alone.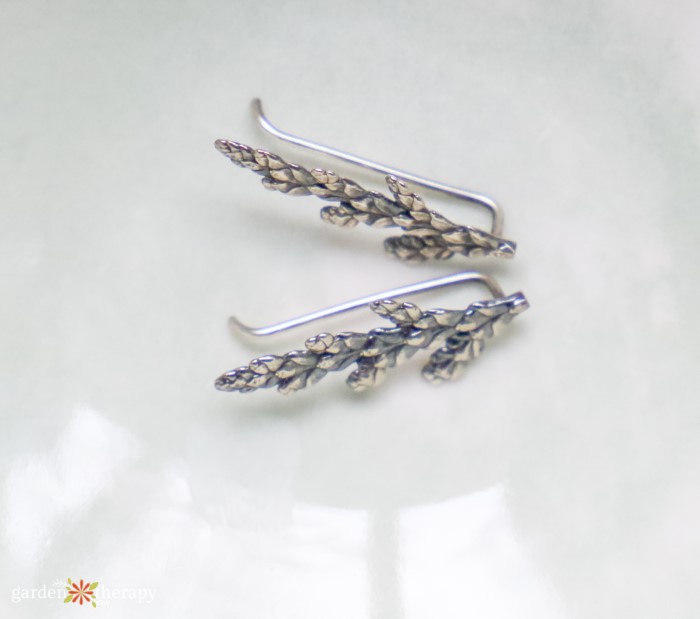 If you're looking for a lovely floral piece, these Milkweed Asclepias earrings are sure to please.
These wildflower earrings are made from a cast of Asclepias, so they're super realistic. Add them to a funky earring stack for an artful effect!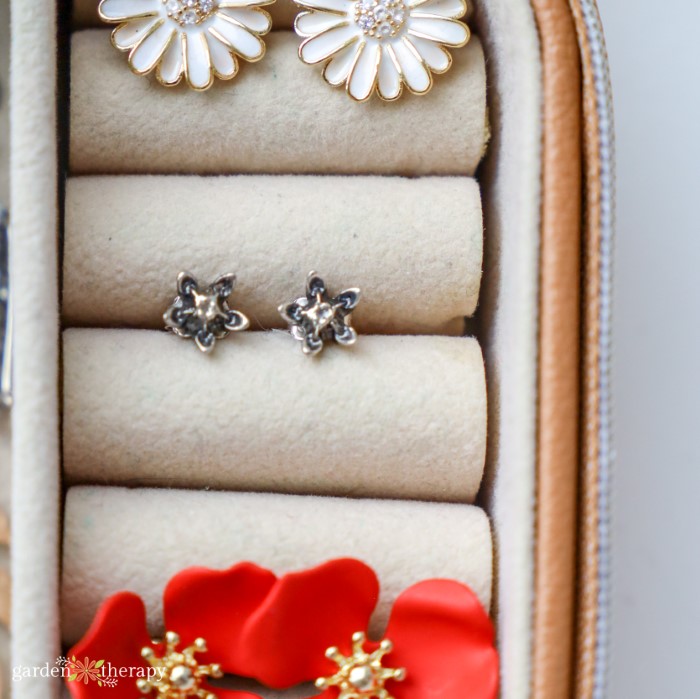 P.S. The red flower earrings are from Anthropologie, but I do not have a link.
Keep the cedar theme going with this gorgeous ring!
This sterling ring adds a touch of classic cedar to your fingers. It's very delicate and lightweight, so it is comfortable to wear all day.
You can see it below, pictured on the far right.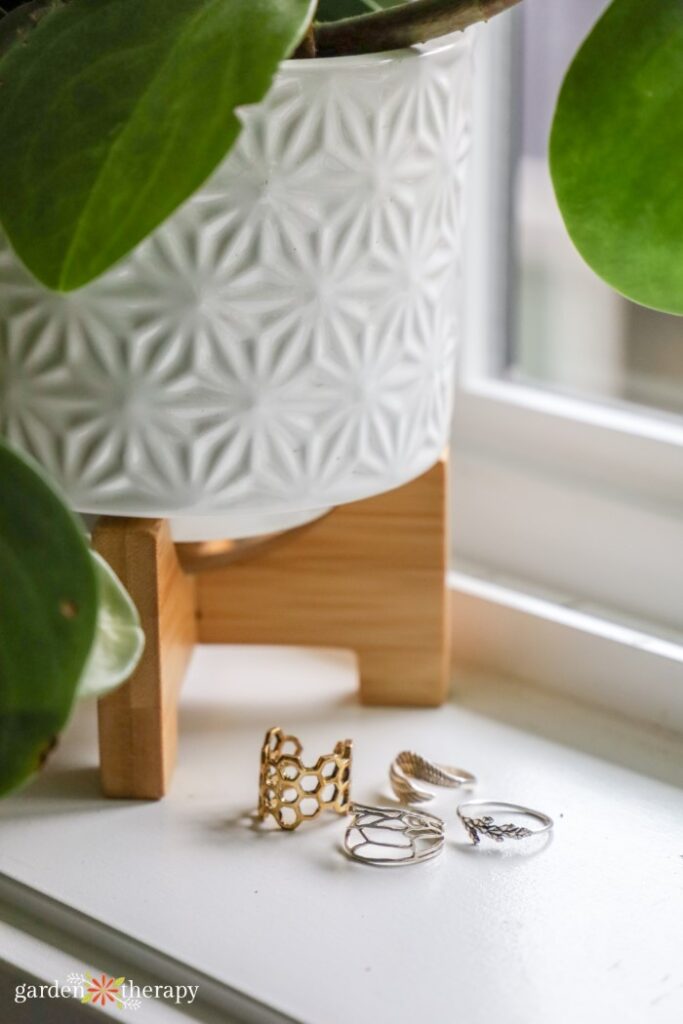 I find the patterns and symmetry found in the natural world to be incredibly fascinating. This silver bee wing design demonstrates this perfectly!
The intricate webbing is realistic and charming. This ring is a stand-out piece and the envy of bee lovers everywhere.
This ring is pictured front and center in the photo above.
The second I saw these pine cone earrings, I knew I had to have them. All my friends and family know how much I adore pine cones, and I loved the idea of having some to wear.
These are very adorable and rustic and look great alongside sweater weather and the fall foliage.
Likewise, these acorn earrings bring out the inner woodland fair in me and are just too cute to pass up.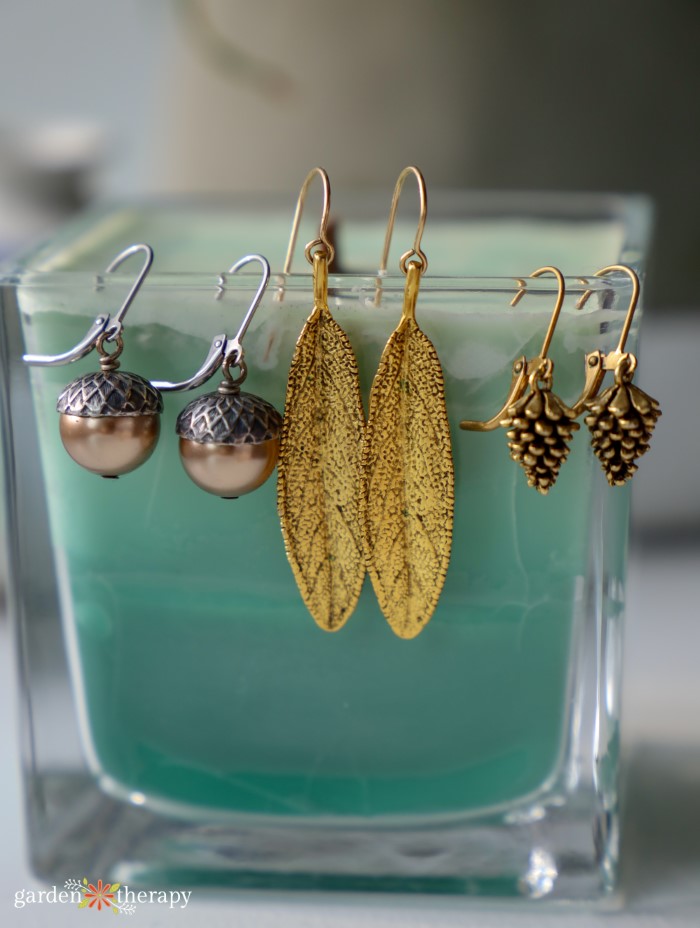 Support Small Makers
I love shopping on Etsy because I know I'm supporting small makers. I also love utilizing Facebook groups to discover new artists and see their latest work.
For instance, these beautiful leather, indigenous-made monarch earrings have become one of my go-to pairs.
You can find the maker here in this link (you will have to join the Facebook group to see it, but it's well worth it, and you'll find many more amazing indigenous makers.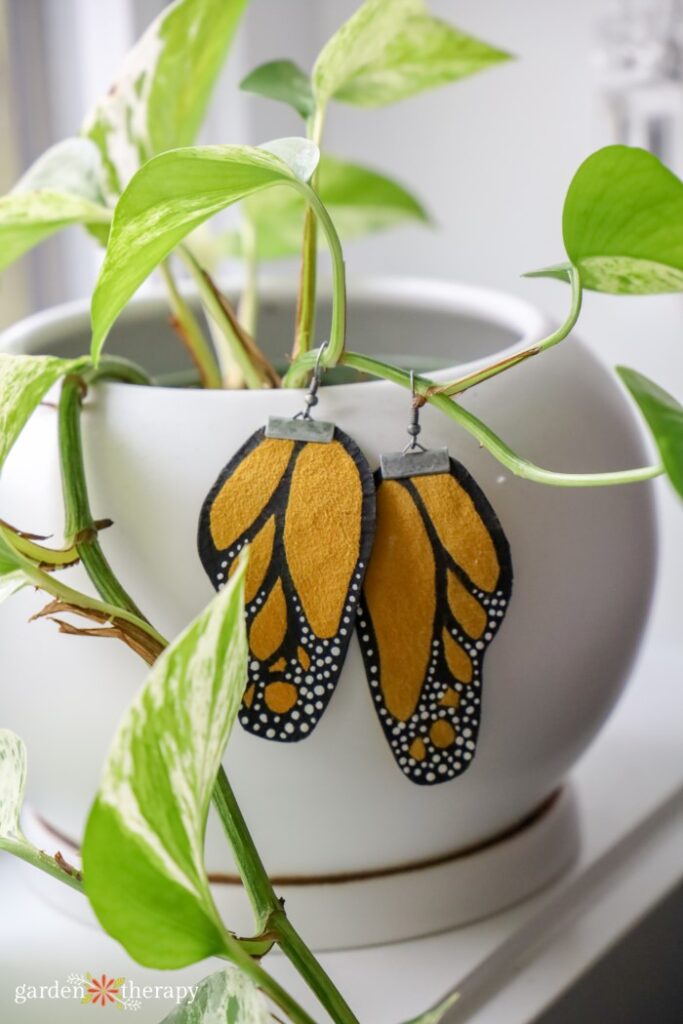 Looking for something that is completely unique? Let me introduce you to your new favourite DIY – living jewelry! Use this DIY project to create a stunning plant necklace or some air plant earrings!
The process is super simple, and the requirements are minimal! All you'll need are some small air plants and basic jewelry supplies.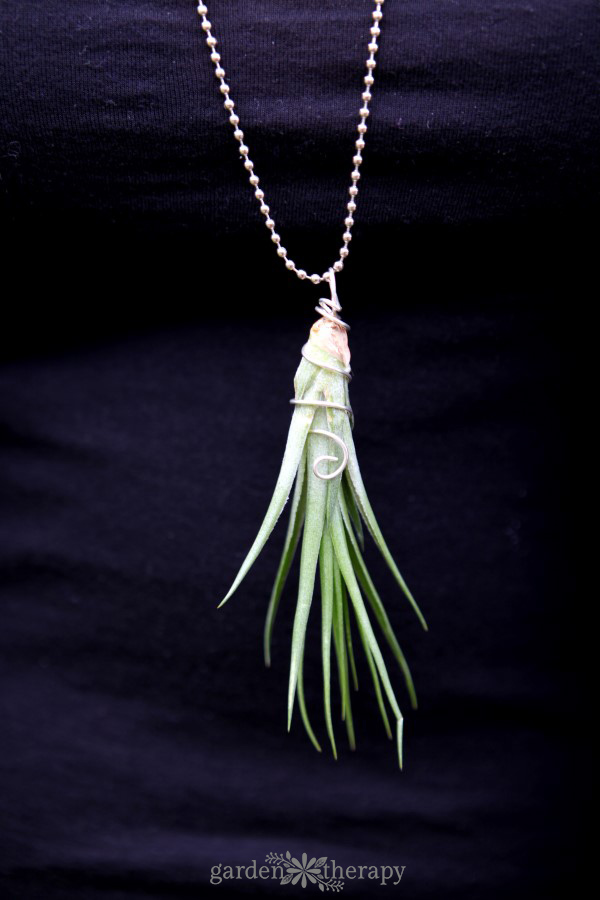 Honourable Mentions
Over the years, I've amassed quite a few gems of botanical and plant jewelry and I wanted to share them with you even if I didn't have links to share them with you.
My monstera earrings I collected from Exposure on Commercial Drive in Vancouver.
In my jewelry box photo at the top of the page, you'll also see the two sets of white flower earrings I thrifted and the yellow dahlia flowers from a Make It! market a few years ago.
Another one of my favourite earrings is the silver tree earrings Kiddo got for me from GardenWorks for my birthday.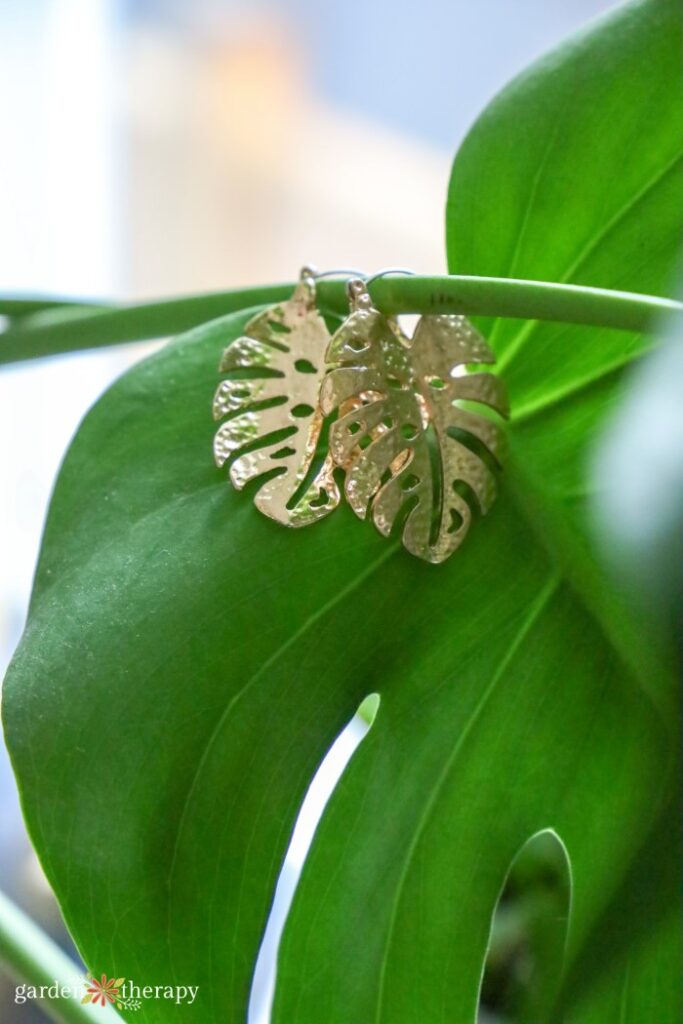 Which of these plant-inspired jewelry pieces is your favourite? Let me know in the comments down below!
Plant-Inspired DIYs