Welcome to Garden Therapy! If you have landed on this page you must have received one of my seed paper business cards!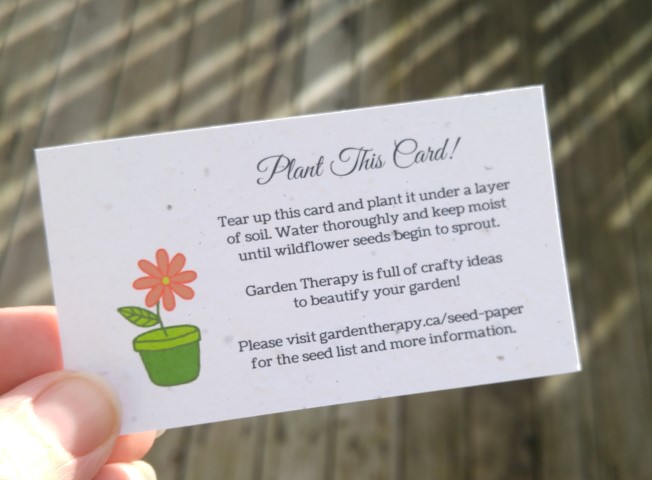 Hello again, and thank you for stopping by!
Before you tear up that card and plant it, please sign up for What's in Season, my weekly newsletter so you can hear all about what's new and interesting in the world of crafty gardening, but also so we can keep in touch. Be sure to add my email address (yup, the one on the card) to your safe senders list, so that the newsletters don't get filed away in those promotional or (gasp) junk folders!
Now that we can stay in touch, let's grow some flowers, shall we?
My business cards are made from plantable paper, a biodegradable eco-paper that is made with post-consumer materials (no trees harmed for this paper!) and embedded with seeds. When the paper is planted in a pot of soil, the seeds grow and the paper composts away. All that is left behind is flowers, herbs, or vegetables, and no waste.
The seeds in the paper are a combination of pretty wildflowers:
Bird's Eye
Clarkia
Black Eyed Susan
Sweet Alyssum
English Daisy
Catchfly
Snap Dragon
How to Plant Your Card:
STEP 1 – PREPARE THE POT (or PLOT)
Fill a pot 2/3 full with good potting soil or head out to the garden. The paper can be planted indoors or outside, so you get to choose according to the temperature and conditions at the time of planting.
STEP 2 – PLANT THE PAPER
Rip up my business card and scatter it in the soil. Spread a 1/8 to 1/4 inch layer of soil over the plantable paper pieces.
STEP 3 – WATER DURING GERMINATION
After planting the paper, give it a good soak. During the first 10 days, keep the soil (and paper) moist at all times. The water is necessary for germination.
STEP 4 – CARE AFTER GERMINATION
Once sprouts appear, continue to keep the soil moist but be careful not to overwater. Once sturdy plants appear, water as needed.
Well, I hope that you enjoy your new garden. It was lovely to meet you and please keep in touch. And don't forget to sign up for my newsletter!