Last summer on the way to an herbalism course I stopped for a quick tour at the VanDusen Dried Flower Arranging Garden. From afar it was wild and messy because, of course, all the flowers were meant to grow tall blooms for cutting or ornamental seed heads and pods. The garden got me truly excited about the art of preserving dried flowers, but also got me thinking about how the craft of making arrangements that last seems to have lived out its own staying power in the world of popular nature crafts.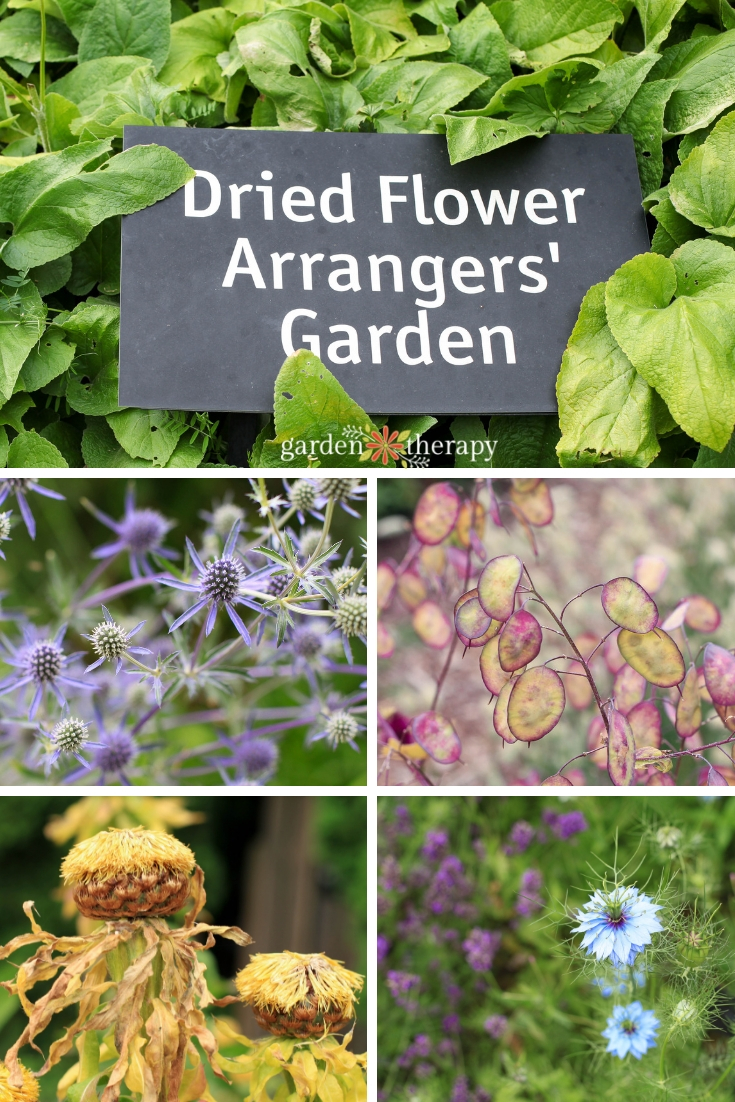 It was a bit like walking through a wildflower meadow except that all the specimens were grown in sections and labeled.
Oh, and the beautiful flowers were covered in bees and other pollinators, while the leftover seed heads became living sculptures. A garden that's left to go to seed provides a ton of benefit for local wildlife. Birds find nesting spaces in the brush, insects find shelter and safe places to overwinter, and the seed heads provide a much-needed food source in the winter when plants are scarce.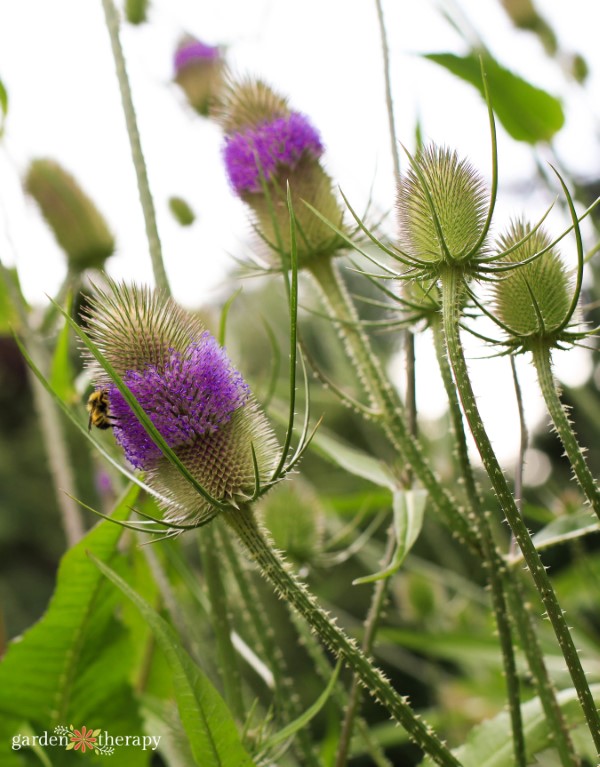 I found the garden very intriguing. This wild and beautiful space allowed the plants to truly blossom while supporting wildlife AND wild crafters. After spending some time photographing the garden (and thoroughly enjoying myself) I went home to do a bit more research on the flower arranging garden.
There was nothing to be found.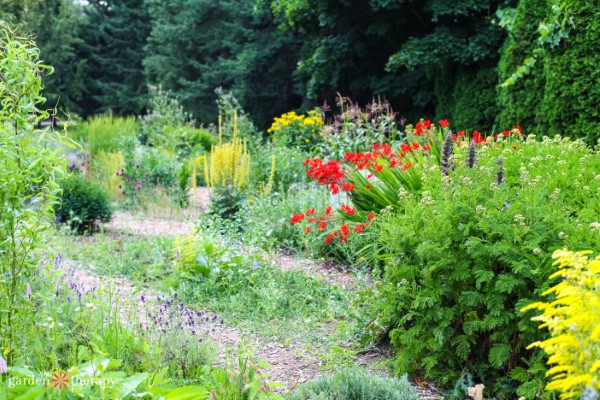 It seems this garden was created for the now extinct VanDusen Dried Flower Arranging club. Ironically, the practice of preserving flowers is not being preserved itself. I was sad to hear there were no longer crafters out celebrating the space and the plants. I could just imagine a room full of dried flowers and a bunch of happy gardeners chatting away while creating gorgeous arrangements from Stastice, Nigella, strawflowers, and more.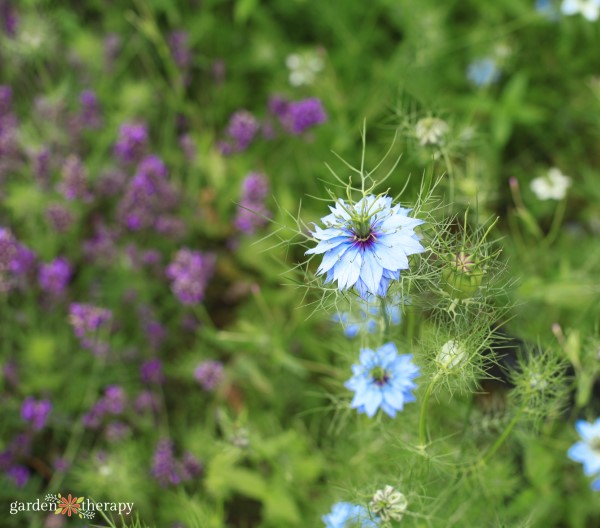 But, sadly, it seems like the time for preserving flowers and making arrangements has passed. It was a craft that my mother was very passionate about as a gardener. She grew ornamental plants in her garden and dried so many of them in her basement. When she went into nursing care for Alzheimer's disease, my stepfather gave me huge boxes of dried plant material that have been meticulously collected, preserved, and labeled. I'm grateful for this part of her history and feel like I can see the beauty through her eyes.
After she retired and became an avid gardener, she filled her house with dried arrangements and gave them often as gifts. She even made Tussie Mussies as the centerpieces for my wedding (dried flower arrangements where each flower came with a meaning or wish for my marriage).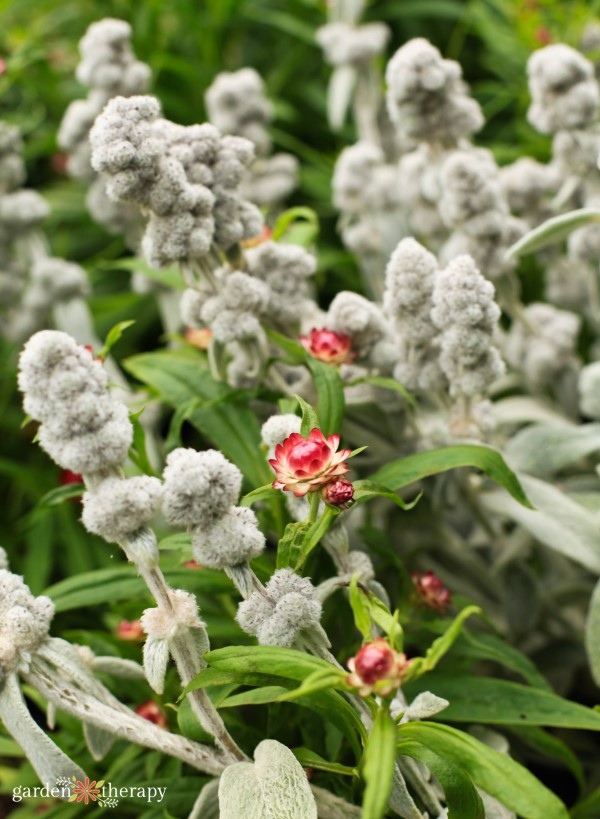 With the beauty, meaning, and perseverance of dried arrangements, I'm surprised they have fallen out of favor. I think some people probably think that these are dust collectors. Maybe they're not colorful enough. Or maybe it's just too old fashioned.
Every once in a while I'll run into a florist who also appreciates the beauty of what's left behind after the garden has gone to bed and uses those things to create more modern displays. I grow quite a few plants simply for the seed heads or for their value as crafting materials. It seems to me this should be more popular.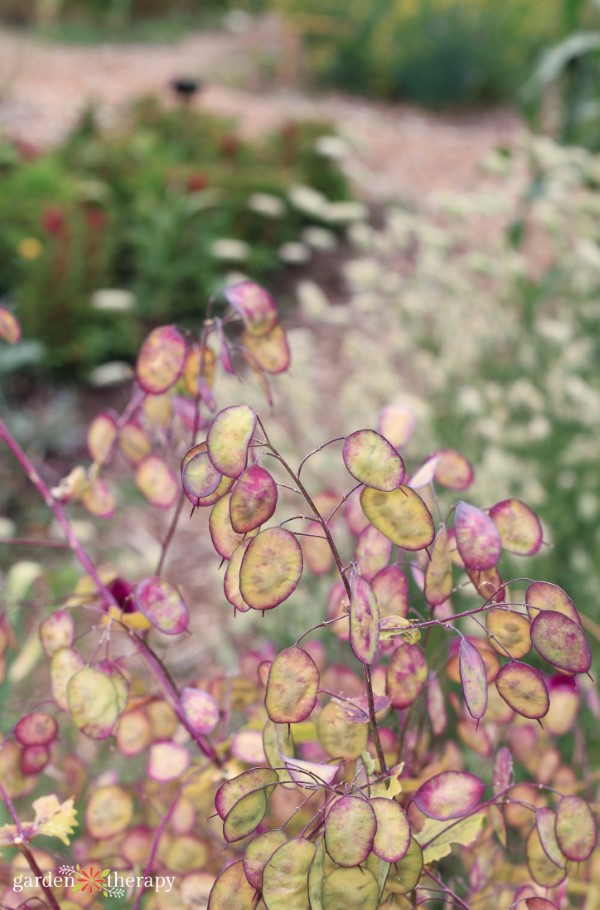 Drying hydrangeas and lavender can be seen all over Instagram and décor magazines, but Celosia, stastice, and amaranth dry in colors that are far more vibrant and lasting. And while crafting with pinecones has thousands of results on Pinterest, there are far more beautiful seed heads like magnolia pods, poppy seed heads, Lunaria, and Nigella that don't get the same fanfare.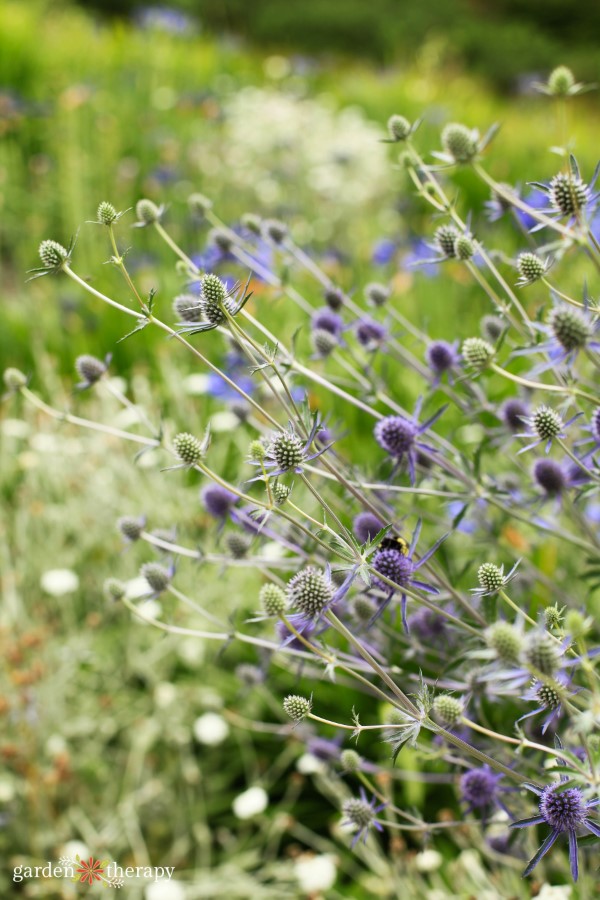 How to Grow Your Own Dried Flower Arranging Garden
If you are interested in growing your own flowers and seed heads to dry, VanDusen's garden is a wonderful example of how to do it. Please note that this garden is located in Vancouver, BC, which is in Zone 7. Some of the plants I saw in the VanDusen Flower Arranging Garden were:
Acanthus mollis (Sea Dock)
Acroclinum
Ageratum 'golden'
Alchemilla mollis (Lady's Mantle)
Allium
Alyssum alyssoides (Yellow Alyssum)
Ammobium
Astilbe
Astrantia (Masterwort)
Centaurea macrocephala
Crocosmia
Dipsacus fullonum (Wild Teasle)
Echinops (Globe Thistle)
Eryngium (Sea Holly)
Fibigia
Helianthus (Sunflower)
Hydrangea
Lagurus (Bunny Tail Grass)
Lavandula (Lavender)
Limonium (Stastice)
Lunaria (Money Plant)
Monarda (Bee Balm )
Nigella (Love-in-a-Mist)
Ornamental corn
Physalis alkekengi (Chinese Lantern Flower)
Salvia (Purple Sage)
Scabiosa stallata
Xerochrysum bracteatum (Strawflower)
Some of my favorite plants to grow are those that provide seed heads that look wonderful throughout the year. I grow Allium Schubertii for its 18"-diameter seed head that looks like a starburst. You don't even have to do anything to the seed head except pluck it out of the garden and set it on a shelf for display.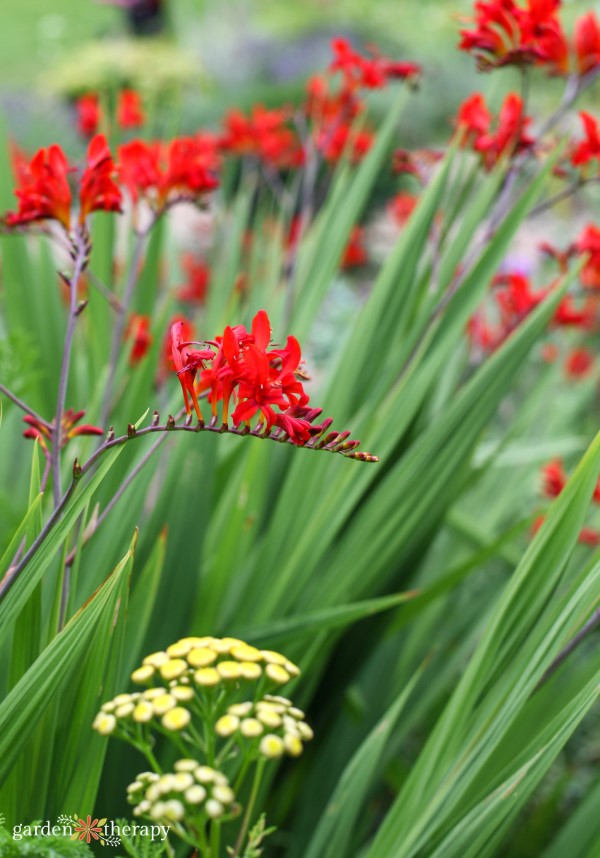 I also love Crocosmia because once the flowers have fallen the bird-like shape of the flower produces orange seed pods that last for months. This year I am loving the dark chocolate brown flowers of the ornamental millet from my Patio Pollinator collection.
So, while I'm usually excited to bring you trendy garden ideas and brand new plants being released, today I'm mourning the loss of a craft that I think should be more celebrated. Or perhaps there is a new wave of artists I don't know about yet who will pick up dried flower crafting and give it a modern spin.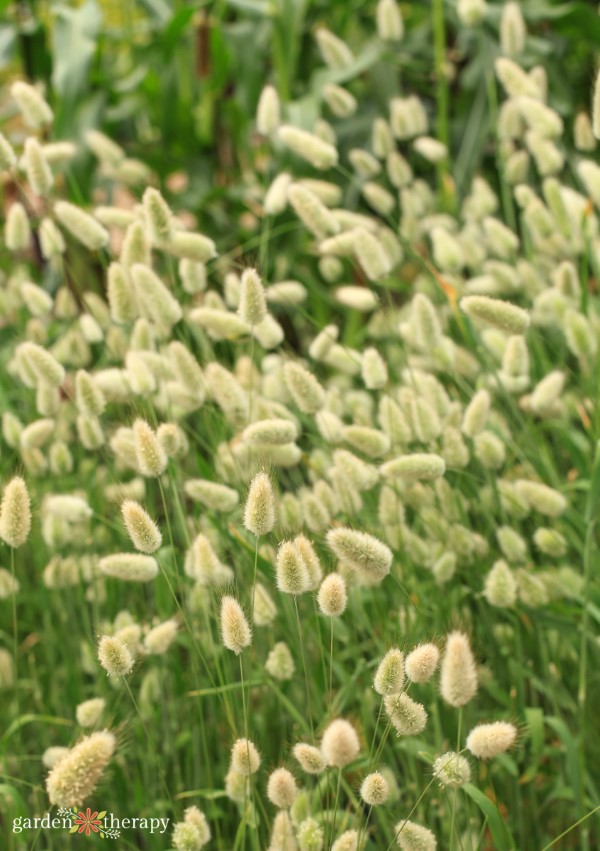 Regardless, if you want to invite backyard beneficials into your space, have a garden filled with flowers, and end up with a ton of wonderful craft materials to work with throughout the year, then perhaps it's time to grow a dried flower arrangement garden.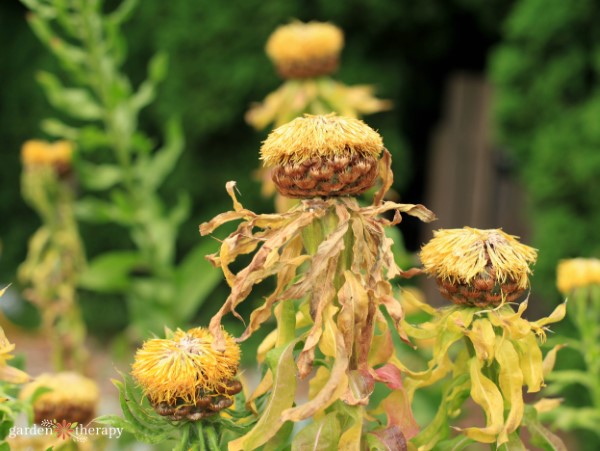 Trendy or not, after my visit to the VanDusen Flower Arranging Garden, I'll certainly be expanding mine.
Be sure to read my post on Preserving the Ornamental Garden for tips on how to dry and preserve flowers, seed heads, foliage, pods, and more for dried arrangements.
More Posts You Might Like: