Giving a bouquet of flowers is a wonderful sentiment, especially if it's from your garden. I love flowers as much as any girl, but herbs have a special place in my heart. When a new neighbor moves in or there's a new baby home from the hospital, I like to create beautiful and aromatic hand-tied herbal bouquets from the garden. Herbs? Why not! They smell wonderful, look beautiful and dry well; as an added bonus you can eat them too!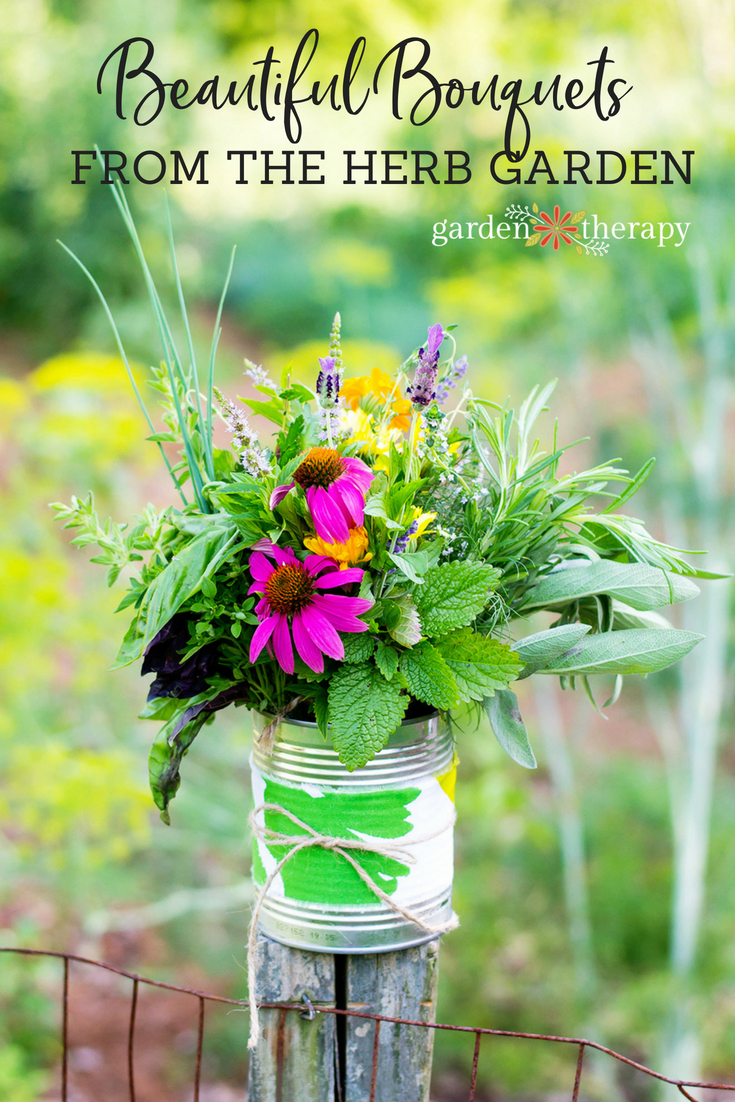 The Posy Bouquet
There are many styles of bouquets, but the posy is my favorite. This classic hand-tied herbal bouquet is simple yet looks contemporary. And it is a cinch to make.
Posy bouquets were very popular during the Victorian era and were used as secret messages for lovers. Each flower chosen for the bouquet has a specific meaning to convey to its recipient. Like flowers, herbs have special meanings associated with them: rosemary for remembrance, basil for love, and thyme for courage. Putting together a posy of herbs to give away is a wonderful way to show a friend or a loved one how much they mean to you.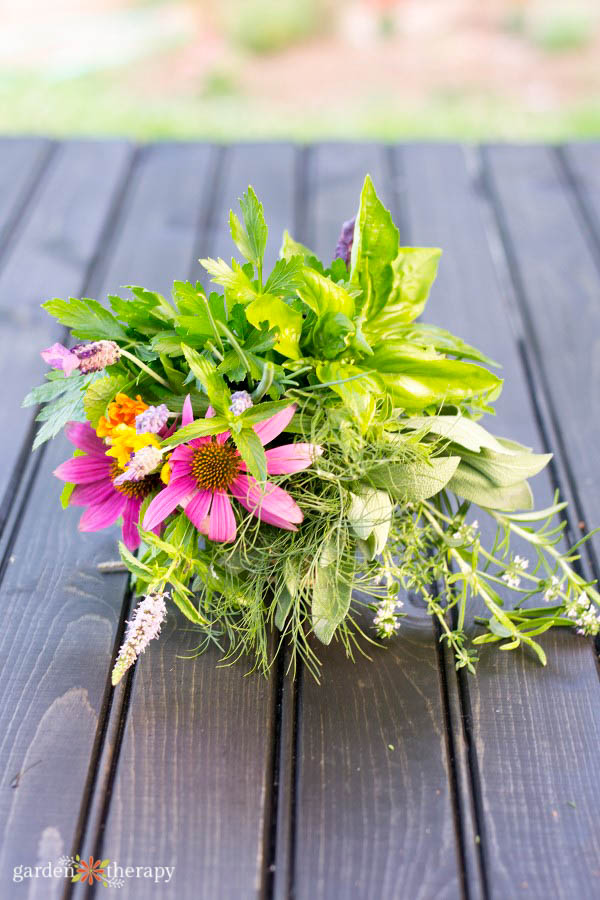 I like to use natural jute twine to tie a simple bow to hold the herbal bouquets together. Once the posy begins to wilt, the recipient can hang it upside down to dry without having to remove any decorative ribbons or pins. You don't need to be a trained florist to make this beautiful herbal bouquet. Throw out those stuffy rules of flower arrangement; you can't go wrong here. Add herbs in layers of color and texture until it's pleasing to your eyes.
The Spaghetti Dinner Bouquet
I like to put together herbs that compliment each other in both appearance and flavor. This one I call the "Spaghetti Dinner." It's a combination of chives, parsley, oregano, and basil: the essential herbs for the perfect marinara sauce. This makes a perfect hostess gift.
Layer different types of basil for added color and texture. In this posy, I used genovese, purple, and spicy globe basil for color and texture. The oregano, parsley, and chives gives the bouquet height and structure. Package this bouquet with some pasta, garden-fresh tomatoes and loaf of crusty bread. You are certain to be invited over for dinner again!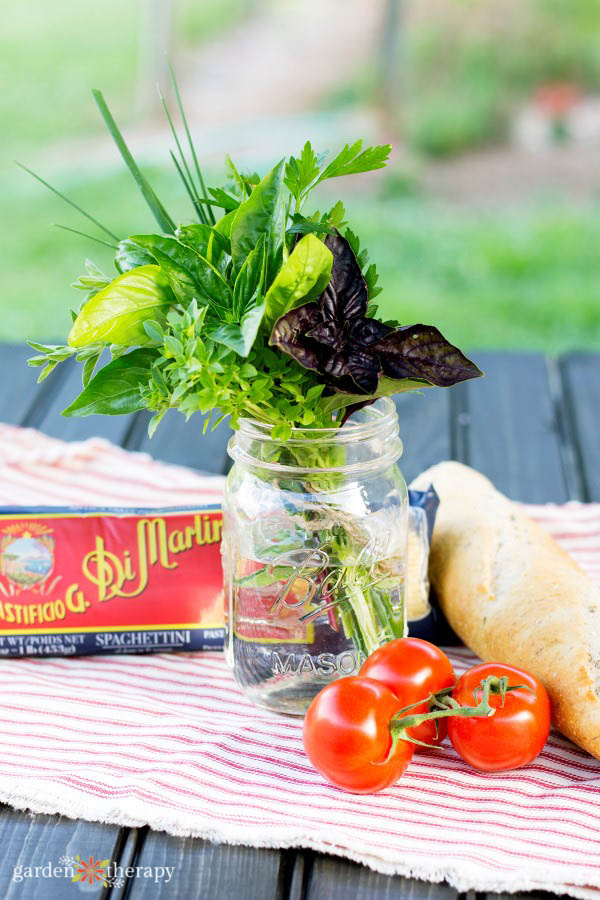 The Chicken Soup Bouquet
This bouquet is perfect for a friend recovering from a cold or someone who could use some nurturing. I used sage, rosemary, lemon thyme (in flower) and dill for this bouquet. The rosemary and sage give the posy height and the thyme and dill soften the lines. Overall, this bouquet has a rustic, romantic look.
Package this posy with some homemade soup stock or a scrumptious roasted chicken. Add in some pasta for the making of comfy chicken noodle soup.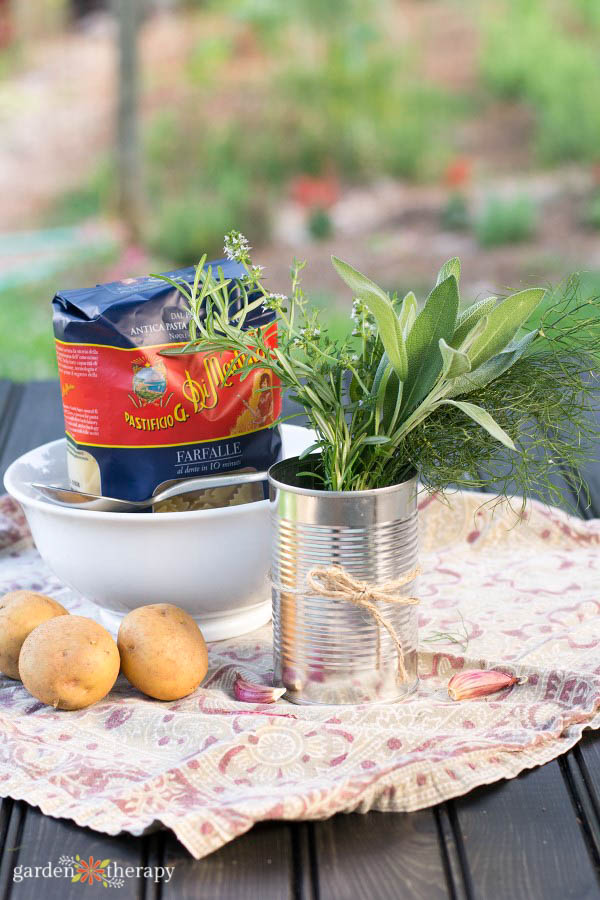 The Healing Aromatherapy Bouquet
The herb combo in this bouquet is perfect for relaxation. I gathered these herbs based on their aroma and healing properties. This would make a lovely gift for a bride-to-be. Lavender, mint, lemon balm, calendula and echinacea are the prettiest and most colorful herbs in this lineup. More important than their beauty are their healing powers. Lavender and calendula are known beauty aids. Lemon balm and mint calm and soothe digestion. Echinacea is a fierce fighter of colds and the flu.
Add this bouquet with a basket full of pampering goodies and candles. No need to drive to a spa for a day of relaxation and aromatherapy.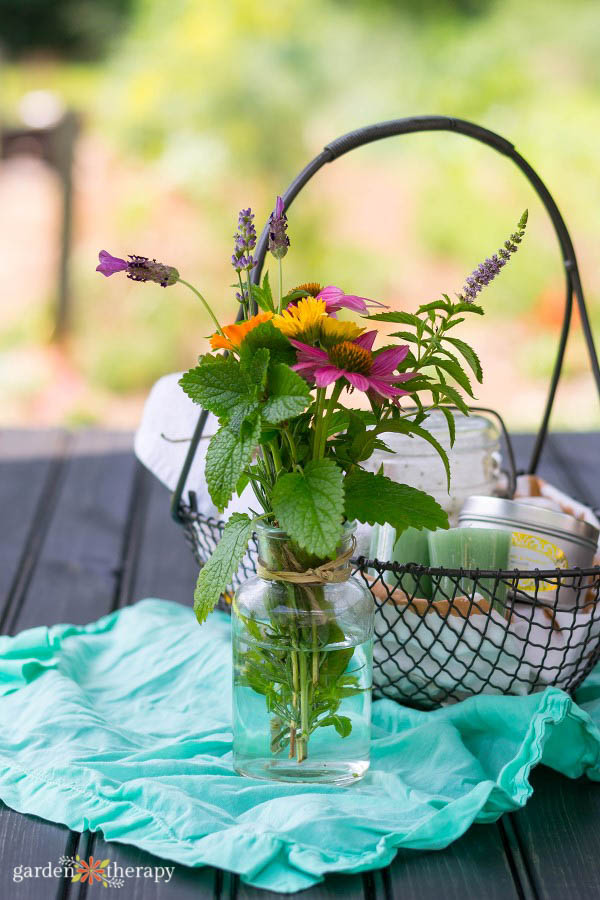 Put it All Together
If you are not sure which one to give, put them all together to make a larger bouquet. Present the herbs in a tin wrapped in a strip of fabric and twine. The combination of herbs gives off an intoxicating aroma. I guarantee that your herbal bouquets will not be forgotten.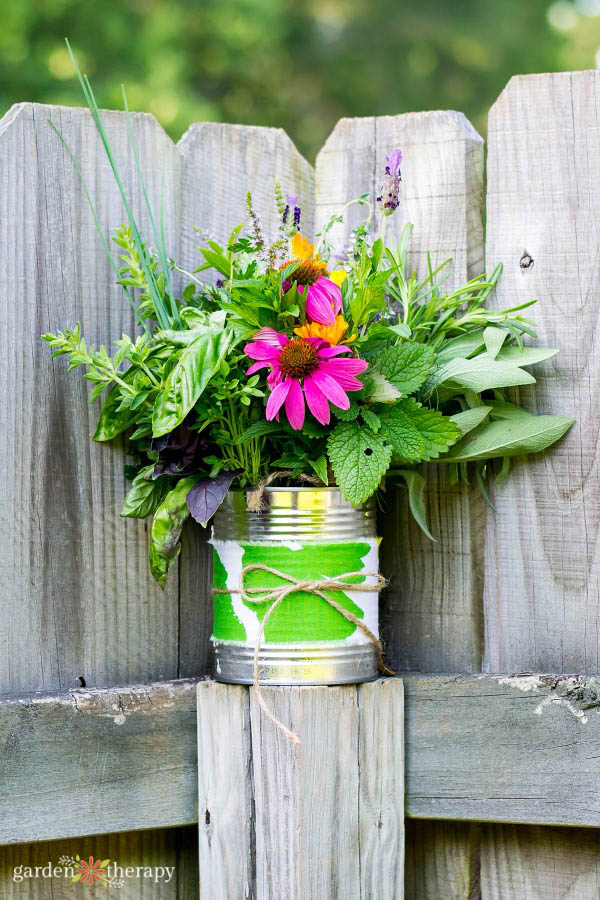 About the Author
Debbie Wolfe is a mom of two rambunctious boys, wife, and work-at-home mom from Georgia. In her free time (when there is such a thing), she is in the garden or hidden away reading the latest post-apocalyptic sci-fi drama! As for interests, Debbie is an obsessive crafter, home chef, and gardener. She is a freelance writer, blogger, and is a co-author and photographer behind the garden blog The Prudent Garden: a collection of tips, crafts, and articles that highlight home gardening. She also wrote the fabulous new book Do-it-Yourself Garden Projects and Crafts: 60 Planters, Bird Houses, Garden Lights, Garlands, and More! which will be released in February 2019.
Related Posts