This wildflower soap reminds me of walking through meadow flowers. It's natural and vibrant, while being nourishing and good for the earth. This is a soap that you spend the time to create and enjoy the journey along the way, not one that you rush through for holiday gifts.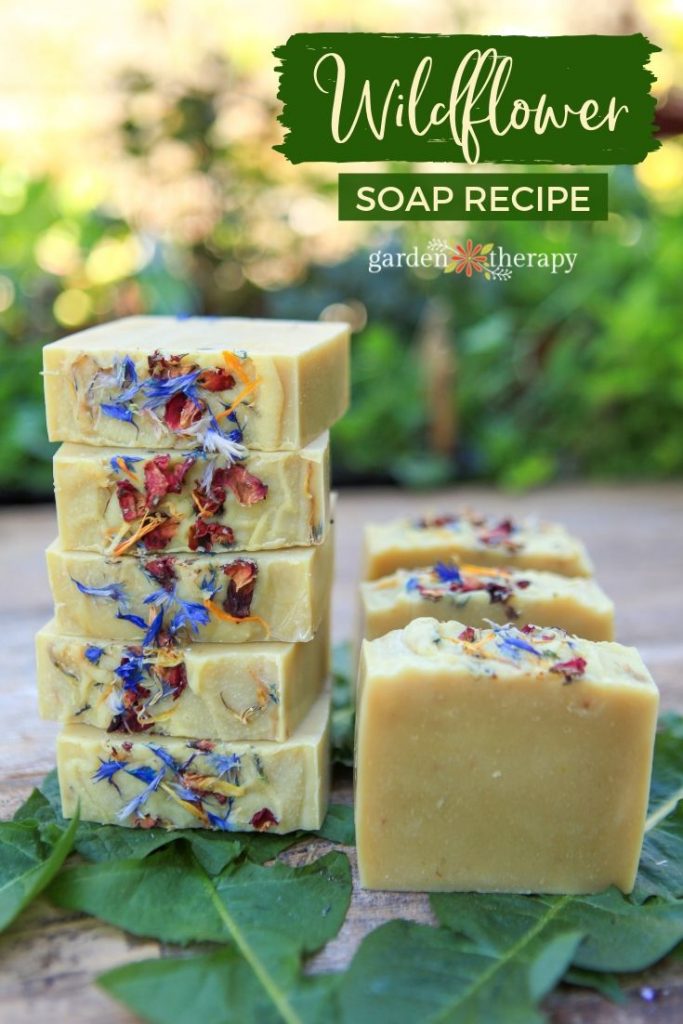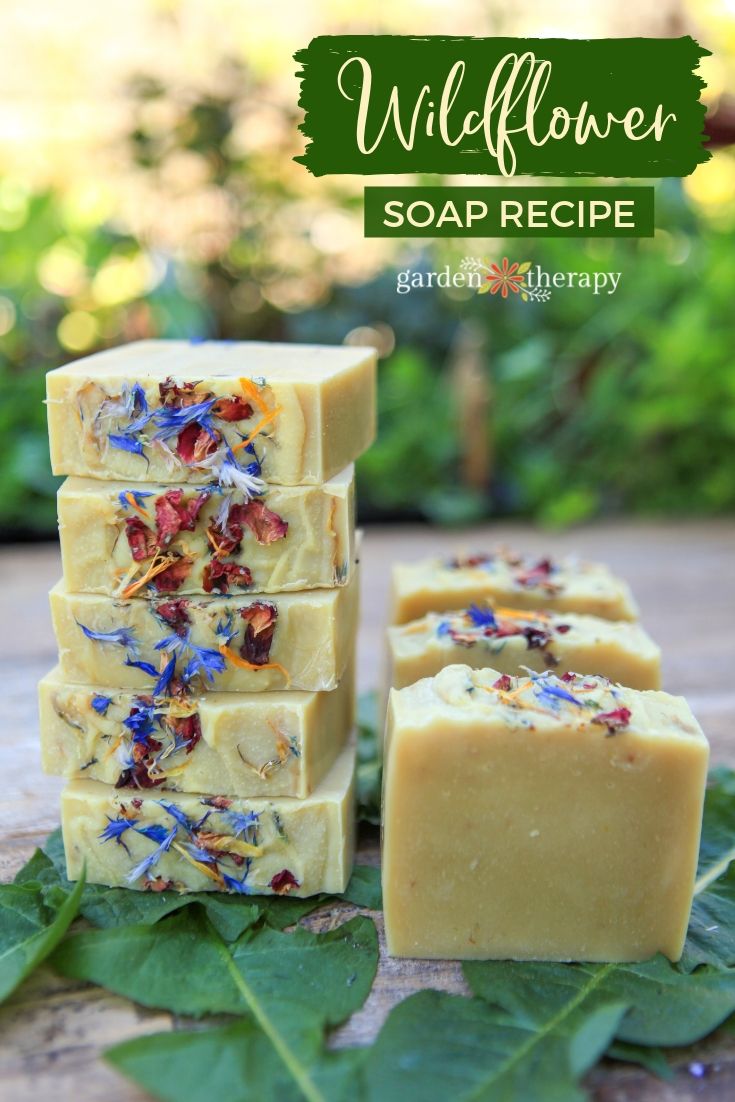 For the tutorial for making this project, I'm going share my ALL of my steps for making it. This includes finding, harvesting, drying the flowers, and then making a cheery batch of wildflower cold process soap. I hope that you too can find a lovely place with fresh air and green leaves to enjoy a sunny afternoon while you harvest a bit of flowers to dry and infuse in oil to make this recipe.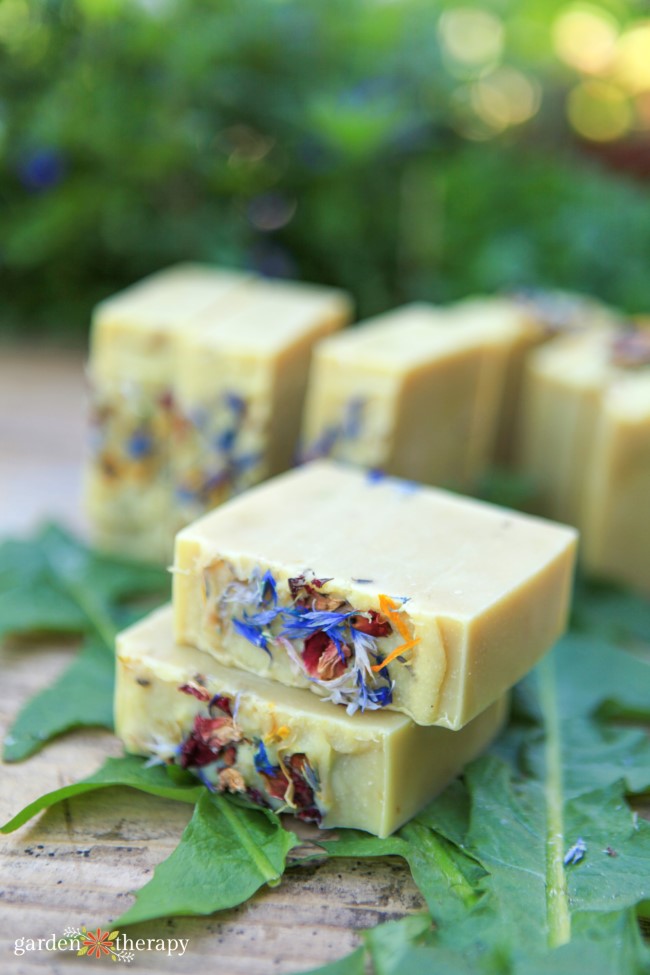 Foraging for Wildflowers
On a visit last year to Alberta I found myself surrounded by wild roses the provincial flower. I was taken in by the sweet smell and I tasted a few of the petals. I gathered just enough to infuse a small bit of coconut oil for my home apothecary.
This is not my normal though. I'm only an occasional forager. I appreciate those who are dedicated to the art of hunting for wild culinary and medicinal plants. But instead, you'll find me growing most of what I need in my garden, and gathering a few treasures when I'm out enjoying nature.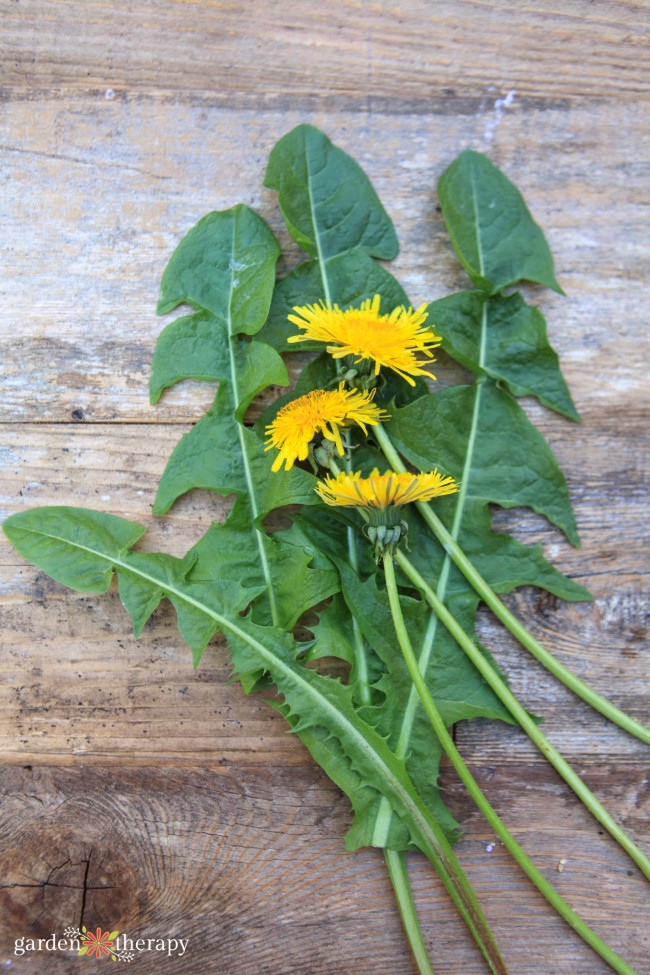 Thanks to the neighbourhood children, there are a gazillion dandelions ready to be picked just outside my door. When flowers are abundant it is certainly acceptable to harvest a few for personal use. The key is to only take what you need and leave the rest to grow wild.
A word of caution when harvesting from wildflowers, be sure that the plants you are harvesting are not protected nor are they in a protected space or private land. It's also important to be conscious of what environmental factors are surrounding the wildflowers. Car exhaust, road salts, garden chemicals, and even pet waste, are things that you DON'T want to add into your soap!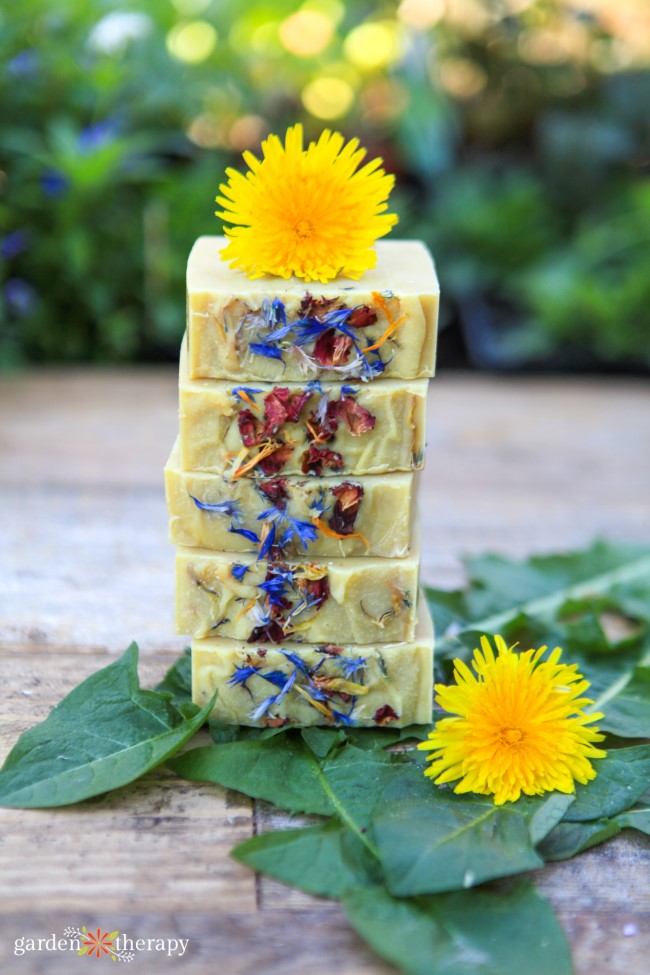 Preparing Wildflowers for Soap Making
The first step is to make flower infused oils from the rose petals and dandelions.
See how to make dandelion blossom oil here.
See how to make rose petal infused oil.
I dry the petals in a cool and dark space by removing them from the flower heads and setting them on a screen or a tray to dry. Once dry, they can be stored in an airtight jar out of track sunlight.
Dandelion + Wildflower Soap Recipe
There's no added colour to this recipe. The buttery color comes from the golden dandelion infused olive oil. The neutral colour of the soap really makes the dried flowerfetti mix of calendula, rose, and cornflower petals stand out.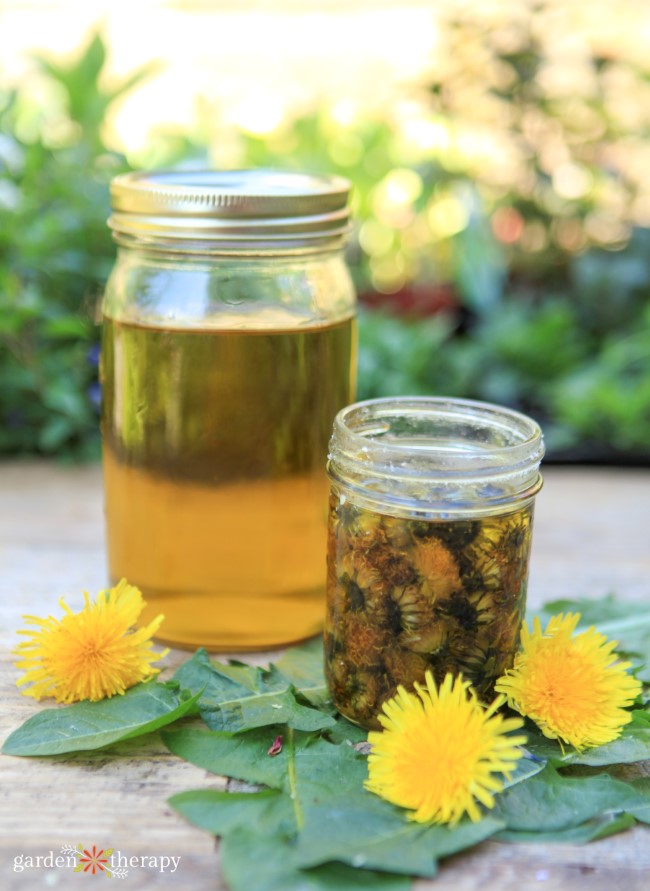 If this is your first time making cold process soap, please visit this post to see the step-by-step instructions. This post simply covers the recipe and the general steps for those who are familiar with the soap making process.
I made this recipe with 50% dandelion infused olive oil and 50% wild rose infused coconut oil. This 50/50 blend gives a great balance of moisturizing and cleansing.
This recipe will fit in one 2lb loaf-style soap mold.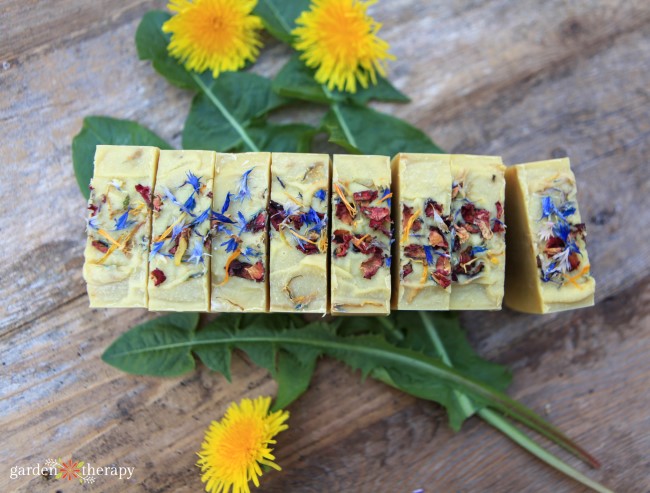 Materials
Ingredients
Make it!
Protect your skin, eyes, and clothes with safety gear.
Weigh all of the ingredients.
Gently heat oils in a stainless steel pot on the stove or in a microwave-safe container in the microwave. If using a microwave, heat the oils on high for two minutes, then at shorter intervals until they reach 115°F.
In a well-ventilated area, add water to a heat-resistant 4-cup measuring cup. Very slowly add lye to the water while stirring. Keep stirring until dissolved and be mindful to not breathe in the fumes.
Once lye is dissolved, place the glass container with the lye/water mixture in an ice bath and cool to 115°F. Reheat oils to 115°F if necessary.
When both the lye/water mixture and the oils are at 115°F, slowly pour the lye/water into the oils while blending with an immersion blender.
Keep blending the mixture rapidly until it thickens to a light trace, the consistency of pudding.
Weigh all of the ingredients.
Add essential oils and mix well.
Pour mixture into a soap mould. Use the spatula to create waves in the top then sprinkle the dried petals along the center of the waves.
Cover the mold in cardboard and towels and set somewhere warm (like the top of the fridge) for 48 hours.
After 48 hours, unmould the soap and slice it into bars.
Place each bar on a wire rack in a cool, dark place to cure for four weeks.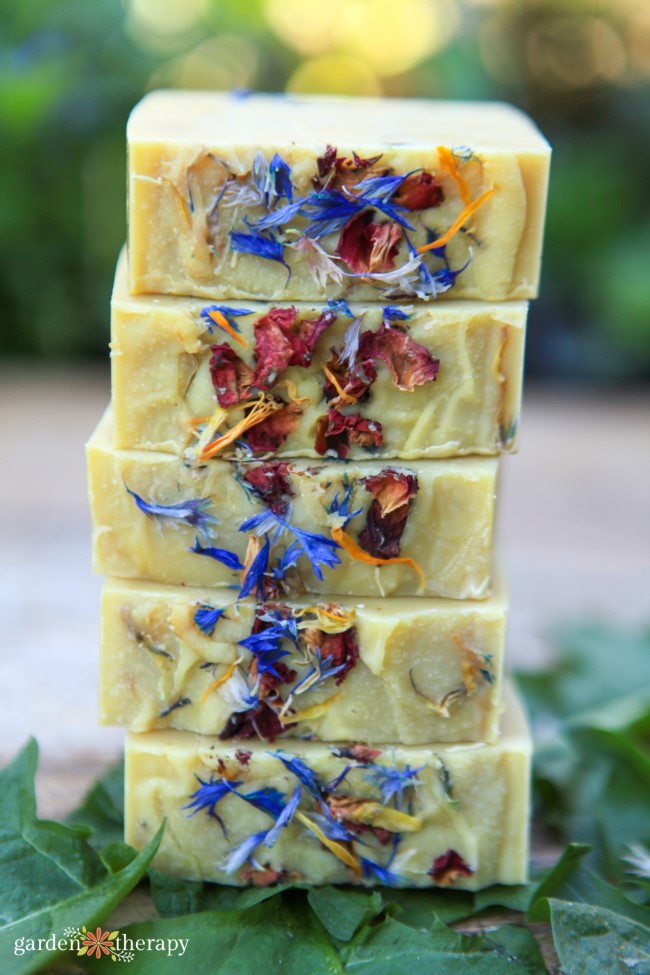 More Soap Recipes You'll Adore!