Winter doesn't have to be white in the garden. Even if there is a blanket of snow covering the soil, these colorful characters will add some pizzazz to the winter garden with their showy limbs, bright berries, and even some flowers! Here are some ideas for what to plant for winter garden interest.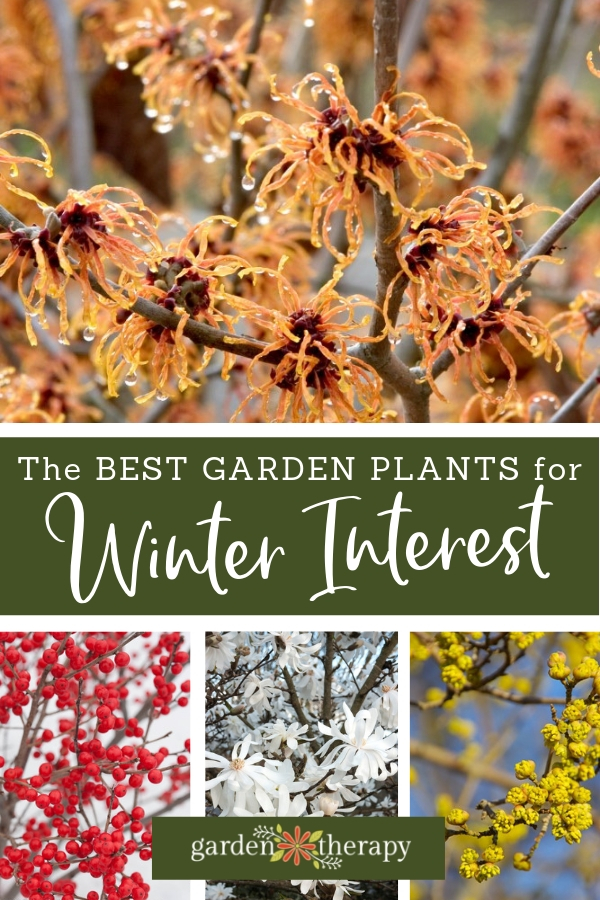 The Best Plants for a Winter Garden
This beautiful evergreen makes a great topiary planting. Its regal shape responds well to pruning and it thrives in a container environment. In the ground it's also suitable planted as a hedge. This male holly won't get berries, but it will stay evergreen all year.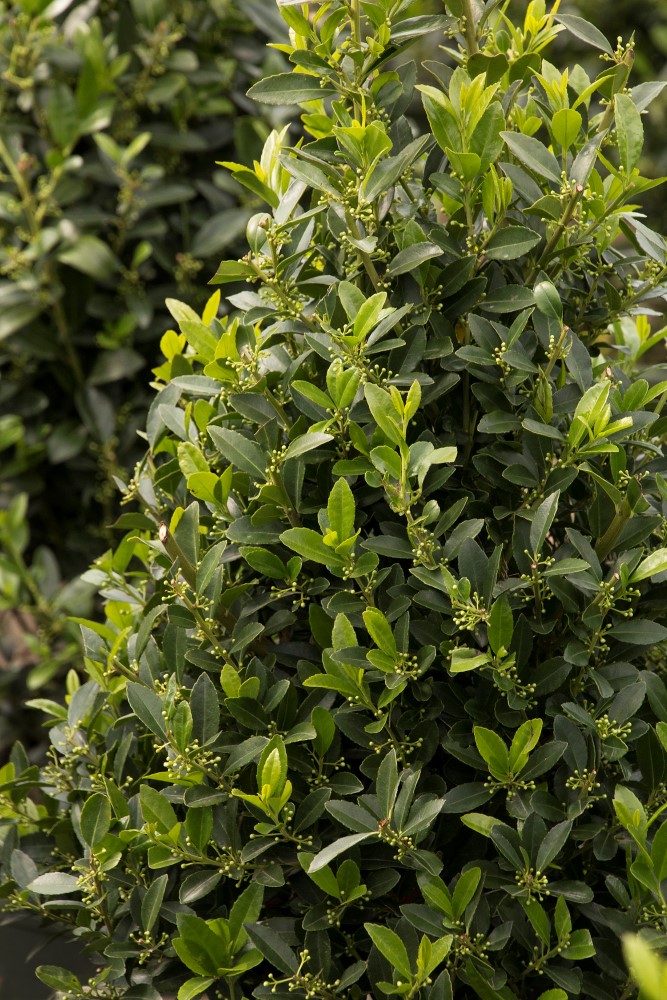 In late winter this dogwood produces showy, small yellow flowers that brighten up an otherwise dreary landscape. You can prune it into an attractive low-branching, multi-stemmed shrub or a small (15 to 20 feet tall) garden tree.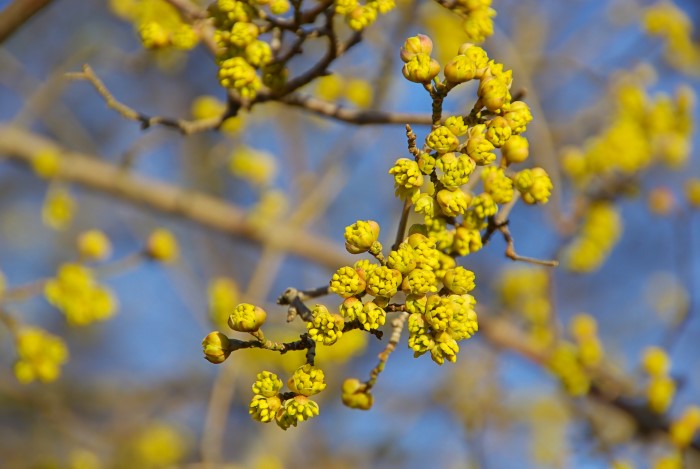 Japanese maples are known for their graceful arched branches that swoop in organic shapes that provide structural interest to the garden in winter. This Japanese maple will not only look attractive in the winter, but also has lacy burgundy red leaves that turn fiery shades in the fall.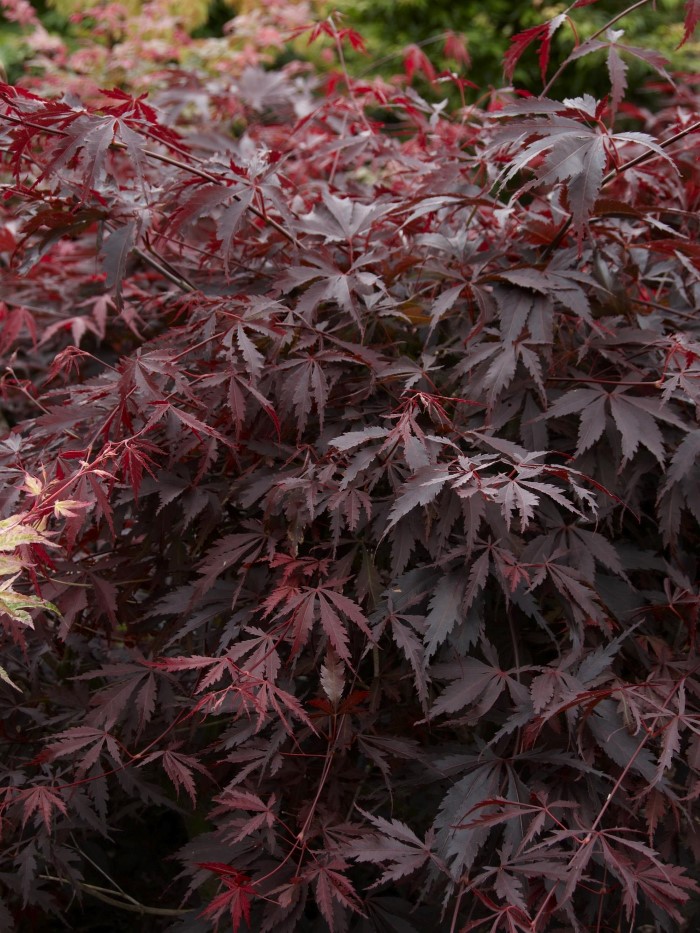 This cousin of holly only reaches 3 to 4 inches tall but it packs a punch with a full set of bright red ornamental berries in the winter. Not only are these berries perfect for cutting and adding to decorative holiday flower arrangements, but they also provide a good food source for winter birds.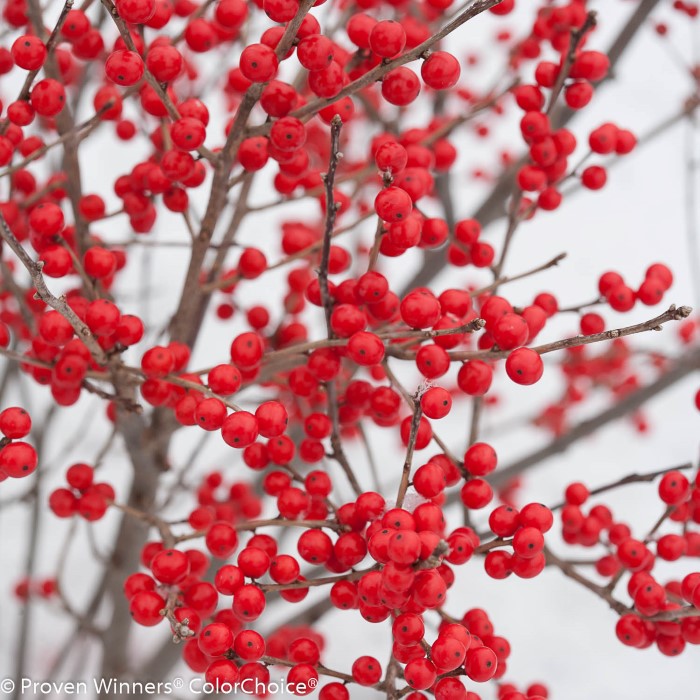 This hydrangea may not have any blooms, or even leaves, in the cooler months but the climbing brown peeling bark is attractive in winter. Allow this hydrangea to grow up a trellis, arbor, or wall and become a winter sculpture.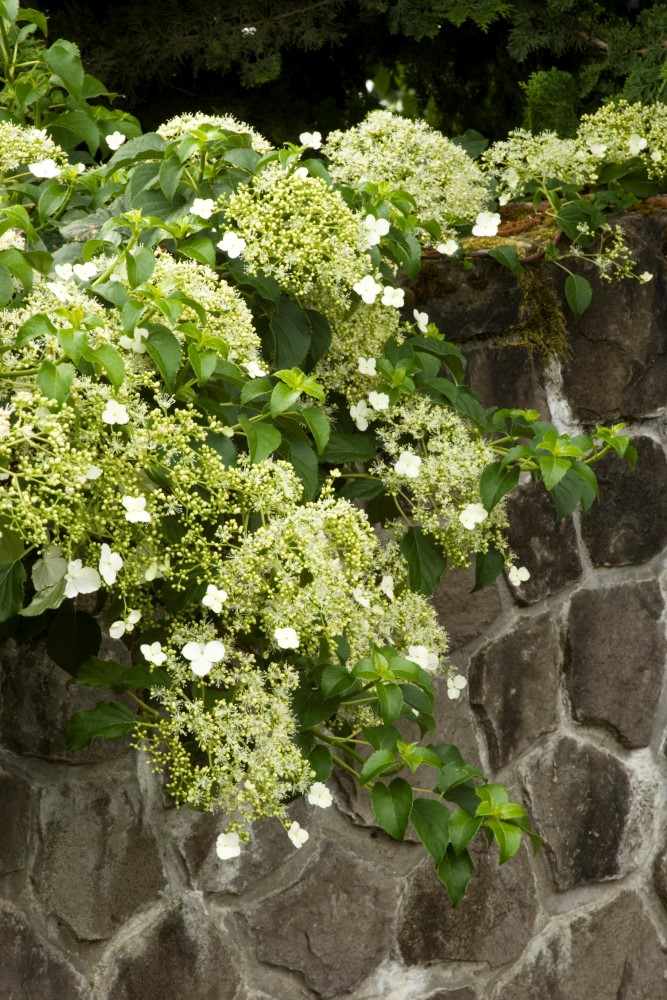 Winter jasmine is a winter flowering shrub with bright, lemon-yellow flowers that spill over a wall or a steep slope. Unsupported it will grow to 4 feet tall and 7 feet wide, but provide a trellis or wall for it to climb up and it will reach heights of up to 15 feet. Its slender, bright green stems make an attractive show in winter.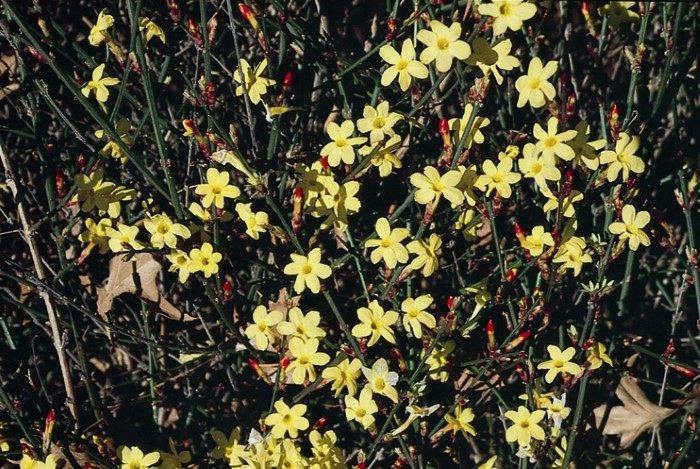 This low-growing ground cover is perfect to use in an area that doesn't get a lot of foot traffic. It has small blue-green leaves, tiny white flowers in the spring, and red berries through the fall and winter. This evergreen is only 6 inches tall but it is fast-growing and can reach a width of 8 feet in a short period of time. The berries are also a good food source for winter birds.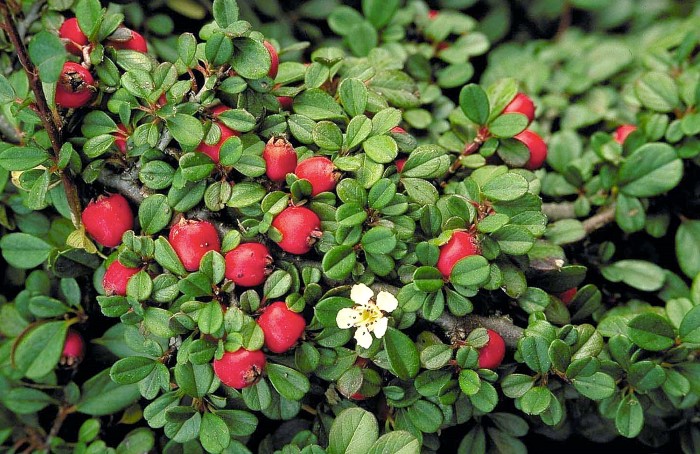 Heavenly bamboo is another evergreen plant that provides for seasonal interest. While it's slow growing to 3 or 4 feet, the new growth is characterized by fiery red highlights on green older leaves. If you're lucky enough to get the flowers in the spring you can get a nice crop of berries in fall and winter. Keep in mind that Heavnely Bamboo can be susceptible to freezing if not protected, so it is best grown in milder winter climates.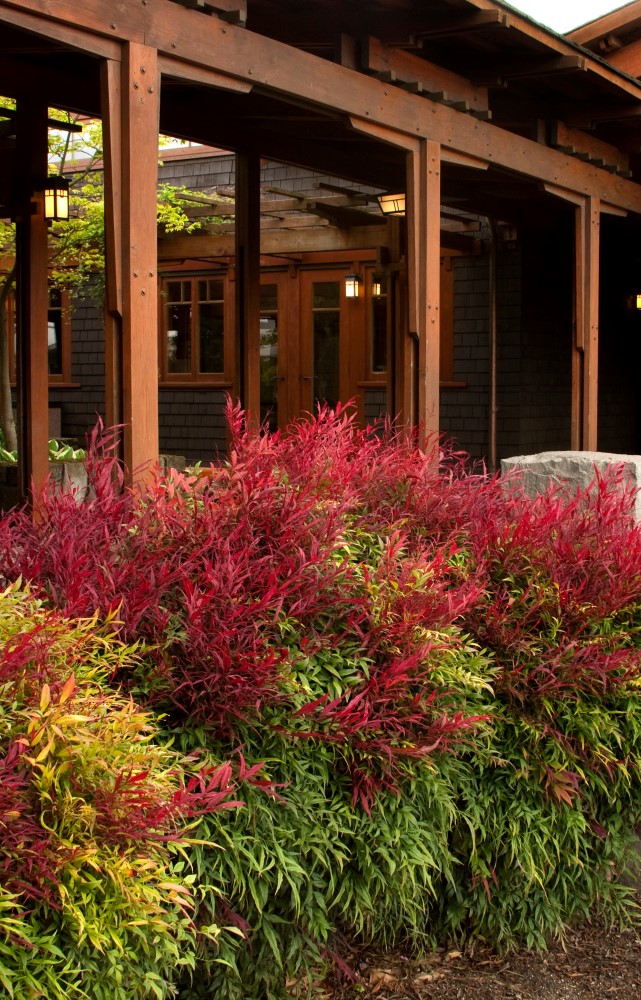 Witch hazel is not just a medicinal superhero but also an unusual shrub that adds blazing color to the winter landscape. Flowers have wild coppery petals with dark eyes that look like pom-poms adorning the bare branches. These flowers are also fragrant, so plant witch hazel near entries and patios where you can enjoy them most.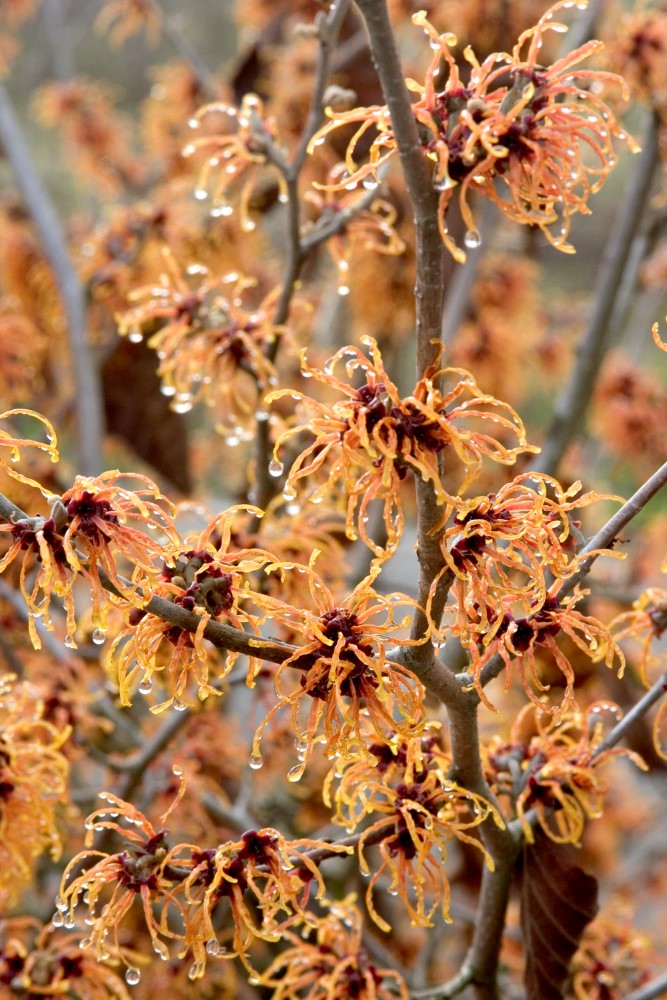 This magnolia is such an early bloomer that it's characterized as winter interest. Gray limbs, shiny green leaves, and fuzzy flower buds show in winter. The deeply fragrant double white flowers emerge in spring before the foliage. Magnolias are a good choice to plant where unexpected late freezes can occur as the flowers bloom so early.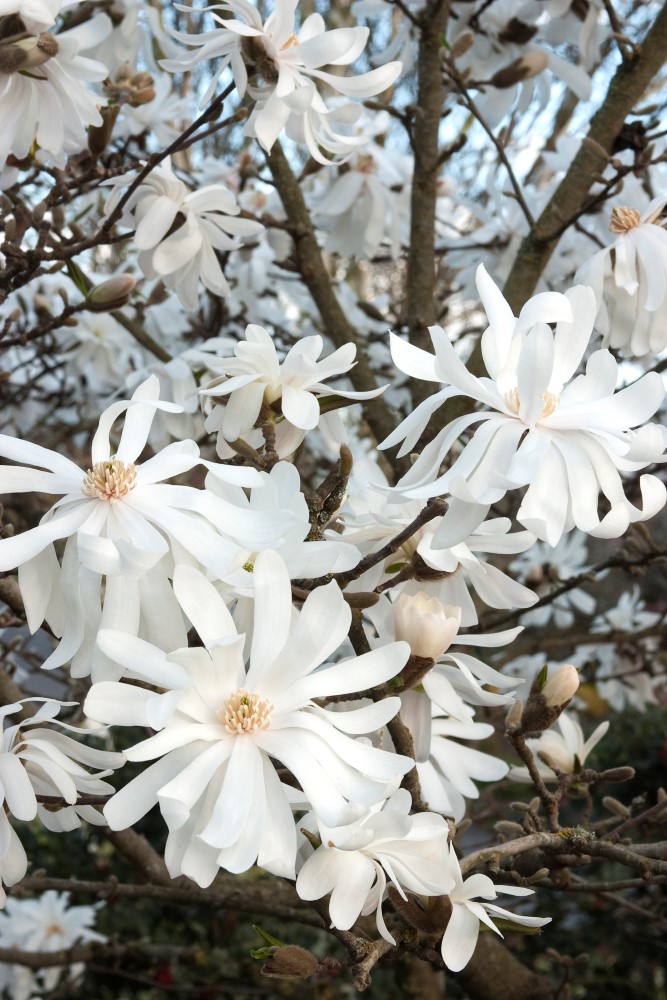 Hellebores are all the rage in late winter. As they bloom in late winter or early spring they are often called a Christmas Rose or an Easter Rose (depending on when they bloom). The winter jewels apricot blush hellebore has a gorgeous peachy-apricot shade with dark rose speckling and edges. These large flowers are 3 to 4 inches in width and last for weeks. Plant these in a sunny garden for the best blooms.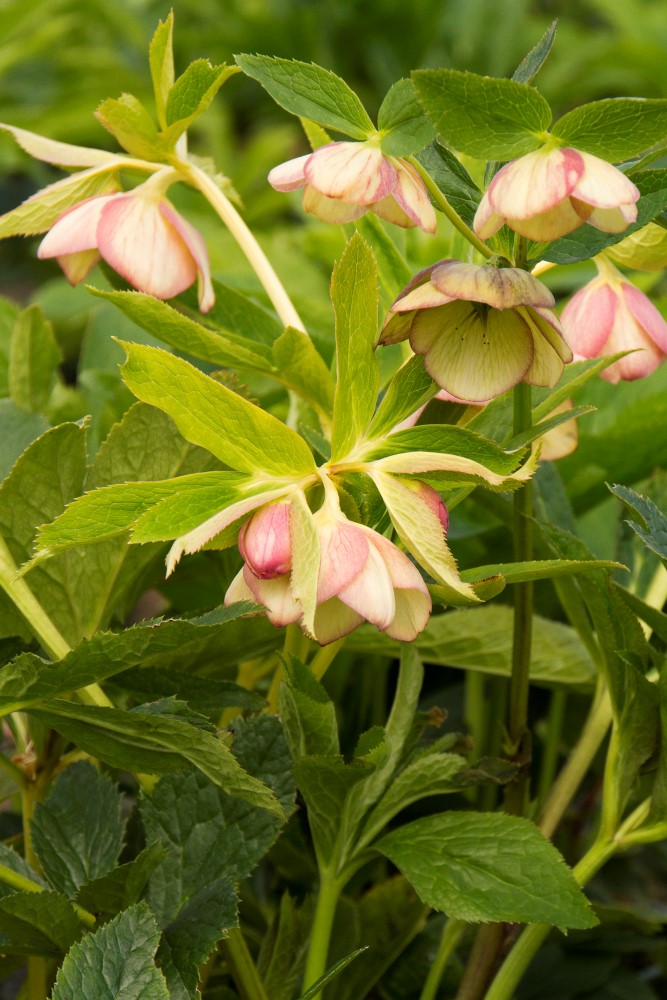 Thank you to Monrovia for helping me curate the plants for this list! This post was not sponsored but I do love Monrovia's plants.
You might also like: