Garden clippings make the perfect festive materials for a Christmas flower arrangement both inside and out, particularly because you can get them for free from the garden! If you're looking for an easy and affordable centerpiece for the dinner table this holiday season, make a festive holiday flower arrangement.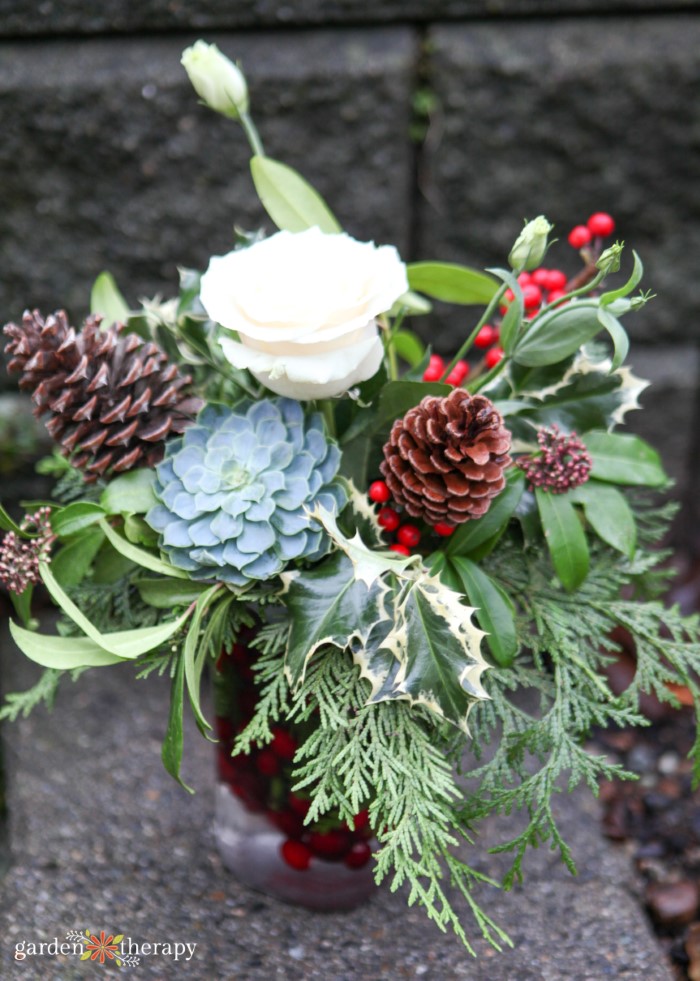 You'll always find me outside foraging for fresh evergreens around the holidays. A variety of evergreen clippings from trees like cedar, laurel, and holly make for beautiful wreaths, outdoor planters, and indoor arrangements. It's one of the most affordable ways to decorate for the holidays, but it also helps me to feel grounded during a stressful time of the year.
After all, wouldn't you much rather be in a forest than a crowded shopping mall?
When I finished making my annual holiday wreath for the year, I had plenty of beautiful clippings leftover to make a Christmas bouquet for inside the house. I wanted to share with you some tips on how to arrange your own holiday flowers and bring you along on my making my own design.
How to Make a Christmas Flower Arrangement
You can easily make this festive holiday flower arrangement with clippings from the garden, cranberries, a Mason jar, and an arranger.
Materials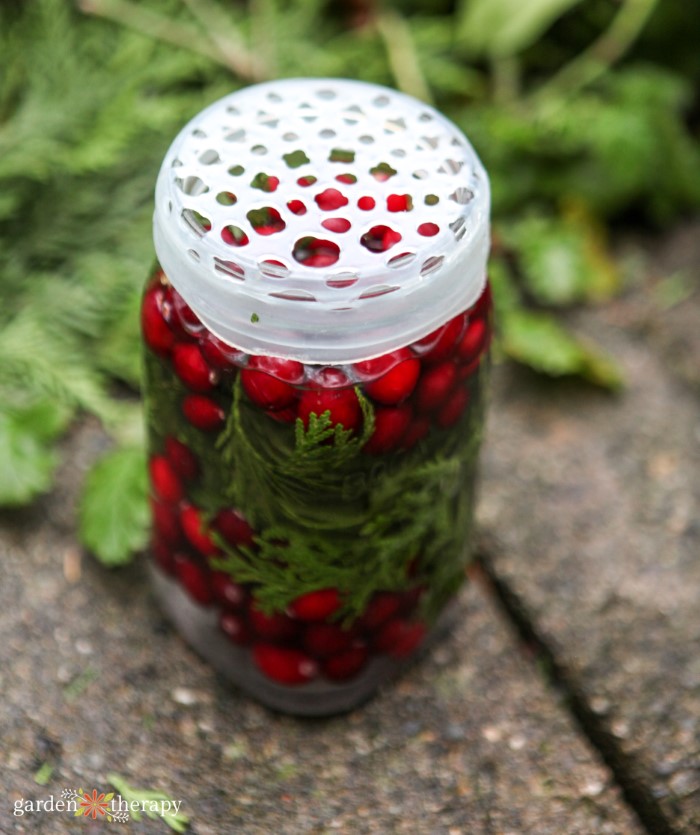 Make it!
Start by filling a Mason jar with water and add in some evergreen clippings of your choice. I used cedar. Place some fresh or frozen cranberries into the water to transform the jar into a decorative vase.
Place your grid over the mouth of the Mason jar. I used a silicone one that I've had for years, called a Budable. This helps your flowers stay in place as you're arranging. Alternatively, you can use thin strips of tape to create a grid on the top of your vase.
Arranging Tips
Start making your arrangement by choosing an array of evergreens to go around the edges of the Mason jar. Add a second ring just inside the first of a different type of greenery with a different texture such as broad leaves, variegated colours, berries, or flowers.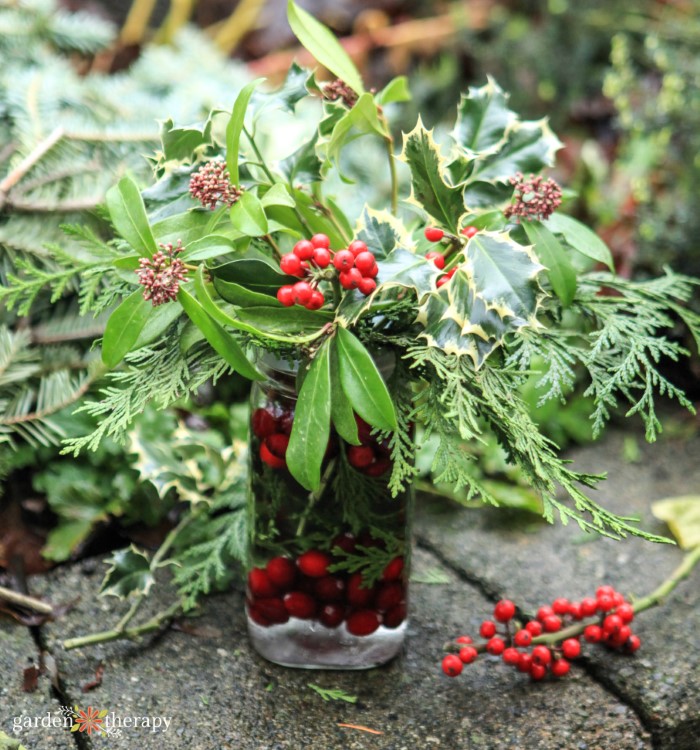 Next, add your focal flowers. For mine, I used a single white rose, but you can add anywhere from 3-5 focal flowers. Keep the number uneven. Make sure that all the leaves are trimmed off the flower stems that go below the water before adding them to the arrangement.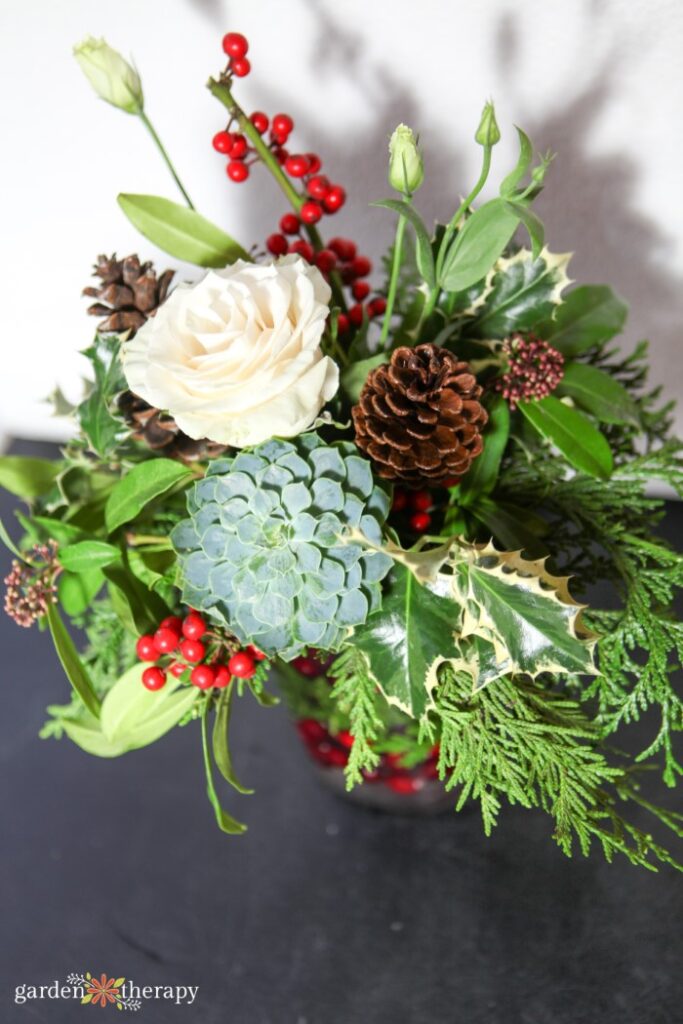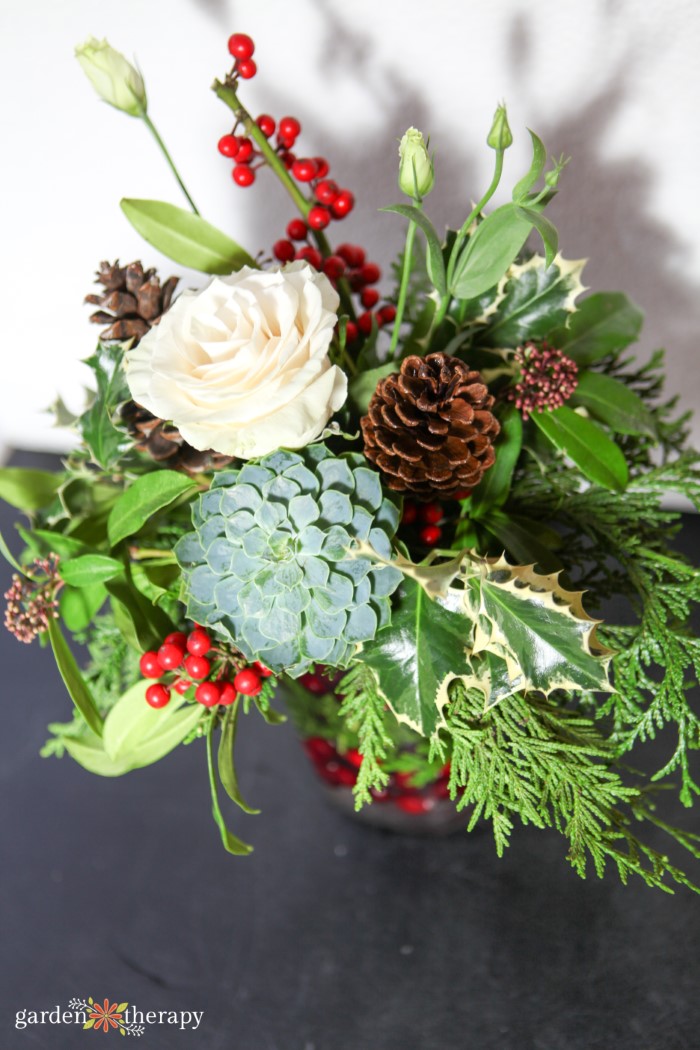 Also add your decorative elements in the center. You can use garden or floral shop flowers, succulent cuttings attached to sticks, or other decorative elements on wire stakes. I went with pinecones and an echeveria.
At this point, you can add some smaller filler flowers if you have any gaps and like the look of a full arrangement. But I let the evergreens do all the filling in this holiday flower arrangement!
Wire Mounting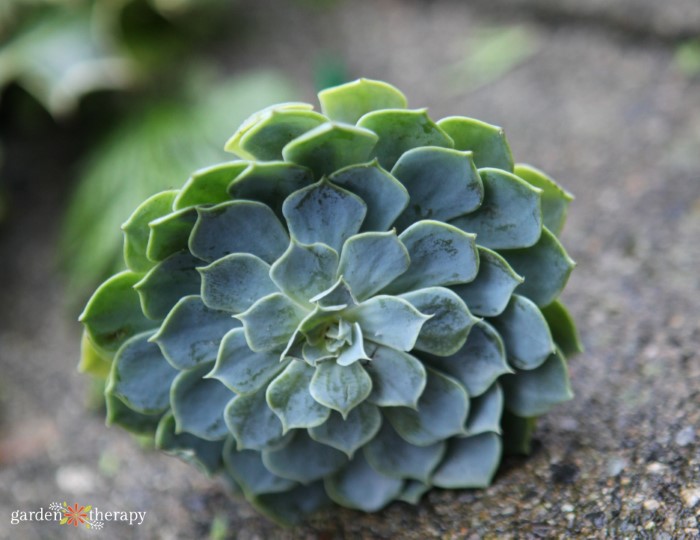 You can make a succulent flower by cutting off the top of an echeveria, crassula, or aeonium and adding floral wire as a stem. Choose a fairly thick wire that can hold the weight of the succulent leaves.
Simply pierce the cut end of the succulent with the wire and it should hold it in place. Wrap the wire in floral tape and then place it in your arrangement. When you are finished admiring your arrangement you can replant the succulents and grow them again.
Make pinecone flowers by wrapping some floral wire around the base of a pinecone and leaving the ends of the wire long. Wrap the wire with floral tape so the entire wire is covered. Twist the wires together to make a stake and add it into the arrangement.
This Christmas flower arrangement also looks lovely with bleached pinecones too.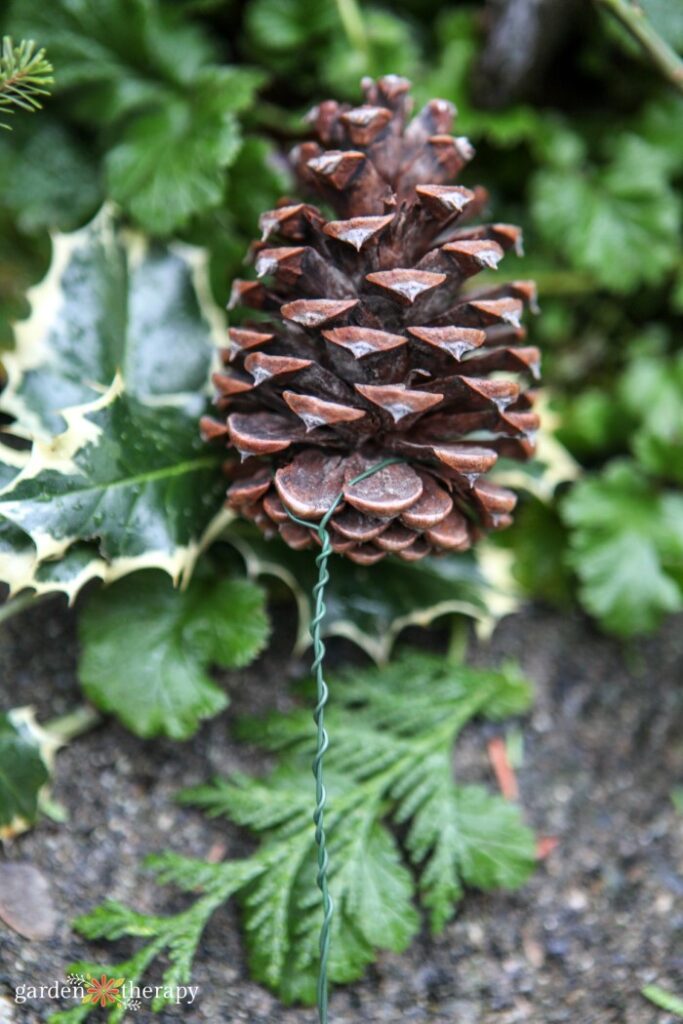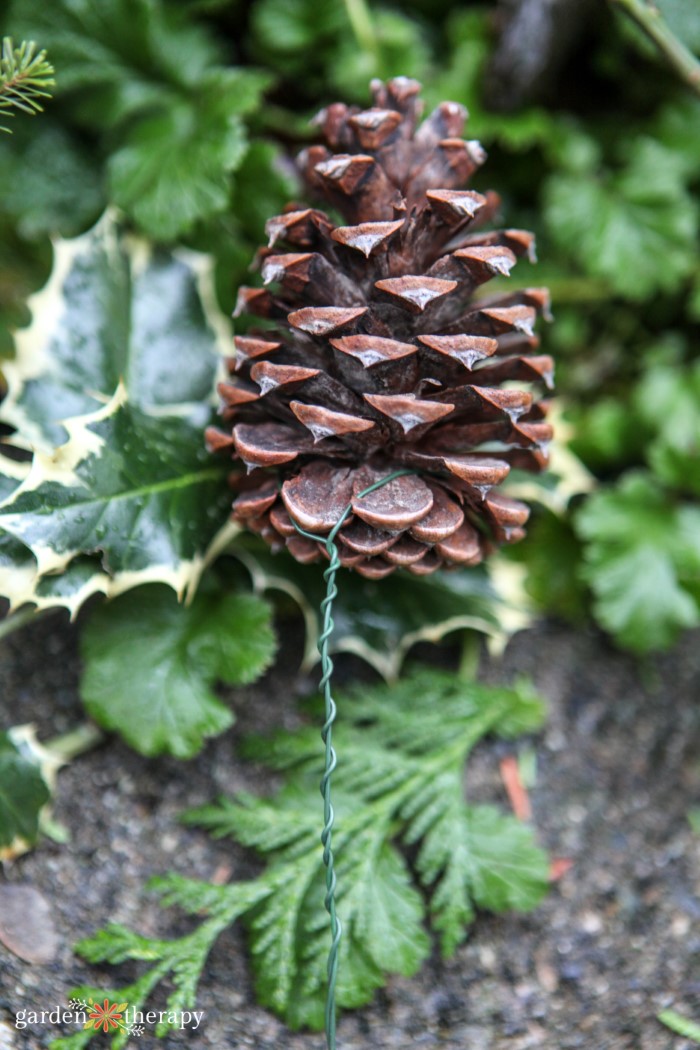 Holiday Flower Arrangement Care
Change the water in your arrangement every two to three days by simply pouring the water through the holes in the grid. Because leaves in water decompose faster, you may have to change your water more frequently due to the cedar leaves in the water.
Refill the water through the same holes. The greenery will last quite a long time in this arrangement, so as the flowers begin to wilt, remove them and replace them with fresh flowers. This way you can begin your arrangement in early December and keep refreshing it all the way until the new year.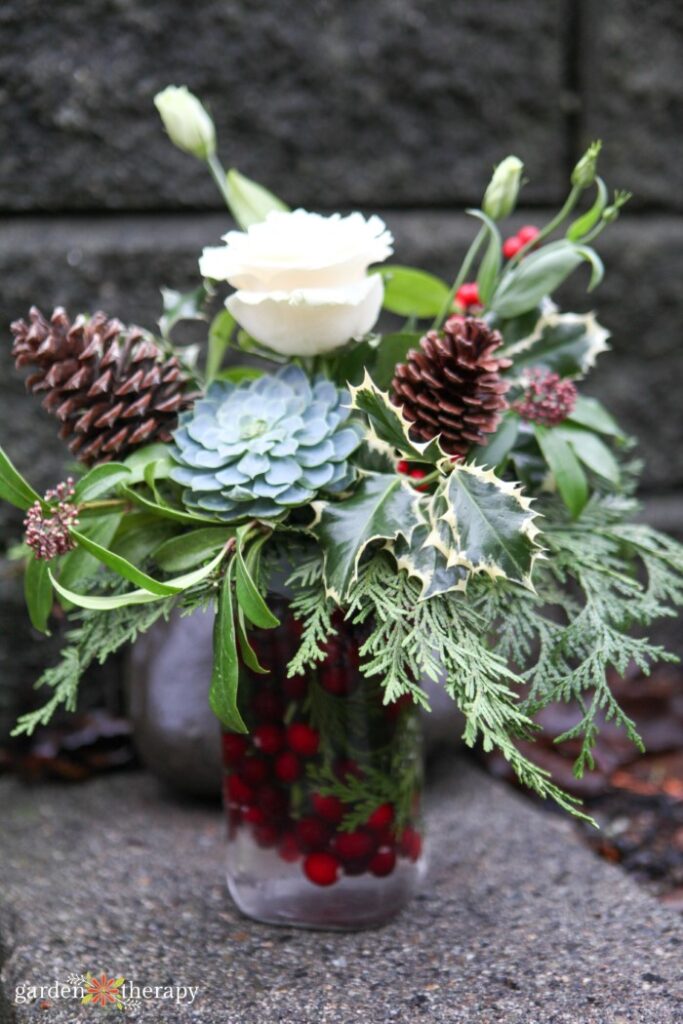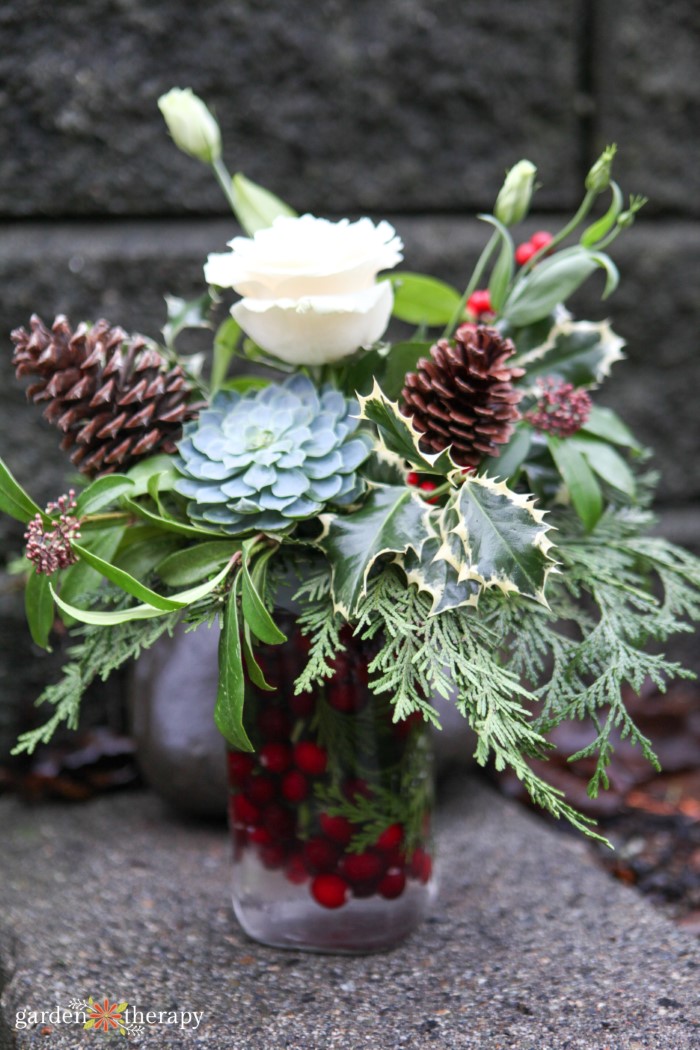 Frequently Asked Questions About Christmas Bouquets
What Can I Put in Christmas Flower Arrangements?
When I think of Christmas flower arrangements, I think of lots of evergreens. Some of my favourite needle-leaf evergreens include pine, fir, cedar, hemlock, cypress, juniper, and spruce. You also want to add some other greenery for texture such as holly, magnolia, ivy, aucuba, laurel, Ligustrum, nandina, and sarcococca.

Once you have your greenery, you want to add in some of your focal flowers. You can keep these in classic Christmas colours using reds, whites, wintery blues, and rosy tones.  Good focal flowers include roses, amaryllis, anemones, dahlias, ranunculus, hellebores, carnations, lilies, and hydrangea.

To fill in the gaps, you will want some filler flowers such as baby's breath, astilbe, spray carnations, and alstroemeria. Finally, add some uniquely decorative elements such as pinecones, ribbons, curly willow, and more. Let your imagination take over!
How Long Will Christmas Flowers Last?
Evergreen clippings and other greenery will typically last longer than your flowers. You can expect them to last anywhere from 2-4 weeks depending on the conditions. Most flowers will last one week but certain varieties, such as carnations, are hardier and can last up to two weeks.

To help make your flowers last longer, place your flowers out of direct sunlight and away from heat sources. You can also add some flower food by adding some sugar and vinegar to your water.

Change your water every couple of days and refill it as necessary. When freshly cut, flowers tend to drink more water to rehydrate.

Every week, you can also make a fresh cut to help your greenery drink more water. Cut about a ½ inch off the stem at a diagonal angle then place it back in the water. This also works well for any long-lasting flowers.
Let me know how your Christmas flower arrangement turns out! I love hearing back from you and seeing your own creations. Happy arranging!
More Holiday Ideas