Squash is probably my very favourite thing about fall. There are so many varieties that are beautiful to decorate with, but the flavours are really what gets me in the autumn spirit.
Rich, sweet butternut squash , sweet-potato-esque delicata squash, and pasta-like spaghetti squash are such fun to cook with. Acorn squash is a lighter version of a winter squash, with a higher water content and milder flavour. The great shape lends to stuffing and roasting it, which is exactly what Camilla V Saulsbury, the author of The Complete Coconut Cookbook: 200 Gluten-free, Grain-free and Nut-free Vegan Recipes Using Coconut Flour, Oil, Sugar and More  is here to share with us today.
Acorn Squash with Coconut Chickpea Stuffing
This beautiful dish is loaded with protein, antioxidants and incredible flavor.
Makes 4 servings
Preheat oven to 350°F (180°C)
Large rimmed baking sheet
Ingredients
2 acorn squash (each about 2 1 lb/500 g), halved lengthwise and seeded
2 tbsp melted virgin coconut oil, 30 mL, divided
Fine sea salt
1 can (14 to 15 oz/398 to 425 mL) chickpeas, drained, rinsed and coarsely mashed
1⁄3 cup dried currants 75 mL
1⁄2 cup well-stirred coconut milk 125 mL (full-fat)
3 cups packed baby spinach, roughly 750 mL, chopped
3⁄4 cup unsweetened flaked coconut, 175 mL, toasted
1⁄2 cup packed fresh mint leaves, 125 mL, chopped
1 tbsp freshly squeezed lemon juice 15 mL
Freshly cracked black pepper
Directions
Lightly brush cut sides of squash with 1 tbsp (15 mL) coconut oil. Sprinkle with 1⁄2 tsp (2 mL) salt. Place cut side down on baking sheet. Bake in preheated oven for 40 to 45 minutes or until tender.
In a large skillet, melt the remaining oil over low heat. Add chickpeas, increase heat to medium-high and cook, stirring, for 4 to 5 minutes or until heated through. Add currants and coconut milk; cook, stirring, for 1 minute. Remove from heat and add spinach, coconut, mint and lemon juice, gently tossing to combine. Season to taste with salt and pepper.
Fill squash cavities with chickpea mixture.
Tips
Delicata squash may be used in place of the acorn squash.
If you can only find a 19-oz (540 mL) can of chickpeas, use about three-quarters of the can (about 11⁄2 cups/375 mL drained).
An equal amount of raisins, coarsely chopped, may be used in place of the currants.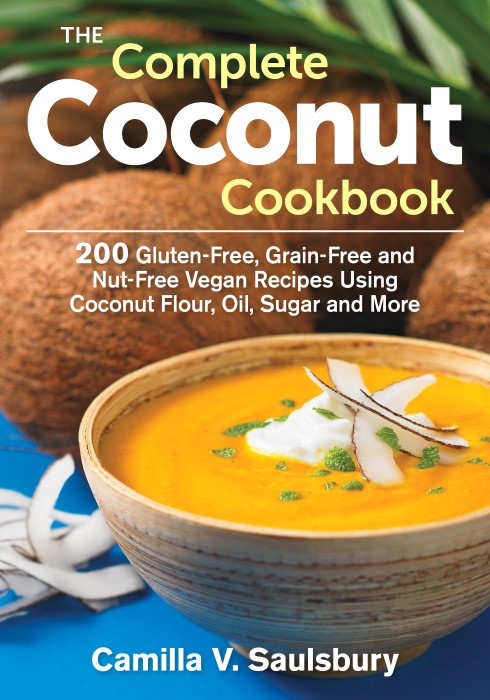 Courtesy of The Complete Coconut Cookbook by Camilla V Saulsbury, 2014 © www.robertrose.ca Reprinted with publisher permission.