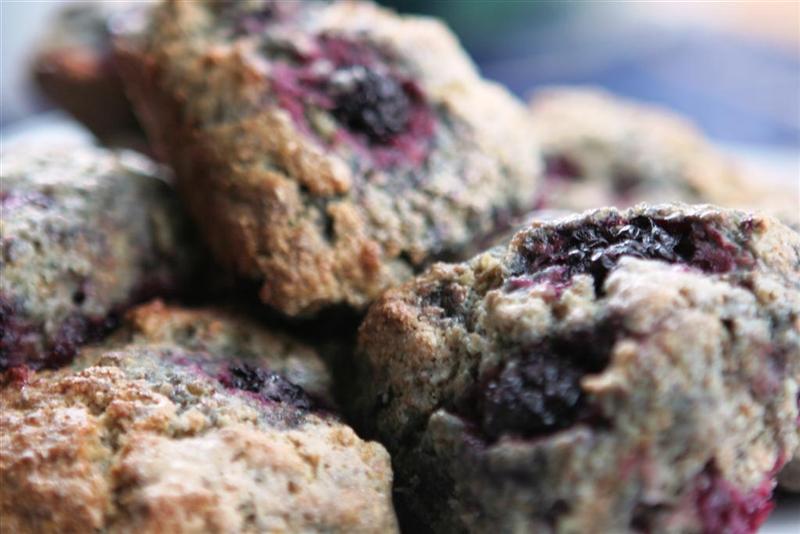 Ingredients:
2 cups whole grain spelt flour (or whole wheat)

1 cups unbleached flour

1 tablespoon baking powder
1/2 cup cold butter
 2 large eggs
2/3 cup half and half
2 teaspoons vanilla extract
1 cup FROZEN blackberries      (or other berries that are frozen fresh and can be separated frozen)
Directions:
Preheat oven to 425°F and line a baking pan with parchment and sprinkle it with flour. Combine the dry ingredients in a large bowl. Add the butter and with fingertips, gently cut the butter in until it is well combined and resembles course crumbs, some lumps are fine. In a separate bowl, beat the eggs, cream, and vanilla. Add to the dry mixture and gently combine. The very last thing you'll add is the frozen blackberries. The more frozen the better and make sure you work the shaping step (listed next) quickly as to not have them begin to melt into the dough.
Shape the dough into 2 equal balls and flatten to 3/4″ thick on the floured parchment or pan. Using a knife slice each circle into 6 wedges and  carefully pull the wedges away from the center to separate them to 1/2″ space around the outer edges. Optional: brush each scone with milk and sprinkle with  sugar for a sweet and crunchy top. Bake until golden about 20 minutes, or until a tester comes out clean when inserted in the middle.
Makes 12 medium-sized scones