Continuing with this month's Citrus Celebration theme, this morning we made the flakiest whole wheat blueberry lemon scones for breakfast. With a perfectly balanced aroma of lemon, sweet blueberries, and buttery goodness, these are hands-down my favourite scones. The scone is shown here with Meyer Lemon Marmalade that was made earlier this week (stay tuned for the recipe). In the meantime, try them with this Blood Orange and Raspberry Jam.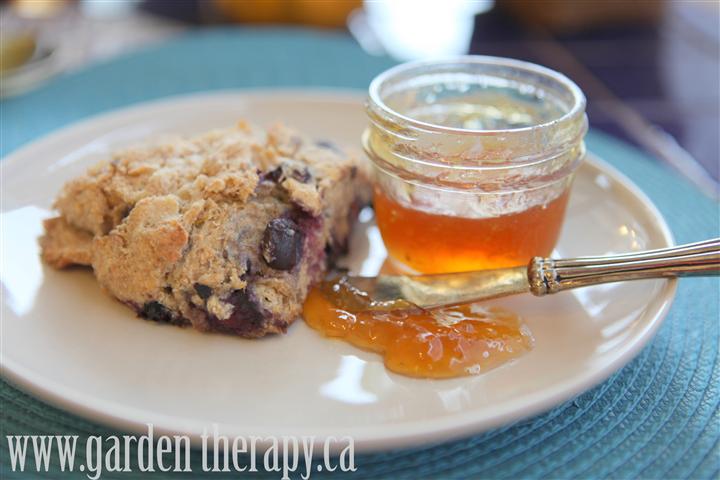 Ingredients:
2 cups all purpose flour
2 cups whole wheat flour
1/4 cup sugar
2 tsp baking powder
1/2  tsp baking soda
1 cup (2 sticks) butter, very cold and cut into cubes
1 cup frozen blueberries
Zest of 2 organic lemons
1 cup milk
1/3 cup cream
Juice of 2 organic lemons
1 tsp vanilla
Directions:
Preheat oven to 400°F and line a baking pan with parchment and sprinkle it with flour. Measure out and combine the milk, cream, lemon juice and vanilla. Stir and let sit while you measure the dry ingredients, it will become thick and a bit separated – that's OK! Combine the dry ingredients in a large bowl. Add the butter and gently cut the butter in using a pastry knife until it is somewhat mixed in and chunks of butter are still visible. More butter chunks = flakier scone. Add lemon zest and milk mixture to the flour mix and gently combine. Gently fold in frozen blueberries. Pour dough out onto a floured surface and very lightly knead only about 5 times being careful not to melt the butter or blueberries. Dough will not be completely mixed, but if it feels equally moist all around, and not overly sticky, it's ready to shape.
Shape the dough into 2 equal balls and flatten to 3/4″ thick on the floured parchment or pan. Using a knife slice each circle into 6 wedges and carefully pull the wedges away from the center to separate them to 1/2″ space around the outer edges. Bake until golden about 20 minutes, or until a tester comes out clean when inserted in the middle.
Makes 12 extra large scones